Iftar sweets recipes – collection of 45 sweets and desserts that can be made for ramadan.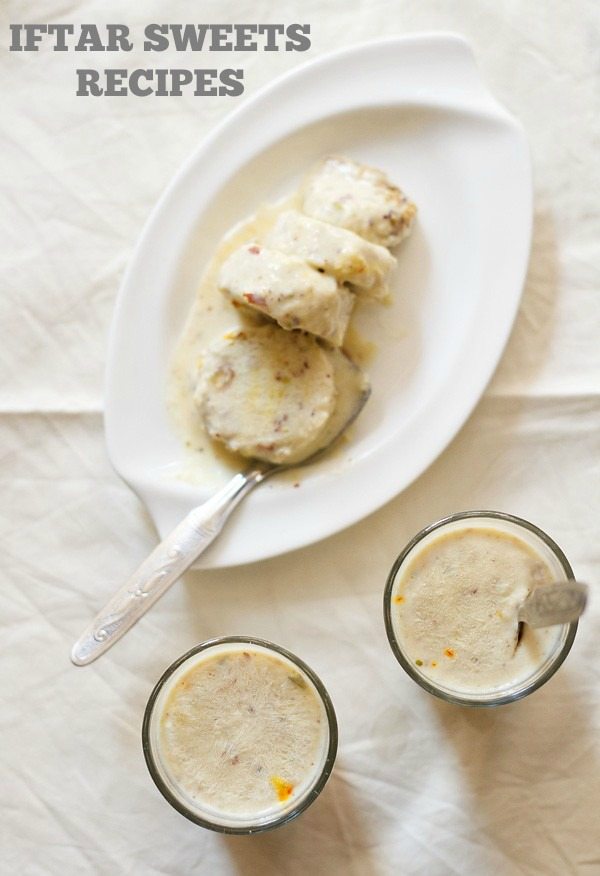 A sweets or a dessert is always a lovely addition to any meal. In this collection I have shared many Recipes that can be made during Iftar as a sweet or dessert. some of the recipes listed below are quick enough to make and will take just about 15 to 20 minutes. Some of the sweets can be easily refrigerated also.
I have also shared collection of  Ramadan recipes And 100 Iftar snacks recipes.
Also make sure you eat healthy during the fasting period. Drink lots of water, have lots of Fruit juices and fresh fruits.
Wishing ramadan kareem to all my muslim friends and readers.
Iftar sweets recipes:
1. Shahi tukra recipe – royal Mughlai dessert of fried sugar syrup coated bread slices, topped and soaked with a fragrant creamy sweet thickened milk or rabri and garnished with dry fruits. This is not only delicious and filling but also a very popular dessert that is had during Iftar.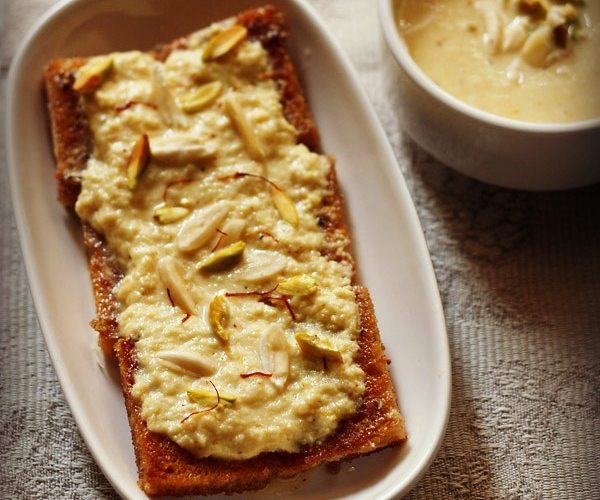 2. Sheer khurma – this is a popular Mughlai dessert of vermicelli pudding made during festive occasion of eid ul-fitr. Sheer khurma is made with milk, vermicelli, dried dates and sugar. 'Sheer' stands for milk and 'Khurma' stands for dates in persian language.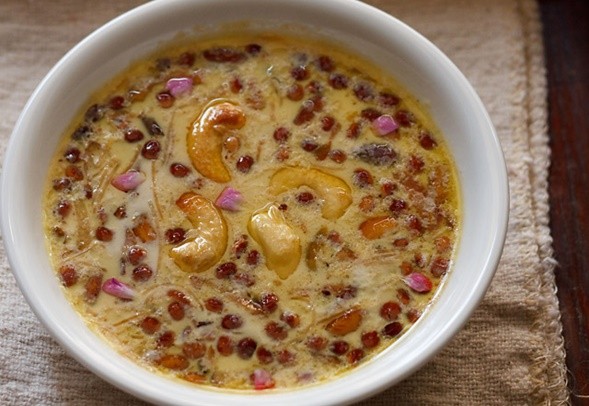 3. Seviyan kheer – this vermicelli kheer is one of the easiest and most popular kheer one can make. Vegans can have a look at this Vermicelli kheer recipe. various recipes with seviyan are made during Iftar and this is one such delicious sweet recipe.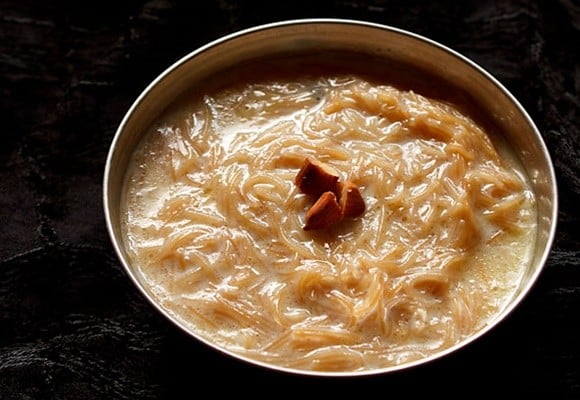 4. Carrot halwa or gajar halwa – gajar halwa is a classic Indian dessert made with grated carrots and milk. Its an evergreen Indian dessert that tastes absolutely yum and is filling also.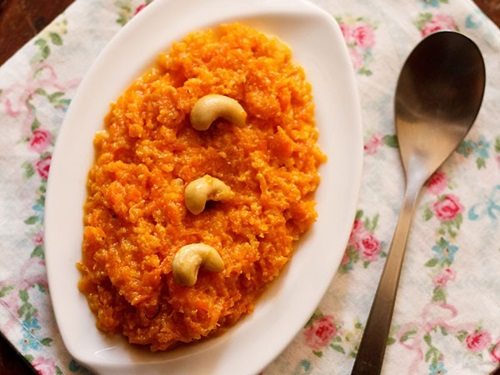 5. Besan ladoo – a popular ladoo made from gram flour, powdered sugar and ghee. while making besan ladoos, its important to roast the gram flour well, till it starts releasing the ghee and also will starts giving nutty fragrance. Other sweets recipes you can make with besan are: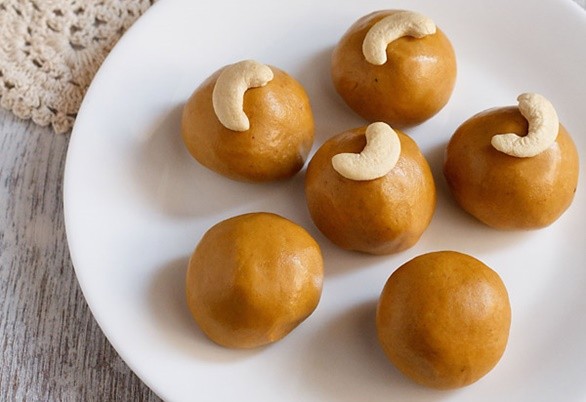 6. Rice kheer – a favorite Indian dessert made with basmati rice, milk, nuts and saffron. This delicious kheer can be easily made during Iftar. To make this kheer more flavorful you can add saffron strands and dry fruits of your choice. We always add almonds, cashews and golden raisins along with saffron and cardamom. You can also make Rice kheer from cooked rice.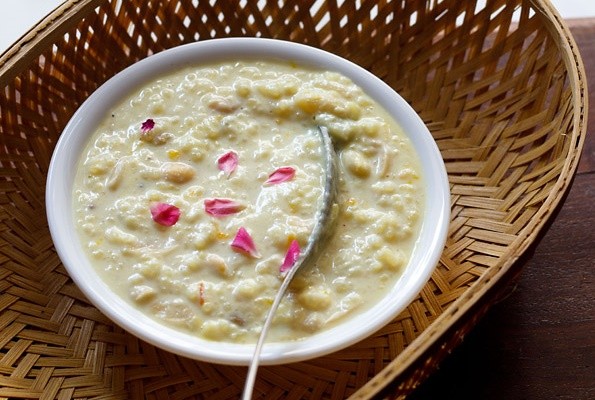 7. Badam halwa – South Indian style delicious badam halwa recipe. The recipe gives a really good badam halwa, which has the right sweetness and a lovely texture which is not soft and firm. But kind of between. One which gives a heavenly feeling when you savor the halwa. This is a heavy dessert and just a few spoons of it is enough. Few more recipes which you can make with badams are: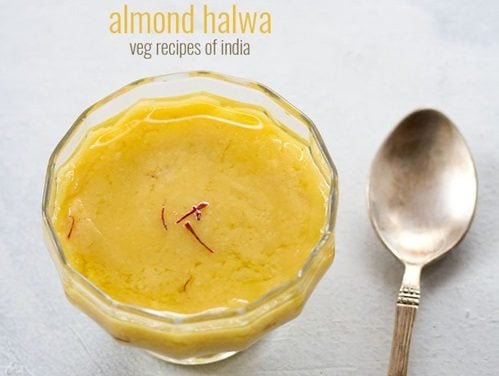 8. Khoya kulfi recipe – a simple and easy recipe of delicious kulfi made with khoya (mawa or dried evaporated milk solids). Few more sweets recipes you can make with Khoya are: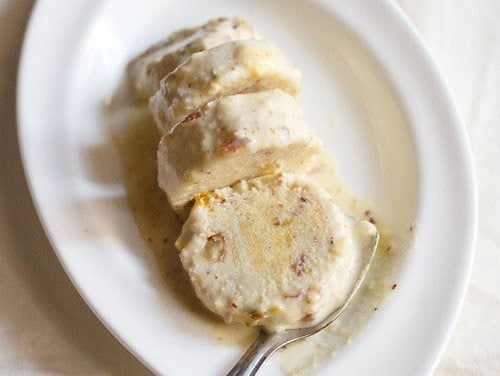 9. Rasmalai recipe – one of the popular Bengali sweet of spongy cottage cheese balls aka Rasgullas soaked in thickened and sweetened milk. few more delicious Bengali sweets recipes you can make for Iftar party are: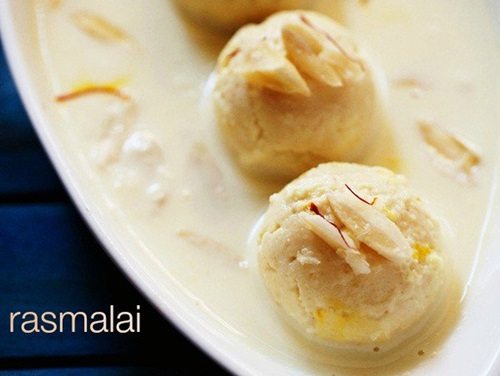 10. Rabdi recipe – a popular North Indian sweet made from milk. basically rabri is thickened sweetened milk having layers of malai or cream in it. Its flavored with cardamoms, saffron with the addition of dry fruits like almonds and pistachios. This version of rabri is also called as lachha rabri in hindi.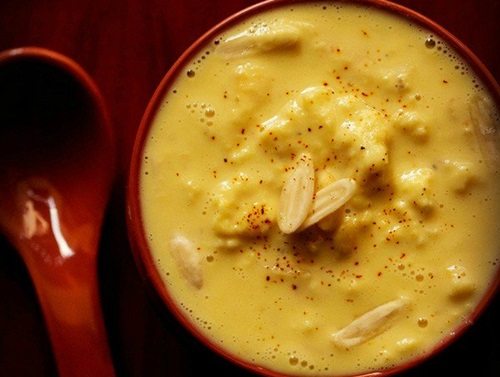 11. Jalebi recipe – crisp, crunchy, syrupy jalebi. Traditional method of preparing jalebi at home shared with step by step photos.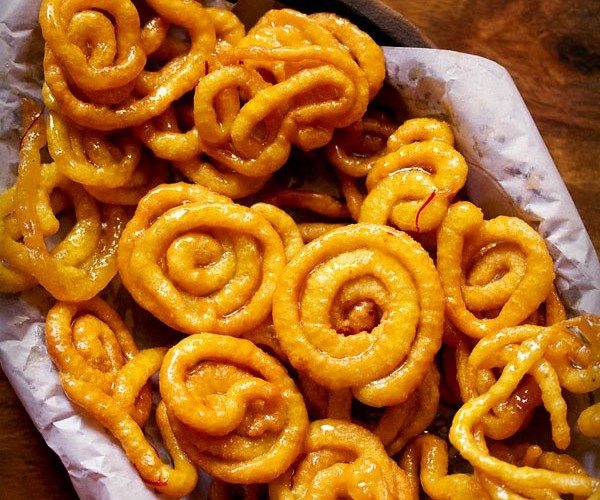 12. Dry fruits barfi recipe – quick recipe to make dry fruit barfi. I have not added any sugar in the recipe. The sweetness comes from dates, figs and raisins. There is absolutely no need to add any sugar in this recipe. This is a healthy sweet that you can make for Iftar. For more barfi recipes you can check this Collection of 12 barfi recipes.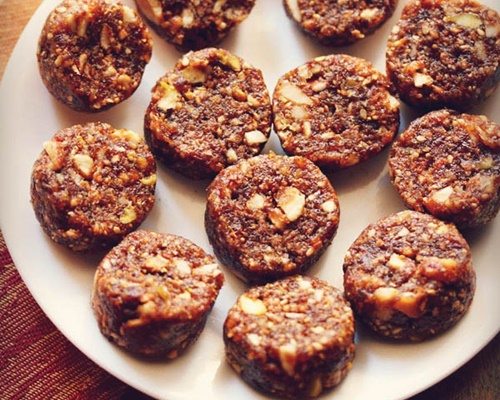 13. Sooji halwa – classic Indian semolina pudding made with ghee and dry fruits. sooji halwa is a quick and easy halwa which is often made in most Indian homes. Few more similar variations which are equally popular are: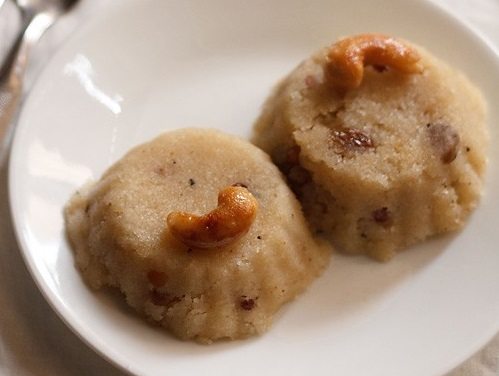 14. Phirni – a classic creamy sweet pudding made with powdered rice, milk, almonds, saffron and cardamom. Sweetened with sugar. It is one of the most popular North Indian dessert made during Iftar. Another delicious variation you can make is this Mango phirni recipe.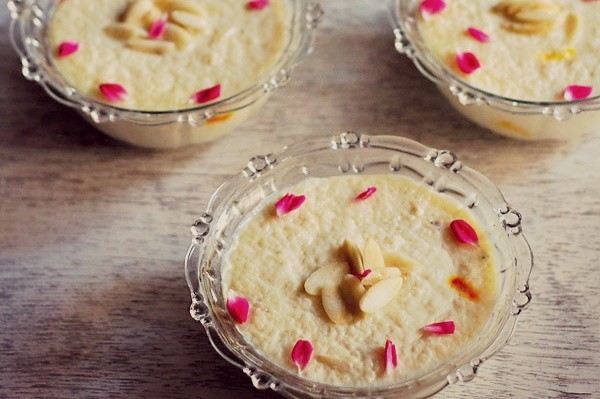 15. Malpua recipe – a traditional North Indian sweet of soft, fluffy and yet crisp pancakes coated with sugar syrup and served with Rabri or thickened sweetened milk. Malpua is popular and is sold like hot cakes during ramadan in some parts of India. This sweet dessert is part of most Iftar menu. Its a filling and heavy sweet.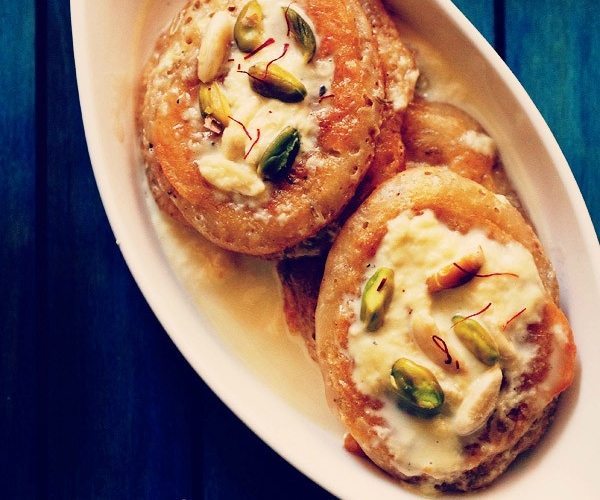 16. Dry fruits ladoo – no sugar ladoos made with dry fruits. This is an easy and quick recipe for making these healthy and delicious ladoos. Its a vegan recipe. for more ladoo recipes you can check this Collection of 23 ladoo recipes.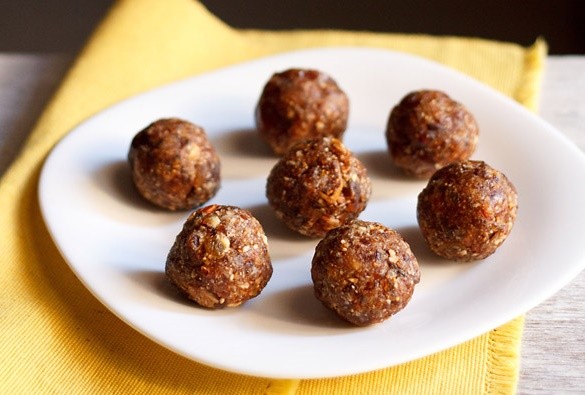 17. Moong dal halwa – a popular and tasty halwa recipe from north India. Moong dal halwa is delicious and one of the sweets you cannot stop eating.  but making this halwa takes a lot of time and effort. Two more sweets recipes you can make with moong dal are Moong dal ladoo and Moong dal payasam recipe.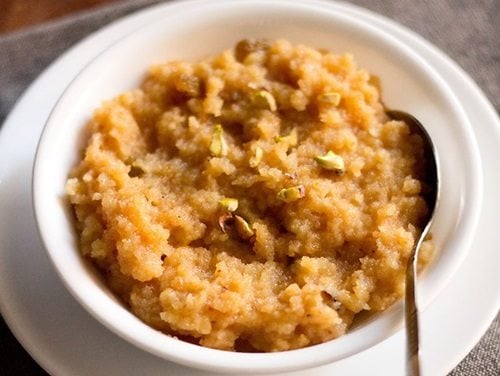 18. Atta ladoo recipe – easy and quick to prepare delicious ladoos made with whole wheat flour, sugar and ghee. Other popular desserts you can make with whole wheat flour are: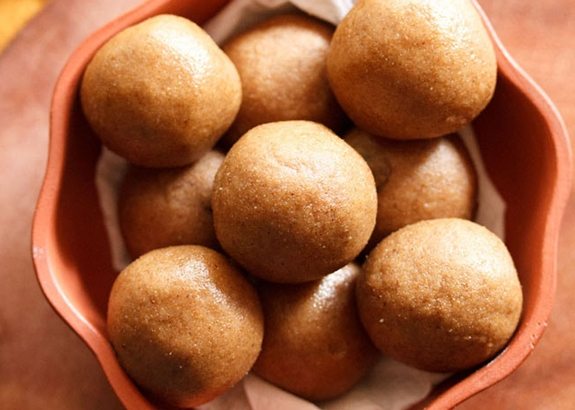 19. Kaju katli recipe – thin, smooth, melt in the mouth slices of cashew goodness. One of the most popular Indian sweet made with cashews and sugar. two more delicious variations you can make are Kaju barfi and Badam kaju barfi.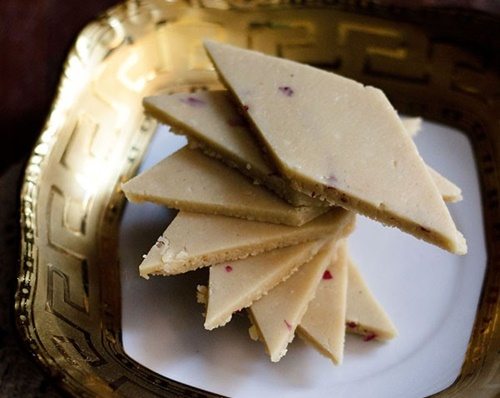 20. Meethi seviyan recipe – a sweet dessert made from seviyan (whole wheat vermicelli), ghee, milk, dry fruits and sugar. in this recipe, I have used milk. Though you can also cook seviyan with water. you could add dry fruits of your choice in this meethi seviyan recipe. There are various ways meethi seviyan are made during Iftar. This is again one of the popular Iftar sweet recipe.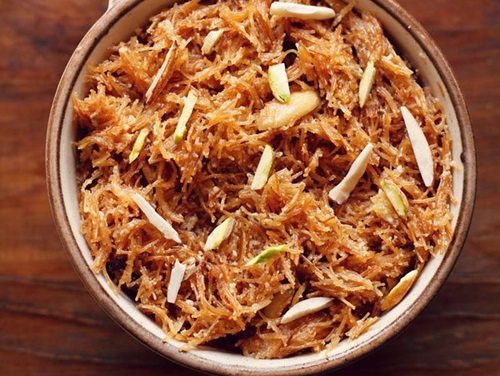 21. Mango Kulfi – quick, easy and a cheat's version of making delicious mango kulfi. This no cook kulfi is made with whole milk, sweetened condensed milk, cream and of course mangoes. Add mangoes which will yield a smooth non fibrous pulp. Few more delicious Mango recipes you can make are: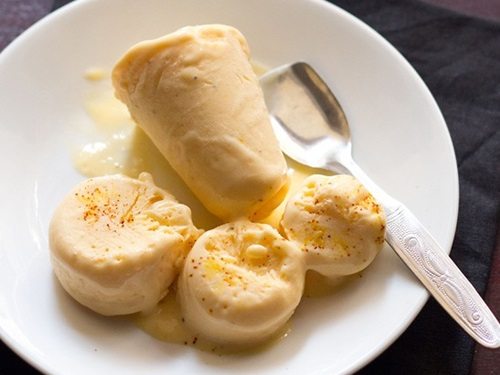 22. Instant coconut ladoo recipe – 2 ingredient delicious ladoos that are pretty quick to make. The 2 main ingredients are sweetened condensed milk and desiccated coconut. For more instant recipes, you can check this Collection of 24 instant veg recipes.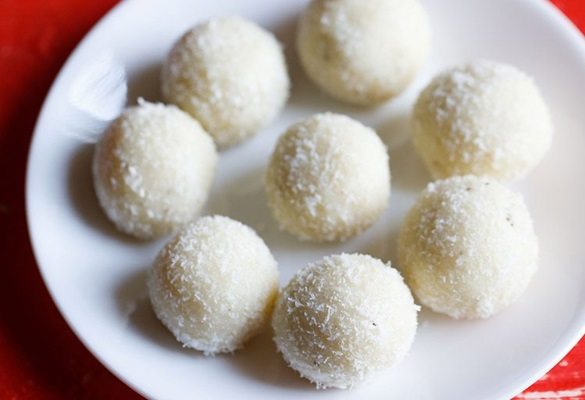 23. Kalakand recipe – moist, granular two ingredient kalakand recipe in 15 minutes. Kalakand is basically a milk cake. This kalkand is a jhatpat (quick) recipe. Only two ingredients are required – sweetened condensed milk and paneer or chenna. Stir for 15 minutes. Allow to set the kalakand for a couple of hours and you have the kalakand ready.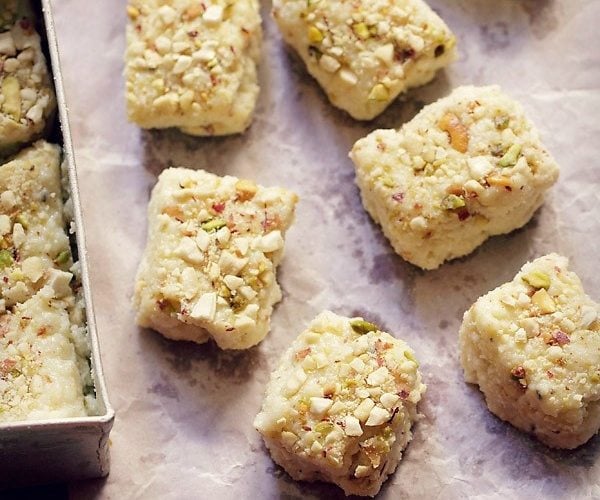 24. Malai kulfi recipe – easy and delicious kesar pista malai kulfi recipe made without condensed milk or mawa (khoya).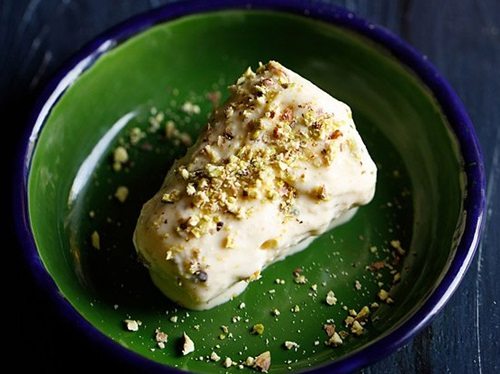 25. Gulab jamun recipe – a popular Indian dessert of fried dumplings in rose scented sugar syrup. There are many ways gulab jamun can be made. This easy and traditional recipe of gulab jamun is made with mawa (khoya) and flour. However you can make Gulab jamun with milk powder or Gulab jamun with sweet potato or with bread. Other popular delicious variations are Kala jamun and Dry gulab jamun recipe.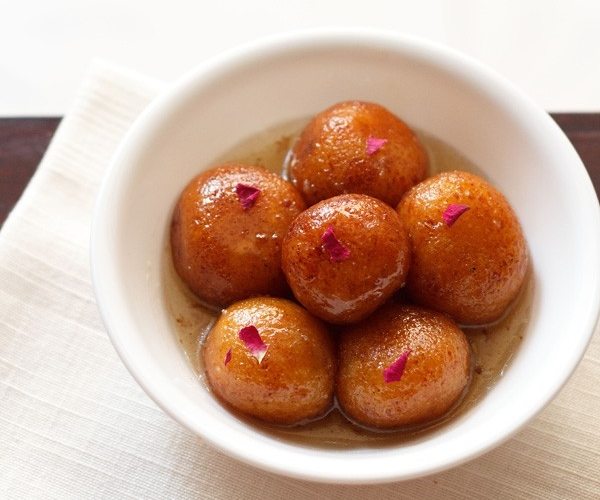 26. Gujiya recipe – gujiya is a deep fried pastry stuffed with a sweet filling of Khoya. gujiya is very much popular in north India. There are many variations of gujiya. One such variation posted on blog is this Apple gujiya recipe. other similar recipes you can make are Karanji (popular in maharashtra), Dry fruits karanji and Nevris (popular in goa).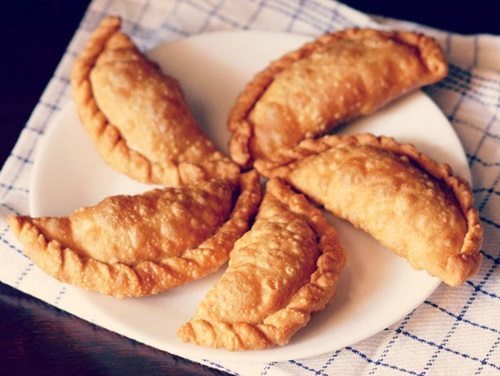 27. Basundi recipe – basundi is sweet thickened milk, flavored with cardamom and nutmeg, with the addition of dry fruits. This milk based dessert is popular in the western part of India, specially in the states maharashtra and Gujarat.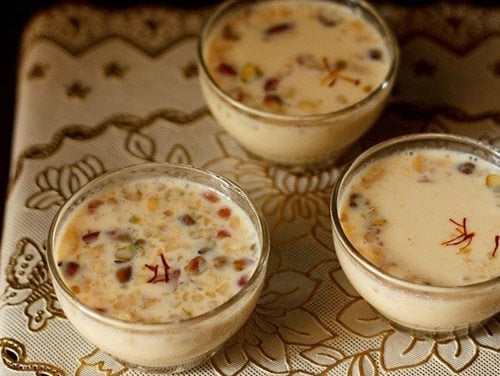 28. Milk peda in microwave – peda is a popular Indian sweet that is traditionally made with Khoya/mava or evaporated milk. This is a cheat's version of making peda with condensed milk. the method is super quick and takes about only 3 minutes to cook in the microwave oven.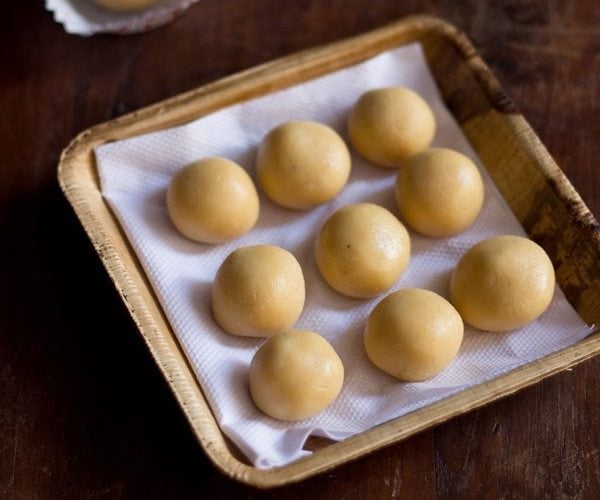 29. Kulfi falooda recipe – a delicious, cooling and filling dessert. Falooda And Kulfi are popular in most regions of India during ramadan. They are cooling as well as delicious. But the combo of kulfi with falooda is to take these desserts to another level. Two more delicious variations you can make during ramzan are: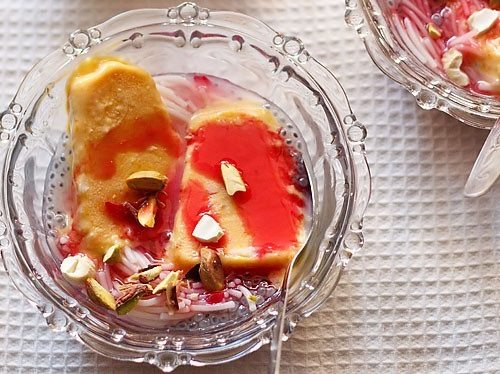 30. Beetroot halwa – a slow cooked dessert recipe of halwa with grated beetroots, milk, sugar, cardamom and dry fruits. the halwa has a beautiful color and looks good. You can make it more nutritious by addition of dry fruits. I have also posted Quick beetroot halwa recipe made with khoya.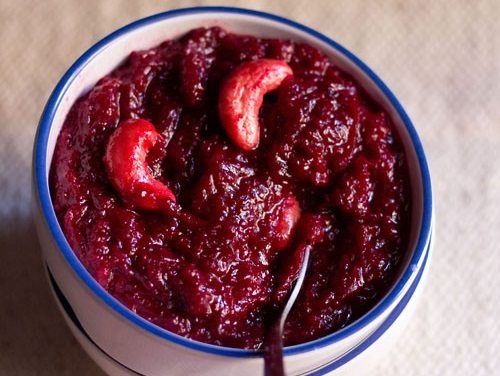 31. Mango mastani recipe – thick mango milk shake with ice cream. Mastani is a dessert drink which originated in Pune and is very popular. Basically mastani is a thick milk shake with Ice cream. you will be blown away with the simplicity and ease with which its made as well with its rich intense mango flavor. Few more Summer drinks you can make are during ramzan fasting are: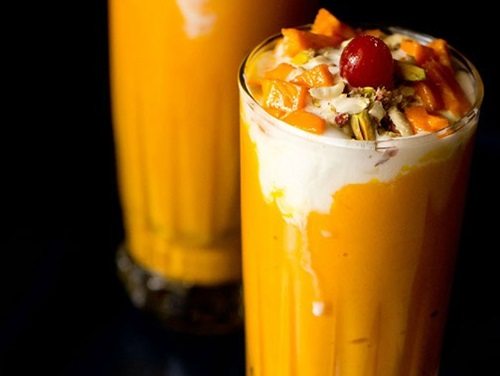 32. Fruit custard recipe – easy recipe of delicious custard made with mixed fruits. fruit custard can be served chilled or immediately. Its good to include fruits during ramadan fasting. This fruit custard is a delicious way to include fruits in your Iftar meals. Other fruit based desserts which you can make during ramadan are: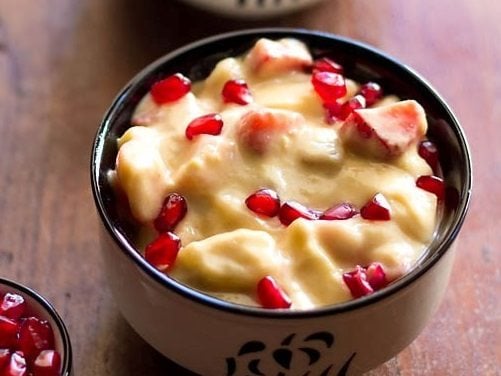 33. Panjiri recipe – a traditional Punjabi sweet made with whole wheat flour or atta. serve this panjiri sweet anytime just as it is or with some warm milk. Panjiri stays good for many weeks at room temperature.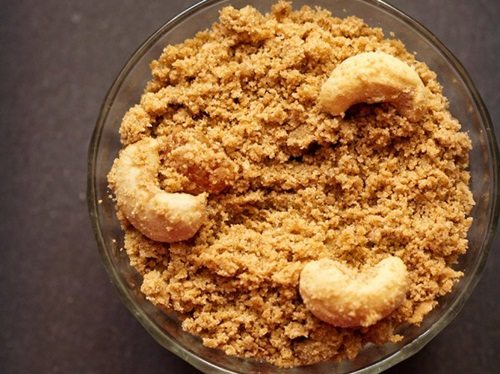 34. Vanilla ice cream recipe – creamy, soft and delicious eggless vanilla ice cream recipe. in this recipe no ice cream maker is used. You just need a good electric blender. For more ice cream recipes, you can check this collection of 12 kulfi and ice cream recipes.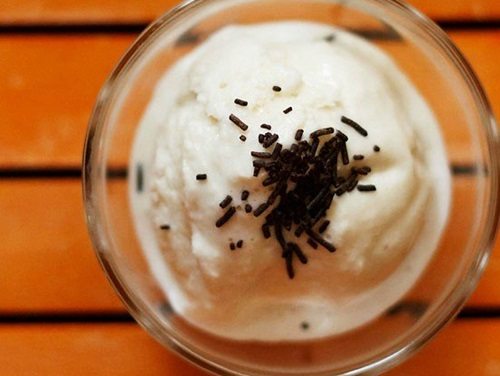 35. Atte ke halwa – a smooth sweet pudding made with whole wheat flour. this is a healthy halwa recipe you can make for Iftar. To make it more nutritious you can add dry fruits of your choice like almonds, cashews or raisins. If you want to check some more delicious halwa recipes for Iftar party, then you can check this Collection of 28 halwa recipes.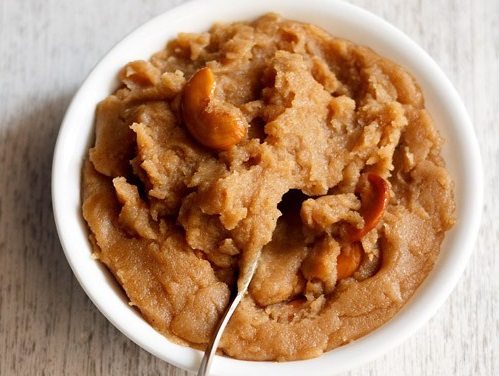 36. Quick khoya barfi recipe – a really easy and quick basic recipe of barfi made with khoya or mawa. This recipe just takes about 20 minutes right from the preparation to the cooking.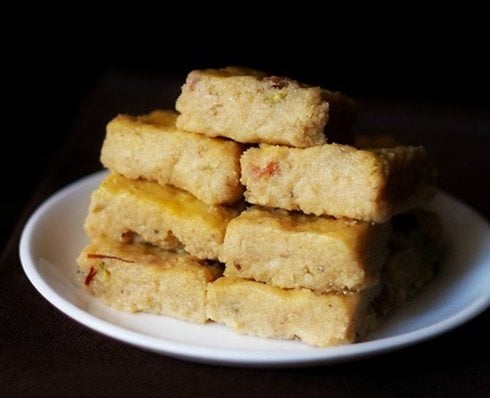 37. Sattu ladoo recipe – quick and easy ladoos made from roasted chana flour, jaggery and ghee. these sattu ladoos are a healthy option for everyone in the family. Other delicious recipes you can make with sattu are Litti chokha, Sattu ka sherbet and Namkeen sattu.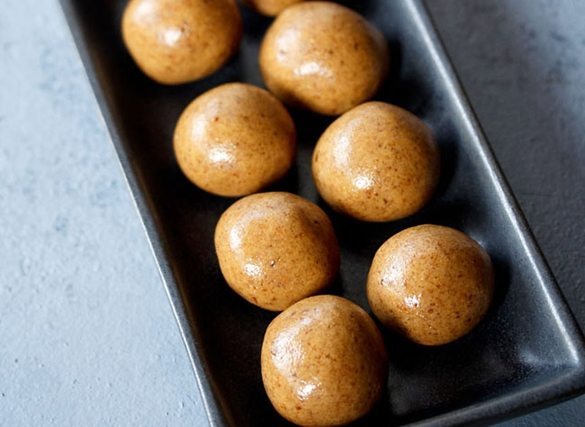 38. Mango pudding recipe – smooth, velvety and soft Thai mango pudding made with Coconut milk. the mango pudding has the lovely flavors of both mangoes and coconut.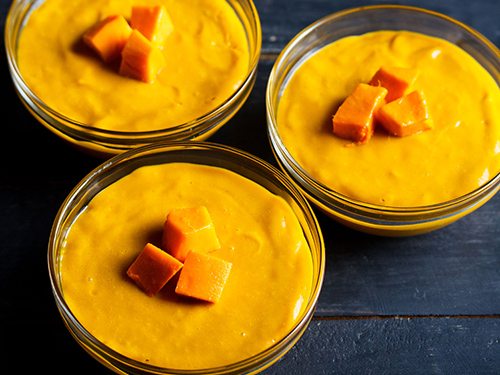 39. Besan ka halwa – a delicious halwa made from gram flour, ghee, sugar and cardamom powder.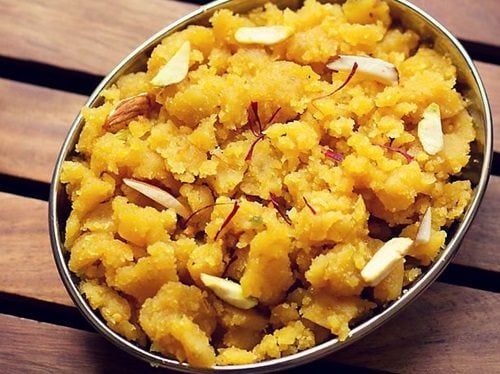 40. Sooji kheer recipe – a quick and easy kheer made with sooji (semolina or rava). this sooji kheer recipe gets done in about 20 minutes and is so simple that even a newbie can make it easily.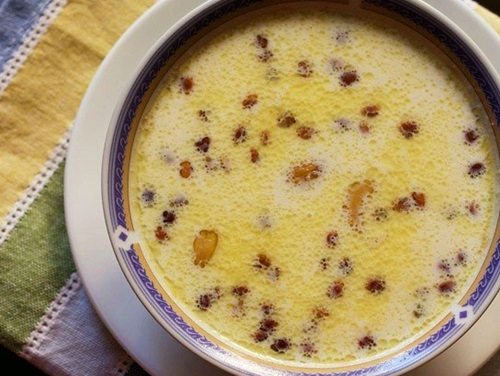 41. Gajar halwa recipe with condensed milk – gajar halwa is one of the most popular halwa variety in India. It is made for any festive occasion. This is a quick and easy version of carrot halwa recipe made with condensed milk or milkmaid. you can also check this quick Carrot barfi recipe.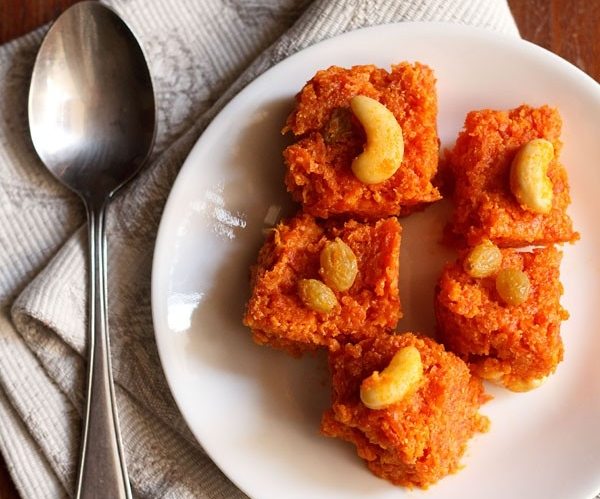 42. Punjabi puda recipe – tasty pancakes made with whole wheat flour and fennel seeds. this is a very simple and easy Punjabi delicacy made using few ingredients. The main flavor in this dish comes from the fennel seeds (saunf).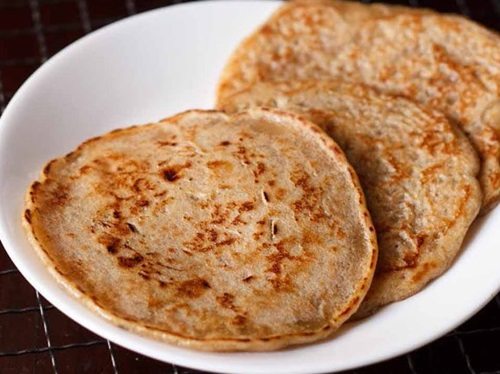 43. Coconut barfi recipe – easy and delicious barfi made with condensed milk. this coconut barfi has a melt in the mouth soft texture. You can also make coconut ladoos with the same mixture. One more quick barfi recipe you can make is this Coconut barfi with khoya.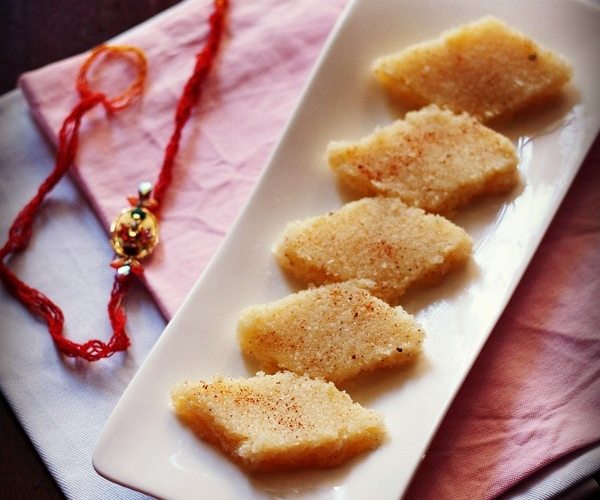 44. Apple halwa – delicious apple halwa made with cinnamon and vanilla. The best part of this apple halwa is that its not a heavy dessert as no milk, cream or evaporated milk (khoya) is added in the halwa.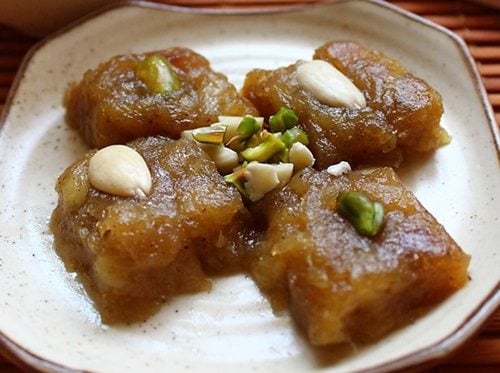 45. Oats kheer recipe – delicious kheer made with quick cooking oats or rolled oats, milk, ghee and dry fruits. Oats based recipes are filling and you don't feel hungry for some time. So Oats recipes can be included in the Iftar menu. For more delicious kheer recipes, you can check this Collection of 24 kheer recipes.