Trying to include more vegetables in your diet? This Vegetable Salad recipe is a bowlful of sunshine that is sure to delight your senses. A melée of mixed veggies, crunchy nuts and seeds, sweet pops of dried fruit and tangy feta cheese are tossed with a light vinaigrette for an unbeatable summer veggie salad.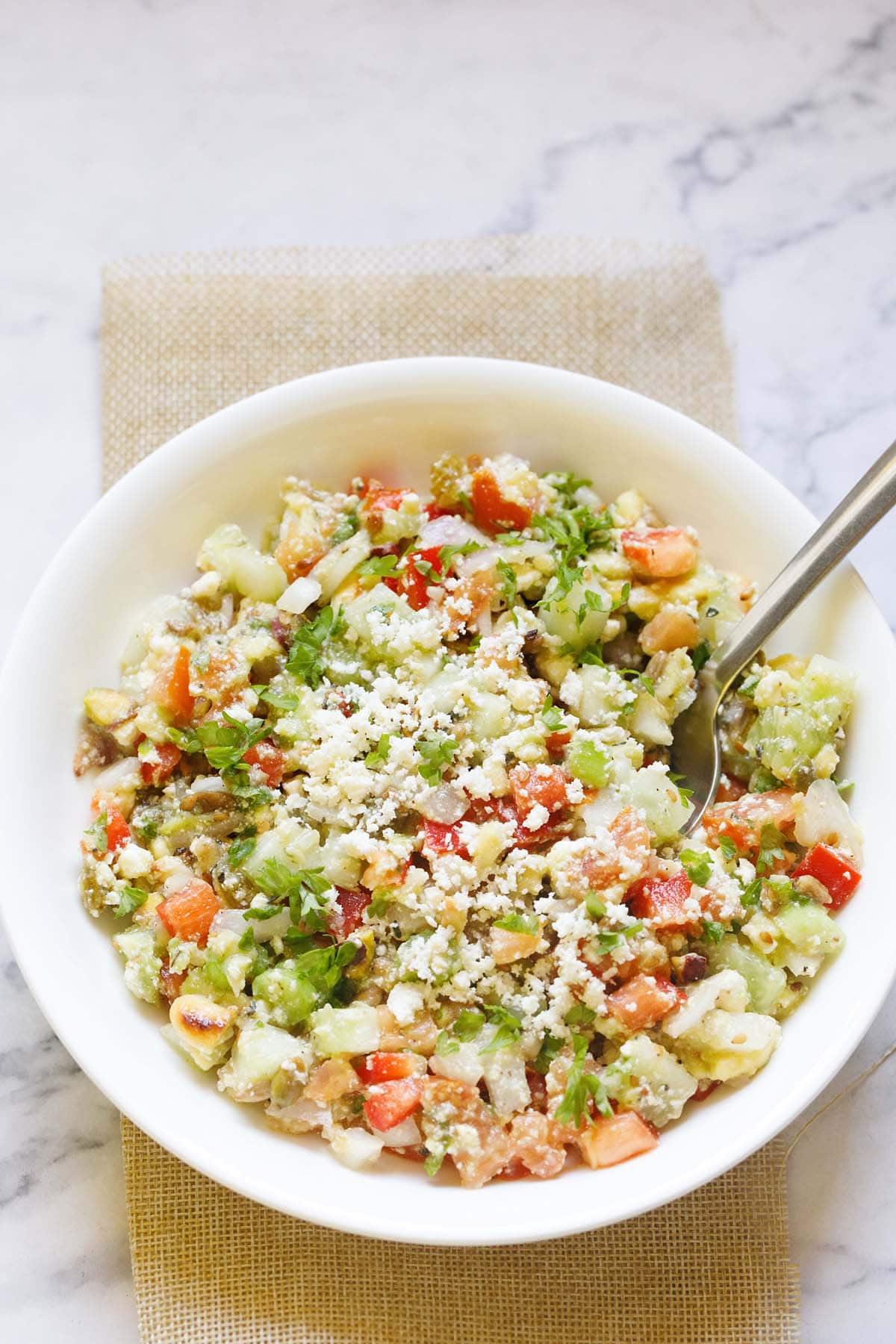 About This Veggie Salad Recipe
When the weather is hot, there is almost nothing that I crave more than crunchy, healthy veggies (especially when paired with a refreshing drink). This easy vegetable salad is packed with a variety of summer produce with all the textures and colors I could ever want.
And don't feel limited by that particular mix of veggies, either! Add or swap in any of your favorite veggies like earthy beets or sweet bell peppers. You can also opt to use any grilled or cooked veggies that you like – summer squash, zucchini or mushrooms are all lovely options.
This healthy vegetable salad is great in the summer when all the produce is fresh and green! That said, you can easily substitute in seasonal vegetables to enjoy it all year round. It is a very important and healthy practice to include salads in the diet.
This mixed veggie salad is also super easy to make. Simply toast the nuts and seeds, chop the veggies and whisk up the quick dressing before tossing it all together. In under 15 minutes, you'll have a colorful bowl of goodness ready to eat.
I personally like to add some creaminess to counteract the tart lemon-garlic vinaigrette, so I add avocado and feta. Note that are both are optional, though I highly recommend both. Feta cheese offers a briny, salty punch, while avocado offers more healthy fats in addition to nuts and seeds.
I usually make this vegetarian salad recipe to accompany a light khichdi or simple lentil-rice dish, but sometimes I'll eat it with just some fresh fruit juice or a smoothie to accompany it. If eating a salad doesn't seem like enough of a meal for you, try this recipe as a side with a main course dish.
Optional Variations
While my mix of juicy tomatoes, sweet carrots, cooling cucumber, crunchy celery, creamy avocado, sweet bell peppers and piquant onions is healthy, there are plenty of ways to customize this mixed veg salad to your liking. Here are some ideas:
Try adding blanched, lightly steamed or roasted veggies like broccoli, french beans, corn, cauliflower, baby corn.
Add lentils, beans or chickpeas or bean sprouts for more protein.
Grate some of the vegetables for a different texture.
Add marinated veggies like artichoke hearts for tang, or other veggies like radish for some pungency.
Swap in your own favorite combination of dried fruits, nuts and seeds. I added what I had at home.
Use fresh coriander or chives instead of parsley.
If you come up with a winning combination that I should know about, please let me know in the comments below!
How to Make Vegetable Salad
Toast Nuts and Seeds
1. Heat a small frying pan or skillet. When it becomes warm, add the following nuts and seeds.
1 tablespoon pistachios, chopped
1 tablespoon cashews, chopped
2 to 3 walnuts, chopped – optional
1 tablespoon almonds, chopped or sliced – optional

1 tablespoon pumpkin seeds

2 teaspoons sesame seeds, white or black
1 tablespoon sunflower seeds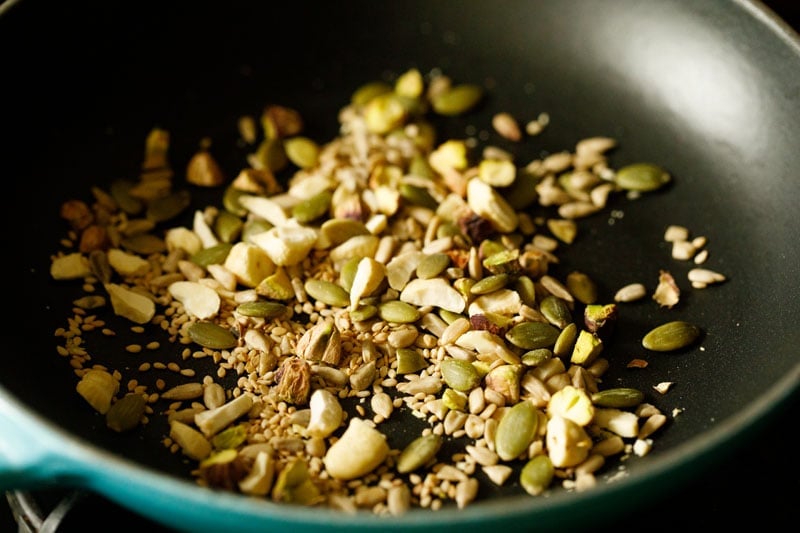 2. Keeping them on the lowest heat, stir often. Roast the nuts and seeds until lightly golden, crisp and fragrant. This takes about 4 to 5 minutes. Remove pan from heat and set aside.
Prep Veggies
3. Rinse the veggies well, then drain the water and set aside.
Peel and chop the 1 small to medium-sized cucumber in 0.5 cm cubes (½ cup chopped).
NOTE: Peeling the cucumber is optional; during peak season, the skin is quite thin and can stay on. If the skin is thick and tough, I recommend peeling it.
Remove the seeds and chop 1 small red bell pepper in 0.5 cm cubes (½ cup chopped).
Peel, rinse and chop 1 small to medium onion (⅓ cup chopped).
Dice 1 medium tomato to 0.5 cm cubes (½ cup chopped).
Also chop 1 celery stick (about 3 tablespoons). Set aside.
NOTE: You can also use ⅓ cup grated carrots or beets or ¼ cup grated radish for a different texture.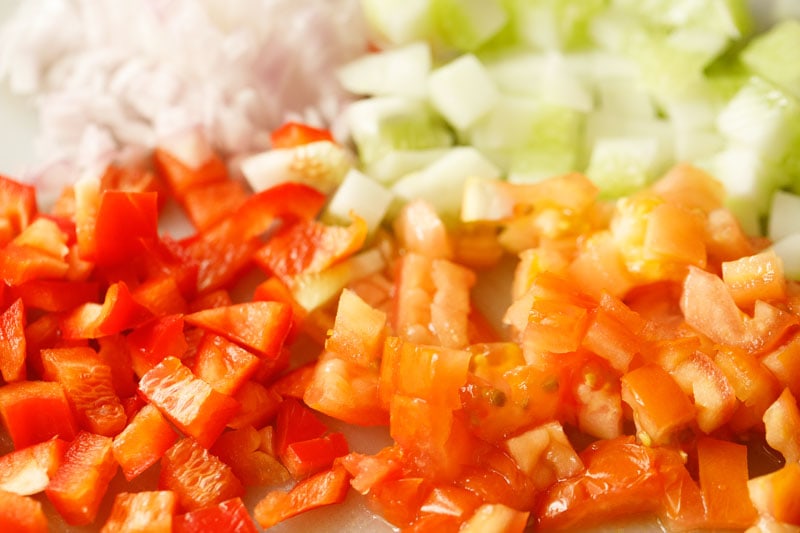 Make Lemon Vinaigrette
4. In a small mixing bowl, add 2 to 3 tablespoons extra virgin olive oil and 1 tablespoon lemon juice.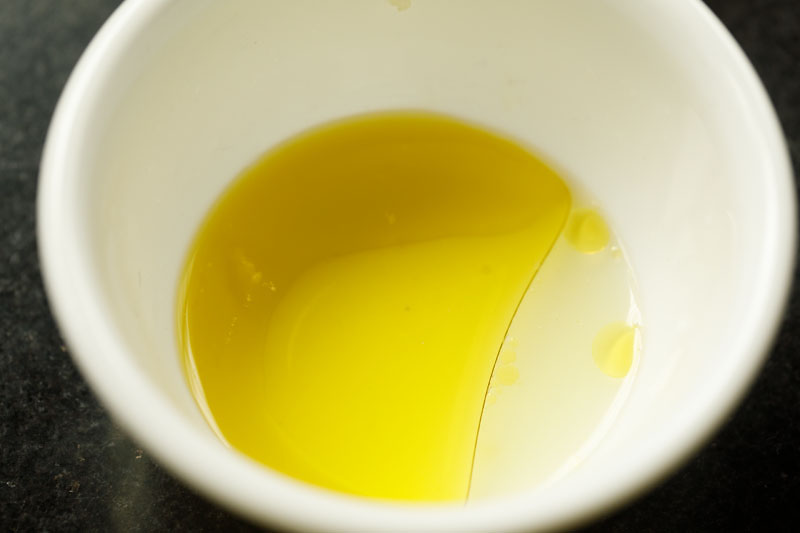 5. Add the following ingredients:
¼ teaspoon minced garlic
¼ teaspoon ground white or black pepper
½ teaspoon sugar
½ teaspoon salt (or to taste)
NOTE: I used raw sugar, but you can also use white sugar, brown sugar, coconut sugar or palm sugar.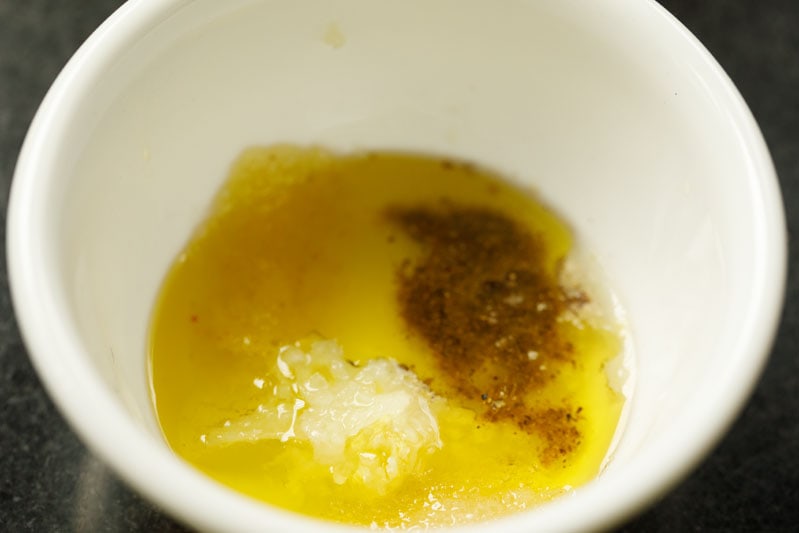 6. Add the dried herbs – ¼ teaspoon dried thyme and ¼ teaspoon dried basil. You can also add Herbes de Provence in the dressing.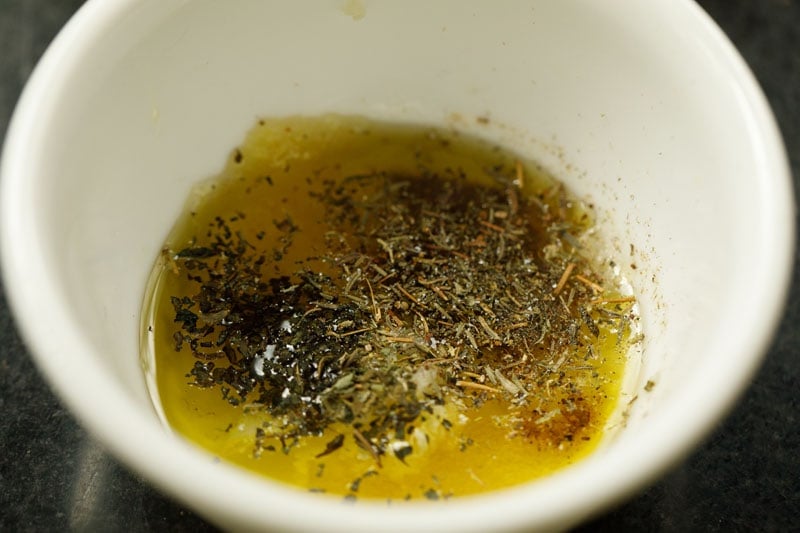 7. With a wired whisk, mix dressing ingredients briskly for 2 to 3 minutes until it thickens slightly.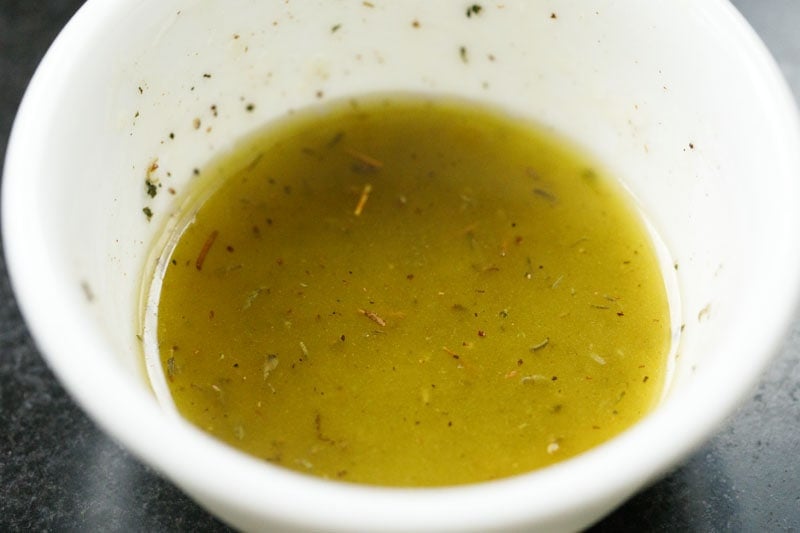 Toss Vegetable Salad
8. Take chopped veggies and celery in a bowl.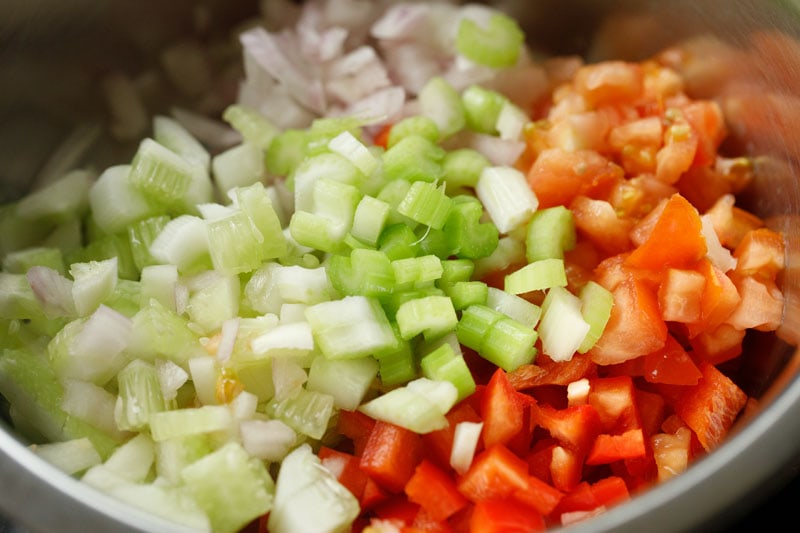 9. Halve a ripe avocado ( 1 medium to large). Scoop the pulp. Chop and add to the mixed vegetables. Add all of the lemon vinaigrette dressing.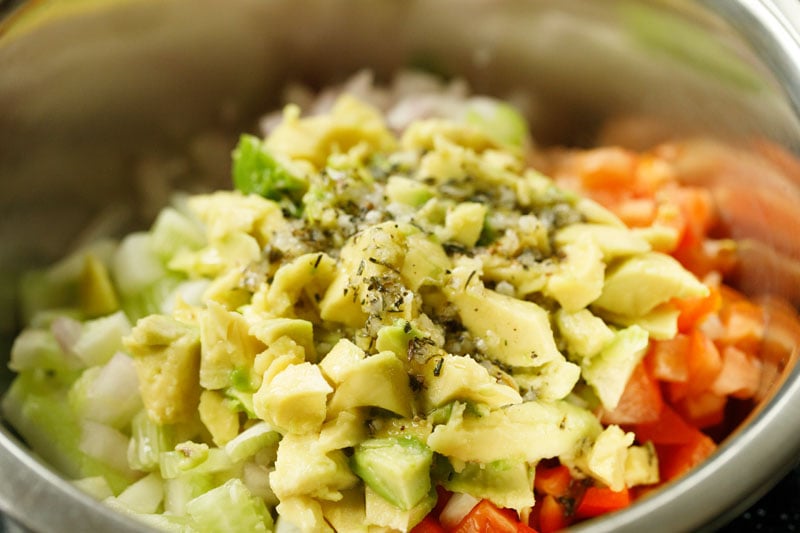 10. Add the cooled roasted/toasted nuts and seeds, 2 tablespoons golden raisins and 2 tablespoons chopped parsley.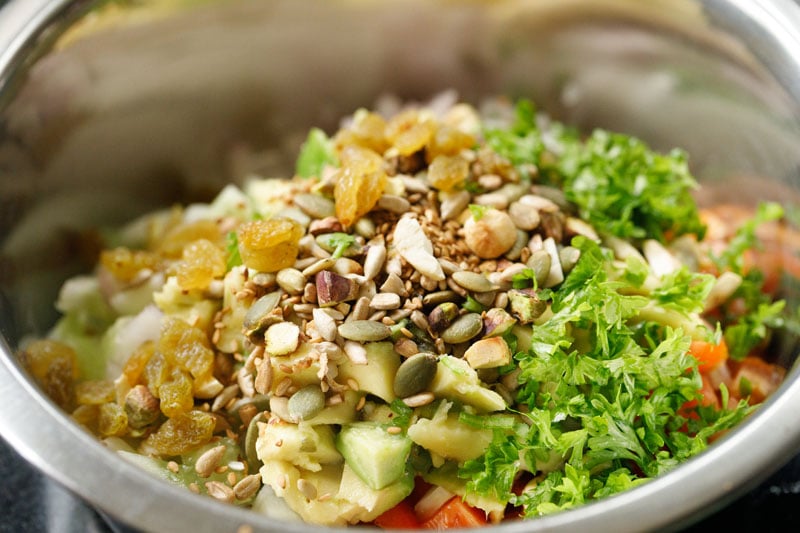 11. Add ¼ cup crumbled feta.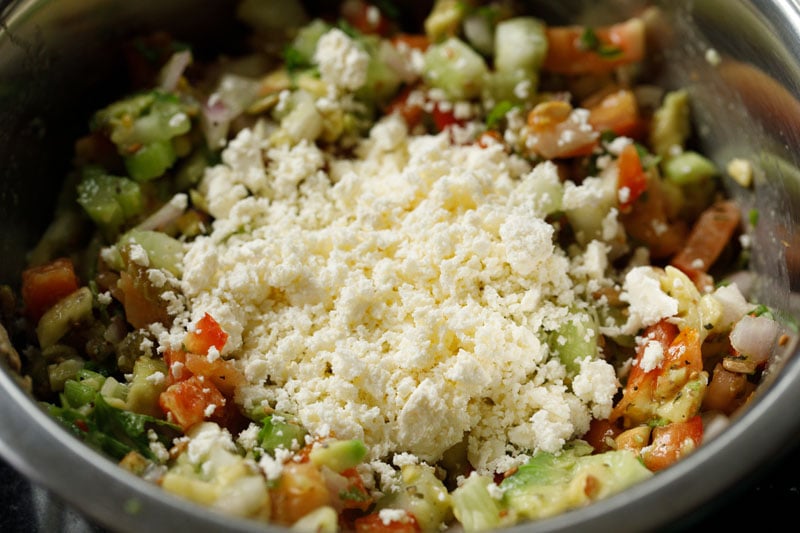 12. Mix and toss thoroughly till the dressing has coated the veggies evenly.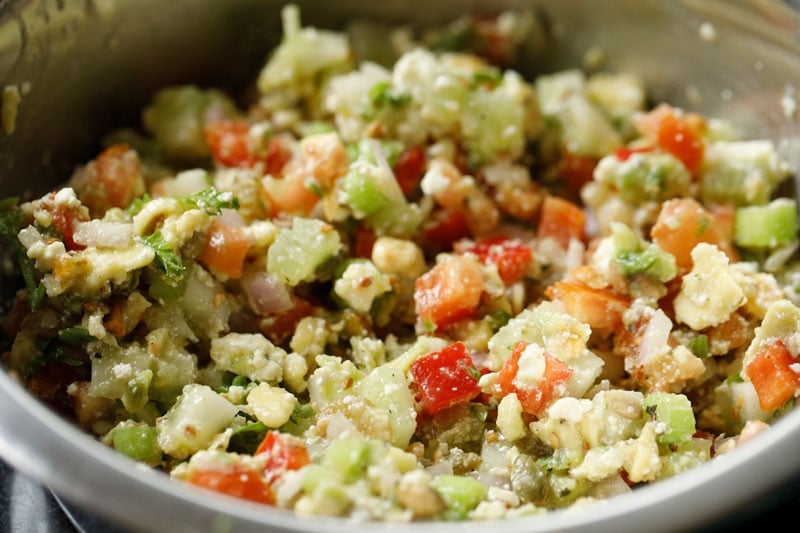 13. Serve veggie salad straightaway, garnishing with some additional crumbled feta and parsley. Enjoy vegetable salad as is, or with any Mediterranean, Italian, European or American main course. Enjoy!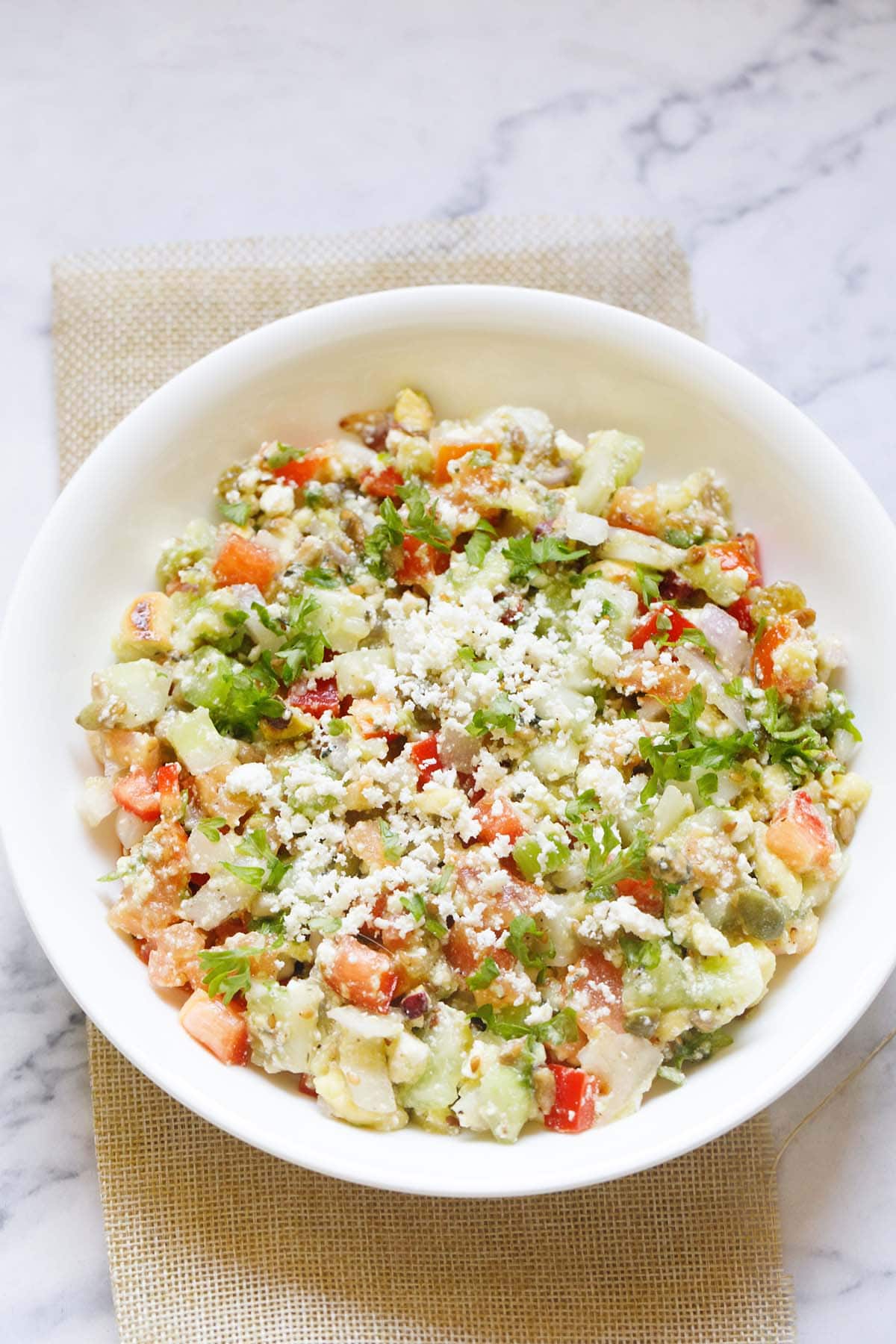 Veggie Salad Tips
This simple mixed vegetable salad with lemon garlic vinaigrette is easy to pull off, but I do have some tips to ensure that you have the greatest success:
If raw onions are too pungent for you, try soaking them in cool water for 10 to 15 minutes. Drain thoroughly, then add to the mix.
If you want to get a jump on meal prep, all of the vegetables can be prepped up to a few hours in advance with the exception of the avocado. Add the avocado right before tossing, or it will oxidize and become brown.
The vinaigrette can be made up to a 1 to 2 days in advance and kept in the refrigerator. The toasted nuts and seeds will also last for up to a week in a dry, airtight container on the counter.
If you have refrigerated your tomatoes, I suggest allowing them to come to room temperature before eating. They will taste so much better!
FAQs
Can I make this veggie salad ahead of time?
You can certainly prep this veggie salad ahead of time, though I don't recommend tossing it until just prior to eating. All vegetables can be chopped a few hours before in advance and kept in the fridge. The dressing will keep for up to 1 to 2 days in the fridge, and the toasted nuts and seeds can stay at room temperature in an air-tight container for up to a week.
What if I am allergic to nuts?
Feel free to swap out the nuts for any mix of seeds that you like. Pepitas and sunflower seeds are already part of the mix, but flax and chia would be nice additions. You can also opt to swap in croutons or broken tortilla chips instead of using nuts or seeds to get some of the same crunch.
Can I make my own herbes de provence? Or what can I substitute?
Feel free to substitute any French, Italian or Mediterranean seasoning blend that you like. You can also opt to make your own herbes de provence if you prefer.
Can I make it vegan?
Of course! Feel free to omit the feta cheese or use a plant based alternative.
What can I use instead of golden raisins?
Any other dried fruit that you like! I love chopped dried apricots, but regular brown raisins, currants, or even chopped dates will work. You can also opt to omit the dried fruit entirely, if you prefer.
More Vegetarian Salad Recipes
Please be sure to rate the recipe in the recipe card or leave a comment below if you have made it. For more vegetarian inspirations, Sign Up for my emails or follow me on Instagram, Youtube, Facebook, Pinterest or Twitter.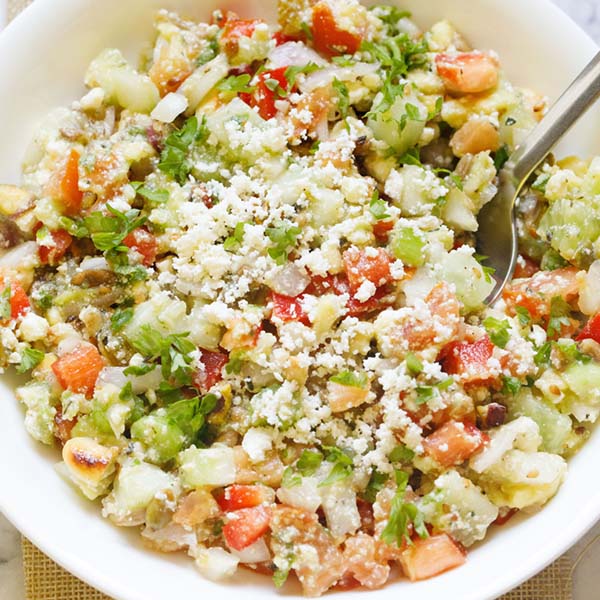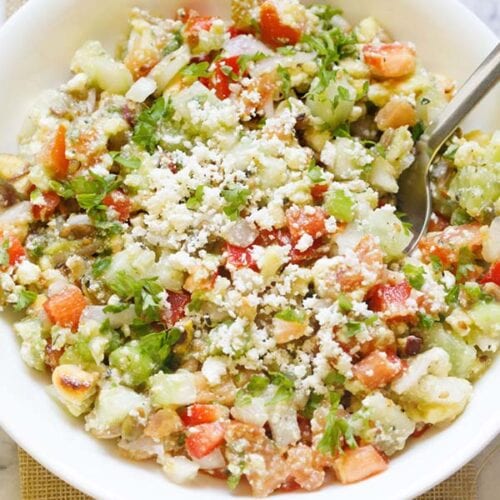 Vegetable Salad Recipe
This vegetable salad is a healthy and delicious summer salad made with fresh raw veggies, avocado, nuts, seeds, herbs and feta in a light vinaigrette dressing.
Vegetables
⅓

cup

chopped onions

or scallions (spring onions)

½

cup

chopped tomatoes

– chopped in 0.5 cm cubes

½

cup

chopped red bell pepper

or any colored bell pepper, chopped in 0.5 cm cubes

½

cup

chopped cucumber

– regular or English cucumber, chopped in 0.5 cm cubes

⅓

cup

grated carrots

– optional

1

avocado

– medium to large

3

tablespoons

chopped celery
Nuts and Seeds
1

tablespoon

cashews

– whole, chopped

1

tablespoon

pistachios

– unsalted and shelled, chopped

2 to 3

walnuts

– chopped

1

tablespoon

almonds

– chopped, optional

1

tablespoon

pumpkin seeds

1

tablespoon

sunflower seeds

2

teaspoons

sesame seeds

– white

2

tablespoons

golden raisins
For Lemon Vinaigrette Dressing
2

tablespoons

extra virgin olive oil

1

tablespoon

lemon juice

¼

teaspoon

minced garlic

¼

teaspoon

ground white pepper

or ground black pepper

¼

teaspoon

dried thyme

¼

teaspoon

dried basil

or 3 to 4 fresh basil leaves, torn

½

teaspoon

salt

or add as required

½

teaspoon

raw sugar

or white sugar or brown sugar
Other Ingredients
¼

cup

crumbled feta

– 25 grams

2

tablespoons

chopped parsley

– flat or curly
For Garnish
1

tablespoon

crumbled feta

1

tablespoon

chopped parsley
Instructions
First heat a small frying pan or skillet. Add the chopped nuts and seeds except raisins.

Roast them on a low heat stirring often until crisp and lightly golden. Make sure not to burn them. Set the pan aside.

In a small bowl, whisk all the ingredients listed under "For Lemon Vinaigrette Dressing" briskly for 2 to 3 minutes, till the consistency thickens slightly.

Rinse all the veggies. Peel and chop the the cucumber and onions. Chop the tomatoes, red bell pepper, celery. If using carrots, then grate one small carrot. Set the veggies aside.

Take all the chopped vegetables and celery in a bowl.

Cut one avocado in two halves. Scoop out the pulp from both the halves and chop them. Add to the mixed vegetables in the bowl.

Pour the prepared lemon dressing also in the bowl.

Add in the toasted/roasted nuts, seeds and chopped parsley.

Toss and mix well so that the veggies are coated evenly with the dressing.

Serve the vegetable salad immediately. While serving garnish with feta and chopped parsley.
Notes
Customize this vegetarian salad recipe to the veggies you have on hand. You can also choose to roast or steam some vegetables.
Feel free to use fresh seasonal vegetables.
If you are allergic to any nuts or seeds then simply omit them from the recipe.
This vegetable salad has the best flavors as soon as it is mixed. If you want to prep ahead then you can cut the veggies and refrigerate for a few hours. The dressing can be made and refrigerated for 1 to 2 days. You can roast the nuts and seeds and they will be good for about a week in an air-tight container.
For a vegan vegetable salad, skip the feta or use a plant based substitute.
The recipe is easily scalable to make for potluck or summer parties.
Nutrition Info (Approximate Values)
Nutrition Facts
Vegetable Salad Recipe
Amount Per Serving
Calories 318
Calories from Fat 225
% Daily Value*
Fat 25g38%
Cholesterol 12mg4%
Sodium 465mg20%
Potassium 624mg18%
Carbohydrates 20g7%
Protein 7g14%
Vitamin A 2958IU59%
Vitamin B1 (Thiamine) 1mg67%
Vitamin B2 (Riboflavin) 1mg59%
Vitamin B3 (Niacin) 2mg10%
Vitamin B6 1mg50%
Vitamin B12 1µg17%
Vitamin C 40mg48%
Vitamin D 1µg7%
Vitamin E 4mg27%
Vitamin K 75µg71%
Calcium 125mg13%
Vitamin B9 (Folate) 84µg21%
Iron 2mg11%
Magnesium 78mg20%
Phosphorus 207mg21%
Zinc 2mg13%
* Percent Daily Values are based on a 2000 calorie diet.
This Vegetable Salad Recipe post is from the archives (April 2013) and has been republished and updated on September 2021.