Namaste
We are glad that you are here and thank you for stopping by on Dassana's Veg Recipes – a blog which has pure vegetarian recipes, mostly Indian but some World Cuisine as well. There are many Eggless Baking Recipes as well.
Most of the recipes are in step by step pictorial guide. They are easy to understand and relate too. Some recipes have short videos with the stepwise photo guide.
Who am I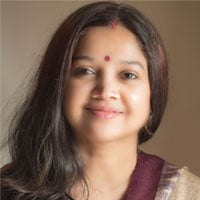 I am Dassana. My name means "search for insight" (Many readers have asked me the meaning of my name and hence I have mentioned it).
My life journey has had many ups and downs but there is a constant thread of spirituality in it.
Practicing meditation very early in my life has helped me a long way and continues to help me even now and my family.
More About The Blog
I started vegrecipesofindia.com in February 2009 to keep a log (online journal) of my family recipes and the ones which I had developed back then along with the recipes I was trained in.
It was on the insistence of my husband that I started maintaining this online journal. Of course I had no idea back then that my blog would grow so much and become India's most popular vegetarian food blog.
Initially our brand name was "Veg Recipes of India" which we later changed in June 2020 to "Dassana's Veg Recipes". This brand change was made to broaden our vision of sharing vegetarian recipes from all over the world and not just specific to Indian cuisine.
I have been sharing global recipes right from day one when I started with the blog. But we felt that since I was trained professionally in cooking, baking, confectionary and having experience of International as well as Indian cuisine, it was time to showcase that on the blog.
You see I have done my graduation in Home Science and was trained both in mainstream Indian as well as International cuisines. I also have worked as an intern in a five star hotel.
Whatever I know about cooking, baking and confectionery is thanks to my training in food science, food technology, nutrition & dietetics.
Even before getting trained professionally, I already knew the basics of cooking as I learnt it from my elders right from the age of 10. Cooking is one art that is deeply instilled in me.
About The Recipes
We have 1800 vegetarian recipes shared in this span of 11 years and is one of the largest collection of pure Indian vegetarian recipes which have been tried and tested and presented with step by step photos.
The recipes are also shared with many tips and suggestions so that it is easier for anyone to make them easily.
Many of our blog fans, readers and patrons love our recipes. We are also grateful to our readers for giving us blessings, positive vibes and good wishes.
Positive energy does make a difference. The testimonial to this fact is the hundreds of positive comments, reviews and mentions we have on our popular recipes like:
All the recipes are tried and tested in our kitchen first and then only shared on the blog. I keep the homemaker in mind and make the recipes. So that it is easy and one does not have to hunt around for ingredients – specifically ingredients which are not easily available in India.
The recipes shared are taken from our families, relatives, friends. Some recipes are adapted from my cooking school and a few from cookbooks. Some recipes I have been making on my own for many years.
Some recipes are the ones which I have created and developed. Whenever I adapt a recipe from any cookbook or website, I always give its reference.
If the recipe is of my mother or mother-in-law or of any friend then that is also mentioned in the post.
Our Food Motto
We always prefer home cooked food whether it is making a simple Pizza or a loaf of bread or Chocolate Cake. We believe in cooking with fresh ingredients that are easily available.
We avoid using heavily processed food or junk food. As a result we have sound health in our family. Eat healthy and stay healthy is our motto.
On the blog you will find many healthy recipes made with whole grains and cereals. Even in many of my baking recipes, I have used healthy ingredients wherever possible.
Even before I started to blog, I would buy organic and this habit has stayed even today. All our grocery stuff is organic produce from grains to sugar and flours.
We even purchase organic vegetables and fruits. I cannot get all the vegetables & fruits organic in India. But I do buy whatever we can. Hence you will see fewer gourmet fruits or imported vegetables recipes on the blog.
We buy local vegetables and fruits to ensure that this supports the farmers of our country.
We also make sure to share some regional recipes made from rare ingredients or veggies which are not very popular or well known. We have tried to share at least one recipe of such an ingredient. E.g. We have covered many gourd varieties.
We have shared recipes of ingredients which are available only in some Indian states like fresh jowar grains, lotus stem, amaranth leaves, colocasia leaves, Chinese potato (koorka), tapioca root, banana flower, khus grass, nannari, makhana, sandalwood powder, turmeric leaves, lilva beans and flours like water chestnut flour, buckwheat flour, amaranth flour, barnyard millet flour, arrowroot flour etc.
We think that people who want to use these ingredients should be able to make recipes with them easily. This is not only good for farmers but for us also as most of these ingredients are healthy.
Indian Food
Indian food is diverse as well as vast. There is so much variety that we bet one cannot find such a massive variety in any country. From simple everyday recipes to complex recipes, from a basic dal to a rich biryani, from a light meal to a full thali meal.
There are thousands of varieties of food that one gets in India. Not to forget the sweets and desserts too. Yet another Indian culinary delight is the Indian street food.
The recipes are also markedly different pertaining to the different regions. The North Indian food is different than the South Indian food. Then there is the Rajasthani, Gujarati, Maharashtrian, Goan food – which forms the western belt and the central belt – the Bihari, agarwal, Awadhi and Lucknowi cuisine which is again very different.
In between there are Parsi, East Indian, Sindhi and Iranian flavors too. Not to forget the North Eastern states as well as Kashmiri cuisine. So welcome to the land of Indian food.
Comment Policy
You can share your experience related to a recipe or give your suggestions or feedback. We reply to most of the comments or queries we get on the blog.
Comments are moderated by us every day. So it does take some hours or a day before you see the reply to your comment. If you have tried a recipe, you can even rate or review it.
Spammy, rude or offensive comments are automatically deleted as we have enabled the comment system that way. Event links and promotional links will also not be approved.
Promotions
We do not do any promotion or review of any product as we care for our readers. The quality of products keep changing depending upon the profit margins of the company. So we don't promote any product on this website as we think it is not ethical from our end to promote a product whose quality can change over a period of time.
So if you are a brand or an advertiser, then please do not send us any promotional or marketing emails for your product. we don't do any product promotion, review or advertising.
Guest Posts, Sponsored Posts
I also do not do any sponsored posts, give aways and freelance recipe development.
We also don't take any guest post on the blog. Although we get few requests every month. But again we don't know how good the recipe is. Unless we try a recipe ourself, we don't want to publish it in our blog.
Reason being that once the recipe is published on our blog then it will be tried by thousands of people in a month. We don't want to spoil the food of so many people by publishing a recipe that is not tried and tested and fool proof.
It is a heavy karma to spoil the food of so many people. So we make sure that all recipes are tried and tested before getting published on the blog.
Image Copyright
All the content and images on our blog are copyright protected. Please do not use our images in any way which includes hot-linking the images or uploading them to your server and then showing it in your website or apps or ebooks or videos or any medium whatsoever.
Please also don't use our content, work, written text and photos in any way without our permission. please do not republish our copyrighted content or use our pics. Check our Terms and conditions page for more info.
Using Recipes
If you have made and liked our recipe and want to add it in your website, blog or make a youtube video. Then please do the following:
1. Write the recipe method or instructions in your own words instead of copying and pasting ours.
2. Do write your own titles and headings. Please do not copy ours.
3. Also do credit the recipe author that is myself (dassana) by name and provide a real link back to the source recipe page.
It is a good practice to write the recipe in your own words and give a real link back to the author and the recipe source. It maintains your credibility and authenticity not only with your readers but deep down you will also feel good. Honesty and sincerity are two best friends one should never leave.
Press and Media Mentions
We have had our share of some media and press mentions. This is happened inspite of my hesitation to promote the blog and focus more on creating and sharing good recipes.
Our blog recipe photos were shown in google TV advertisements which were aired on major Indian television channels for around 3 months.
Many of our recipes have been featured in leading websites and newspapers like huffingtonpost.com, timesofindia, tribune, manorama group, femina magazine etc.
Our website got featured in the femina magazine issue (Oct 15 2017) in their featured article on top 50 bloggers in various niches. Photo here.
We were also featured in patrika newspaper (August – 2017). Photo here. article has been featured in all the patrika newspapers across different towns and cities of India.
The blog received a mention in Maharashtratimes. check the newspaper pic here.
You can check more of our press and media mentions on this link: Media mentions
Get In Touch
You can email us at dassanasvegrecipes@gmail.com if you have any query which you are not comfortable sharing in the comment or want to send us a photo of any recipe you made from the website.
You can also find us on social media like Facebook, Youtube, Pinterest, Twitter, Instagram