This overnight oats recipe is quick, simple, and delicious dish made by soaking quick-cooking oats or rolled oats with milk, water, or yogurt overnight in the fridge. Then later topped with fruits or nuts and served for breakfast as a healthy dish for busy mornings. This dish is like having a dessert for breakfast.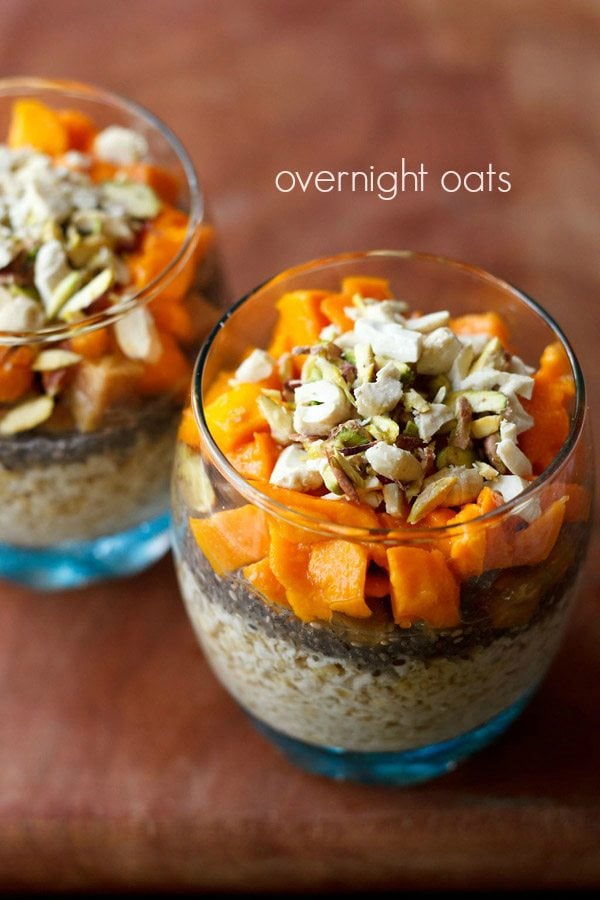 About Overnight Oats
Overnight oats are a no-cook recipe. Mix oats and water/milk/yogurt together, refrigerate the night before and serve as breakfast in the morning. This recipe is great for folks who do not have time for elaborate breakfasts in the morning.
I came across overnight oats a few years ago and decided to give it a try. I was so impressed! In fact, I enjoyed it more than cooked Oats Porridge. When we moved to our new home, this breakfast became my savior because it was so easy to prepare and it's still my go-to breakfast on busy days.
The recipe I have shared is a very simple version of overnight oats where I soak quick cooking oats in water and later top it with fresh fruits like sapota, mango, apple, pear, banana, fresh sweet berries, pomegranate etc. You can also opt to add some nuts and dried fruits.
To make it more healthy you can add edible seeds like pumpkin seeds, chia seeds, sesame seeds etc. So basically you can customize this recipe according to your preference and dietary needs.
There are many variations and ideas you can add to this basic overnight oats recipe. Search google and Pinterest for more ideas!
The recipe below is for one serving only but you can easily double or triple it.
How to make Overnight Oats
1. Add ⅓ cup of quick-cooking oats or rolled oats to a small jar, glass, mug or bowl. Feel free to add as many oats as you like. But then add water as needed.
You can opt to rinse the oats in a fine mesh strainer prior to soaking.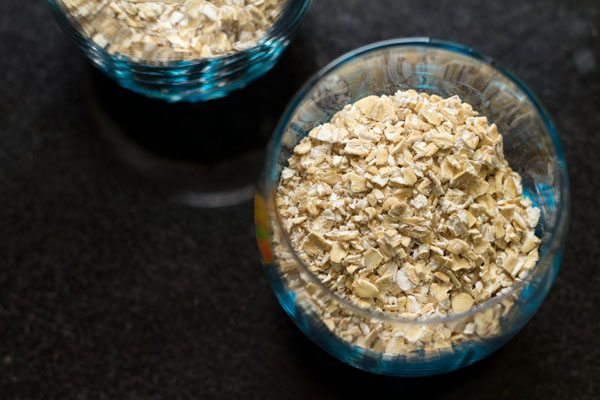 2. Then, add 2 teaspoons of raw sugar, jaggery, maple syrup or any sweetener of your choice. You can skip the sweetener if you want.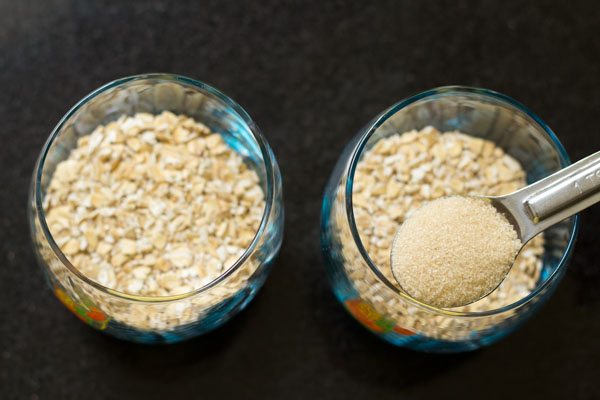 3. If you are using quick-cooking oats add ⅓ cup of water to get a smooth porridge-like texture and if you are using rolled oats then add ½ to ⅔ cup of water.
You can also use yogurt, almond milk, or lite coconut milk instead of water. Including yogurt or milk will make it more richer.
If using yogurt add some more water and mix it well with the water. Or else you may run the risk of the oats not getting softened.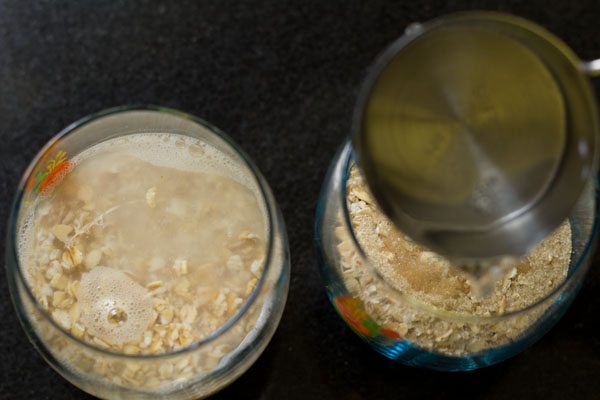 4. Stir and mix well.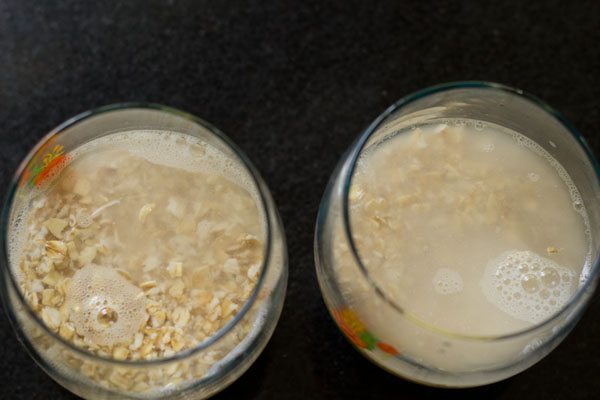 5. You have the option to add ½ tablespoon of chia seeds or sweet basil seeds (sabja seeds) and a total of ½ cup of water (I added a bit more water later after adding the chia seeds).
If you do not have chia seeds or sweet basil seeds then you can skip this step. Next, cover the mixture and refrigerate overnight.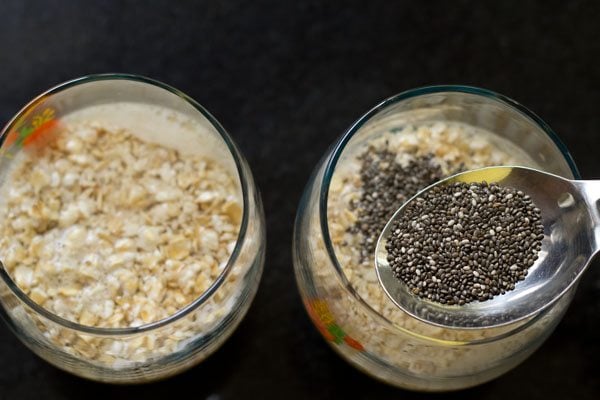 6. The next morning both the oats and chia seeds would have absorbed the water. You can even add more water or milk at this step if you want.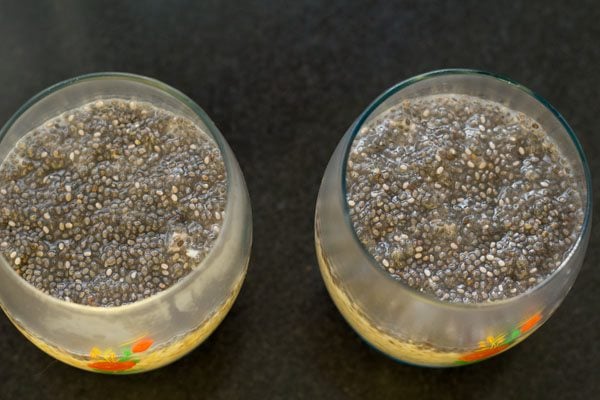 7. Now add some fresh chopped fruits of your choice. I started by adding sapota (chikoo).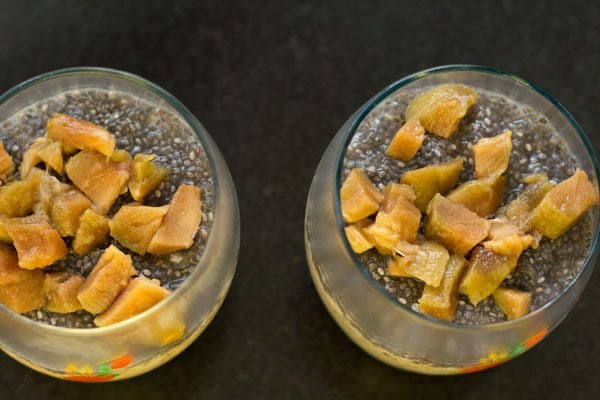 8. Then chopped mangoes. Other fruits you can add are apple, pear, pomegranate, banana, blueberries, strawberries etc. I suggest adding sweeter berries as sometimes they can be too tangy.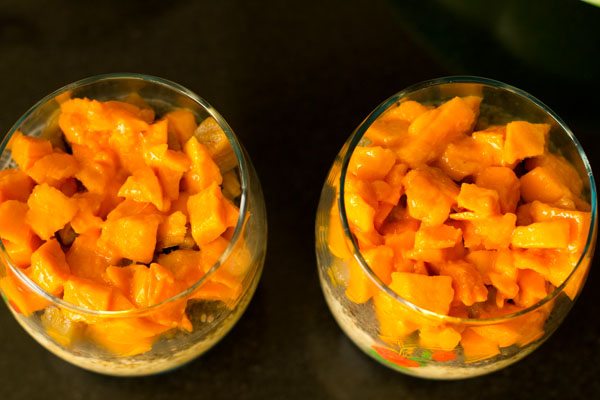 9. Finally, top with chopped nuts and dry fruits like raisins, dried berries or dried apricots, dates, cashews, almonds, pistachios etc. These give a nice crunch and add some healthy fats to your meal.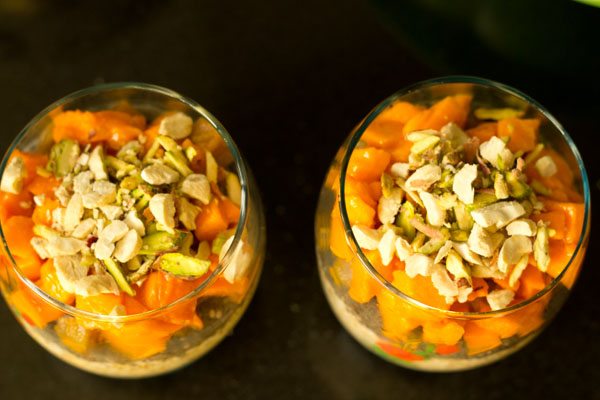 10. Serve overnight oats straight away. This recipe is easily customizable and you can make it for brunch or as an evening snack also.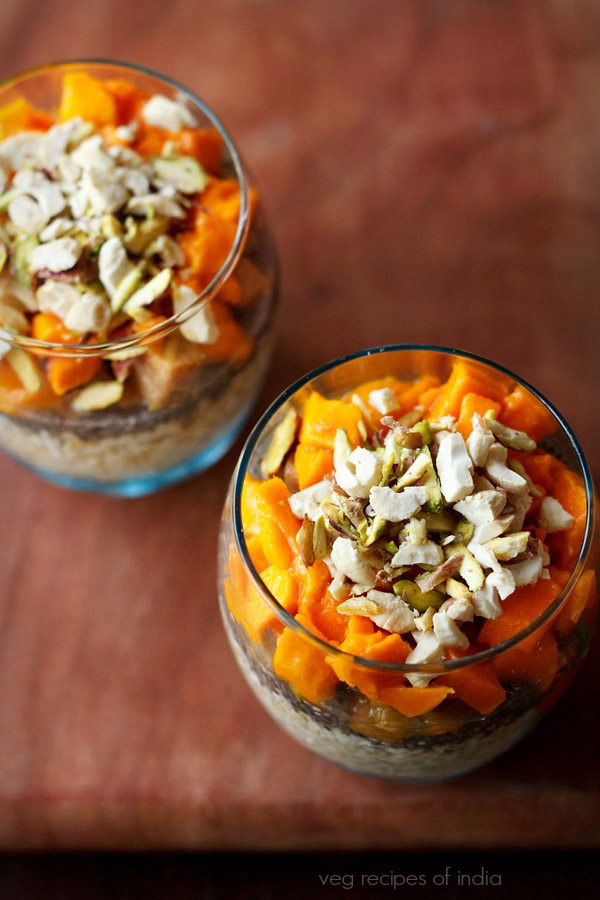 Expert Tips
Aside from the oats, you can add any other ingredient of your choice to this recipe.
Soak oats in water, curd/yogurt, milk, almond milk, coconut milk, or soy milk.
Add honey, maple syrup, raw sugar, or jaggery as a sweetener. Or you can skip the sweetener altogether.
I love adding chia seeds to overnight oats but you can also add flax seeds, pumpkin seeds, sunflower seeds, or melon seeds or sweet basil seeds (sabja seeds).
Add any sweet fruits and dry fruits of your choice. However, if you are using milk be mindful of which fruits you add. For example, citrus fruits and melons should not be added to milk.
In addition, you can add cashew butter, peanut butter, cacao nibs, chocolates, jam, or a homemade fruit preserve to overnight oats.
Use quick-cooking oats or rolled oats. I have used both of these oats for this recipe and both tasted delicious! Quick-cooking oats can be soaked for as little as 4 to 5 hours so sometimes I soak the oats mid-morning and serve them as an evening snack. In addition, you can add overnight oats to smoothies!
FAQs
Do I have to store overnight oats in the fridge?
Yes. It is very important to store overnight oats in the fridge or in cool conditions. When overnight oats are stored in warm/hot conditions, it becomes fermented and tastes sour.
Which brand of chia seeds I can use?
For this recipe, I used Lyva chia seeds which can be bought in local superstores or online. You can use any good brand of chia seeds preferably organic.
Are overnight oats healthy?
Overnight oats should be avoided by people who have indigestion problems because the phytic acid from the soaked oat water can cause problems. If you want to get rid of the phytic acid strain the water from the oats then add your favorite toppings and serve.
Do you eat overnight oats cold?
Yes, you can eat them cold. If you do not want cold oats then feel free to warm them slightly before you add the fruit toppings. You can also add more water after warming if necessary.
Do overnight oats have to be in a glass jar?
No. You can make overnight oats in a glass, mug or bowl as well.
What type of oats are best for overnight oats?
You can use quick-cooking oats or rolled oats for this recipe.
If you made this recipe, please be sure to rate it in the recipe card below. Sign Up for my email newsletter or you can follow me on Instagram, Facebook, Youtube, Pinterest or Twitter for more vegetarian inspirations.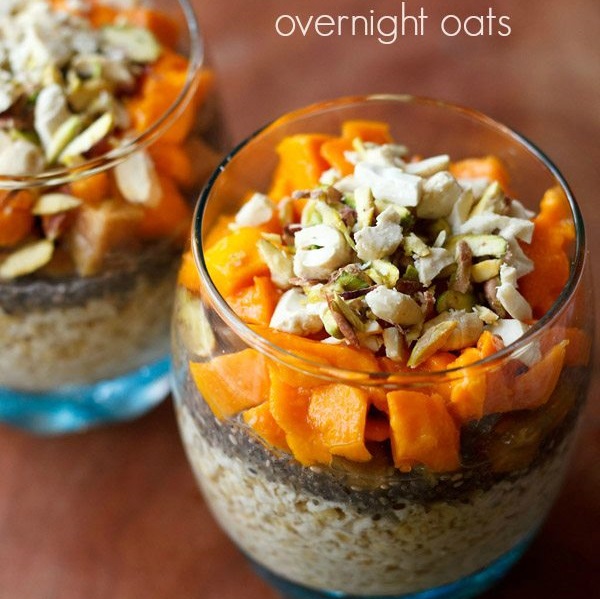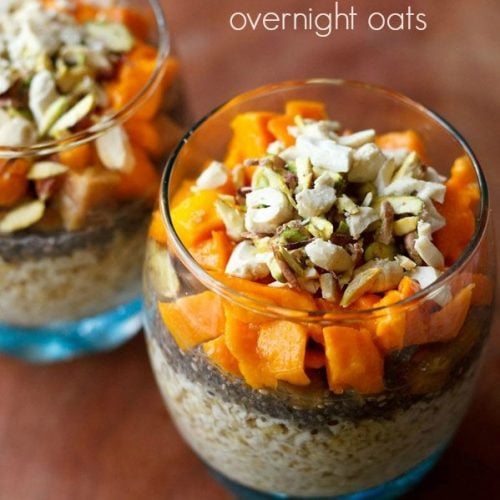 Overnight Oats
Overnight oats is a no-cook recipe method of quick-cooking oats or rolled oats soaked overnight in water, milk or yogurt. Later topped with fruits and dry fruits and then served.
---
---
Ingredients
⅓

cup

quick cooking oats

or rolled oats

2

teaspoons

raw sugar

or honey or maple syrup or jaggery powder (optional)

⅓

cup

water

– add ½ cup water if using chia seeds & ½ to ⅔ cup water for rolled oats

½

tablespoon

chia seeds

or sweet basil seeds – optional

½ to ¾

cup

chopped mix fruits

– apple, sapota, mango, banana, berries

2 to 3

tablespoons

chopped nuts

– almonds, pistachios, cashews or walnuts
Instructions
Take quick cooking oats or rolled oats in a small jar, glass, mug or a bowl.

Add raw sugar or jaggery or any sweetener of your choice like maple syrup or honey.

Add water. If using rolled oats, add ½ to ⅔ cup of water. Instead of water you can opt to add almond milk, lite coconut milk or yogurt.

Stir and mix well.

Add chia seeds. If you do not have chia seeds, then just skip them. Cover and refrigerate.

The next morning, add fruits, topped with chopped nuts and dry fruits.

Serve overnight oats straight away.
Notes
You can add your choice of fresh fruits.
For the liquids you can add plant-based milk or dairy milk. You can also use plant based yogurt. If you use yogurt then you will need to add some more water.
Always remember to refrigerate and don't keep at room temperature. As this can ferment your overnight oats.
Feel free to skip the sweetener or you can add your choice of sweetener.
The recipe can be scaled easily.
Nutrition Info
Approximate values
Nutrition Facts
Overnight Oats
Amount Per Serving
Calories 228
Calories from Fat 36
% Daily Value*
Fat 4g6%
Sodium 12mg1%
Potassium 228mg7%
Carbohydrates 46g15%
Protein 5g10%
Vitamin A 361IU7%
Vitamin B1 (Thiamine) 1mg67%
Vitamin B2 (Riboflavin) 1mg59%
Vitamin B3 (Niacin) 1mg5%
Vitamin B6 1mg50%
Vitamin C 3mg4%
Vitamin E 1mg7%
Vitamin K 6µg6%
Calcium 60mg6%
Vitamin B9 (Folate) 14µg4%
Iron 2mg11%
Magnesium 99mg25%
Phosphorus 188mg19%
Zinc 1mg7%
* Percent Daily Values are based on a 2000 calorie diet.
Like our videos? Then do follow and subscribe to us on youtube to get the latest Recipe Video updates.
Tried this recipe?
If you have made the recipe and liked it then do share the recipe link on facebook, twitter & pinterest. For instagram mention @dassanasvegrecipes and tag #dassanasvegrecipes!
All our content & photos are copyright protected. Please do not copy. As a blogger, if you you want to adapt this recipe or make a youtube video, then please write the recipe in your own words and give a clickable link back to the recipe on this url.
This Overnight Oats recipe post from the archives (originally published on June 2016) has been updated and republished on 22 Jun 2021.