glossary of indian vegetables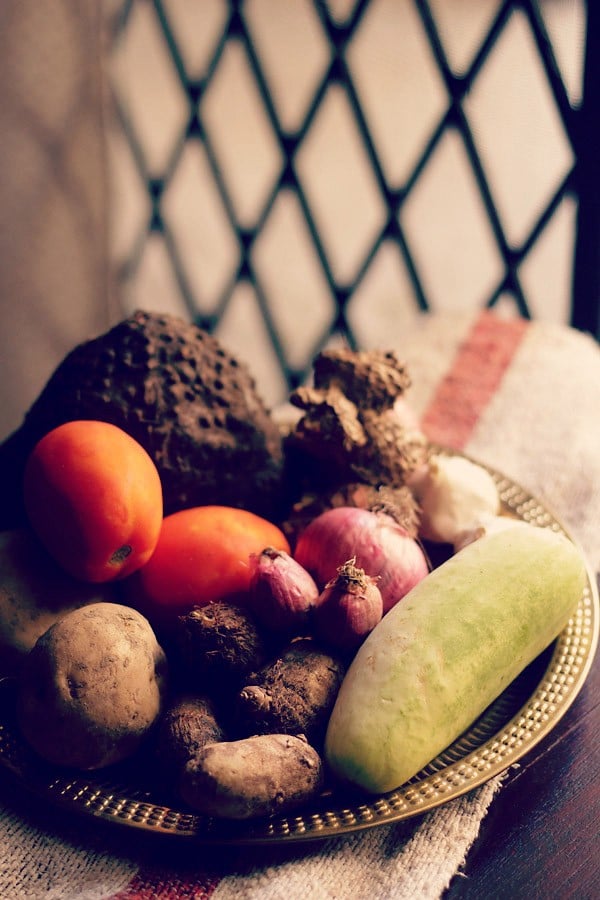 here's a handy glossary table with the english names and their hindi, tamil and marathi equivalents. we have also included other regional indian languages for some vegetables, wherever possible.
in case, you also plan to check some veggie recipes then here is a collection of indian vegetable recipes.
list of indian vegetables name
english
hindi
tamil
telugu
kannada
marathi
konkani
names in regional languages
amaranth leaves
chauli, chaulai
thotakura
harive soppu
chawli
thambde bhajji, tambdi bhaji
(for red amaranth leaves)
ash gourd, white pumpkin, winter melon
petha
poosanikai
boodida gumadikaya
bood kumbalakai
safed bhopla
kuvale
aubergine, brinjal, eggplant
baingan
kathirikkai
vankaya
badanekayi
vangi
vaingan
begun (bengali), ringan (gujarati), vankaya (telgu)
baby corn
beetroot
chukandar
bottle gourd, opo squash,
white gourd
lauki, ghia
suraikai
sorakaya, aanapakaya
halu
kumbal kai
dudhi
dhave dudhi,
gharduddi
sorakaya (in telugu), (ghia, ghiya in punjabi)
bitter gourd, bitter melon
karela
pavakkai
 kakarakaya
hagal kayi
karlya
karathe
kakarakaya (telugu), kalara (oriya), karola (bengali)
cabbage
patta gobhi, paat gobhi
muttai kosu
kosu gadda
ele kosu
kobi
band gobi (in punjabi)
carrot
gajar
gajaru gadda
 gajjari
gajar
capsicum, green bell pepper
shimla mirch
kudai milagai
bunga mirapakay
donne menasinakai
dhobli mirchi, bhopli mirchi
donne mirsang
cauliflower
phool gobi
gobi puvvu
hu kosu
flower
 phulkobi (oriya)
cluster beans
guar ki phali
kothavarangai
goru chikkudu
 gorikai
gawar
mitke saang
coconut
nariyal
thengai
kobbari kaya
tengina kai
naral
naarlu
coriander/cilantro leaves
dhania patta
kothamalli thalai
kothimeera
kottambari soppu
kothmir
kothambari pallo
corn
makai, bhutta
makka cholam
mokkajonna
govin jol
makka
jonnalo
challi (in punjabi)
cucumber
kheera
vellarikkai
kaakdi
savte kai
kakdi
tavshen
kaakdi ( in gujarati)
curry leaves
kadi patta
karuveppilai
karivaepaku
karibevu soppu
kadi patta
phanna pallo
dill
suwa, savaa
sataguppi
sadhapa vithulu
/sathapushpa vithulu
sabbasige soppu
shepu
sheppi bhajji
soa (punjabi)
drumsticks
sahjan ki phalli
murungaikkai
mullakkada
nuggekai
shevgyachya
shenga
mashinga sango
fenugreek leaves
methi
vendhayam keerai
menthikura
menthe soppu
methi
methi pallo
french beans, green beans
faras bean, sem
tingal avre kai
farasbi
tingal avro
garlic
lahsun
poondu
vellulli
bellulli
lasun
losonu
fresh ginger
adrak
 inji
allam
shunti
ala
alle
adu (gujarati), allam (telugu), aada (assamese, bengali)
green chilli
hari mirch
pacchai milagai
pachi mirapakaya
HasiMenasu
hirvi mirchi
tarne mirsang
jackfruit
kathal
pala pazham
panasa
halsina hannu
fanas
fanas
fanas (gujarati), chakka pazham (malayalam)
lime, lemon
nimbu
elumichai pazham
nimmakaya
nimbekai
limbu
limbuvo
malabar spinach
poi saag
bachhali kura
mayalu
valchi bhaji
pui shaak (bengali)
mushroom
kukkurmutta, khumb, guchhi
kaalaan
puttagodugulu
anabi
alambo
kaalan
mustard leaves
sarson ka saag
kadugu keerai
aava kura
sasive soppu
onion
pyaaz
vengayam
ullipaya
neerulli
kanda
piyavu,
kando
okra, lady finger
bhindi
vendakkai
bendakaya
bendekai
bhendi
bhend
flat green beans, hyacinth beans
sem ki phali, papdi
avarakkai
chikudkaya
papdi, val papdi
surti papdi or valor papdi (gujarati)
peas
matar, mutter
pattani
pachi batani
batani
hirve vatane
vatano
mint leaves
 pudina patta
puthina
pudian
pudina
pudina
marga pallo
pumpkin
kaddu
parangikai
gummadikaya
kumbalkai
(sarekai)
bhopla
potato
aloo
urulaikilangu
bangaladumpa
batate
batata
batato
alu
radish, daikon
mooli
mullangi
mullangi
moolangi
mula
moolangi
radish pods
moongra, mogri
moongre (in punjabi)
raw plaintain,
unripe raw banana
kacha kela
balekai,
valaikkai
aratikaya
balekai
kachche kele
harve kele
red chili
lal mirch
vara milagai
pandu mirapakaya
kempu menasinakai
lal mirchi
thambde (red) mirsang
snake gourd
parora
(chichinda)
potlakay
paddul kai
padwal
paddul
spinach
palak
pasala keerai
palakura
palak, basale
palak
palak, vali
sweet potato
shakarkandi
sakaravalli kilangu
chilakadadumpa
 genasu
ratale
kanang
ratalu
tomato
tamatar
thakkali
rama mulaga kaya
kembhoota
tambate
taro roots or colocasia
arbi
seppenkilangu
chamadumpa
alu
ivy gourd or gherkins
tindora
dondakaya
 tondekai
tendli
tendle
kundru (oriya)
turnip
shalgam, shalzam
nookol
knool khol
navalkhol
salgam
kon
elephant yam
sooran, suran, jimikand
senai kizhangu
kanda
suvarna gedde,
panjar gadde
suran
surnu
potato
aloo, alu
urulaikishangu,
urulaikizhalungu
bangaaladumpa
batata
batato
batata or bateta in gujarati
kantola
controlli
kartule
phagil
if you know the name of any veggie in any regional indian language and want to update it in this post… then do leave it in the comment section and we will update the post. if we have missed any vegetable, then also you can let us know. thanks in advance.
special thanks to readrs – deepika, priya sivakumar, sgs, raji, aishwaryarani, raghavendra and priya for sharing the names of veggies in regional languages.
Related Culinary Posts: