This super easy and flavorful Cilantro Mint Chutney is a keeper recipe and made with handful of ingredients. Filled with fresh, herby and zest flavors, it is a breeze to make this Mint Coriander Chutney. Use it as a dipping sauce with your favorite Indian snack or slather it on bread to make spicy sandwiches.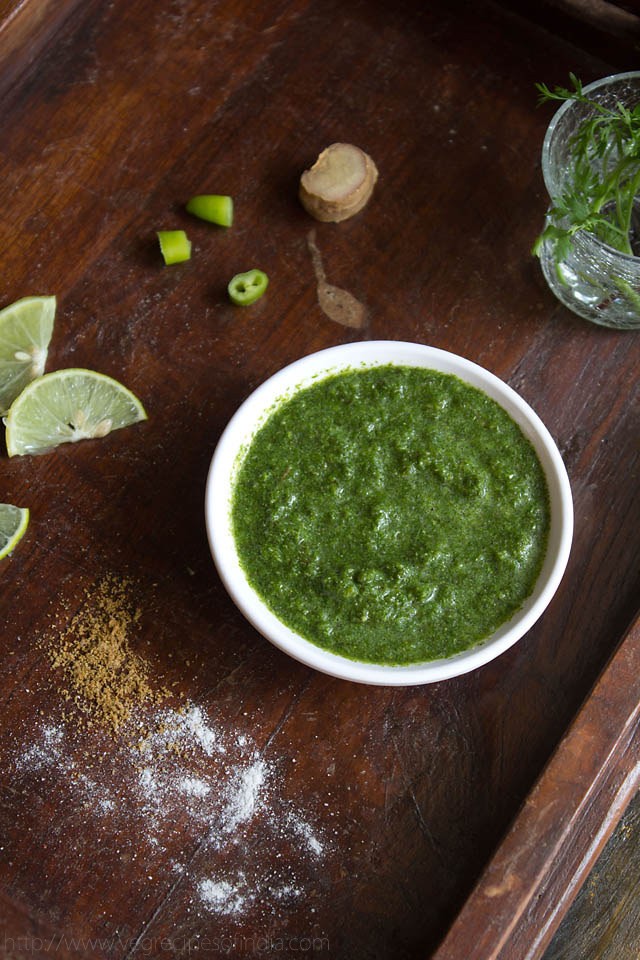 About Cilantro Mint Chutney
This spicy green colored chutney includes fresh mint, cilantro (coriander leaves), ginger and green chillies. A bit of earthy ground cumin and black salt rounds up the flavors. Don't worry if you do not have black salt – simply use whatever edible salt you have on hand. Kosher salt, sea salt, pink salt – all work!
Optionally, you can add lemon juice as it preserves the green color of the chutney. This recipe comes from my mom and she would make it often as a dipping sauce with our after-school or evening snacks.
I always make some mint coriander chutney and keep it in my refrigerator. It keeps good for up to 2 to 3 days in the refrigerator.
Usually the chutney is used as a dipping sauce with Indian snacks like pakora, Samosa, Sandwich, Vada, Aloo Tikki. I also add this chutney in my favorite Mumbai chaat snacks like Sev Puri, Pani Puri and Ragda Pattice. It is also used as a spread for sandwiches.
Whenever I plan to make any of these chaat recipes then I usually make this cilantro mint chutney one day earlier and my work is easier the next day.
It is a versatile chutney and can be used in many chaat recipes. You can also check this similar Coriander Chutney.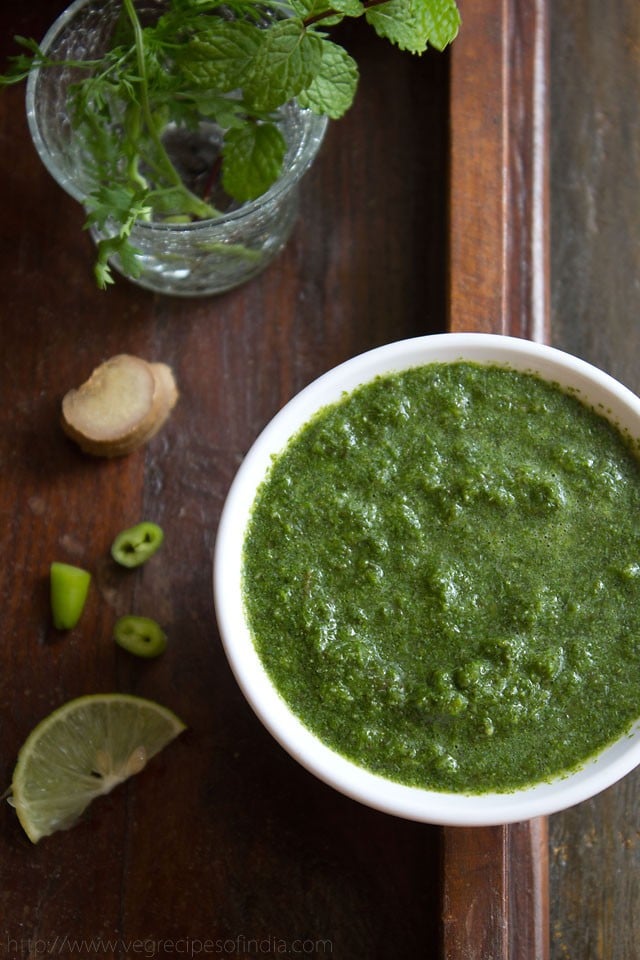 How to make Cilantro Mint Chutney
1. Measure and keep all the ingredients ready for making the chutney.
Ensure that the main herbs – coriander and mint leaves are fresh. Don't use the stem of mint as they can make the chutney bitter. Only use the leaves.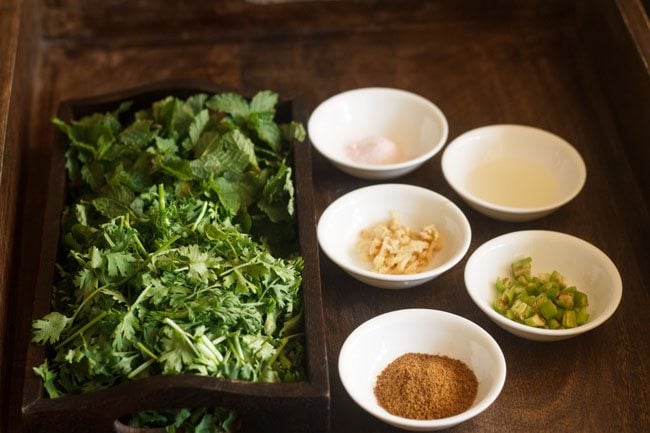 2. Rinse 1 cup chopped coriander leaves (cilantro) and 1 cup chopped mint leaves in the water in a colander or strainer 2 to 3 times. After rinsing, drain the water well.
I have used equal proportions of mint and cilantro, but even with 1.5 cups of cilantro and ½ cup of mint, the recipe works well. Ensure that the herbs are fresh and tender.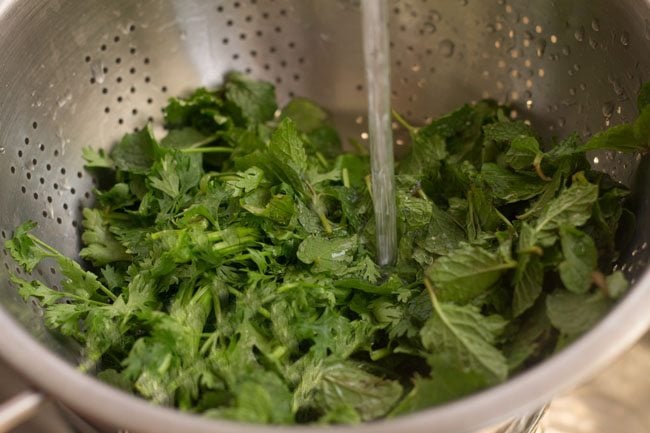 3. In a mixie or blender, add the rinsed coriander leaves and mint leaves.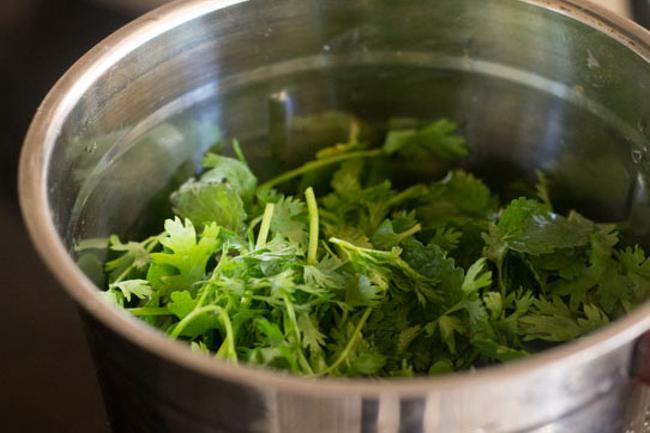 4. Next add 1 to 2 chopped green chilies (about 1 teaspoon chopped chilies) and ½ inch chopped ginger.
Instead of the Indian green chillies, you can use Thai green chillies or serrano pepper. Thai green chillies can make the chutney very spicy, so I suggest to add ¼ to ½ teaspoon chopped of it.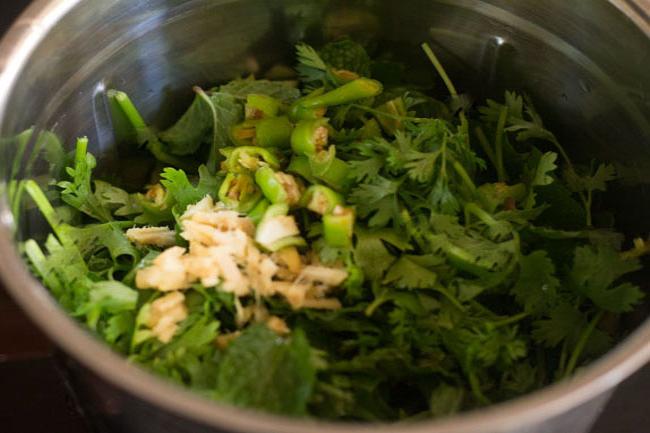 5. Also add 1 teaspoon ground cumin powder (optional), 1 teaspoon lemon juice (optional) and black salt or any edible salt according to taste.
Lemon juice helps to retain the green color, but is optional. Feel free to omit it out if you do not like a tangy taste in the chutney.
6. Add 3 to 4 tablespoons of water or add as required to make a thick or medium-thick chutney.
If you plan to make this chutney as a sandwich spread, then make it thick. if serving with snacks as a dipping sauce, then make it medium-thick to medium consistency.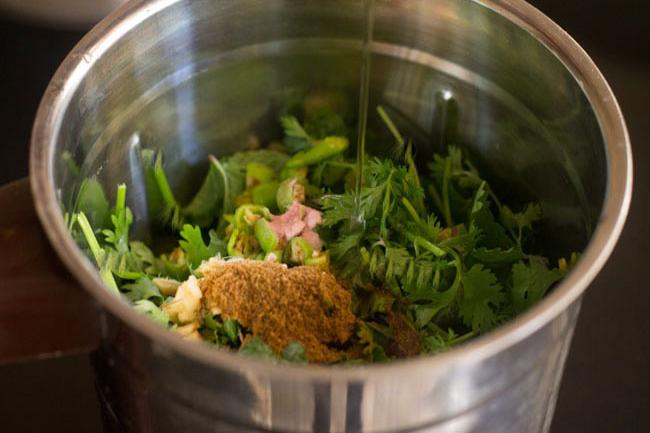 7. Grind or blend all the chutney ingredients into a smooth paste. For a thicker chutney, add less water.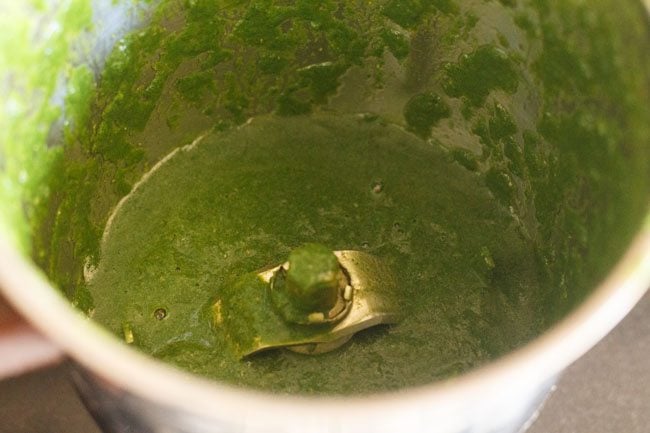 8. Keep the mint coriander chutney in an airtight container in the refrigerator. The chutney stays good for 3 to 4 days in the fridge.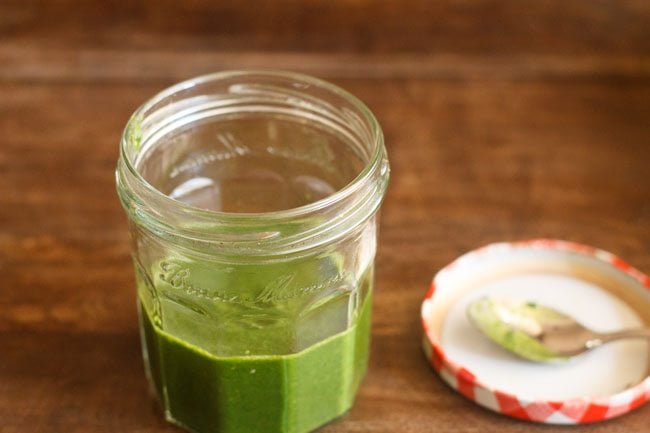 9. You can serve this cilantro mint chutney with Onion Pakoda, samosa, Potato Chips or French Fries or Potato Wedges or other snacks.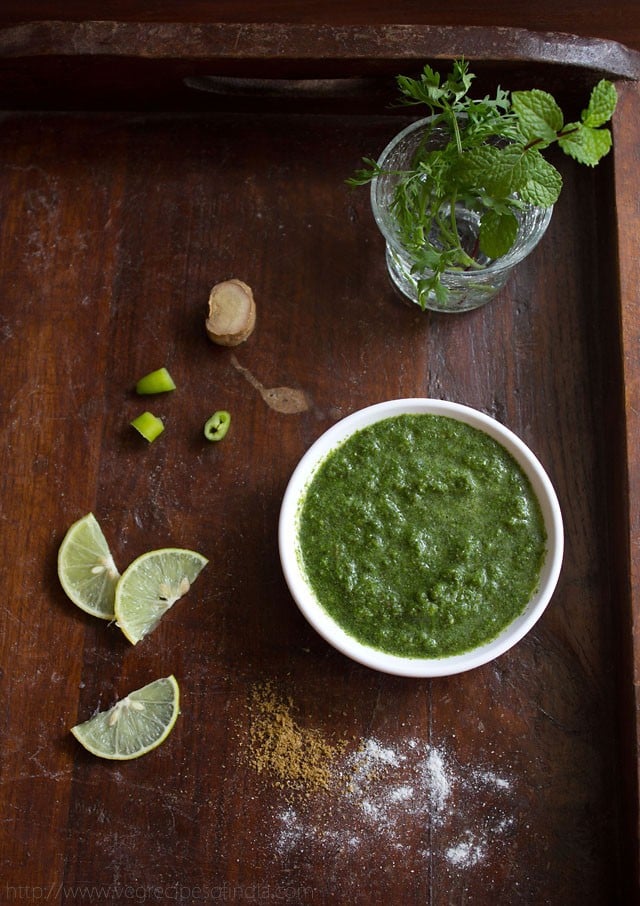 What to serve with Mint Coriander Chutney
In the Indian cuisine, chutneys are often used as dipping sauces with snacks or served as a side in an Indian meal.
Mint cilantro chutney is versatile enough to be eaten with a snack or served with an Indian meal.
I always make this chutney to go as a zesty fresh dipping sauce with Indian snacks of pakoda, aloo tikki, sabudana vada, samosa, kachori, dhokla etc.
This chutney can also be used as a spread for sandwiches. Sometimes I add it to make various chaat snacks that are popular in India. You can use this chutney to make chaat snacks like bhel puri, sev puri, ragda pattice, dahi puri etc.
Please be sure to rate the recipe in the recipe card or leave a comment below if you have made it. For more veetarian inspirations, Sign Up for my emails or follow me on Instagram, Youtube, Facebook, Pinterest or Twitter.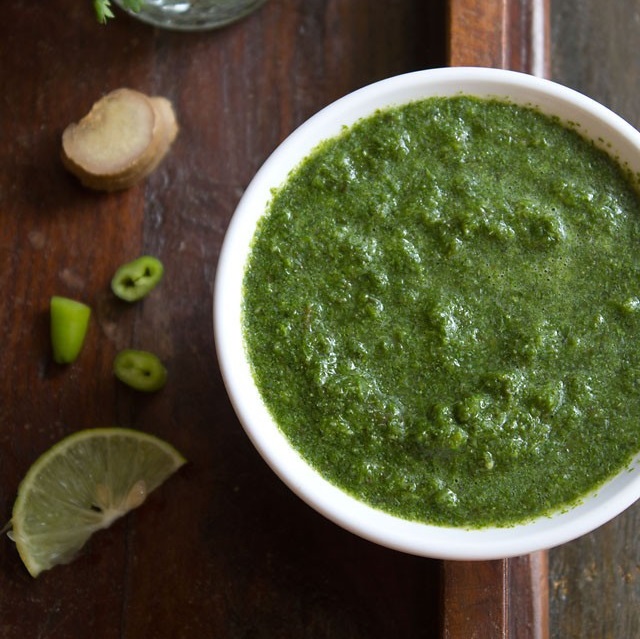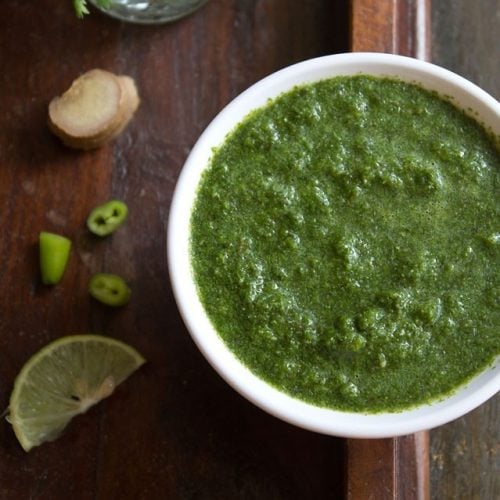 Cilantro Mint Chutney
This cilantro mint chutney is an easy versatile chutney recipe made with four ingredients namely fresh mint leaves, coriander leaves, green chillies and ginger.
1

cup

chopped cilantro

(coriander leaves)

1

cup

chopped mint leaves

1

teaspoon

chopped green chillies

or serrano pepper or 1 to 2 green chillies.

½

inch

ginger

– peeled and roughly chopped

1

teaspoon

cumin powder

– optional

1

teaspoon

lemon juice

– optional

salt

or black salt or edible rock salt, as required

3 to 4

tablespoons

water

or as required for blending
Instructions
Preparation
Pluck the leaves and tender stems from the coriander bunch.

Also pluck mint leaves from their stems. Make sure to use only mint leaves and not stems as the chutney can get bitter if stems are used.

Rinse both the coriander leaves and mint leaves very well in a colander or strainer with water. Drain all the water.

Roughly chop them. Keep the other ingredients required for the chutney also aside.  
Making Cilantro Mint Chutney
In a mixer-grinder or blender, take all of the chutney ingredients. Add 3 to 4 tablespoons water and blend or grind to a smooth and fine consistency. Make sure there are no chunks of any ingredient in the chutney.

Transfer the chutney to a small bowl or jar. Use as needed. If storing keep in an airtight container in the refrigerator for 3 to 4 days.
Serving Suggestions
You can serve this chutney as a dipping sauce with various varieties of pakora, samosa, kachori, vada varieties etc.

You can also use to make spicy sandwiches. Simply make a thick chutney by adding less water and use as a spread on the sandwiches.

Use the chutney to make various Indian chaat snacks like bhel puri, sev puri, ragda pattice, chana chaat etc.
Notes
Green chilies can be added less or more according to your taste buds.

Add more chillies if you want the chutney to be spicy.

To make a thick chutney add less water. Adjust the consistency by adding a bit less or more water. But keep in mind not to make the consistency runny or watery as this will dilute the flavors. 
If in case, the chutney becomes salty, a quick tip is to add some roasted peanuts or some desiccated unsweetened coconut and blend. Add water as needed while blending. You can also add some more cilantro leaves. 
Use fresh, tender cilantro and mint leaves when making this chutney.
Nutrition Info (Approximate Values)
Nutrition Facts
Cilantro Mint Chutney
Amount Per Serving
Calories 14
% Daily Value*
Sodium 625mg27%
Potassium 93mg3%
Carbohydrates 3g1%
Vitamin A 750IU15%
Vitamin C 7.4mg9%
Calcium 35mg4%
Iron 1mg6%
* Percent Daily Values are based on a 2000 calorie diet.
This Cilantro Mint Chutney post from the archives (June 2010) has been republished and updated on 13 September 2021.