Every home cook needs a good basic Avocado toast recipe for a quick, healthy, and satisfying breakfast or snack. Add a bit of flair and make vegan avocado toast with garlic bread for an extra flavorful version that's great to load up with your favorite savory toppings. My step-by-step instructions with photos will show you how it's done in just 15 minutes.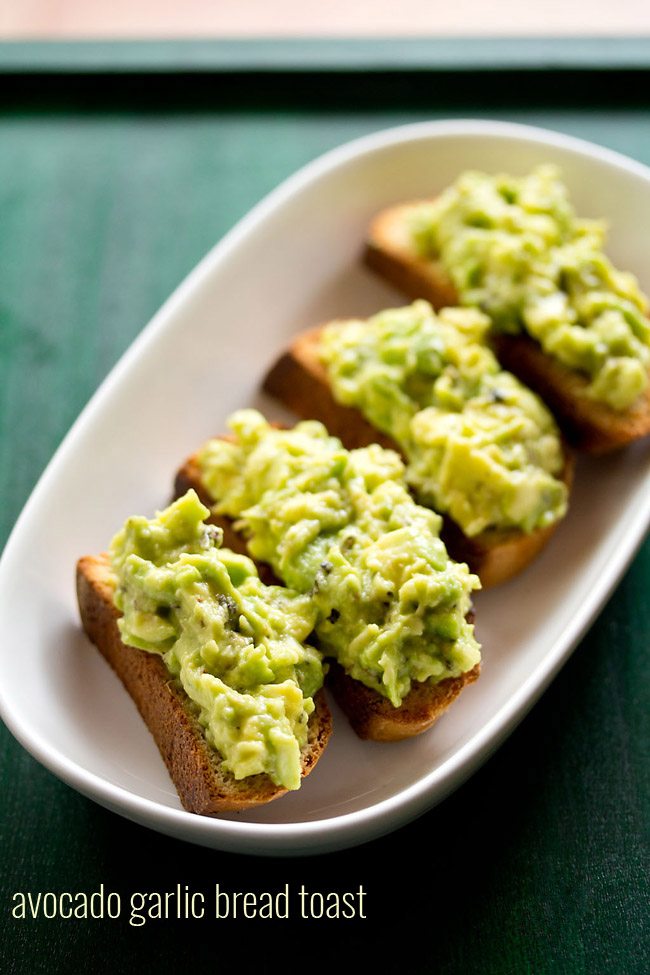 About This Recipe
Avocados are a must-have staple in my house. In fact, I usually buy 1 or 2 each week to use in all kinds of recipes. Also known as butter fruit, avocados (makhan phal) are a wonderfully fatty and flavorful ingredient that's great to include in both sweet and savory dishes.
I even love to eat them raw, drizzled with a bit of lemon juicy, black salt and extra virgin olive oil. And I probably make a fresh and filling Guacamole Sandwich at least every-other-week.
But by far my favorite way to enjoy avocados is on toast for a fast and yummy snack or breakfast. It's a super easy recipe to prepare in as little as 15 minutes, and barely requires any actual cooking.
When perfectly ripe avocados are smashed onto thick slices of toasted garlic bread, classic avocado toast becomes a whole other level of deliciousness. Plus, you can add nearly any other toppings you like to create your favorite flavors.
Give this simple avocado toast recipe a try with your preferred bread and extra goodies, and I guarantee it'll be your new go-to breakfast of choice.
How to make Avocado Toast
1. First, slice a loaf of garlic bread or baguette or French bread into 1-inch thick slices. Here I have used whole wheat garlic bread.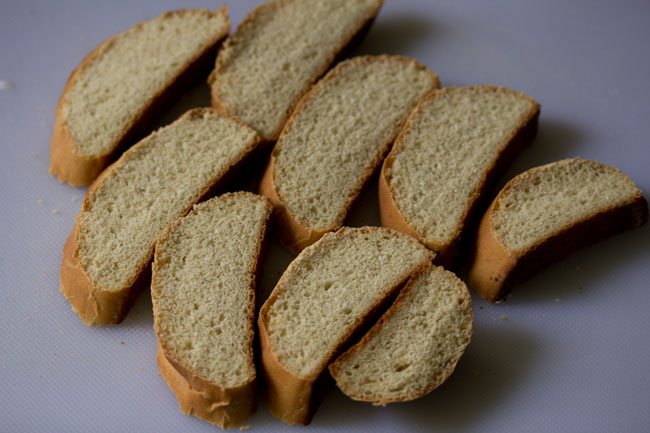 2. Heat a griddle, tawa, or large skillet over medium heat. Add the slices of bread. Instead of toasting bread on a skillet, you could opt to toast bread in the oven or a toaster.
If toasting in the oven, toast for 5 to 7 minutes at 180 degrees Celsius/356 degrees Fahrenheit in a preheated oven until crispy and golden. Half way through the baking, turn over the slices if needed.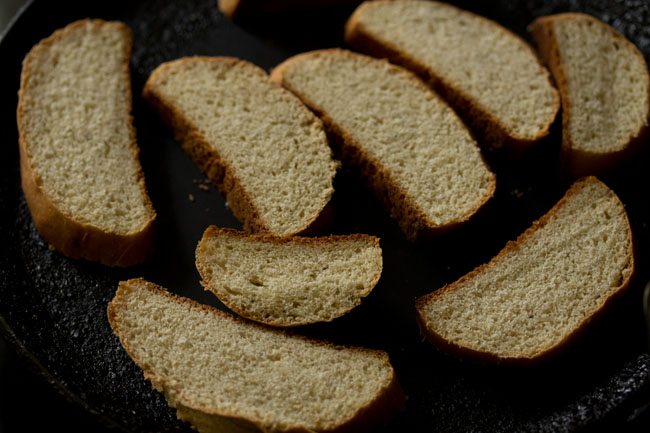 3. Meanwhile, prepare the avocado filling. Rinse the avocado under cold water and pat dry. Then use a sharp knife to cut the avocado in half width-wise, going all the way around the pit. Gently twist the two halves apart.
TIP: Always use ripe avocados. Gently press the skin; if it feels firm then the avocado is not yet ripe.
A ripe avocado should feel a bit soft when you gently press the skin. I usually buy unripe ones and wrap them with a loosely woven cotton napkin, and allow them to ripen on the counter for a day or as needed.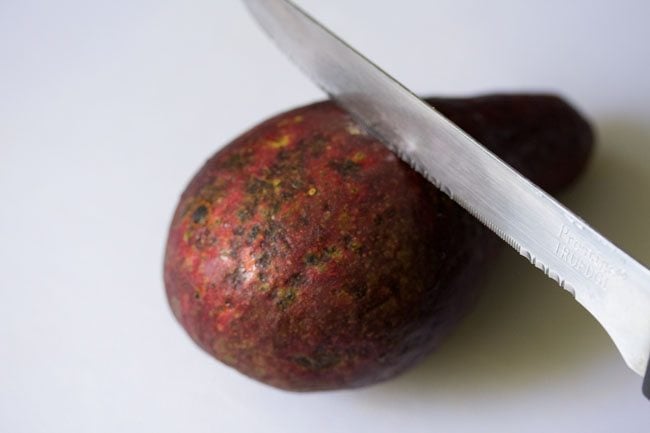 4. Remove the seed.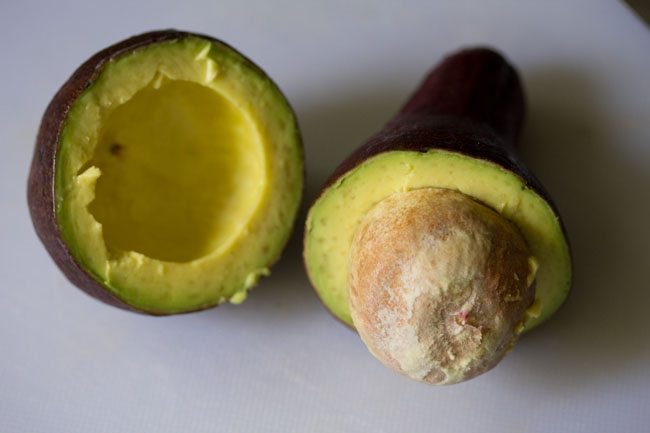 5. Use a spoon to scoop out the butter-like avocado flesh. Be sure to scrape the skin to get all of the avocado.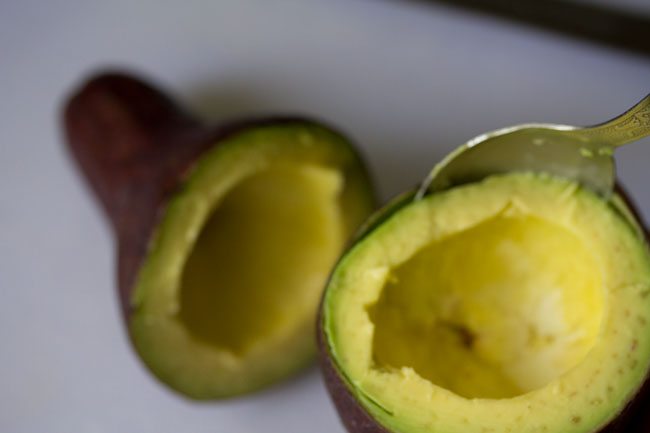 6. Discard the skins and place the avocado flesh on a cutting board.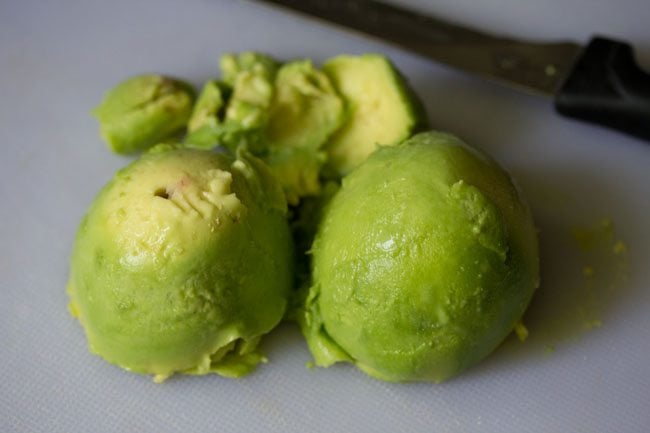 7. Finely chop the avocado. Alternatively take the scooped avocado pulp in a bowl and mash it well.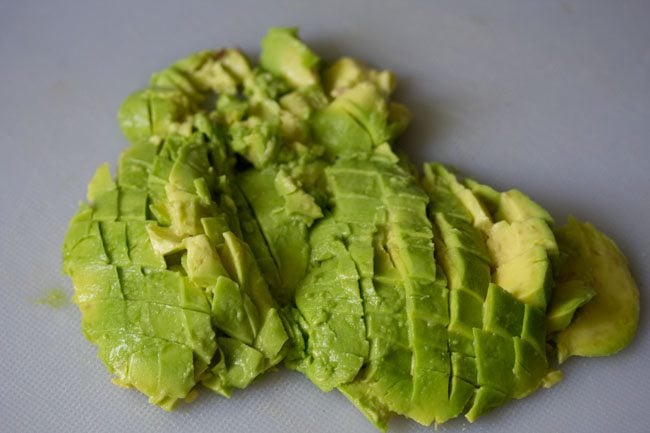 8. Add the chopped avocado to a mixing bowl along with 1 finely minced garlic clove.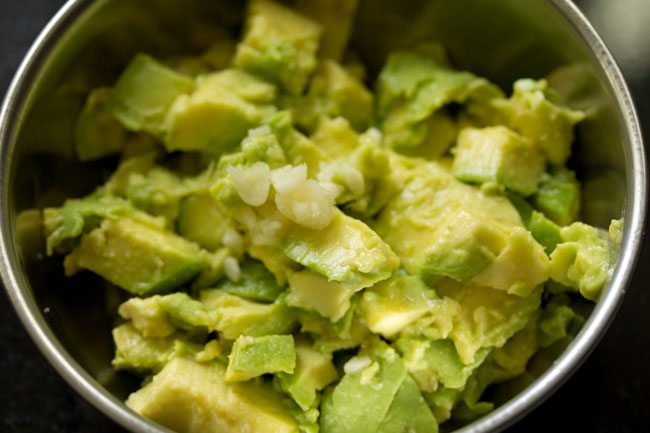 9. Season with ½ teaspoon of dried oregano, ¼ teaspoon crushed black pepper, salt as required and ¼ teaspoon lemon juice. Note that the lemon juice helps prevent discoloration, but can be skipped if not available.
You can add your choice of herbs like cilantro, mint leaves, parsley, basil or thyme. Both dried herbs and fresh herbs work well in the recipe.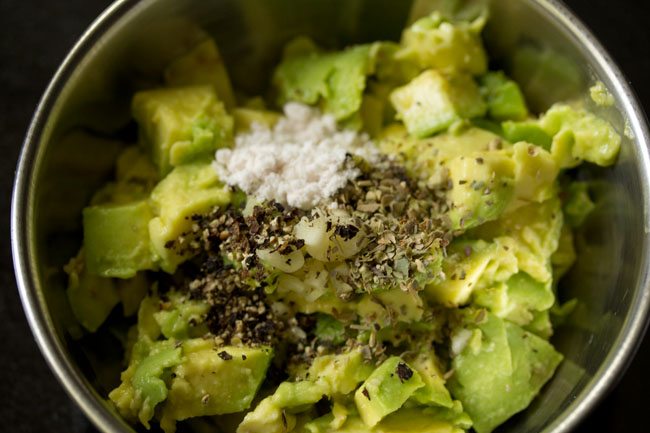 10. Mix well.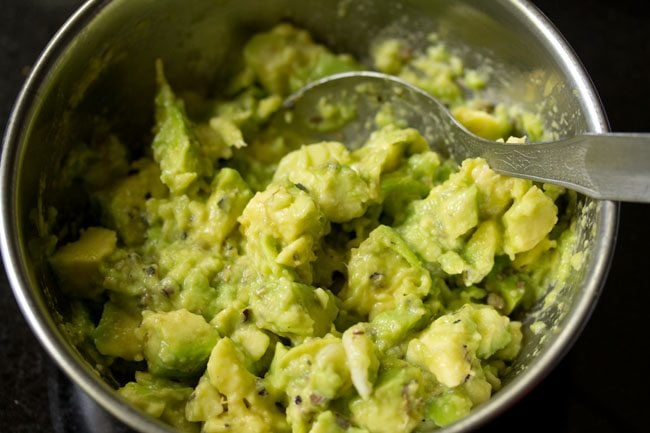 11. While preparing the avocado mash, be sure to flip your bread as it toasts.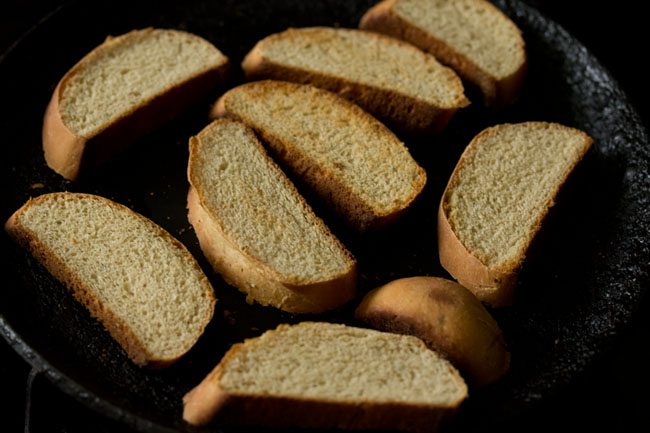 12. Continue toasting the bread until light golden brown.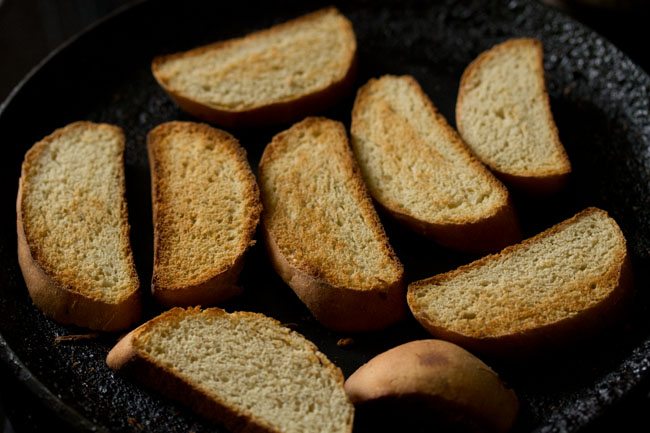 13. Once toasted, lightly brush the pieces of garlic bread with olive oil.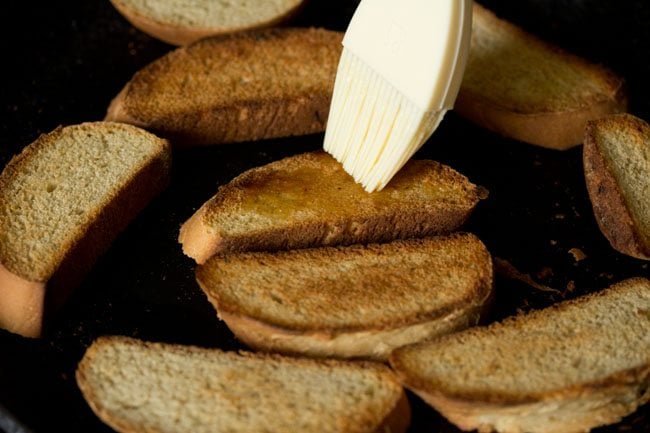 14. For even more delicious garlic flavor, rub half of a cut piece of garlic on the pieces of toast as well.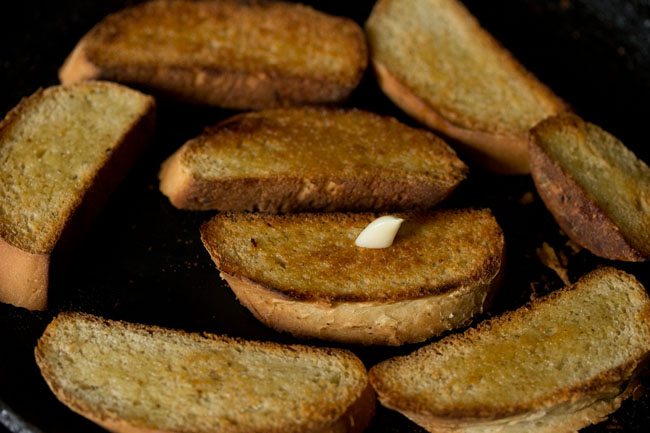 15. Use a fork or spoon to load the avocado mixture onto each slice of toast.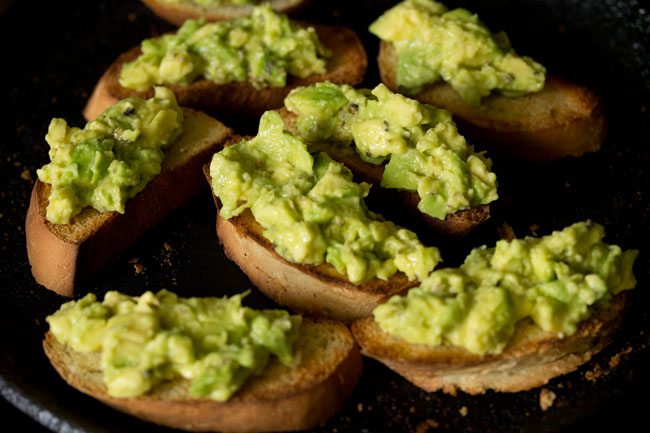 16. Serve avocado toast immediately as a snack or breakfast.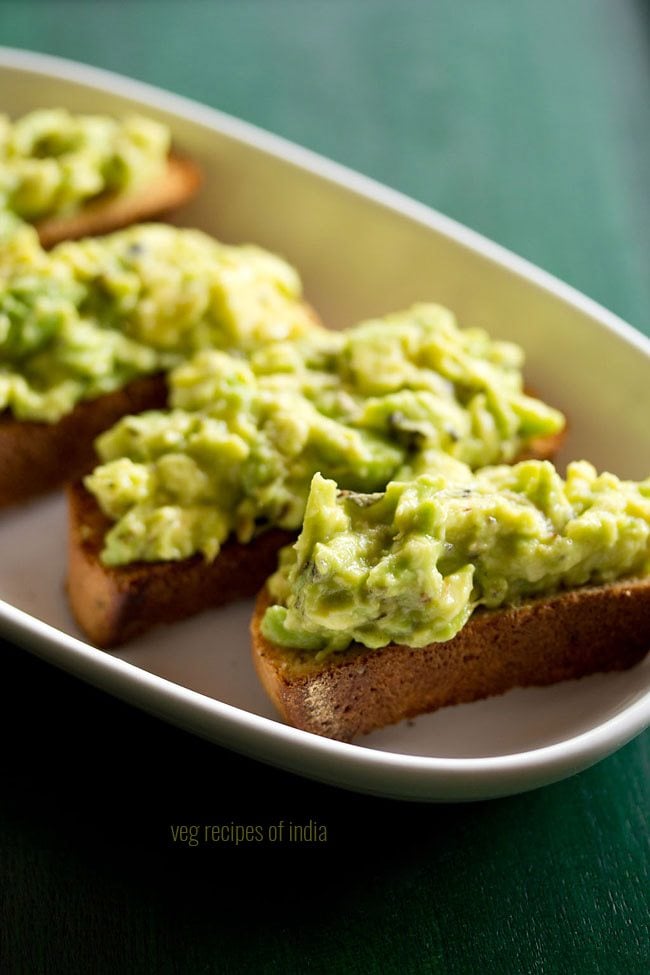 Tips + FAQs
What toppings can I add to avocado toast?
Just about any you like! I suggest crushed red pepper flakes, garlic salt (or any salt you prefer), or lemon pepper for fun seasonings to try. You can also add fresh toppings like chopped tomatoes, diced onion, sprouts, and all kinds of herbs – such as coriander (cilantro), chives or green onions, or dill.
What should I serve with avocado toast?
Enjoy this simple dish with a cup of tea or cool smoothie for a healthy and filling snack. Serve for breakfast along with your favorite dishes or have with a side of fruit.
Can this recipe be made without garlic bread?
Yes. While I love and highly suggest you try avocado toast with whole wheat garlic bread, you certainly can use any hearty French or Italian loaf or whole meal bread if you like.
Can this recipe be made ahead?
Fresh avocado will not keep well for long, so I do not recommend preparing avocado toast in advance. Since this recipe only takes 15 minutes to prepare, it's great for making as needed.

If you are looking for more Bread recipes for snacks then you may like:
Please be sure to rate the recipe in the recipe card or leave a comment below if you have made it. For more veetarian inspirations, Sign Up for my emails or follow me on Instagram, Youtube, Facebook, Pinterest or Twitter.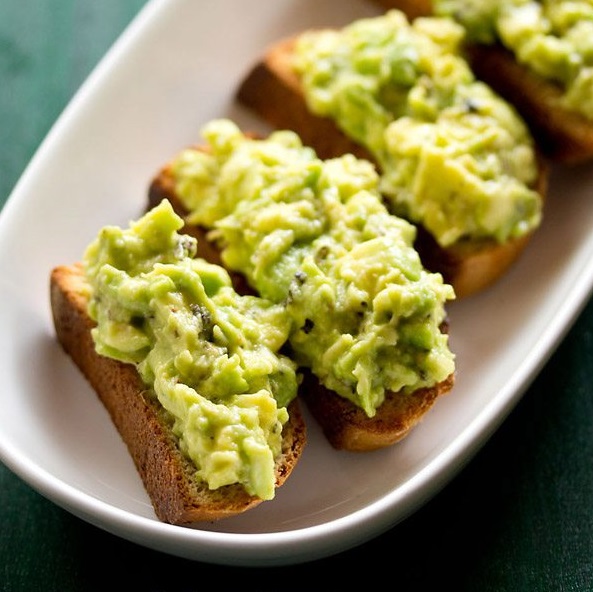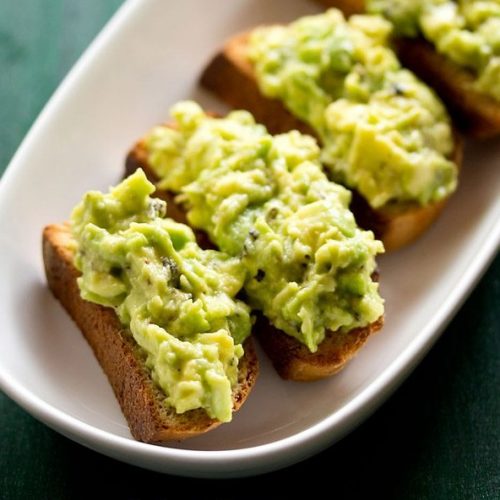 Avocado Toast (Easy, Simple and Healthy)
An easy, simple and flavorful Avocado toast recipe that makes for a quick, healthy, and satisfying breakfast or snack. Add a bit of flair and make vegan avocado toast with garlic bread for an extra flavorful version that's great to load up with your favorite savory toppings.
for the toasts
8 to 10

slices

garlic bread

(whole wheat) or baguette or french loaf or whole wheat bread

1

tablespoon

extra virgin olive oil

for brushing or as needed

1

garlic clove

halved
for the avocado filling
1

avocado

– medium to large

1

garlic clove

minced or finely chopped, small to medium size

½

teaspoon

dried oregano

or add as required, opt for preferred herbs instead

¼

teaspoon

crushed black pepper

or add as required

¼

teaspoon

lemon juice

or add as required

salt

as required
Instructions
Firstly slice a garlic loaf or a french bread.

Then heat a griddle or tawa or skillet. Place the loaf slices on it. Toast them on a low to medium flame.

Whilst the bread is getting toasted, we prepare the avocado filling. Take an avocado. Rinse if you want. Then give a cut at the center moving around the entire avocado.

We want the avocado in two halves. Remove the seed.

With a spoon, scoop out the entire avocado flesh, which is like butter and gets removed easily.

Place the scooped avocado flesh on chopping board and then chop. Or you can mash the avocado pulp in a bowl.

Add the chopped avocado in a mixing bowl. Also add 1 small to medium garlic clove (finely chopped or minced)

Season with ½ teaspoon oregano (or add as required), crushed black pepper (as required), salt and a few drops of lemon juice. The lemon juice prevents the discoloration.

Mix well and keep aside.

Once the slices are toasted, then brush some extra virgin olive on top.

Halve a garlic and rub the garlic on all the bread slices.

Now gently place the avocado filling on the toasted bread slices. If you want you can even sprinkle some red chili flakes.

Serve avocado toast as soon as you make them.
Notes
The recipe can be doubled or tripled.
You can add your favorite toppings on the toast like sprouts, herbs, olives, onions, veggies, tomatoes etc.
The approx nutrition info is for one avocado toast made with whole wheat garlic bread
Nutrition Info (Approximate Values)
Nutrition Facts
Avocado Toast (Easy, Simple and Healthy)
Amount Per Serving
Calories 126
Calories from Fat 54
% Daily Value*
Fat 6g9%
Sodium 259mg11%
Potassium 197mg6%
Carbohydrates 14g5%
Protein 4g8%
Vitamin A 40IU1%
Vitamin B1 (Thiamine) 1mg67%
Vitamin B2 (Riboflavin) 1mg59%
Vitamin B3 (Niacin) 2mg10%
Vitamin B6 1mg50%
Vitamin C 3mg4%
Vitamin E 1mg7%
Vitamin K 9µg9%
Calcium 37mg4%
Vitamin B9 (Folate) 35µg9%
Iron 1mg6%
Magnesium 31mg8%
Phosphorus 71mg7%
Zinc 1mg7%
* Percent Daily Values are based on a 2000 calorie diet.
This Avocado Toast Recipe from the blog archives (August 2016) has been republished and updated on 29 May 2021.