Feeling thirsty in this summer heat? Why not make refreshing, sweet-tangy Pineapple Juice in a blender without any fancy equipment. Packed with fresh pineapple chunks and savory hints of black salt and roasted cumin, you will love this healthy tropical drink.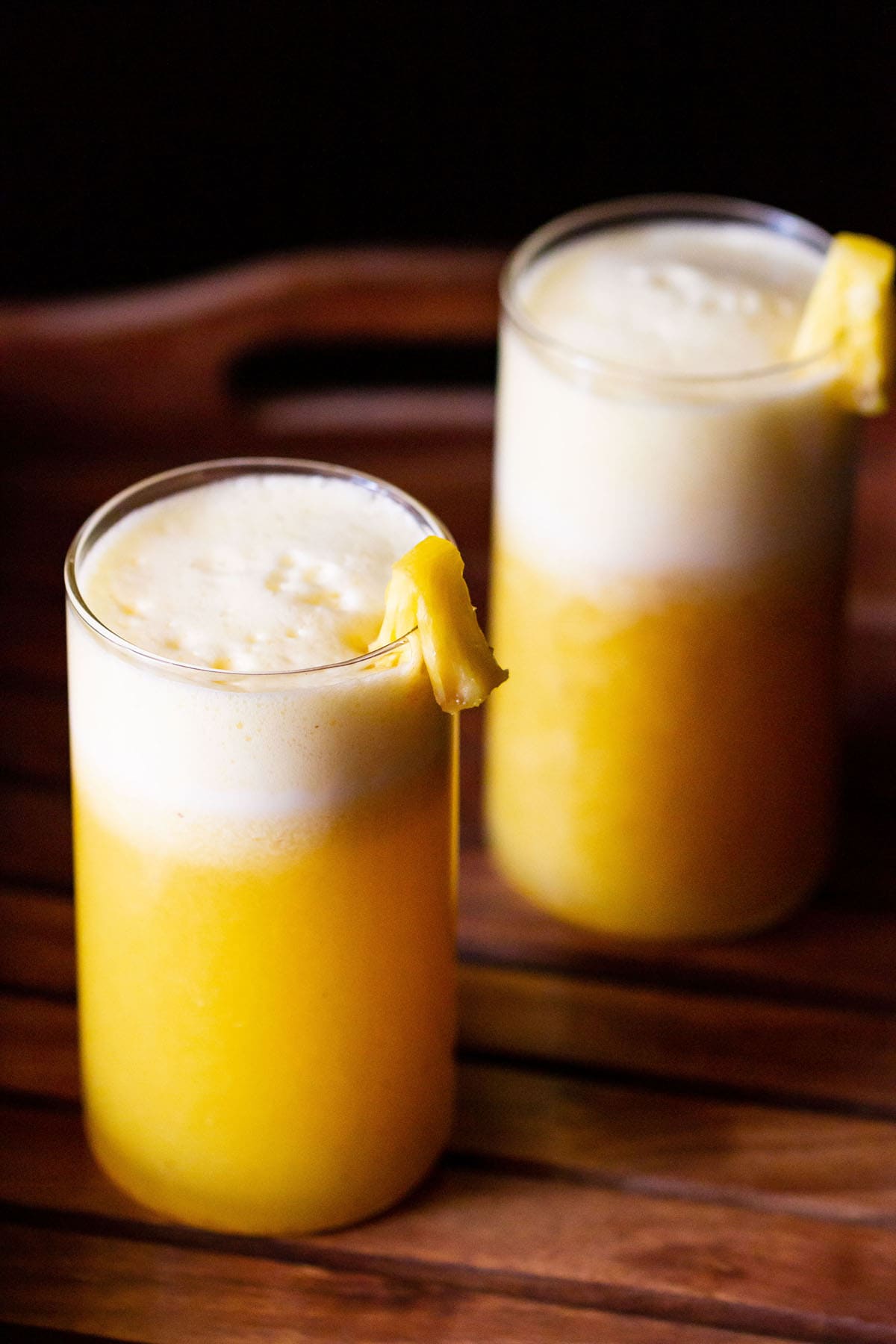 More on Pineapple Juice
Sweet, tangy and delightfully unique, pineapple is one of my all time favorite fruits. I could honestly eat it every day as a juice, in a salad, a Pineapple Smoothie or as a topping on pizza or in Pineapple Fried Rice. I make it a point to have pineapple juice when I am traveling to other cities or countries.
To juice, I prefer to use fresh pineapples over the frozen or canned ones. Fresh seasonal pineapples are so flavorful to juice. Fruits like pineapple, apple, pears are easy to juice by simply using a blender. You do not need to use an electric juicer.
I always make pineapple juice in a blender and this is what I have shared here. It simply does not make sense to use a slow juicer or any electric juicer to juice pineapple. Why get rid of the healthy fibre and pulp?
If you get the knack of slicing and chopping pineapples, then it is not very difficult to chop. I do share below in detail on chopping pineapple. So do read on.
Pineapple Juice Benefits
Aside from being tasty and beautiful, pineapple is also a healthy fruit that has long been used in holistic medicine. You might be pleased to hear that a cup of pineapple chunks (165G approx.) provides 131% of the recommended daily allowance of Vitamin C!
This is good news for anyone, especially those of us who tend to be anaemic. How, you ask? Vitamin C aids in the absorption of iron. Add this gorgeous, juicy, tropical fruit to your diet and your iron absorption is sorted. Hooray!
For the rest of you, Vitamin C is also essential for tissue repair. Eating pineapple can therefore improve skin health, bone and teeth health. It is important for immune system function, and also works as a great antioxidant to battle chronic inflammation and disease.
In addition to Vitamin C, this delicious tropical fruit is loaded with other healthy antioxidants called flavonoids and phenolic acids. Antioxidants remove free radicals from the body and can help prevent chronic diseases like diabetes, cancer and heart disease.
As if that weren't enough reason to love this tropical fruit, it also aids digestion. Bromelain, an enzyme group found in pineapple, helps in breaking down protein molecules. This helps in better digestion especially for those who are deficient. Some tests have also shown that this bromelain group of enzymes may improve immunity.
Scientists noted improved levels of disease fighting white blood cells in a selected group of children with high levels of bromelain in their diet. These enzymes have also been shown to reduce inflammation, thereby having a potential role in easing symptoms of arthritis and speeding up muscle recovery after strenuous exercise or surgery.
NOTE: Bear in mind some people may not be tolerant of this fruit. Some even say bromelain isn't advised for pregnant women. Whatever the case, the bottom line is – eat in moderation, avoid if intolerant, and seek medical advice if in doubt.
Pineapple Symbolism
Originally, pineapples were a sign of hospitality and friendship in their native land of Brazil. Pineapples were hung on the doors of houses as a way to perfume the air and welcome visitors.
In China, pineapples are also seen as a symbol of wealth, good fortune and luck. It is often used in celebrations for holidays like Lunar New Year or holidays celebrating deities.
Whether or not you believe in the power of symbols, one thing is certain: pineapples are healthy, delicious and loved the world over. And that, my friends, is why I love pineapples.
How to Pick a Good Pineapple
Since pineapple juice is primarily made of the fruit, it is imperative that you choose your pineapple well. First off, I advise that you use your nose.
Ripe pineapples give off a sweet scent. Avoid pineapples that are scent-free (this means they are likely under-ripe), as well as any that give off any sharp or funky smells (which might indicate that it is fermenting).
Next, use your sight and check the "eyes." The knots on the skin of a pineapple are known as "eyes," and you should look for pineapples with large ones. This indicates that the fruit has had a longer time on the tree, which generally indicates that it will be sweeter and more ripe than those that were picked prematurely.
Next, give the pineapple a squeeze. Like mangoes or avocados, pineapple should yield slightly under firm pressure from your thumb. Avoid any that are rock hard or are mushy.
Finally, pick a leaf from the crown. If it releases easily, it's likely the pineapple is ready for eating.
I don't know about you, but after all that talk about pineapples, I'm really craving some!
How to Cut a Pineapple
Preparing pineapple juice is easy, but peeling and chopping the pineapple can be tedious. I definitely suggest that you use fresh pineapple for making this juice, as the frozen and tinned versions just don't have the same appeal. So, what's the best way to peel a pineapple?
Before, I used to slice the pineapple with the peels on and then remove the peels from each individual slice. While this method does get the job done, it was kind of a pain. I knew there had to be a better way.
While browsing, I saw a Youtube video and was immediately intrigued. I now follow this method because it takes less time and creates less of a mess than how I used to do it. Once you get the pineapple into wedges or cubes, then the rest of the process is super quick.
How to Make Pineapple Juice
1. To make juice in a blender, you'll first need to peel and chop the pineapple. This Youtube video shows the best way to prep the prickly fruit.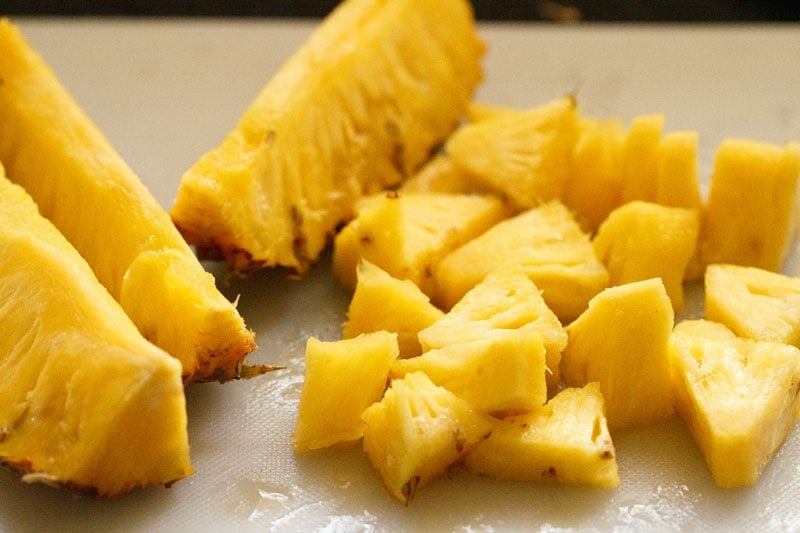 2. Add the chopped pineapple to a blender jar.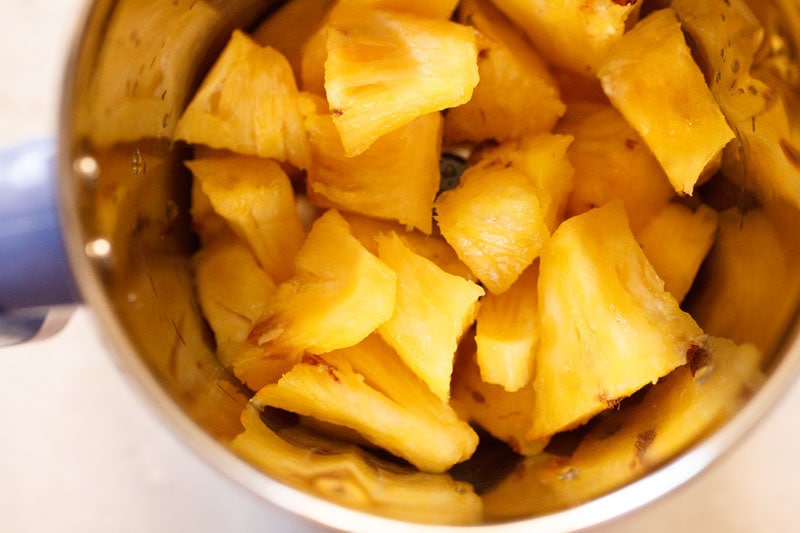 3. Add 2 to 3 tablespoons sugar (optional) and 6 to 8 ice cubes. Also add 1 cup water.
NOTE: If you want a very thick juice, then don't add any water. Skip the ice cubes if cold food does not suit you.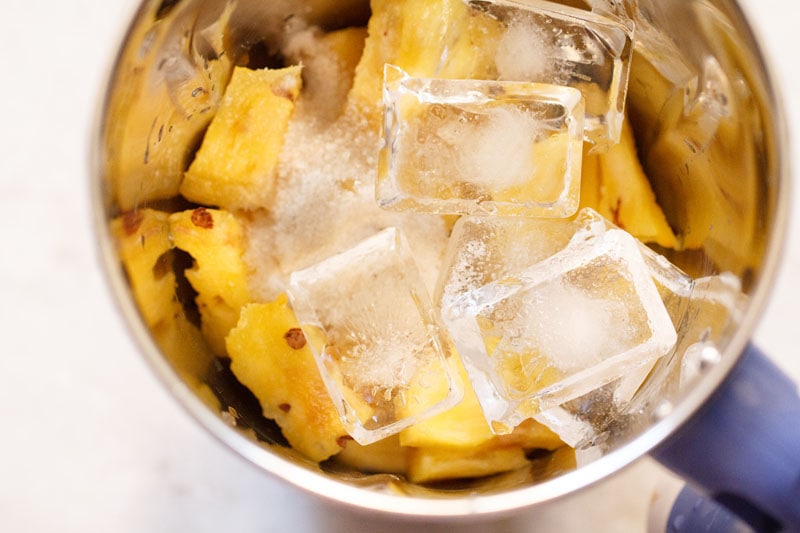 4. Blend till smooth. For a thin consistency, you can add some more water.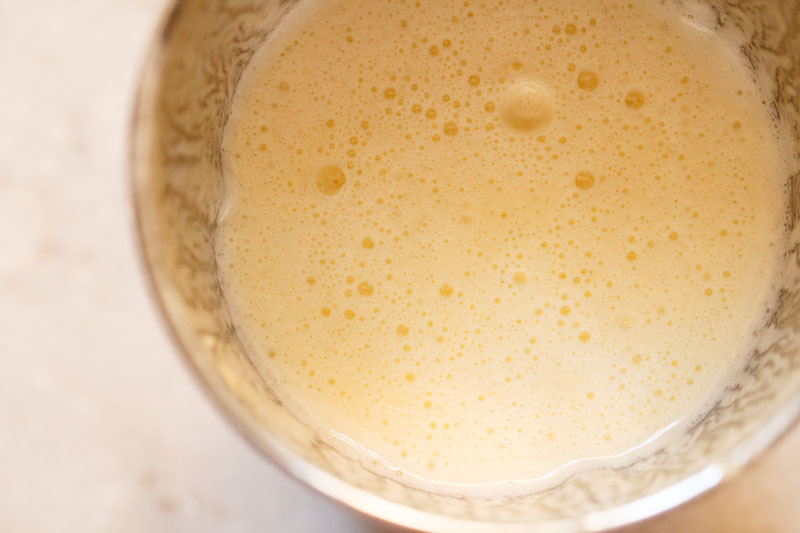 5. Pour in glasses. I do not strain the juice, but you can if you want.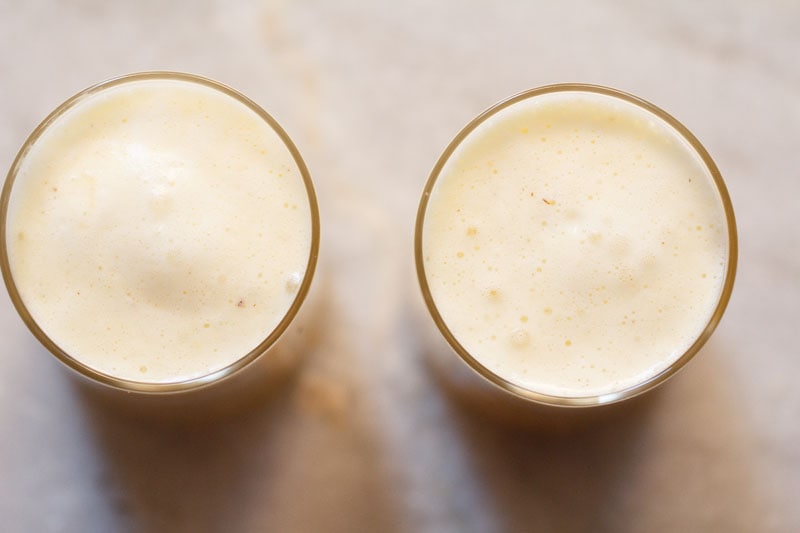 6. Serve fresh pineapple juice immediately. While serving, you can garnish with some pineapple wedges or mint leaves. For an Indian touch, you can sprinkle some black salt and roasted cumin powder in the juice. Enjoy!
FAQs
Can I make this pineapple juice in a juicer?
Certainly! I personally prefer to make my juice in a blender so that I don't lose out on all the healthy fiber and pulp in the fruit. That said, you can easily add peeled and cubed pineapple to a juicer and get delicious, nearly pulp-free results.
Can I make pineapple juice ahead of time?
As someone who adheres to ayurvedic principles as much as possible, I suggest that you consume the pineapple juice immediately for best results. The nutritional benefits of the juice will wane over time, so it is better to consume it quickly after making.

That said, if you happen to have leftovers, I recommend freezing them into popsicle or ice cube molds. Use the frozen pops as a cooling summertime treat, or pop the ice cubes into seltzer for an easy flavored spritz.
What should I serve with pineapple juice?
I'm so glad you asked! You should actually take pineapple juice (or any fruit juice, for that matter) alone. It is advised that you do not eat 30 minutes before or after ingesting the juice.
What other fruits pair well with pineapple?
Pineapple tends to do well with other tropical fruits like mango and papaya. It is also delicious with citrus like orange or lemon juice. Strawberry and pineapple may sound like a strange pair, but it is actually quite delicious. I also love adding some ginger to my pineapple juice for a simple digestive tonic.
More Homemade Juice Ideas!
Reference Links:
https://www.everydayhealth.com
https://www.healthline.com
https://www.thespruceeats.com
https://symbolsage.com

Please be sure to rate the recipe in the recipe card or leave a comment below if you have made it. For more vegetarian inspirations, Sign Up for my emails or follow me on Instagram, Youtube, Facebook, Pinterest or Twitter.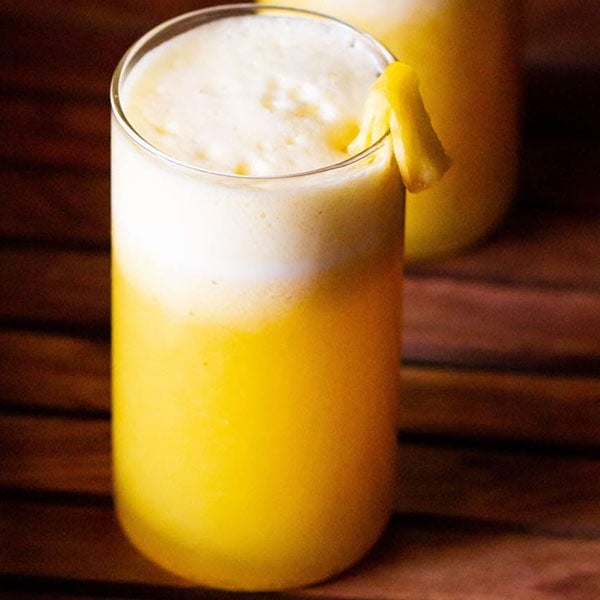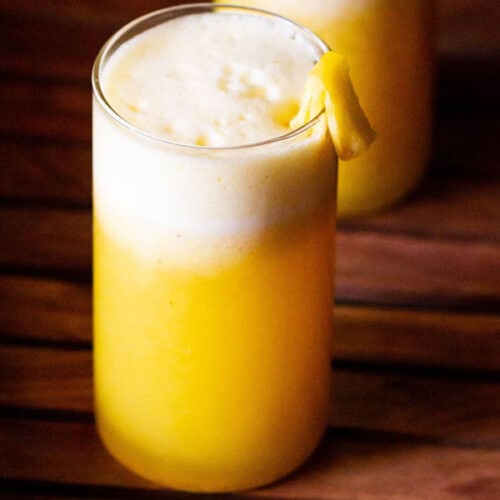 Pineapple Juice Recipe
This pineapple juice is a refreshing juice made from fresh pineapple and flavored with black salt and roasted cumin powder.
2 to 2.5

cups

chopped pineapple

or 1 small pineapple chopped

1 to 1.25

cups

water

or add as required

6 to 8

ice cubes

2 to 3

tablespoon

sugar

or add as required

⅛

teaspoon

black salt

(optional)

½

teaspoon

roasted cumin powder

(optional)
Instructions
First step is to peel-chop or chop-peel the pineapples.

Take the chopped pineapple in a blender jar.

Add 2 to 3 tablespoons of sugar and 6 to 8 ice cubes. Also add 1 cup water. If you want a very thick juice, then don't add any water. Skip the ice cubes if cold food does not suit you.

Blend till smooth. For a thin consistency, you can add some more water.

Pour in glasses. I do not strain the juice, but if you want you can strain the juice.

Serve pineapple juice garnished with pineapple wedges or slices. For an Indian touch, you can sprinkle some black salt and roasted cumin powder in the juice.
Nutrition Info (Approximate Values)
Nutrition Facts
Pineapple Juice Recipe
Amount Per Serving
Calories 132
Calories from Fat 9
% Daily Value*
Fat 1g2%
Sodium 156mg7%
Potassium 192mg5%
Carbohydrates 34g11%
Protein 1g2%
Vitamin A 102IU2%
Vitamin B1 (Thiamine) 1mg67%
Vitamin B2 (Riboflavin) 1mg59%
Vitamin B3 (Niacin) 1mg5%
Vitamin B6 1mg50%
Vitamin C 79mg96%
Vitamin E 1mg7%
Vitamin K 1µg1%
Calcium 32mg3%
Vitamin B9 (Folate) 30µg8%
Iron 1mg6%
Magnesium 23mg6%
Phosphorus 16mg2%
Zinc 1mg7%
* Percent Daily Values are based on a 2000 calorie diet.
This Pineapple Juice recipe from blog archives (first published in May 2015) has been republished and updated on 7 June 2021.