Russian salad is a satisfying dish that is delicious to enjoy as a side or hearty snack. It's easy to prepare and includes healthy, wholesome ingredients like potato, peas and carrots, and eggless mayonnaise. Here are step-by-step instructions with photos for how to make my foolproof vegan recipe of Russian salad in under 30 minutes.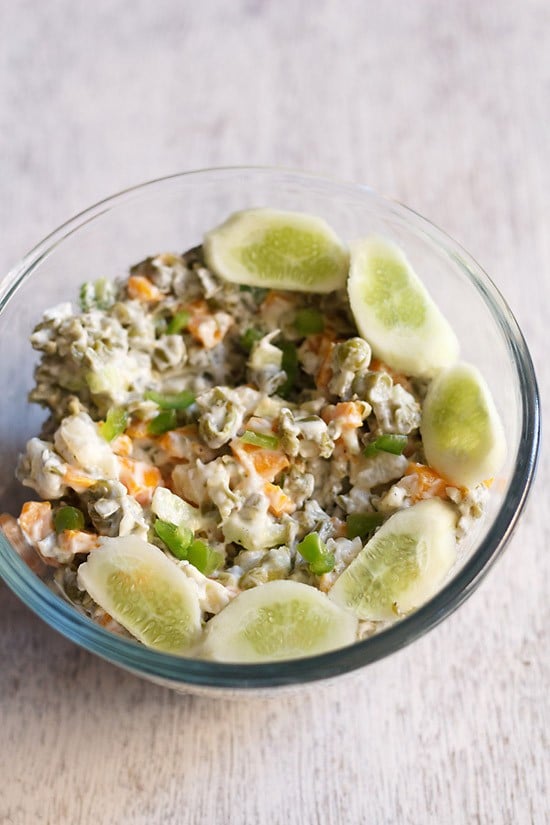 About This Russian Salad
I learned about and fell in love with Russian salad when we made it at our cooking school decades ago. One bite and I was hooked. I made it a couple of times during my teens and it was loved by my parents too.
Later in life, I came across this beautiful salad again at beach restaurants in Goa, located on the southwestern coast of India. The region is a popular spot for western tourists, and is well-known for its authentic Russian cuisine as lot of Russian tourists visit Goa during Indian winters.
Goan restaurants typically serve traditional varieties of Russian salad made with cooked veggies, classic mayonnaise and chopped boiled eggs.
This healthy Russian salad recipe inspired from my cooking school recipe is incredibly versatile and can be customized in any number of ways. However, I've made just a couple of simple tweaks to create this completely eggless and vegan recipe: I leave out the chopped eggs, and use a vegan-friendly eggless mayo.
Along with choosing whether you want to prepare it with or without eggs, additional ingredients can be added, and the salad can be served either at room temperature or chilled.
Enjoy it as a side with your favorite Eastern European main dishes, or as a filling afternoon snack. Russian salad can even be made ahead and kept in the fridge, so you've got it ready whenever you are feeling hungry.
How to make Russian Salad
Preparing the vegetables
1. First, rinse 1 medium-sized carrot, 1 medium to large potato, 7 to 8 french beans (¼ cup chopped) and ½ cup green peas in fresh water.
Other veggies you can include are cauliflower, snow peas, edamame beans, sweet corn, baby corn, cabbage, broccoli.
Note that all vegetable have different cooking times. So keep this fact in mind if you are boiling the vegetables. Add the vegetables that take less time to cook later.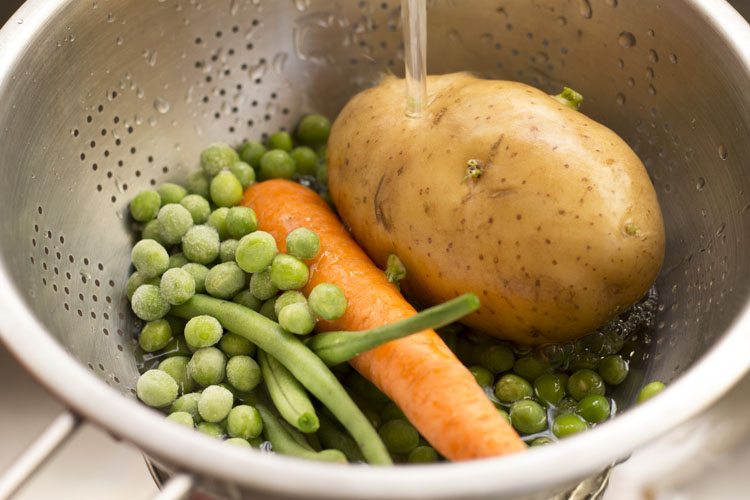 2. You can cook or steam the vegetables in a pan on the stovetop, in an Instant Pot or in a stovetop pressure cooker.
For cooking in the pan: Peel and chop the vegetables. Add them to a pot or pan with water almost covering them. Cover and simmer on medium-low to medium heat until the vegetables are fork-tender.
For cooking in Instant Pot: Add 1.5 cups to 2 cups water in the steel insert of a 6 quart IP. Place a trivet inside the water. Keep a pan filled with peeled and chopped vegetables on the trivet. Seal the lid moving the valve to sealing position. Pressure cook on high for 10 to 15 minutes until veggies are fork tender. Carefully give a quick pressure release after 5 minutes.
For cooking in a pressure cooker: Either add whole vegetables to boil or steam them in a pan inside the cooker. When I use a stovetop pressure cooker, I add whole vegetables and boil them. Add enough water covering the veggies.
Pressure cook for 2 to 3 whistles on medium to medium-high heat. If the potato is too large, halve or quarter it. When the pressure drops on its own in the pressure cooker then only open the lid.
According to your preferences you can steam or boil the vegetables. I usually prefer to steam or boil the veggies whole as water-soluble vitamins and minerals are lost when vegetables aren't cooked whole.
Choose any method that suits you. After the vegetables are cooked and are just fork-tender, drain all the water.
Set aside till they become warm. Then peel and chop the potatoes and carrots in cubes. Chop the french beans. Set aside the cooked and chopped vegetables.
Also, measure out the remaining ingredients so you've got everything ready to mix together for the Russian salad.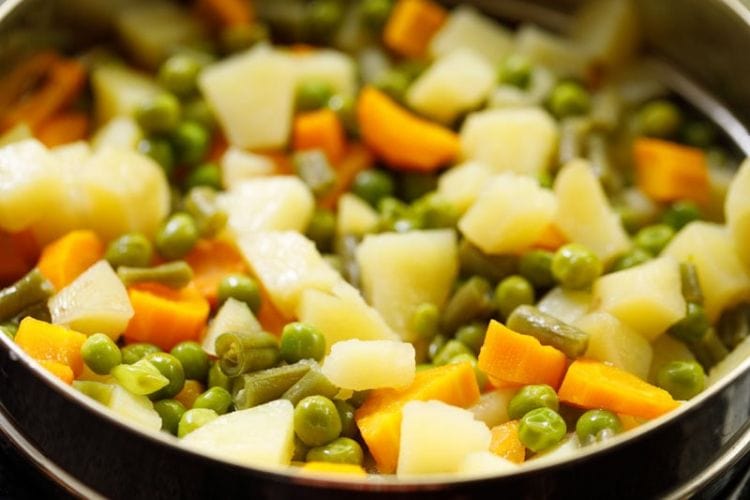 Assembling Russian Salad
3. In a mixing bowl add ¾ to 1 cup Eggless Mayonnaise. You can also use homemade mayonnaise or your preferred brand of mayo. Here I have used homemade mayo that is both egg-free and vegan.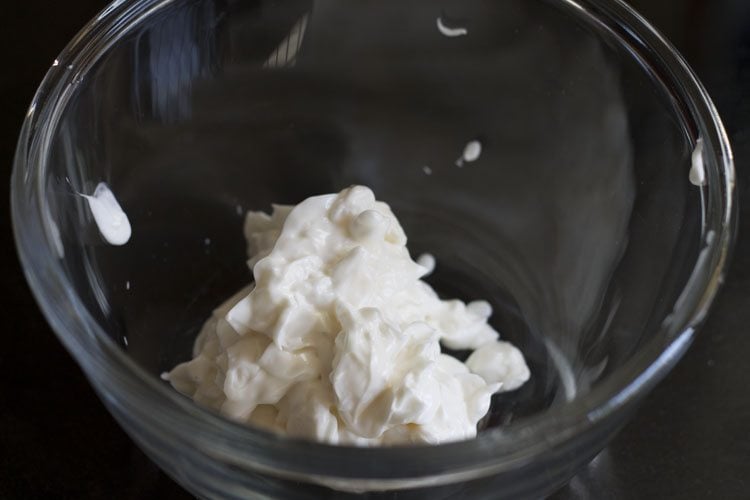 4. Use a spatula or wired whisk to beat the mayo until smooth.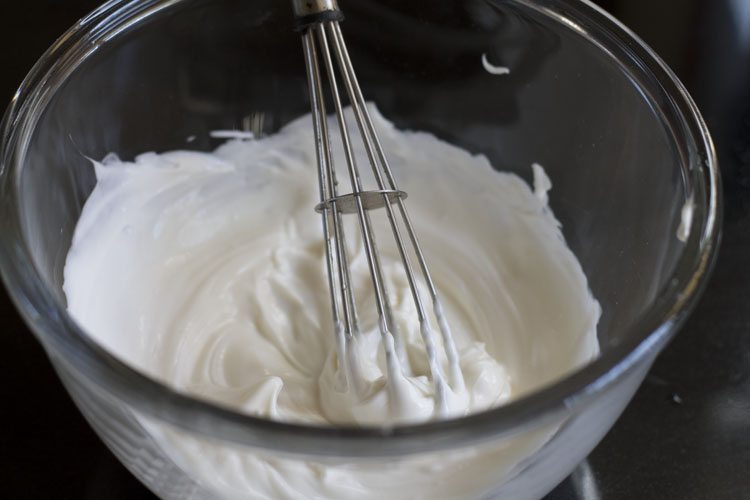 5. Next add the chopped and cooked carrots, potatoes, french beans and green peas.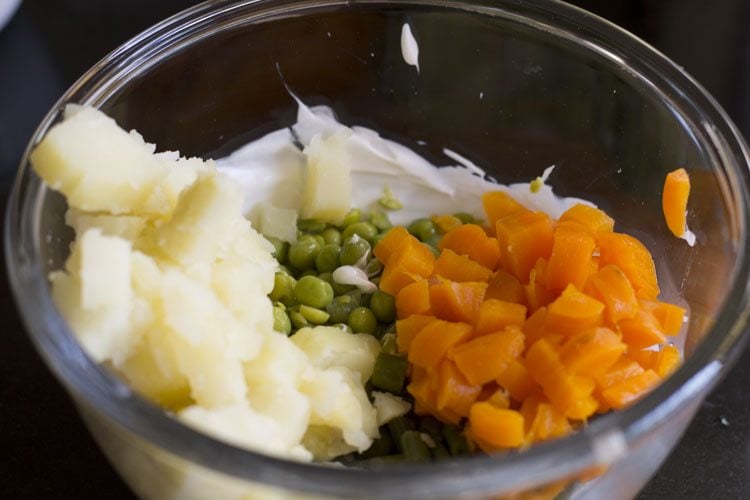 6. Add 1 small stick of celery (finely chopped) and a pinch of salt to taste.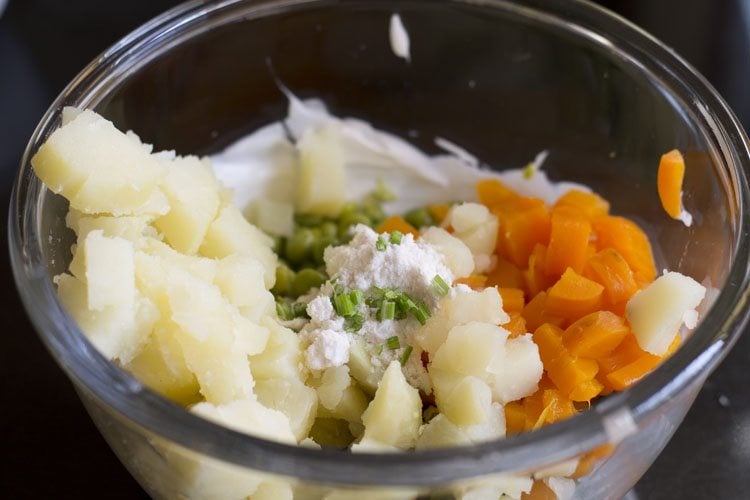 7. Lastly, add black pepper powder (optional). Instead of black pepper you can use cayenne or red chili powder or paprika.
This salad is mild and not at all spicy. So add the black pepper according to your taste preferences.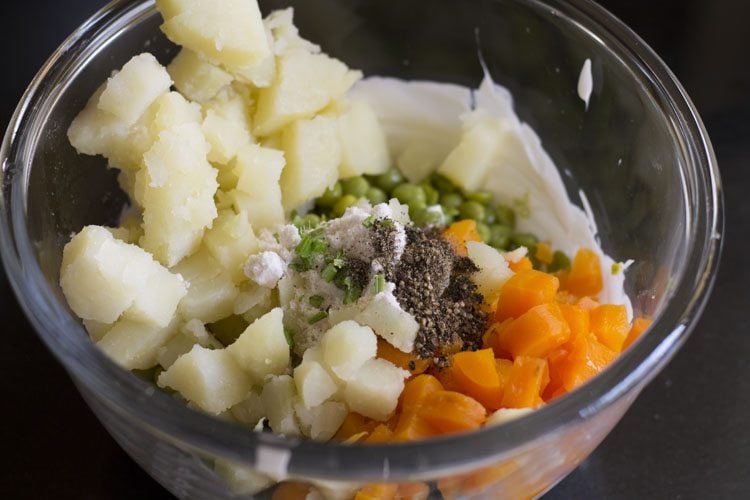 8. Stir and mix very well.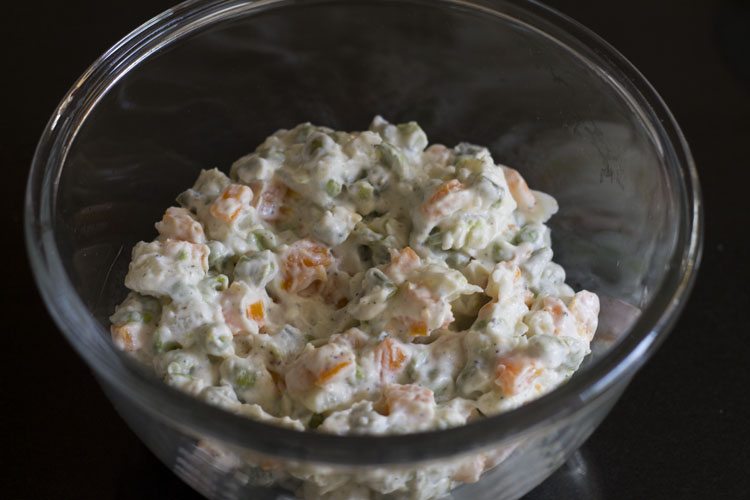 9. Garnish with your choice of lettuce leaves, slices of tomato, cucumber, and/or capsicum (green pepper).
Here I have garnish with cucumber and chopped green bell pepper. You can also place the salad on a bed of lettuce leaves or use lettuce leaves as garnish or mix with the salad.
If using lettuce leaves, rinse them thoroughly. Then drain all the water. Use a salad spinner to dry the leaves or pat dry the leaves with a kitchen paper towels or a clean kitchen napkin.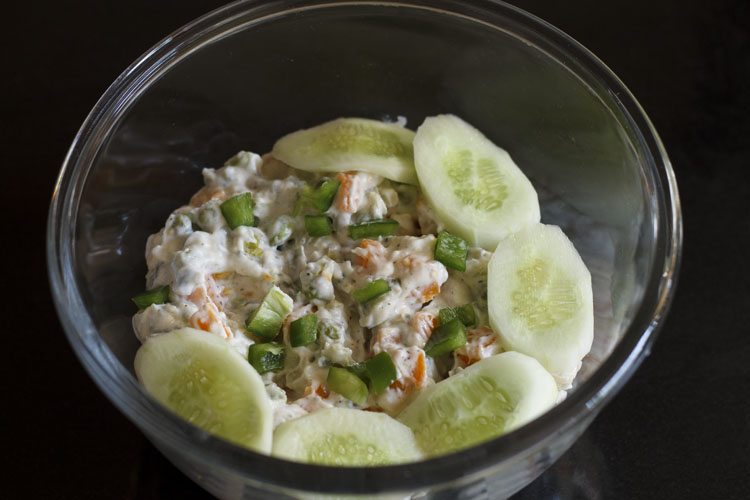 10. Enjoy the Russian salad right away while slightly warm or at room temperature, or refrigerate to serve cold.
This salad recipe keeps well for 1 day in the fridge as I have used cashew mayo. I would recommend finishing it on the same day.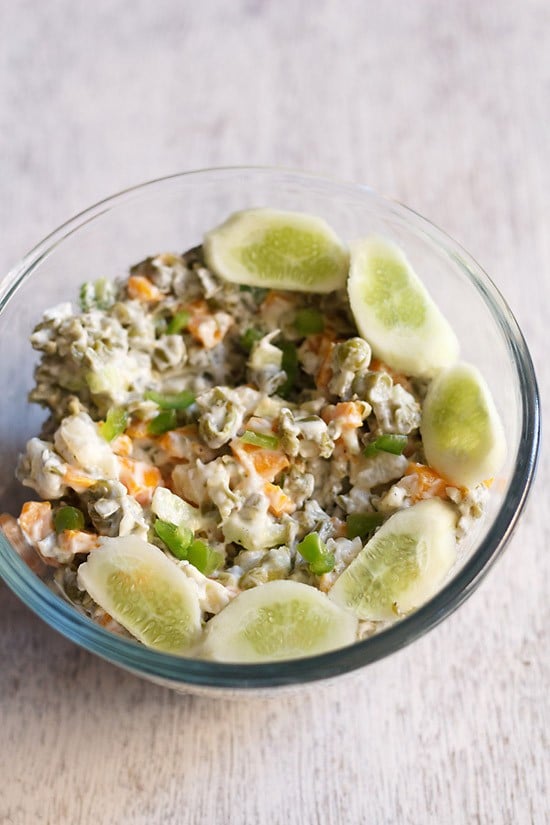 Russian Salad FAQ's
Can I make this Russian salad recipe with tofu?
Yes you can. It will add some more plant based protein to the salad. Pan fry or saute the tofu before including in the salad.
What dishes should I serve Russian salad with?
This salad goes well with traditional Russian and Eastern European recipes, like Russian Veg Borscht and Tomato Soup. It's also a terrific potato salad-like dish that compliments any picnic and casual foods, like Grilled Mushroom Sandwiches or Cucumber Sandwiches. Or enjoy the salad on it's own!
How long does this homemade Russian salad recipe keeps well?
Up to 1 day as we have used cashew mayo. Keep in a sealed container in the refrigerator. If you use an egg based mayo then I would not recommend storing it even for one day. In this case, eat the salad as soon as you make it.
If you are looking for more Salad recipes then do check:
Please be sure to rate the recipe in the recipe card or leave a comment below if you have made it. For more vegetarian inspirations, Sign Up for my emails or follow me on Instagram, Youtube, Facebook, Pinterest or Twitter.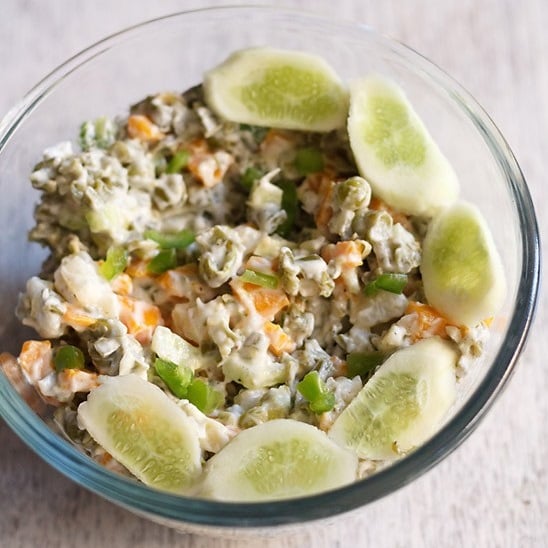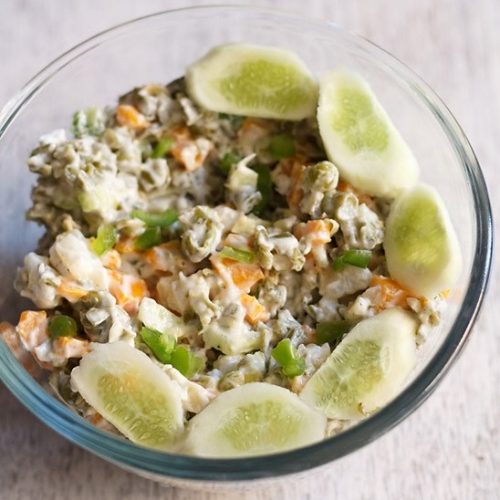 Russian Salad
Russian salad is an easy, healthy, wholesome salad made with peas, carrots, potatoes, capsicum, french beans and eggless mayonnaise. It makes for a delicious side dish or a nutritious snack.
Main ingredients
1

medium to large carrot

1

medium to large potato

½

cup

green peas

¼

cup

french beans

– chopped

¾ to 1

cup

Eggless Mayonnaise

1

small stick of celery

– finely chopped

salt

as required

black pepper powder

as required, (optional)
For garnish
lettuce leaves

as required

some slices of tomato,

cucumber or capsicum (bell pepper)
Instructions
Boil the carrot, potato, peas and french beans in a pan with enough water just about covering them.

You could also cook them in a stovetop pressure cooker or in a Instant pot till they are softened and tender. I have mentioned the details on cooking veggies in a pan, instant pot and preesure cooker in the step-by-step guide above.

When the veggies are cooked, drain all the water and let the heat reduce a bit or become warm.

Then peel the potato, carrots and then chop them with the rest of the veggies.

Alternatively, you can chop the veggies first and steam or boil them later. I usually avoid doing the latter as when we chop the veggies and then boil them, some water- soluble vitamins and minerals are lost in the process. It is better to first boil them whole and then chop them.

Chop the celery and set aside.

In a mixing bowl, mix the chopped veggies, celery with the mayonnaise, salt and black pepper.

Garnish the salad with lettuce leaves, tomato, cucumber, or capsicum slices. You can also place the salad on a bed of lettuce leaves or opt to garnish or mix the leaves with remaining salad ingredients.

Serve the russian salad with your regular meals or you can also have it plain any time of the day when you are feeling hungry.
Nutrition Info (Approximate Values)
Nutrition Facts
Russian Salad
Amount Per Serving
Calories 138
Calories from Fat 18
% Daily Value*
Fat 2g3%
Cholesterol 5mg2%
Sodium 874mg38%
Potassium 521mg15%
Carbohydrates 28g9%
Protein 3g6%
Vitamin A 3731IU75%
Vitamin B1 (Thiamine) 1mg67%
Vitamin B2 (Riboflavin) 1mg59%
Vitamin B3 (Niacin) 2mg10%
Vitamin B6 1mg50%
Vitamin C 31mg38%
Vitamin E 1mg7%
Vitamin K 31µg30%
Calcium 36mg4%
Vitamin B9 (Folate) 39µg10%
Iron 1mg6%
Magnesium 33mg8%
Phosphorus 85mg9%
Zinc 1mg7%
* Percent Daily Values are based on a 2000 calorie diet.
This Russian Salad recipe post from the blog archives (first published in September 2009) has been updated and republished on 27 June 2021.