Sweet, sour, salty, and refreshing, this Pineapple Raita is a delightful addition to any plate. Creamy yogurt, tart pomegranate arils, and sweet pineapple combine forces for a texturally pleasing condiment that is equally at home with a simple roti as it is with a full North Indian meal.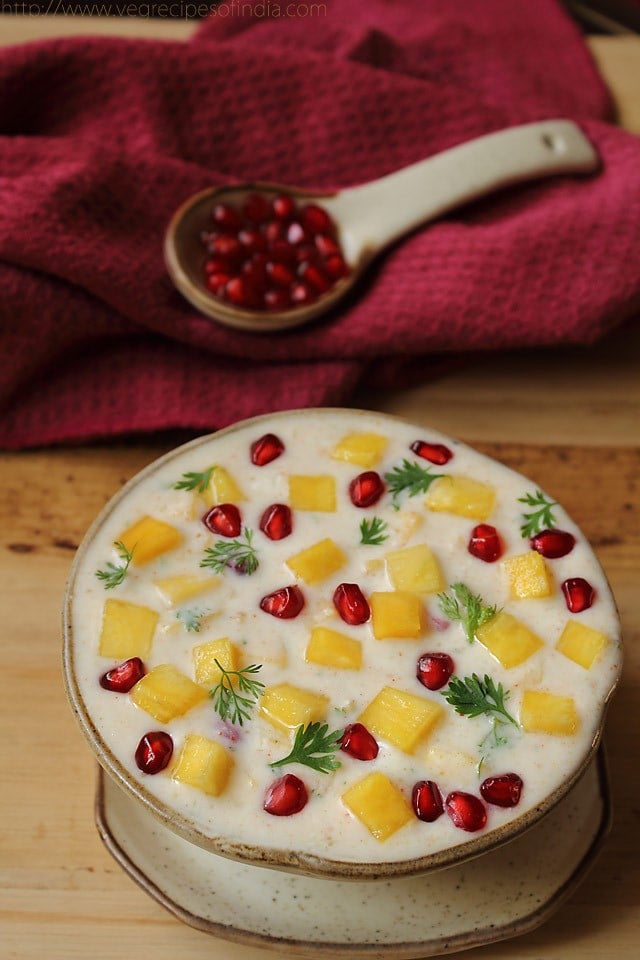 About Pineapple Raita
I first tried the magic that is Pineapple Raita when I was doing my postgrad in Mumbai. A friend took me to this restaurant and suggested I try it. At the time, I was not very keen on the idea. I thought, "Is this girl nuts? Pineapple in yogurt?!? My friends, it was I who was wrong. This stuff was delicious!
This recipe is an homage to that first, mouthwateringly delicious bite; I think I've come quite close to the original! Creamy, tangy yogurt pairs beautifully with the sweet-sour duo of pineapple and pomegranate.
Pomegranate arils add crunch and color in addition to flavor, while pineapple lends juicy pops of acidity. Fresh coriander adds bright, herbaceous notes; chilli and cumin powder add warmth. Honestly, I could eat this pineapple raita like a salad or breakfast parfait.
You can whip up this amazing side dish in just 15 minutes, making it a perfect weeknight option. Serve with any number of parathas for a light and simple meal, or pair with your favorite Dals, Curries, or Rice Dishes.
No matter the occasion, this bright and fruity pineapple raita deserves a spot on your table this summer.
Ingredient Notes
Curd – I love to make my own yogurt; it's quite easy to do, saves on grocery bills, and really does taste better than store-bought. I recognize not everyone else may share my enthusiasm, so any packaged thick curd, Greek yogurt, or labna will also be delicious. 🙂
Pineapple – Fresh, in-season pineapple is a marvel, so get it if you can. If not, frozen or canned pineapple (packed in juice, not syrup) are all fine substitutes.
Pomegranate Arils – While these little ruby jewels are technically optional, I strongly suggest you give the combination a try. Each bite is a crunchy, juicy pop of acidity that is superlative.
Red Chili Powder & Roasted Cumin Powder– The slightest touch of heat and warmth from these pantry staple spices plays a lovely foil to the cool tang of the curd.
Sugar – All of the tangy flavors need a little sweet to balance them out. Feel free to sub in any sweetener you prefer (e.g. honey, or maple syrup) if needed. The amount you'll need will depend on the sweetness of your fruit.
Rock Salt – So long as you can source edible and food grade rock salt, I suggest you do; the tiny pops of crunchy minerality are a true delight. My second favorite option is black salt, which has its own nuanced je ne sais quois. If neither of those are available, sea salt or kosher salt will do just fine!
Coriander Leaves – Also known as cilantro, these tender green herbs add a welcome freshness to the raita. If you don't love cilantro, feel free to swap in mint or parsley instead.
Do yourself a favor and try this yummy yogurt sauce at home. In the height of summer, there's no better way to refresh yourself than with this cool, salty, and sweet pineapple raita. I can almost guarantee you and your family will love it!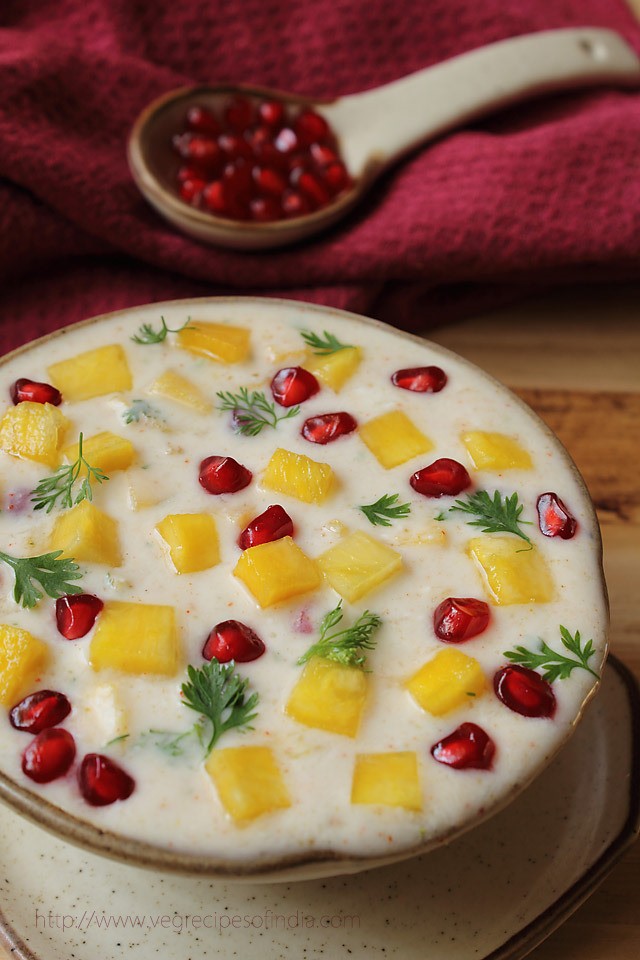 How to make Pineapple Raita
1. Take 1 cup chilled curd in a mixing bowl.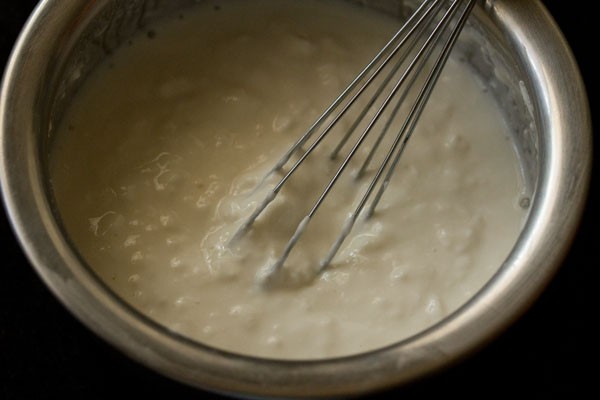 2. Whip or beat till smooth.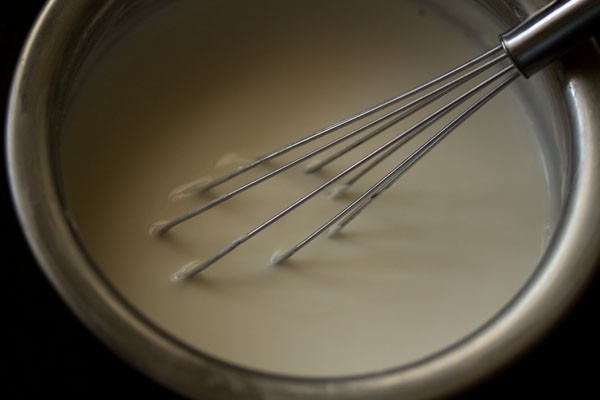 3. Add ½ teaspoon red chili powder (or cayenne pepper or paprika) and 1 teaspoon roasted cumin powder.
Also add 1 to 2 tablespoons sugar (or add sugar according to your taste) and edible food grade rock salt or black salt or regular salt as required.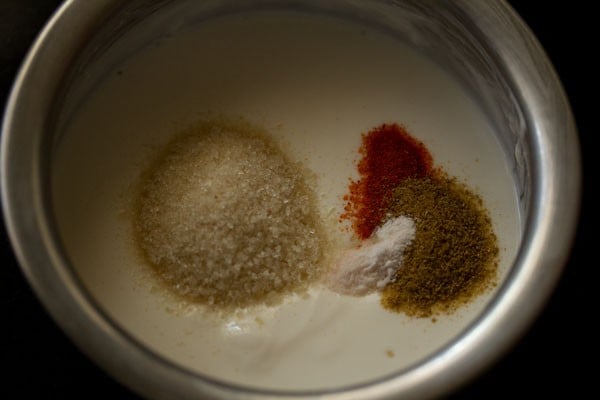 4. Mix very well.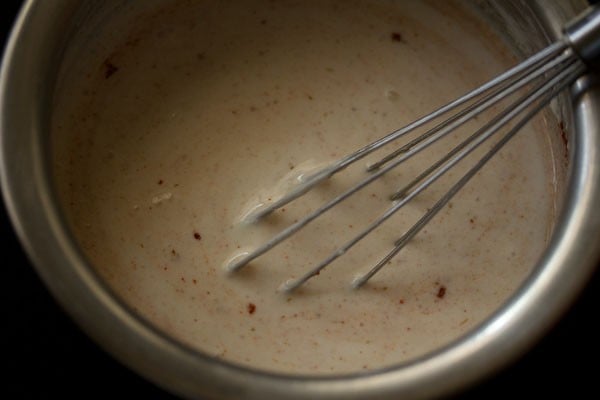 5. Add ½ cup chopped pineapple cubes. At this step you can also add half of the pomegranate arils or reserve all of them for garnish later.
Make sure that the pineapple is sweet and not very sour or tangy.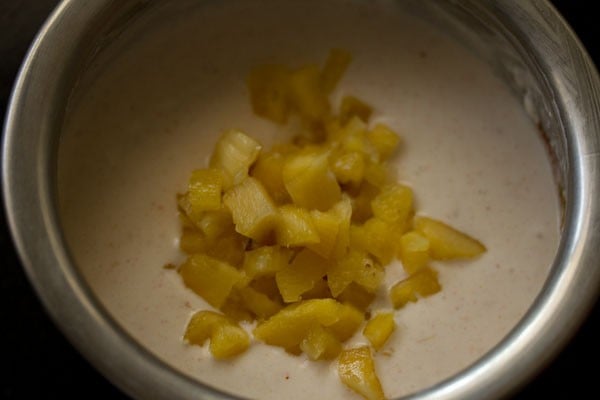 6. Mix again. Check the taste and add more red chilli powder, roasted cumin powder, salt and sugar if required.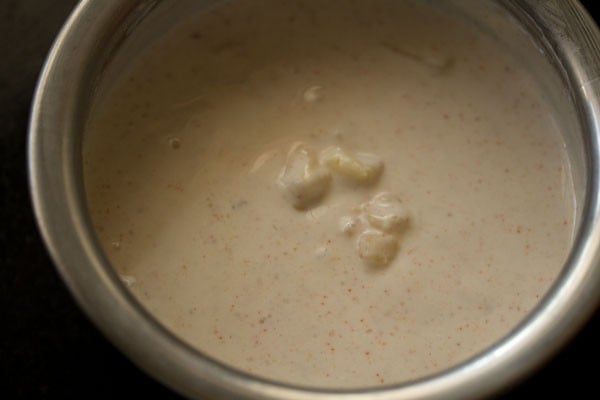 7. Garnish pineapple raita with the pomegranate arils, a few chopped pineapple cubes and 1 to 2 tablespoons of chopped coriander leaves.
Serve pineapple raita immediately with any North Indian meal or main course. This raita tastes best when it is made, so I suggest to serve it straightway as soon you make it.
Note that on refrigeration the taste and flavors will change and the raita can have bitter notes.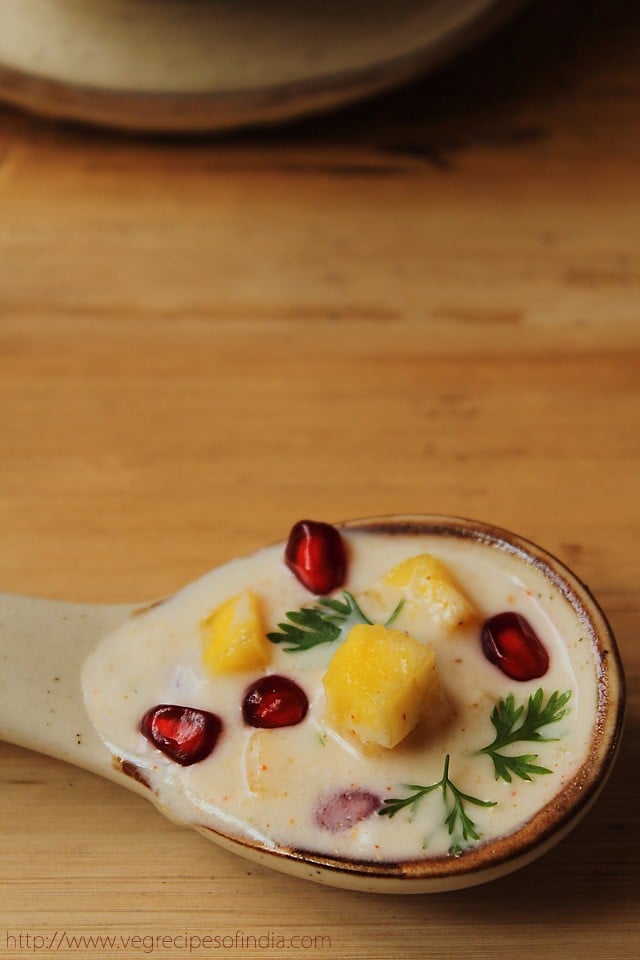 FAQs
Can I make pineapple raita ahead of time?
If you are using fresh pineapple, I recommend you make the raita immediately prior to serving it as it may become bitter over time. If you use tinned pineapples, your leftovers will last well for about 1 to 2 days.
Do I need to cook the pineapple before adding?
No, with a caveat. Fresh pineapple and dairy yogurt don't have a friendship that will last a day; if you've picked a beautiful fruit, plan on eating your raita immediately.

Otherwise, go for canned pineapples (packed in juice or water), as they have already been heat treated. You can also give your fresh pineapple a quick zap in the microwave or sauté on the stove. If you do, your pineapple raita will last for 1 to 2 days in the fridge.
Can I use tinned pineapple?
Absolutely! Just be sure to opt for the kind that is packed in juice or water; the kind that is packed in syrup is overly sweet for my taste.
More Raita Recipes For You!
Please be sure to rate the recipe in the recipe card or leave a comment below if you have made it. For more vegetarian inspirations, Sign Up for my emails or follow me on Instagram, Youtube, Facebook, Pinterest or Twitter.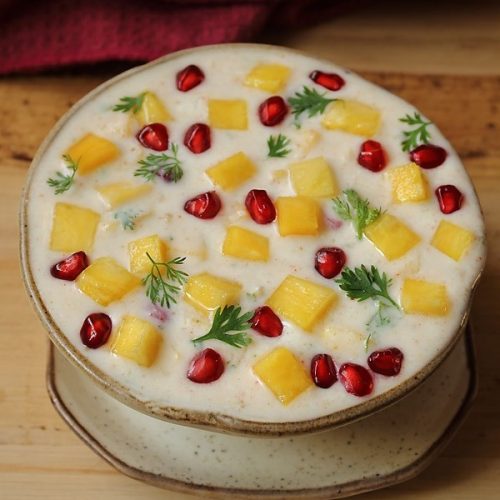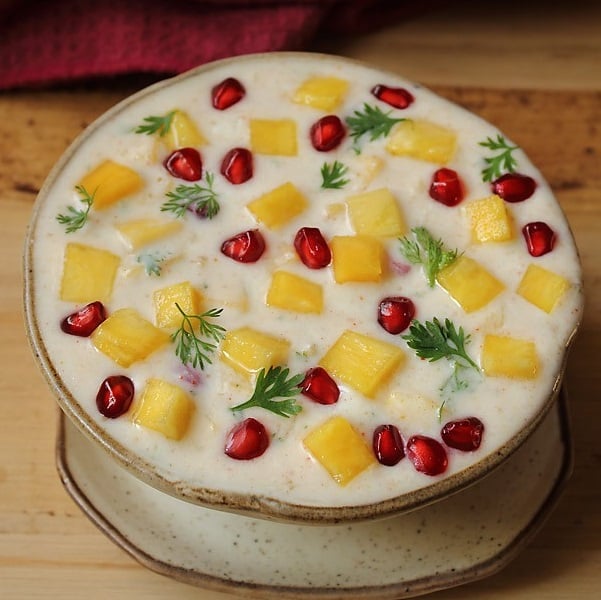 Pineapple Raita
This Pineapple Raita recipe is sweet, sour, salty, refreshing and made with curd (yogurt), pineapple, herbs, spices and pomegranate. A delightful addition to any plate!
1

cup

Curd

(yogurt) or any plant-based yogurt

½

cup

chopped pineapple

– chopped in small cubes

¼

cup

pomegranate arils

– optional

½

teaspoon

red chili powder

or cayenne pepper or paprika

1

teaspoon

roasted cumin powder

1 to 2

tablespoons

sugar

or add as per taste

salt

or edible, food grade rock salt ot black salt as required

1 to 2

tablespoons

chopped coriander leaves

(cilantro) – for garnish
Instructions
With a wired whisk, whip the curd till its smooth.

Add the spice powders, sugar and salt to the curd. Mix well.

Add the chopped pineapple cubes and half of the pomegranate arils.

Reserve the other half for garnishing.

While serving garnish pineapple raita with the remaining pomegranate arils and chopped coriander leaves.

Serve pineapple raita immediately with any North Indian main course.
Notes
Serve pineapple raita as soon as you make it. Keeping it for more hours can make the taste bitter.
Make sure that the pineapples are sweet to taste and not sour or tangy.
While fresh sweet pineapples taste good in the raita, you can choose to make the raita with canned pineapples (packed in water or juice).
If you prefer, you can skip adding sugar or add sweeteners like brown sugar, maple syrup or honey.
Instead of coriander leaves (cilantro), you can use parsley or mint leaves.
Nutrition Info (Approximate Values)
Nutrition Facts
Pineapple Raita
Amount Per Serving
Calories 283
Calories from Fat 81
% Daily Value*
Fat 9g14%
Cholesterol 32mg11%
Sodium 2461mg107%
Potassium 629mg18%
Carbohydrates 43g14%
Protein 10g20%
Vitamin A 653IU13%
Vitamin B1 (Thiamine) 1mg67%
Vitamin B2 (Riboflavin) 1mg59%
Vitamin B3 (Niacin) 1mg5%
Vitamin B6 1mg50%
Vitamin B12 1µg17%
Vitamin C 45mg55%
Vitamin D 1µg7%
Vitamin E 1mg7%
Vitamin K 11µg10%
Calcium 336mg34%
Vitamin B9 (Folate) 48µg12%
Iron 2mg11%
Magnesium 53mg13%
Phosphorus 268mg27%
Zinc 2mg13%
* Percent Daily Values are based on a 2000 calorie diet.
This Pineapple Raita post from the blog archives first published in February 2012 has been republished and updated on 23 April 2022.