Spices are the backbone of Indian cuisine. Indian food relies on the addition of a few spices or many spices. These are added sparingly to the food while cooking. Below you will find a list or glossary of spices with their English names and in some more Indian languages.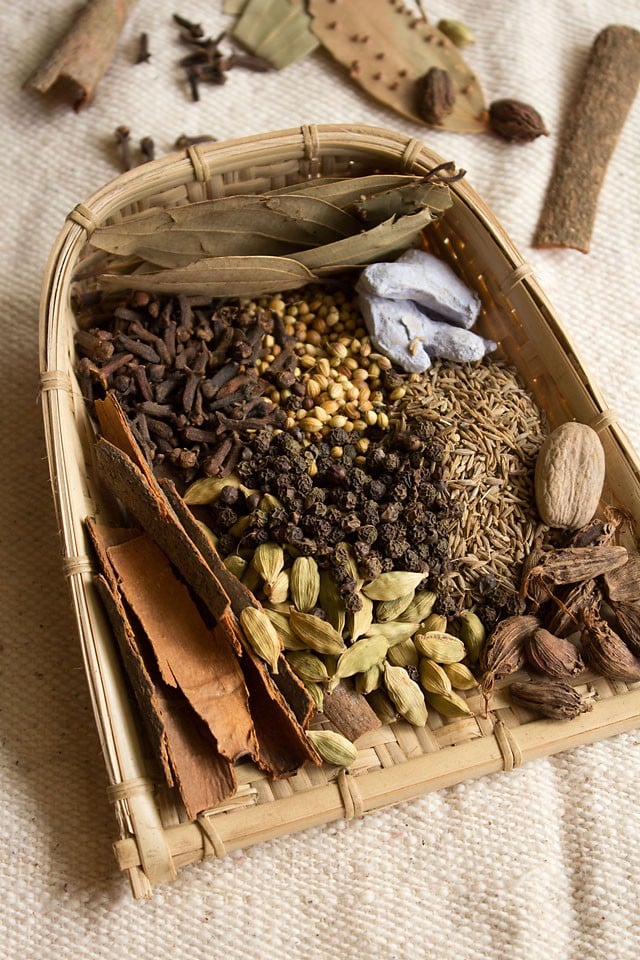 Not only the spices, add a ton of flavor to the dish, but some of the spices like cumin, carom seeds, fennel seeds help in digestion. For this reason, they are added to many recipes to aid digestion.
A few spices like green chillies or red chili powder add some pungency and heat to the dish. Depending on the recipe, the spices are added whole or in their powdered/ground form to the food.
There are many spice blends made by grinding whole spices in the Indian cuisine. Many families make their own spice blends like the essential garam masala, coriander powder, cumin powder, sambar powder, rasam powder etc.
Although you can buy the spice mixes from outside but homemade is always better. As they are free from fillers, additives and preservatives. Homemade spice blends have more intense flavors and a great fragrance.
Spices can be stored easily in a cool dry place in an air tight jars or containers. Sometimes a few spices can have mold or fungal growth on them depending upon the climate conditions. In this case you have to discard these spices.
You can also store spices for a longer time in the refrigerator in an air-tight container. Lastly, when buying spices it is better to buy organic spices and check the expiry date on the package. Make sure to finish the spices within their shelf period.
Get the names of spices, in English, Hindi and some more Indian regional languages in the table below. I hope these translations of the names of the spices in various Indian languages is useful to you.
I am also thankful to all the readers who have shared the name of spices in these regional languages through emails and the comments below. It is because of their contribution we have been able to expand this list and make it bigger.
Note that if you are using mobile phone or tablet then scroll the below table from left to right to see all the names.
List of Spices Names
English
Hindi
Tamil
Kannada
Marathi
Konkani
Gujarati
Aniseeds, fennel seeds
Saunf
Sombu
Badishep
Variyali
Asafoetida
Hing
Perumkayam, perungaya
Hingu
Hing
Hingu
Hing
Basil seeds, sweet basil
Sabja seeds, subja, falooda seeds, tukmaria
Sabja
Tukmariya
Indian Bay Leaf
Tej Patta
Brinji elai
Tamalpatra, Tej Paan
Tamal patra
Big mustard seeds
Sarson
Sarsav
Black cardamom
Badi elaichi
Periya elakkai
Mothi Ilaichi
Elcho
Black cumin seeds
Kala jeera
Karung seeragam
Kale Jeere
Black mustard seeds
Rai
Kadughu
Mohri
Rai
Black pepper
Kali mirch
Milagu
Menasinkalu
Kalimiri
Mari
Black salt
Kala namak
Kale Meeth
Sanchal
Caraway seeds
Shahijeera
Perum seeragam
Shahajire
Shahjeera
Carom seeds,
Thymol seeds,
Bishops weed
Ajwain
Omam
Owa
Owa
Wonwo
Ajmo
Chilli powder
Lal mirch powder
Milagai tool
Lal Mirchi Powder, Tikhat
Marchu powder
Cinnamon
Dalchini
Lavanga pattai, pattai
Dalchini
Dalchini
Dalchini
Taja
Clarified butter
Ghee
Nei
Tup, Shuddha Toop
Ghee
Cloves
Laung, lavang
Krambu
Lavang
Laving
Coconut desiccated
Sukha nariyal ka choora/boora
Thuruvina thengai
Sukhe Khobre
Topranu khaman
Coconut dry
Sukha nariyal
Ularndha thengai
Sukhe Khobre
Copra, khopru
Coconut fresh
Nariyal
Thengai
Naral
Khopru, topru
Coriander powder
Dhania powder
Dhaniya podi
Dhane pood
Coriander seeds
Sabut dhania
Kottumalli
Vidai, dhaniya
Dhane
Kothmir na dana
Coriander Leaves, Cilantro
Dhaniya, dhania
Kothamalli ilai
Sambhar, Kothimbir, Kothmir
Kothmari/kothmir
Cumin seeds
Jeera
Jeerakam
 Jeere
Jeeru
Curry leaves
Kari patta, kadipatha
Karuveppilai
Kadi Patta, Godlimba
Limda, mitho limbdo
Dry fenugreek leaves
Kasoori methi
Kaaindha vendhaya ilaigal
Kasuri Methi
Dry ginger
Saunth, sounth, soonth
Sukku
Sunthi
Sunth
Sunthi
Sunth
Dry mango powder
Amchur
Mangai podi
Mavinkai
Churu
Aamchur
Amchur
Amchur
Fenugreek seeds
Methi ke dane
Menthiyam, Vendhayam
Methya dane
Methi dana
Fenugreek Leaves
Methi
Vendhaya Keerai
Methi
Garlic
Lasan, lahsun, lahsan
Poondu
Lasun
Lasan
Fresh ginger
Adrak, adhrak
Inji
Ala
Adu
Dry ginger
Saunth, sonth
Sukku
Sunth
Sunth
Green cardamom
Hari elaichi, choti elaichi
Elakkai
Veldoda, Velchi
Elchi
Green chilli
Hari mirch
Pachai milagai
Hirvi mirchi
Chidiya marcha/lilu marchu
Ground nut, peanuts
Moongphalli, mungphali
Nila kadalei
Sheng dane
Shing
Holy basil
Tulsi
Tulasi
Tulas
Tulsi
Jaggery
Gur
Vellam
Bella
Gul
God
Gol
Palm jaggery
Tara gura, sharkara tada
Pana vellam
Lime
Nimboo, nimbu
Elumichai
Limbu
Limbu
Cocum, kokum
Bhirinda, bhirnda
Kokam, aamsul
Lime peel
Nimbu ka chilka
Elumichai thol
Limbachi Saal
Mace
Jayitri, javitri, javntry
Jaipatri
Jaipatri
Jaipatri
Jaipatri
Javintri
Mint
Pudina, podina
Pudina, pudhina
Pudina
Phudino
Nutmeg
Jaiphal
Jhadhikkai
Jaiphal
Jaiphal
Onion seeds,
Nigella
Kalonji, kalaungi
Kalonji
Kalonji
Pine nuts
Chilgoze, nioze
Dry pomegranate seeds
Anardana
Kaaindha maadhulai vidhaigal
Dadum na dana
Poppy seeds
Khus khus
Khasa khasa
Khas Khas
Khas khas
Raisins
Kismish
Kaindha dratchai / ularndha dratchai
Bedane
Suki draksh
Red chilli
Lal mirch
Milakai Vatral
Lal mirchi
Rock salt
Sendha namak
Kal uppu
Sendhe laun
Sindhalu
Mithu
Rock flower,
Stone flower
Pathar phool
Kalpaasi
Dagad phool
Salt
Namak
Uppu
Meeth
Mithu
Sesame seeds
Til
Ellu
Til
Tul
Saffron
Kunkuma, kesar, zafran
Kumkumappu
Keshar
Kesar
Screwpine, pandanus
Kewra
Rambai ilaigal
Sichuan pepper,
Szechwan pepper
Timur, tirphal, tephal, teppal
Star anise
Chakriphool
Lavanga poo
Sultanas
Munakka
Manuka
Tamarind
Imli
Puli
Chincha
Turmeric
Haldi
Manjal
Halad
Vetiver
Khus
Vinegar
Sirka
Water melon seeds
Tarbuj ke beej
Tharboosani vidhaigal
Kalingad Bee
Few More Similar Posts:
This Spices List post from the archives (first published in April 2009) has been republished and updated on 13 June 2021.