Hara bhara kabab are healthy, flavorful, savory pan-fried patties loaded with spinach, green peas and potatoes. My recipe is easy to make and suitable for both vegans and vegetarians alike. Bonus, it is gluten-free as well. I share making these kababs in 2 ways – pan-fried and baked version.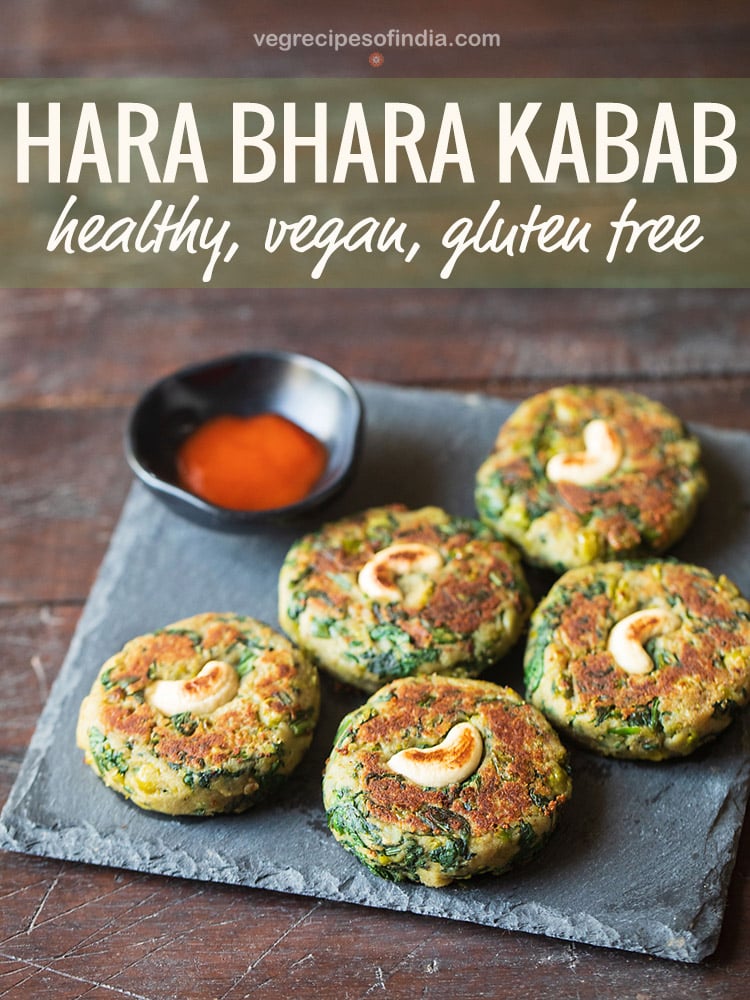 What is Hara Bhara Kabab
Hara Bhara Kabab is a very popular snack of North Indian fried patties made with spinach, peas and potatoes. This word means a kabab full of greens.
Here the green colored veggies are spinach and green peas. These are nutritious since they have the best of both spinach and green peas.
True to its name Hara bhara kabab boosts of green health. Made from spinach, peas, potatoes, it is satisfying, healthy, delicious and tastes great with any chutney dip or sauce.
I have seen these patties listed in the starter section of the menu in many North Indian restaurants. A couple of times we have it outside and they were okay.
Usually I make them when I have some extra spinach left after making Palak Paneer or Sarson ka saag.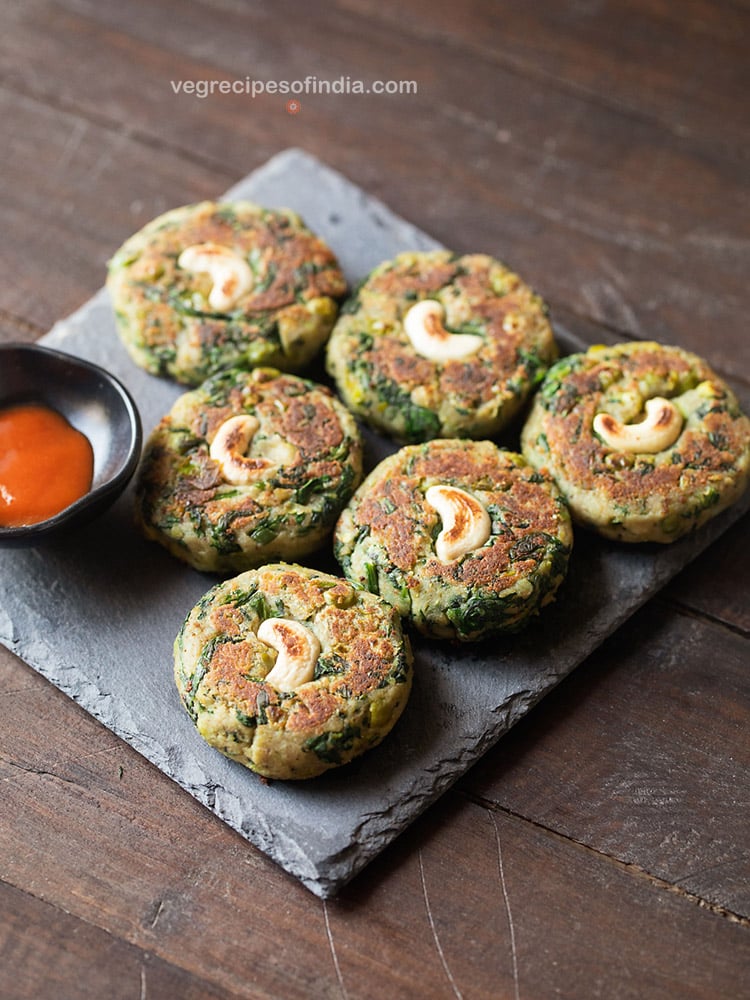 They are usually pan fried. You can even bake them or air fry them. Follow the steps mentioned below to bake them.
Method to bake hara bhara kabab
1. Preheat the oven for 10 minutes at 180 degrees celsius. use both the top and bottom heating rods of the oven while preheating as well as baking.
3. Brush some oil on top of each kabab.
2. Place kababs in a tray that has been sprayed or greased with some oil.
4. Place the kebabs on a tray or wired rack in the center of the oven.
5. Bake the patties at 180 degrees celsius for 20 to 25 minutes or till the kabab gets browned from the top. You can even change the sides after 10 to 15 minutes of baking. Better to bake both sides of these green patties.
How to make hara bhara kabab
Cooking potatoes and peas
1. Rinse well and take 2 medium-large potatoes (200 to 215 grams) in a 2 litre stovetop pressure cooker. Add 2 cups water.
I have cooked both potatoes and green peas in a pressure cooker. You can even steam them in a pan or electric cooker/Instant Pot or boil them in a pot.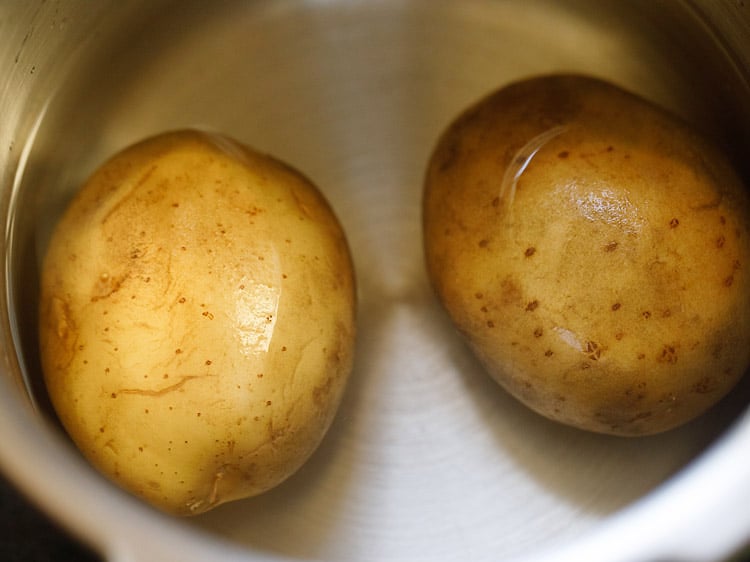 2. Place a steel bowl containing ½ cup green peas (fresh or frozen) on top of the potatoes. Do not add any water in the bowl containing green peas.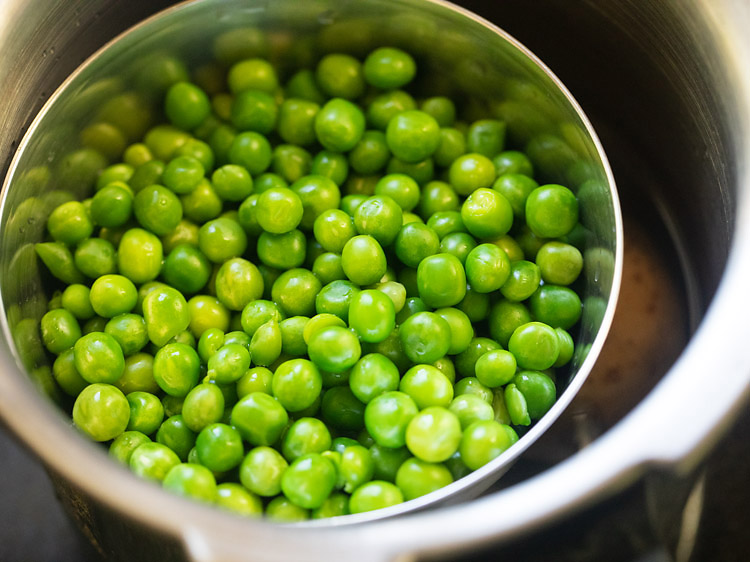 3. Cover the pressure cooker. Pressure cook on medium heat for 10 minutes or 6 to 7 whistles.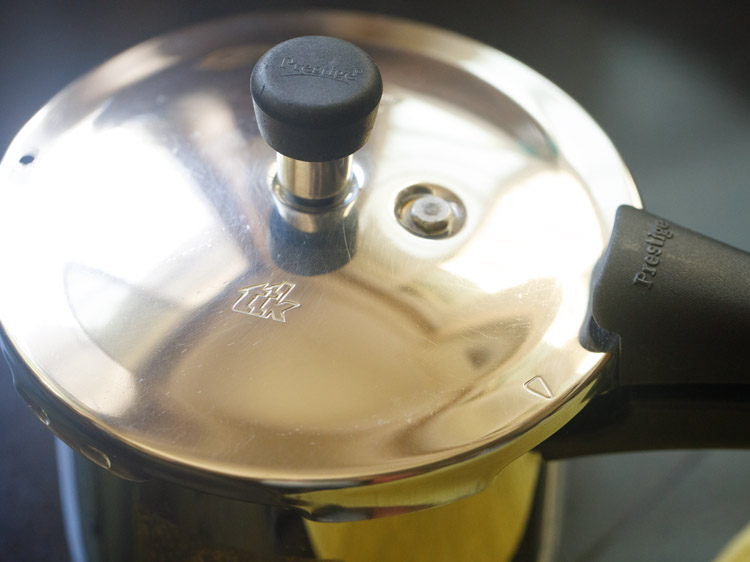 4. When the pressure settles on its own in the cooker, then only open the lid. The potatoes would have cooked and become fork tender. The green peas also will be steamed well and softened.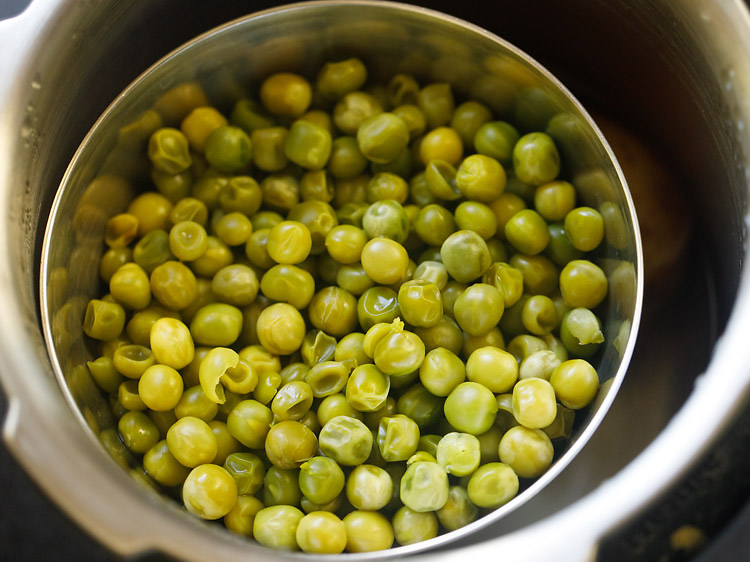 5. Remove the bowl with the help of tongs and place the peas in the strainer – so that all the water is drained.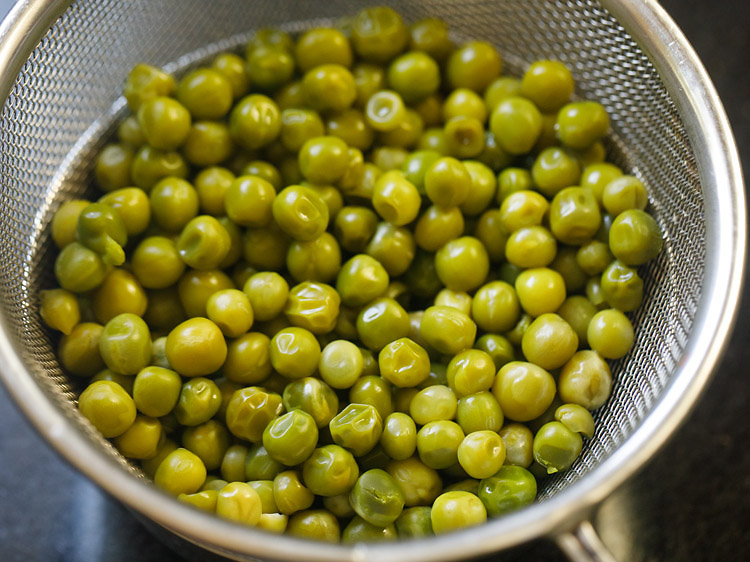 6. Remove the potatoes with a spoon or tongs in a bowl or plate. Let them become warm. Then peel them. Cover and keep aside. Ensure that there is no water in the potatoes.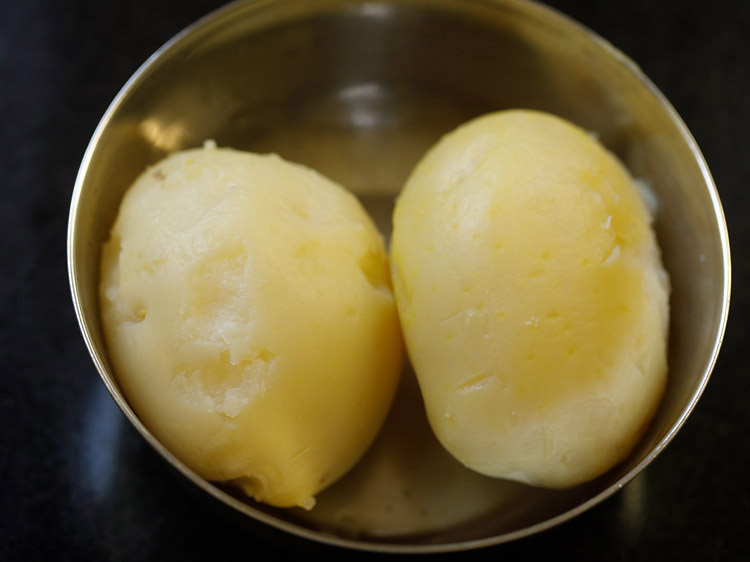 Blanching spinach
7. Rinse 2 cups spinach leaves (100 grams spinach) in water very well. Place them in a colander so that the extra water gets drained.
You can use only the leaves and not stems if you prefer. Stems add some crunch in the kabab. Since stems give a nice crunch thus I add them. If you prefer the crunch, you can use the stems. But use only tender stems.
Note: It is best to use organic spinach or home grown spinach if possible. The spinach available in the market usually has a lot of pesticides. To remove some of the pesticides, soak the spinach in a bowl containing water, baking soda and vinegar for about 4 minutes.
Later using a strainer or colander rinse the spinach leaves very well in clean water a couple of times. Drain all the water from the strainer and keep the leaves aside.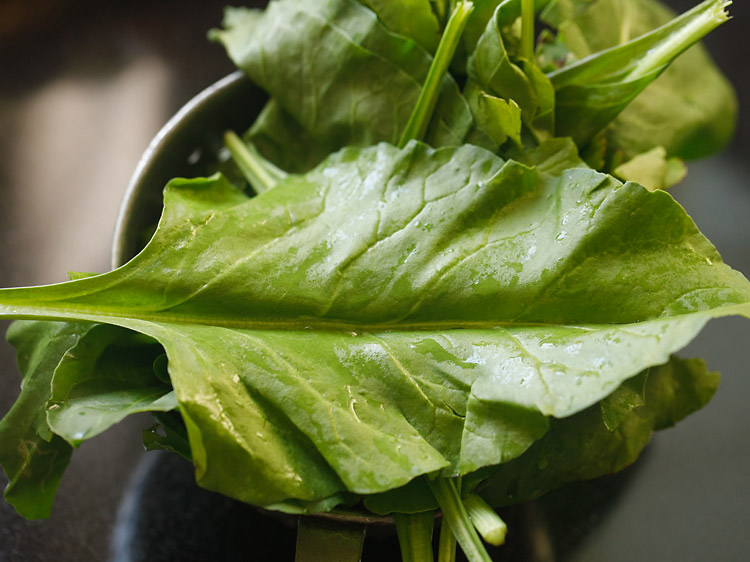 8. Boil 1.5 to 2 cups water with some salt (optional).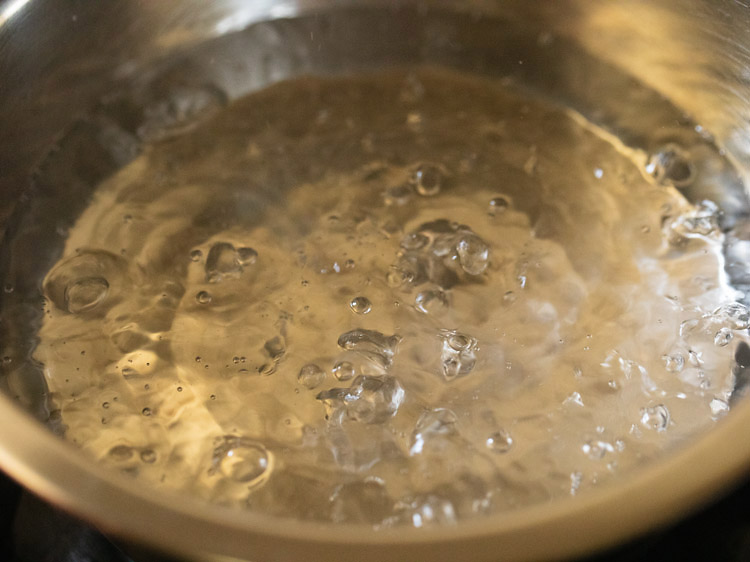 9. When the water comes to a rolling boil, then switch off the flame. Add the spinach leaves and immerse them in the hot water for 2 minutes. This step is blanching the spinach leaves.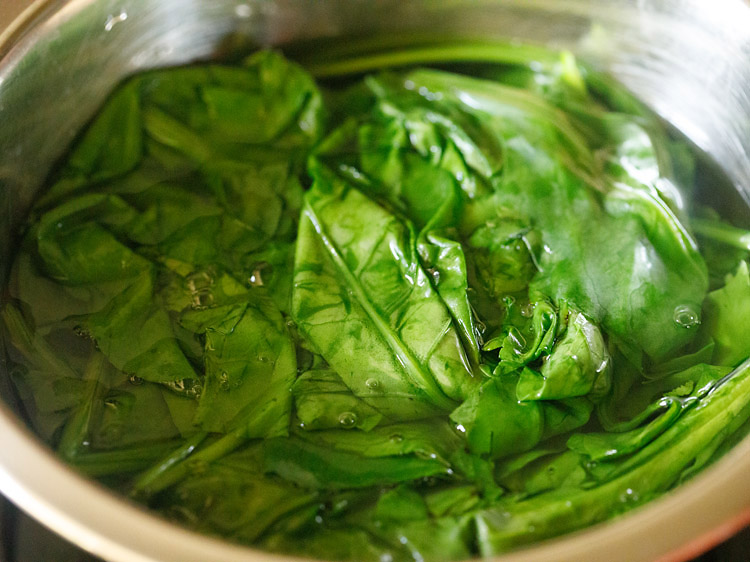 10. After 2 minutes remove the leaves with the help of pasta tongs and place them in a bowl of cold water for 1 minute. This is done so that the spinach retains their greenness.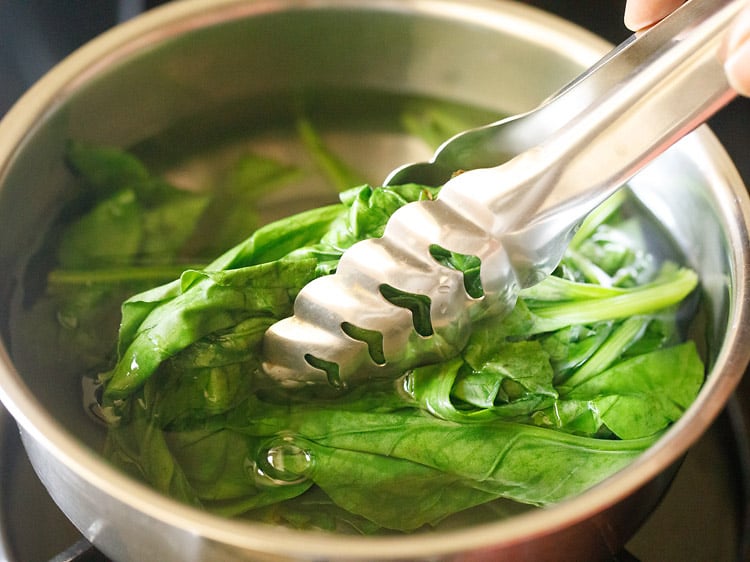 11. After 1 minute, remove the spinach leaves in a colander. Drain the water very well. Squeeze the blanched leaves lightly between your palms if there is extra water.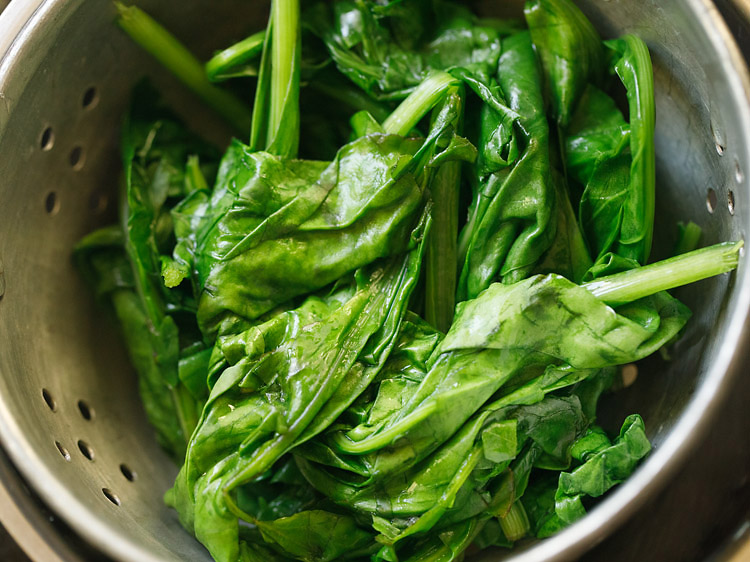 12. Place the spinach on a chopping board. Do squeeze spinach lightly and then place on chopping board.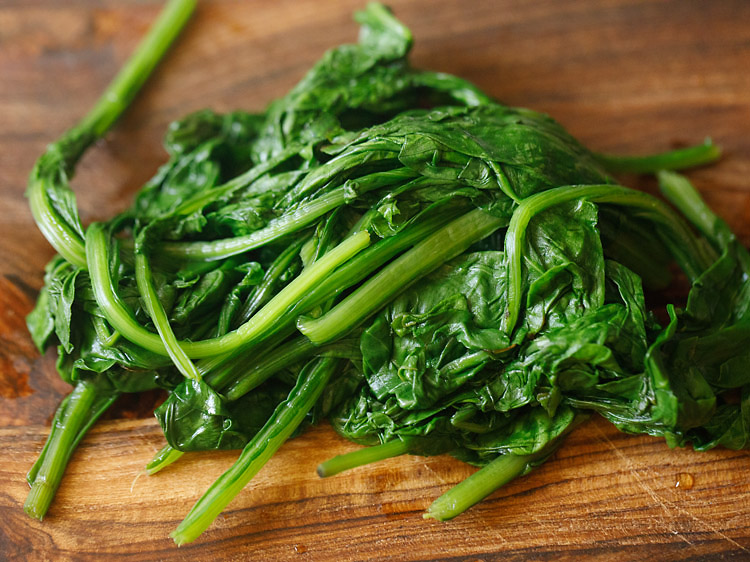 13. Then chop the spinach finely and keep aside. Instead of finely chopping, spinach can also be pureed – but then you will need to add some more roasted besan which is the binding ingredient used in this recipe.
Moreover with a spinach puree there is a high possibility of the mixture becoming sticky.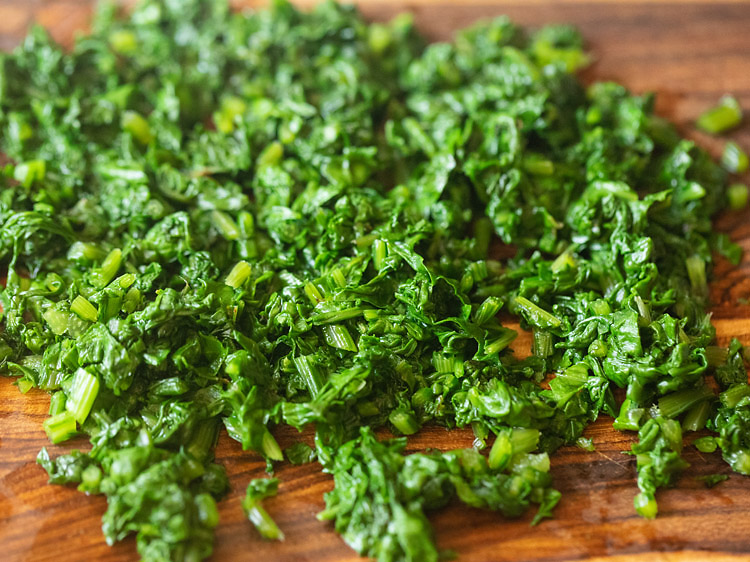 More Prep
14. Take 1 green chilli and 1 to 1.5 inches ginger (peeled and chopped) in a mortar-pestle.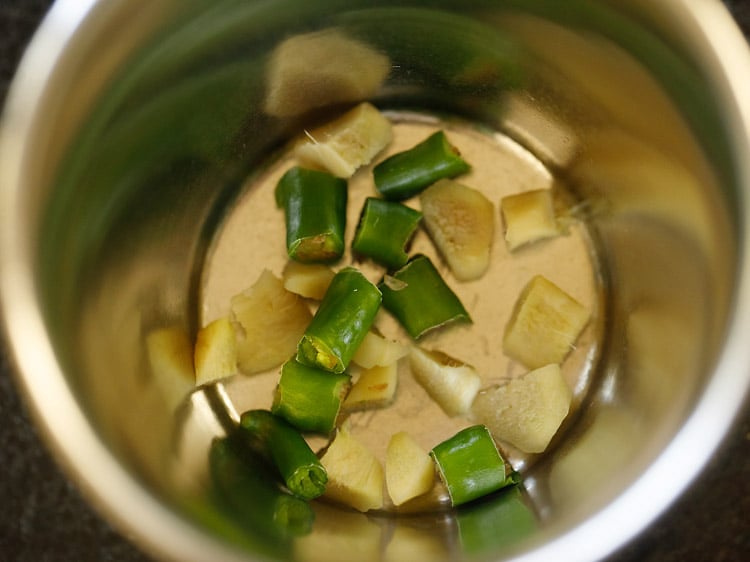 15. Crush to a paste. Paste can be semi-fine or fine.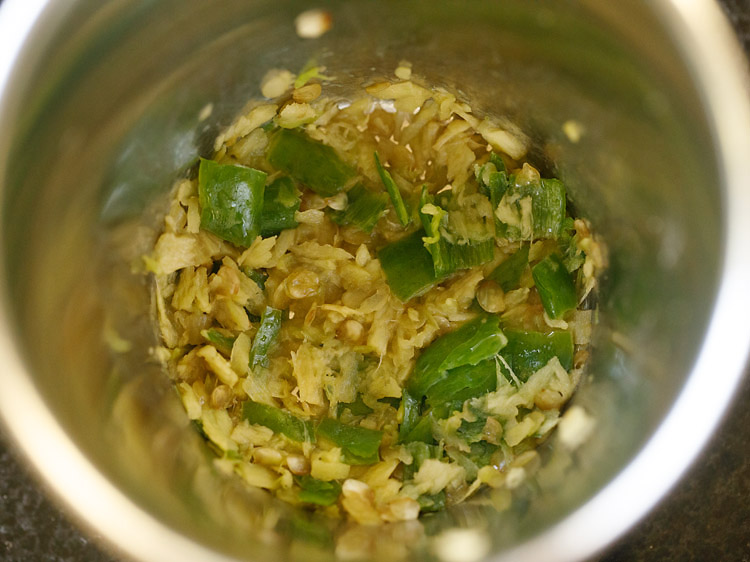 16. Take 4 tablespoons gram flour (besan) in a pan or kadai. Swap gram flour with chickpea flour.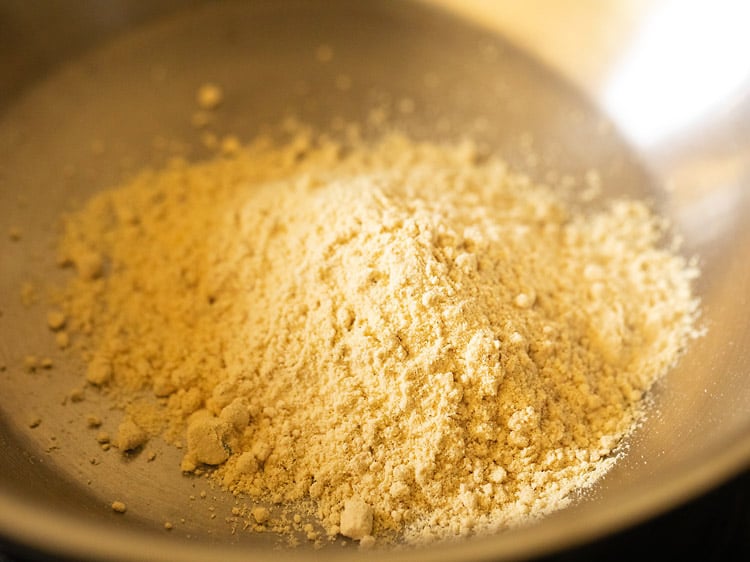 17. Keep flame to a low and roast besan stirring often.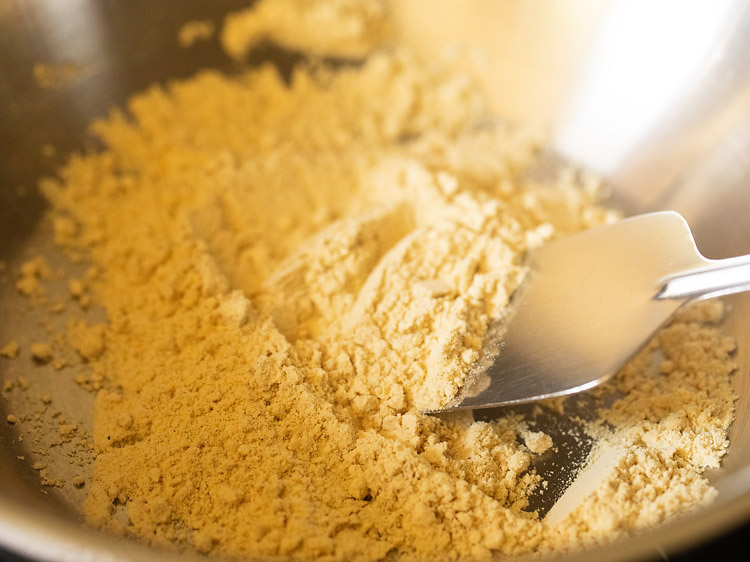 18. Roast besan till you get a nutty fragrance and the besan changes its color.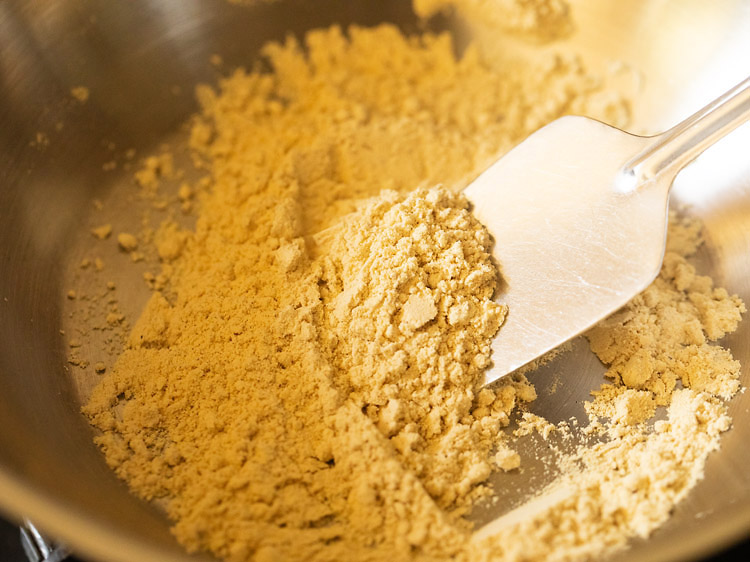 19. Keep roasted besan aside.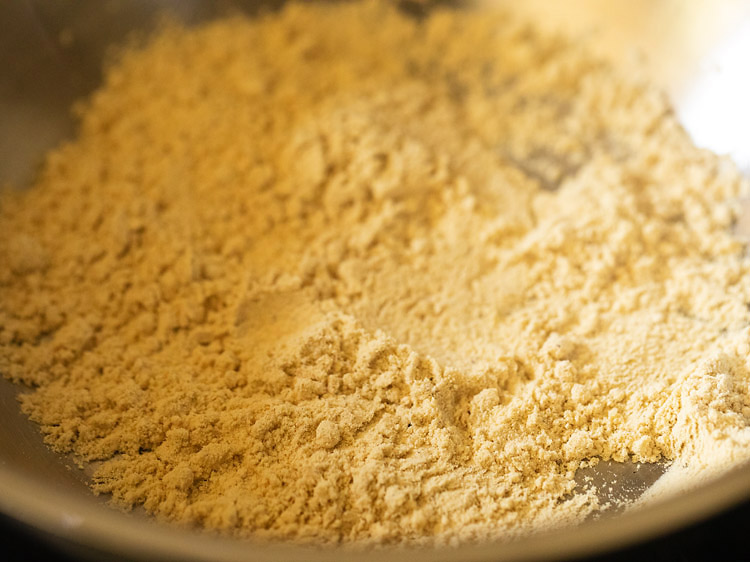 Making hara bhara kabab mixture
18: In a mixing bowl add the finely chopped spinach and steamed green peas.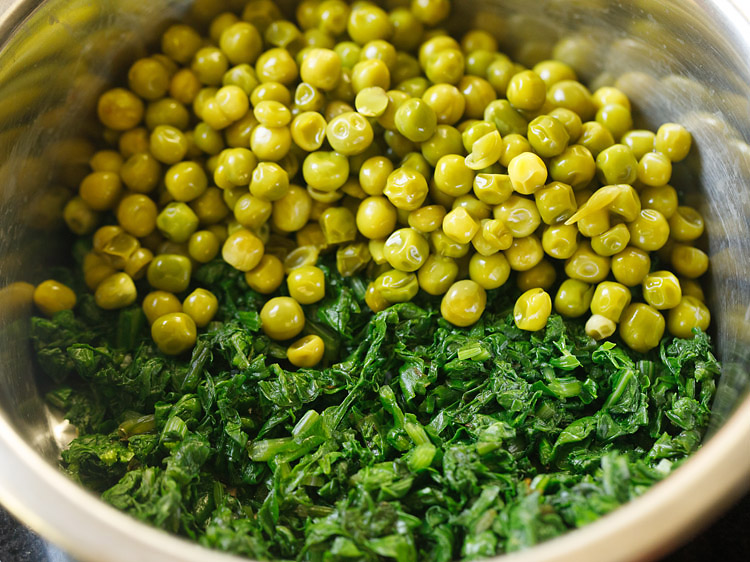 19. Grate the boiled potatoes over it.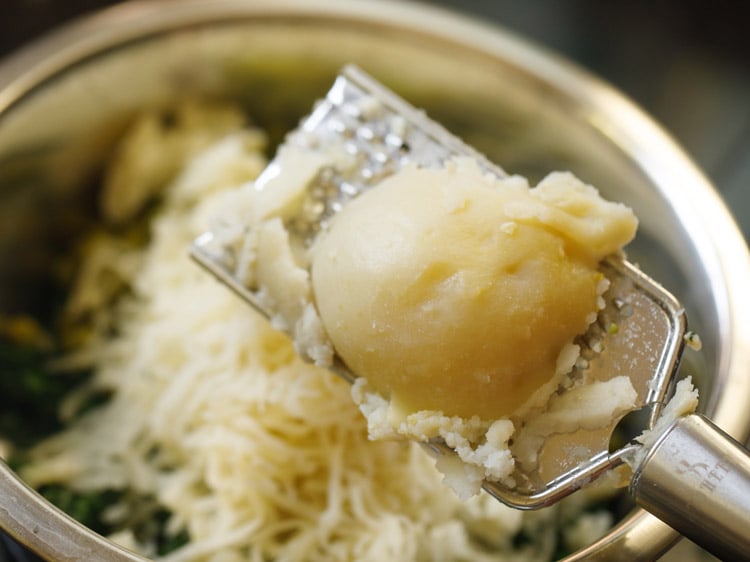 20. Add the roasted gram flour.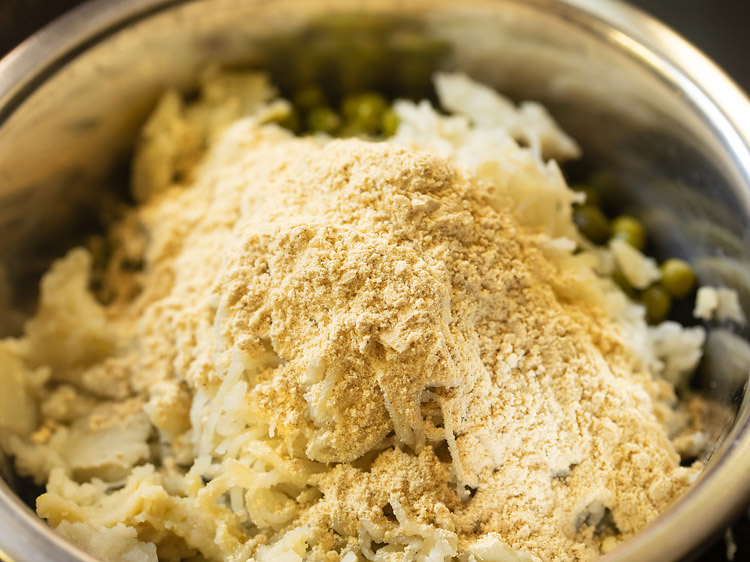 21. Then add the ginger-chilli paste and the spice powders – 1 teaspoon chaat masala powder, 1 teaspoon dry mango powder (amchur powder) and ¼ teaspoon garam masala powder. Also add salt as per taste.
TIP: If you don't have dry mango powder, then you can replace it with ½ to 1 teaspoon lemon juice.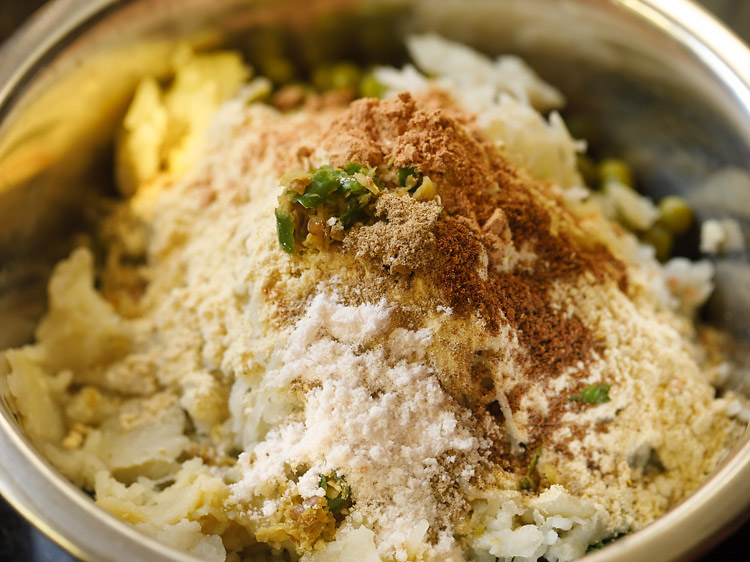 22. First lightly mix with a spoon.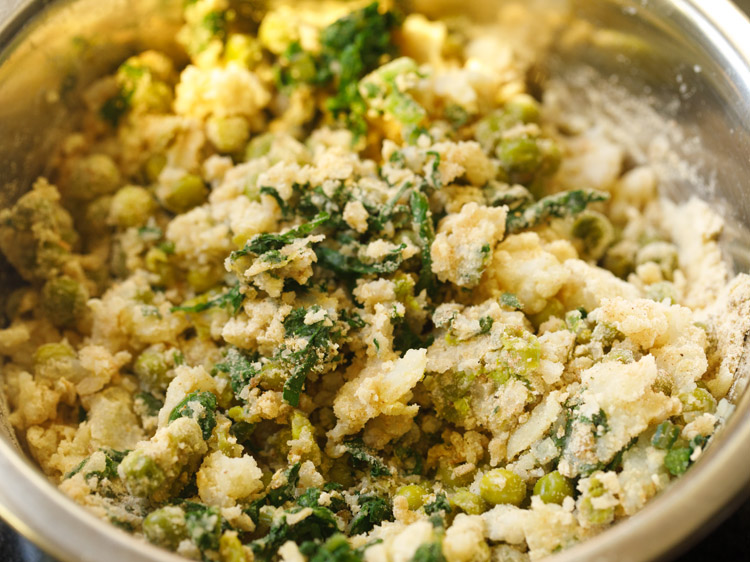 23. Then with a potato masher, mash the kabab mixture.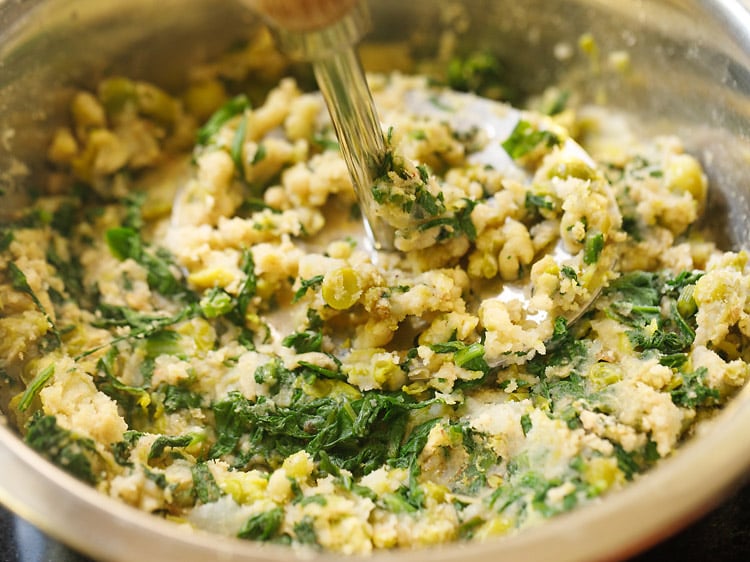 24. Mix again and bring the entire mixture together.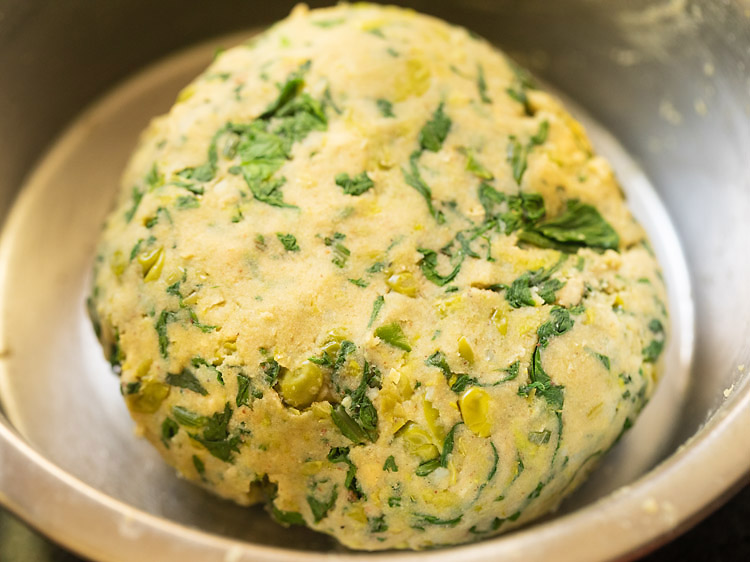 25. Take a small or medium or large sized portion of the kabab mixture and shape into a small or medium or large sized patties. Your hands will be sticky if there was moisture in the spinach. In this case, apply some oil to your palms when shaping the hara bhara kabab.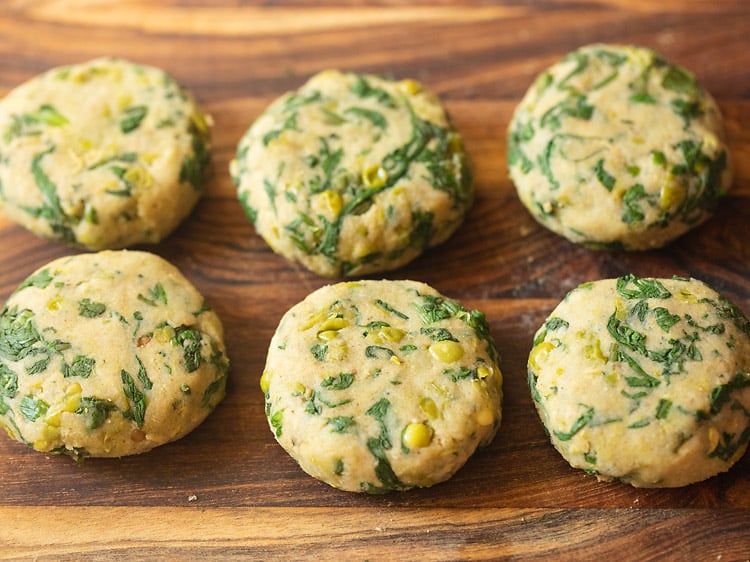 26. Place a halved cashew in the centre of each kabab and lightly press it. So that it sticks on the kabab. This step is optional and can be skipped.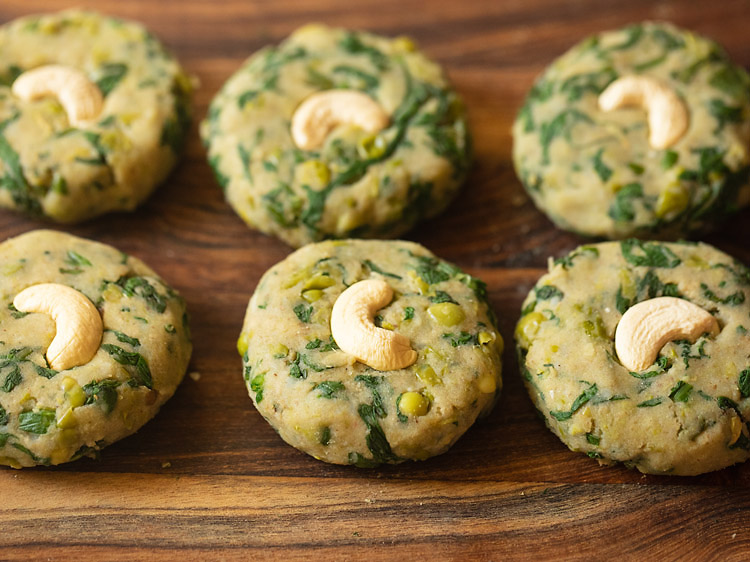 Pan-frying Hara Bhara Kabab
27. Heat 1 to 2 tablespoons oil in tawa or pan. Spread the oil all over the tawa with a spoon. When the oil becomes medium-hot, place the kabab. if you are using a large tawa or griddle then you can fry all the kababs in 2 to 3 tablespoons oil.
I fried in two batches. So fried the first batch in 2 tablespoons oil and then fried the second batch in 1 tablespoon oil.
Use any neutral oil for frying. You can also pan fry these patties in ghee (clarified butter) for a richer flavor and taste.
29. When one side is golden, turn over gently each patty with a spatula.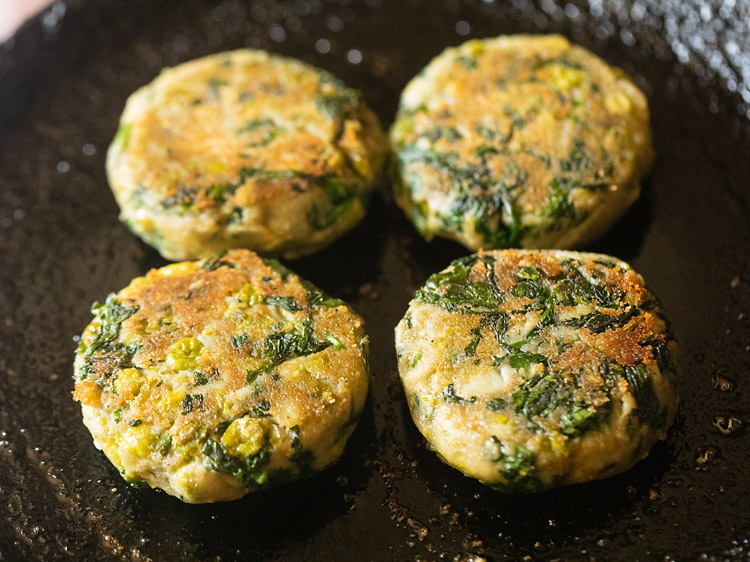 30. When the second side is golden, then flip again gently.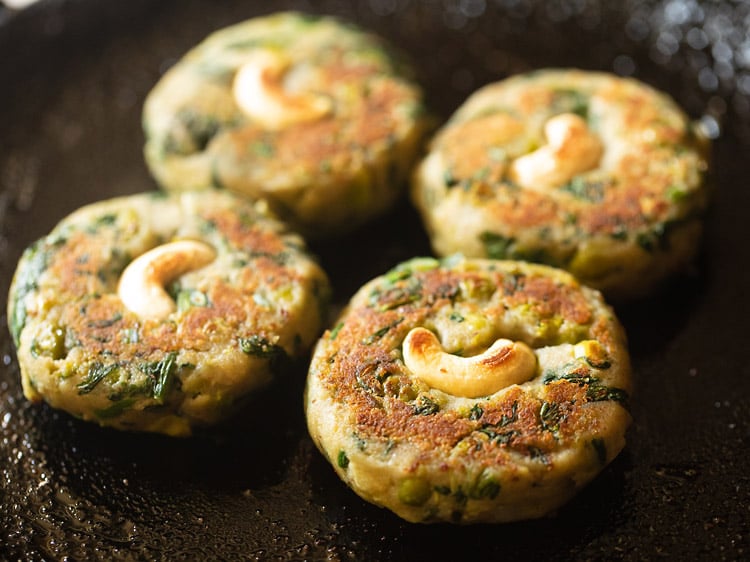 31. Turn over and fry once or twice for an even crispness and uniform golden color.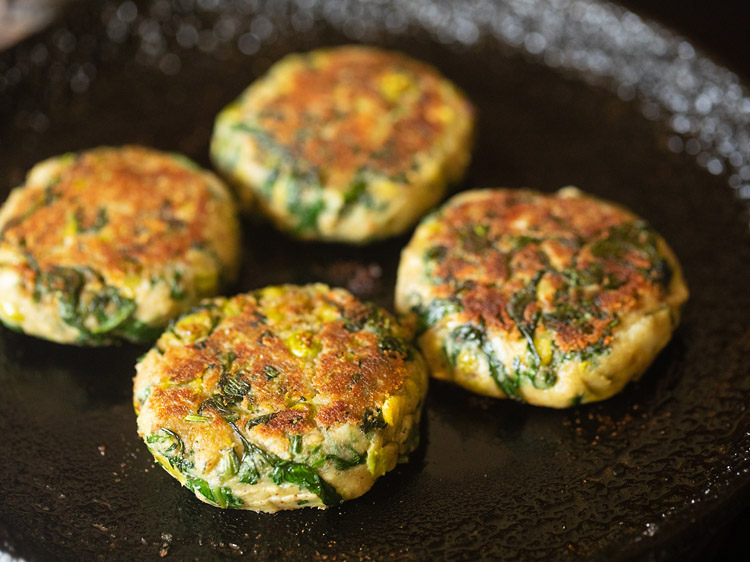 32. Place them on kitchen paper towels. The recipe yields 8 large hara bhara kabab and 10 medium sized hara bhara kabab. This recipe can be halved or doubled or tripled as well.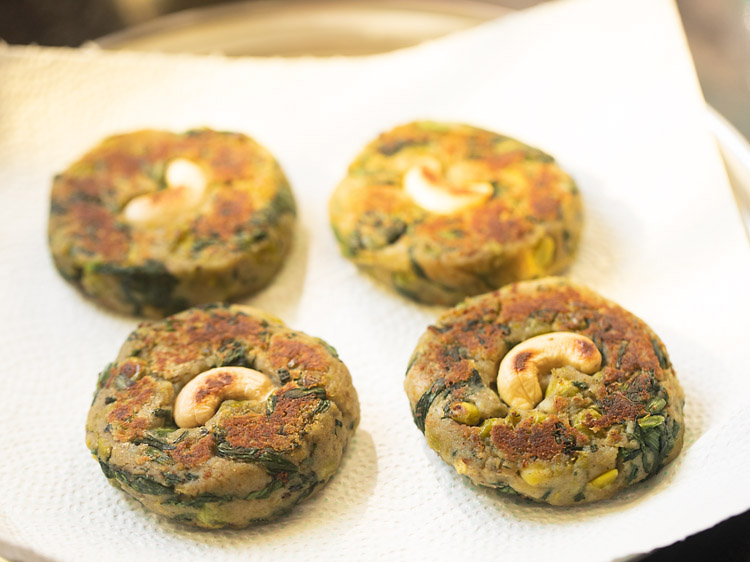 32. Serve hara bhara kabab hot or warm with mint chutney or coriander chutney or tomato ketchup or sweet tamarind chutney or any chutney of your choice.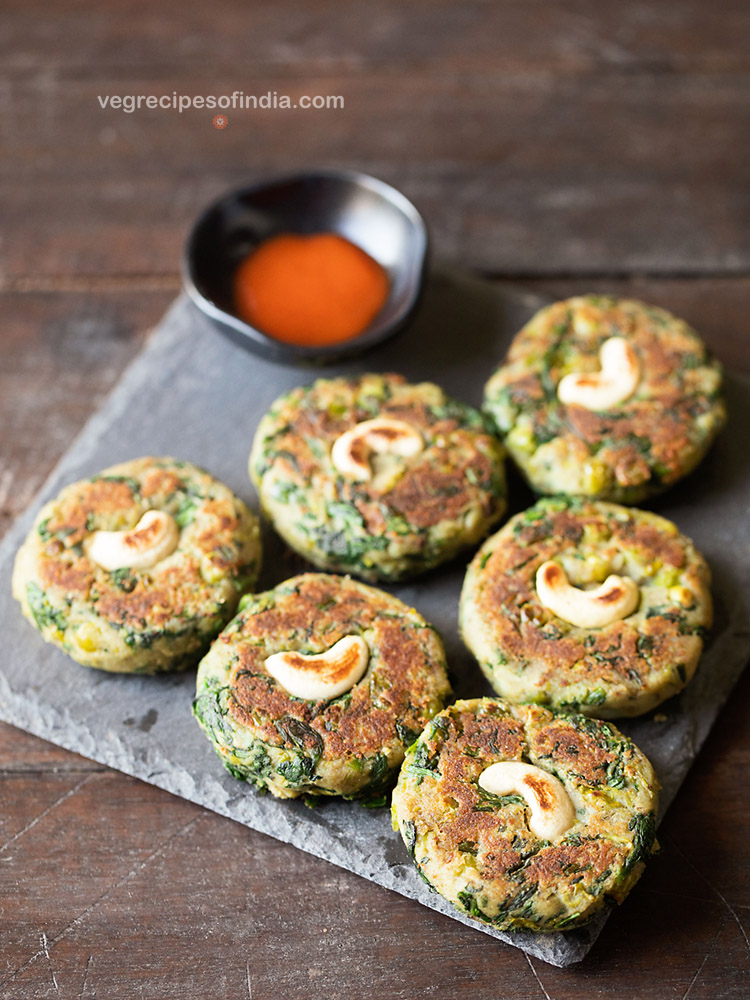 Serving Suggestions
To go with these tasty green patties you can make any chutney – be it mint chutney or coriander chutney or any green chutney and even tomato ketchup or sweet tamarind chutney. Hara bhara kabab is also a tasty gluten-free, vegan and a vegetarian snack for all those who like kababs.
This is an easy finger food that can be served as a brunch or also as a starter. One which is light and not heavy. It can also be stuffed in sandwiches, wraps or burgers. Great way to disguise the spinach, so that kids can have it too.
Expert Tips for Hara Bhara Kabab
The spice powders namely chaat masala and amchur powder can be adjusted as per your taste preferences.
For a spicy kabab, increase the number of green chillies. Or you can add some red chilli powder (or cayenne pepper or paprika).
If you don't have chaat masala, then just add garam masala powder but reduce the quantity to ½ teaspoon garam masala powder. For a slight tang, also add ½ to 1 teaspoon lemon juice.
For binding instead of gram flour (besan), corn flour or corn starch and all-purpose flour (maida) can also be used. You can even use bread crumbs.
Do not shallow fry or deep fry this kabab as they are light in texture and can break in oil while frying.
If the kabab breaks while pan-frying, then it means there is more moisture in the kabab and the binding ingredient is not enough. Thus add some more of the roasted gram flour in the kabab mixture.
More tasty snacks recipes
Please be sure to rate the recipe in the recipe card or leave a comment below if you have made it. For more vegetarian inspirations, Sign Up for my emails or follow me on Instagram, Youtube, Facebook, Pinterest or Twitter.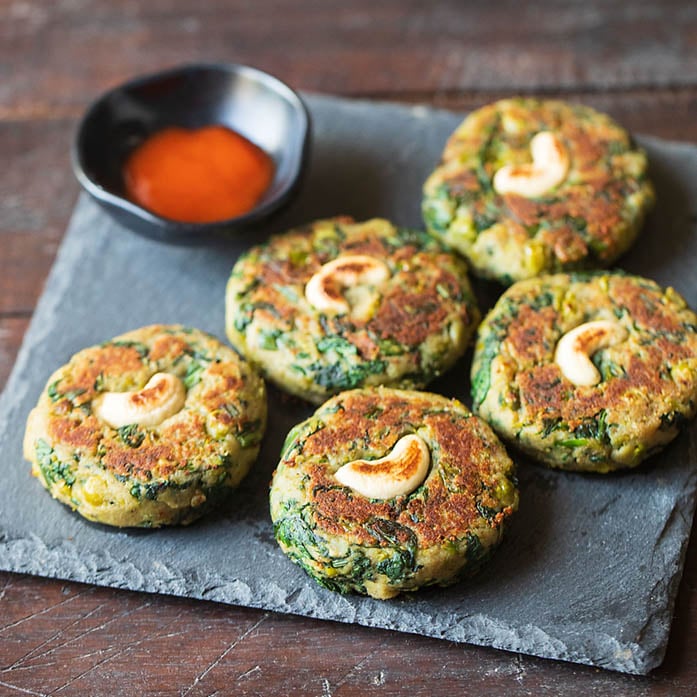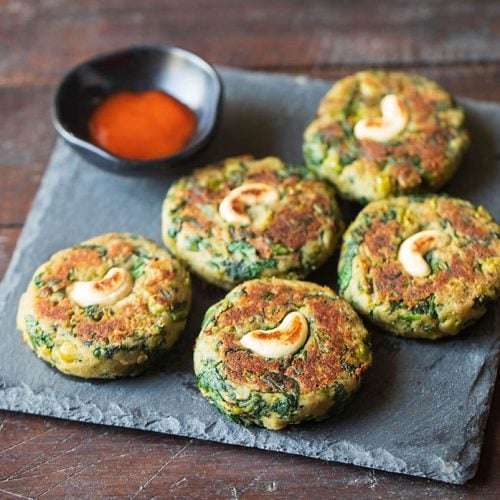 Easy Hara Bhara Kabab Recipe (Pan-fried & Baked Kabab)
Hara bhara kabab is made with fresh spinach leaves, green peas and potatoes. So they are nutritious as well as delicious. Hara bhara kebab makes for a good Indian starter or snack. This green kabab can also be stuffed in burger buns or sandwiches can be made from them.
for blanching spinach
2

cups

fresh spinach leaves or 100 grams

1.5 to 2

cups

water for blanching

1 to 1.5

cups

cold water
for cooking potatoes and green peas
2

medium large potatoes or 200 to 215 grams

½

cup

green peas or 150 grams

, fresh or frozen

2

cups

water for pressure cooking
other ingredients
4

tablespoons

besan

(gram flour) or add as required

1

green chilli

1 to 1.5

inches

ginger

– roughly chopped, adjust as per your spice requirements

1

teaspoon

chaat masala powder

1

teaspoon

amchur powder

(dry mango powder)

¼

teaspoon

Garam Masala

salt

as required

8

cashew halves

– optional

2 to 3

tablespoons

oil

for pan frying the kabab, add as required
Instructions
Blanching spinach
Boil water and then switch off the flame. Keep rinsed spinach in hot water for 2 minutes. Remove with a help of tongs and keep the leaves in cold water for 1 minute.

Again remove the leaves from the cold water using tongs and place in a colander. Drain the water very well. Squeeze lightly if there is extra water.

Finely chop the spinach and keep aside.
Other preparations
Roast besan (gram flour) in a small pan till it becomes aromatic and changes its color. Don't over roast or darken the gram flour.

Steam or boil the potatoes and peas in a pressure cooker or pan (pressure cooker details mentioned above in the step wise pics).

Crush chopped ginger and green chillies in a mortar-pestle to a paste.
Making hara bhara kabab
In a bowl take the chopped spinach. Grate the boiled potatoes in the bowl. Add the peas and green-chili paste.

Mash the kabab mixture with a potato masher or with a wooden spoon.

Add all the dry spice powders, roasted gram flour and salt. Mix the kabab mixture very well.

Shape into round patties. Press a cashew halve on each patty.

Heat oil in a pan or skillet. Pan fry the kabab till crisp and golden turning over as needed. Once done then place them on kitchen paper towels.

Serve hara bhara kabab hot with coriander chutney or mint chutney or tomato ketchup.
Nutrition Info (Approximate Values)
Nutrition Facts
Easy Hara Bhara Kabab Recipe (Pan-fried & Baked Kabab)
Amount Per Serving
Calories 106
Calories from Fat 45
% Daily Value*
Fat 5g8%
Cholesterol 1mg0%
Sodium 192mg8%
Potassium 326mg9%
Carbohydrates 14g5%
Protein 3g6%
Vitamin A 774IU15%
Vitamin B1 (Thiamine) 1mg67%
Vitamin B2 (Riboflavin) 1mg59%
Vitamin B3 (Niacin) 1mg5%
Vitamin B6 1mg50%
Vitamin C 17mg21%
Vitamin E 2mg13%
Vitamin K 40µg38%
Calcium 21mg2%
Vitamin B9 (Folate) 29µg7%
Iron 6mg33%
Magnesium 27mg7%
Phosphorus 53mg5%
Zinc 1mg7%
* Percent Daily Values are based on a 2000 calorie diet.
This Hara Bhara Kabab Recipe is from the blog archives (Jan 2013) has been republished and updated on 30 May 2021.