If you love mix vegetables, then you will like this Veg Keema recipe. All you need to make this dish are some Indian pantry staples and your favorite mix vegetables. The Veg Keema or Vegetable Keema is an easy, vegetarian, vegan, hassle-free and high on nutrition dish.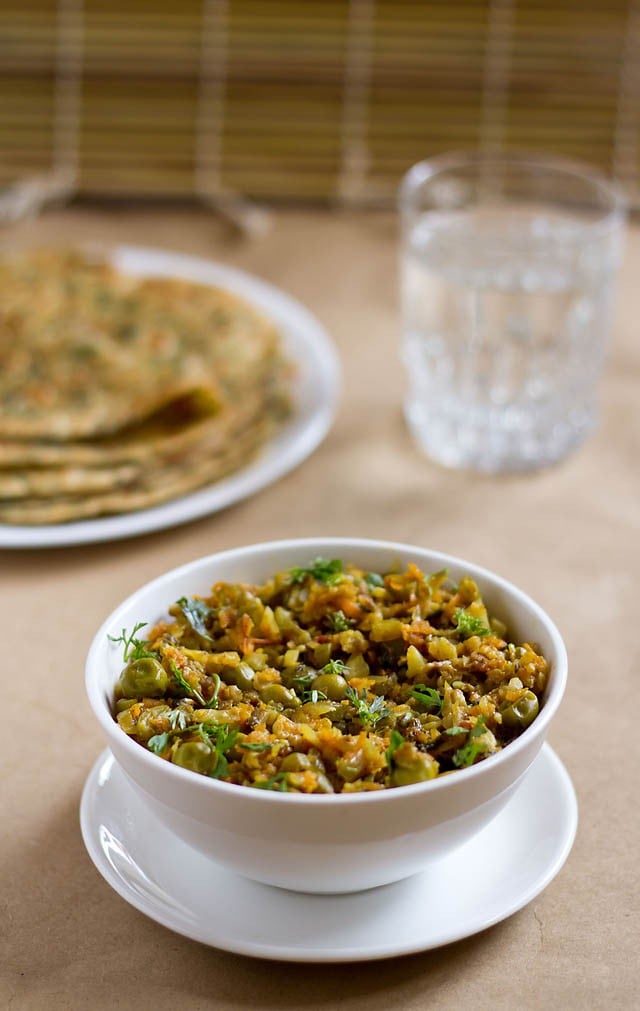 What is Keema
Keema or kheema is a Hindi word for 'mince/minced.' Though the origin lies in 'qıyma,' a Turkic word for 'minced meat,' it is also related to the Greek 'kimas,' Persian 'qeyme' and Turkish 'kıyma.'
Thus, keema would essentially relate to a dish made of ground meat mixed with other ingredients. Since, India is also considered as a vegetarian nation, there are many vegetarian and vegan versions of keema as well.
There are multiple ways to cook keema. For instance, it can be made into a dry or semi-dry vegetable dish like this Veg Keema or Vegetable Keema, used as filling for snacks like samosa/sandwiches/rolls or breads like naan/paratha, grilled on skewers as kababs, made into koftas for a thick gravy, turned into patties and used in burgers, etc.
About Veg Keema
This is my version of Vegetable Keema and it is a really nice, tasty and different way of including veggies in your diet. Since the vegetables are minced or grated, the cooking time is also less. It works good as a breakfast, brunch or tiffin option.
The preparation time might be a bit more as hand grating the veggies takes time. If you have a food processor then using it will surely reduce the time taken to prep up the vegetables.
I have used cauliflower, carrots, French beans, green peas and button mushrooms in this Veg Keema recipe. You can add your choice of vegetables while preparing it. I am sure even with other veggies, it will taste just as fantastic.
This Vegetable Keema is a semi-dry dish and pairs really well with chapati, phulka, Indian pav buns, Naan, paratha or even your regular bread accompanied with a Vegetable Salad or Raita. It can also be a side dish to a dal-rice combination.
More on this Keema Recipe
Keema is one dish I have always been familiar with, as during my growing up years it was a common preparation at my home. But then, it wasn't Veg Keema.
My family would always go for the kheema dishes at the most iconic Parsi cafes and restaurants too in Mumbai. Like keema-pav, which is spiced minced meat and peas served with Indian buns or pav. Even my mother made a fabulous keema-pav at home.
Since the time I've turned vegetarian and started my blog, I've been working to recreate the most popular meat-based recipes into vegetarian and vegan. This Veg Keema is one of those creations.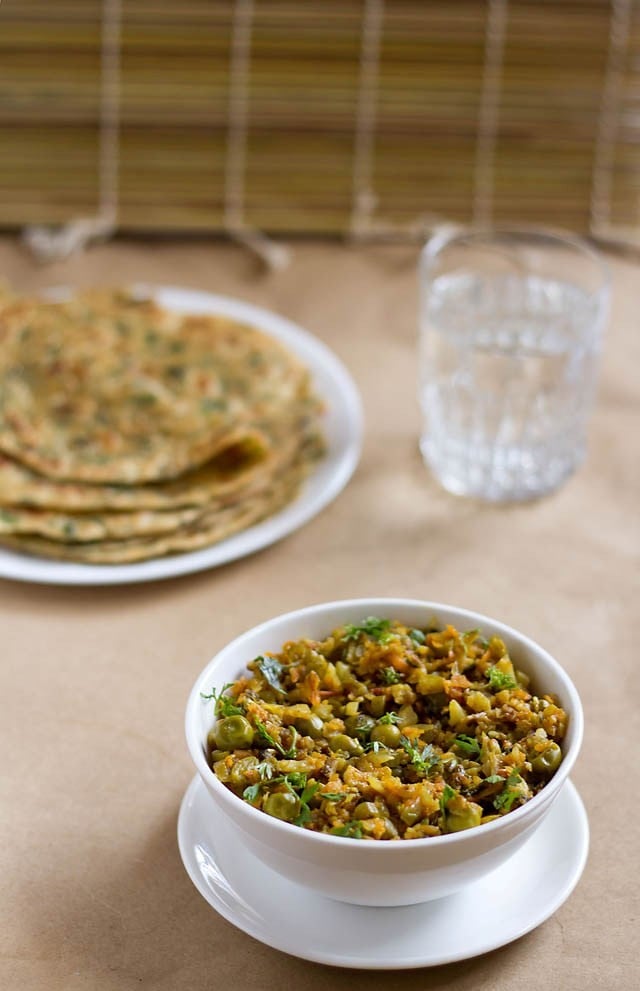 Which Vegetables to add in this Keema recipe
While the vegetables can be of your choice and liking, but you have to include veggies which do not become a mush after cooking.
Vegetables like cauliflower, french beans, carrots, green peas work perfectly in the recipe. You could also add bell peppers and potatoes. Avoid adding soft vegetables like okra, pumpkin, squashes, zucchini, various gourds, leafy greens and eggplants.
The veggies should be cooked perfectly to make this dish taste good in terms of both flavor and texture. While I always prefer to add mushrooms in the keema recipe, feel free to omit them if you are not fond of mushrooms.
You could also try making this recipe with unripe jackfruit. Either use jackfruit as the only veggie. If mixing it with other vegetables, cook the jackfruit first. Then mix the cooked jackfruit with the remaining vegetables after they are tender and cooked. Simmer for 2 to 3 minutes more.
More Veggie Recipes To Try!
Please be sure to rate the recipe in the recipe card or leave a comment below if you have made it. For more vegetarian inspirations, Sign Up for my emails or follow me on Instagram, Youtube, Facebook, Pinterest or Twitter.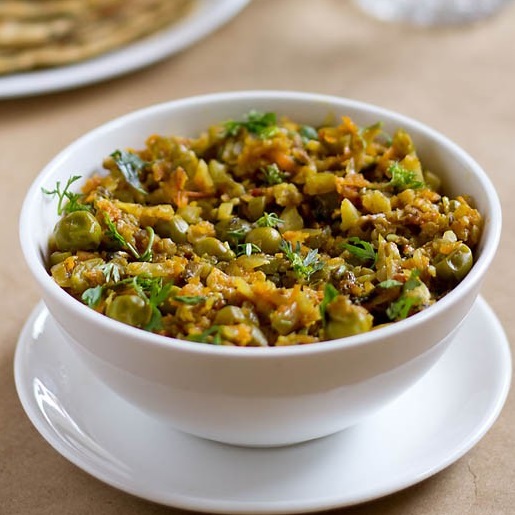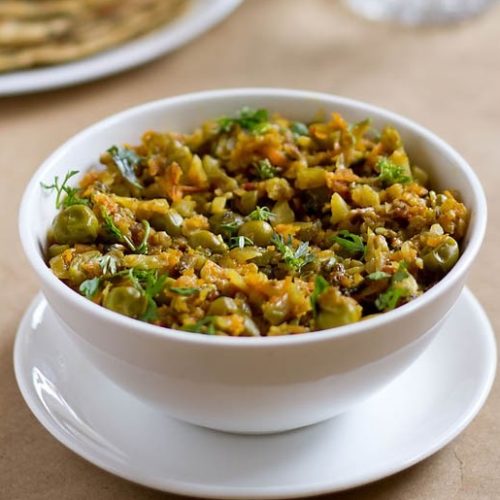 Veg Keeema Recipe
Vegetable Keema is an easy, delicious Indian recipe made with minced vegetables, spices and herbs. Keema or kheema is a Hindi word for 'mince.'
7 to 8

cauliflower florets

– grated, minced or finely chopped

7 to 8

french beans

– finely chopped

7 to 8

mushrooms

– finely chopped

1

medium size carrot

– grated, minced or chopped

⅓

cup

green peas

– frozen

2

tomatoes

– medium sized, finely chopped or about 1 cup finely chopped tomatoes

1

onion

– medium sized, finely chopped or ½ cup finely chopped onions

1

green chilli

– finely chopped or ½ to 1 teaspoon chopped green chillies

1

teaspoon

Ginger Garlic Paste

or 1 inch ginger and 3 to 4 small to medium garlic cloves – finely crushed in a mortar-pestle or made into a paste

1

black cardamom

– optional

1

inch

cinnamon

1

teaspoon

Coriander Powder

(ground coriander)

½

teaspoon

turmeric powder

(ground turmeric)

½

teaspoon

Garam Masala

½

teaspoon

red chilli powder

2

tablespoons

sunflower oil

or any neutral oil

1 to 1.25

cups

water

or add as required

salt

as required
Instructions
Heat oil in a pan. Keep the flame to low. Add whole garam masala spices – black cardamom and cinnamon. Stir and fry the spices for a few seconds.

Add finely chopped onions and sauté stirring often till lightly browned. Add the ginger-garlic paste. Stir and sauté for some seconds till the raw aroma of ginger and garlic goes away.

Then, add tomatoes and all the spice powders one by one. Sauté the mixture till the oil separates. Stir often while sautéing.

Next add all the vegetables including green peas. Add water and salt.

Cover and simmer till the vegetables are cooked well and tender. If the veggies start sticking to the pan, add some water and mix. Cover pan with lid and continue to simmer.

When the veggies are tender and cooked perfectly, continue to simmer if there are any liquids in the pan. Note that the veggie mixture should become dry and there should be no liquids in it.

Check the seasoning and add more salt if needed.

Garnish Veg Keema with coriander leaves and serve hot or warm with roti, phulka, paratha, naan or bread.
Nutrition Info (Approximate Values)
Nutrition Facts
Veg Keeema Recipe
Amount Per Serving
Calories 167
Calories from Fat 90
% Daily Value*
Fat 10g15%
Sodium 93mg4%
Potassium 644mg18%
Carbohydrates 17g6%
Protein 5g10%
Vitamin A 4394IU88%
Vitamin B1 (Thiamine) 1mg67%
Vitamin B2 (Riboflavin) 1mg59%
Vitamin B3 (Niacin) 3mg15%
Vitamin B6 1mg50%
Vitamin B12 1µg17%
Vitamin C 41mg50%
Vitamin D 1µg7%
Vitamin E 5mg33%
Vitamin K 25µg24%
Calcium 51mg5%
Vitamin B9 (Folate) 63µg16%
Iron 1mg6%
Magnesium 36mg9%
Phosphorus 117mg12%
Zinc 1mg7%
* Percent Daily Values are based on a 2000 calorie diet.
This Veg Keema recipe post from the blog archives first published in April 2013 has been republished and updated on 19 April 2022.