Pesto recipe with step by step photos – a simple and delicious recipe of vegan pesto sauce made with fresh basil and almonds.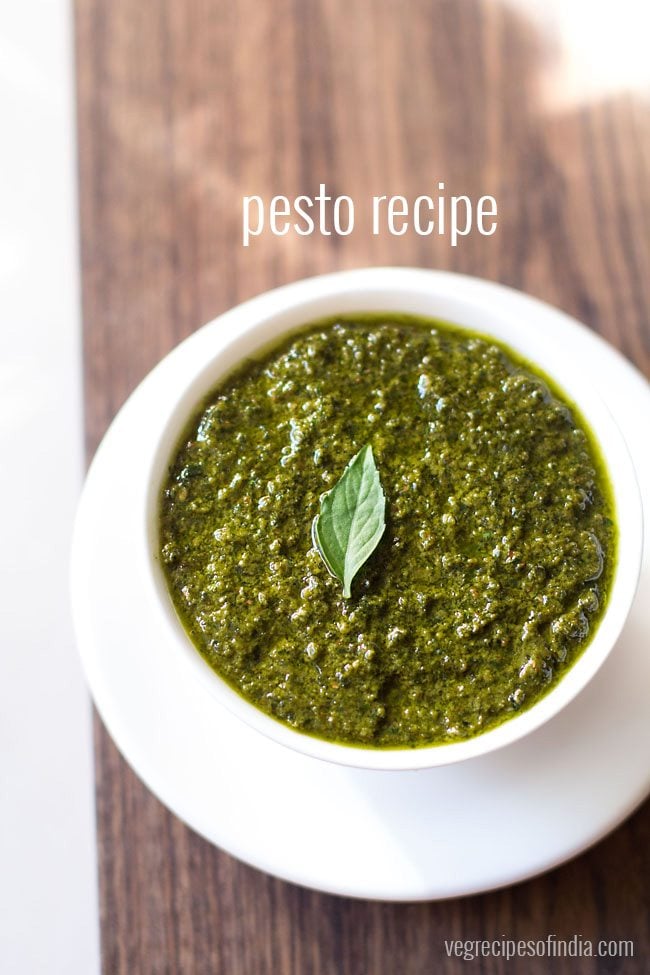 I prepare pesto on occasions when I plan to make Pesto pizza or prepare Pesto pasta. I learned to prepare pesto from one of my friend and I still use her recipe even now.
Pesto is a sauce from italy made with crushing basil leaves, pine nuts and garlic blended in olive oil and cheese. It can be had with pasta, sauteed or boiled vegetables, salad or even as a topping on toasted breads/buns.
Tips for making pesto sauce
Traditionally pine nuts are used to make pesto, however one can use other nuts like almonds, cashew nuts, walnuts. Feel free to add your choice of nuts.
Almonds give a nice creamy feel to the pesto. With cashews also the pesto tastes good. With walnuts there can be slight bitter tones.
I have not added parmesan cheese to the pesto and thus this pesto stays good for a longer time.
At times I also black peppers and you can also add them. if you don't have whole peppercorn then substitute with black pepper powder.
Having an Indian taste, the pesto reminded me of the various herb chutneys we make in India like the Mint chutney, Coriander chutney. at least for me it tasted like a chutney and in the west its called a sauce. What a world?
I remember having european and American visitors to the house and when they would see any Indian chutney, then they would call it a sauce. E.g. Coconut chutney would be coconut sauce.
In my mind, I have a different perception of sauce. For me a sauce would be liquidy and smooth and soft, like a Tomato sauce or pumpkin sauce. But calling coconut chutney, a coconut sauce is beyond my comprehension and common sense.
How to make pesto sauce
1. Heat a pan and add ¼ cup almonds in it.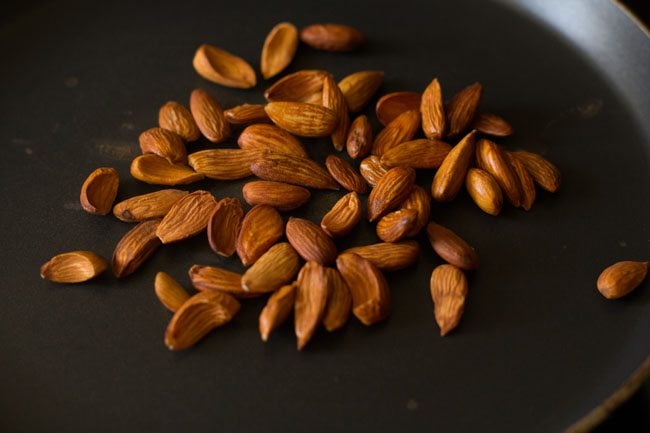 2. Keep the flame to a low and roast the almonds lightly stirring often for 2 to 3 minutes. Remove the lightly roasted almonds in a separate plate or tray and let them cool.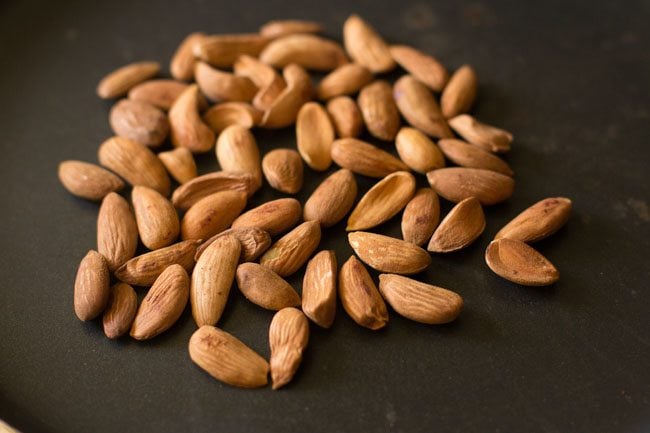 3. Once the almonds cool down, add them in a food processor or food chopper or a small to medium grinder jar. I used food processor.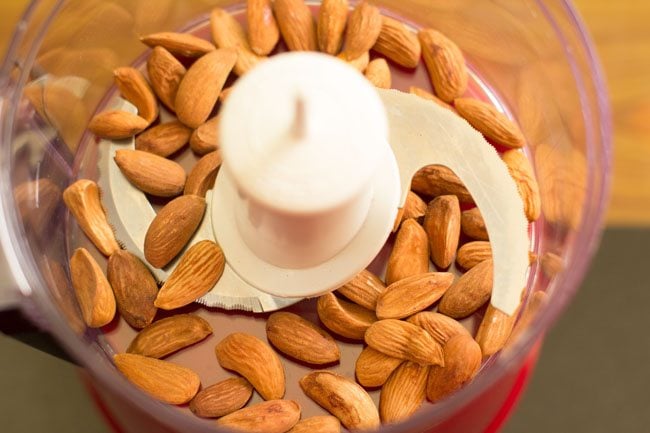 4. Crush them coarsely.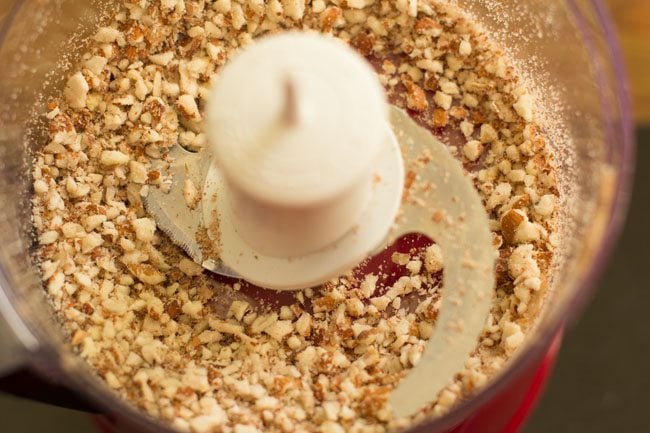 5. Add 2 cup basil leaves (50 grams) which has been rinsed first and then dried naturally. Add also 2 small to medium garlic cloves. Optionally you can also add 4 to 5 whole black peppers. Season with ⅛ teaspoon salt or add as per taste. The basil leaves can be kept in a colander or strainer and then dried naturally or you can use a salad spinner to dry the leaves.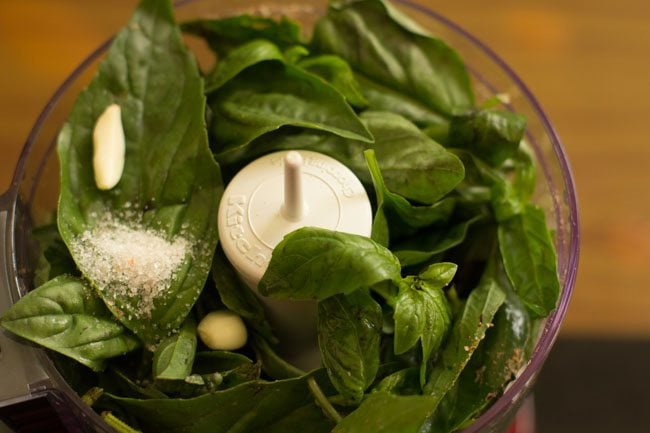 6. Begin to crush the leaves and from top add olive oil in parts. Overall add ⅓ cup olive oil. You can also add olive oil directly in the jar.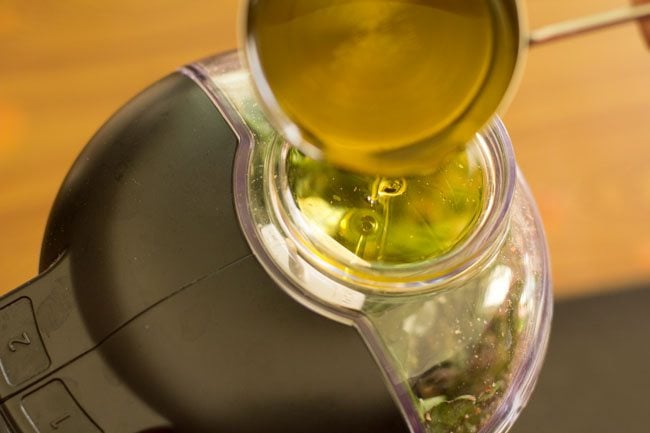 7. Grind to a semi-fine or fine consistency. It's your choice. You can also add a few drops of lemon juice to preserve the green colour.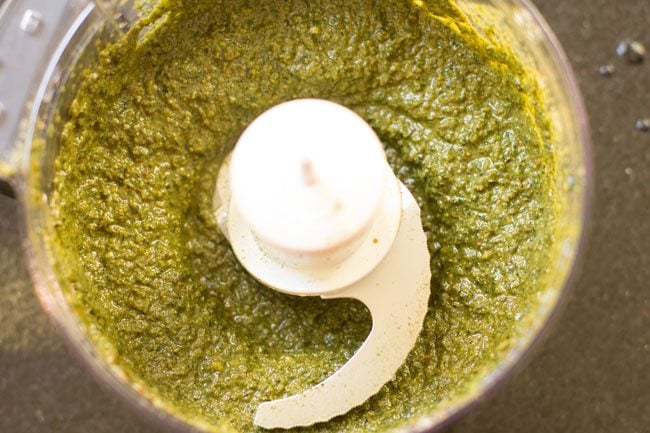 8. Remove the pesto in a bowl or a small glass jar. Use a spatula to remove the pesto from the sides and bottom of the food processor, food chopper or grinder jar. Cover and refrigerate. Use as required. Pesto Stays for good a week in the refrigerator. one can also freeze the pesto in cubes and then use the cubes later. Enjoy the fresh basil pesto.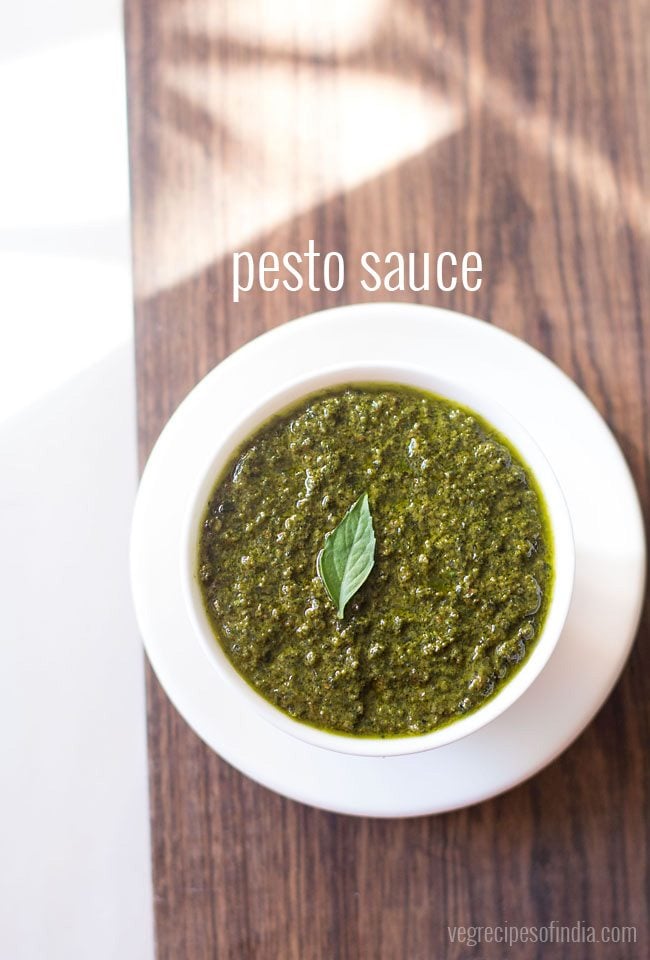 If you are looking for more similar recipes then you may like:
Please be sure to rate this recipe in the recipe card below if you have made it. For more vegetarian inspirations, Sign Up for my emails or follow me on Instagram, Youtube, Facebook, Pinterest or Twitter.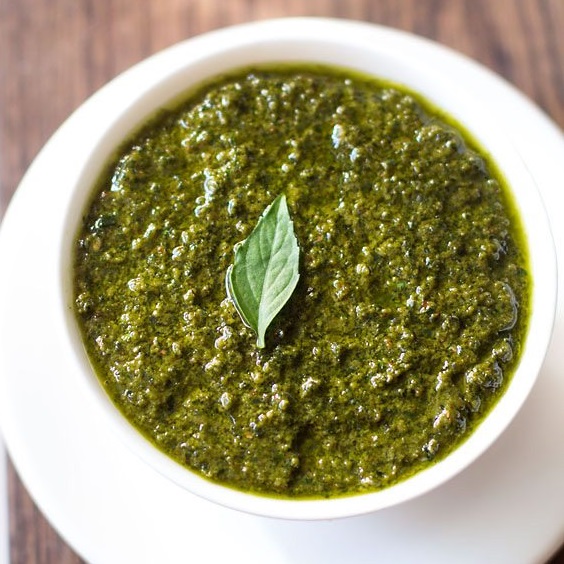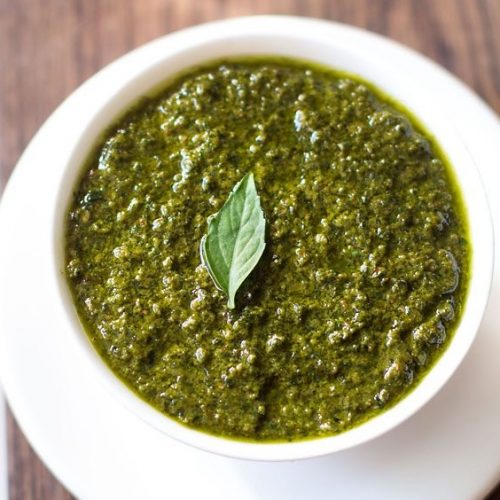 Pesto Recipe (Vegan)
A simple and easy pesto recipe made with crushing basil leaves, almonds and garlic in extra virgin olive oil.
Servings
1
small size bowl
Ingredients
2

cups

fresh basil leaves

or 50 grams fresh basil leaves

¼

cup

almonds,

lightly roasted

⅓

cup

extra virgin olive oil

2

small to medium sized garlic cloves

4 to 5

black peppercorns

- optional

⅛

teaspoon

salt

or add as per taste
Instructions
First roast the almonds in a pan on a low flame for 2 to 3 minutes. Remove aside and let the almonds cool down.

Add the almonds in a food processor or food chopper or a grinder jar. Coarsely crush the almonds.

Then add the basil leaves, garlic, black pepper and salt.

Crush the basil leaves and add the oil while crushing and blending the whole mixture. You could make the pesto a little coarse or fine. Its your choice.

Remove and store pesto in an airtight container in the refrigerator.
Nutrition Info
(Approximate values)
Nutrition Facts
Pesto Recipe (Vegan)
Amount Per Serving
Calories 863
Calories from Fat 810
% Daily Value*
Fat 90g138%
Sodium 296mg13%
Potassium 400mg11%
Carbohydrates 11g4%
Protein 10g20%
Vitamin A 2638IU53%
Vitamin B1 (Thiamine) 1mg67%
Vitamin B2 (Riboflavin) 1mg59%
Vitamin B3 (Niacin) 2mg10%
Vitamin B6 1mg50%
Vitamin C 11mg13%
Vitamin E 20mg133%
Vitamin K 251µg239%
Calcium 194mg19%
Vitamin B9 (Folate) 52µg13%
Iron 3mg17%
Magnesium 128mg32%
Phosphorus 201mg20%
Zinc 2mg13%
* Percent Daily Values are based on a 2000 calorie diet.