Pesto is one of my favorite green sauces, and this simple version is delicious. Brightly herbaceous and addictive, my homemade Pesto Recipe is a real winner. Made with just 5 simple ingredients in less than 10 minutes, this Basil Pesto Sauce without cheese is the fastest, easiest way to add flavor to any meal.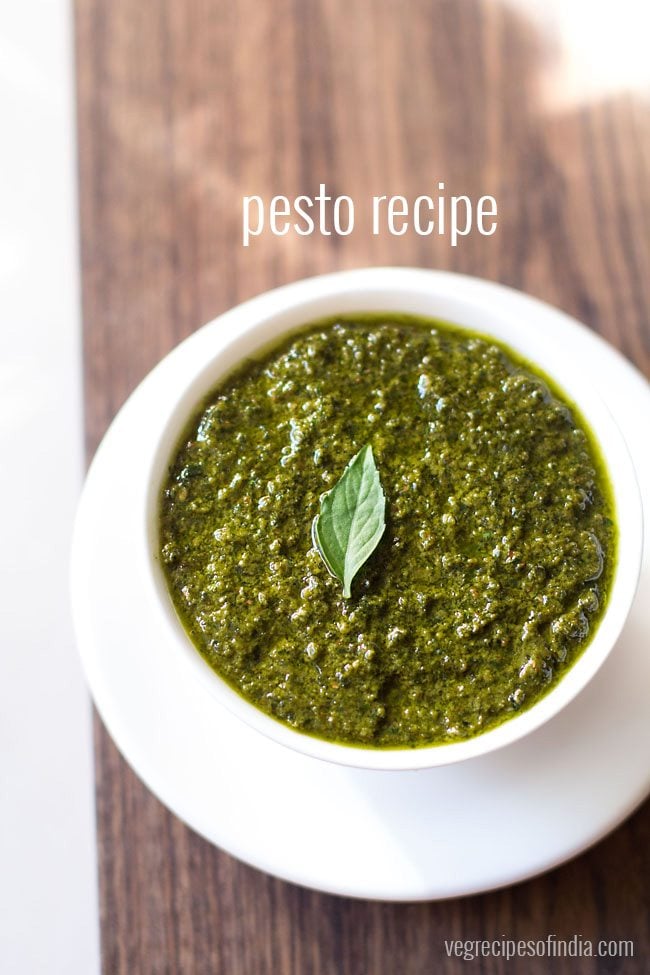 About Pesto Sauce
Pesto is one of Italy's most quintessential condiments, perfect for making a Pesto Pizza or Pesto Pasta. The name derives from the Italian verb 'pestare' which means "to pound" or "to crush," which makes sense considering that the sauce is typically made by crushing basil leaves, pine nuts, garlic, olive oil, and parmesan in a mortar and pestle.
As an Indian cook who learned about pesto from a dear friend, the first time I tried pesto it reminded me of various herb chutneys that I have encountered my entire life, like Mint Chutney or Cilantro Chutney.
This simple recipe for basil pesto sauce is made without the addition of parmesan cheese. Not only have I found that omitting parmesan cheese helps preserve the sauce for longer, but is also important as a vegetarian. Did you know that most commercially available parmesan is made with animal rennet, rendering it non-vegetarian?
While you are certainly welcome to add your favorite hard cheese to this pesto recipe, I find that it is perfectly delicious without it. If you can't find vegetarian parmesan, other potential options include pecorino romano, grana padano, or asiago. Even an aged cheddar could do the trick!
In addition to omitting the parmesan, I opted to use more affordable and easier-to-find almonds in place of traditional pine nuts (a.k.a. pignolias). As it turns out, you can actually make pesto with any number of nuts like cashews, macadamia nuts, walnuts, or pecans. You can also feel free to use sesame seeds or sunflower seeds if nuts are off the table.
I also make this basil pesto recipe super speedy by trading in the mortar and pestle for the modern marvel that is a food processor. With it, you can have this tasty basil pesto sauce ready in just about 5 minutes. How great is that? Now, let's get to the kitchen!
How To Make Pesto Sauce
1. Heat a small frying pan or a small skillet. Keep the heat to a low or medium-low. Add ¼ cup raw almonds to it.
NOTE: If your almonds came pre-roasted, you can skip this step.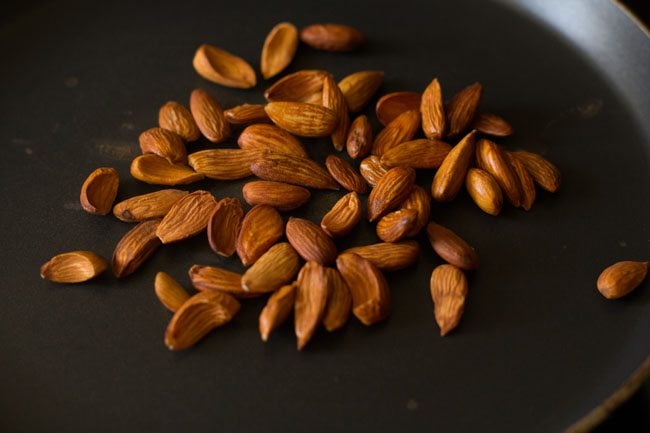 2. Keeping the heat to a low or medium-low, roast/toast the almonds lightly, stirring often for 2 to 3 minutes.
Remove the lightly roasted or toasted almonds to a separate plate or tray and let them cool.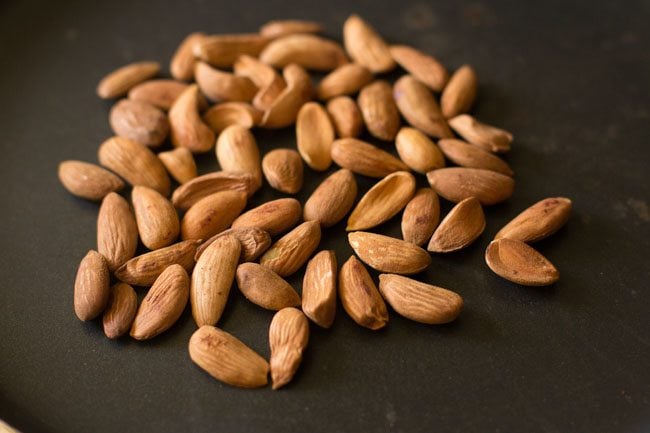 3. Once the almonds cool, add them to a food processor, food chopper, or a small to medium grinder jar.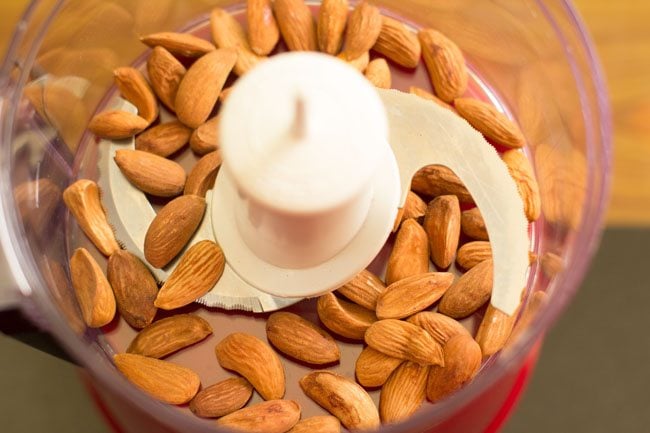 4. Crush them coarsely.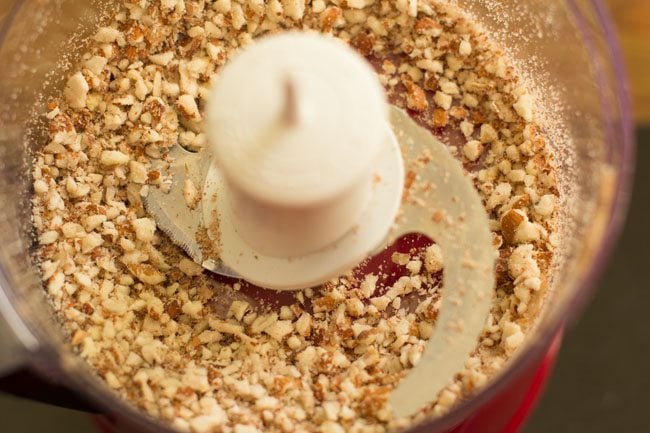 5. Add 2 cups of washed and dried basil leaves (50 grams). Also, add 2 small to medium garlic cloves.
Optionally you can add 4 to 5 whole black peppercorns. Season with ⅛ teaspoon salt or add as per taste.
The rinsed basil leaves can be kept in a colander or strainer and then dried naturally or you can use a salad spinner to dry the leaves. I don't recommend using a towel, as the leaves are prone to bruising.
Note: If the basil stems are tender, then use them. If they are thick, stiff or woody then do not use as they won't be easy to process in a food processor.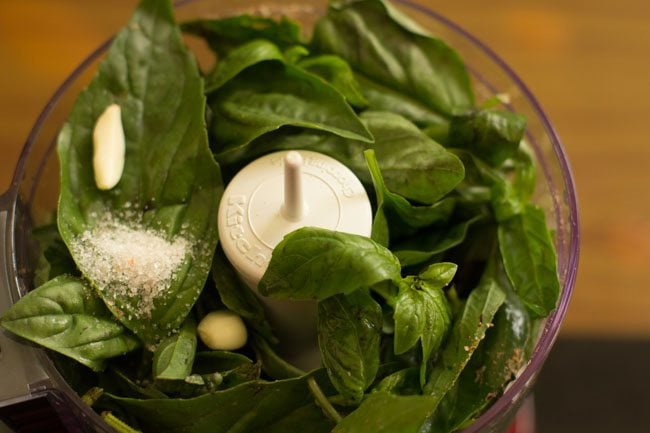 6. Turn the processor on and begin to crush the leaves. Start adding ⅓ cup olive oil in a steady drizzle while the machine is on.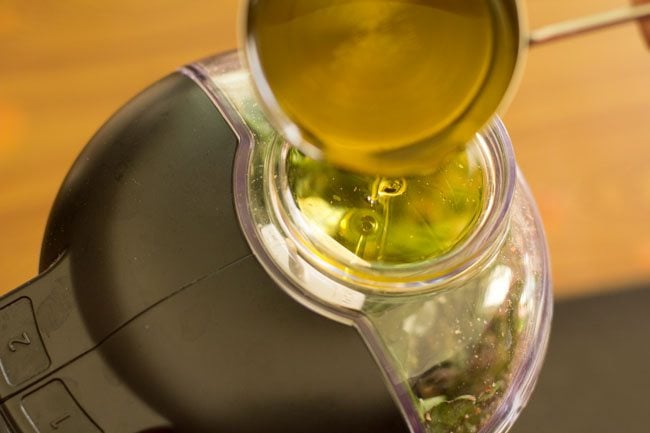 7. Process to a semi-fine or fine consistency, depending on your preference. You can also add a few drops of lemon juice to help preserve the green color.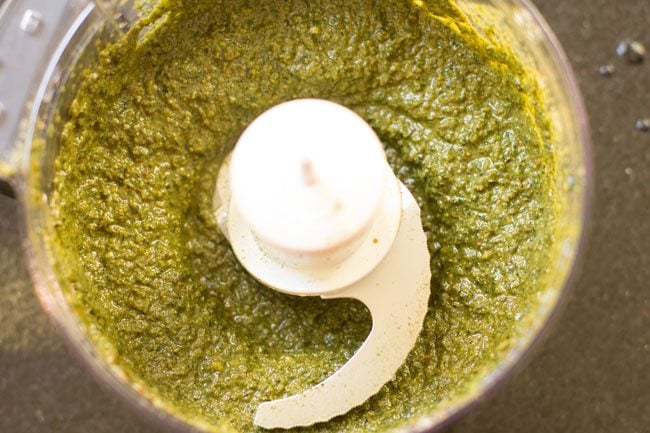 8. Remove the pesto to a bowl or a small glass jar. Cover and refrigerate. My basil pesto stays for good a week in the refrigerator.
You can also freeze the pesto in cubes for up to 3 months, popping out a cube or two whenever you need a flavor boost. Enjoy!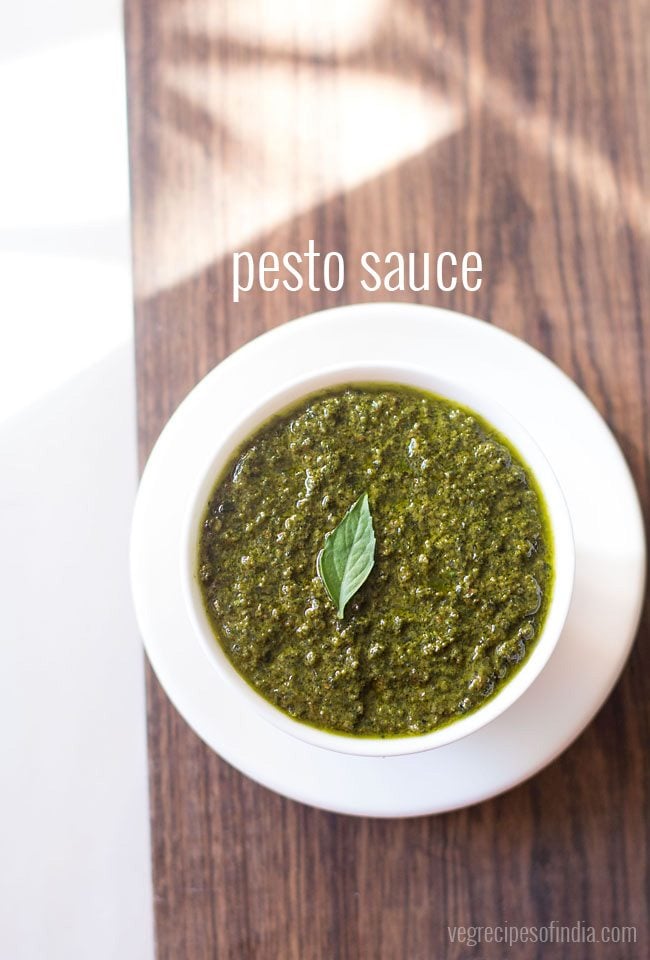 Expert Tips & Variations
Play with the type of nuts you use. While pesto is traditionally made with pine nuts, they are quite expensive and difficult to find. Try swapping in almonds, pecans, cashews, macadamia nuts, or walnuts. Note that the use of walnuts can add a slight bitter flavor to the pesto.
Swap basil for other greens. Pesto can also be made using any number of greens or herbs. Some options include cilantro, mint, parsley, arugula, or watercress.
Use oil to help preserve your pesto. Exposing pesto to air causes the basil to oxidize, turning it brown and bitter. To extend the refrigerated shelf life of your pesto, always cover the top of your jar with a thin layer of oil to keep the air out. To serve, pour off the excess oil, but don't toss it – it should now be infused with a delightful basil-garlic flavor that is excellent for dipping bread!
Make it a little spicy. I love adding whole peppercorns to my basil pesto sauce to add a bit of heat. Other options include red pepper flakes or black pepper powder.
Use the pulse function. You don't want to turn your nuts into nut butter, so make sure you pulse them in your blender or food processor instead of leaving the machine on.
FAQs
What is the best way to serve pesto?
One of the best things about this cheese-less pesto is how versatile it is. Use it as the sauce for your pizza, toss it with pasta, add a dollop to your plain hummus, swirl it into yogurt and use it as a dip for veggies… the possibilities are endless!

If you come up with a brilliant use for this basil pesto, be sure to let me know in the comments below or tag me on your social posts so I can cheer you on!
Can I make this basil pesto without nuts?
Sure! Simply swap in your seed of choice, like sunflower seeds. You can also opt to remove the nuts and seeds entirely, leaving you with a French pistou.
Can I freeze homemade pesto?
Absolutely! I like to freeze mine in ice cube trays so I can easily grab the amount that I need without defrosting the whole bit. Note that your ice cube trays will tend to hang onto the garlic flavor, though, so you'll probably want to keep a separate tray for freezing savory items like this pesto so your ice cubes don't taste funny.
More Mediterranean Recipes To Try!
Please be sure to rate the recipe in the recipe card or leave a comment below if you have made it. For more vegetarian inspirations, Sign Up for my emails or follow me on Instagram, Youtube, Facebook, Pinterest or Twitter.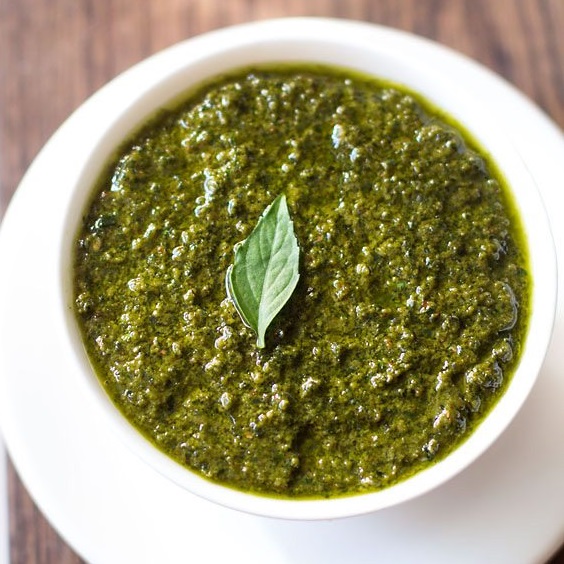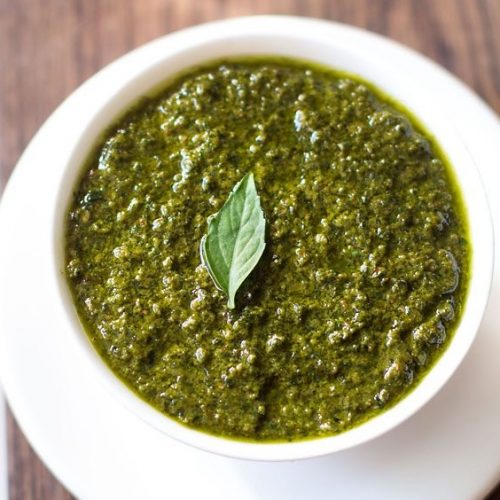 Pesto Recipe | Basil Pesto Sauce
A simple, easy Pesto Recipe made with fresh basil leaves, almonds and garlic in extra virgin olive oil. Made with just 5 simple ingredients in less than 10 minutes, this Pesto Sauce without cheese is the fastest, easiest way to add flavor to any meal.
Servings
1
small-sized bowl
Ingredients
2

cups

fresh basil leaves

– 50 grams

¼

cup

almonds

– lightly roasted/toasted

⅓

cup

extra virgin olive oil

2

garlic cloves

– small to medium sized

4 to 5

black peppercorns

– optional

⅛

teaspoon

salt

or add as per taste
Instructions
First roast/toast the almonds in a small frying pan or a small skillet on low heat for 2 to 3 minutes. Transfer to a plate and let the almonds cool.

Add the almonds in a food processor or food chopper or a grinder jar. Coarsely crush the almonds.

Then add the basil leaves, garlic, black pepper and salt.

Crush the basil leaves and add the oil while crushing and blending the whole mixture. You could make the pesto a little coarse or fine. Its your choice.

Remove and store pesto in an airtight container in the refrigerator.
Notes
Ensure that the basil leaves are fresh and not wilted. If your basil has tender stems, then use them. If the stems are thick, stiff or woody then do not include them as they will be difficult to process in a food processor.
If you like, opt to add some hard cheese to the pesto.
Instead of almonds, feel free to use cashews, pistachios (unsalted), pine nuts or walnuts.
You could easily make a larger batch of pesto by scaling it.
Note that the approximate nutrition info is for the entire amount of pesto made with this recipe.
Nutrition Info (Approximate Values)
Nutrition Facts
Pesto Recipe | Basil Pesto Sauce
Amount Per Serving
Calories 864
Calories from Fat 810
% Daily Value*
Fat 90g138%
Sodium 296mg13%
Potassium 434mg12%
Carbohydrates 11g4%
Protein 10g20%
Vitamin A 2535IU51%
Vitamin B1 (Thiamine) 0.1mg7%
Vitamin B2 (Riboflavin) 0.5mg29%
Vitamin B3 (Niacin) 2mg10%
Vitamin B6 0.2mg10%
Vitamin C 11mg13%
Vitamin E 20mg133%
Vitamin K 243µg231%
Calcium 195mg20%
Vitamin B9 (Folate) 49µg12%
Iron 3mg17%
Magnesium 129mg32%
Phosphorus 209mg21%
Zinc 2mg13%
* Percent Daily Values are based on a 2000 calorie diet.
This Basil Pesto Recipe post from the blog archives first published in September 2011 has been republished and updated on 7 August 2022.