Collection of top 30 Indian Vegetarian Snacks recipes for Parties or get-togethers.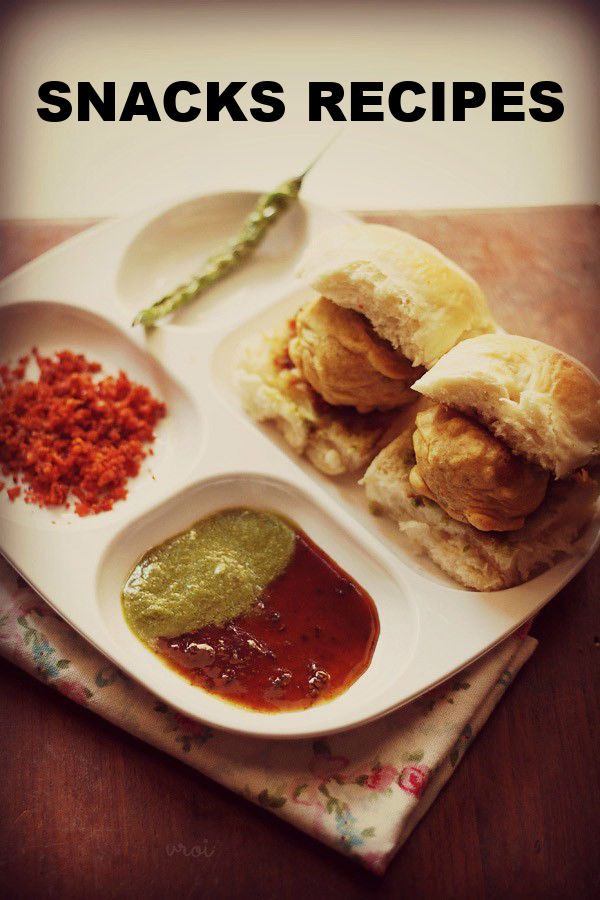 If you are planning to have a party then these party snacks recipes will be helpful in making your party menu.
Snacks and starters are always an integral part of any party or celebration.
In India there are a variety of vegetarian snacks that are prepared. The recipes and method of making some snacks differ from region to region.
While some snacks are very popular all throughout India. There are some snacks that are popular only in a specific Indian region.
I have posted around 180 plus Veg Snacks recipes on the blog.  Here in this post, I am sharing the top 30 popular vegetarian party snack recipes from the regional Indian Cuisine.
You can also check these snacks recipes collections:
30 Indian Vegetarian Party Snacks Recipes
1. Paneer tikka – This Restaurant Style Tandoori Paneer Tikka is a popular and delicious tandoori where paneer (Indian cottage cheese cubes) are marinated in a spiced yogurt-based marinade, arranged on skewers and grilled in the oven.. Few more delicious paneer snacks recipes you can make are:
2. Aloo tikki – An Aloo Tikki recipe that is crispy, crusty and so good. In Hindi language, aloo are potatoes and tikki are patties. So these are potato patties made the Indian way – spiced, herby and delicious. Few more similar vegetarian snacks recipes are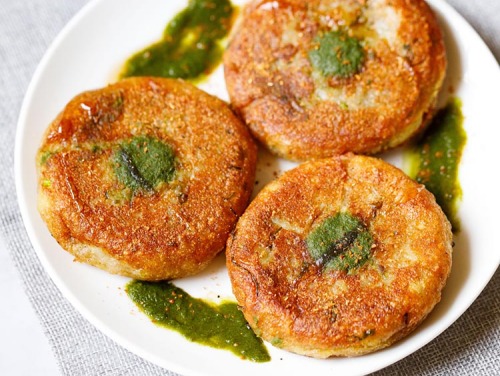 3. Onion pakoda recipe – crisp and tasty onion fritters made with gram flour are popular Indian street food. It is one snack that is easy to prepare and tastes good too. You can serve them with some fried salted green chillies and green chutney or sweet chutney. This whole combo can also be served with the Indian chai. Other popular Pakoda recipes you can make are: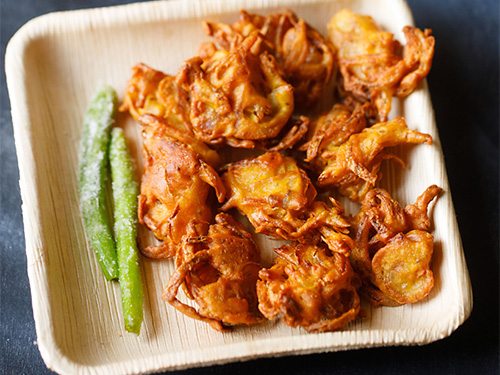 4. Dahi vada – popular North Indian street food snack where lentil dumplings are dunked in a creamy whipped yogurt topped with spicy and sweet chutneys. Dahi bhalla are slightly different from dahi vada. In dahi bhalle, papdis, boiled potato cubes & cooked chickpeas are added which add different textures, taste and flavor to the dahi bhalla. Other popular dahi based snacks recipes are: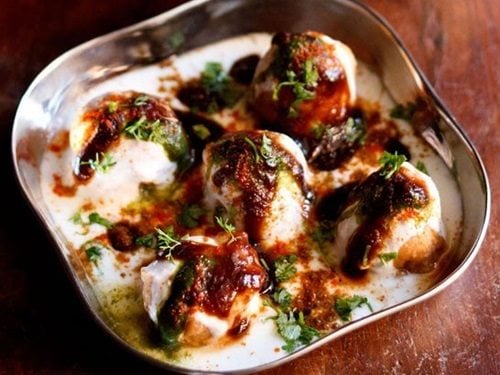 5. Pani Puri – It is a popular street food of India, where crisp fried dough balls (puri) are stuffed with potatoes, sprouts, spicy tangy water or sweet chutney. With so many bursts of tastes and flavors in your mouth when you have pani puri, you just cannot have one 🙂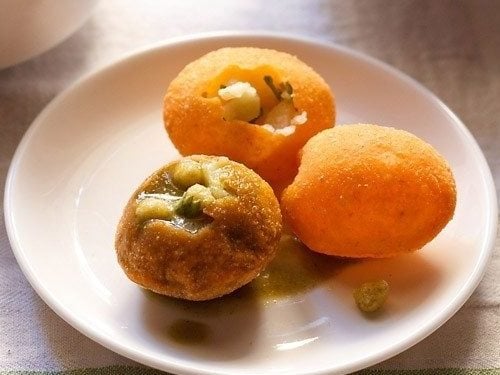 6. Khaman Dhokla – This is a healthy, tasty and a great vegan snack from Gujarati cuisine. It is soft and fluffy, mildly tangy-sweet and can be had any time of the day. This is also an instant khaman dhokla recipe. Other popular Gujarati snacks recipes which you may like are: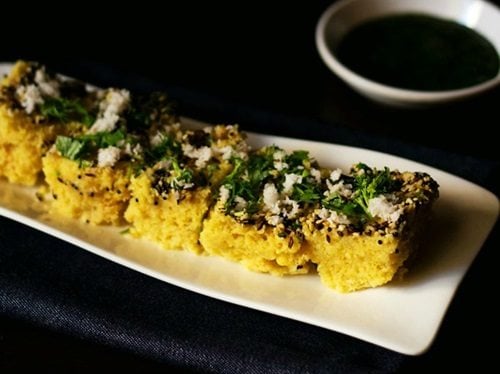 7. Veg cutlet recipe – These are crisp and tasty veg patties made with mixed vegetables. These vegan patties can be made as an evening snack and best to serve them hot with tomato ketchup and green chutney. They are a good tea time snack and can also be made during monsoons.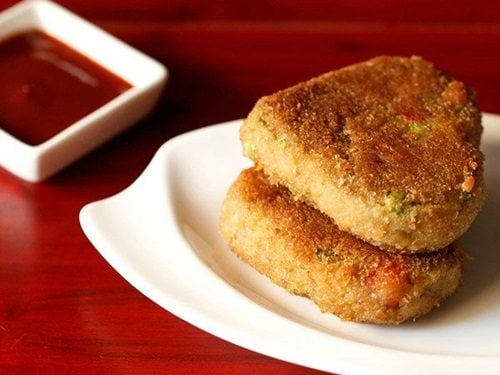 8. French fries – crispy french fries or finger chips that can be made at home easily. These french fries come very close to the ones we get in mc donalds or any other fast food chains. They are crisp as well as soft from inside and taste too good.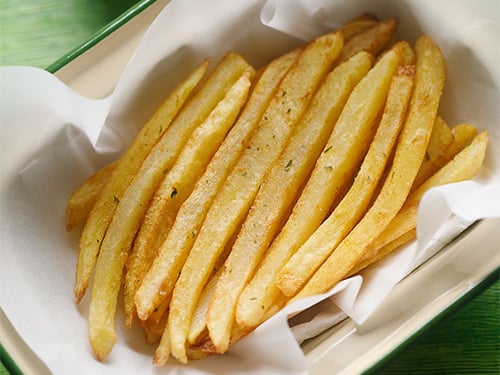 9. Bhel Puri – It is one of the popular Mumbai Street Food. Bhel puri is mainly made with puffed rice mixed with onions, tomatoes, assorted chutneys etc. This bhel puri is easy to make and includes quick recipes for the 3 chutneys that are added in a bhel puri. Other similar snacks recipes from regional Indian Cuisine are: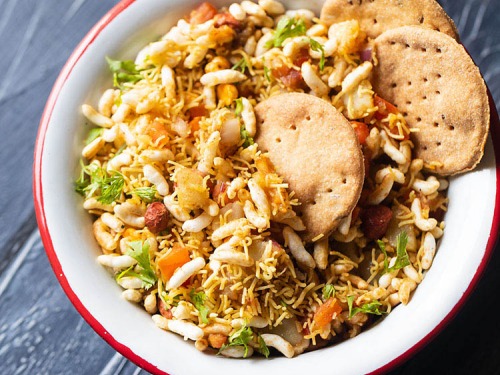 10. Dal vada – popular crispy & crunchy fried snack made from chana dal, onions and spices-herbs. These are crispy and crunchy and make for a good tea time snack that you are going to like. Other similar South Indian snacks recipes are: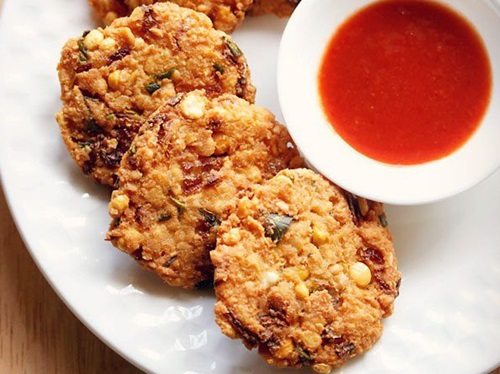 11. Bread pakora recipe – bread coated with spiced gram flour batter and stuffed with potato filling and then shallow or deep fried. These bread pakoras are a weekend affair in most Punjabi homes and made for breakfast on saturdays or sundays. Other popular Snacks recipes with bread are: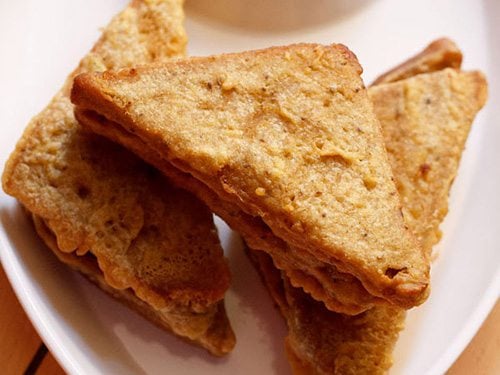 12.  Hara bhara kabab – These are tasty and healthy kabab made from spinach, peas and potatoes. Nutritious as well as delicious and tastes great with any chutney or sauce. They are usually pan-fried. However, if you want then you can even bake them or air fry them.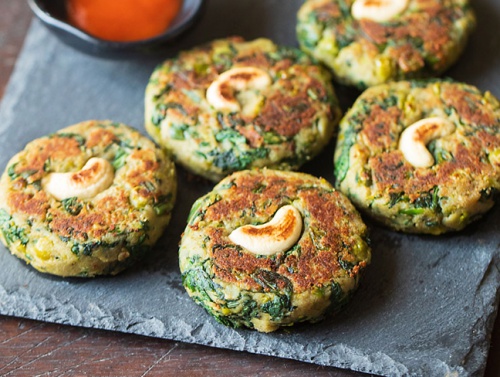 13. Samosa recipe – these Punjabi samosa are flaky and crispy from outside with a tasty potato and peas stuffing. With a perfect crust and comforting filling, this recipe is a real winner! Give it a try and you'll be amazed at how simple and fun it is to make samosa from scratch at home.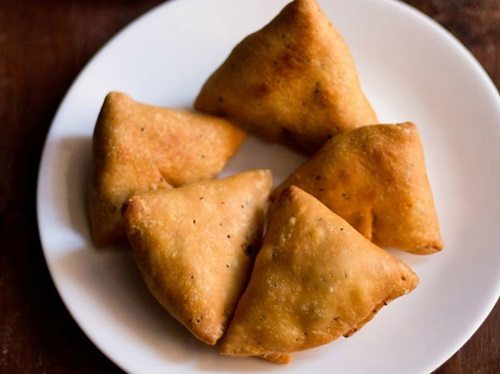 14. Gobi Manchurian – This is a popular Indian-Chinese vegetarian snack recipe crispy fried cauliflower florets tossed in a spicy, sweet & umami sauce. There are two ways to make this dish and you get the awesomeness of both in this post.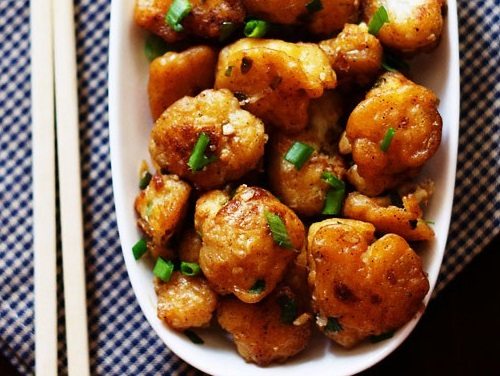 15. Kachori recipe – flaky and tasty kachoris made with spiced moong lentils stuffing. Kachoris are basically deep fried breads. There are many varieties of kachori recipes in the Indian cuisine and moong dal kachori is a popular one. Other similar snacks recipes are: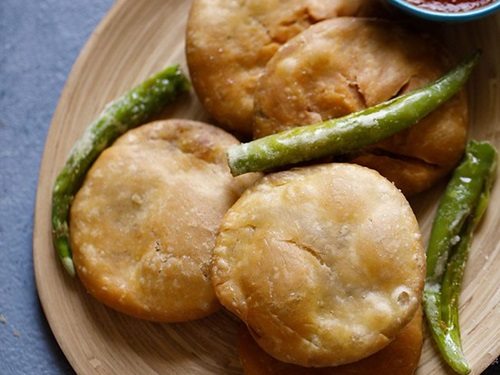 16. Medu Vada – Crispy, fluffy and delicious vada that goes very well with coconut chutney or sambar. This is one of my favorite South Indian Snack Recipe along with Idli and Masala Dosa.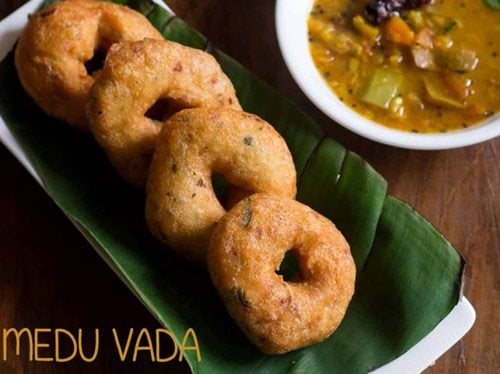 17. Cheese ball – These are an easy-to-prepare, tasty snack made with potatoes and cheese. Making cheese balls can be a challenge as they often break in the oil, but this fail-proof recipe will give you the perfect cheese ball every time. Few more delicious snacks recipes you can make with cheese are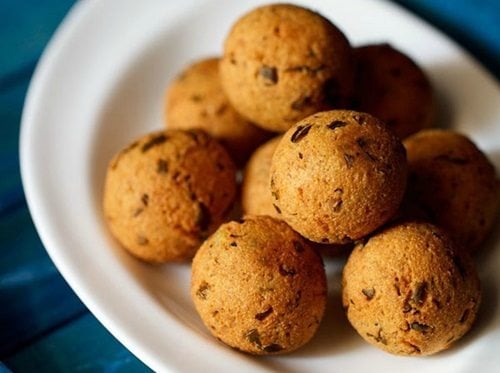 18. Aloo Chaat – This an easy Aloo Chaat Recipe that gives you a tangy, sweet, chatpata chaat. It can be served as an evening snack or as a starter snack for a party. In this chaat recipe, the fried crisp potato cubes are tossed in spicy & sweet chutneys, a few spice powders and then topped with curd or pomegranate arils or sev. Gluten-Free and Vegan.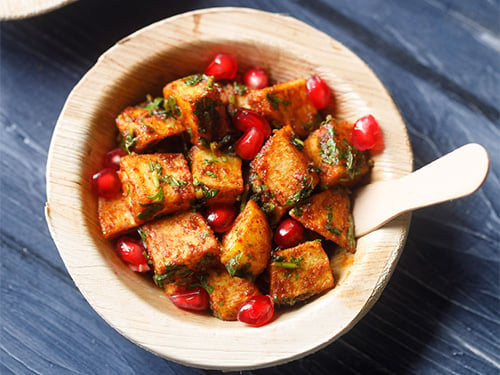 19. Spring rolls – a popular Chinese snack of vegetable spring rolls. If you have the wrappers ready, then making spring rolls is not difficult. You can make the Spring roll sheets at home or buy them from outside.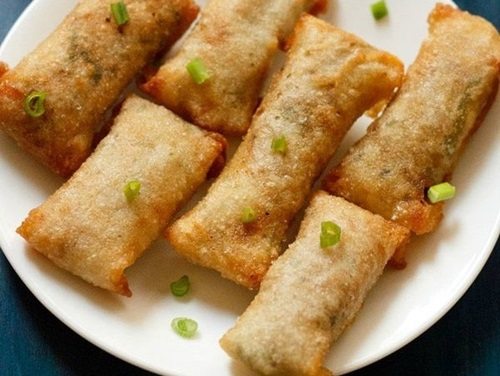 20. Mumbai Vegetable Sandwich – This sandwich is a popular Mumbai street food of delicious sandwiches made with mixed vegetables, green chutney and a few spice powders. What adds spice to the Mumbai style sandwich is the spicy coriander chutney, black salt and chaat masala. Few more Sandwich recipes you can make as an evening snack are:
21. Mysore bonda recipe – They are crisp, soft and fluffy fritters made with urad dal (black gram), spices and fresh coconut bits. They are best paired with coconut chutney. These are also no onion no garlic snack as well. Few more similar vegetarian snacks you may like are: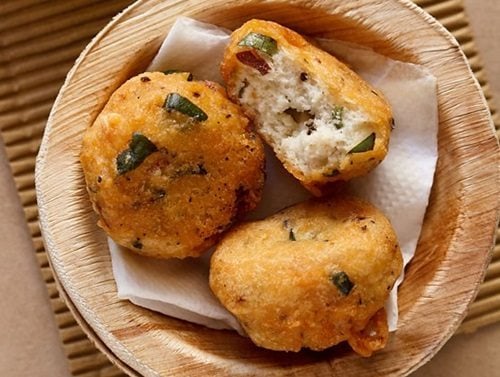 22. Momos recipe – Veg momos are steamed dumplings stuffed with a lightly spiced vegetable filling. A popular vegetarian snack recipe from Tibetan Cuisine.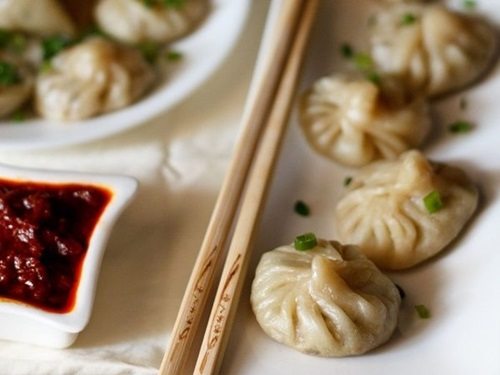 23. Dahi Puri – This is a delicious, yummy, chatpata chaat snack from Mumbai. It is sweet, sour, tangy, spicy and crispy chaat with so many flavors and taste bursting in the mouth.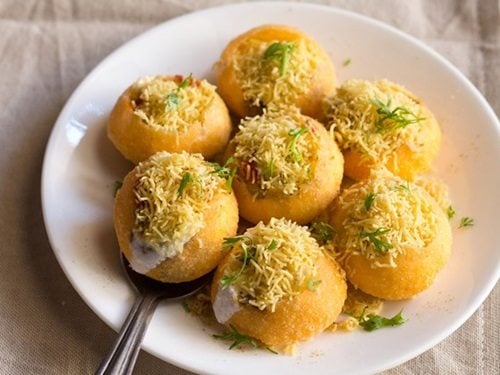 24. Vada pav – It is one of the most humble street food of Mumbai, yet it is tasty and delicious. Vada pav basically has Batata vada which is sandwiched between two slices of a pav, along with sweet chutney, green chutney and dry garlic chutney.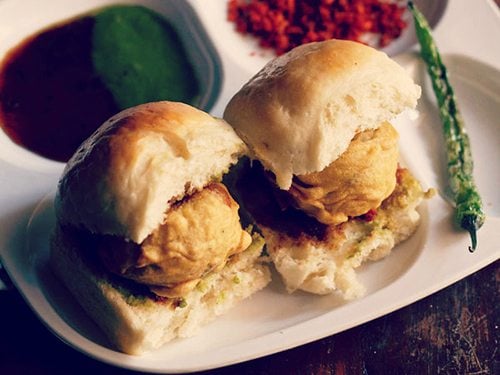 25. Chilli Potato – These crispy fried potatoes in a spicy, sour and slightly sweet sauce are so good and you will definitely ask for more. A vegan dish. Though chilli potato is served as snack, I do prefer to serve it with some roti or bread or as a side with veg noodles or hakka noodles.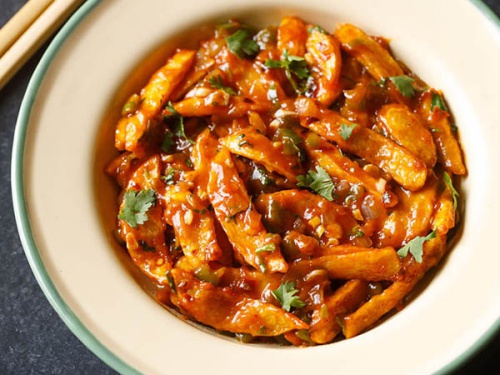 26. Kothimbir Vadi – this is a delicious savory crisp snack made with gram flour (besan), coriander leaves and spices. In Marathi language "kothimbir" or "kothmir" stands for coriander leaves. The word 'vadi' means cubes or slices or wedges.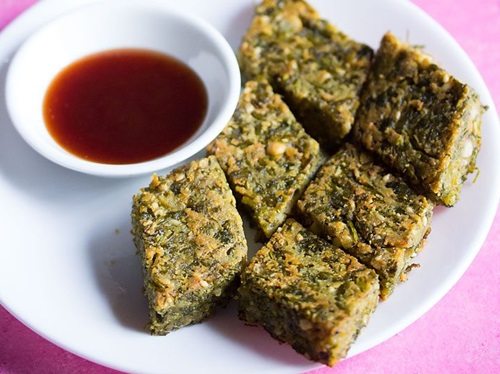 27. Potato Wedges – They make for a good finger food snack or a party snack. I have shared the method to make both fried and baked potato wedges. The recipe is easy and you can choose whatever method suits you.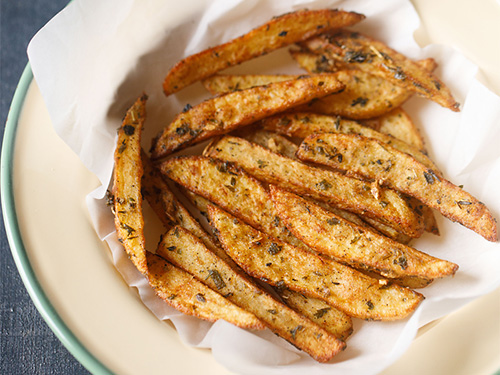 28. Ragda Patties – This is a popular Mumbai chaat snack recipe where potato patties are topped with ragda (dried peas curry) and the various chaat chutneys, sev and spice powders. The final dish has various textures, tastes and flavors – spicy, sweet, savory, tangy, crunchy, crispy, soft.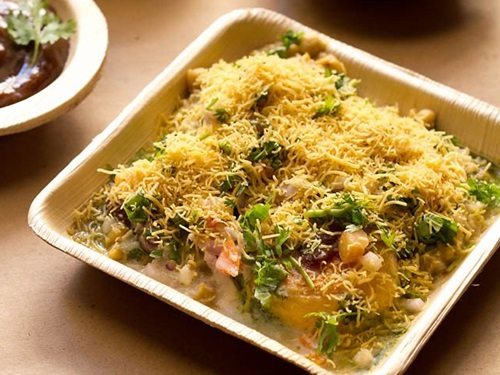 29. Garlic bread toast on pan – a super easy recipe of making garlic bread on a tawa or frying pan and without the oven. The taste of this garlic bread is similar to the ones we get in pizza joints.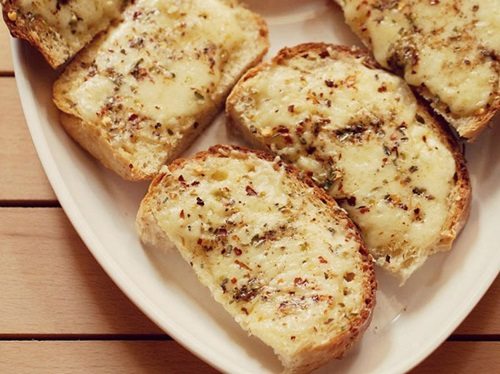 30. Gobi 65 recipe – Spicy starter snack of fried cauliflower florets. The genre of 65 recipes are pretty popular in southern parts of India. This is a dry version of gobi 65 and does not include sauces like soy sauce or tomato sauce. Few more similar snacks recipes are: