There are many Indian snacks that feature the very common, but humble potato. Yet, this Aloo 65 recipe hits different for me! Which also makes the Potato 65, an absolute favorite. In this, potato (aloo) cubes are drowned in a spiced batter and fried till crisp and golden. Aloo 65, when served with a piquant chutney, is a delightful side dish or a perfect pre-meal snack.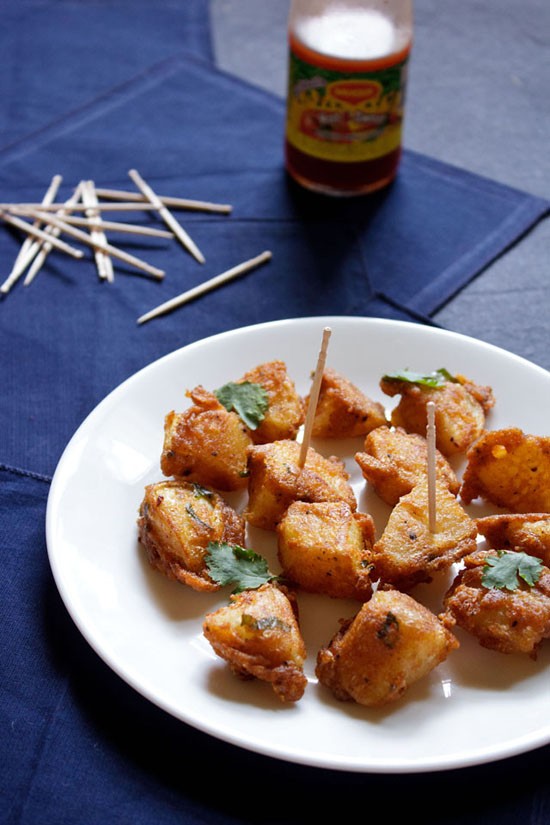 About Aloo 65
This potato snack has a very unique name. What does the number in Aloo 65 even mean? There are claims that this unique name originated first at a restaurant in Hyderabad in the South India. This particular restaurant had the spiced fried chicken as the 65th item on its menu.
There are also claims that the first original recipe was made with 65 kinds of spices, and it is also claimed that the snack was invented in 1965.
No matter what theory you ascribe to, Chicken 65 and all of its vegetarian variants like this Potato 65, Gobi 65, Paneer 65 and Mushroom 65 are simply delicious. And not to forget, easy to make. It's just one of those dishes that's most aptly fit for this phrase 'all good things are fried!'
Other than the Aloo 65 recipe, other variations like Broccoli 65, Jackfruit 65 and even Bread 65 are possible to make. You only have to replace the main ingredient and keep the remaining same for a crackling, satisfying dish.
As with many other potato dishes, this Aloo 65 is a great snack that can be accompanied with sauces and chutneys like Mint Chutney, Cilantro Chutney and Tomato Ketchup. Or just serve it with whichever sauce you prefer.
A thing to note: To enjoy this Aloo 65 the best way, have it hot, immediately served from the pan it is cooked in. Or else the potatoes will limp and lose the crispness as they cool. As is right for all things fried!
Wanting to make the Aloo 65 recipe for your kids? Serve it to them with a side of a cooling curd or yogurt-based dip like Cucumber Raita. You can even serve Potato 65 with a dairy-based beverage like sweet Mango Lassi to reduce the sting of the capsaicin.
How to make Aloo 65
Parboil Potatoes
1. First, parboil 4 to 5 medium size potatoes in a 2 liter pressure cooker. Cook the potatoes with water just about covering them, for 1 whistle on medium heat.
The potatoes should be about 20% to 30% cooked. They should not get mashed when you chop them. They should hold the shape so that after coating them with the batter, they can be fried easily.
Let the pressure settle naturally in the cooker. Then, open the lid.
Note: You can opt to parboil the potatoes in an Instant Pot or on the stovetop in a pan. Remember they should be just about 20% to 30% cooked.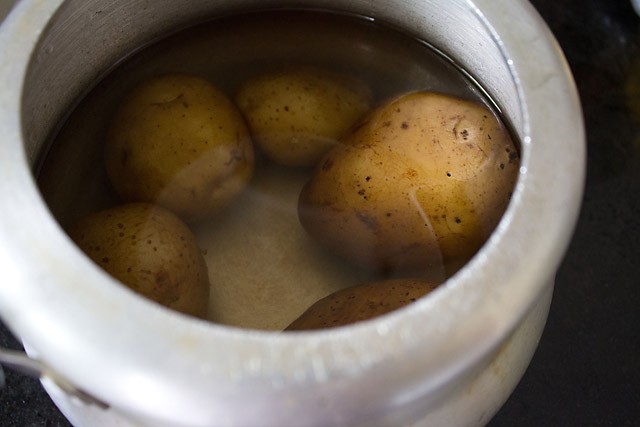 2. Now, drain the parboiled potatoes. Let them cool.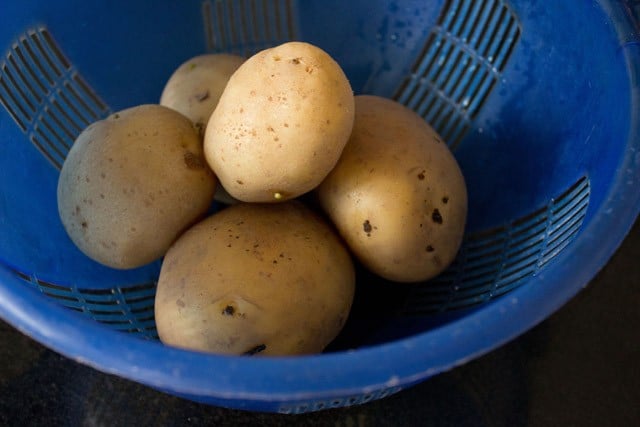 3. When they become warm or cool, peel and dice them to 1 inch cubes. Keep aside.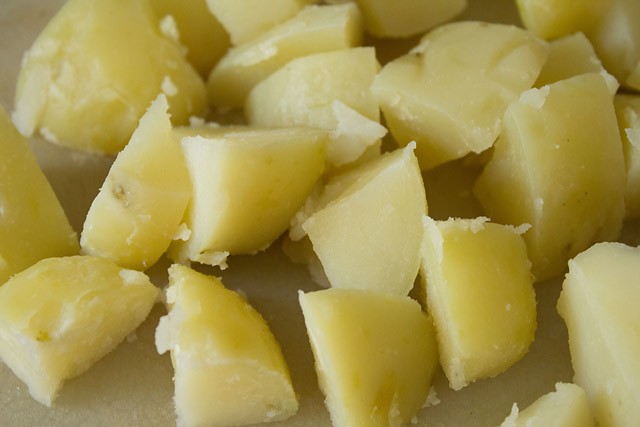 Make batter
4. Take all the ingredients for the Aloo 65 except for the potatoes, coriander leaves and oil in a bowl.
In the below photo, I have added the following ingredients to the bowl:
3 tablespoons whole wheat flour (can substitute all-purpose flour)
3 tablespoons cornstarch (can substitute rice flour, arrowroot flour, or tapioca flour)
7 to 8 chopped curry leaves
1 teaspoon red chili powder (try Kashmiri chili powder, cayenne, sweet or hot paprika)
½ teaspoon coriander powder
½ teaspoon cumin powder
½ teaspoon black pepper powder
½ teaspoon garam masala powder
2 to 3 teaspoons ginger-garlic paste or crushed ginger-garlic
1 tablespoon lemon juice (or white vinegar)
salt as required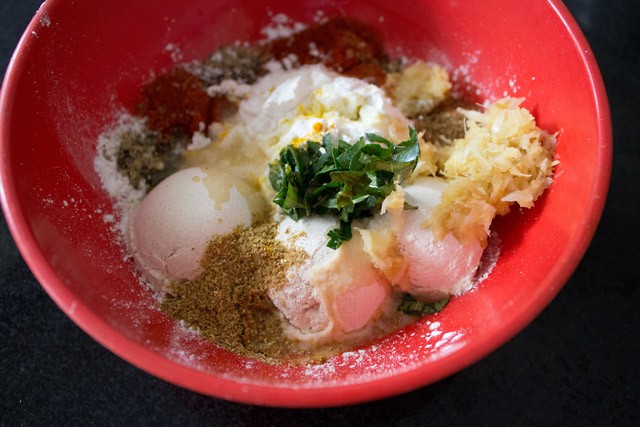 5. Now, add water as required to make a smooth, thick to medium-thick batter without lumps. Ensure that the batter isn't too thin, so that the batter coats the potato cubes well.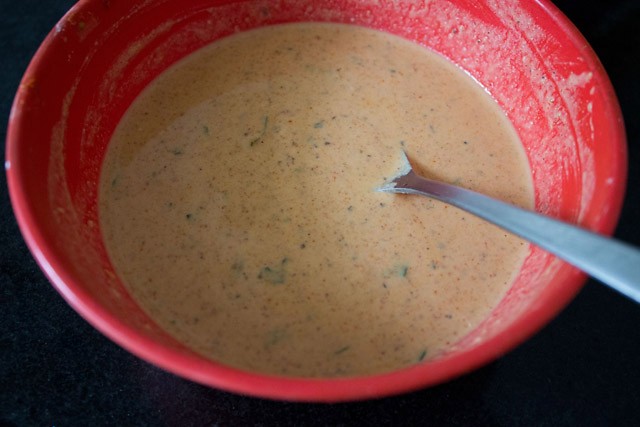 6. Now, add the diced potatoes to the batter and coat them well with the batter.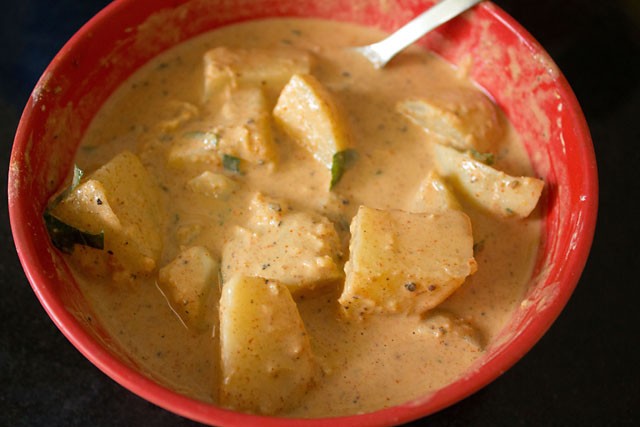 Make Aloo 65
7. Heat oil in a kadai (wok) or pan over medium-high heat. When the oil becomes hot, shallow or deep fry each coated potato till golden brown and crisp. Turn them with a slotted spoon as needed for even frying.
Tip: Don't overcrowd the kadai with the potato cubes. If you add too many at once, the oil temperature will drop too quickly and you'll end up with soggy (not crisp) potatoes.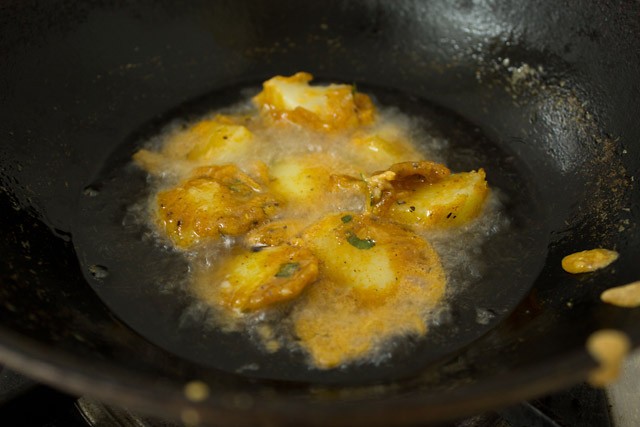 8. Once golden brown and fork tender, remove the fried potato cubes using a slotted spoon, taking as little oil as possible. Drain them on a paper towel lined plate to absorb any extra oil.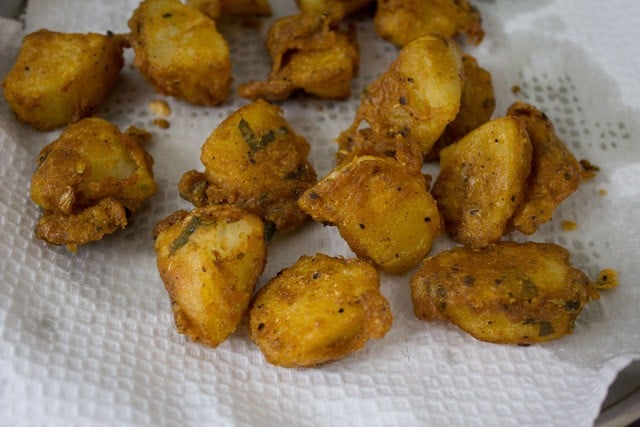 9. Garnish Aloo 65 with chopped coriander leaves or mint leaves and serve hot with a dipping sauce of your choice.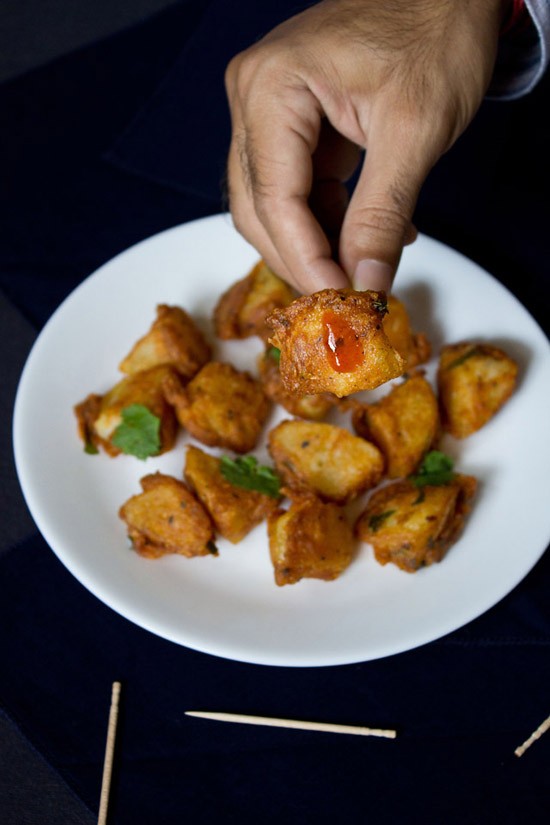 Expert Tips
Cook the potatoes for about 20% to 30%, so they peel off easily and don't get mashed as you chop them. The pieces, after coating with the batter, must be able to hold their shape and fried easily.
Aloo can be parboiled in an instant pot or in a pan on stovetop as well. Remember to cook it as mentioned above.
The batter has to be medium thick, smooth and lump free. A thin batter will not coat the potato cubes properly.
While frying, don't add too many potato pieces at once. Overcrowding the pan will lead to the dropping of the oil temperature. This way, you'll have soggy, not crispy potatoes.
Avoid using the artificial red color for this dish. Use Kashmiri red chili powder instead.
Make a larger batch by doubling or tripling this Aloo 65 recipe.
FAQs
What can I use in place of cornflour/cornstarch?
Cornflour/cornstarch acts as a crisping agent in this Aloo 65 recipe. If you are allergic to corn, swap it with rice flour, tapioca flour or arrowroot flour instead. You can also use gram flour (besan) as the substitution. However, using besan will make the dish more like that of Aloo Pakora.
How do I get a deep red color similar to that of a restaurant style Potato 65?
Many restaurants use artificial food coloring to give their 65 dishes an extra color pop. I personally avoid using it. For the vibrancy, I suggest using Kashmiri chili powder, with more pigment than other chili powders.
Can I scale this recipe?
Absolutely! Feel free to halve, double or triple the recipe as needed.
Why are the potatoes mushy?
Maybe you've fully boiled the potatoes. You should only aim to parboil them to about 20% to 30% doneness. This way, they will peel and cube easily, but won't crumble or mash.
Which oil is the best for this?
Any oil that is neutral flavored and has a high smoke point; like sunflower oil, vegetable oil, corn oil or peanut oil.
Can I make aloo 65 ahead of time?
Unfortunately, you can't. These fried potatoes will start to lose their crisp exterior as they cool. If you have any leftovers, I suggest reheating them in an air fryer or oven until hot. Leftovers will technically last in the fridge for up to a day, though I recommend consuming Aloo 65 fresh, immediately after it is fried.
More Potato Recipes To Try!
Please be sure to rate the recipe in the recipe card or leave a comment below if you have made it. For more vegetarian inspirations, Sign Up for my emails or follow me on Instagram, Youtube, Facebook, Pinterest or Twitter.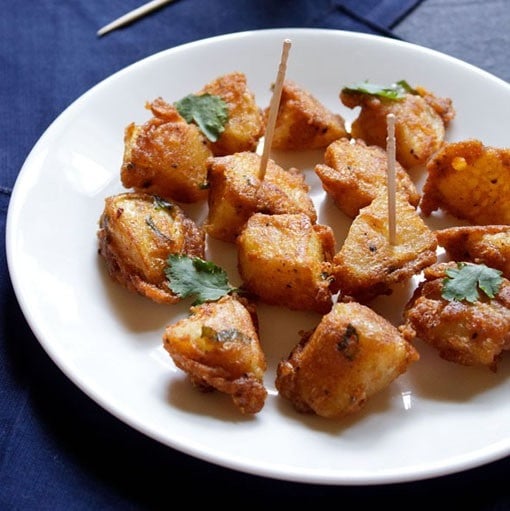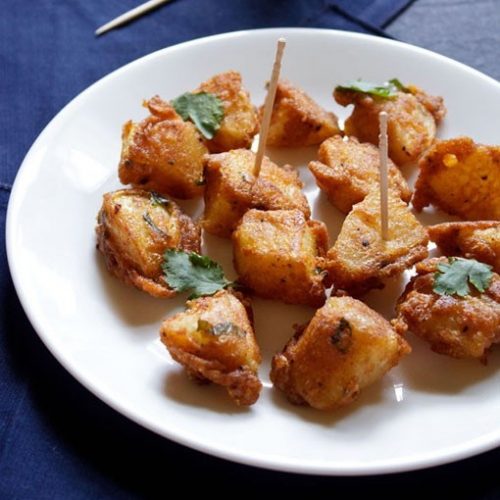 Aloo 65 | Potato 65
Potato 65 is a crispy and spicy potato snack where parboiled, cubed potatoes are doused in a spicy batter and fried until golden. Perfect as a snack or side dish with fresh coriander chutney or tomato ketchup.
For Cooking Potatoes
4 to 5

potatoes

– medium-sized

water

as required, for pressure cooking
For Batter
3

tablespoons

whole wheat flour

or you can use all-purpose flour

3

tablespoons

corn starch

– known as corn flour in India

7 to 8

curry leaves

– chopped

1

teaspoon

red chili powder

or cayenne pepper or paprika

½

teaspoon

Coriander Powder

(ground coriander)

½

teaspoon

cumin powder

(ground cumin), optional

½

teaspoon

black pepper powder

½

teaspoon

Garam Masala

2 to 3

teaspoons

Ginger Garlic Paste

or crushed ginger-garlic

1

tablespoon

lemon juice

salt

as required

water

as required to make thick or medium-thick batter
More Ingredients
oil

as required for deep frying or shallow frying

1 to 2

tablespoons

chopped coriander leaves

or chopped mint leaves for garnish
Instructions
Parboil the potatoes in a 2 litre pressure cooker for about 1 whistle on medium heat. Add water enough to cover the potatoes in the cooker.

The potatoes should be about 20% to 30% cooked. Let the pressure fall naturally in the cooker and then only open the cooker.

Drain the water and set the potatoes aside to cool. When they become warm, peel and chop the parboiled potatoes in 1 inch cubes.

In a bowl, make a thick to medium-thick batter with all the ingredients listed under the heading "For Batter" above. The batter should be without any lumps and should not be thin.

Add the diced boiled potatoes to the batter and coat them evenly with the batter

In a kadai or pan heat the oil. When the oil becomes hot then take each batter coated potato and shallow fry or deep fry till golden brown and crisp.

Turn them as needed for even frying.

Once done then remove with a slotted spoon draining as much oil as possible. Then drain them on kitchen paper towel so that the extra oil is abosbed.

Serve aloo 65 hot garnished with coriander or mint leaves or both along with some green chutney or tomato sauce.
Notes
I have not used red color as I avoid any artificial colors in the food I make at home. To get a deeper red color I suggest adding kashmiri red chili powder.
Don't make a thin batter as we want the potatoes to be coated well with the batter.
Don't cook the potatoes. They should just be parboiled. Just about 20% to 30% cooked so that they peel of easily and when dicing they don't get mashed up or crumble.
The recipe can be doubled or tripled.
Nutrition Info (Approximate Values)
Nutrition Facts
Aloo 65 | Potato 65
Amount Per Serving
Calories 366
Calories from Fat 90
% Daily Value*
Fat 10g15%
Sodium 418mg18%
Potassium 1251mg36%
Carbohydrates 63g21%
Protein 7g14%
Vitamin A 309IU6%
Vitamin B1 (Thiamine) 1mg67%
Vitamin B2 (Riboflavin) 1mg59%
Vitamin B3 (Niacin) 30mg150%
Vitamin B6 1mg50%
Vitamin C 105mg127%
Vitamin E 4mg27%
Vitamin K 8µg8%
Calcium 54mg5%
Vitamin B9 (Folate) 324µg81%
Iron 3mg17%
Magnesium 79mg20%
Phosphorus 193mg19%
Zinc 1mg7%
* Percent Daily Values are based on a 2000 calorie diet.
This Aloo 65 post from the archives first published in October 2012 has been republished and updated on 26 June 2022.