Paniyaram also known as (Kuzhi Paniyaram in Tamil and Gunta Ponganalu in Telugu) are savory, spiced dumplings made from rice and urad dal batter or Idli Batter, onions, spices and herbs with an occasional addition of fresh coconut. It is a delicacy from South Indian cuisine and makes for a good way to utilize leftover idli batter. They are vegan and can be made gluten-free by skipping the asafetida in this recipe.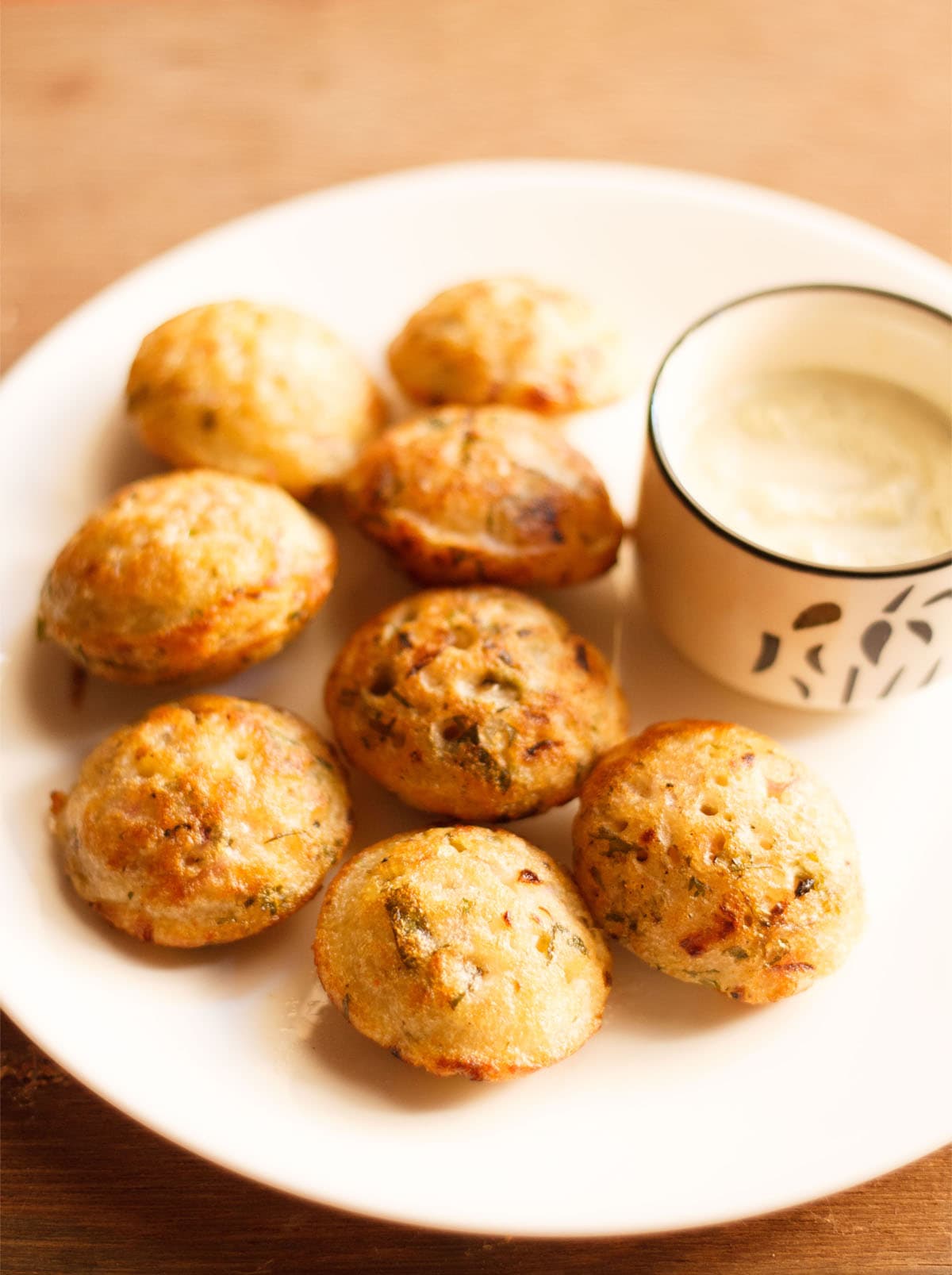 More on Paniyaram
Paniyaram is popular snack made with idli batter or dosa batter. There are many variations to make them – spicy, sweet or savory. They have a crisp texture from outside and a soft, fluffy texture from inside.
This snack has many names all across South India and even Maharashtra. Check out the list below to know.
Paniyaram in Malayalam and Tamil
Paddu, Gunta ponganalu, Yeriyappa and Guliyappa in Kannada
Appadadde in Tulu
Gunta Ponganalu in Telugu
Appe in Marathi
My first introduction to paniyaram was when a friend would get these in her tiffin box sprinkled with Idli Podi (dry idli chutney powder). One bite and I was hooked.
They were so much like idli and unlike idli for me. Soft like idlis from within but crisp from out. That is what I like about kuzhi paniyaram.
All you need to make these delicious and soft dumplings is some idli batter. You can either use leftover idli batter or make the batter from scratch. In this paniyaram recipe, these dumplings are made with leftover idli batter.
Kuzhi paniyaram or Gunta Ponganalu are a breeze to make, if you have leftover idli or dosa batter. You only need to add some chopped onions, herbs and spices to the batter and then cook the dumplings.
There are also variations where the spices are tempered or bloomed in oil and then added to the idli batter.
These are also a South Indian tiffin or breakfast snack and they are healthy like most South Indian food. You can serve them with Sambar or Coconut Chutney or any chutney of your preference.
From the leftover batter I either make this masala paniyaram or sweet paniyaram. Given a choice, we prefer the Sweet Paniyaram over the savory ones.
Paniyaram Chatti
The paniyaram is not deep fried or steamed. So you may be wondering how it is cooked?
A special pan is used to make them. It is called a paniyaram chatti (also known as an appe pan). It is basically a cast iron cookware with moulds in it, much similar to the Æbleskiver pan used in European cooking.
This special pan is a must in all South Indian households as it is primarily used to make appam or paniyaram.
The traditional chatti is a heavy metal pan in which the batter does not stick at all. These days paniyaram pans are also available in non-stick varieties. However, I use my authentic chatti at home to make this paniyaram recipe as well as other dishes.
The metal, apart from giving the typical shape to the paniyaram, also lends a unique flavor to it which is missing if any other cookware is used to prepare it. This is the reason that in modern Indian homes, a lot of other snacks like pakoda, vada, etc. are also made in this pan.
How to Make Paniyaram Recipe
Make Paniyaram Batter
1: In a bowl take 2 cups of idli batter and then add the following ingredients:
⅓ to ½ cup chopped onions
1 to 2 finely chopped green chilies
1 teaspoon finely chopped ginger
⅓ cup grated coconut (optional and can skip if you don't have)
1 pinch of asafoetida (hing) – for a gluten free dish skip asafoetida
¼ teaspoon red chili powder
½ teaspoon crushed black pepper
2 tablespoons chopped curry leaves
salt if needed (if you have not added salt to the idli batter, then add salt according to taste)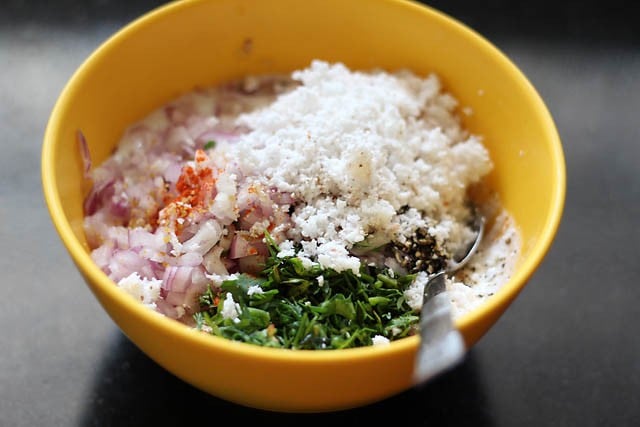 2: Stir to combine and mix well thoroughly with a spoon. If the batter looks thin then add 1 to 2 tablespoons rice flour. If the batter looks thick then add some water as needed.
For a no onion version you can easily skip adding onions to the batter. The addition of onions gives a good flavor and taste. But even without onions these dumplings taste good. Just remember to add the remaining spices and herbs.
You can also add grated veggies like carrots, cabbage, beetroot or finely chopped greens like spinach, fenugreek leaves, amaranth leaves.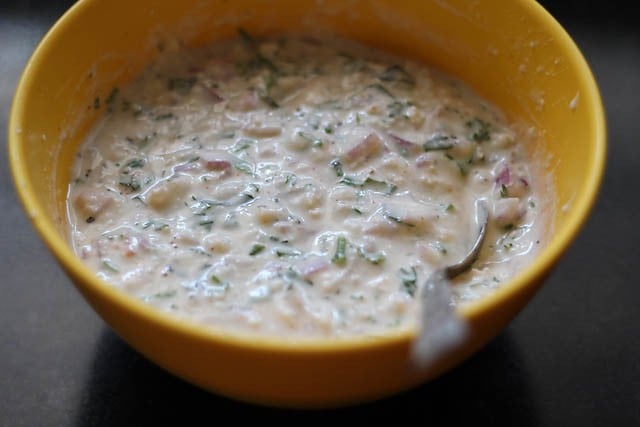 Make Kuzhi Paniyaram
3: Heat the paniyaram chatti on the stovetop. Add a few drops of oil or 1 teaspoon of oil if you prefer in each mould.
The appe pan shown in the below photo makes for large dumplings. Depending upon the size and depth of the moulds the cooking time will vary. Also add oil accordingly. Smaller moulds will need less oil.
The quality and the make of the pan will also determine the cooking time. A lighter weight pan will cook the paniyaram as compared to a heavy pan.
Make sure your pan is seasoned well before you begin. The pan has to be hot when you add the batter.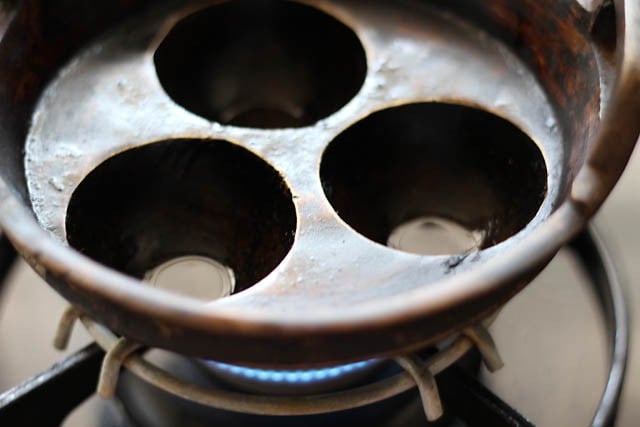 4: Pour the spiced paniyaram batter in the moulds up to ¾ of the volume.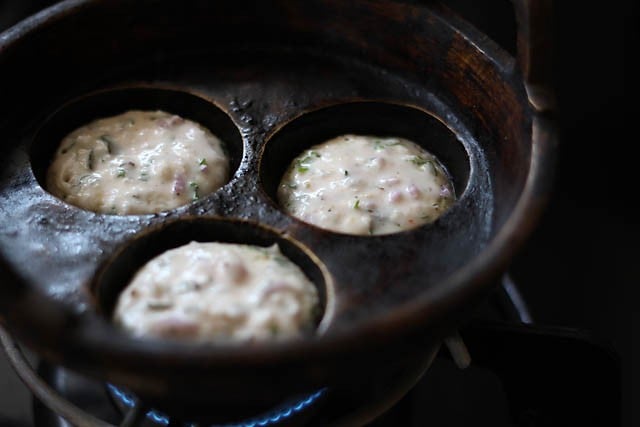 5: Allow to cook for a few minutes on low to medium heat for 2 to 3 minutes. Regulate the heat as needed depending upon the quality and make of the pan.
When you see the sides have become golden then turn over carefully with a wooden skewer or spoon and let the other side cook until golden.
You can also add some more oil if required while cooking the other side. You can use any neutral flavored oil or coconut oil or ghee.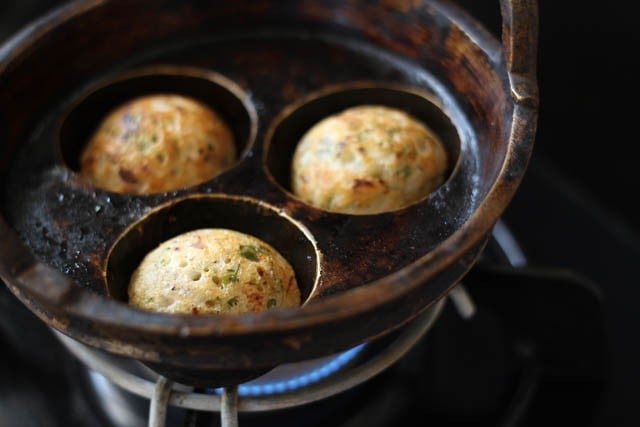 6: You can flip them once or twice more so that they get cooked evenly. When the paniyaram are golden from all sides, remove them in a casserole – so that they stay warm. Cook in batches this way.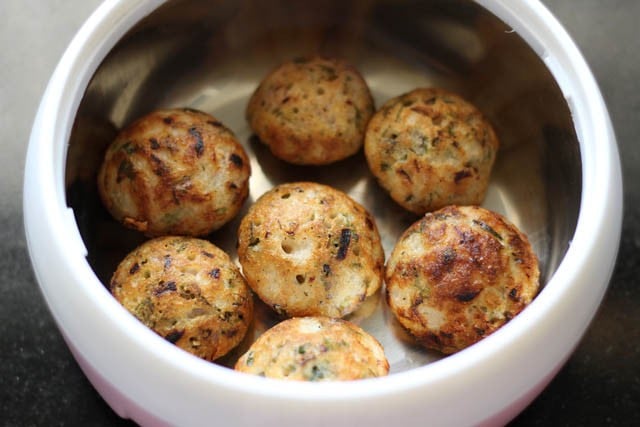 Serving Suggestions
7: You can serve kuzhi paniyaram or gunta ponganalu hot or warm with idli podi or coconut chutney or peanut chutney or onion chutney or ginger chutney or tomato chutney.
In the below photo, I have served them with coconut chutney.
They make for a good breakfast or evening snack or after school snack. These are best enjoyed when eaten hot or warm. They can also be packed for tiffin box or for short journeys.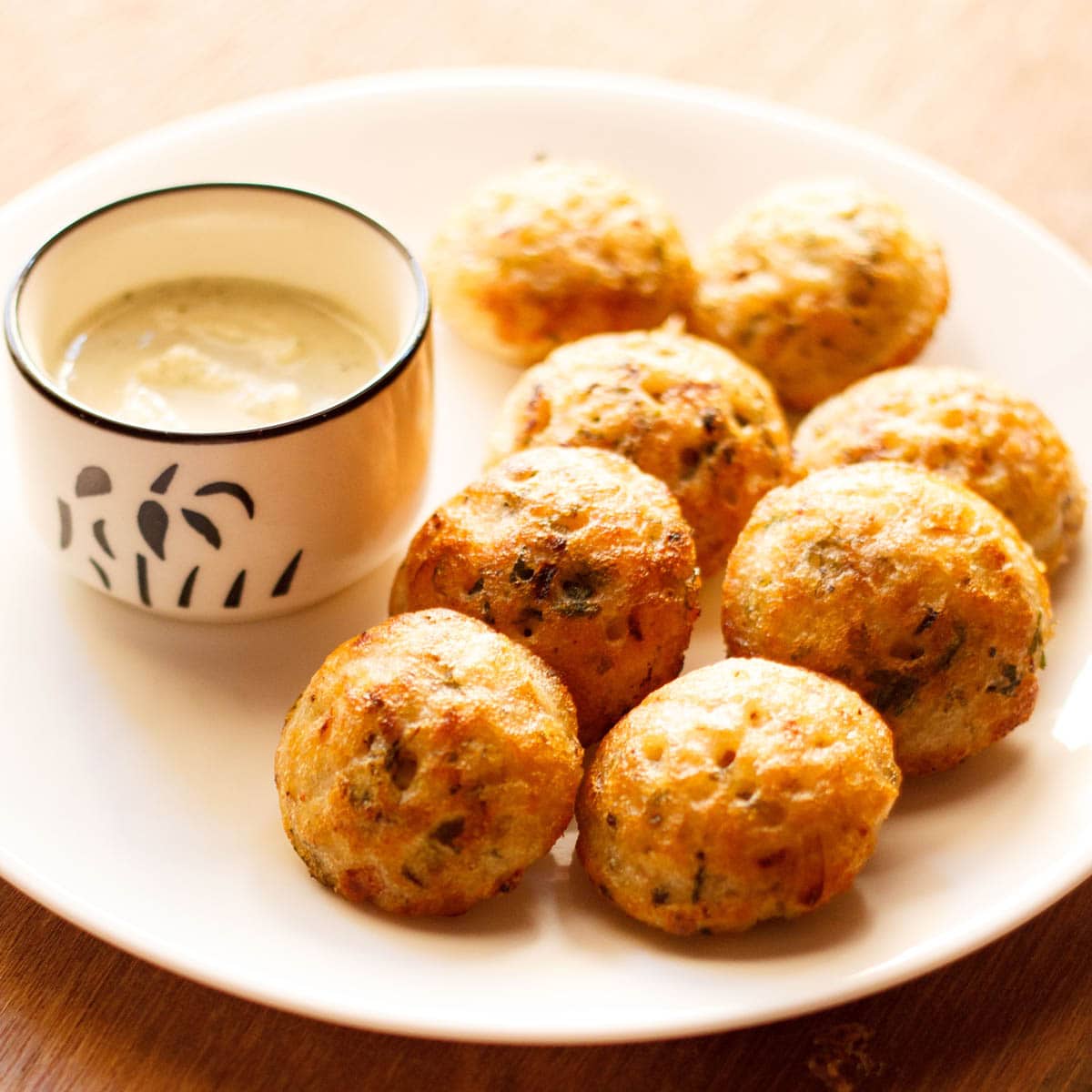 Expert Tips
Use idli batter having medium-thick to medium consistency. If the batter is thin, add some rice flour or rava (cream of wheat or sooji). Keep in mind to add not too much of the rice flour or rava as the paniyaram texture can become dense.
Feel free to adapt and change the seasonings and spices according to your health and taste preferences. For a no onion version, you can skip adding onions.
You can also make the kuzhi paniyaram more nutritious by adding grated carrots or beets, finely chopped cabbage or capsicum. Even green leafy vegetables like spinach or amaranth make a healthy addition.
If you do not have the pan, then shallow fry or deep fry the batter dumplings in oil. Simply pour spoonful of the batter in medium hot oil and deep fry until crispy and golden. While deep-frying make sure that the batter is not thin or runny or watery as this can cause the paniyaram to soak up a lot of oil and the batter can burst or splutter in the hot oil.
More South Indian Snacks To Try!
Please be sure to rate the recipe in the recipe card or leave a comment below if you have made it. For more vegetarian inspirations, Sign Up for my emails or follow me on Instagram, Youtube, Facebook, Pinterest or Twitter.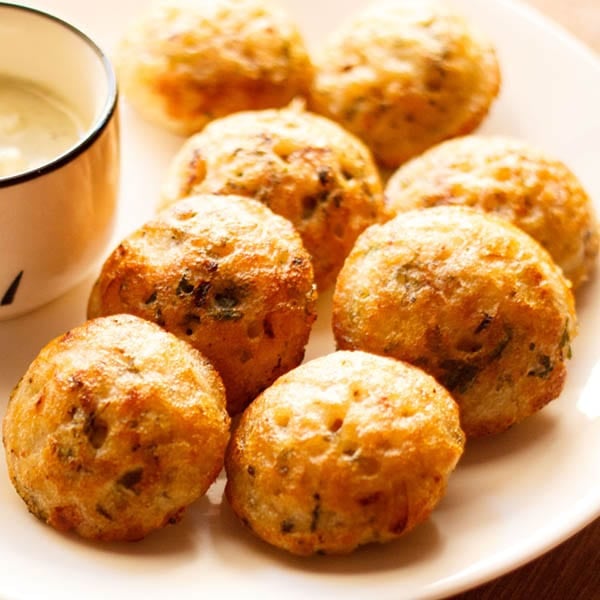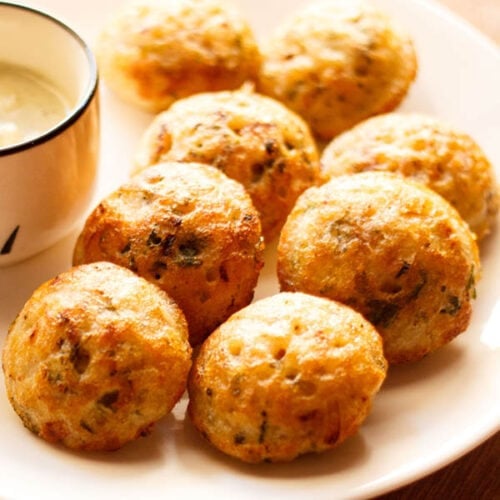 Paniyaram Recipe (Kuzhi Paniyaram)
Paniyaram known as Kuzhi Paniyaram or Gunta Ponganalu are savory, spiced, crisp and soft dumplings made from leftover idli batter. Easy to make this paniyaram snack is vegan and can be made gluten-free by skipping asafoetida in the recipe.
2

cups

Idli Batter

⅓ to ½

cup

finely chopped onions

or 1 medium-sized

1

teaspoon

finely chopped green chilies

or 1 to 2 green chillies

1

teaspoon

finely chopped ginger

– or 1 inch

1

pinch

asafoetida (hing)

– optional, skip for a gluten-free version

½

teaspoon

crushed black pepper

– optional

¼

teaspoon

red chili powder

2

tablespoons

chopped curry leaves

⅓

cup

grated coconut

salt

if required

oil

as required
Instructions
Making batter
In a bowl take the idli batter.

Add the chopped onions, green chilies, grated coconut, spices, herbs everything to the idli batter. Mix very well with a spoon.

Add salt if the idli batter does not have salt previously added to it. Combine well.

If the batter looks thick, you can add some water. If the batter is thin, you can add some rice flour.
Making paniyaram
Heat the paniyaram chatti or Aebleskiver pan. Add a few drops of oil or as required.

Pour spoonfuls of the batter upto ¾ of the mould.

Allow the batter to cook for 2 to 3 minutes on a low or medium heat.

Turn each kuzhi paniyaram with the help of a wooden skewer or spoon.

Now allow the other side to get cooked and crisp. If needed you can add some more oil.

Turn once or twice for uniform cooking. Repeat cooking with the remaining batter.

Remove them and keep in a casserole so that they stay warm.

These kuzhi paniyaram are also good as tiffin box snack or picnic snack.

Serve paniyaram with coconut chutney or sambar or any chutney variety of your choice.
Notes
Batter consistency: The batter has to be medium-thick to medium consistency. If your idli batter is thick, add some water. If it is thin or runny, add some rice flour or sooji (rava, semolina). But keep in mind not to add too much of semolina which can make these dumplings hard.
Add-ins and customizations:

Include your favorite herbs, veggies, spices and customize this recipe easily. You can add veggies like grated carrots or beets, finely chopped bell pepper or cabbage and finely chopped greens like spinach or fenugreek (methi). For small kids omit the green chillies, red chilli powder and black pepper. 

Curry leaves:

Curry leaves impart a distinct flavor in these dumplings. You can skip them due to availability, but do add the coriander leaves.

Coconut:

You can use ¼ cup of unsweetened desiccated coconut (finer or smaller flakes) in place of fresh grated coconut. For frozen fresh coconut, thaw before adding to batter.

No paniyaram chaati, no problem:

If you do not have this special pan, then not to worry. You can deep fry these dumplings in hot oil until golden and crisp.

Gluten free:

To make a gluten-free recipe, either use gluten-free asafoetida or omit adding it. I have not used asafoetida in the recipe. 
Nutrition Info (Approximate Values)
Nutrition Facts
Paniyaram Recipe (Kuzhi Paniyaram)
Amount Per Serving
Calories 280
Calories from Fat 126
% Daily Value*
Fat 14g22%
Sodium 413mg18%
Potassium 118mg3%
Carbohydrates 33g11%
Protein 6g12%
Vitamin A 599IU12%
Vitamin B1 (Thiamine) 1mg67%
Vitamin B2 (Riboflavin) 1mg59%
Vitamin B3 (Niacin) 171mg855%
Vitamin B6 1mg50%
Vitamin C 302mg366%
Vitamin E 3mg20%
Vitamin K 1µg1%
Calcium 85mg9%
Vitamin B9 (Folate) 1743µg436%
Iron 2mg11%
Magnesium 22mg6%
Phosphorus 58mg6%
Zinc 1mg7%
* Percent Daily Values are based on a 2000 calorie diet.
This Kuzhi Paniyaram Recipe post is from the archives first published in January 2013 and has been republished and updated on 23 May 2022.