An Onion Salad or the beloved 'Laccha Pyaaz' is the mother of all salads for us Indians! Be it any restaurant, dhaba (a roadside eatery), a quaint little food stall on the streets or even at home, whenever there's a robust Indian meal of rich curries, breads and/or rice, the Pyaaz ke Lachche or Onion Salad is what balances it out. I would also call it the quickest vegan side dish. Make it with red, white or sweet onions, the choice is yours.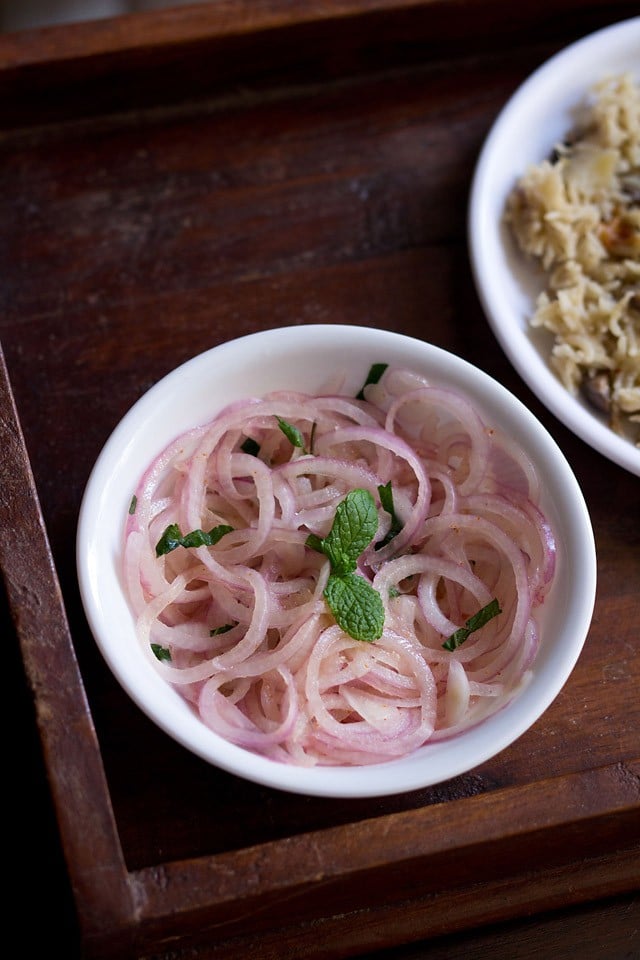 Love For Onion Salad
From pairing the humble Indian onion salad with a curry-rice or lentil-rice meal and everything between and beyond, our fixation with this particular salad is for real. I mean you will hardly find an Indian who will deny with this fact.
The Onion Salad is quite the obvious and omnipresent element at all Indian restaurants, especially the ones serving North Indian and Mughlai cuisine. It is even a customary for many of us to start binging on the laccha pyaaz itself before the actual meal arrives. And by that time, usually the salad plate is empty. So, you ask for a refill and the servers happily do that too!
We really can't explain the love we have for this particular salad made with onion rings, the simplicity of which is absolutely inversely proportional to its popularity across the Indian subcontinent. Even I love my Onion Salad the way anyone else does. So, this recipe was bound to be shared.
More On This Onion Salad
As mentioned earlier, Onion Salad is Laccha Pyaaz in Hindi and is basically a super simple salad made with onion rings and a few more ingredients. Hence, the English translation is an onion ring salad.
My recipe has thinly sliced onion rings spiced with red chilli powder and chaat masala, and tossed with lemon juice, fresh mint leaves and salt. These are basically the ingredients that make for a universal laccha pyaaz recipe as well. However, there can be some twists depending from eatery to eatery or individual to individual.
For instance, you can replace the mint with coriander leaves or use both. If you wish to use vinegar in place of lemon juice, go ahead with it. I also feel that the chaat masala is a must as it perks up the salad well. The chilli powder can also be altered according to your preference.
Another popular accompaniment which belongs to this category is this Pickled Onions, locally known as sirke wale pyaaz. The family is complete when a Masala Papad is added to this trio.
How to make Onion Salad
Preparation
1. Slice 1 large onion into thin rings or rounds.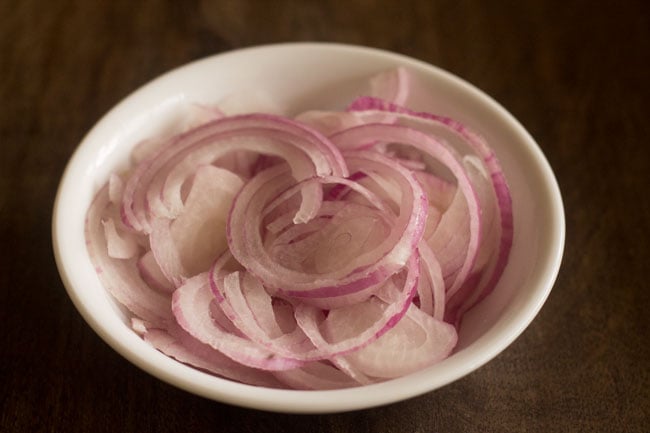 2. Measure and keep all the ingredients ready to make the salad.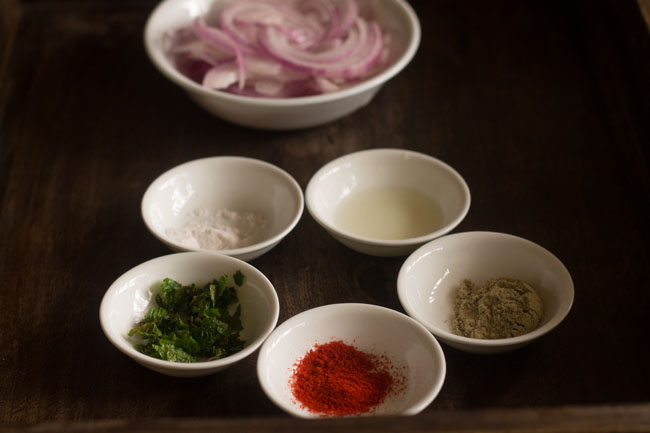 Make Onion Salad
3. In a bowl, take the onion rings. Add ¼ teaspoon red chili powder, ½ to 1 teaspoon chaat masala (optional), 1 tablespoon chopped mint leaves (or coriander leaves) and edible rock salt (or black salt) as required.
Instead of rock salt, you can also use regular salt.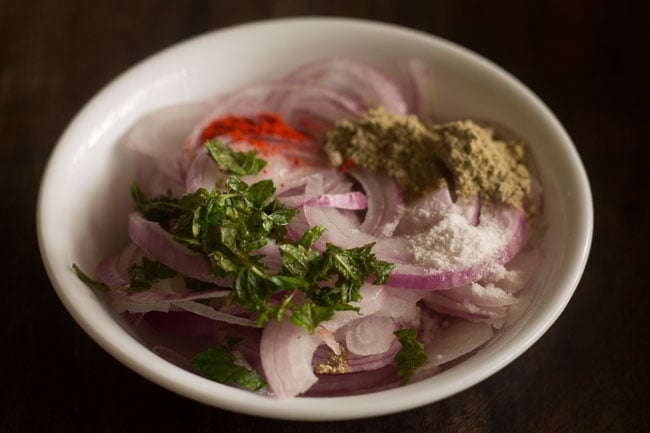 4. Lastly, add 1 teaspoon lemon juice or vinegar.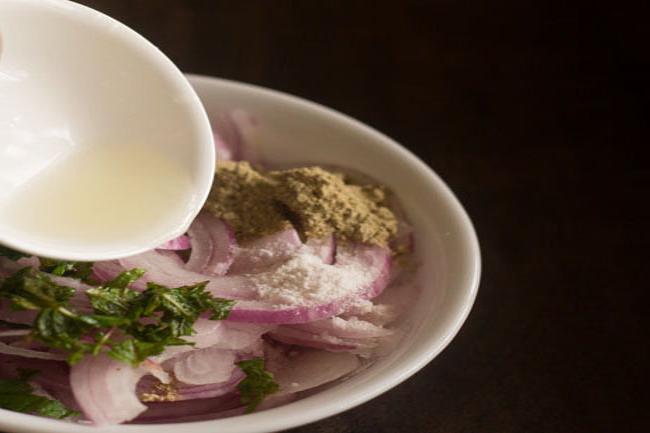 5. Mix everything very well.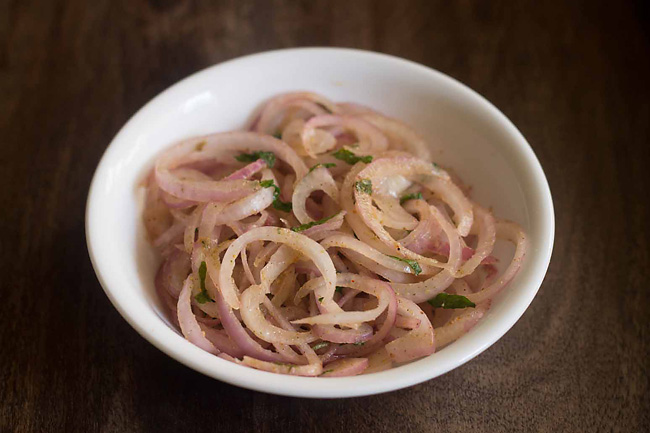 6. Check the seasonings and add more salt, red chilli powder or lemon juice if required. Serve the Onion Salad immediately.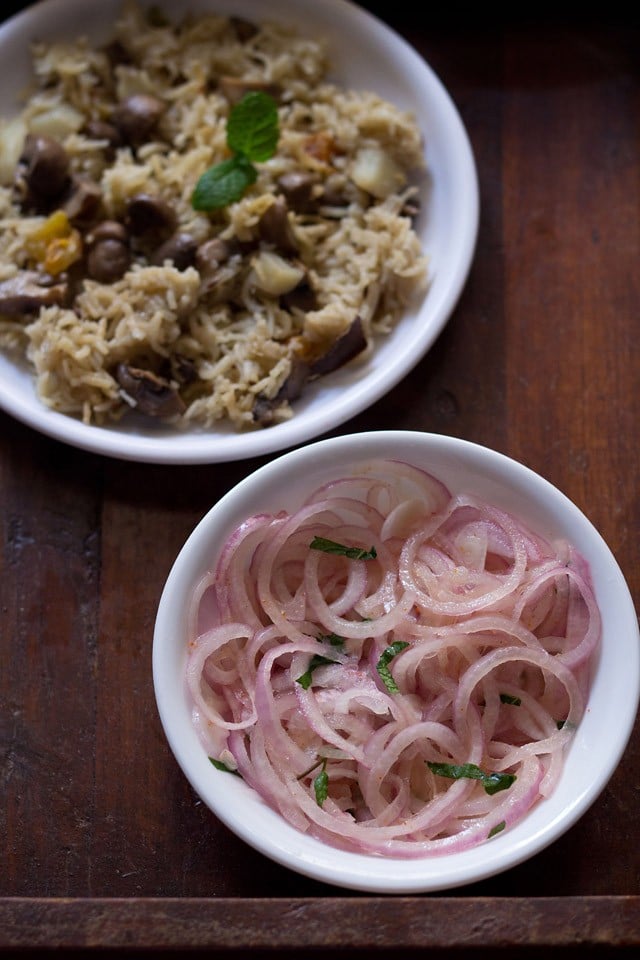 Serving Suggestions
You try this salad and you'll be actually amazed on how quick and fuss-free it really is. Thus, also proving the fact that it is one of the most common salads served at eateries pan India.
This Indian Onion Salad is best when served fresh and immediately. Great as an accompaniment with curries, tandoori or grilled snacks and appetizers like tikka, kabab and more.
Pulao and biryani also pair fab with this Onion Salad. Even a meal of creamy, buttery gravy like Malai Kofta, Paneer Butter Masala and Naan or Tandoori Roti is quite incomplete without this easy-peasy crunchy salad.
More Onion Recipes To Try!
Please be sure to rate the recipe in the recipe card or leave a comment below if you have made it. For more vegetarian inspirations, Sign Up for my emails or follow me on Instagram, Youtube, Facebook, Pinterest or Twitter.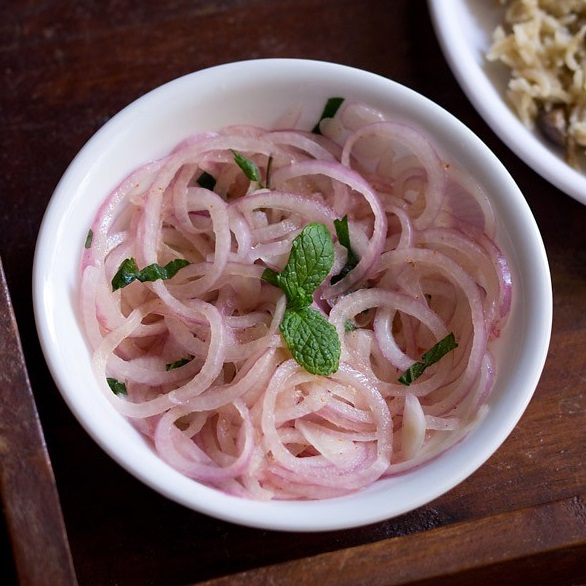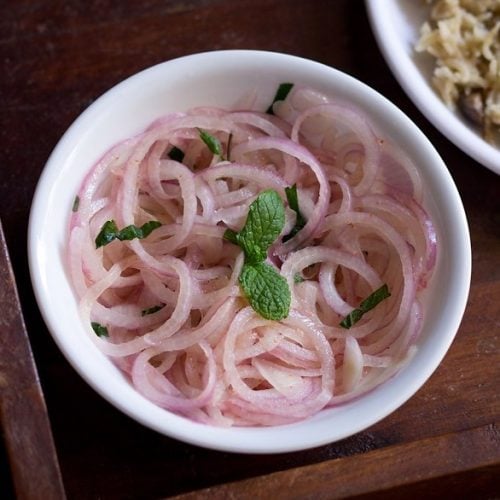 Onion Salad | Easy Indian Onion Salad
This North Indian Onion Salad is a raw onion recipe that can either be made with red, white, or sweet onions depending on your tastes. Also called as Laccha Pyaaz this quick, easy salad is served with robust Indian meals.
1

onion

– large, peeled, rinsed and thinly sliced into rings

¼

teaspoon

red chilli powder

or cayenne pepper or as required

½ to 1

teaspoon

chaat masala

– optional

1

teaspoon

lemon juice

or white vinegar, or add as required

1

tablespoon

chopped mint leaves

or coriander leaves (cilantro)

rock salt

(edible and food grade) or black salt or regular salt as required
Instructions
Slice the onion into thin rings or rounds.

In a bowl take the onion rings.

Add red chilli powder, chaat masala and chopped mint leaves.

Also add salt as required.

Then add lemon juice or vinegar.

Mix together everything very well.

Check the seasonings and add more salt, red chilli powder or lemon juice if required.

Serve the onion salad immediately.
Notes
The amount of spices and seasonings can be adjusted as per your preferences.
Slice the onions thinly. You can either cut the entire onion bulb in thin rings or halve the onion and then cut each halve into thin rounds.
This recipe can be easily doubled or tripled.
Nutrition Info (Approximate Values)
Nutrition Facts
Onion Salad | Easy Indian Onion Salad
Amount Per Serving
Calories 27
Calories from Fat 2
% Daily Value*
Fat 0.2g0%
Polyunsaturated Fat 0.04g
Monounsaturated Fat 0.01g
Sodium 298mg13%
Potassium 102mg3%
Carbohydrates 6g2%
Protein 1g2%
Vitamin A 182IU4%
Vitamin B1 (Thiamine) 0.03mg2%
Vitamin B2 (Riboflavin) 0.02mg1%
Vitamin B3 (Niacin) 0.1mg1%
Vitamin B6 0.1mg5%
Vitamin C 6mg7%
Vitamin E 0.1mg1%
Vitamin K 0.5µg0%
Calcium 20mg2%
Vitamin B9 (Folate) 14µg4%
Iron 0.3mg2%
Magnesium 8mg2%
Phosphorus 19mg2%
Zinc 0.1mg1%
* Percent Daily Values are based on a 2000 calorie diet.
This Onion Salad recipe post from the archives, first published in August 2013 has been updated and republished on October 2022.