Tangy, crunchy, and easy to pair with myriad dishes, Cabbage Coleslaw is the perfect summer side. While this simple cabbage salad originated in the Netherlands, it has since taken the world by storm – and for good reason! It's easy to make in less than 20 minutes, has a short ingredient list, and is gluten-free & vegan. YUM!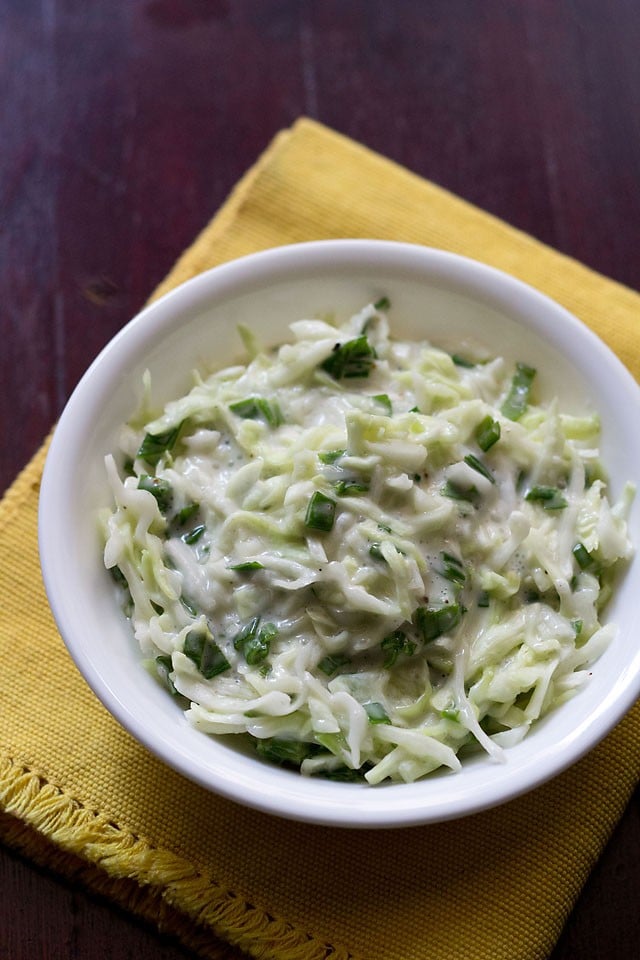 About Cabbage Coleslaw
Cabbage Coleslaw is an easy and simple salad made primarily from cabbage. This particular recipe for the well-known cabbage salad is dressed in a simple mayo dressing flavored with lemon juice and sugar, making it equal parts tangy, sweet, crunchy, and creamy. In short, it's delicious!
My recipe for this quintessential summer salad has many winning attributes, including that it is:
Quick & easy! Made in just 15 minutes with just 6 ingredients, it's the perfect recipe for even the most novice home cook.
Wholesome & nutritious. Made with entirely whole foods and loaded with nutritionally-dense cruciferous veg, this is a salad that is loved by kids and approved by parents!
Budget-friendly. Aside from a head of cabbage and a few pantry staples, you don't need much to make a delectable coleslaw.
Versatile. This tasty rendition of cabbage coleslaw is equally at home next to BBQ staples (like my Veggie Burger) as it is loaded into sandwiches or wraps. It can also be doctored up to suit your preferences! Read on below to learn how.
Ingredients & Substitutions
As I mentioned earlier, you don't need much to make this creamy cabbage salad. Here's what you'll need to gather:
Cabbage – Feel free to use green or red cabbage, or a combination of both depending on what you have on hand.
Spring Onions – Use both the greens and the whites for the best flavor and prettiest appearance. Scallions will also work here. Tip: Save some thinly sliced greens for garnish.
Carrots (optional) – I have used only cabbage and spring onions in the coleslaw and did not add carrots, but many people consider them an essential element. They do add sweetness and color, but I think the coleslaw is delicious either way.
Mayonnaise – I used a store-bought vegan and egg-free mayonnaise to make the coleslaw, but you can easily use my vegan Mayonnaise if you have it on hand!
Lemon Juice – When it comes to citrus juice, fresh is always best. To get the most juice from your lemons, give them a firm roll on the countertop for 10 to 15 seconds before cutting.
Sugar – I used raw cane sugar here, but any sweetener will do including: white sugar, brown sugar, agave syrup, honey, or maple syrup.
Salt & Pepper – Season to taste!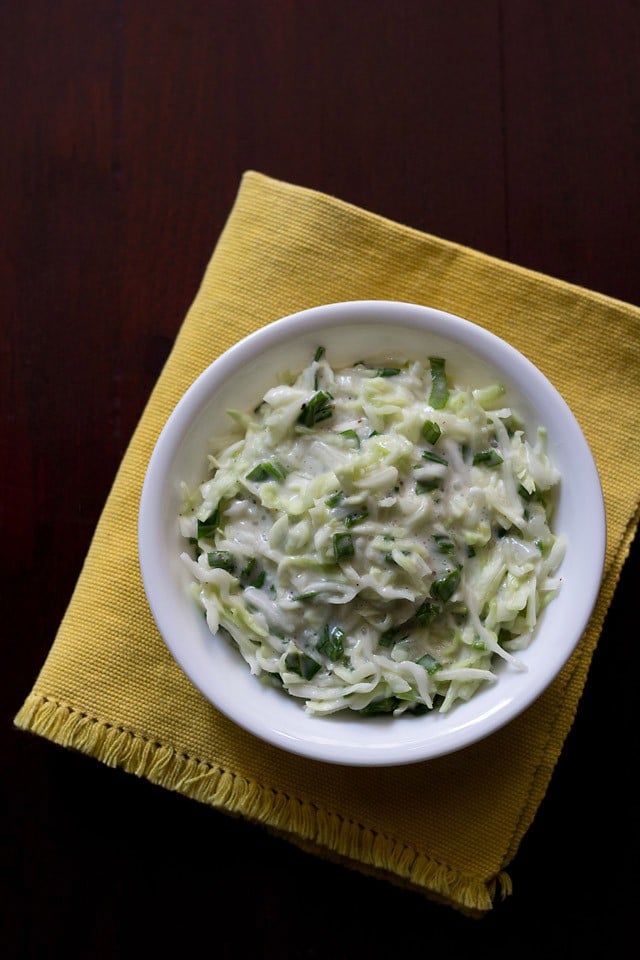 How To Make Cabbage Coleslaw
This easy cabbage salad recipe will come together before you know it. Here's how it is made:
Step 1: Make dressing. In a mixing bowl, add the mayonnaise. Then add the lemon juice, sugar, salt and pepper. Stir and mix well.
Step 2: Toss salad. Then add the cabbage and spring onions. Mix again very well.
Step 3: Enjoy! Serve immediately with the mains of your choosing. You can also refrigerate it for 2 to 3 days.
Optional Variations
Use sour cream or Greek yogurt in place of mayo for a tangier slaw.
Add chopped cucumber pickles for extra tang and crunch.
Use ketchup instead of mayonnaise for a particular kind of American coleslaw that is popular in North Carolina.
Use red wine vinegar, apple cider vinegar, rice vinegar, or even white vinegar in place of the lemon juice. Mustard is also a perfectly acceptable option.
Add the herbs of your choice. Parsley, dill, or celery are popular options.
Serving Suggestions
Once you try this simple cabbage coleslaw recipe, I have a feeling you'll find plenty of ways to use it. Here are some of my favorites:
As a side. I lover serving coleslaw with sandwiches, burgers, or anything grilled.
Loaded into sandwiches. I made a specific Coleslaw Sandwich that is an absolute delight. We also love to add coleslaw and french fries to hot dog buns then dress them with mustard. Don't knock it till you try it!
As a base for an entrée salad. Pile on all your favorite salad goodies, from roasted veggies to grilled tofu, crunchy nuts, shredded cheese, or anything else your heart desires.
As a topper for tacos. Perk your regular Mexican Tacos with this slaw. Sometimes I also add to our veggie tacos. It's delicious!
Expert Tips
If you have a food processor on hand, you can easily shred the cabbage in a matter of seconds! If not, simply use a sharp knife and a little patience.
If you prefer a softer slaw, sprinkle the cabbage with salt and use your hands to massage it for a few minutes, then let it sit for 10 to 15 minutes before dressing it.
If you are vary of the worms in cabbage, blanch half of the cabbage in hot salted water for about 5 to 10 minutes. Drain and then shred or slice the cabbage thinly.
If you're serving this salad at an outdoor event, place it in a metal bowl. Nest the bowl in a slightly larger bowl filled with ice water. Instant refrigeration!
FAQs
What is the difference between "coleslaw" and "slaw"?
While the names are used interchangeably in many cases, slaw doesn't necessarily have to be made with cabbage, while coleslaw does. For example, you could have a broccoli slaw instead of coleslaw!
What is the etymology of coleslaw?
It actually comes from the original Dutch name for this dish, koolsla. Kool is "cabbage" and sla is "salad."
What is the best kind of cabbage for coleslaw?
I generally use either green or red heads of cabbage, but feel free to use savoy or Napa instead. You can also swap in kale if you prefer.
More Veggie Salads To Try!
Please be sure to rate the recipe in the recipe card or leave a comment below if you have made it. For more vegetarian inspirations, Sign Up for my emails or follow me on Instagram, Youtube, Facebook, Pinterest or Twitter.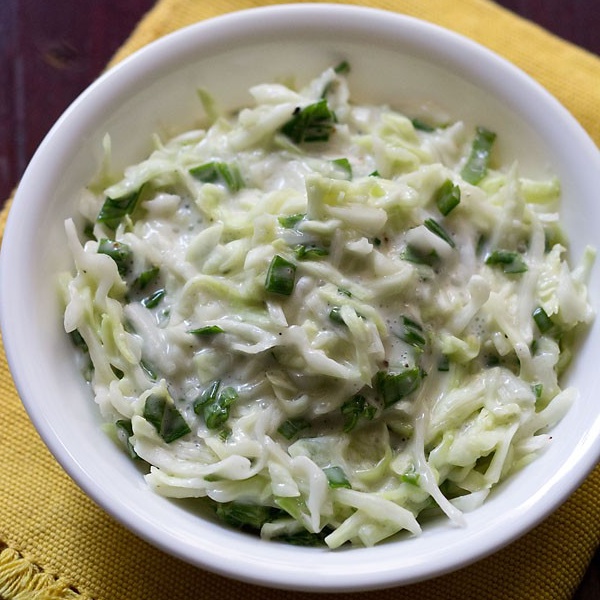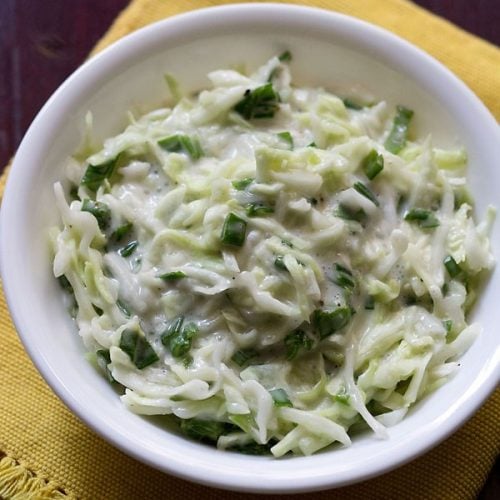 Cabbage Coleslaw | Cabbage Salad
Cabbage Coleslaw recipe is an easy, simple preparation of cabbage with a mayonnaise dressing. It's easy to make in less than 20 minutes, has a short ingredient list, and is gluten-free and vegan.
2

cups

cabbage

– shredded

¼

cup

spring onions

– chopped, (scallions) or use onions instead

⅓ to ½

cup

carrot

– grated, optional

¼

cup

Mayonnaise

– eggless or vegan, add as needed

½

teaspoon

lemon juice

or add as required

1

teaspoon

sugar

or add as required

salt

as required

black pepper

as required
Instructions
First rinse half of a small to medium-sized cabbage. Remove the outer layer if it has bruises or spots or if it looks dry.

Shred the cabbage thinly. Measure and you will need 2 cups of the shredded cabbage.

You can also shred the cabbage in a food processor.

Next in a mixing bowl, take the mayonnaise first.

Then add the lemon juice, sugar, salt and pepper.

Stir and mix well to a smooth and even dressing.

Then add the cabbage and spring onions. Mix again very well.

Serve as a side with your meals or top your sandwiches, wraps or burgers with the Cabbage Coleslaw.

You can also refrigerate the coleslaw for 1 to 2 days.
Notes
If you prefer, you can increase the quantity of the mayonnaise.
Veggies like bell peppers also taste good in the coleslaw.
Instead of lemon juice, use white wine vinegar, red wine vinegar or apple cider vinegar.
If you prefer, you can blanch the cabbage in hot salted water. First boil the water. Turn off heat and add ½ of a cabbage to the hot water. Cover with lid and blanch for about 5 to 10 minutes. Drain the water and then chop the cabbage.
Nutrition Info (Approximate Values)
Nutrition Facts
Cabbage Coleslaw | Cabbage Salad
Amount Per Serving
Calories 64
Calories from Fat 9
% Daily Value*
Fat 1g2%
Cholesterol 3mg1%
Sodium 838mg36%
Potassium 245mg7%
Carbohydrates 14g5%
Protein 1g2%
Vitamin A 3760IU75%
Vitamin B1 (Thiamine) 0.1mg7%
Vitamin B2 (Riboflavin) 0.1mg6%
Vitamin B3 (Niacin) 0.4mg2%
Vitamin B6 0.1mg5%
Vitamin C 30mg36%
Vitamin E 0.3mg2%
Vitamin K 90µg86%
Calcium 49mg5%
Vitamin B9 (Folate) 43µg11%
Iron 1mg6%
Magnesium 15mg4%
Phosphorus 33mg3%
Zinc 0.2mg1%
* Percent Daily Values are based on a 2000 calorie diet.
This Cabbage Coleslaw recipe from the archives first published in September 2013 has been updated and republished on December 2022.