115 Diwali special snacks recipes
(collection of 115 Diwali snacks recipes. The post includes Diwali faral recipes, dry snacks recipes and popular Diwali snacks like chivda, gujiya, nankhatai, shankarpali, chakli, murukku, mixture, namak paara, mathri.)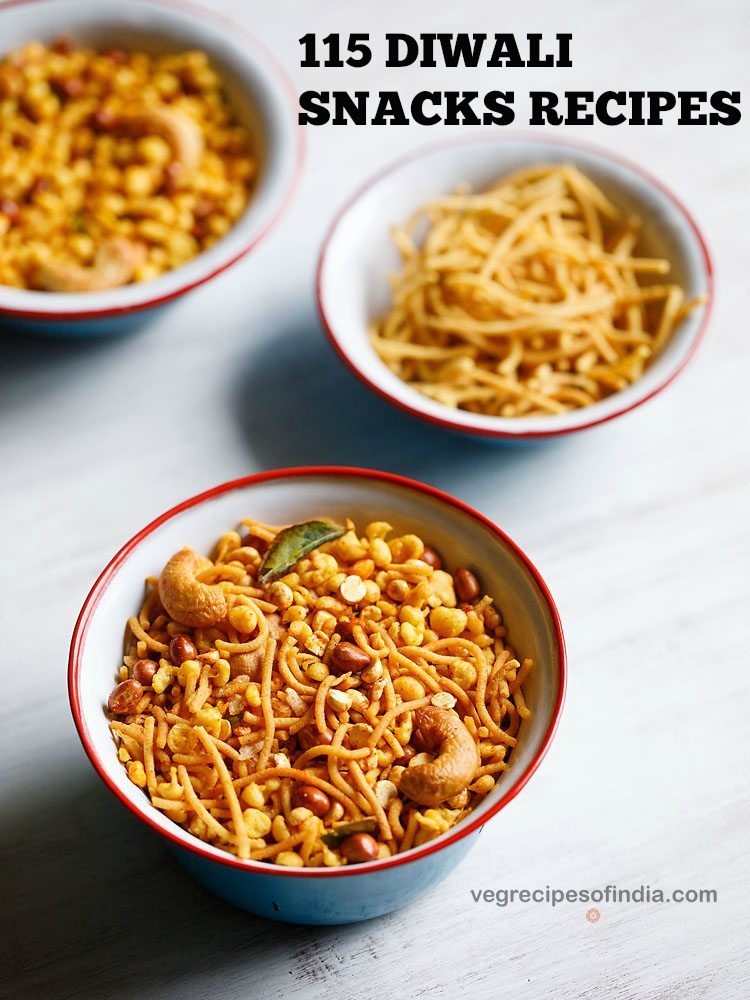 Diwali or Deepavali is one of the most popular Indian festival. At many places, there are special vacations in schools and colleges. So its usually a good time to meet friends, go for picnics or small outing. Good time to meet your old friends or just relax at your home and read a good book.
Here, I am sharing a Collection of 115 Diwali snacks recipes which will be handy during this time. This is a big collection and includes all type of recipes like starters, snacks or side dishes.
You can also check collection of 121 Diwali sweets recipes and 101 Diwali special recipes.
This year Diwali is on 27th October, 2019. Wishing all my friends and readers of this blog, happy Diwali in advance. I hope this diwal brings prosperity, peace and wisdom in your life. The most important thing is wisdom because how we deal with any situation depends upon intelligence. So while we are praying prosperity, wealth or peace also ask for wisdom so that we can deal with life situations wisely.
Diwali faral and dry snacks recipes
1. Chakli recipe – crisp, crunchy and tasty chaklis for Diwali festival. Chakli is a deep fried snack made from rice flour, gram flour, wheat flour or a mixture of lentil flours. Chakli or Chakri are made as a part of the Diwali faraal (Diwali snacks and Diwali sweets) in maharashtra and Gujarat.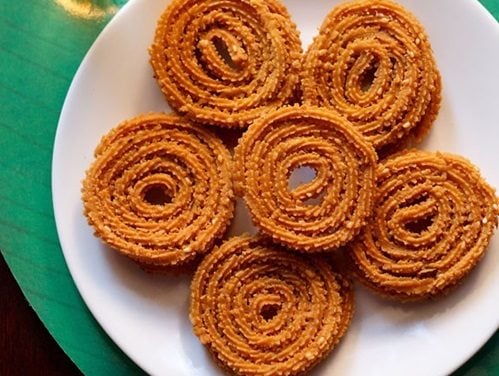 2. Butter murruku recipe – this murukku recipe is made from rice flour, roasted chana dal flour and besan. The recipe is very easy. You will need a chakli maker or murukku press to prepare these savory snacks.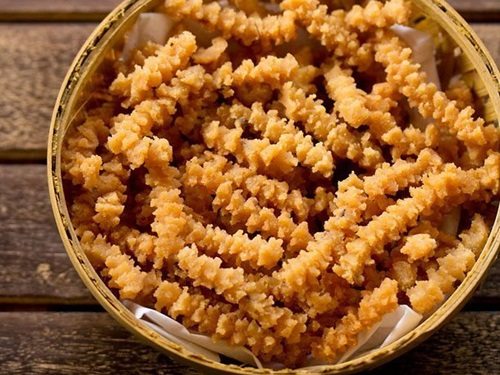 3. Sweet shankarpali recipe – crisp, flaky, melt in the mouth biscuits. Both fried and baked versions mentioned in recipe post. Shankarpali is a popular festive snack from maharashtra and is made during Diwali festival.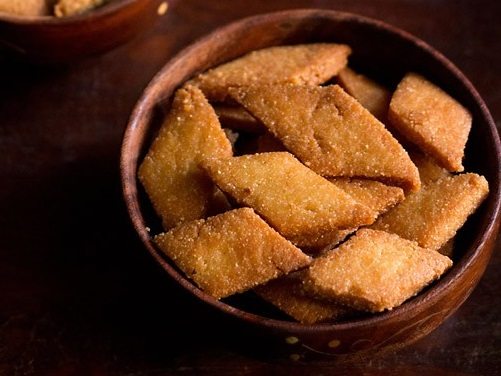 4. Whole wheat nankhatai recipe – easy recipe and method to make nankhatais with atta or whole wheat flour. since they are made from atta, they are a better alternative than nankhatais made with all purpose flour (maida). I have also added besan to give some crumbly texture.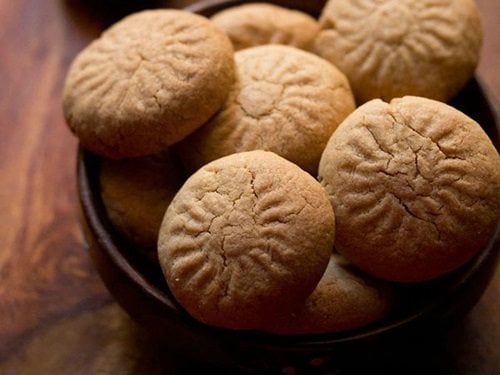 5. Karanji recipe – crisp flaky fried pastry stuffed with desiccated coconut and dry fruits. A well made karanji has an outer crisp & flaky cover. its melt in the mouth with a sweet coconut based stuffing inside. The outer crisp cover of karanji gives you a taste of having a savory snack whereas the inner sweet filling makes it a sweet dish to relish. Thus this very popular dish has two in one flavors of a sweet savory snack.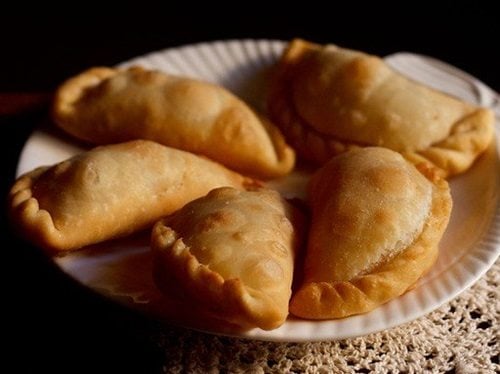 6. Namak pare recipe – savory and fried flour crispies and usually had with Chai. namak para is an easy recipe to make and except the frying in batches everything else does not take time. They are excellent tea time snacks.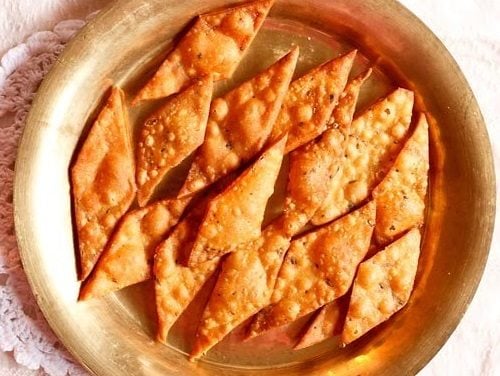 7. Mathri recipe – mathri or mathiya is a popular snack in north India. this recipe is for Punjabi style mathri which is flaky and is spiced with ajwain, kali mirch, kasuri methi and jeera. Both fried and baked versions mentioned in recipe post.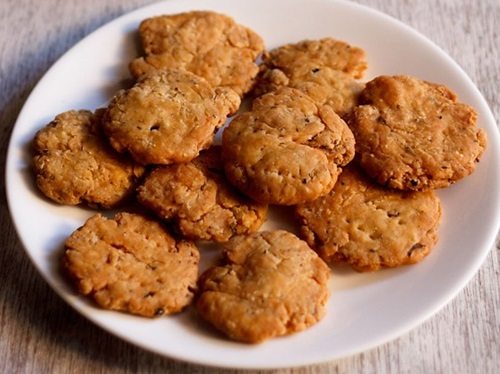 8. Gujiya recipe – gujiya is a deep fried pastry stuffed with a sweet filling of khoya. Gujiya is very much popular in north India, especially during Holi festival. its not they are made only during Holi. They are also made during Diwali. There are many variations of gujiya. One such variation posted on blog is this Apple gujiya recipe.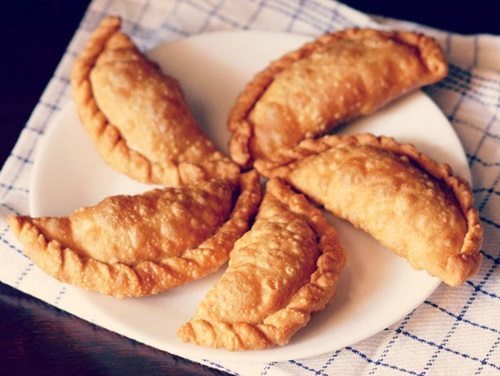 9. Poha chivda recipe – a Maharashtrian style quick snack made from thin poha, dry fruits, peanuts, and spices. This version of poha chivda is made mostly during Diwali festival as a savory snack.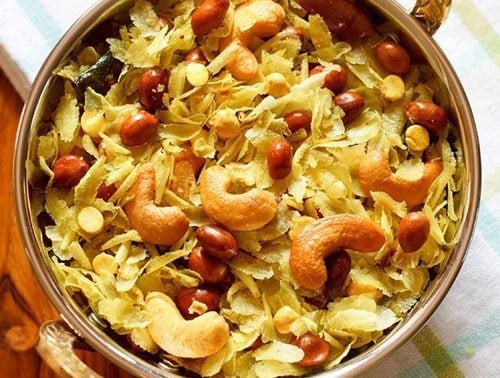 10. Shakkar pare recipe – North Indian sweet of crisp, flaky, fried flour cookies coated with crystallized sugar. these sweet fried crispies are also made during weddings.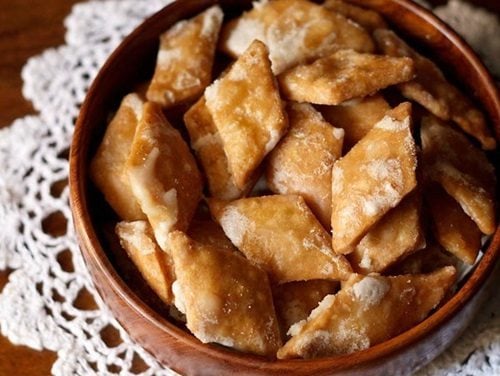 11. Murukku recipe – murukku is a popular South Indian crunchy and crispy snack made with rice flour and lentil flour. Murukku is also known as murukulu, chakralu and jantikalu in Andhra.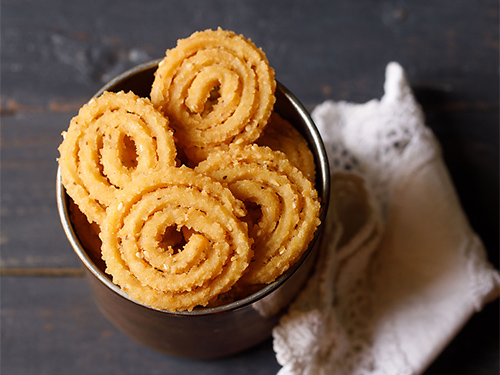 11. Ribbon pakoda recipe – fried crisp ribbon shaped savory snack. Easy to prepare and tastes good too. ribbon pakoda is usually made as Diwali snack in south India, but you can even make it on any regular day and serve as a tea time snack.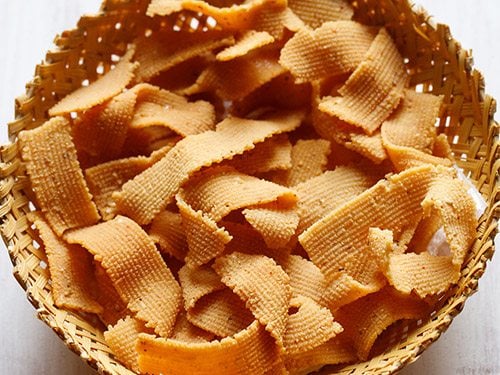 12. Cornflakes chivda recipe – crisp, crunchy, sweet & savory fried mixture made with corn flakes, dry fruits and spices. you can alter the spices as per your liking.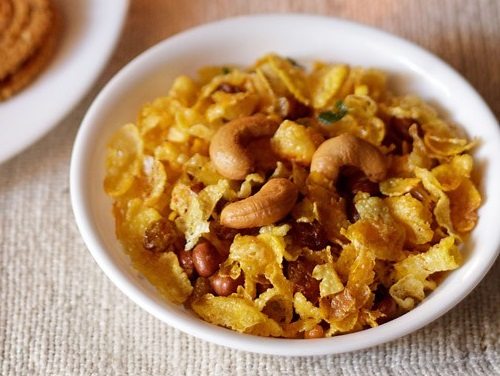 13. Thattai recipe – a deep-fried crisp cracker made with rice flour, lentil flours, spices and herbs. Thattai a popular snack in the south India and is made mostly during the festivals of krishna jayanthi and Diwali.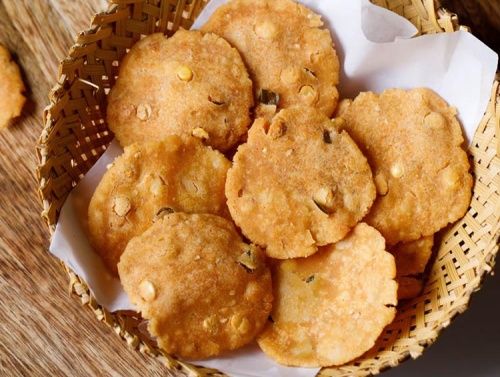 14. Namkeen chivda recipe – chivda (chiwda) is made by many families during Diwali. Basically chivda or namkeen as we call, is a savory sweet or spicy mixture. there are many variations of making chivda. This recipe makes use of thick poha or aval (flattened rice), dry fruits and spices and is a Maharashtrian version.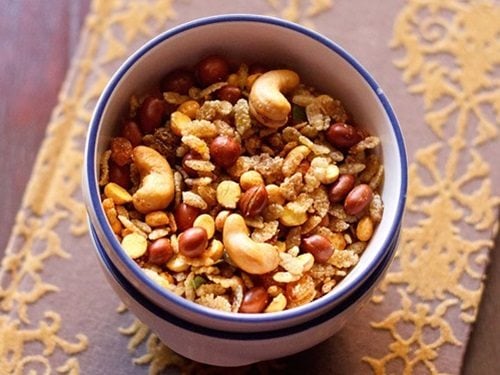 15. Namkeen shankarpali – crisp and savory fried snack made during festive occasions like Diwali, especially in maharashtra. once you make these shankarpali, then you can store them when they cool and have them as an evening snack. These stays good for a couple of weeks in an airtight box or dabba.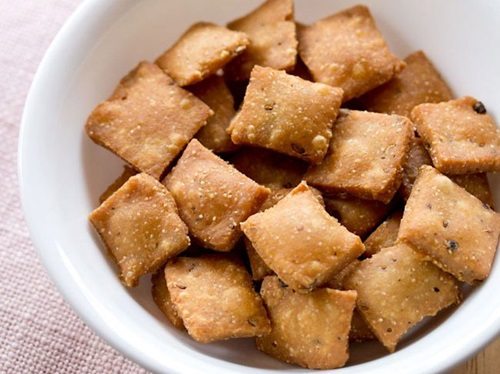 16. Kara boondi recipe – one of the fried snacks that is made during Diwali in south India is kara boondi. It is a spiced version of boondi and a mixture consisting of boondi, peanuts, cashews, curry leaves and a few spices.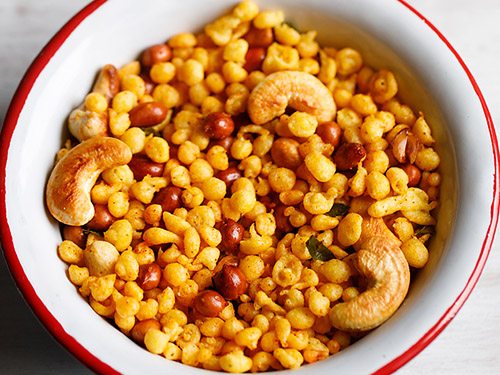 17. Mixture recipe – one of the popular and delicious South Indian snacks made during Diwali is this madras mixture. This delicious mixture is a mix of various edible ingredients, nuts and dry fruits.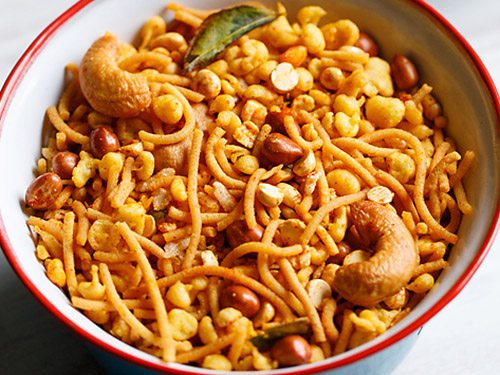 18. Poornam boorelu recipe – one of the most popular sweet snack from Andhra cuisine is poornam boorelu. These are deep fried snacks made with a stuffing of chana dal+jaggery and coated with rice+urad dal batter (similar to dosa batter).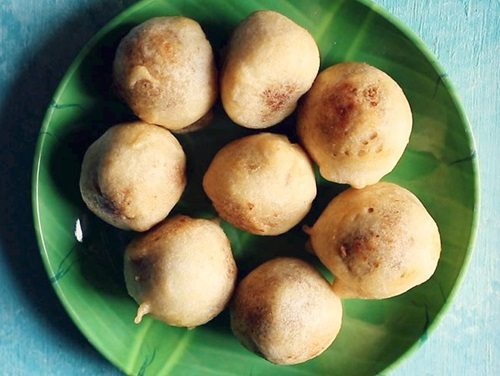 19. Medu vada recipe – crisp and fried doughnuts made from black gram. Medu vada is one of the easiest snack to make. if you have left over sambar and don't know what to do,  just make the Medu vadas – Dip them in sambar and enjoy.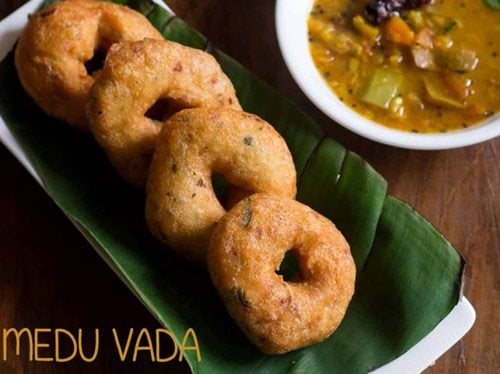 20. Nankhatai recipe – easy to make nankhatais or Indian shortbread cookies, spiced with cardamom and nutmeg. nankhatai is a popular sweet cookie cum snack recipe which is equally liked by kids as well as elders. during Diwali, nankhatai is made in many homes.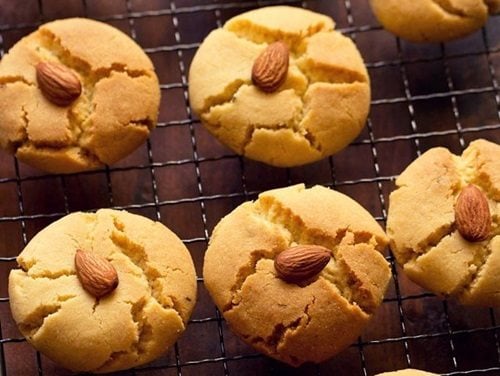 21. Butter cookies recipe – crisp and tasty butter cookies made from whole wheat flour. these eggless cookies have the buttery taste and flavor and are also crisp.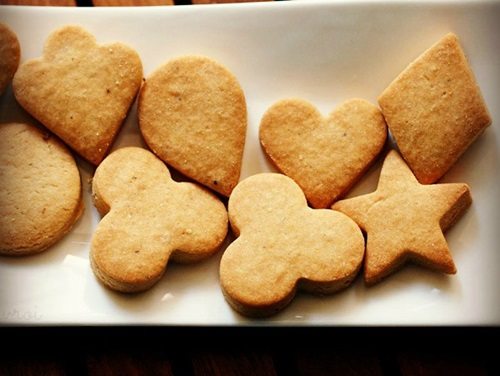 22. Coconut cookies recipe – easy eggless coconut cookies made with whole wheat flour, jaggery and desiccated coconut. these can be made in a jiffy and the only time taking part is the baking time. For more cookies recipes you can check this collection of 12 cookies and biscuits recipes.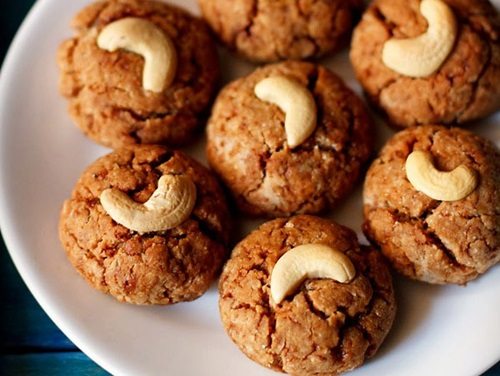 23. Potato sev recipe – crisp sev made with potatoes and gram flour (besan). the texture and taste of this potato sev recipe is not like aloo bhujia. The taste is like that of a spiced sev. They are crisp and Chatpata.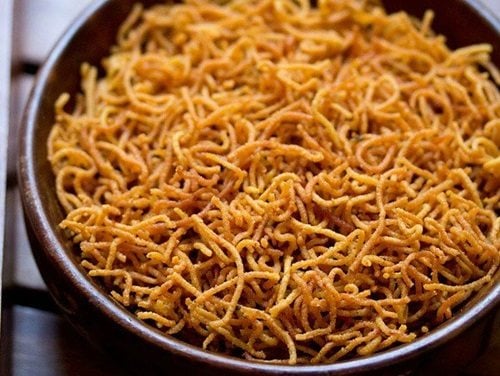 24. Sev recipe – crisp, thick sev made from gram flour and spices. This is a quick, savory snack prepared during Diwali. the taste of this besan sev is medium spiced and the texture is crisp. Besan sev can be served as tea time snack.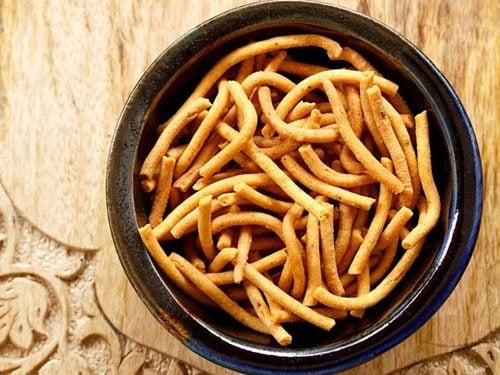 25. Oats chivda recipe – a quick and delicious Diwali snack made from quick cooking oats and flavored with dry fruits, green chilies and spices. In this chivda recipe, oats and nuts are fried. Then spices are tempered and everything is mixed. Another healthy variation is this Roasted oats chivda recipe.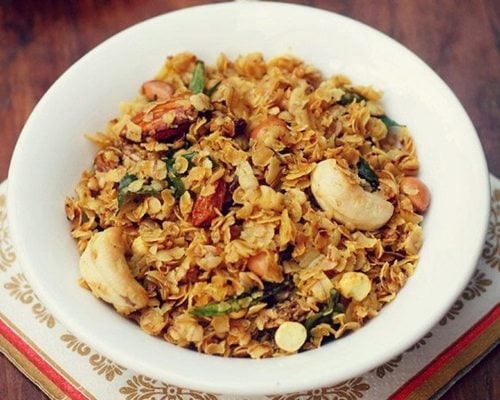 26. Punugulu recipe – punugulu or punukulu are crisp fried snack from the Andhra cuisine. These fritters are made with idli batter or dosa batter.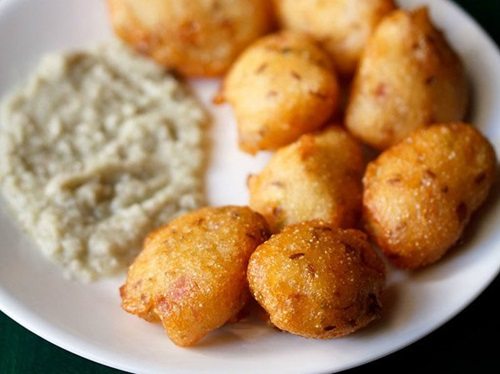 27. Veg vada recipe – crisp vadas made with chana dal and chopped mix veggies. usually I add spare or leftover veggies from the fridge in the vadas. You can add your choice of veggies also.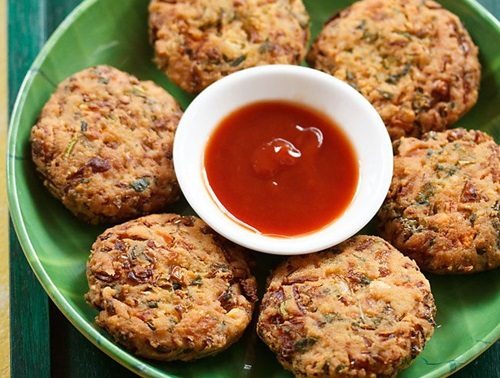 28. Unniyappam recipe – unniyappam are sweet fritters made with rice, banana, a few spices and coconut. Unniyappam is one of those special sweets snacks from Kerala and are also served in the onam sadya. Unniyappam are also offered as prasad in some temples in Kerala.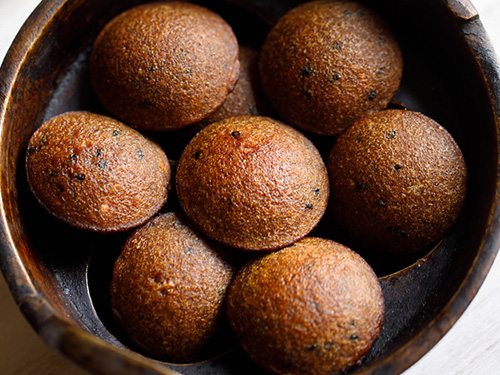 29. Wheat appam recipe – quick sweet appams made with whole wheat flour, bananas and jaggery. these appams make for a nice evening snack. They stay for a week in the fridge. From the recipe I got about 40 appams.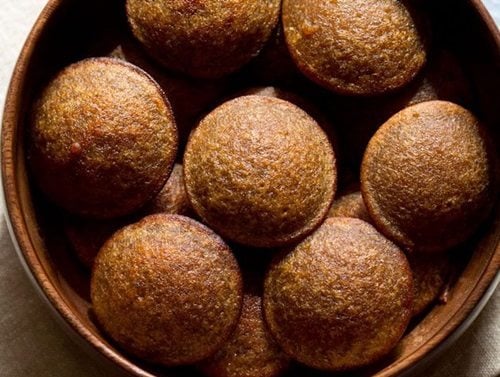 30. Banana appam recipe – sweet appams or paniyarams made with ripe bananas, rice flour and jaggery. these banana appams make for a healthy sweet snack. I used over ripe bananas to make these. Though you can even use ripe bananas.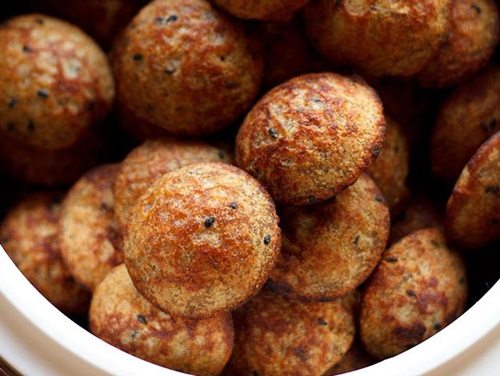 31. Sweet paniyaram recipe – crisp, soft and porous sweet paniyaram made with leftover idli batter. Vegan and gluten free snack. paniyarams are a nice snack or a tiffin variety that you can make with leftover idli batter.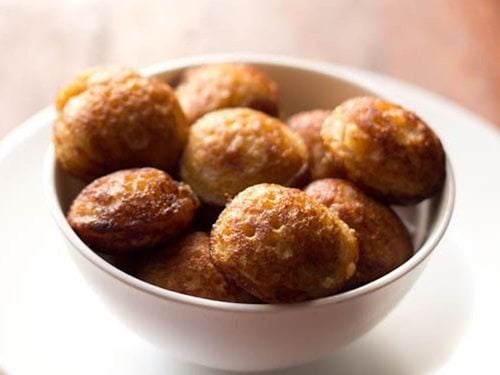 32. Puran poli recipe – its one of the most popular Maharashtrian recipe which is made during Ganesh Chaturthi or Diwali or any other festive occasion in maharashtra. puran poli is a flat bread stuffed with a sweet lentil filling made from chana dal (skinned spilt bengal gram) and jaggery. You can also check this Bobbatlu or Holige recipe.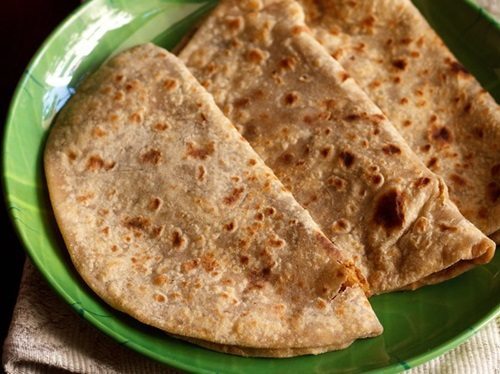 33. Coconut macaroons recipe – quick three ingredient 30 minute recipe (baking time included) of coconut macaroons made without eggs.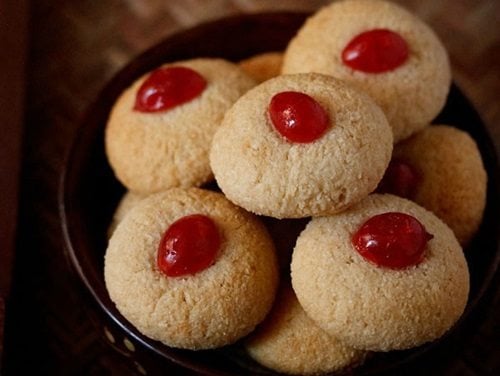 34. Dry fruits karanji – deep fried pastry made from whole wheat flour & stuffed with mawa, dry fruits, poppy seeds and desiccated coconut. the best karanjis are the ones which have a flaky, crispy exterior with a delicious filling inside.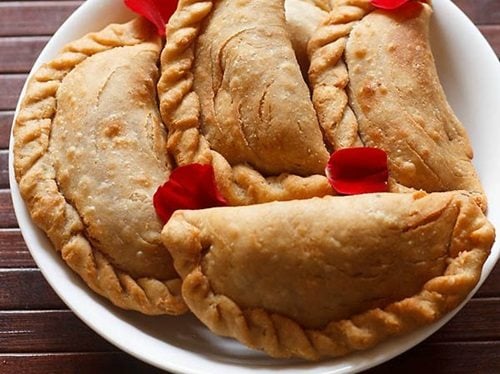 35. Chocolate chip cookies recipe – soft textured and a slight chewy chocolate chip cookies made without eggs. These cookies are made from whole wheat flour or atta. The flour which we use for making rotis.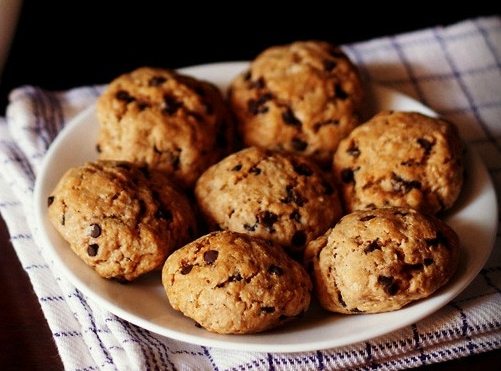 36. Kalkal recipe – a deep fried sweet pastry that comes from the Goan cuisine. Kalkals have a flaky as well as soft melt in the mouth texture. kalkal are made with all purpose flour (maida) and ghee. Then they are deep fried and then sprinkled with powdered sugar. Another popular sweet snack from Goan cuisine which is made for Diwali festival is this Nevris recipe.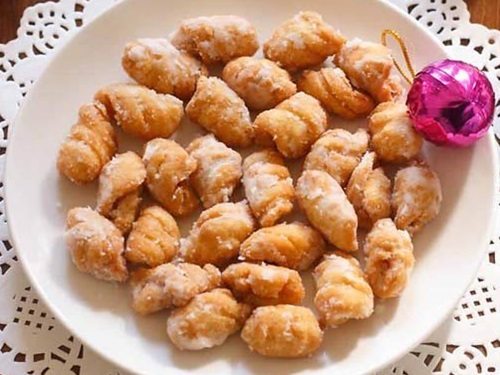 37. Yereappa recipe – yereappa are appams or sweet dumplings, a gluten-free sweet dish, prepared using rice, jaggery and coconut. yereyappa is crunchy, juicy, sweet and flavorsome all at once. once you taste it, you cannot stop at one! you will keep coming back to it to finish off the whole lot. With addition of some banana, it will taste simply amazing.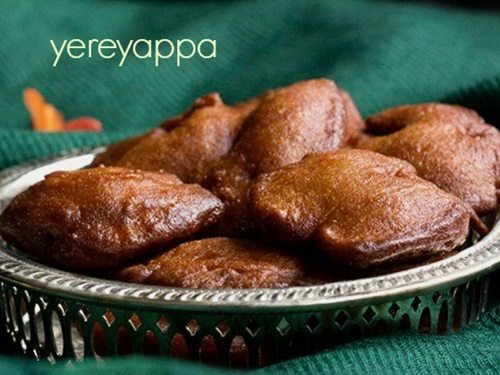 38. Paniyaram recipe – spiced dumplings made from left over idli batter. paniyarams can be made plain, spiced or sweet. They are crisp from out and soft from within. They are vegan and gluten free as well.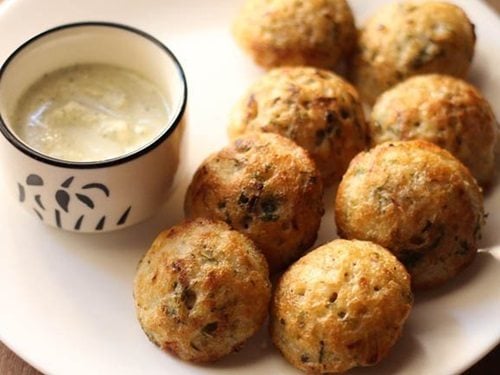 39. Bhakarwadi recipe – bhakarwadi is one of the popular snack from western India. Bhakarwadi are fried and crisp pinwheels or spirals. Bhakarwadi are addictive and have a sweet, spicy and tangy taste.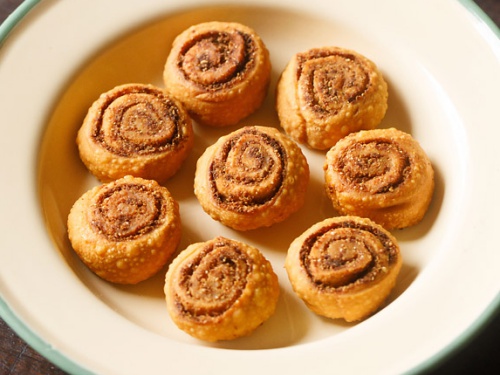 40. Dhokla recipe – dhokla is a very popular snack from the Gujarati cuisine. This dhokla recipe is fermented and made with chana dal and rice batter. They taste too good and make for a delicious snack.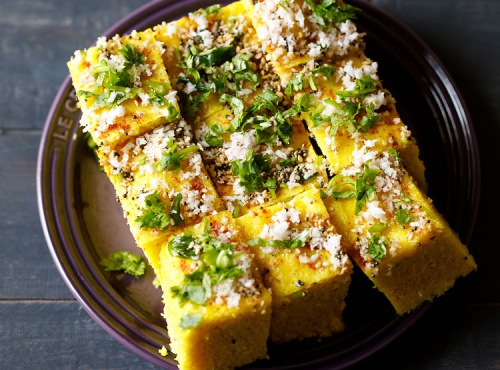 42. Omapodi recipe – omapodi is a South Indian snack of sev laced with the aroma and flavor of ajwain or carom seeds (known as omam in tamil language). Omapodi is very easy to make and does not need much expertise in cooking. Usually various types of sev are made during Diwali. Omapodi is one such savory dish that is made as a Diwali snack.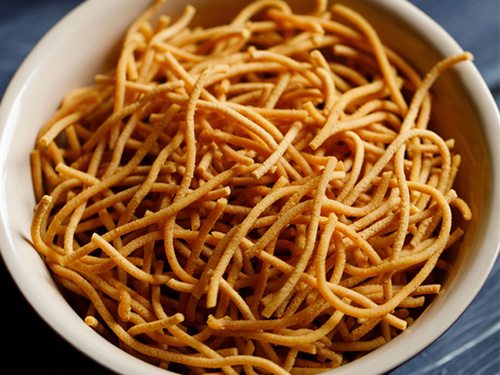 Chaat snacks recipes for Diwali festival
1. Aloo tikki chole – crisp & browned spiced potato patties served with a spicy North Indian chickpea curry along with a green chutney and sweet chutney with some tidbits.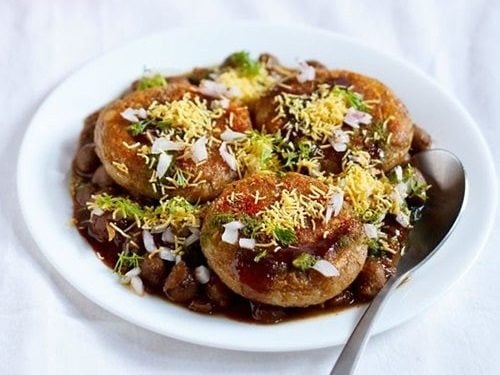 2. Samosa chaat recipe – lip smacking chaat recipe with Samosas, Chana masala, various chutneys and spices.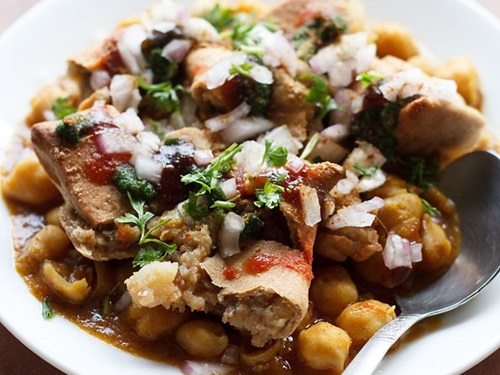 3. Dahi bhalla recipe – a popular snack in north India, particularly in Delhi and Punjab. Dahi bhalla are slightly different from dahi vada. In dahi bhalle, papdis, boiled potato cubes and cooked chickpeas are added which add different textures, taste and flavor to the dahi bhalla.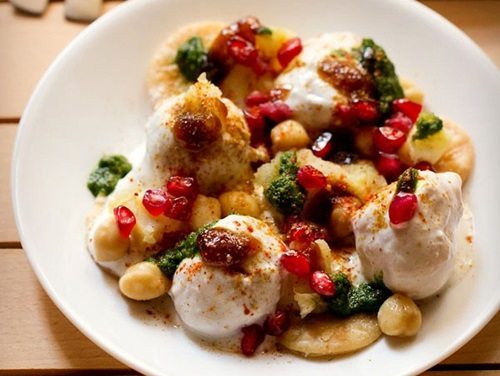 4. Dahi papdi chaat recipe – a popular chaat snack which is sweet, spicy and tangy. in this dahi papdi chaat, you will get to taste the sweetness of the curd, crispiness of Papdi, soft melt in the mouth boiled potatoes and not to forget the Indian spices which adds their own zing, tang and spiciness in the dish.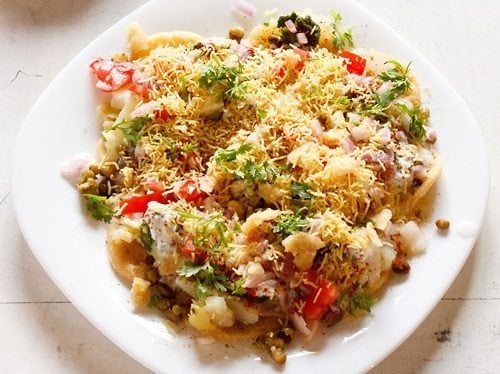 5. Ram ladoo recipe – a popular street food snack from Delhi. These are basically fried pakoras or vadas made from moong dal and chana dal batter. However they are called as ram ladoos.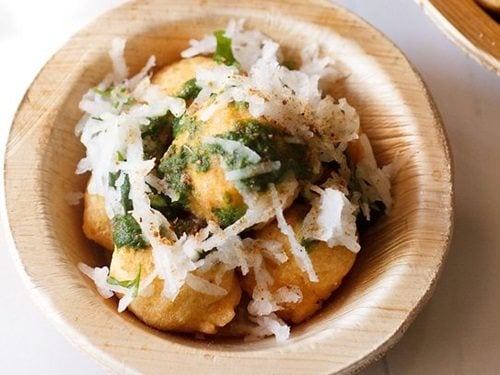 6. Aloo chana chaat recipe – spicy, tangy, sweet chaat recipe made with boiled potatoes and white chickpeas (safed chole or chana). the chana chaat recipe can also be made into a salad. Just add some grated carrots, blanched french beans, beetroots, zucchini to the chaat. Skip the papdi and sev, if serving as a salad.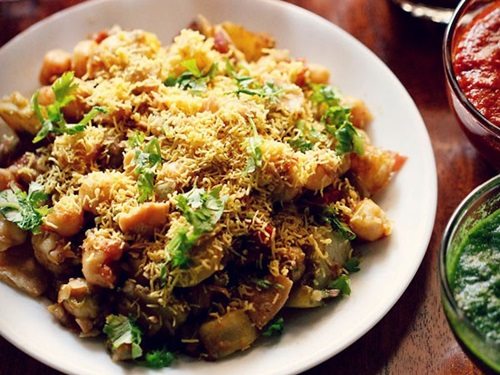 7. Dahi puri recipe – a yummy chatpata chaat snack from Mumbai. This chaat has its name dahi sev batata puri, since dahi (yogurt), sev (fried thin gram flour vermicelli), batata (aloo in hindi or potato in english) and puris are used to make this awesome snack.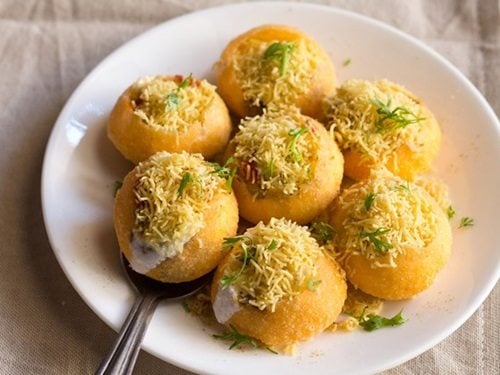 8. Dahi vada recipe – popular North Indian street food snack where lentil dumplings are dunked in a creamy whipped yogurt topped with spicy and sweet chutneys.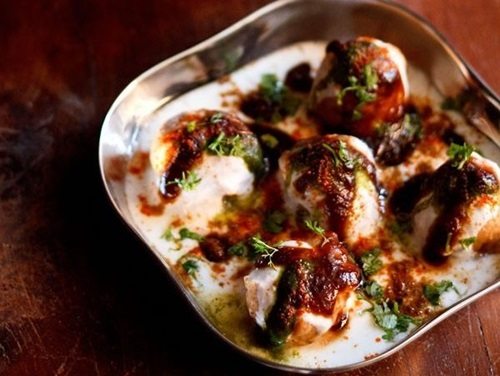 9.  Dahi aloo tikki recipe – a popular street food snack of potato patties topped with yogurt, sweet tamarind chutney, green chutney and spice blends.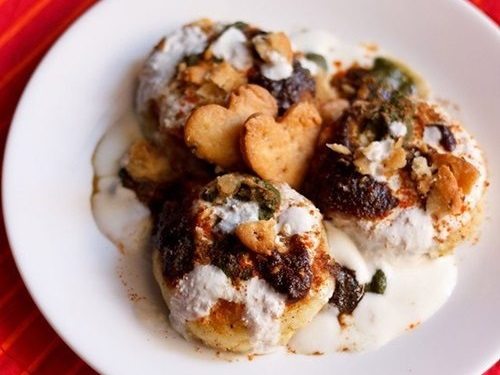 10. Masala puri recipe – masala puri chaat is a chatpata, spicy, tangy and tasty street food snack from bangalore. To make masala puri, you need to have the Golgappa or puri which are used in making Pani puri. a spicy gravy is made from dried white peas. The recipe bears semblance to Ragda chaat, but the taste is totally different.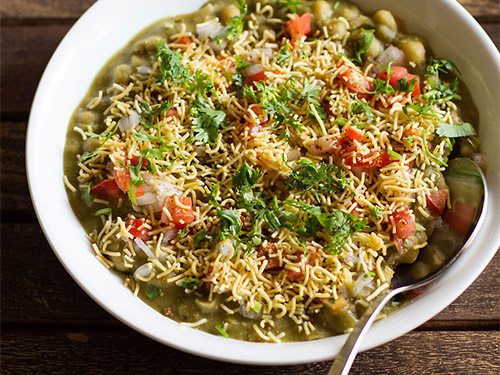 11. Pani puri recipe – a popular street food of India, where crisp fried dough balls are stuffed with potatoes, sprouts, spicy tangy water and sweet chutney. With so many burst of tastes and flavors in your mouth when you have pani puri, you just cannot have one :-). You can also check this Mumbai style pani puri recipe.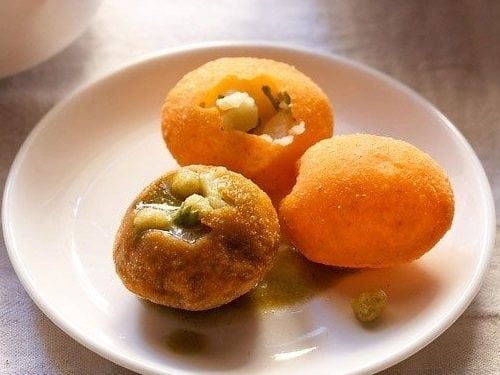 12. Ragda patties recipe – a popular street food snack from Mumbai. Crisp potato patties served on a bed of  white peas curry, herbs and spices. For more such recipes you can check this collection of 30 Mumbai street food recipes.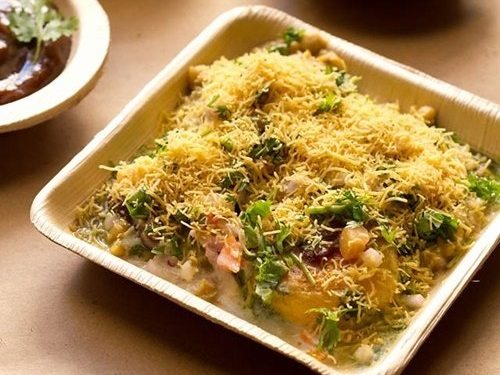 13.  Kala chana chaat recipe – this black chickpeas chaat is spicy, tangy and can be made more spicy, if you add some more chilies to it. This also serves as an excellent starter and can be served both warm and chilled.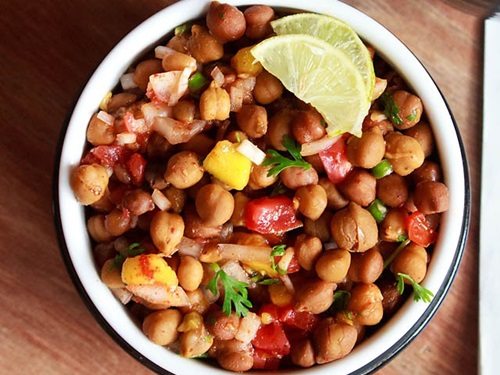 14. Bhel puri recipe – a crispy, soft, sweet, tangy, spicy mixture of many edibles like puffed rice, roasted peanuts, sweet chutney, green chutney, onions, tomatoes, sev etc. A snack that can be made in a jiffy if you have all the ingredients ready.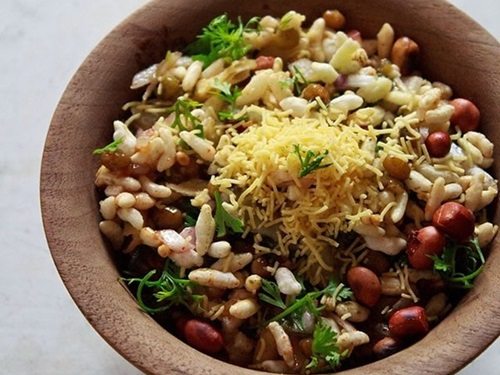 15 Sev puri recipe – a spicy, sweet and tangy street snack from Mumbai. its easy to assemble sev puris. Just that some of the ingredients need to be prepped up before you start assembling them.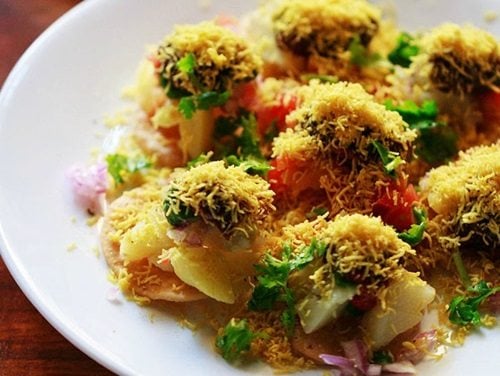 16. Jhal muri recipe – jhal muri is a tasty and very popular street food snack from Kolkata. Jhalmuri is made with puffed rice and other tidbits like roasted peanuts, onions, tomatoes, boiled potatoes, spice powders and herbs.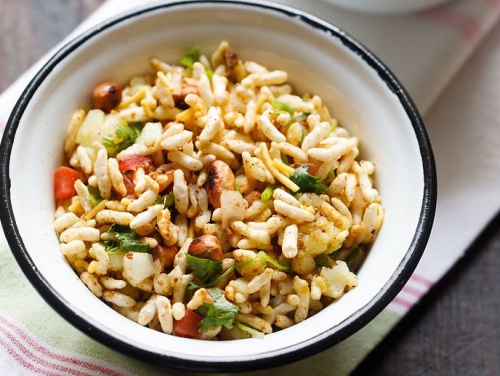 17. Katori chaat – katori chaat also known as tokri chaat is a popular chaat snack from north India. Fried potato baskets are topped with cooked chana, boiled potatoes, sweet and spicy chutneys, curd and a few spice powders.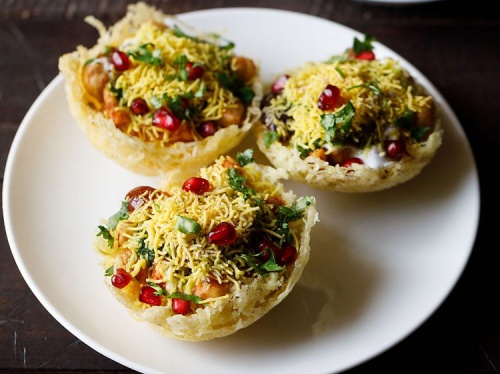 18. Raj kachori – raj kachori is aptly called as the king of all kachoris or a king sized kachori simply because it is royal, rich and splendid dish. The raj kachori recipe I am sharing is A slightly simplified or easier version as I have not added any lentil or besan (gram flour) stuffing in the kachori. Instead I have added the besan (gram flour) in the dough.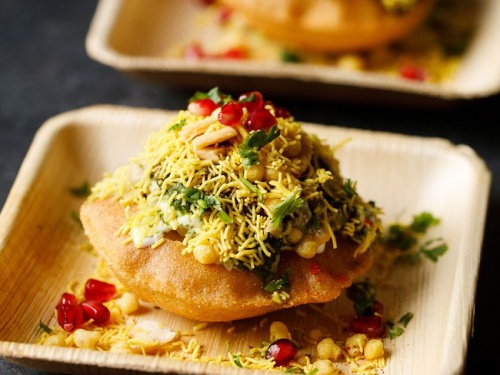 Note: for more tasty chaat recipes you can check this collection of 32 chaat recipes.
Popular snacks recipes for Diwali party
1. Dal vada recipe – yum and a favorite South Indian snack made with chana dal or bengal gram. We love to have these vadas with coconut chutney or tomato ketchup. These are so good and addictive that you cannot stop at one.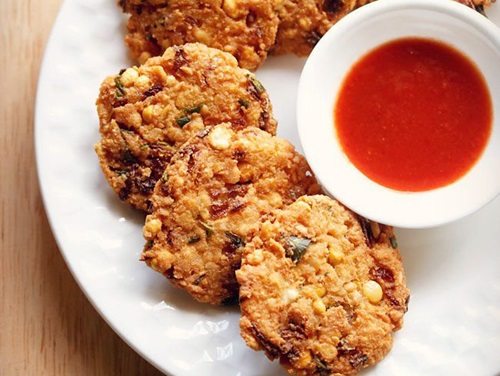 2. Thayir vadai recipe – thayir vada is the South Indian variation of dahi vada. It is very different in taste than the North Indian dahi vada. Mainly as sweet chutney and green chutney is not added. Thus the taste of thayir vadai is spiced and sour.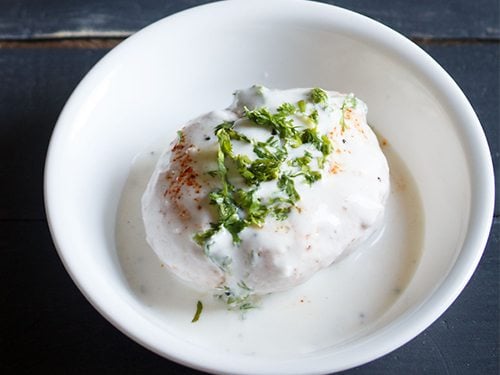 3. Dahi kabab recipe – crisp, soft and tasty kababs made with dahi or curd. Here the dahi used is hung curd. to make dahi kababs you need to use fresh curd which has been chilled for some hours. The curd should not be sour.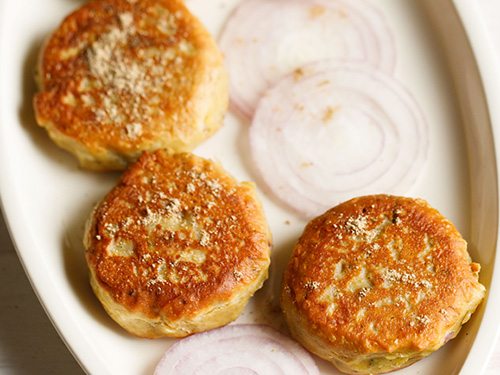 4. Paneer tikka recipe – easy and fool proof recipe of a delicious paneer tikka on tawa or stove top or griddle. if you don't have a tava then you can also make this tikka recipe in a frying pan. Few other delicious tikka recipes you can make for Diwali party are: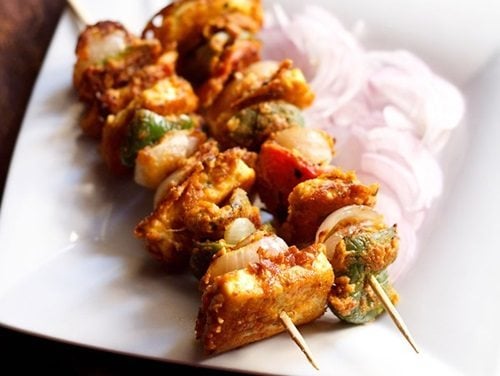 5. Plain bread pakora recipe – a very popular and quick breakfast snack. In this bread pakora recipe, there is no stuffing involved. Just dipping the bread in the gram flour batter and frying them. Easy and quick.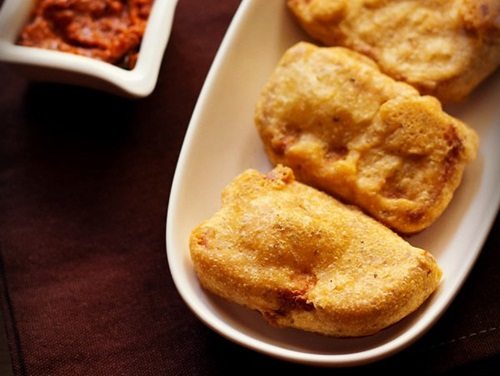 6. Khaman dhokla recipe – khaman dhokla or khaman as its called, Is a savory steamed cake made from gram flour. Khaman is soft and fluffy, mildly tangy-sweet and a great snack anytime of the day.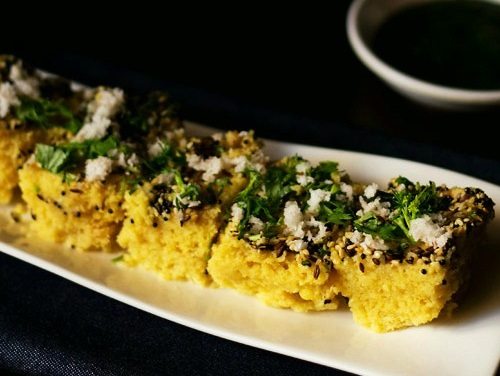 7. Koraishutir kachori – fried bread with a mild and sweet green peas stuffing. A popular Bengali breakfast as well as snack. serve Bengali matar kachori just plain or with aloor dum or cholar dal.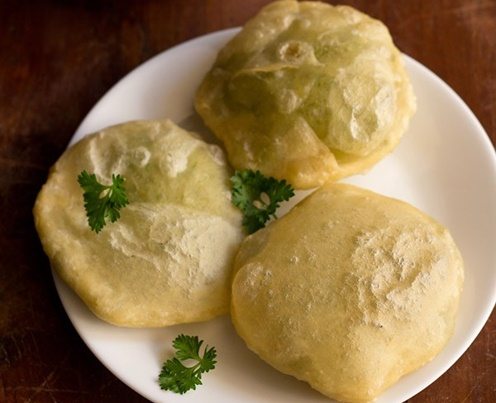 8. Veg bonda recipe – deep fried snack of stuffed mix veggies coated with gram flour batter (besan). as the name suggests mix veggies are added. To make these addictive snack, you can add your choice of mix veggies. I added carrots, potatoes and peas. I always add these three veggies. if there is cauliflower, then I add some of it too. You can also add capsicum and beetroots.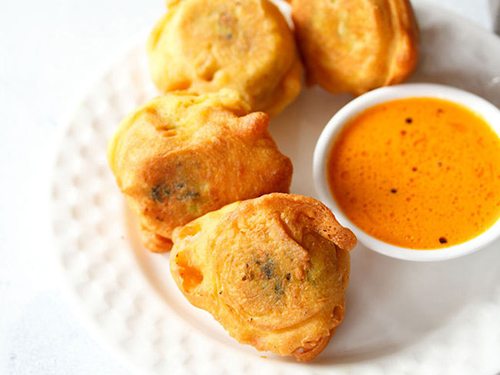 9. Goli baje recipe – goli baje also called as Mangalore bajji and Mangalore bonda is a popular streed food snack from the Karnataka cuisine. These are like soft and spongy fritters made with all purpose flour, spices and herbs.
10. Khatta dhokla recipe – fermented, steamed, savory rice and lentil cakes which are light, spongy, porous and a bit sour. So they are a good gluten free snack and nutritious too. There is a hint of the taste & flavors of green chili and ginger in the dhokla. So they are lightly spiced too. they do come close to our favorite South Indian breakfast snack idli. However they are sour, more spongy and spiced unlike the humble idlis. Khatta dhokla taste awesome with some sweet chutney.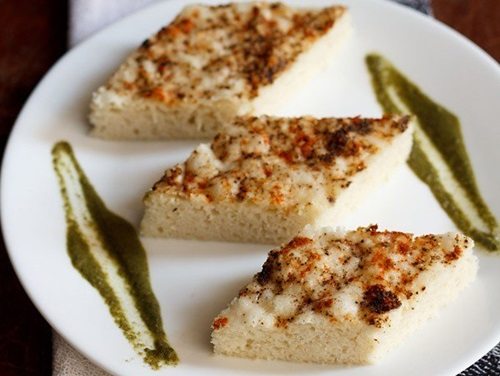 11. Maddur vada recipe – maddur vade are crisp fried patties which are served as an evening snack in Karnataka. This tasty and popular snack is made with a mix of rice flour, cream of wheat, all purpose flour, onions and some herbs-spices. Maddur vade are addictive and you cannot stop at eating just one. they are usually served with coconut chutney and this combo is awesome.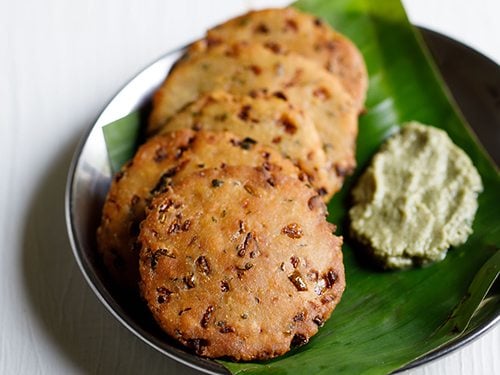 12. Gobi 65 recipe – spicy starter snack of fried cauliflower florets. The genre of 65 recipes are pretty popular in southern parts of India. apart from gobi 65, you can also make Aloo 65 Or Mushroom 65.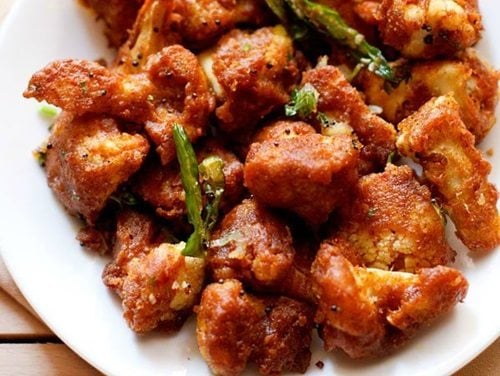 13. Aloo tikki recipe – popular North Indian snack of spiced, crisp potato patties. In western India, aloo tikki is known as aloo pattice or aloo patties. The method of making them is same but the spices and the stuffing added in them differs, according to the region.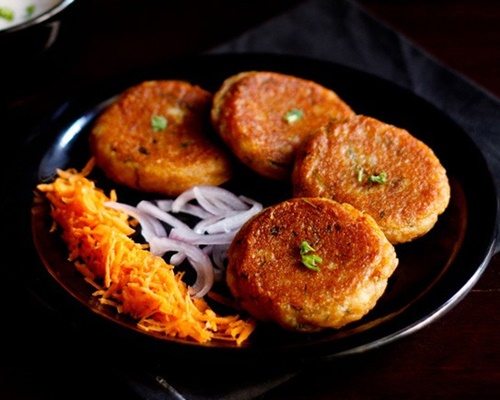 14. Khandvi recipe – soft and melt in mouth spiced and tempered rolls made from besan batter. Preparing khandvi is slightly tricky, but once you get it right, its one of the most easiest snack one can make.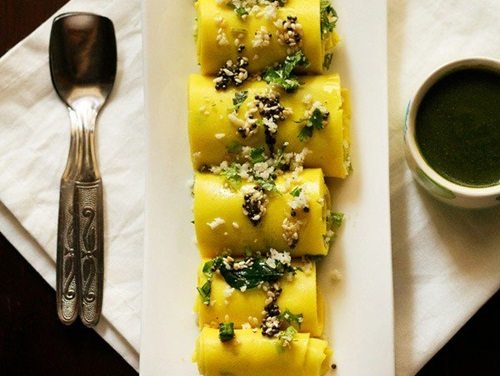 15. Rava dhokla recipe – steamed, soft and fluffy cakes made from rava. This is an easy, quick and instant rava dhokla recipe and does not require fermentation.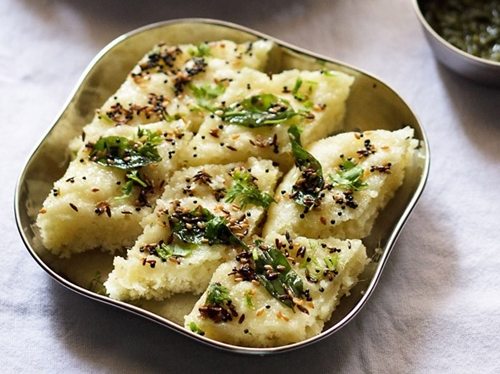 16. Paneer pakora recipe – these tasty paneer pakoras are crisp from outside and soft from inside. You can have them as a snack or serve with rotis or bread. Paneer pakoda is a popular pakora variety. Other popular Pakora varieties you can make for Diwali party are: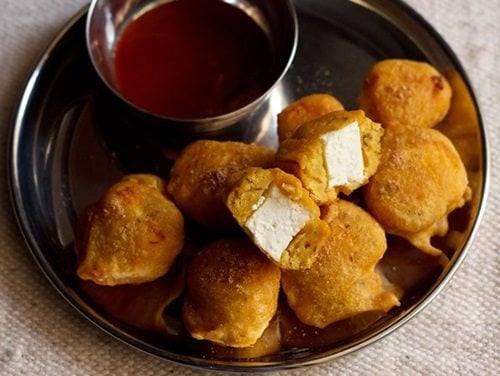 17. Aloo pakora recipe – Potato fritters or Batata bhajji as I call them has always been a favorite snack at home. Cooked soft melt in the mouth potato slices, golden and crisp served with some coriander chutney & tamarind date chutney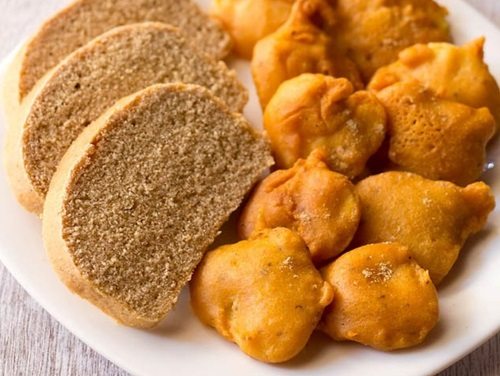 18. Rava dosa recipe – easy crisp dosa made with semolina (sooji), rice flour and all purpose flour (maida). the best part of making instant rava dosa is that it does not require any fermentation and is very easy to make. Rava dosa can be served with potato sabzi, sambar and coconut chutney.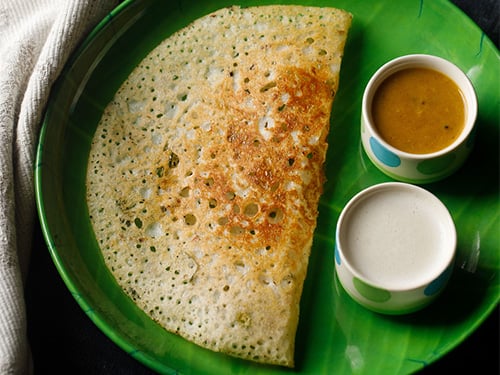 19. Masala dosa recipe – delicious recipe of restaurant or hotel style masala dosa, where the dosa is crisp and served with a delicious potato masala. Recipe post shares both the method of preparing dosa batter as well as the potato masala.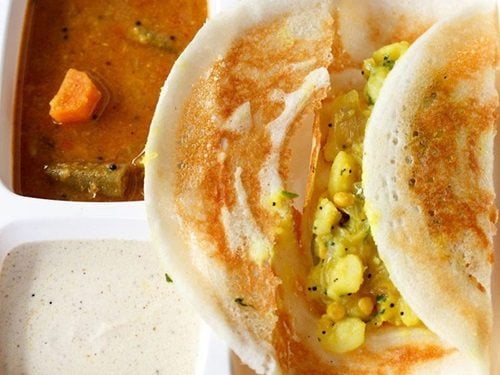 20. Onion pakoda recipe – onion fritters made with gram flour are a popular Indian street food. It is one snack that is easy to prepare and tastes good too. Onion pakoras are usually served with some fried salted green chilies and green chutney or sweet chutney. Few more yummy variations of onion pakoras are: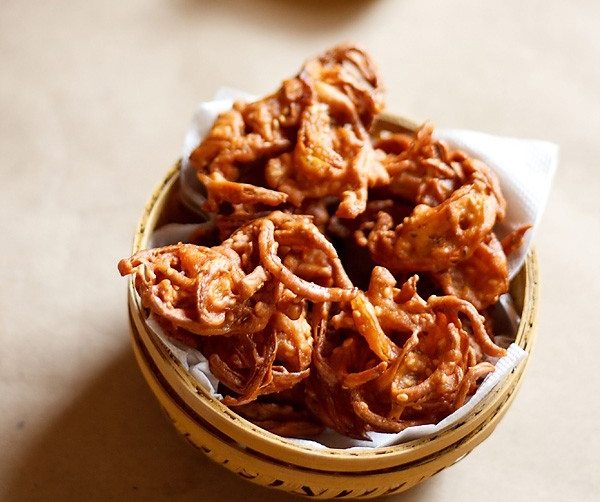 21. Kachori recipe – flaky kachoris made with spiced moong lentils stuffing. Kachoris can be made and stored for a couple of days in the fridge. With this recipe you can also make kachori chaat.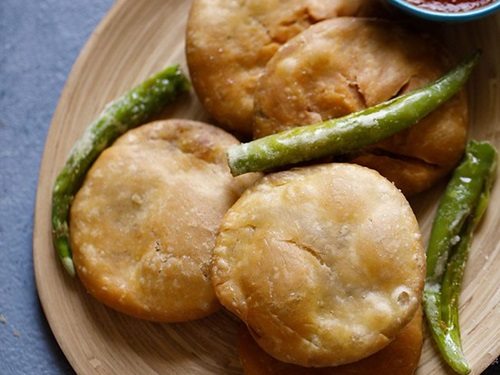 22. Kothimbir vadi recipe – kothimbir vadi is a delicious savory crisp snack made with gram flour (besan), coriander leaves and spices. In marathi language "kothimbir" or "kothmir" stands for coriander leaves. The word 'vadi' means cubes or slices or wedges.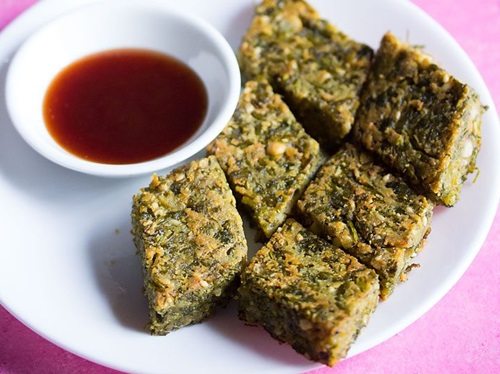 23. Radhaballabhi recipe – radhaballavi also known as radhaballabhi are tasty dal puris. These soft pooris are stuffed with a spiced dal filling. Basically luchis are stuffed with dal filling. the dal used is either urad dal or chana dal. In weddings generally chana dal is used. It is a popular street food snack in bengal and served with dum aloor. During durga pooja also radhaballavi is made.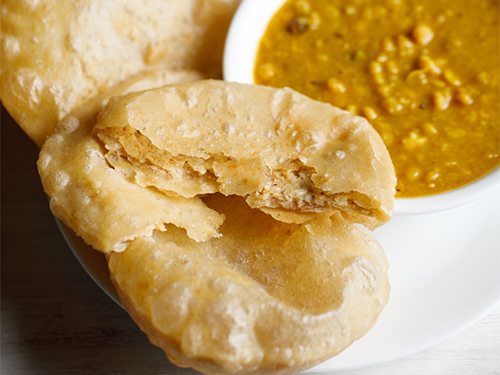 24. Urad dal kachori recipe – delicious snack of urad dal kachori, where a spiced filling of ground urad dal is stuffed in kachoris. these kachoris are so good, that you can even have them plain or with a mango pickle or fresh curd or even with mathura ke dubki wale aloo.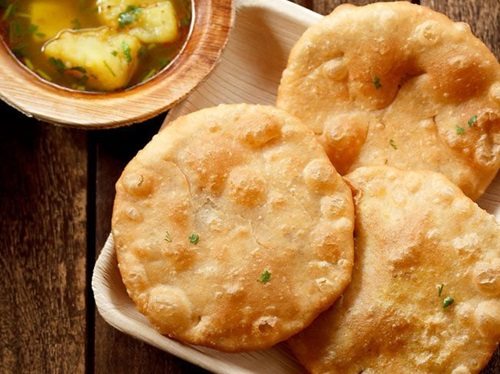 25. Mtr style khara bath recipe – savory, smooth and soft khara bhath made with mix veggies. you can serve mtr style khara bath with some lemon wedges and coconut chutney. Rava bhath can also be packed in tiffin box.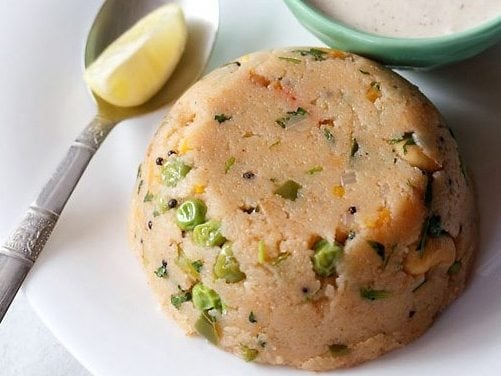 26. Batata vada recipe – a popular Maharashtrian snack of spiced mashed potatoes, coated with gram flour batter and then deep fried. Tastes best when hot and served with some fried & salted green chilies.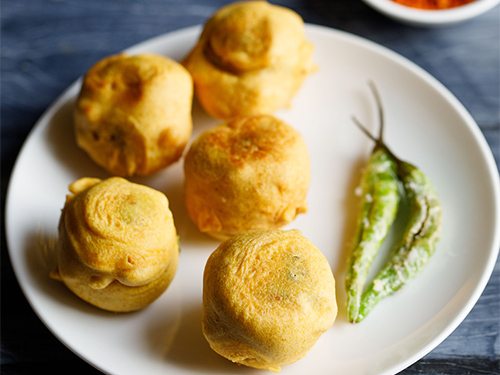 27. Veg sandwich – spiced street food snack of toast sandwiches from Mumbai. what adds spice to the veg sandwich is the spicy coriander chutney, black salt and chaat masala. For more tasty sandwich recipes you can check this collection of 36 sandwich recipes.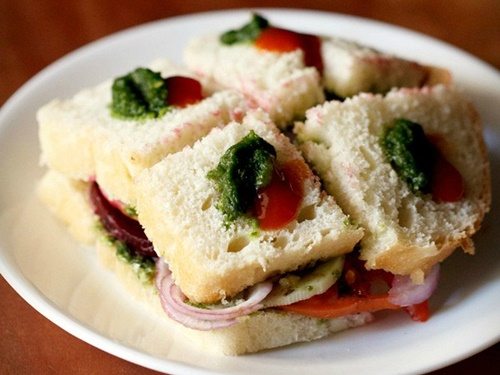 28. Farali batata vada recipe – delicious snack of potato vadas or potato bonda made for fasting or vrat. these batata vadas are made with minimal spices and batter coated and then deep fried. In spite of being minimally spiced, they still taste good. These farali batata vada make for a nice snack. Another popular Gujarati snack is this Farali pattice.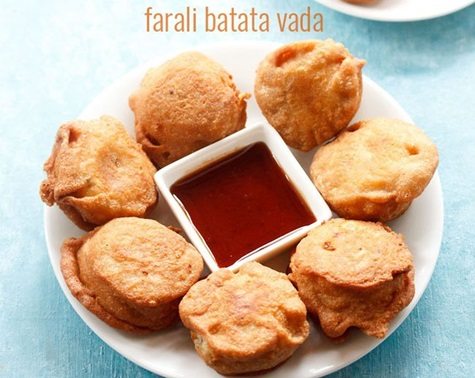 29. Matar kachori – flaky & crisp Indian pastries stuffed with spiced & mashed peas. in hindi matar means peas and kachori is the fried & flaky pastry. These are like spiced empanadas. the matar kachori filling can be varied from savory to sweet, from potato & peas to lentils and even onions.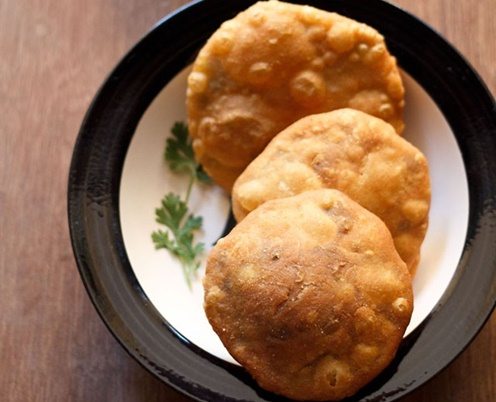 30. Hara bhara kabab recipe – tasty veg kabab made from spinach, peas and potatoes. Nutritious as well as delicious. hara bhara kabab is an easy finger food that can be served as a brunch or also as a starter. One which is light and not heavy.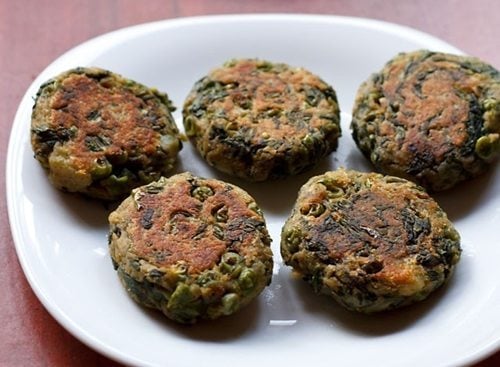 31. Paneer sandwich recipe – simple, easy and tasty breakfast or snack idea of grilled paneer sandwich. these sandwiches taste best when made with fresh paneer. For more popular Sandwich recipes you can check are: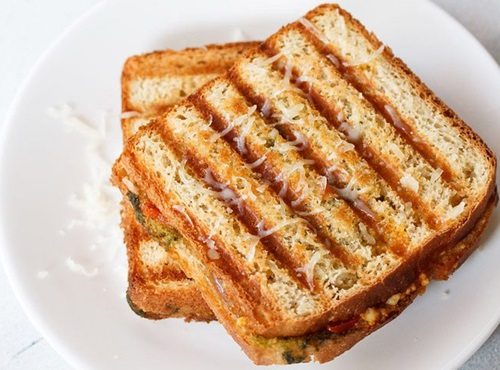 32. Methi muthia – methi muthia is another favorite snack from the Gujarati cuisine. Steamed & fried dumplings made from chickpea flour and fenugreek leaves.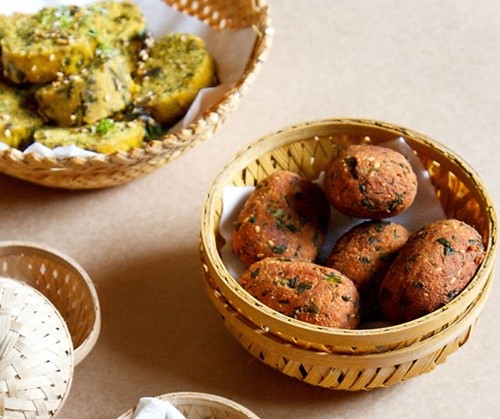 33. Veg chops recipe – one of the popular street food in bengal are these veg chops. These are addictive and no one can just eat one. basically these are veg cutlets with beetroot as one of the main ingredient.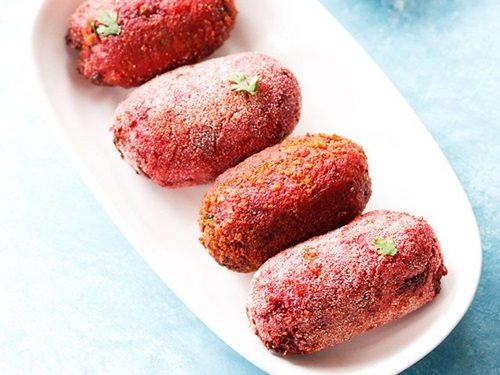 34. Methi thepla recipe – these are flatbreads made from fresh fenugreek leaves, whole wheat flour, gram flour and can be munched anytime of the day. You can serve methi thepla with plain yogurt (curd) or lemon pickle or mango pickle.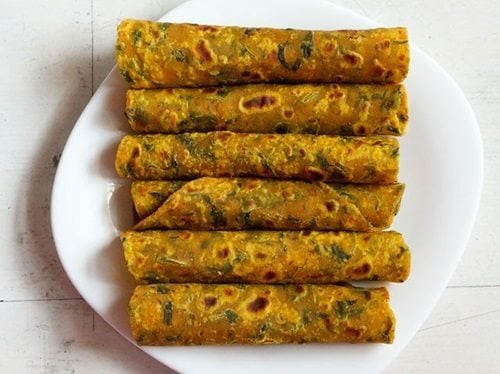 35. Bread roll – crisp bread rolls with a soft spiced mashed potato filling. A snack that can be made in a jiffy if you have leftover boiled potatoes. These bread rolls are a favorite at home and I usually pair them with the evening chai as a snack. in case you might be interested in the baked version, then you can check this Bread cheese roll recipe.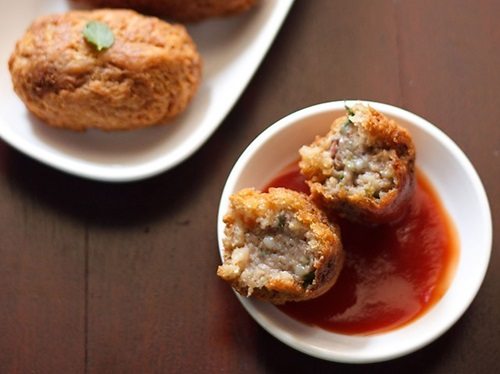 36. Aloo kulcha recipe – popular flat bread recipe from North Indian cuisine. aloo kulcha are crisp as well as soft leavened breads stuffed with a spiced potato filling. Kulcha is very popular in Delhi and the state of Punjab. I have also shared the recipes of:
37. Chole bhature – spicy chickpea curry served with leavened fried bread. Also called as chana masala, this lip smacking snack is popular in Punjab and parts of north India as well. If you are not in favor of having fried bhaturas or pooris, then you can serve the chole with tandoori rotis or naan.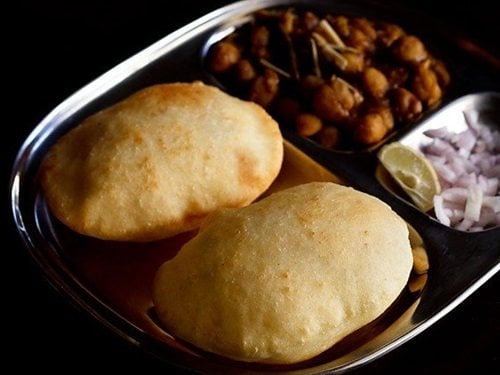 38. Aloo poori recipe – this yummy meal of poori with spiced potato curry is popular all over India. Each region has its own variation. In maharashtra its called as Poori bhaji and the potato curry is dry as compared to potato gravy served in north India. Masala poori is also very popular in south India. For south version you can check this Poori masala post. In north India, we love to dunk pooris not only in spiced potato curry but also in chole.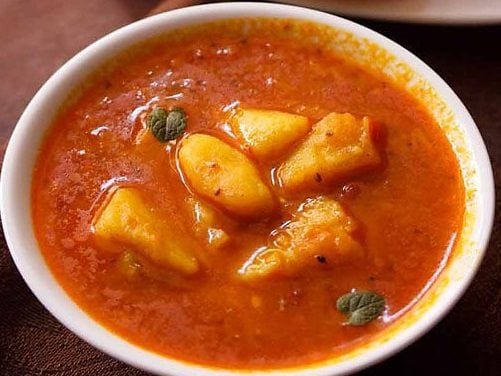 39. Instant paneer tikka recipe – this is a Quick recipe to make delicious paneer tikka at home. In this recipe, there is no time used up for marination. Just mix everything and then fry the tikka pieces individually or skewered in a tooth pic. The best part is you can shallow fry or pan fry the paneer tikkas. You can even fry the tikka on a tava or griddle. For more delicious paneer recipes you can check this collection of 78 Paneer recipes.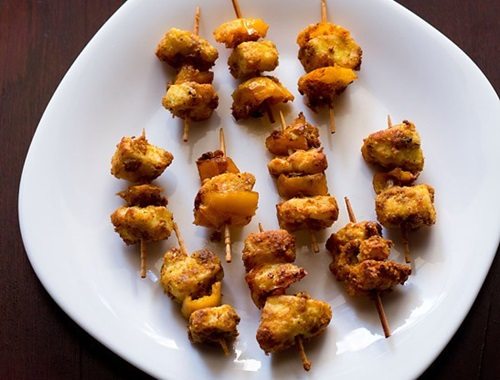 40. Chilli paneer recipe – one of the favorite dishes from Indo Chinese cuisine is chilli paneer. This chilli paneer recipe gives restaurant style taste and flavor. You can serve chilli paneer with Veg fried rice or Schezwan fried rice.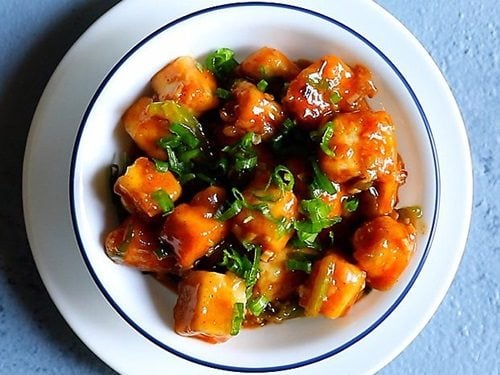 41. Bread pakora – bread pakora is stuffed with a filling of mashed & spiced potatoes, dipped in besan and deep fried. One can be innovative in making the filling. Though, mashed potatoes is a common filling used.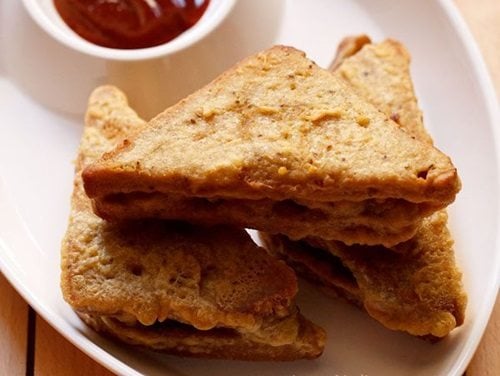 42. Dry gobi manchurian – popular Indo Chinese recipe of pan fried cauliflower florets coated with a spicy sauce. If you are looking for the gravy version then you can check this Gobi manchurian gravy recipe. other popular Indo Chinese starter snacks are: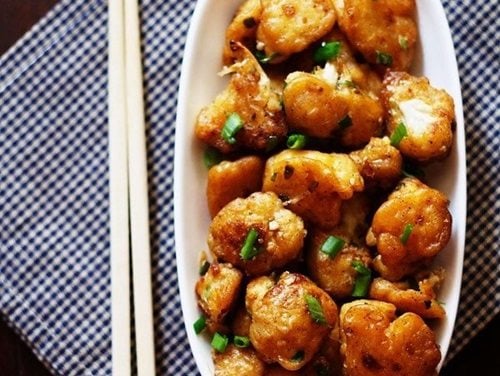 43. Bhatura recipe – bhaturas or bhature is one of the most popular Punjabi recipe. Bhatura are thick leavened fried Indian bread. Bhaturas are often eaten with chana masala and this combination of chole bhature is very tasty as well as popular all over India.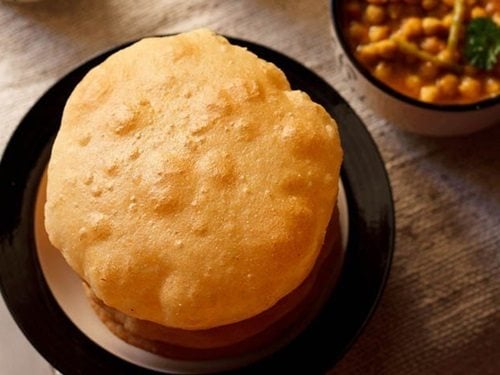 44. Dabeli – dabeli is a spicy, tangy and sweet potato filling inside a bun. dabeli is a Mumbai street food also popular in Gujarat.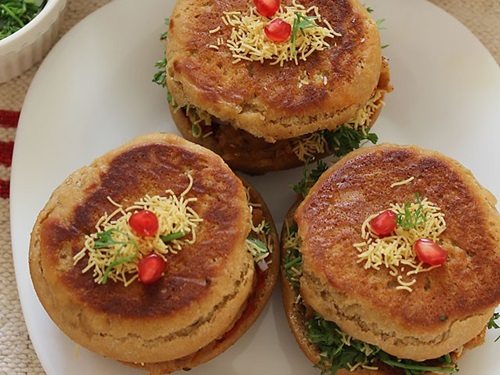 45. Aloo bonda recipe – deep fried snack made with gram flour (besan) batter and stuffed with spiced mashed potatoes. aloo bonda are the South Indian version of the popular Maharashtrian batata vada.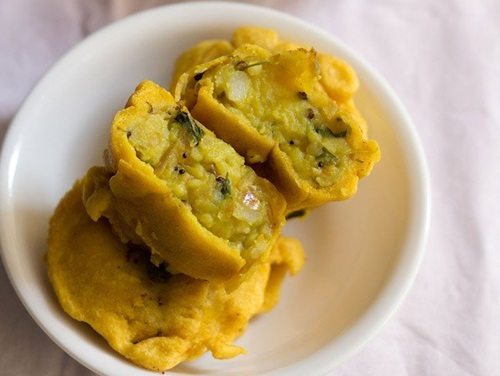 46. Dry veg manchurian – an Indo Chinese starter dish of fried veg balls in a spicy, sweet and tangy sauce. If you want to make the gravy version as a main course dish, then here is the link for Veg manchurian gravy recipe.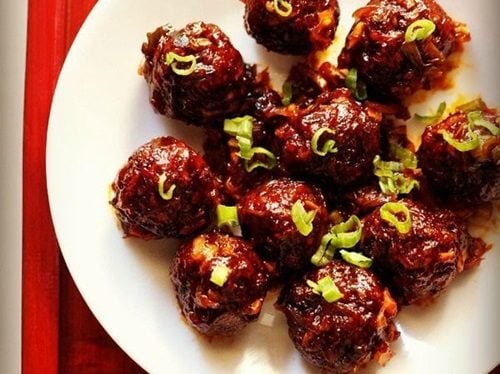 47. Mysore bonda recipe – crisp, soft and fluffy fritters made with urad dal. mysore bonda are quite similar to medu vada except for the fresh coconut pieces that go into the batter and the shape. The coconut pieces give a good texture and bite in the otherwise soft bonda.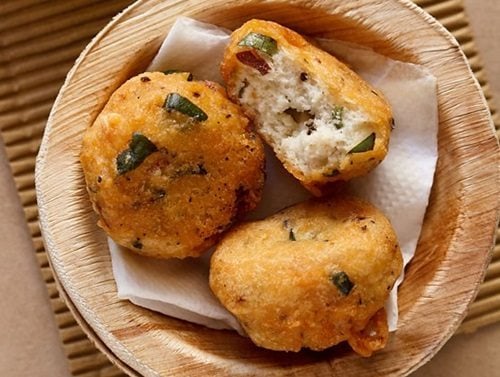 48. Garlic bread recipe – a super easy recipe of making garlic bread on a tawa or frying pan and without the oven. usually I make garlic bread as an accompaniment to Soups or as a starter. But they equally taste good with tea or coffee. For more such snacks recipes you can check this collection of 22 Bread snacks recipes.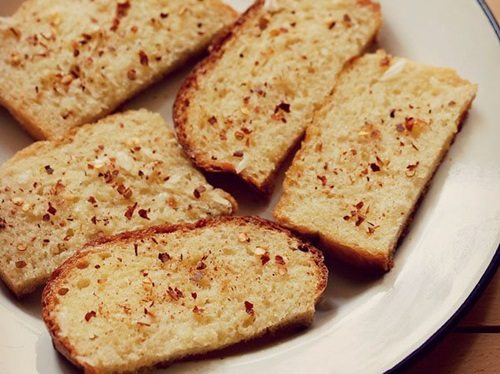 49. Veg cutlet recipe – crisp veg patties made with mixed vegetables. You can use vegetables like potatoes, peas, carrots and french beans. you can serve these vegetable cutlets with Tamarind chutney or Mint chutney or Coriander chutney. you can also sandwich them in a Burger or Bread slices. top with sauce and veggies of your choice and serve.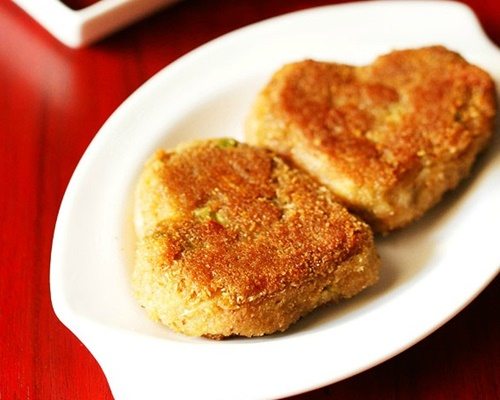 50. Pazham pori recipe – a delicious sweet snack from Kerala made with ripe bananas. Banana slices are coated in an all purpose flour batter and then deep fried.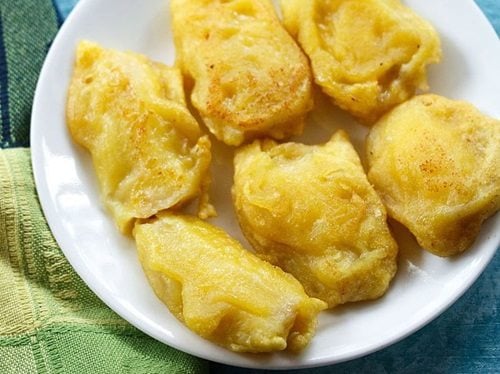 51. Masala vada recipe – South Indian spiced fritters made with chana dal. the method of preparing masala vada is similar to Falafel. instead of ground white chickpeas, chana dal is used here. The spices and herbs added here are also different than what is added in falafel. usually I serve masala vada with our evening tea or coffee and at times with coconut chutney or tomato ketchup.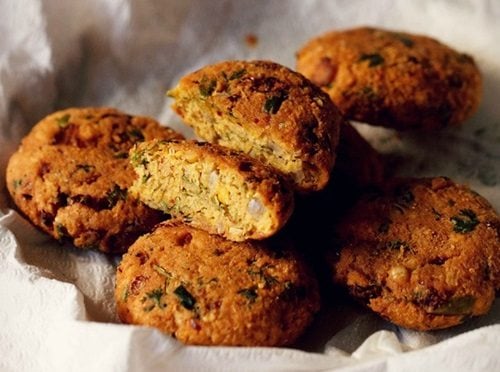 52. Achari paneer tikka recipe – yet another variation of the popular paneer tikka flavored with pickling spices. if you enjoy biting into pickle and relishing the sour taste of lemon or mango then you will like this recipe. Few more tasty paneer snacks recipes on blog are: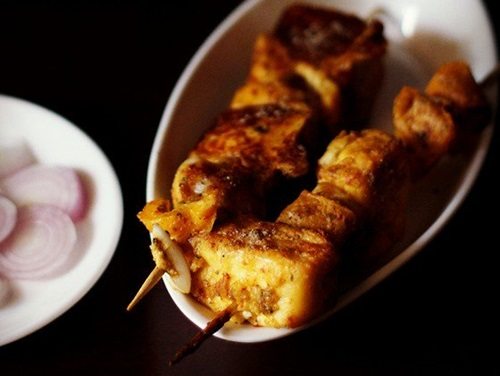 53. Pav bhaji in pressure cooker – easy method of preparing delicious pav bhaji using pressure cooker. you can also check this Mumbai pav bhaji recipe which is made in a pan (kadai). There are some recipes which can be made in pressure to save time.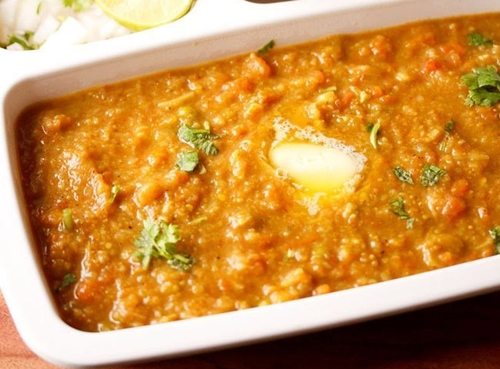 54. Aloo paratha – popular Indian breakfast of unleavened whole wheat flat bread stuffed with a spiced potato stuffing. You can serve aloo paratha with fresh curd or butter or mango pickle or Dal makhani. few more popular Punjabi paratha recipes on blog are: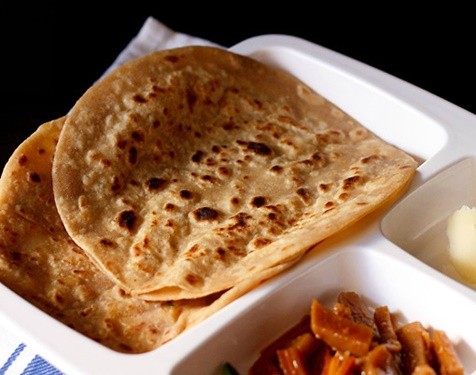 55. Paneer 65 recipe – quick and easy to make spicy paneer 65 recipe from Hyderabadi cuisine. In this recipe, I have kept everything easy and simple for a home cook.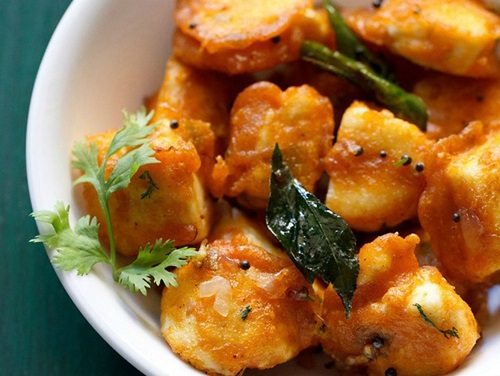 56. Corn cheese balls recipe – easy and a no fail recipe of corn cheese balls. i have shared both fried as well as baked version of cheese corn balls. You can also check this Cheese balls recipe.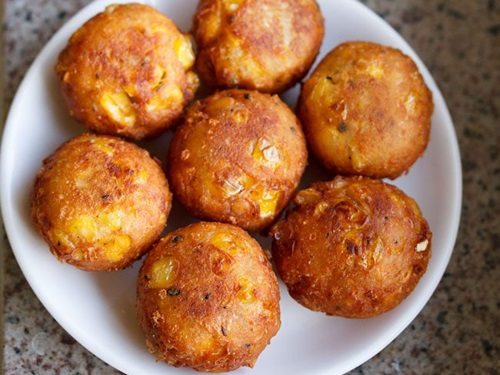 57. Fafda recipe – fafda is a fried crispy crunchy tasty snack made with besan (gram flour), laced with carom seeds and black pepper. A popular Gujarati snack.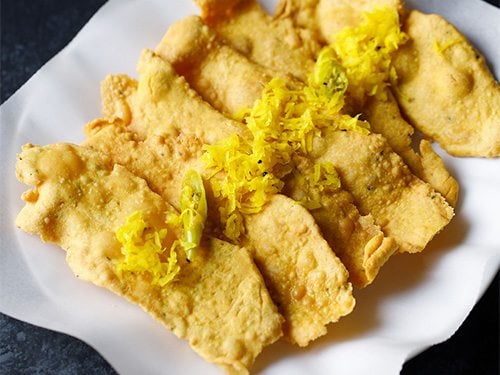 58. Benne dosa recipe – crisp, soft and buttery dosas from the davangere city in central Karnataka. These davangere dosas are not like the regular dosas. the taste as well as the texture is different. They are crisp and yet have a soft, light texture. Davangere benne dosa is usually served with a Potato filling (called as potato palya) and a Spicy coconut chutney.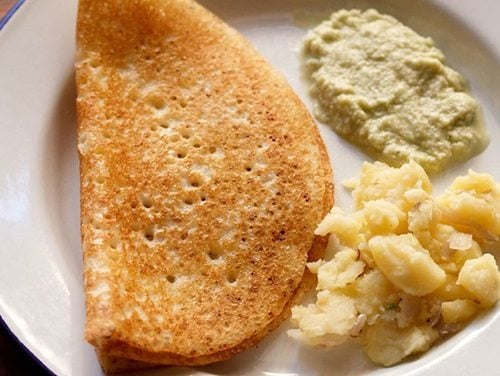 59. Rava uttapam recipe – easy and quick uttapams made with rava. Requires no grinding and fermentation. For making these uttapams, you will need fine sooji or rava. You can also check Onion uttapam and Oats uttapam recipe.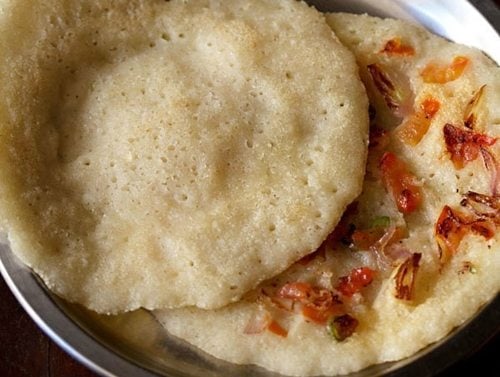 60. Mirchi bajji recipe – tangy, spiced, crunchy and tasty stuffed mirchi bajji. These delicious bajjis are also known as mirapakaya bajji in Andhra and is a well known street food there.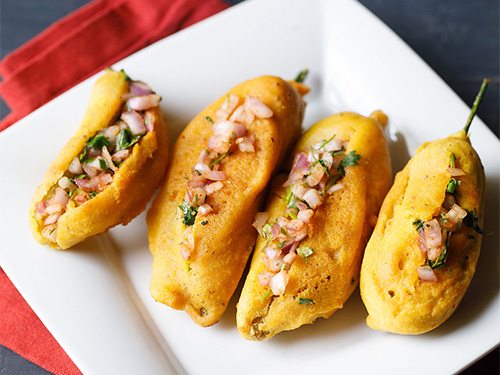 Wishing happy Diwali or deepavali to all my friends and readers.