Luchi recipe with step by step photos – luchi is loved by many foodies. To enjoy luchi you have to be a real foodie otherwise the idea of Poori made with all purpose flour and deep fried in ghee will always be at the back of your mind and you won't be able to enjoy these delicious fried bread from bengal.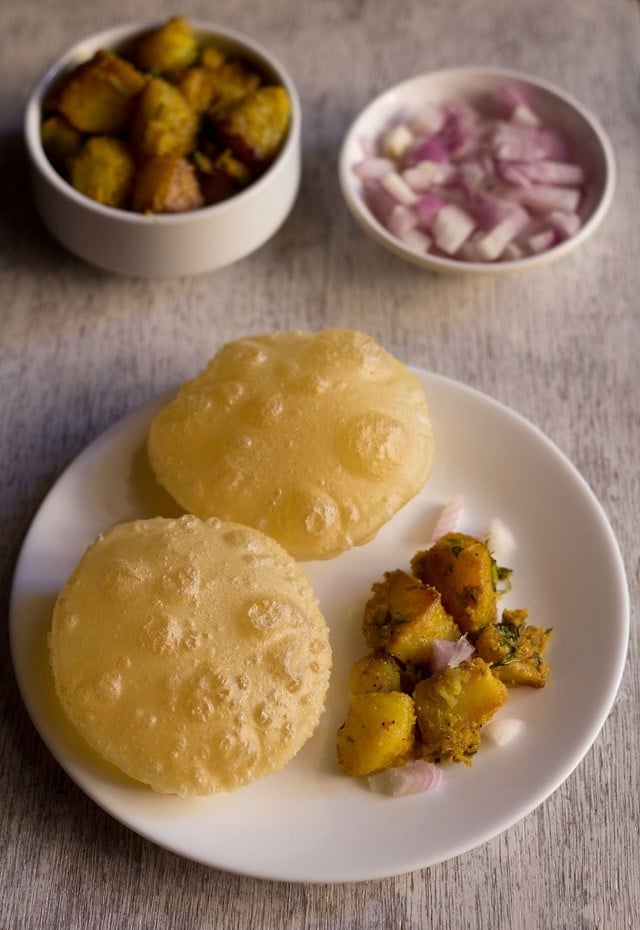 Traditionally, luchi is deep fried in ghee. I also know pooris are deep fried in ghee in parts of north India, but they are made of whole wheat flour. Whereas luchi has to be made with all purpose flour (maida). Even while kneading the dough, ghee or oil  is used. If you don't want to fry them in ghee then deep fry the luchi in oil, as I did.
I was resisting the idea of making luchi for a long time for obvious reasons…. However, since I wanted to post luchi recipe for durga puja celebration, so I had to break my resistance and I am glad I did it.
My family enjoyed luchi With Bengali dum aloo. The combo of luchi with Bengali dum aloo is just awesome. For a change you can even try having luchi with sooji ka halwa, aamras, Punjabi chole or aloo tamatar jhol. You can serve luchi hot with any of Indian curry or sweet pudding of your liking.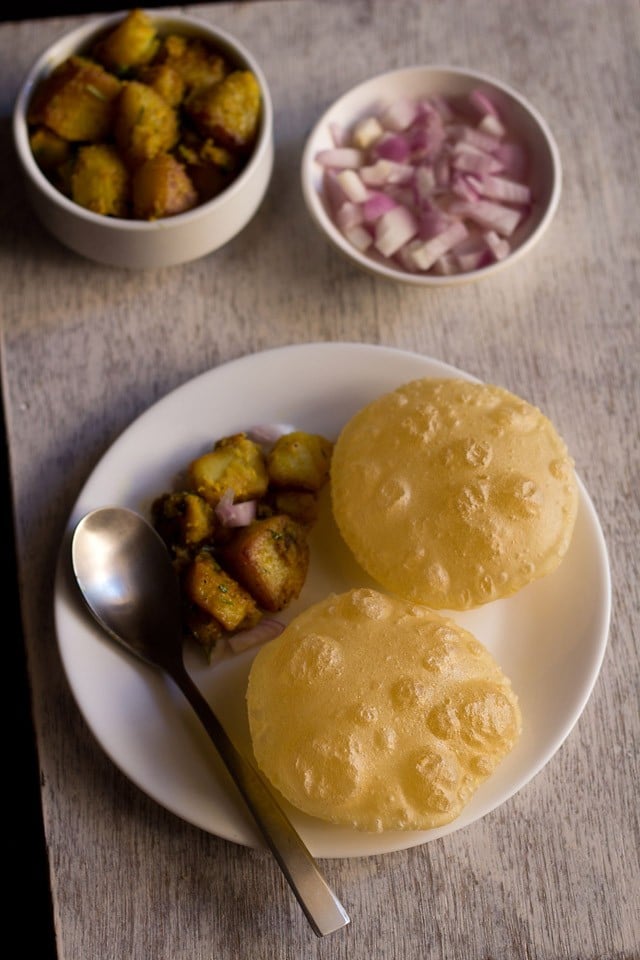 When I served luchi to my hubby, he said it is very soft and tastes a bit like the pooris served in hotels. No wonder for me as in hotels, they use good amount of all purpose flour in making pooris. Since it is cheaper than whole wheat flour and also make the pooris soft.
However, Luchi is much softer and delicious than the pooris served in hotels. Unlike pooris, the luchi is not browned and is creamish white in color. you might not able to make all the luchi puff up but they will be still soft and yummy…. Unlike their counterpart, whole wheat pooris which become crisp and dense, if not puffed up properly or when not eaten hot.
If you want your luchi to have a soft texture then be a little liberal with the ghee or oil while kneading the dough. In this recipe I have used 2 tbsp ghee or moyen as we call in Punjabi. The dough has to be kneaded really well and then allowed to rest for some time before making the luchi.
The best part of luchi is that you might feel like having more and more of them since they are made little smaller in size than pooris… So the idea of enjoying one more luchi is always tempting.
I think, its high time we start with the luchi recipe so that you can make it for yourself or for your family. Luchi can be made for breakfast, lunch or dinner but often made for breakfast.
Few more tasty recipes for you!
Please be sure to rate this recipe in the recipe card below if you have made it. For more vegetarian inspirations, Sign Up for my emails or follow me on Instagram, Youtube, Facebook, Pinterest or Twitter.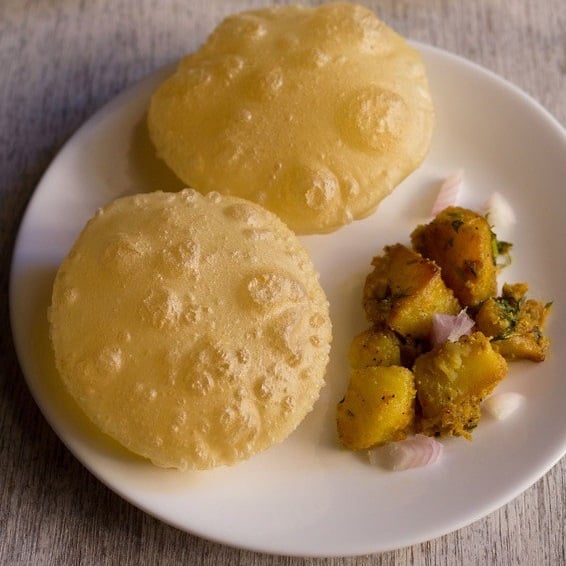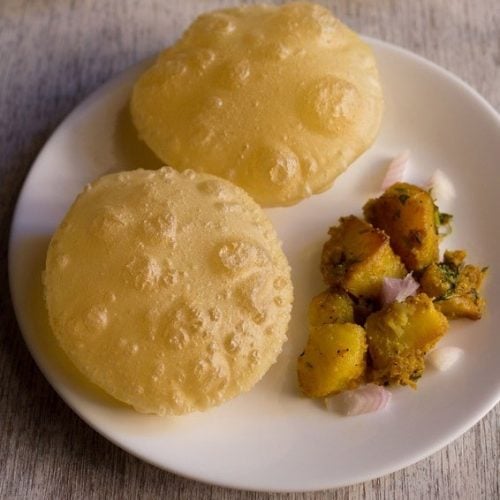 luchi recipe
Luchi is a deep fried and much loved Bengali bread. Luchi is made with all purpose flour, salt and ghee/oil.
2

cups

all purpose flour

2

tablespoon

Ghee

or 2.5 tablespoon oil

water as required

salt as required

ghee or oil for deep frying
Instructions
preparing dough for luchi
In a bowl or a large plate (tray) first add the flour, ghee and salt.

Add 1 or 2 tbsp water and mix everything with your hands or with a spatula.

Then add about 1/2 cup of water and begin to knead the flour.

Add water as required and knead very well. The dough should be soft and smooth.

Cover the dough with a moist kitchen napkin and let it rest for minimum 30 minutes at room temperature.
rolling and frying luchi
Make lemon sized balls from the dough and cover them with the moist napkin.

Apply some oil on the balls, roll each into a circle of about 3-4 inches.

Heat oil for deep frying in a kadai or pan. The oil has to become hot.

Drop a small piece of the dough in the oil and if it comes up steadily from the bottom, it means the oil is ready for the luchi to be fried.

Gently drop the dough circle into the hot oil. The luchi will begin to puff up.

Gently nudge with a spoon to help in the complete puffing up of the luchi.

When one side has become creamish and the oil has stopped sizzling, turn over and fry the other side.

Remove and drain on kitchen towels for the extra oil to be soaked.

Serve hot with aloor dum, chola dal or any bengali vegetable or lentil curry.
How to make luchi recipe
1. In a mixing bowl, add the flour, salt, ghee and a few tbsps of water.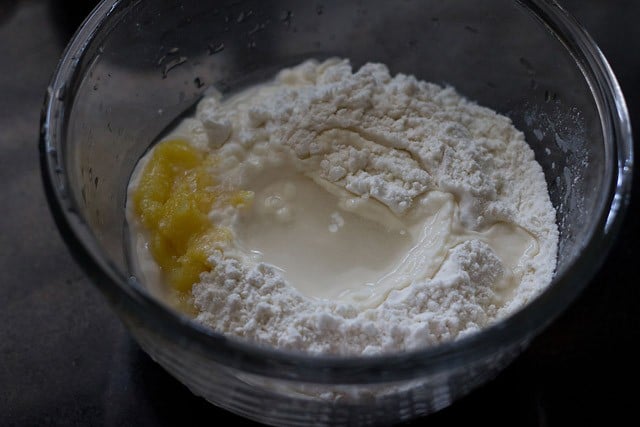 2. First mix everything with your hands so that the ghee or moyen incorporates very well in the mixture. Then knead the dough adding water as required. Knead to a smooth and soft dough. The kneading has to be done really well. Cover with a moist cloth and keep for a minimum of 30 mins to maximum 1 hour.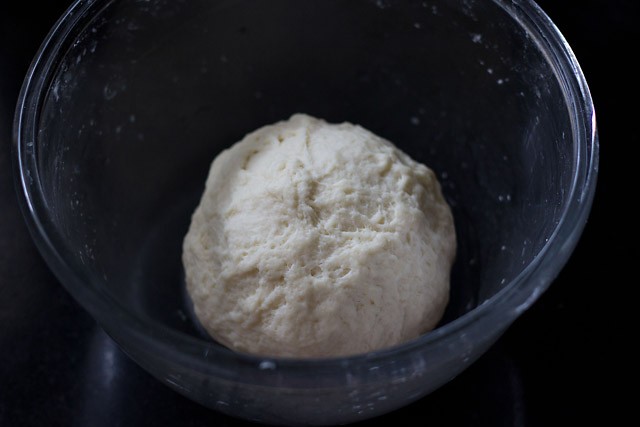 3. Make lemon sized balls from the dough and keep them covered with the moist cloth.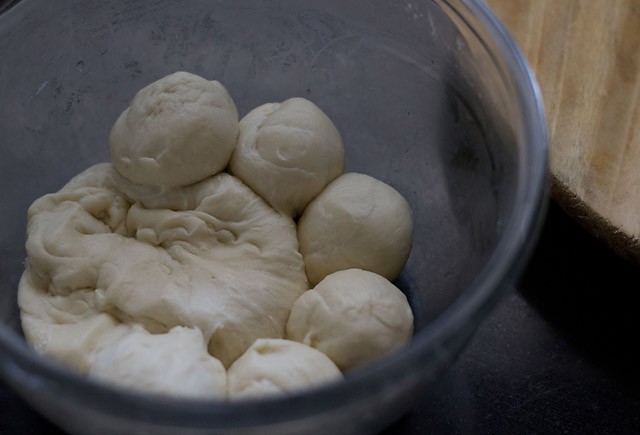 4. Apply some oil on the ball before rolling. The thing is if you use flour for rolling, it gets browned in the hot oil while frying and gets stuck to the fried breads. Now roll into a circle of 3-4 inches diameter. Its difficult to roll a Maida puri when oil is applied. So keep on rotating the Chakla or the rolling board. Evenly apply pressure to the rolling pin when rolling the luchi.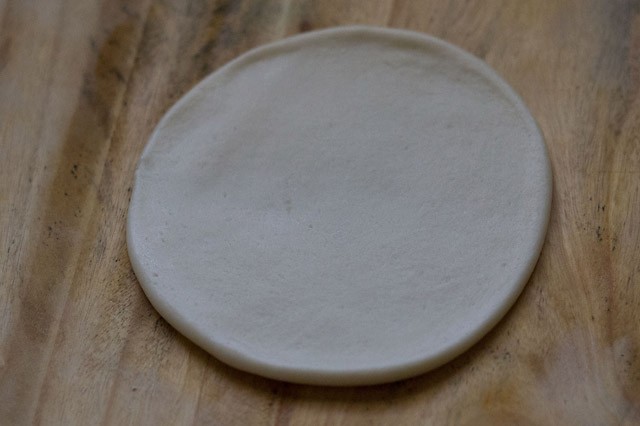 5. Gently drop the poori in the hot oil and when it begins to puff up….. Gently nudge & apply pressure with a slotted spoon so as to puff the luchi completely. When the oil stops sizzling, it means one side is cooked. Turn the poori over and fry the other side. These maida pooris won't become golden like the regular Whole wheat pooris. remove and drain luchi on kitchen towels to remove excess oil.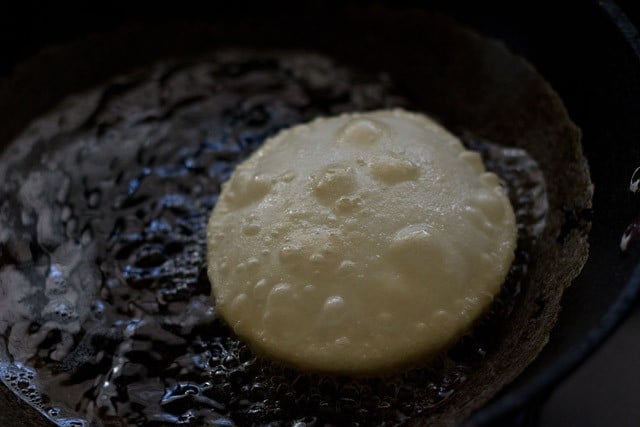 6. Serve luchi hot with Bengali aloo dum or any Bengali vegetable or lentil curry of your choice.