As amusing as it may sound, Luchi is the quintessential Bengali style poori that is not just an obsession of the people of Bengal, but also foodies around the world. To enjoy it, you really have to be a true-blue epicure, otherwise the idea of this specific poori will not really go down very well with you. This is because a classic Luchi Recipe features all-purpose flour (maida) and is deep-fried in ghee. Of course, this composition does make it an amazingly delicious fried bread, but then, it does make you think twice, doesn't it?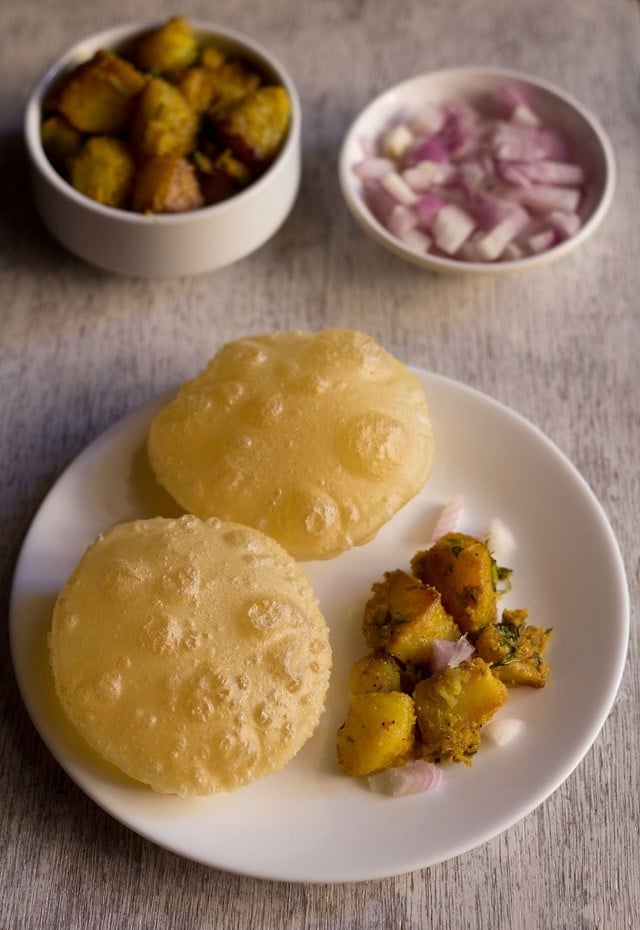 About Luchi
An interesting fact about the origin of Luchi is that it is believed to have reached India with the Portuguese. They brought along the ways to process refined flour (maida) and used it to bake their breads back then.
However, unable to do so, Bengalis kneaded doughs of maida, rolled into flatbreads and then fried till they puffed up. Since this special poori is made of maida, it is white in color. Also, another way of saying the name is fulko Luchi, where 'fulko' means puffed up. You could even call it Maida Puri.
I had been resisting the idea of posting the Luchi Recipe, for obvious reasons, since a long time. However, given its popularity and importance, especially during the festival of Durga Puja, I had to let go of my resistance and share it here. I'm glad I did it!
As I mentioned above, traditionally, Luchi is deep fried in ghee. I also know that in some parts of Northern India, even pooris are deep fried in ghee. But a major difference is that they are made of whole wheat flour (atta) and not maida.
This ghee goes into the Luchi Recipe while you knead the dough as well. A general way to refer to this addition is 'moyen,' as we call it in Punjabi. You can use oil instead of ghee for this as well as for frying the breads too.
Basically, the purpose of the 'moyen' is to give the Luchi a soft texture once it is fried. So, if you want that result, be a little liberal with ghee or oil while kneading the dough.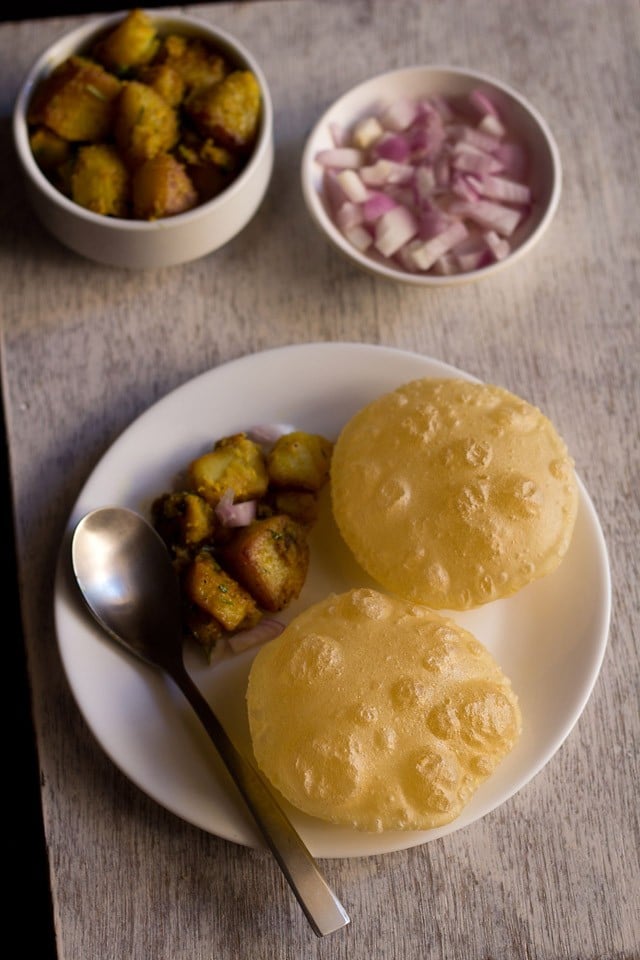 In this recipe of mine, I have added 2 tablespoons ghee. The dough also has to be kneaded really well and allowed to rest for some time before making this Bengali fried bread.
While making Luchi Recipe, the breads are not browned and are creamish white in color. This is unlike regular wheat flour pooris which turn a beautiful golden once fried.
You might find it a little tough to puff the Luchi, but it still will be soft and yummy. This also makes then distinct than their counterpart, as wheat pooris become crisp and dense, when not puffed up properly.
The best part about this Luchi Recipe is that you might feel like having more and more, since these are smaller in size than the wheat pooris. That idea of just one more Luchi, is always tempting!
So, don't think twice and make it for your family and friends. Have it for breakie, lunch or dinner. But do remember to run the extra mile after eating this sinfully decadent creation!
How to make Luchi
Make Dough
1. In a mixing bowl, add 2 cups all-purpose flour, salt as required, 2 tablespoons ghee and a few tablespoons water.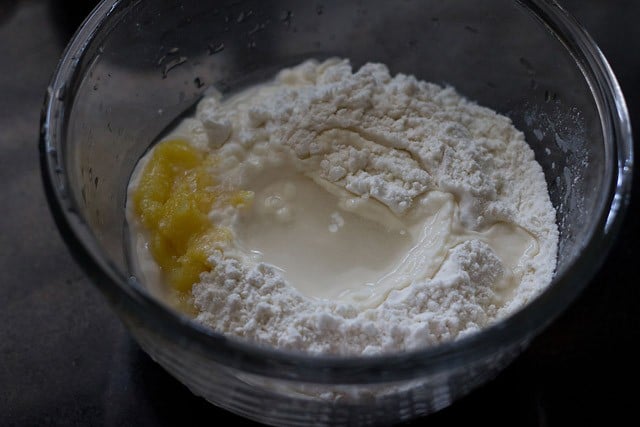 2. First, mix everything with your hands so that the ghee or moyen incorporates very well in the mixture.
Then, knead the dough adding water as required, till it is smooth, supple and soft. The kneading has to be done really well.
Cover with a moist cloth and keep for a minimum of 30 minutes to maximum 1 hour.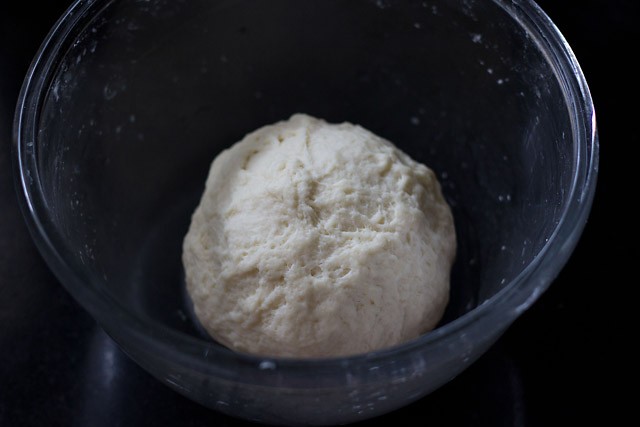 Roll and Fry Luchi
3. Make lemon-sized balls from the dough and keep them covered with the moist cloth.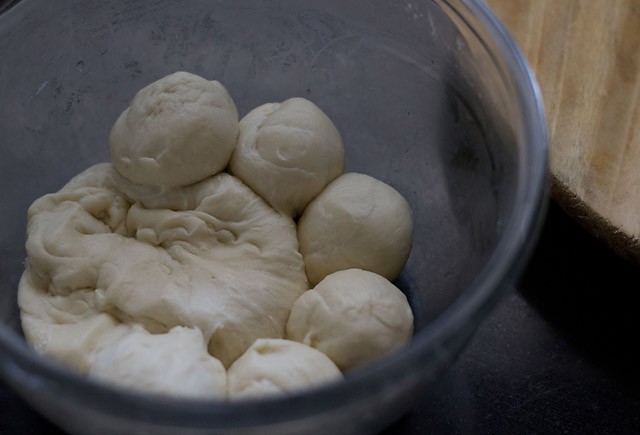 4. Apply some oil on the ball before rolling. If you use flour for rolling, it gets browned in hot oil while frying and gets stuck to the fried breads. Now, roll into a disc of 3 to 4 inches diameter.
It is difficult to roll a maida poori, when oil is applied. So, keep on rotating the chakla or the rolling board. Evenly apply pressure to the rolling pin (belan) when rolling the Luchi.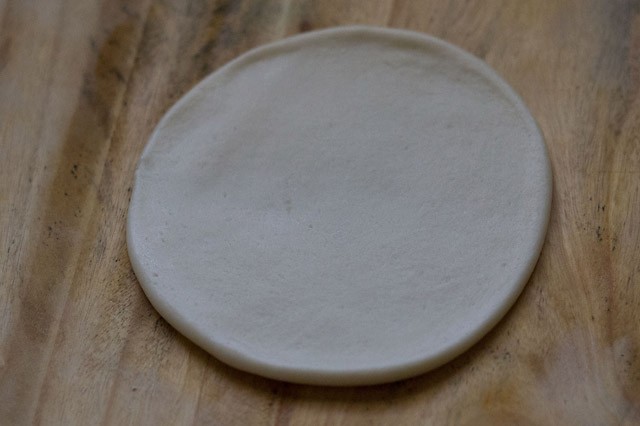 5. Gently drop the Luchi in medium hot oil. When it begins to puff up, gently nudge and apply pressure with a slotted spoon, so that it puffs completely.
When the oil stops sizzling, it means one side is cooked. Turn over and fry the other side.
These maida pooris won't become golden like the regular whole wheat pooris. Remove and drain Luchi on kitchen towels to remove excess oil.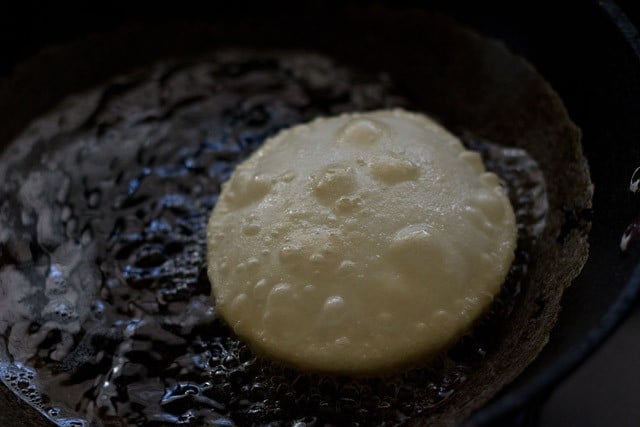 6. Serve Luchi hot with Bengali Aloor Dom or any vegetable or lentil curry of your choice.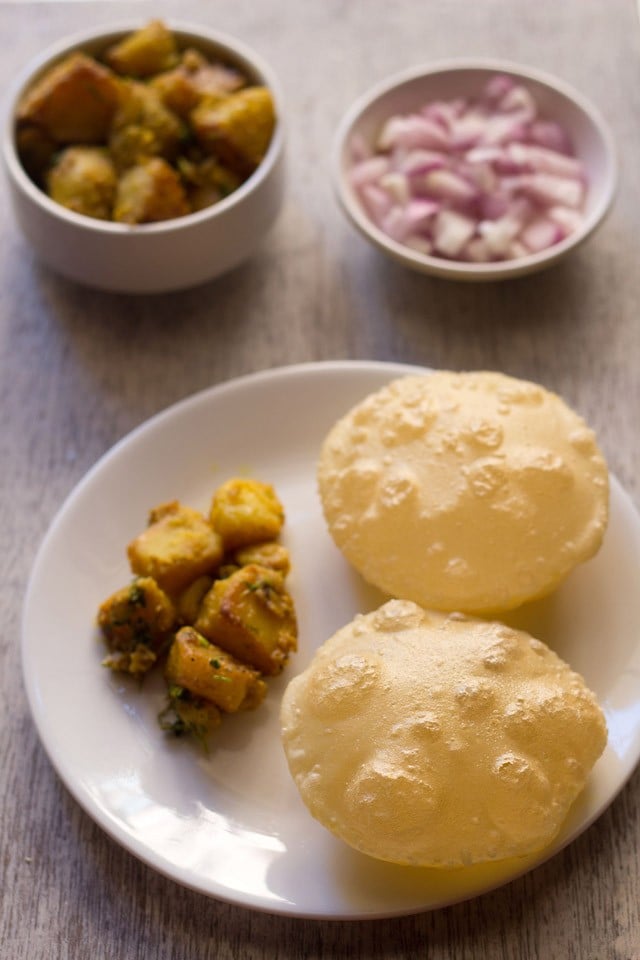 The Bengali Luchi Mania
Ask a Bengali about their favorite breakfast pairings; more than half of them will say Luchi-Aloor Dom. As, this pairing is not just food, but a complete emotion and nostalgia too, for many. It is one of the must-have combos during Durga Puja festivities too. Aloor Dom is a subtly spiced and sweet potato curry. The Bengali relative of the dum aloo.
When I made this poori first time at home, I also served it with aloor dom. My family enjoyed this combination to bits. It was just awesome. For a change you can even try having it with Suji Ka Halwa, Aamras or Punjabi Chole. You can actually relish hot Luchis with any of the Indian curries or a few sweets.
In addition to these, there are many other ways a typical Bengali household will love their Luchi Recipe with. For instance, some of the traditional ways to serve this fried, puffed bread is with Cholar Dal, Begun Bhaja, a simple shada aloor torkari (potato sabzi with Bengali spices), aloo tamatar jhol (potato and tomato curry) and a few other dishes.
Bengalis even relish it with the evening cha (tea). Yes, their idea of 'cha and adda (informal, friendly chat sessions)' is incomplete without a mouth-watering snack, where the Luchi serves the purpose, many a times.
Expert Tips
You have to mix the ghee/oil or moyen very well into the flour mixture. Then, knead to a smooth and soft dough. After this, cover it with a moist cloth and let it rest for a good 30 to 60 minutes.
Do not use dry flour for rolling the dough balls. This is because it gets browned in the hot oil while frying and even gets stuck to the breads. Instead, apply some oil on the dough balls and then roll.
While frying, gently nudge and apply pressure with the slotted spoon so that the breads puff completely. When the oil stops sizzling, turn over and fry till the other side is cooked. These don't brown like wheat Poori.
When fried, you must consume them immediately and not keep them for later consumption. However, if you have leftover dough, you can refrigerate in an air-tight box and use within 1 day.
FAQs
How is a Luchi different than poori?
The main difference is that while in a Luchi Recipe, the primary ingredient is all-purpose flour (maida), in a poori recipe it is whole wheat flour (atta). Also, the Bengali pooris don't brown while frying, like their North Indian counterparts.
Why does the Luchi soak up so much oil?
Make sure to have the correct temperature of oil while frying. If you fry the Luchi in oil which is not hot enough or is warm, then the breads will soak up too much oil.
Can I make Luchi with whole wheat flour?
Not really. To keep the traditional Bengali essence intact, it is better to use all-purpose flour or maida to make Luchi. If you are using whole wheat flour or atta, then it will become a North Indian poori.
Is it ok to use oil in the Luchi Recipe, instead of ghee?
Yes, certainly it is. Although, a classic Luchi Recipe will always suggest using ghee in the dough as well as to fry the breads. But you can use oil as well, in place of ghee.
More Indian Bread Recipes To Try!
Please be sure to rate the recipe in the recipe card or leave a comment below if you have made it. For more vegetarian inspirations, Sign Up for my emails or follow me on Instagram, Youtube, Facebook, Pinterest or Twitter.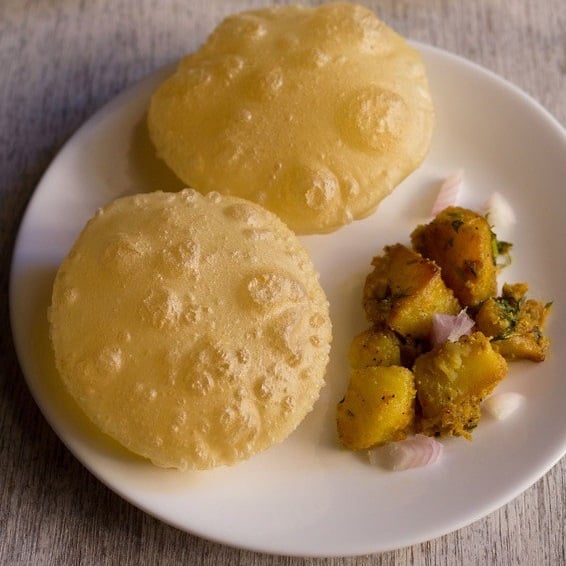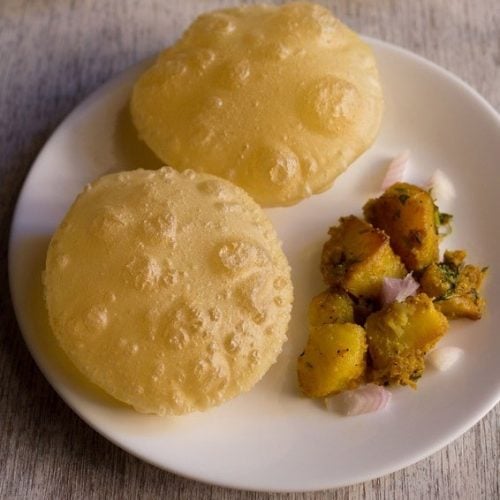 luchi recipe
Luchi is a deep fried and much loved Bengali bread. Luchi is made with all purpose flour, salt and ghee/oil and is served with some Bengali delicacies.
Total Time
1

hour
30

minutes
2

cups

all-purpose flour

2

tablespoons

Ghee

or 2.5 tablespoon oil

½

cup + 2 tablespoons

water

or add as required

salt

as required

oil

or ghee for deep frying, as required
Instructions
Preparing dough for luchi
In a bowl or a large plate (tray) first add the flour, ghee and salt.

Add 1 or 2 tablespoons of water and mix everything with your hands or with a spatula.

Then add about ½ cup of water and begin to knead the flour.

Add water as required and knead very well. The dough should be soft and smooth.

Cover the dough with a moist kitchen napkin and let it rest for minimum 30 minutes at room temperature.
Rolling and frying luchi
Make lemon sized balls from the dough and cover them with the moist napkin.

Apply some oil on the balls, roll each into a circle of about 3 to 4 inches.

Heat oil for deep frying in a kadai or pan. The oil has to become hot.

Drop a small piece of the dough in the oil and if it comes up steadily from the bottom, it means the oil is ready for the luchi to be fried.

Gently drop the dough circle into the hot oil. The luchi will begin to puff up.

Gently nudge with a spoon to help in the complete puffing up of the luchi.

When one side has become creamish and the oil has stopped sizzling, turn over and fry the other side.

Remove and drain on kitchen towels for the extra oil to be soaked. Fry luchi in batches this way.

Serve Luchi hot with aloor dum, cholar dal or any of your preferred Bengali vegetable or lentil curry.
Notes
Remember to knead dough to smooth and soft. Add water in portions while kneading. 
If the dough becomes sticky, add some flour and knead.
If the dough is tight or looks dry, add some water. 
Fry luchi in moderately hot oil. 
Roll them to an even thickness so that they puff up while frying. Unevenly rolled luchi won't puff in the oil. 
Nutrition Info (Approximate Values)
Nutrition Facts
luchi recipe
Amount Per Serving
Calories 154
Calories from Fat 63
% Daily Value*
Fat 7g11%
Cholesterol 8mg3%
Sodium 117mg5%
Potassium 27mg1%
Carbohydrates 19g6%
Protein 3g6%
Vitamin B1 (Thiamine) 0.2mg13%
Vitamin B2 (Riboflavin) 0.1mg6%
Vitamin B3 (Niacin) 1mg5%
Vitamin B6 0.01mg1%
Vitamin E 2mg13%
Vitamin K 0.3µg0%
Calcium 4mg0%
Vitamin B9 (Folate) 46µg12%
Iron 1mg6%
Magnesium 6mg2%
Phosphorus 27mg3%
Zinc 0.2mg1%
* Percent Daily Values are based on a 2000 calorie diet.
This Luchi recipe from the archives first published in October 2013 has been updated and republished on December 2022.