Sweet Paniyaram is a crisp, soft, fluffy and sweet dumpling made from leftover idli batter. This recipe of Sweet Paniyaram is vegan and gluten free, and though sweet, it is best had as a snack. Apart from the idli batter, other things that you require to make these paniyaram are powdered jaggery (or sugar) and coconut. So, it is quite an easy recipe too.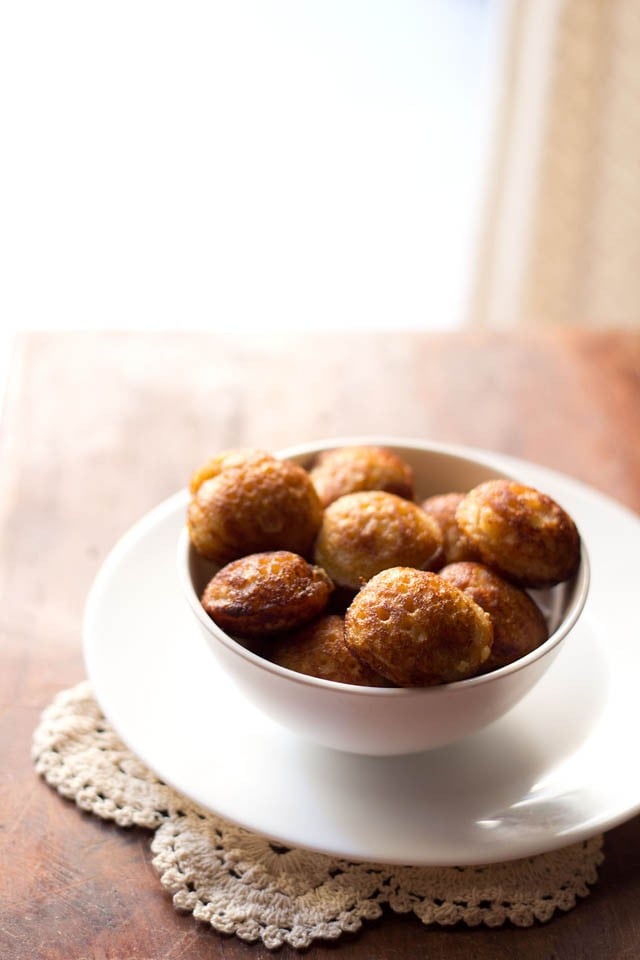 What is Paniyaram
Paniyaram is a famous South Indian delicacy which is made of idli batter. Originally, these dumplings are savory snacks, but sweet or spicy variations can also be made. These are crisp from the outside and soft within. So, the taste and texture of paniyaram is quite mesmerizing.
Paniyaram is also known as gunta ponganalu, paddu, guliyappa, appadadde and appe in other Indian languages. They can be made plain, spiced or sweet. They are crisp from out and soft from within.
Like this recipe of Sweet Paniyaram, other versions can be made using leftover idli batter. Vegan in nature, these nutritious paniyaram are great as a South Indian tiffin or breakfast snack. The savory paniyarams are mostly served with sambar, coconut chutney or any other chutney.
More on Sweet Paniyaram
My first introduction to a savory Paniyaram was when a friend would get these, sprinkled with some Idli Podi (dry chutney powder), in her tiffin box. I simply loved them. The paniyaram were both crisp and fluffy at the same time – similar to idli but not similar too.
As I grew up over the years, I took to cooking those at home along with other versions like this Sweet Paniyaram. Mostly, I use the leftover idli batter to make these and it just turns out so well, each time. It's a breeze to make and has definitely become a favorite at home.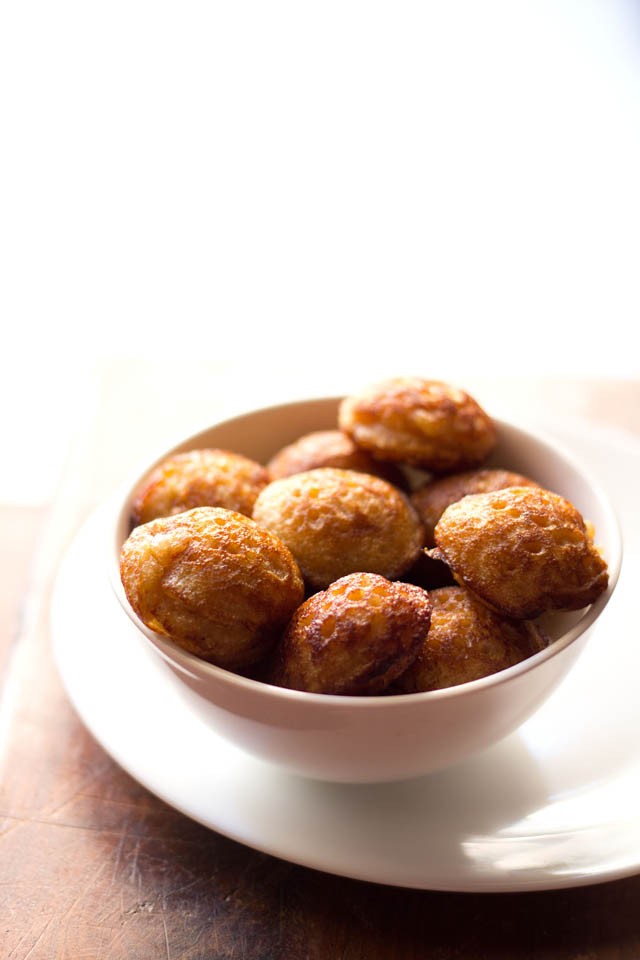 Due to the addition of jaggery, this Sweet Paniyaram has a soft, fuffy texture and tastes divine. In the absence of jaggery, you can easily use sugar.
Just like any other siblings of the paniyaram, the Sweet Paniyaram is also made in a paniyaram chatti or appe pan, which is similar to the Æbleskiver pan used in Danish cooking.
In case you don't have this special cookware, these paniyarams can also be shallow or deep fried in hot oil. Pair this sweet snack with milk, tea or coffee or have them plain, these taste just as good any and every way.
How to make Sweet Paniyaram
Add 6 to 8 tablespoons jaggery, ¼ cup grated fresh coconut, a pinch of salt and ¼ teaspoon green cardamom powder in 1 cup idli batter.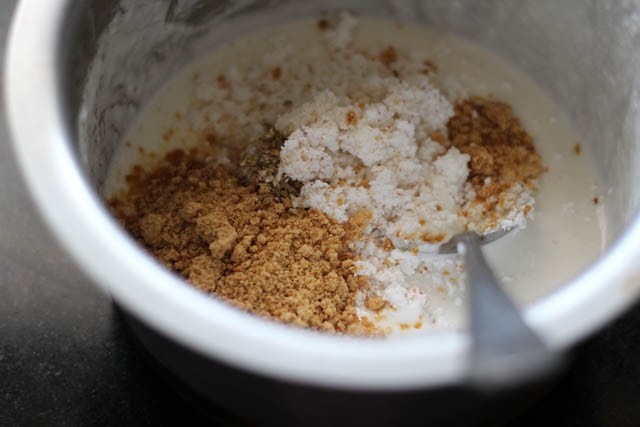 2. Mix well. Due to the dissolution of jaggery in the batter, the consistency of the batter can become liquid or runny. So, to avoid a thin mixture, use a thick idli batter.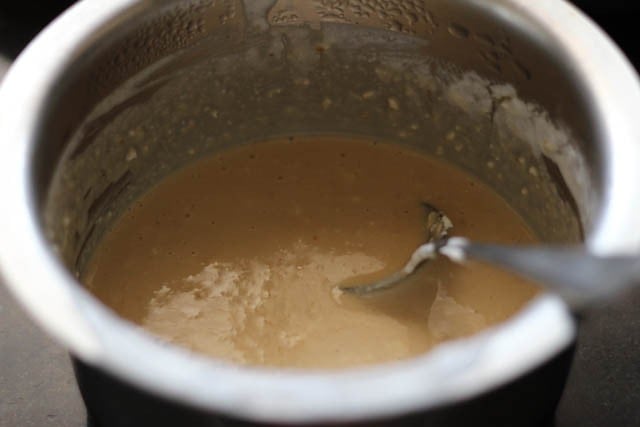 3. Heat the paniyaram chatti/pan on medium-low or medium heat. Add a few drops of oil in the moulds.
Pour a spoonful of batter in the moulds, filling them ¾ᵗʰ. Drizzle some more oil on top if required.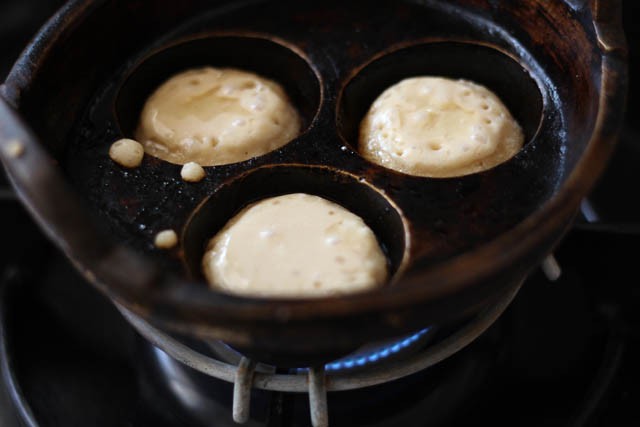 4. Due to the jaggery, the mixture browns quickly. So, keep an eye. Turn the Sweet Paniyaram with a skewer or spoon to cook the other side.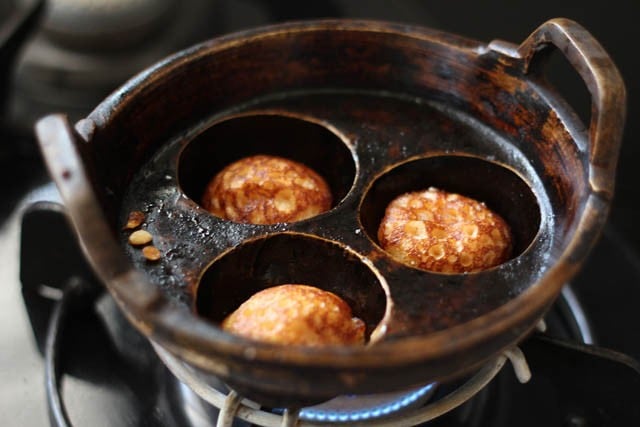 5. When they are well browned from all sides, remove from the moulds. Serve Sweet Paniyaram hot or warm with milk, tea or coffee. These paniyaram are so delicious that they can be had plain as well.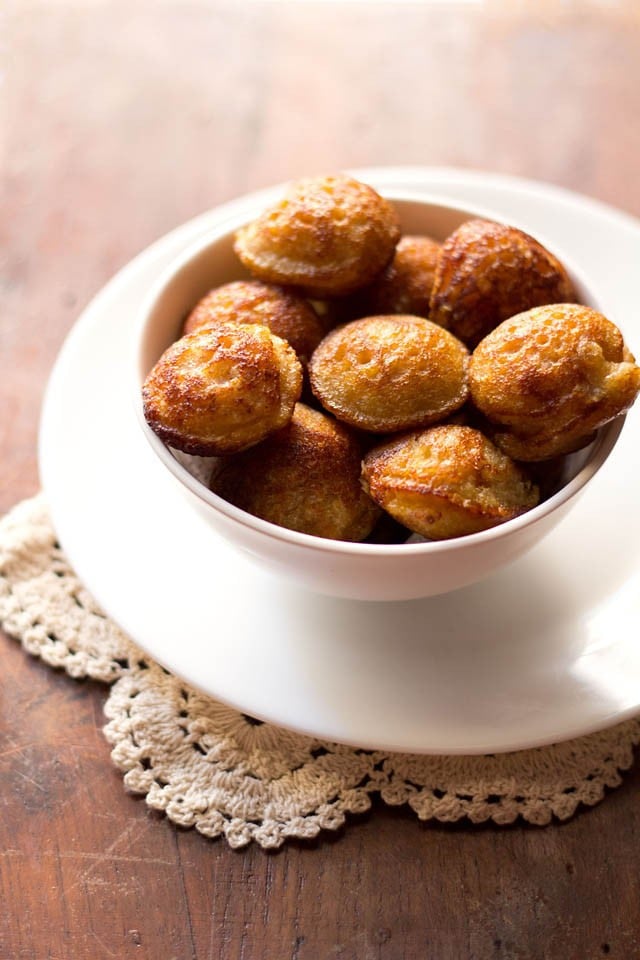 Expert Tips
Make sure to use a thick idli batter as the addition of jaggery turns the consistency of the mixture thin.
I have used an organic jaggery powder with no impurities. If your jaggery has impurities, then just melt in little water and filter it. Let the mixture cool, then add to the idli batter.
The cooking time of the Sweet Paniyaram will vary depending upon the size/depth of the moulds in the paniyaram pan and the quality and make of the pan. Use oil accordingly. Smaller moulds require less oil.
You can also prepare these in batches and store them in an airtight box in the refrigerator. These stay good for about 10 days in the refrigerator.
Use a wooden skewer or spoon to turn over the paniyaram for cooking the other side. When the paniyaram are cooked, store them in a casserole so that they stay warm.
You can use ½ cup desiccated coconut (finer or smaller flakes) in place of fresh grated coconut. If using frozen fresh coconut, thaw before adding to batter.
If you don't have this special pan, you can deep fry or shallow fry the batter in hot oil till golden and crisp. The fried sweet paniyaram stay good for a number of days in the refrigerator. While frying make sure that the batter consistency is not thin or runny as this may cause the batter to burst in the oil and also soak up a lot of oil.
You can also use ghee to cook the paniyaram. In this case, the recipe won't be vegan.
More Sweet Snacks Recipes To Try!
Please be sure to rate the recipe in the recipe card or leave a comment below if you have made it. For more veetarian inspirations, Sign Up for my emails or follow me on Instagram, Youtube, Facebook, Pinterest or Twitter.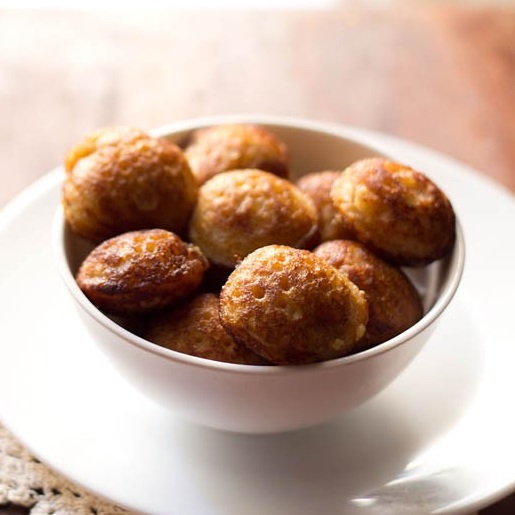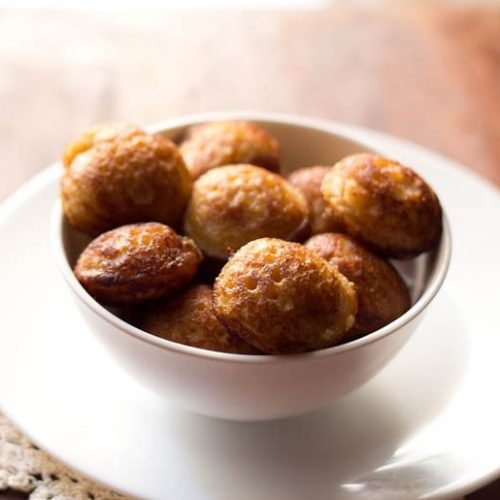 Sweet Paniyaram
Sweet Paniyaram is a crisp, soft and fluffy dumpling made with leftover idli batter. Vegan and gluten free snack.
Servings
12
to 15 sweet paniyaram
Ingredients
1

cup

Idli Batter

6 to 8

tablespoons

powdered jaggery

(organic) or add as required

¼

cup

grated fresh or frozen coconut

or unsweetened desiccated coconut

1

pinch

salt

¼

teaspoon

cardamoms powder

or 2 to 3 green cardamons, powdered in a mortar-pestle- husks removed

sesame oil

or coconut oil or sunflower oil for frying, add as required
Instructions
Mix all the ingredients thoroughly. Heat the paniyaram pan on medium-low to medium heat. Add a few drops of oil in the moulds.

Now, add a spoonful of the batter till the mould is filled ¾ᵗʰ of its volume.

When the base is crisp and golden, gently and carefully turn over each sweet paniyaram. Cook the second side until crispy and golden.

Cook the dumplings till golden brown from all sides. Use up the entire batter this way by cooking the dumplings in batches.

Serve Sweet Paniyaram hot or warm.

If not serving immediately, keep them in a casserole so that they remain warm and soft.
Notes
The jaggery I use is organic jaggery powder and does not have impurities. If there are impurities, then just melt the jaggery with little water and filter it. Once the mixture cools down, add this to the idli batter.
If the batter becomes too thin, add some rice flour to thicken the consistency.
Instead of jaggery you can also use sugar. Adjust the sugar or jaggery according to the sweetness you prefer in the sweet paniyaram.
Nutrition Info (Approximate Values)
Nutrition Facts
Sweet Paniyaram
Amount Per Serving
Calories 109
Calories from Fat 27
% Daily Value*
Fat 3g5%
Sodium 4mg0%
Potassium 24mg1%
Carbohydrates 19g6%
Protein 1g2%
Vitamin B1 (Thiamine) 1mg67%
Vitamin B2 (Riboflavin) 1mg59%
Vitamin B3 (Niacin) 1mg5%
Vitamin B6 1mg50%
Vitamin C 1mg1%
Vitamin E 1mg7%
Vitamin K 1µg1%
Calcium 7mg1%
Vitamin B9 (Folate) 2µg1%
Iron 1mg6%
Magnesium 4mg1%
Phosphorus 20mg2%
Zinc 1mg7%
* Percent Daily Values are based on a 2000 calorie diet.
This Sweet Paniyaram post is from the archives first published in February 2013 and has been republished and updated on 23 May 2022.