There are a variety of snacks, both sweet and savory, when it comes to Gujarati cuisine. Gujaratis love their snacks as much as other dishes and 'muthiya' is one of those many. This Methi Muthiya recipe is a variant, made with fresh fenugreek leaves (methi) and the core ingredient gram flour (besan). In this Muthiya recipe, I've shown you both the steamed and fried versions.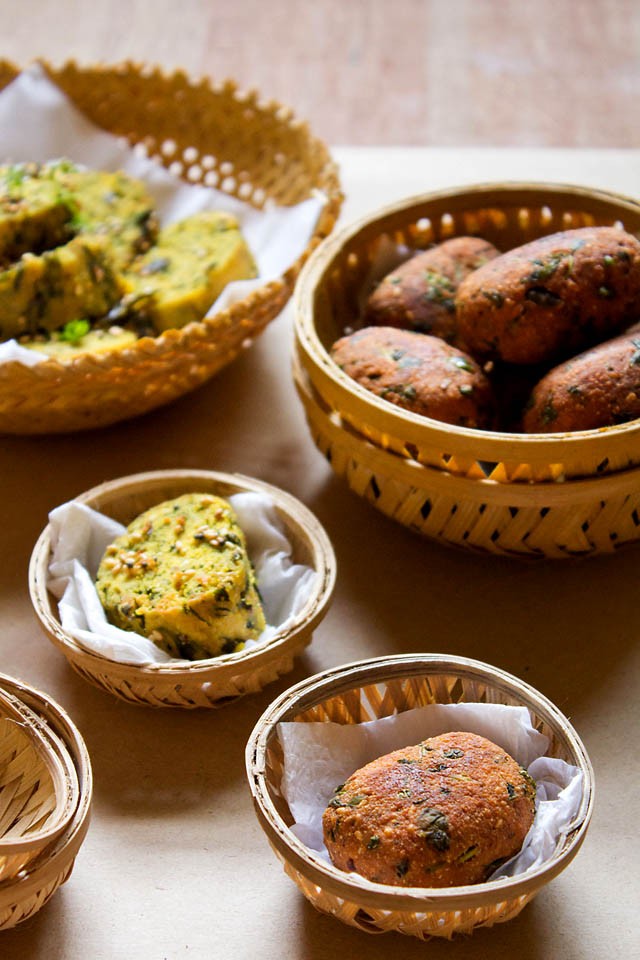 What is Muthiya
Muthiya or muthia is a fist-shaped dumpling, which is a traditional street food, snack or a side dish from Gujarat state in Western India. Primarily vegan in nature, the term muthiya has been derived from the word "muthi" which means fist – the 'gripping action' of our hands, which is also how this snack is made.
Also known as 'velaniya' or 'vaataa,' this famous Gujarati dish is considered filling and healthy as it is essentially steamed. But some may have a fried variant, like my Methi Muthiya recipe.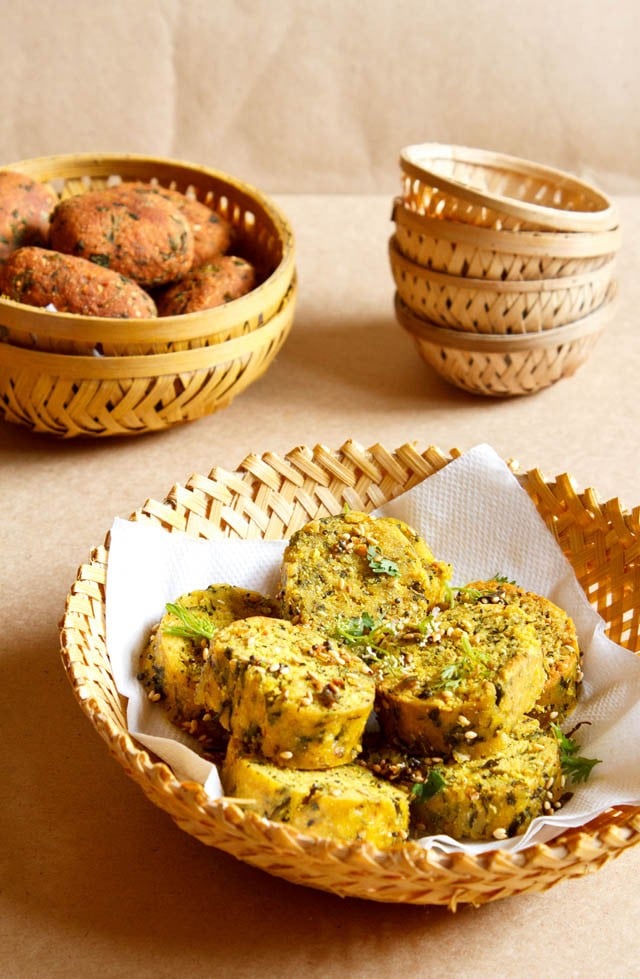 The main ingredients used in the preparation of muthiya recipe includes gram flour, chili, turmeric powder, oil, sugar and other seasonings.
Additional veggie flavors may include fenugreek leaves (methi), grated bottle gourd (dudhi or lauki), spinach leaves (palak), other vegetables or leafy greens.
Other flours like whole wheat flour (atta), pearl millet flour (bajra atta) or sorghum flour (jowar atta) are also used. Once steamed, the muthia is cut into thick slices and tempered in oil with mustard seeds, sesame seeds, curry leaves and sometimes asafoetida too.
More on this Methi Muthiya
There are many ways of making muthiya. However, I always prefer using gram flour. This Methi Muthiya recipe also has this flour along with fresh fenugreek leaves and spices. Though, I have mentioned about the fried way as well, but I must say I'm always partial towards the steamed one. It is just so good!
Methi Muthia can be made in advance and then added to any vegetable dish that you make at home. Typically, it is a part of the famous Gujarati dish 'undhiyu,' where it is cooked with an array of winter veggies and spices. The Undhiyu too is a must-try as its robust and packed with flavors in each bite.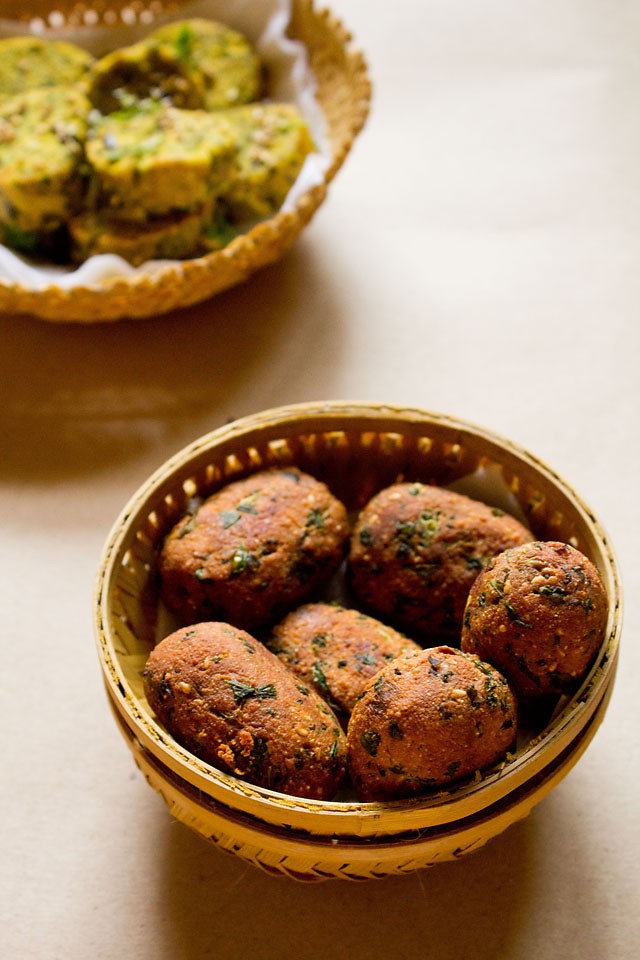 Another way of relishing this slightly sweet and mildly spiced Methi Muthiya is to pair it with some rotlas, which are thick rotis made with pearl millet or bajra flour. One more Gujarati special and my favourite too.
Tempering the steamed Methi Muthia just makes it all the more delicious. So, after adding the temper, you can have it as a snack with some sweet or spicy chutney or even tomato ketchup. Make sure to consume the muthiya hot or warm.
My Love for Gujarati Cuisine
It is quite obvious from the way I've mentioned about this Methi Muthiya recipe, that I really love Gujarati food. So, I always make it a point to spread more and more about the beauty of this very cultured and simple, yet delectable cuisine.
I was born in Bombay (now Mumbai), which is pretty much the hub of Marathi and Gujarati food. Even at home, my mother used to make a lot of dishes that would have a Gujarati touch. Thus, I have been feasting on Gujarati goodies till I left Mumbai.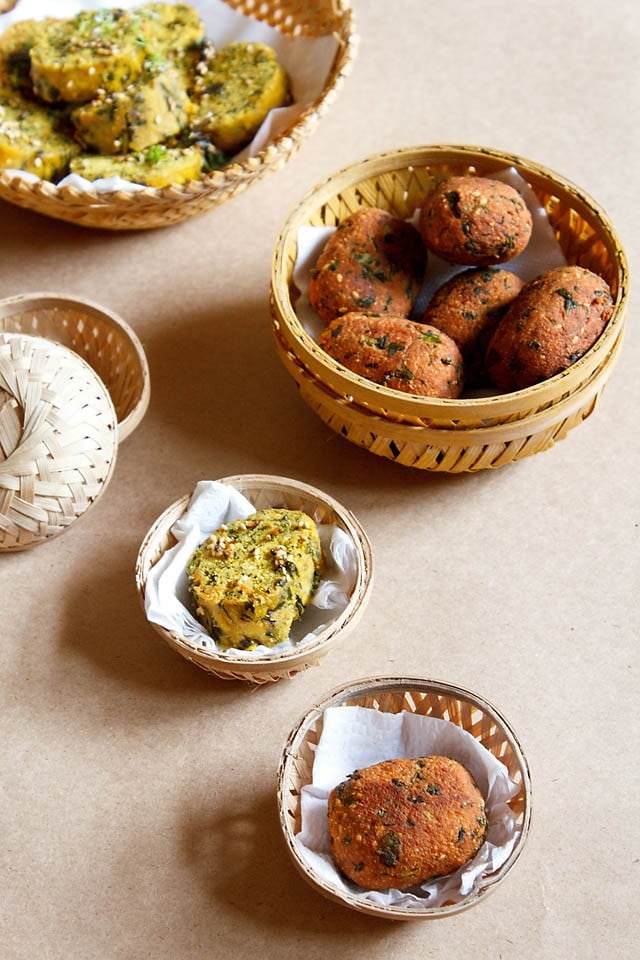 After moving to Delhi, I did undergo a complete shift in my thought processes due to my experiences with Punjabi food. Though I loved the larger-than-life nature of the Punjabi cuisine, I used to cook and create a lot of Punjabi recipes for the family – but made healthier by cutting down on the copious amount of fat.
But while I was cooking a lot of Punjabi dishes, I also decided to create and document my love for Gujarati food through typical dishes like this Muthiya recipe.
I've had Gujarati thalis and buffets, been to Gujarati weddings and so on. All I can say is that my bond with this particular cuisine has only become stronger over the years. The simplicity and deliciousness of Gujarati food holds a special place in my heart.
How to make Muthiya
Prepare Muthiya Dough
Take the followising listed ingredients in a mixing bowl:
2 cups besan (gram flour)
2.5 cups finely chopped methi leaves
1 teaspoon salt (or as required)
2 teaspoons sugar
2 tablespoons fine rava or sooji (cream of wheat)
2 teaspoons white sesame seeds
1 teaspoon turmeric powder
1 teaspoon coriander powder
1 teaspoon cumin powder
½ teaspoon red chili powder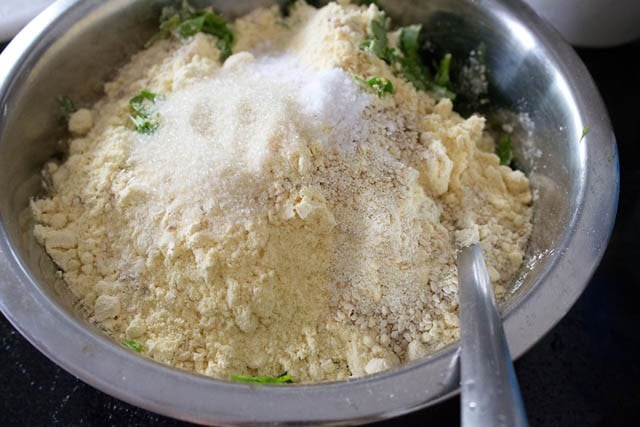 2. Combine to mix the ingredients thoroughly.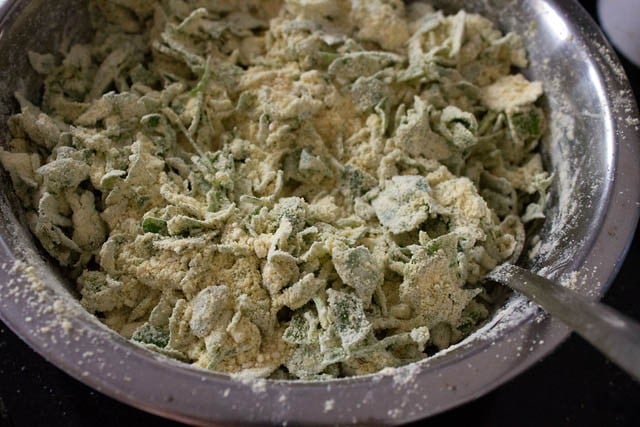 3. Add 2 tablespoons ginger-green chili paste, ¼ teaspoon baking soda and 2 tablespoons lemon juice.
Mix the ingredients and set aside for 15 to 20 minutes. The fenugreek leaves will release water in this time. So, you will know how much water to add later.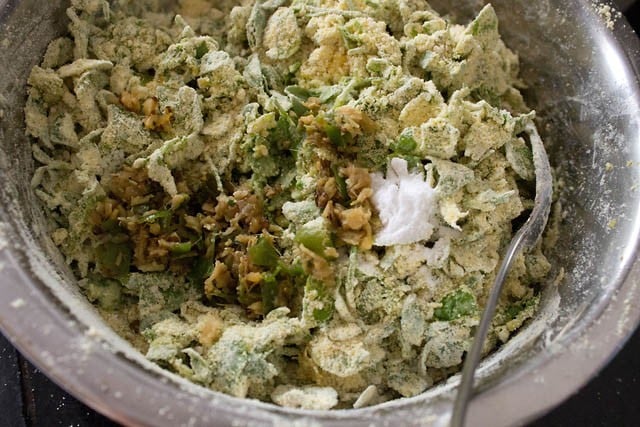 4. Now, add 1 tablespoon water. Remember to add water as needed and knead to a smooth dough.
Note: Remember that the amount of water will vary with the water content in fenugreek leaves and how well they have been rinsed. Making a note of this add more water if needed.
When adding water, the cup fell from my hands and extra water went into the dough. So the dough became a little sticky as you can see in the picture. I let the dough rest for some time and it was fine later. There was no stickiness afterwards.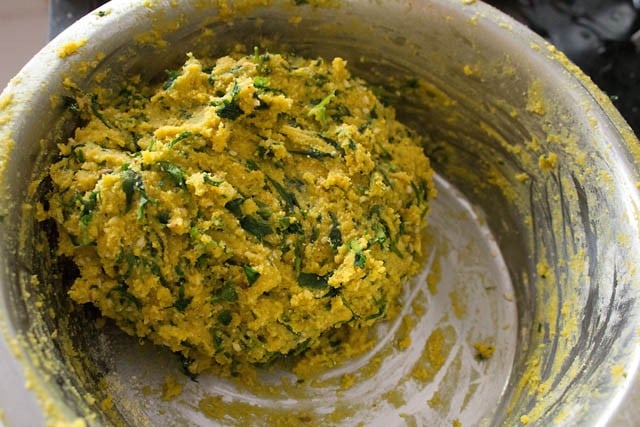 Steam Methi Muthia
5. To make steamed muthia shape the dough into a length of 4 to 5 inches sausage type rolls. Place them on a greased tray.
Grease a baking tray or pan with neutral flavored oil. You can spread some oil in your palms while shaping the dough.
I portioned the dough in equal halves and made both fried and steamed muthiya.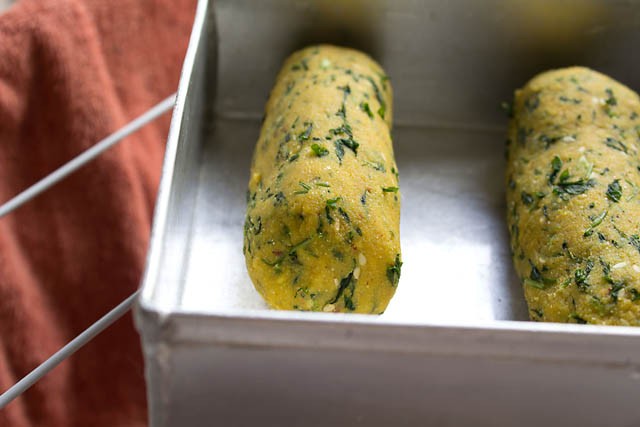 6. Heat sufficient water or about 2 cups of water in a deep pan with a trivet placed on it. When the water becomes hot, using tongs carefully place the greased tray on the trivet in the pan. Cover and steam the muthiya for 10 to 12 minutes.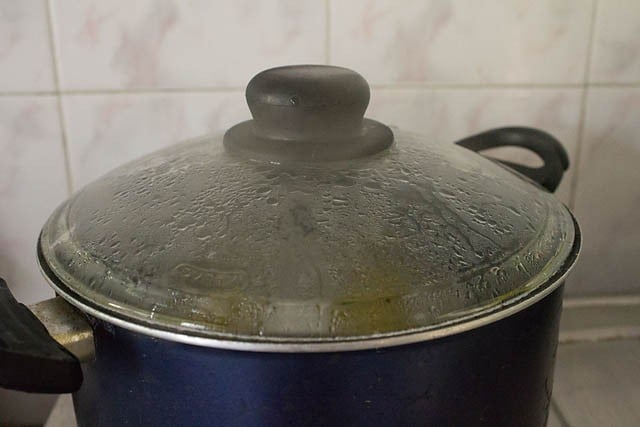 7. The muthia should be perfectly steamed and cooked. Check with a tooth pick or knife to see for doneness. If its properly steamed, then the dough will not stick to the tooth pick and will come out clean.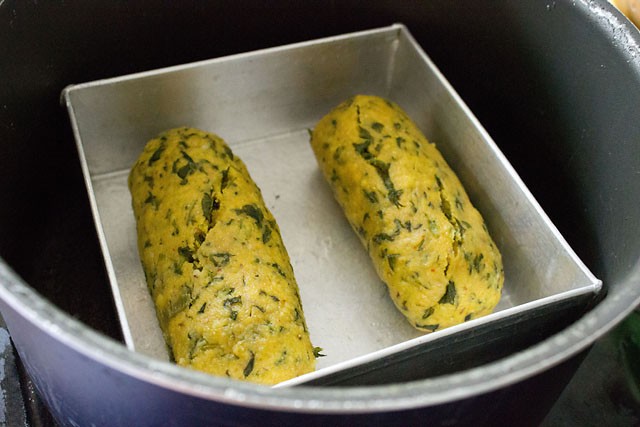 8. Let the muthia cool at room temperature. Slice the steamed muthia rolls as shown in the picture below.

Temper Steamed Muthiya
9. Heat 2 tablespoons oil in a pan or kadai (wok). Add 1 teaspoon mustard seeds, 1 teaspoon white sesame seeds, 1 sprig of curry leaves and 1 pinch asafoetida. Stir and let the mustard seeds crackle.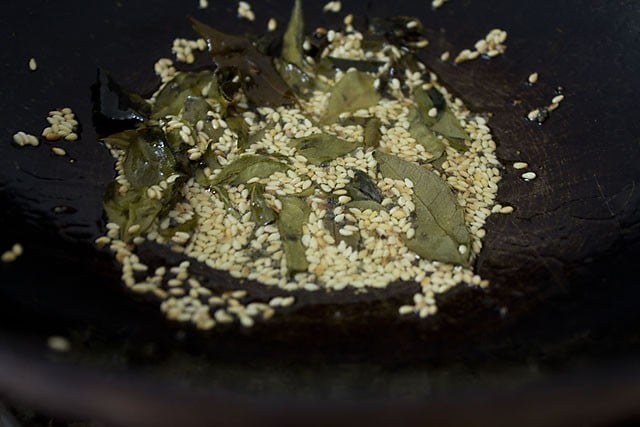 10. Add the sliced steamed muthia to the tempering and sauté for 2 to 3 minutes on medium heat.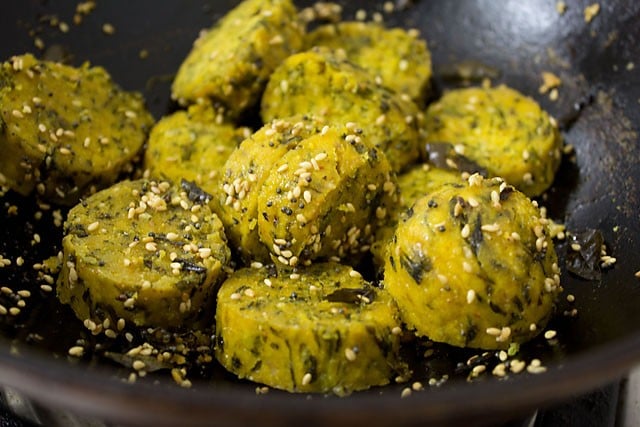 Make Fried Muthiya
11. Make small cylindrical or oval or rectangular shaped rolls with the dough. Spread some oil in your palms while shaping with the dough.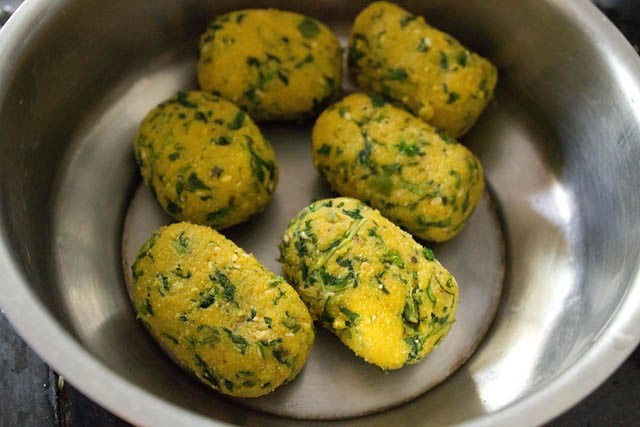 12. Heat some oil in a pan or kadai and shallow or deep fry the steamed muthia till golden brown and crisp.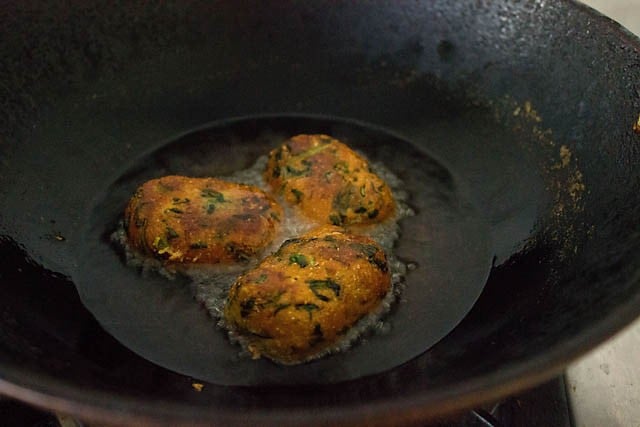 13. Drain the fried muthia on kitchen tissues.
14. Garnish with some coriander and grated coconut. Serve Methi Muthia hot or warm, with some spicy or sweet chutney.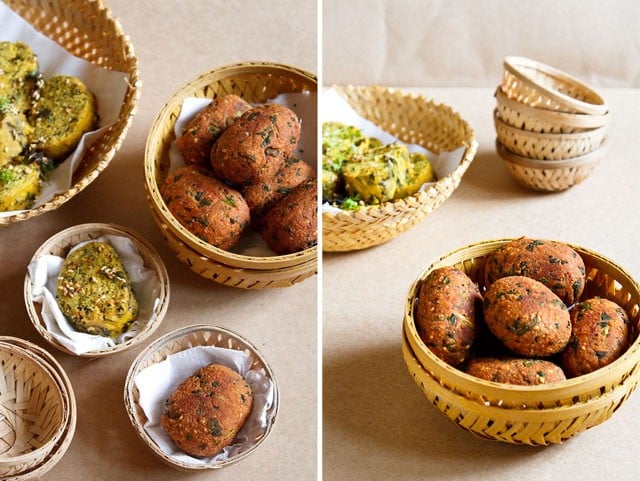 More Popular Gujarati Snacks To Try!
Please be sure to rate the recipe in the recipe card or leave a comment below if you have made it. For more vegetarian inspirations, Sign Up for my emails or follow me on Instagram, Youtube, Facebook, Pinterest or Twitter.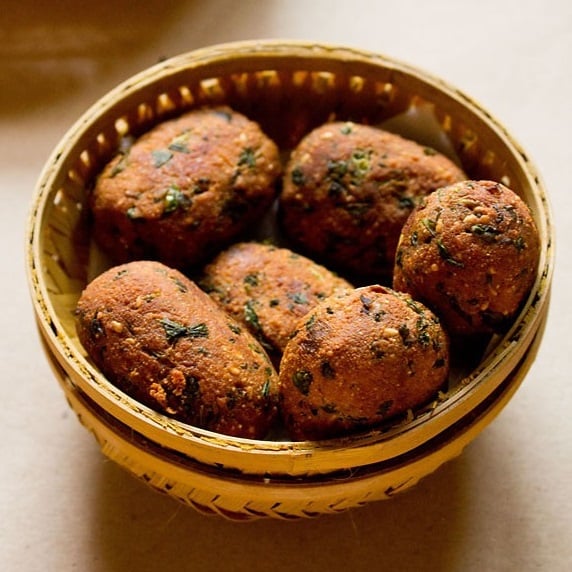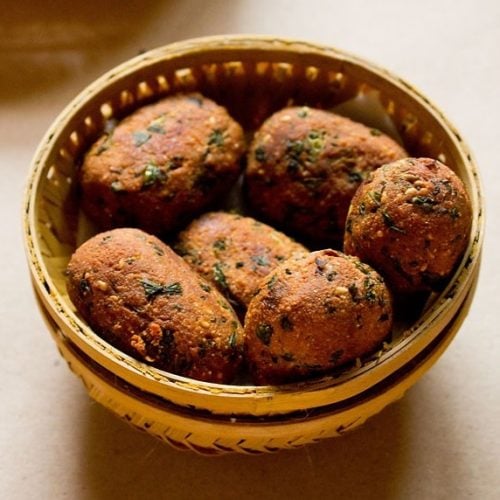 Muthiya Recipe | Methi Muthiya (Steamed and Fried)
Muthiya or muthia is a fist-shaped dumpling snack from Gujarat state in Western India. This Muthiya recipe is made with fresh fenugreek leaves and gram flour. I share two ways to make methi muthia – steamed and fried.
For making muthiya dough
2

cups

gram flour

(besan)

1

tablespoon

water

add more if required

¼

teaspoon

baking soda

2.5

cups

chopped fenugreek leaves

(methi leaves)

2

teaspoon

sugar or as required

1

teaspoon

salt or as required

2

tablespoons

oil

2

tablespoons

rava

or sooji, finer variety (cream of wheat or semolina)

2

teaspoon

white sesame seeds

1

teaspoon

turmeric powder

(ground turmeric)

1

teaspoon

coriander powder

(ground coriander)

1

teaspoon

cumin powder

(ground cumin)

½

teaspoon

red chili powder

or cayenne pepper

2

tablespoons

lemon juice

2

tablespoons

ginger-green chili paste
For tempering steamed muthia
2

tablespoons

oil

1

teaspoon

mustard seeds

1

teaspoon

white sesame seeds

1

pinch

asafoetida

(hing)

1

sprig

curry leaves

or 10 to 12 curry leaves
Other ingredients
oil

– for shallow or deep frying, as required

water

– as required, for steaming methi muthiya
For garnishing muthia
2 to 3

tablespoons

chopped coriander leaves

1 to 2

tablespoons

fresh grated coconut
Instructions
Preparing muthiya dough
Thoroughly mix all the ingredients listed for the dough except for water.

Set aside for 15 to 20 minutes.

Add water and make a smooth dough.

Do note that the addition of water will depend on the water content in the fenugreek leaves. So keep this in mind and if needed add more water.
Steaming muthiya
From half of the dough, make sausage shaped rolls and place them in a greased tray or container.

Steam these rolls for 17 to 20 minutes or till done.

Once lukewarm or cooled, slice the steamed rolls.
Making tempering
For the tempering, heat oil in a frying pan or kadai (wok). Add the mustard seeds, white sesame seeds, curry leaves and asafoetida.

Stir and fry until the mustard crackles.

Add the sliced steamed muthia. Mix and sauté for 2 to 3 minutes.

Switch off heat and serve warm garnished with chopped coriander leaves and grated coconut
Making fried muthia
Make small elongated cylindrical rolls from the remaining half of the dough.

Heat oil for shallow or deep frying in a kadai or frying pan.

Shallow or deep fry the muthia rolls till golden brown and crisp.

Drain them on kitchen tissues to remove excess oil.

Serve hot with some spicy or sweet chutney of your choice.
This Muthiya Recipe post from the archives first published in August 2012 has been republished and updated on 26 May 2022.