Shankarpali recipe with step by step photos – Shankarpali is a sweet snack which is usually made during festive occasions like Diwali in Maharashtra.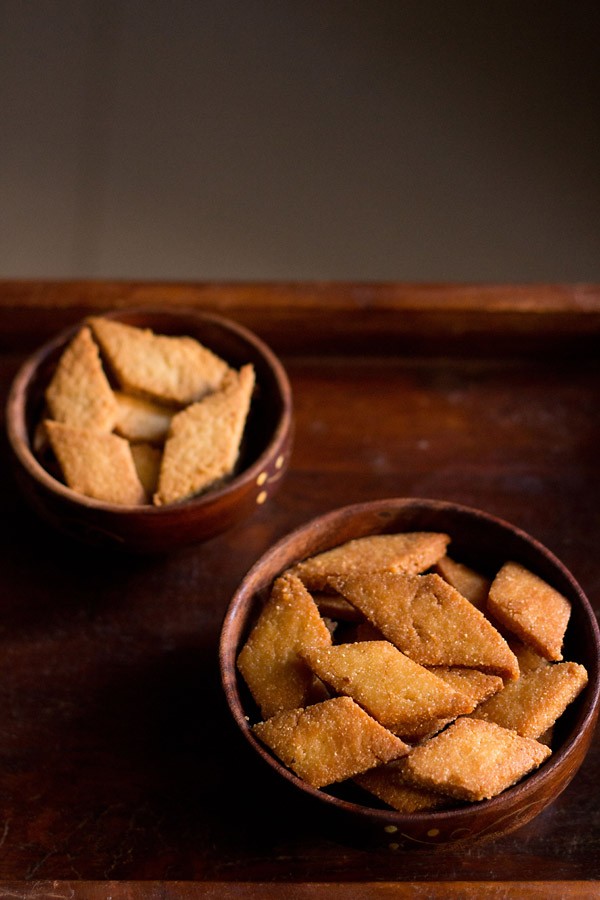 These slightly flaky, melt in the mouth crisp fried flour cookies are a good tea time snack and popular in Western India.
A similar snack along the lines of shankarpali is shakkar pare which are made in North India. There are some differences in the preparation of both these snacks.
Along with shankarpali there are few more Diwali snacks which are often made during Diwali festival.
Few popular Diwali snacks recipes are:
This is a sweet shankarpali recipe and another popular variation is a spiced Savory shankarpali with spices.
In this post, I have fried as well as baked the shankarpali. the fried one had a darker shade than the baked ones. Taste wise both are good. The fried ones had puffed up more than the baked ones and had a more crumbly texture. The baked shankarpali tasted more like baked cookies.
You can use the frying method or the healthy baking method. Below is the pic of baked shankarpali and the first & last pic is of the shankarpali made using frying method.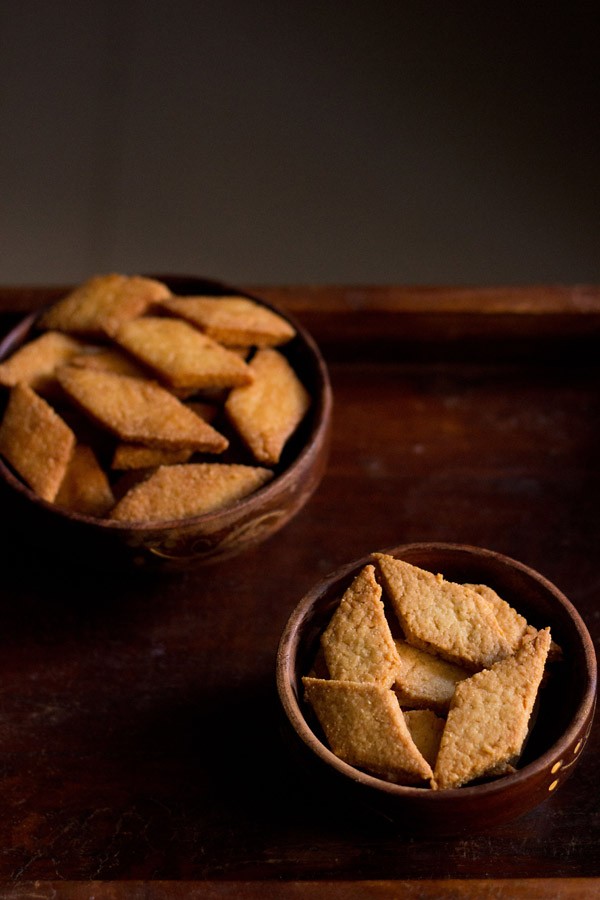 You can make shankarpali in bulk and store them in airtight container and enjoy them for the next few weeks as a snack or with tea. Sharing my mom's recipe of shankarpali. One snack she would often make during festivals, especially around Diwali.
How to make shankarpali
1. First powder ½ cup sugar in a dry grinder.
2. Sieve 1.5 cup all purpose flour/maida, a pinch of salt and powdered sugar. Mix in the ½ cup rava/sooji/semolina. Add 2 tbsp melted ghee or warm oil.
Note – use 2 tbsp ghee or oil for making fried shankarpali and 3 tbsp ghee or oil for making baked shankarpali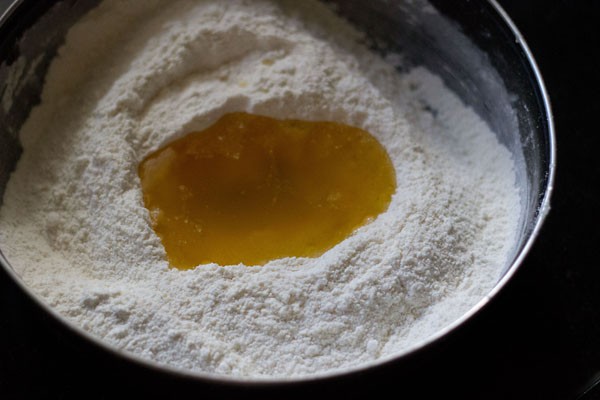 3. With your fingertips rub the ghee or oil in the flour mixture and make a breadcrumb like consistency. The whole mixture when gathered should hold itself up like the pic below.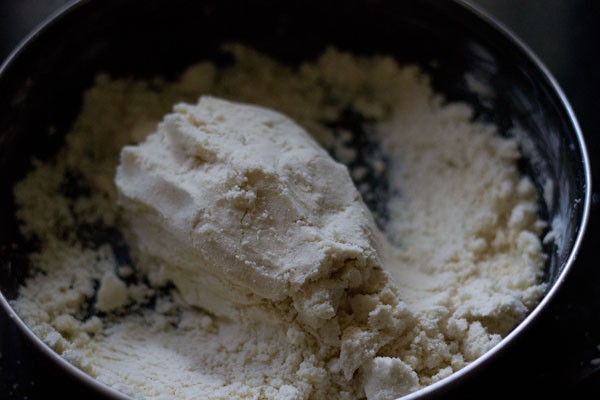 4. Add warm milk in intervals while kneading. Add milk as required. Depending on the quality of maida and sooji, more milk can be added.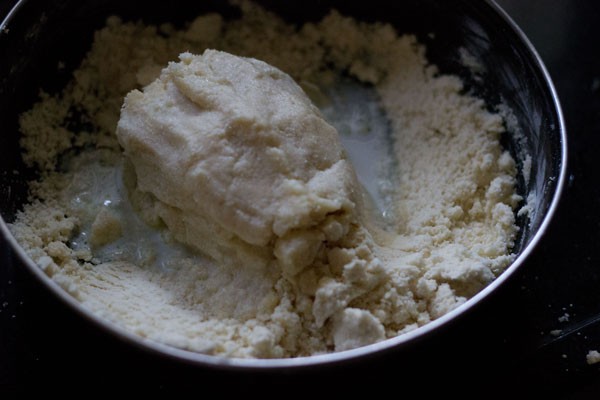 5. Knead to a tight dough. Keep aside covered for 20-30 mins at room temperature.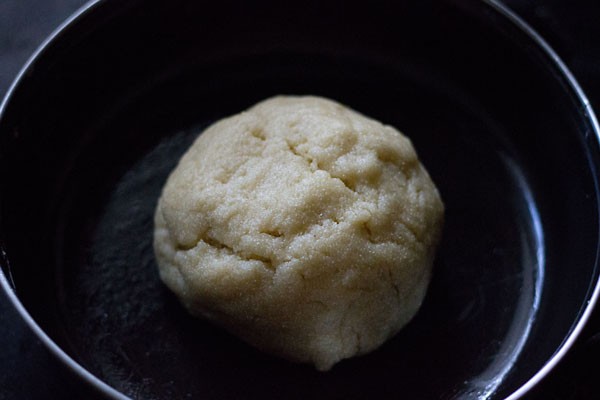 6. Divide the dough into two parts and roll each part into a circle of about 6-7 inches in diameter.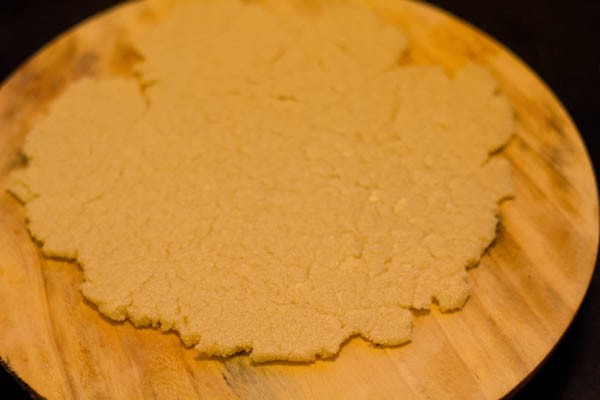 7. With a knife or pizza cutter, make diamond shapes from the dough. Discard the edges and join them together with the other piece of dough.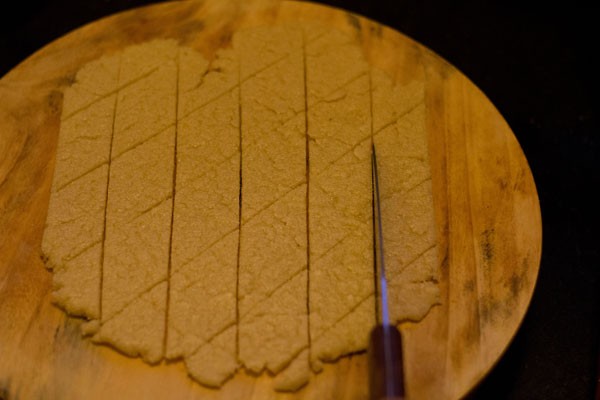 Frying shankarpali
8. Drop the diamond shaped shankarpali gently in medium hot oil.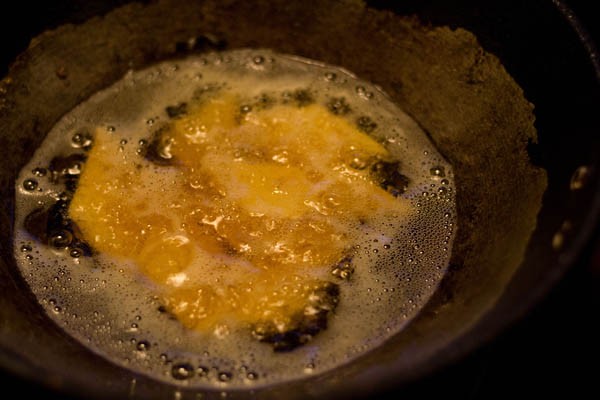 9. Gently fry the shankarpali till golden.
10. Remove from slotted spoon and drain shankarpali on kitchen paper towels to remove excess oil.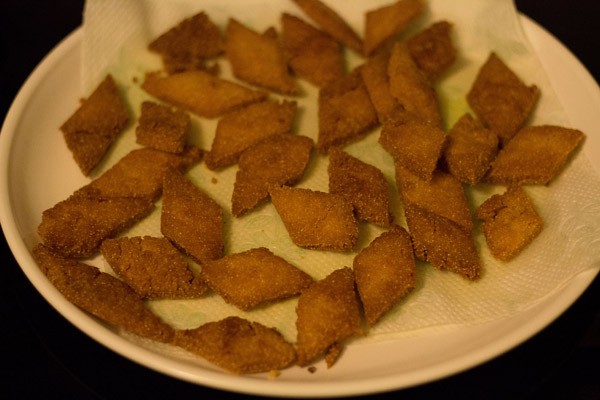 11. For baking, place the shankarpali in a baking tray keeping space in between. Bake in a pre heated oven at 180 degrees C for 20-25 mins. Below is a pic of the baked shankarpali. once baked remove and cool them on a wire rack.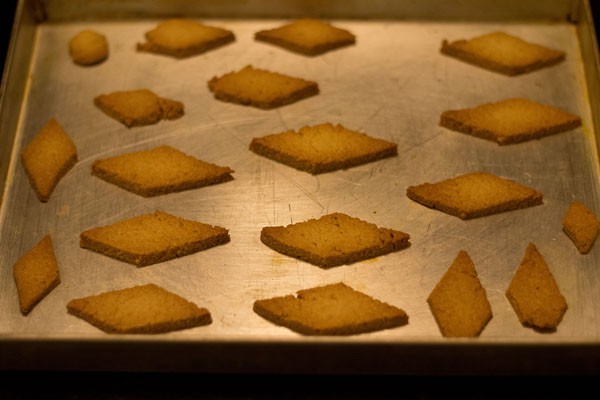 12. When cooled, store the shankarpali in an air-tight container or jar.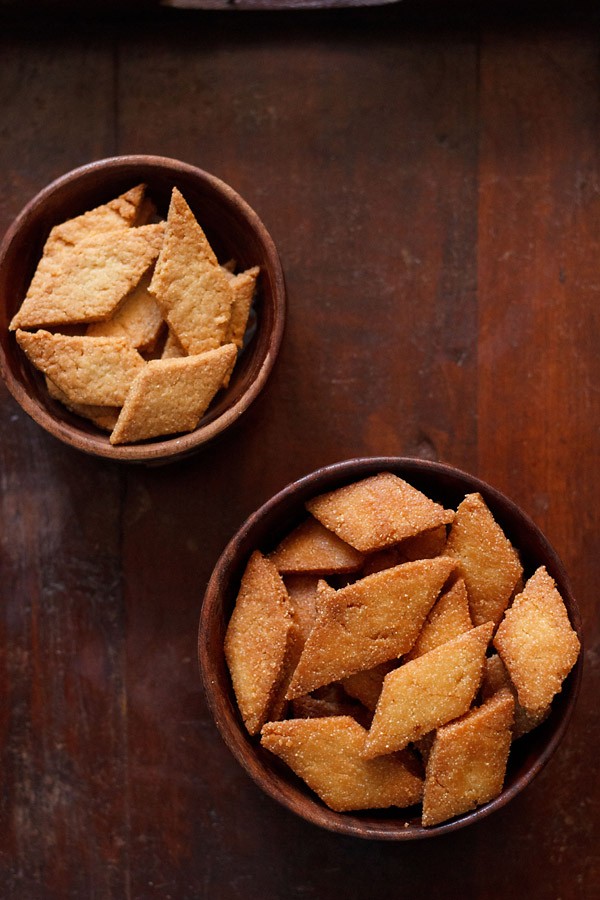 If you made this recipe, please be sure to rate it in the recipe card below. Sign Up for my email newsletter or you can follow me on Instagram, Facebook, Youtube, Pinterest or Twitter for more vegetarian inspirations.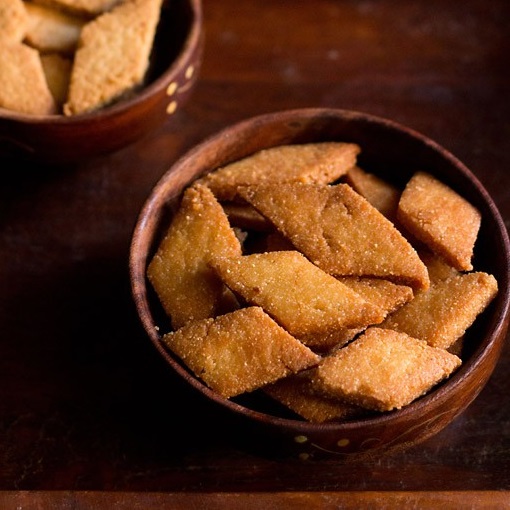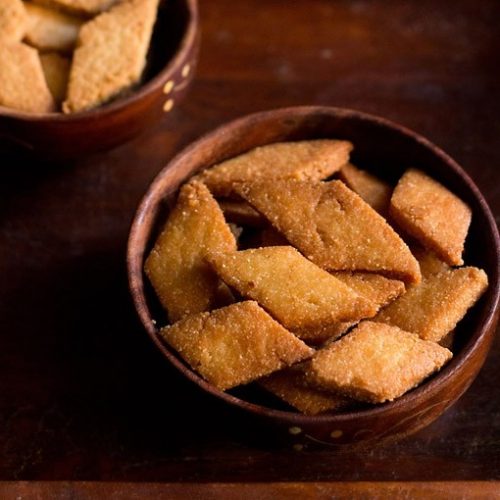 shankarpali recipe
Sweet shankarpali recipe - crisp, flaky, melt in the mouth fried and baked biscuits. Shankarpali is a popular festive snack from maharashtra.
---
---
Ingredients
1.5

cups

maida

(all purpose flour)

½

cup

rava

(sooji or semolina)

½

cup

regular sugar

or organic unrefined cane sugar or as required

1

pinch

salt

3 to 3.5

tablespoon

milk or as required

2

tablespoon

ghee or oil for making fried shankarpali and 3 tablespoon ghee or oil for making baked shankarpali
Instructions
kneading dough for shankarpali recipe
Powder the sugar in a dry grinder and keep aside.

First sieve the flour with salt.

Then sieve the powdered sugar.

Melt the ghee or warm the oil

Add the melted ghee or warm oil to the flour-semolina-sugar mixture.

Mix the fat into the flour mixture and make a breadcrumb like consistency.

When gathered together, the whole mixture should be able to hold itself together.

Warm the milk. then add each tbsp of the warm milk in intervals and knead to a firm tight dough.

If the dough looks dry, then add 1/2 or 1 tsp milk and knead.

Keep aside covered for 20-30 mins.
for frying shankarpali
Heat oil for deep frying in a kadai or pan.

Divide the dough into two equal parts. roll one part into a disc 6-7 inches in diameter. cut diamond slices from the rolled dough.

Gently drop 6-8 of these slices into the kadai or pan.

You can fry more if you have a bigger kadai or pan.

Fry shankarpali till golden. drain fried shankarpali on kitchen paper napkins. fry the rest of the shankarpali in batches.

Also roll the other piece of the dough in a similar way and make diamond shaped slices.

Fry these slices too in batches.

When cooled, store the shankarpali in an air-tight jar.
for baking shankarpali
Preheat the oven to 180 degrees c.

Place the diamond slices on to a baking tray or pan.

Bake shankarpali for 20-25 mins or till light golden.

Remove and cool the baked shankarpali on a wire rack.

Once cooled, store the baked shankarpali in an air-tight jar.
Notes
Tips to make shankarpali recipe:
You can add more sugar if required.
2 tbsp of oil or ghee is enough for the quantity of flour and sooji/rava mentioned in this recipe if you plan to deep fry the shankarpali. If you add 3 tbsp of oil or ghee than there are chances of the shankarpali breaking in the oil while frying. However 3 tbsp of ghee or oil works well and gives the shankarpali a good texture if you bake them.
Like our videos? Then do follow and subscribe to us on youtube to get the latest Recipe Video updates.
Tried this recipe?
If you have made the recipe and liked it then do share the recipe link on facebook, twitter & pinterest. For instagram mention @dassanasvegrecipes and tag #dassanasvegrecipes!
All our content & photos are copyright protected. Please do not copy. As a blogger, if you you want to adapt this recipe or make a youtube video, then please write the recipe in your own words and give a clickable link back to the recipe on this url.