Namak Para (plural: Namak Pare) are scrumptious crispy fried, spiced and savory bites made with whole wheat flour, spices, seasonings and oil or ghee. These tit-bits can be touted as the salted cousin of Shakkarpara, both of which form the quintessential duo of Diwali treats, especially across North India. in this post, I have shared a Punjabi style Namak Para recipe that you can easily make during your Diwali festivities or even enjoy as a snack during your tea or coffee time.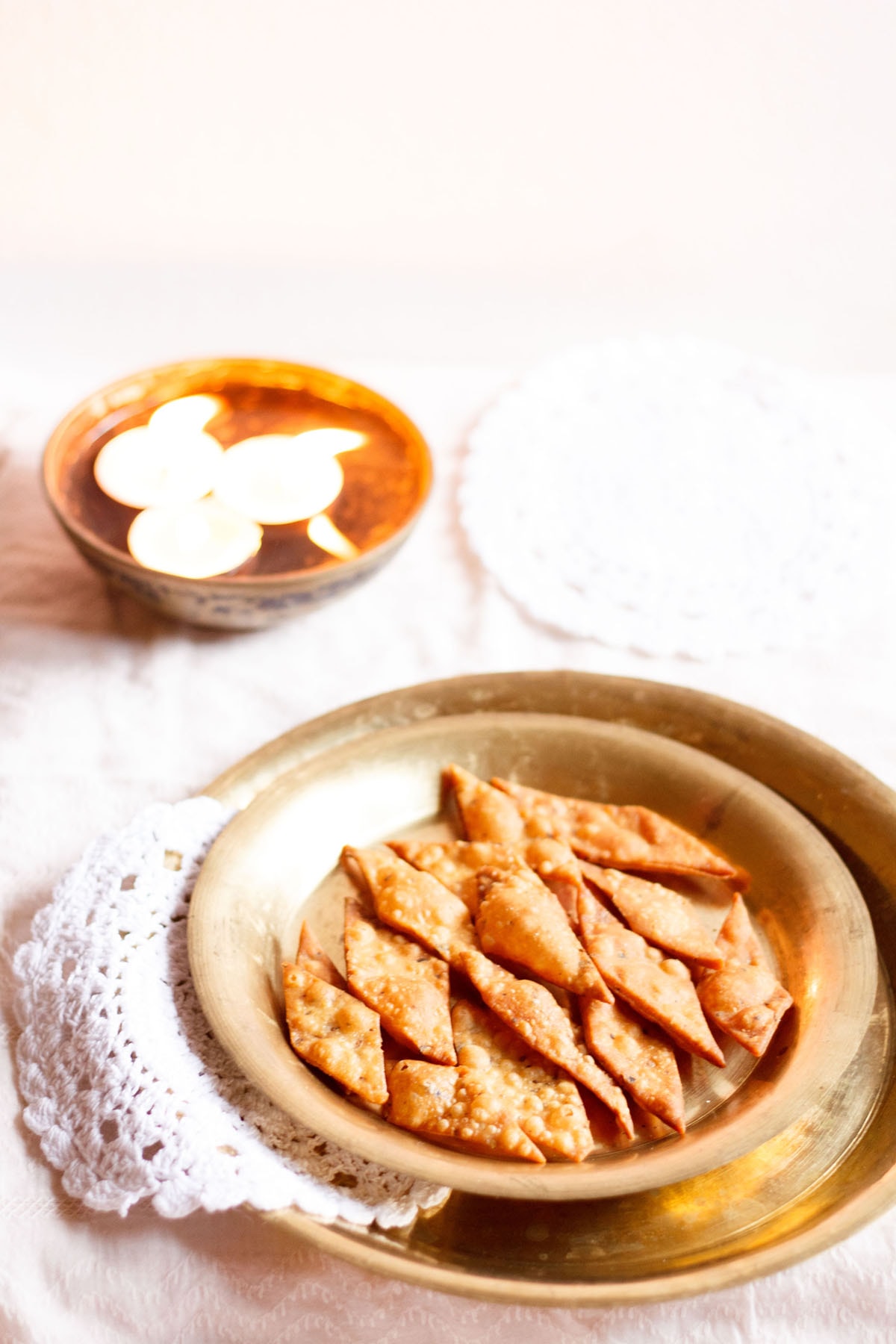 What is Namak Para
It is obvious from the name Namak Para that this festive treat has 'namak,' which is salt in English, as the main seasoning. This is also the reason for it being termed as a savory snack.
Along with this, the suffix 'para (plural: pare)' refers to 'pieces.' When put together, the name literally means 'salty or salted pieces' or even 'salty bites.'
Basically, the Namak Para Recipe is a spiced and seasoned pastry dough, traditionally made of whole wheat flour, all-purpose flour or a combination of both. This is then rolled out and cut into strips, diamonds or squares.
While the classic cooking method of these include them being deep-fried, these days a lot of people also air-fry or bake this snack for health concerns.
Just like many other snacks and sweets having regional variations, Namak Para also is made in a variety of ways across the Indian subcontinent. This bite-sized snack can be crispy, flaky or spicy, but is essentially savory in all its variants.
For instance, it is referred to as 'nimki' in West Bengal. The Maharashtrian version is known as Shankarpali. Also, the sweet version of the same is the shakkarpara.
About This Recipe
This tasty snack, also known as Savory Diamond Cuts is very easy to prepare and does not require many ingredients.
Most of your time will be spent frying them as they need to be fried in batches. This Namak Para Recipe makes for a crunchy munchy snack that also puffs up while frying.
You have to just knead a firm dough, which is spiced with carom seeds (ajwain), crushed black pepper, cumin seeds, and seasoned properly with salt (namak).
Then, roll and cut the dough into the choice of shape you want (I usually prefer diamonds) and deep-fry to a perfect golden brown.
The recipe of this Namak Para contains both whole wheat flour and all-purpose flour for crispiness. However, you can make them with one of the two flours, instead. I prefer to use whole wheat flour wherever possible.
You can make these in bulk, store in an air-tight container and enjoy with tea for the next few weeks. They are excellent tea-time snacks as well as for festive occasions like Diwali and Karwa Chauth.
How to make Namak Para
Make Dough
1. Mix all the ingredients for the pastry dough listed below and knead to a firm and stiff dough. Cover the dough with a moist kitchen cotton towel and set aside for 30 minutes. Add water in parts when kneading the dough.
1 cup whole wheat flour (atta)
1 cup all-purpose flour (maida)
1 teaspoon carom seeds (ajwain)
1 teaspoon crushed black pepper
¼ teaspoon baking soda
½ teaspoon salt or as required
2 tablespoons oil or ghee – if using oil, use a neutral oil
½ to ¾ cup water or as needed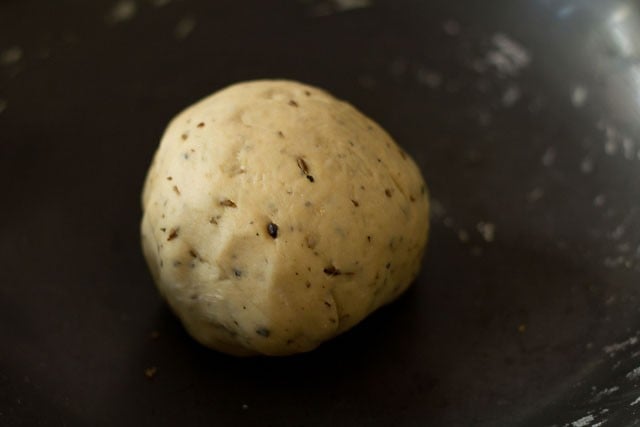 2. Pinch a medium-sized ball from the dough. Roll it to a neat smooth ball between your palms. Place it on a lightly dusted board. Sprinkle a bit of flour on top of the dough ball.
Tip: Dusting the surface with flour prevents the dough from sticking to the board when rolling.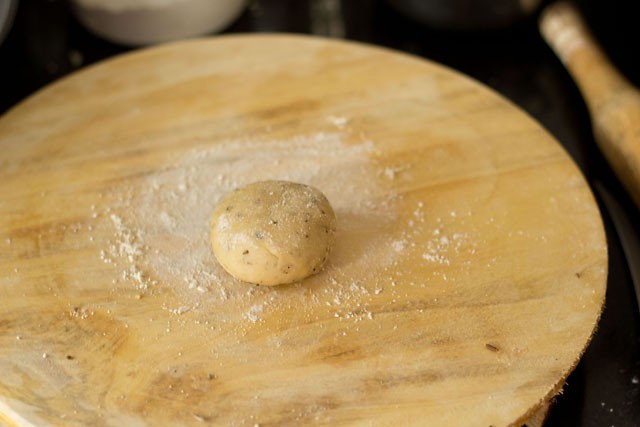 Make Namak Pare
3. Using a rolling pin, roll the dough and make sure it is not too thick or thin, about 3 to 4 mm in thickness.
Also, ensure that you have lightly dusted the dough and board. If you prefer, opt out of dusting the dough and board with flour.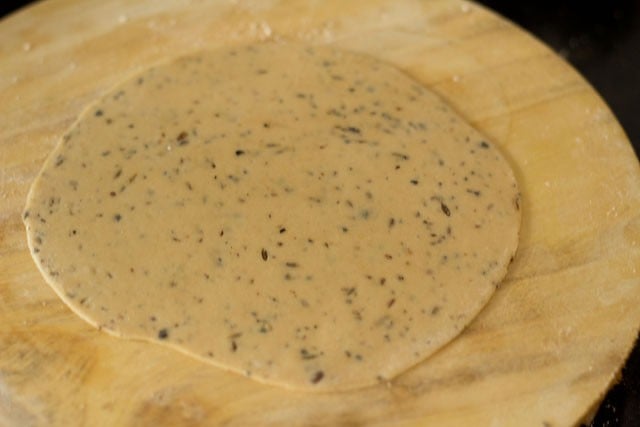 4. Use a serrated knife to slice diagonal cuts on the rolled dough. The dough should have equal-shaped diamonds.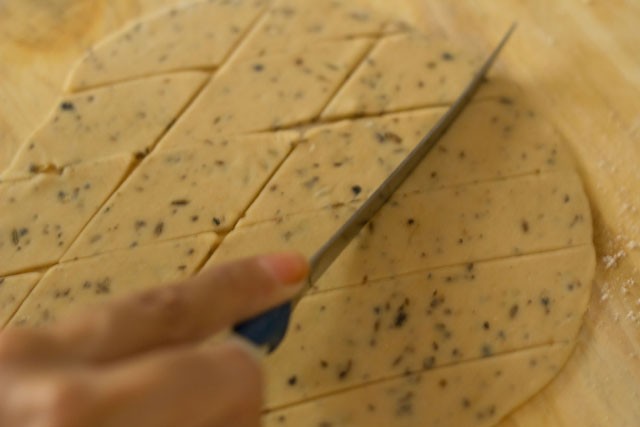 5. Add the diamond-shaped dough to a plate and cover them with a cloth. Keep aside for frying later.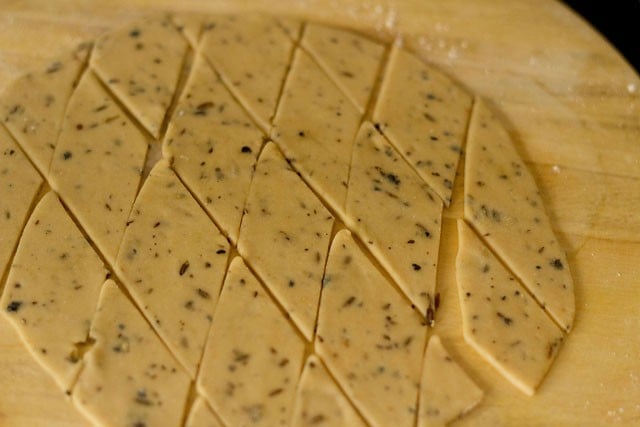 Fry Namak Para
6. Heat oil for frying in a kadai (wok). Keep the heat to medium to medium-high. The oil has to be moderately hot.
Gently and carefully place some Namak Para diamonds in the hot oil. Make sure not to make the pan over crowded with the pieces.
Turn over with a slotted spoon when one side has become crisp and golden. Fry the second side and turn over again when golden. Turning over a few times, fry Namak Pare for even browning.
Tip: Make sure the oil is not too hot as you don't want the Namak Para to burn.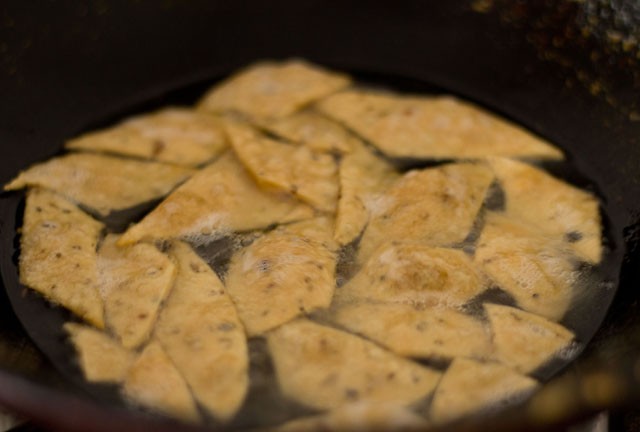 7. Fry until golden-brown and crisp. Drain them on a paper towel to remove excess oil. Fry the remaining batches this way.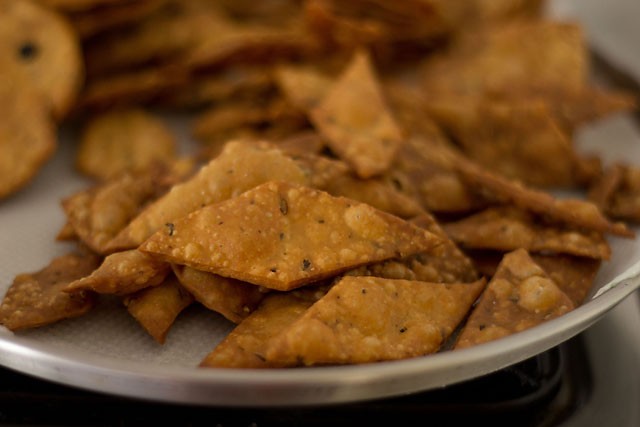 8. As soon as they cool, store in an air-tight jar or container. Serve Namak Pare with a cup of tea or as a snack.
These keep well for a couple of weeks in an air-tight container at room temperature.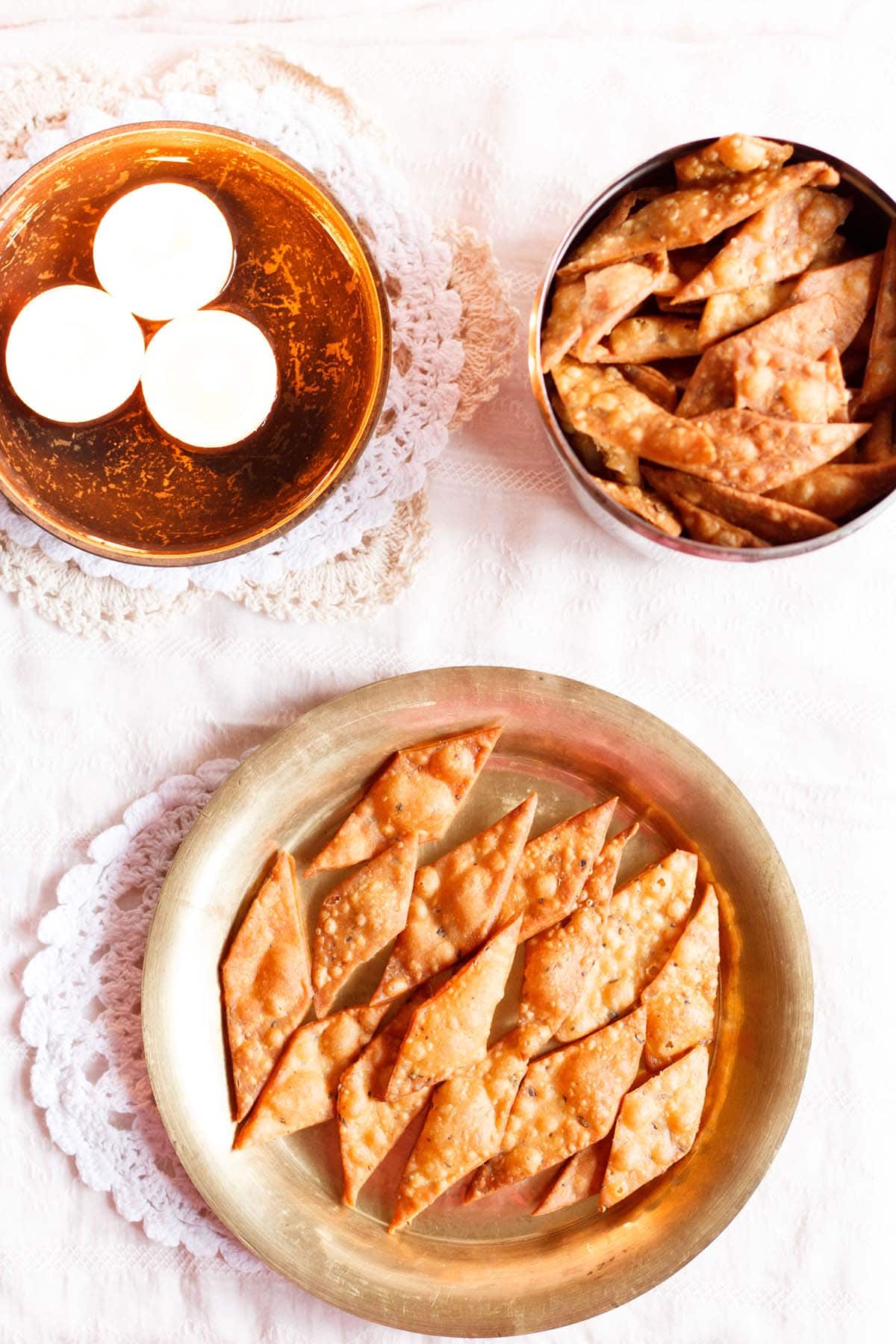 Expert Tips
Flour: For this recipe, I have used whole wheat flour and all-purpose flour. But you can use any one or the other, depending on your preference. I typically opt for whole wheat flour because it is a healthier option and the results are just as amazing.
Dough: Make sure that your dough is the right texture to achieve the perfect results. The dough should not be too dry, as this may cause it to crack while rolling and will also make the texture dense. If the dough is too wet, then the Namak Para will be soft. To achieve a nice stiff and firm dough, add water in parts while kneading.
Oil: I normally fry this snack in peanut or sunflower oil. Peanut oil adds a delicious nutty flavor while sunflower oil has more of a neutral taste. Feel free to use any of these 2 oils for the perfect results.
Frying: Ensure to deep-fry these Savory Diamond Cuts in moderately hot oil. A less hot oil will make it absorb too much oil. If the oil is too hot, the snack will brown faster from outside. But inside will still be undercooked.
Variations: This is a versatile snack that has a variety of flavors and textures. It can be spicy, herby, flaky or crispy. Depending on the amount of fat used in the dough, the resulting texture can be flaky or have a crispy hollow structure.

Add spices and herbs like dried fenugreek leaves (kasuri methi), crushed fennel seeds (saunf), nigella seeds/onion seeds (kalonji), asafoetida (hing), turmeric powder and red chili powder to make different yummy variations.
Baking: To make a baked version of the Namak Para Recipe, add 3 to 4 tablespoons of oil or ghee when making the dough. Keep the raw cut dough pieces on a baking tray. Preheat oven at 180 degrees C/356 degrees F for 15 minutes. Bake at the same temperature for 20 to 25 minutes or until crispy and golden. If needed, turn over the pieces halfway, through baking.
Scaling: You can scale the recipe to make a smaller or larger serving.
FAQs
Why is the dough breaking and cracking when I'm rolling it?
This may be because there is not enough water in the dough. When the dough is too dry, it will crack. So, to avoid this, you need to add more water and knead until the dough is smooth.
Can baking powder be used instead of baking soda in Namak Para Recipe?
In this particular recipe, you can use baking soda and baking powder interchangeably and still get amazing results. Add about ½ teaspoon of baking powder instead of baking soda.
Why is my Namak Para not crispy?
For the Namak Pare to be crispy, the dough must be stiff and firm, and not too soft. It should also be fried on a medium heat. The longer you fry, the crispier they will become.
Will the Namak Pare come out well without baking soda?
Namak Pare will still taste just as good without baking soda. But adding baking soda gives it a light and crispy texture.
More Festive Snack Recipes To Try!
Please be sure to rate the recipe in the recipe card or leave a comment below if you have made it. For more vegetarian inspirations, Sign Up for my emails or follow me on Instagram, Youtube, Facebook, Pinterest or Twitter.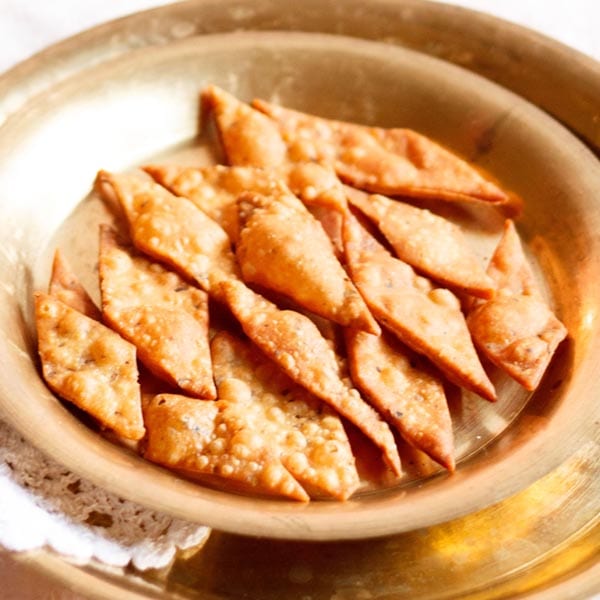 Namak Para | Namak Pare (Salty Diamond Cuts)
This Punjabi style Namak Para or Namak Pare are crispy, spiced and savory fried bites made with wheat flour, spices, fat and seasonings. These are a popular snack across North India that you can make as a tea-time snack or for festivals like Diwali.
Dough Resting Time
30

minutes
Total Time
1

hour
10

minutes
1

cup

whole wheat flour

(atta)

1

cup

all purpose flour

(maida)

1

teaspoon

carom seeds

(ajwain)

1

teaspoon

crushed black pepper

– optional

1

teaspoon

cumin seeds

– optional

¼

teaspoon

baking soda

2

tablespoons

oil

or ghee – I used sunflower oil

½ to ¾

cup

water

or as needed

½

teaspoon

salt

or as required

oil

for deep frying, as required
Instructions
Making dough
Sieve the whole wheat flour, all purpose flour, baking soda and salt together.

Add the carom seeds, crushed black pepper, cumin seeds and salt. Mix these spices and seasonings with the sifted ingredients.

Add the oil or ghee. Add water in parts and start to knead the dough.

The dough should not be soft, but firm and tight. Cover and set aside the dough to rest for 30 minutes. You can either cover the bowl with a lid or place a moist kitchen towel on the dough.
Making namak pare
Take medium sized balls from the dough. Roll them to a neat round ball between your palms. Place one ball on a lightly dusted floured surface or rolling board.

With a rolling pin, roll into a disc or round neither too thin nor too thick and about 3 to 4 mm thick.

With a serrated knife cut criss cross patterns on the rolled dough.

Remove the diamond shaped patterns and deep fry them in hot oil till crisp and golden browned.

Keep the cut pieces of dough covered with a kitchen towel, so that they do not dry out.

Drain them on paper napkins to remove excess oil. Fry the remaining namak pare or diamond cuts in batches.

Once they cool at room temperature, then store them in an airtight jar. These keep well for a couple of week when stored in an air-tight container or jar.

You can serve Namak Pare with tea or as a snack.
Notes
Add water in parts when kneading to make a stiff and firm dough. Do not make it soft like a roti or chapati dough. 
You can opt to use only all-purpose flour or only whole wheat flour to make the dough. 
Deep fry in a moderately hot oil until crispy and golden. A lesser hot oil will make the namak para absorb too much of oil. If the oil is very hot, the namak pare will get browned faster from outside and the inside dough can be undercooked.
Leave out the spices for making only a salted version of namak para. Alternatively you can add ground spices and herbs like red chilli powder, turmeric powder, garam masala powder, crushed fennel seeds, nigella seeds and dry fenugreek leaves.
If you want to bake namak pare, add 3 to 4 tablespoons oil or ghee to the dough. Place the raw cut dough pieces on a baking tray. Preheat oven at 180 degrees Celsius for 15 minutes. Bake at the same temperature for 20 to 25 minutes or until golden and crispy. Turn over the namak pare pieces if needed halfway through the baking. 
This recipe can be scaled to make a smaller serving or a larger serving.
Nutrition Info (Approximate Values)
Nutrition Facts
Namak Para | Namak Pare (Salty Diamond Cuts)
Amount Per Serving
Calories 375
Calories from Fat 162
% Daily Value*
Fat 18g28%
Sodium 363mg16%
Potassium 158mg5%
Carbohydrates 47g16%
Protein 8g16%
Vitamin A 12IU0%
Vitamin B1 (Thiamine) 1mg67%
Vitamin B2 (Riboflavin) 1mg59%
Vitamin B3 (Niacin) 3mg15%
Vitamin B6 1mg50%
Vitamin C 1mg1%
Vitamin E 7mg47%
Vitamin K 2µg2%
Calcium 23mg2%
Vitamin B9 (Folate) 71µg18%
Iron 3mg17%
Magnesium 51mg13%
Phosphorus 144mg14%
Zinc 1mg7%
* Percent Daily Values are based on a 2000 calorie diet.
This Namak Para recipe from the archives, first published on November 2012 has been republished and updated on October 2023.