mathri recipe with step by step photos – these mathris, i had made on karwa chauth festival.  as i was not able to find mathri in the shops close to our place. we usually break the karwa chauth fast with mathris. so i made these indian spiced salty crackers laced with ajwain and peppercorns at home.
mathris are popular in north india. they are also known as nimkis. i prefer to have mathris with tea, but in north india people have mathris with mango pickle. this is my mom in law's recipe. this method of making mathris will give a crisp version and not the flaky ones. the flaky mathris are made with a slight different method. in the flaky mathri recipe, i have shared both frying and baking method.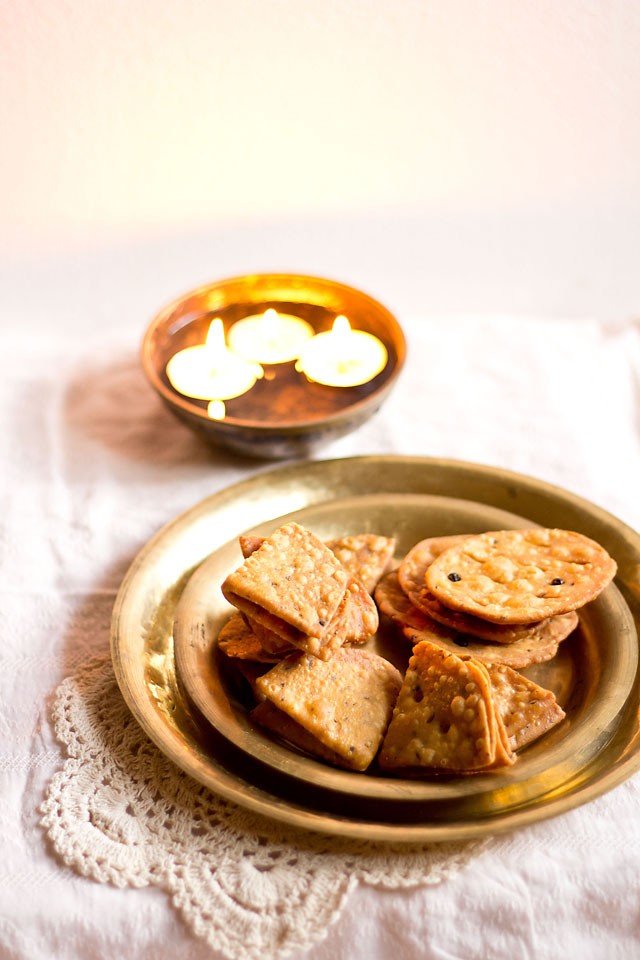 mathris can also be made during diwali. you can make these crackers and store them in an air tight container.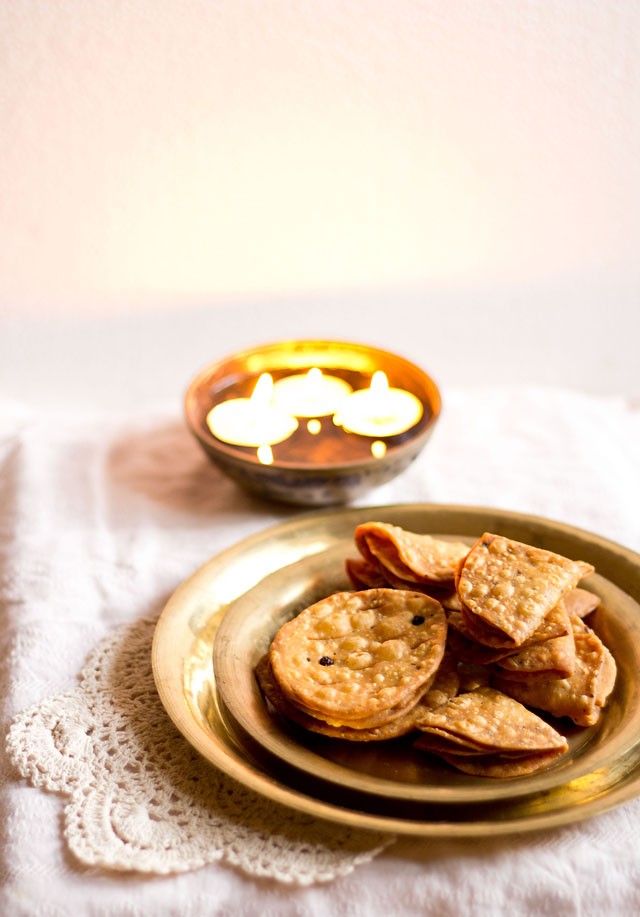 usually mathris are fried. i have seen the baked versions and even tried them at home. but after being baked, they were pretty dense and hard. i tried many times and every time the mathris would become hard. so now i just fry them instead of baking them.
mathris are made with refined wheat flour/maida. i wanted a healthier mathris, so i have added wheat flour to the recipe. the result was a healthy, crisp and flavorful mathri.
if you are looking for similar recipes then do check namak paare, shakkar paare and gujiya recipe.
mathri recipe details below: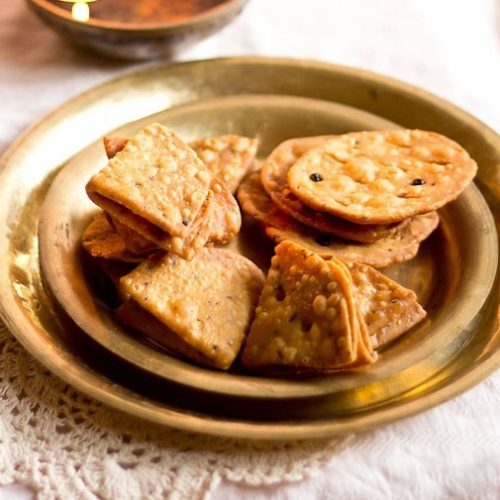 mathri recipe
mathri recipe - indian spiced salty crackers laced with ajwain and peppercorns
ingredients (1 cup = 250 ml)
1

cup

wheat wheat flour

(atta)

3/4 to 1

cup

all purpose flour

(maida or white flour)

1

teaspoon

ajwain

(carom seeds)

1

teaspoon

crushed black pepper

(kali mirch powder) - optional

1

teaspoon

cumin seeds

(jeera) - optional

¼

teaspoon

baking soda

2

tablespoon

ghee

½ to ¾

cup

water

salt to taste

oil for frying

few black peppercorns

(sabut kali mirch)
how to make recipe
seive the wheat flour, white flour, cooking soda and salt together. add the ajwain.

mix the carom seeds with the rest of the seived flours. add the ghee.

add water and start to knead the dough.

the dough should not be soft, but a little tight and hard.

make the mathris in any shape as shown in the pictorials below. you could make them round or triangular.

if making round mathris then make it a little thick.

fry the mathris in low to medium hot oil till browned and crisp.

serve mathri as a snack with indian chai or with punjabi mango pickle.
recipe notes
few tips for making mathri recipe:
the mathris should never be fried in a very hot oil. they become browned quickly from the outside but do not get cooked from inside.
the oil should be kept on a low to medium flame. hence, the mathris take a longer time to fry than other fried indian snacks or pooris.
you could also warm the ghee or oil and add to dough for more flakiness.
the mathri dough should be firm and not soft.
avoid adding too much water while making the dough.
the triangular mathris can be laced with cloves instead of peppercorns.
you could also add coarsely powdered black peppercorns instead of full ones.
step by step crisp mathri recipe:
1. seive the maida, wheat flour, baking soda and salt.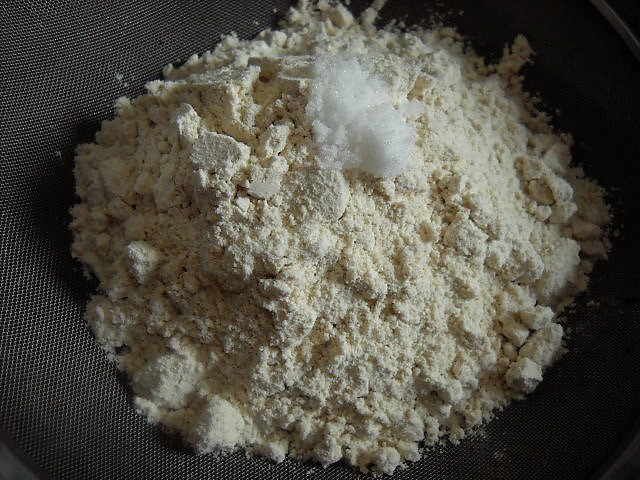 2. keep it aside.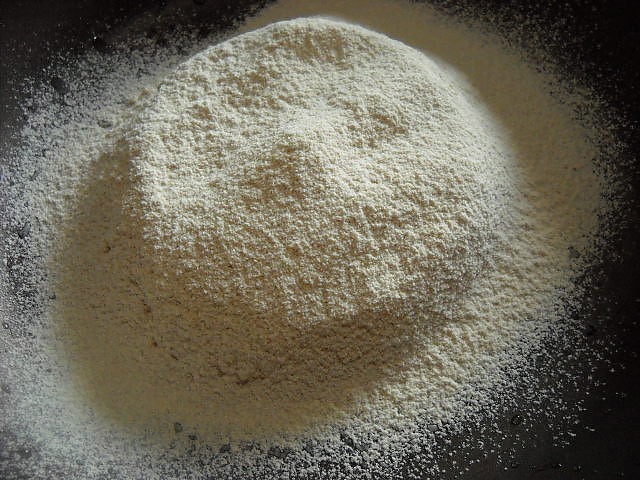 3. take ajwain and add it to the sieved flours.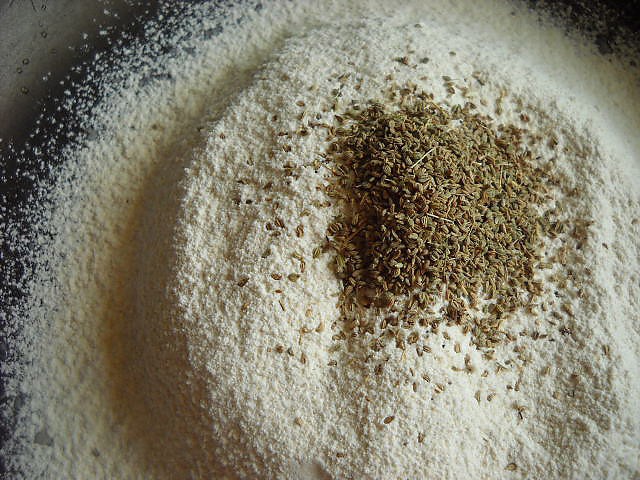 4. mix the ajwain with the flours.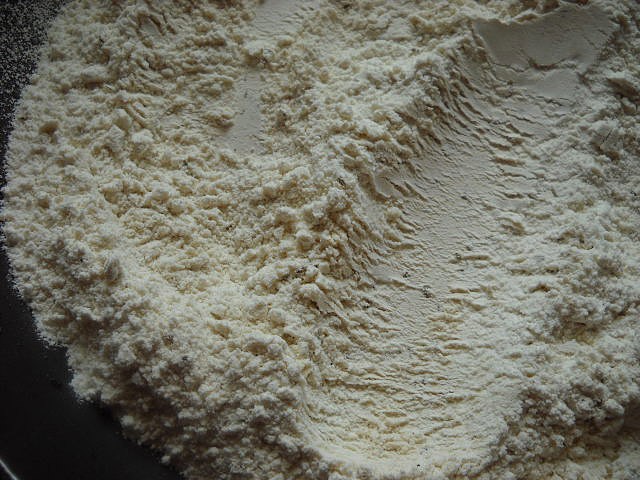 5. add ghee and some water.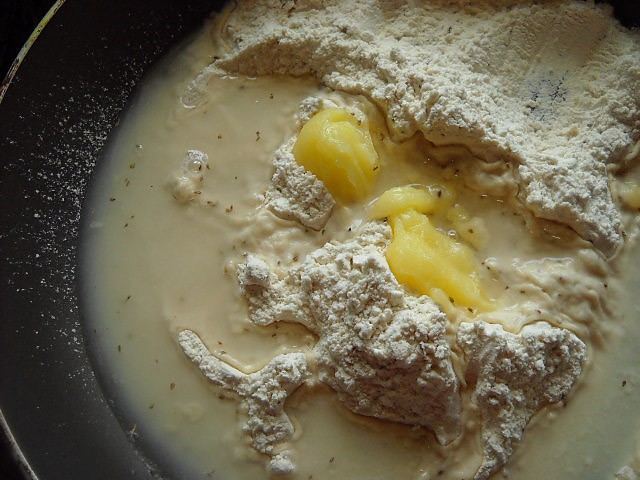 6. start to knead.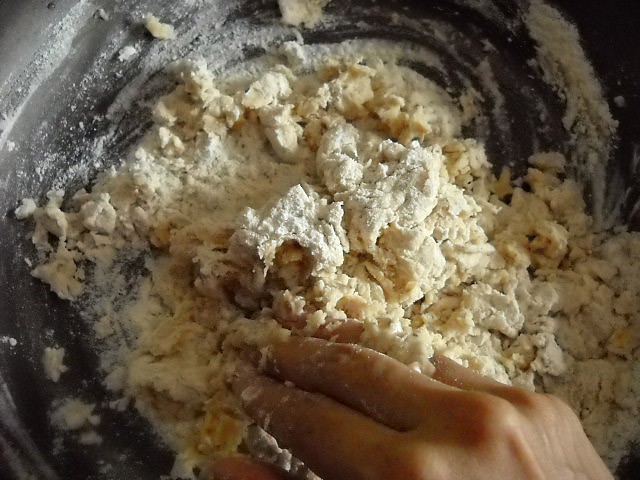 7. add some more water and knead into a smooth but firm dough. it should not be soft.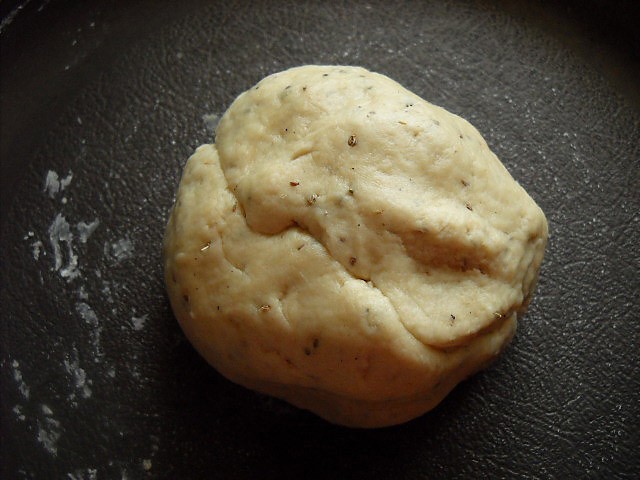 now there are 2 ways of making the mathris:
a) circular or
b) triangular mathri
8. first, lets see how to make circular mathris. take a tennis ball size dough in your hand and roll into a thick disc/chapati. prick with a fork on this rolled dough.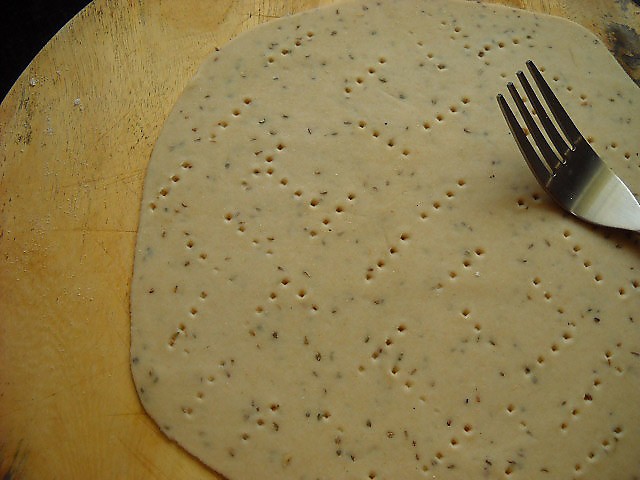 9. with a biscuit cutter, cut round discs. you can also take small balls from the dough and roll them each into round discs. the round discs can be in the range of 3 to 4 inches in diameter.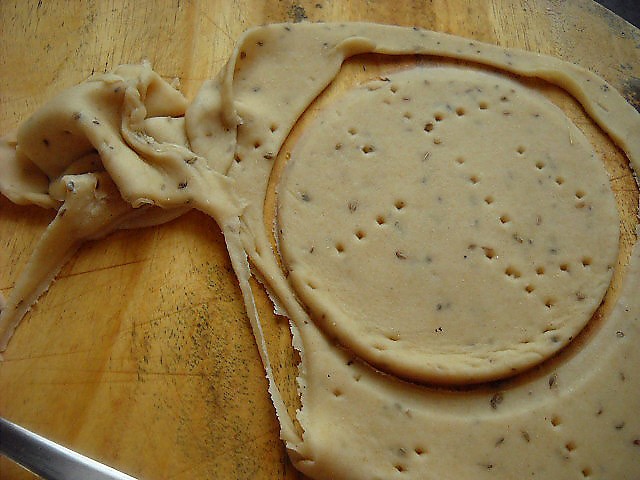 10. on the round disc embedd some peppercorns. remove the extra dough from the sides and make another ball of it.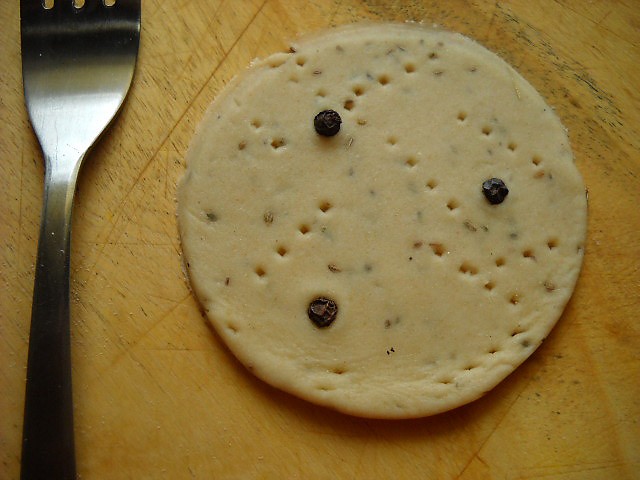 11. now the second way of making triangular mathris. take a small ball of the dough and roll into a puri.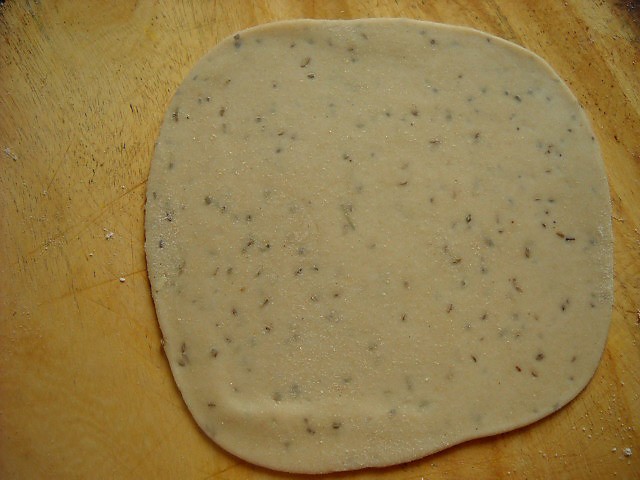 12. fold the rolled puri sideways.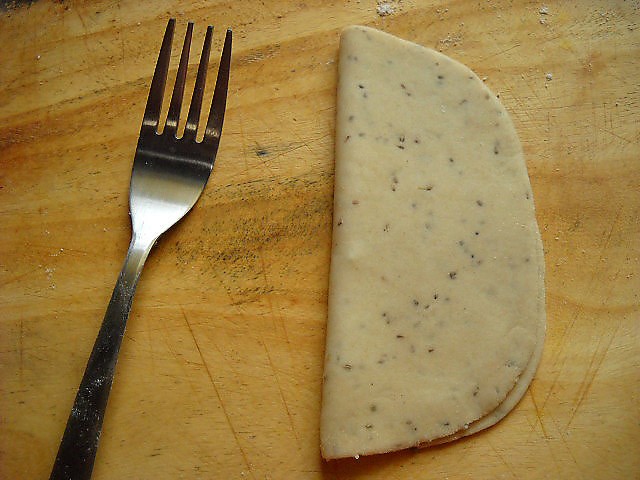 13. and then again fold it in a triangular shape.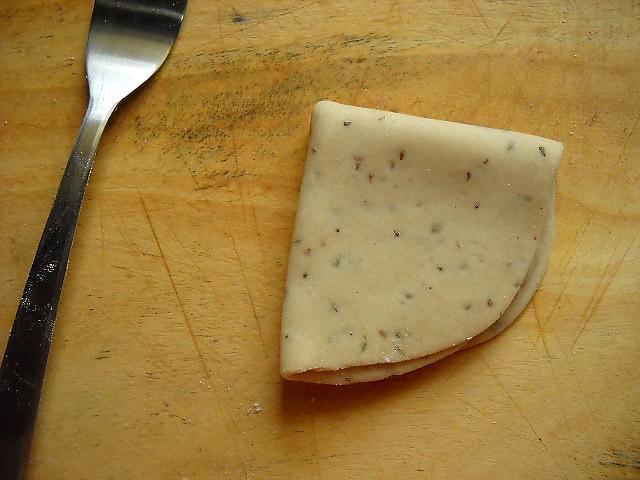 14. embedd the peppercorns. you could also insert a clove in the dough. i do not like the strong taste of cloves, so i have not added these to the recipe. you don't have to prick with the fork, but just for fun i used the fork.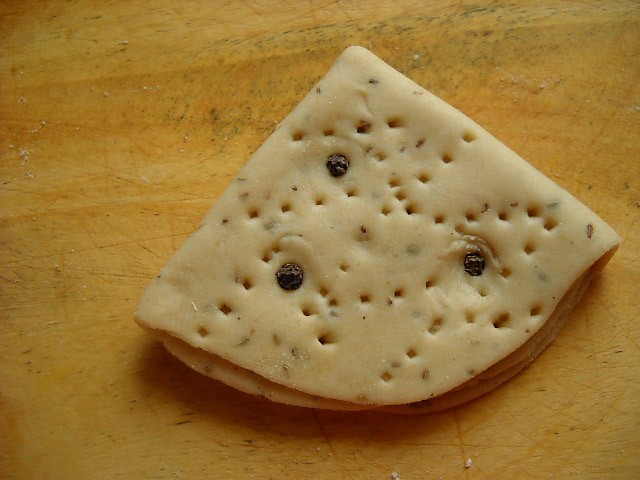 15. make the mathris in any shape of your choice. keep all of them aside.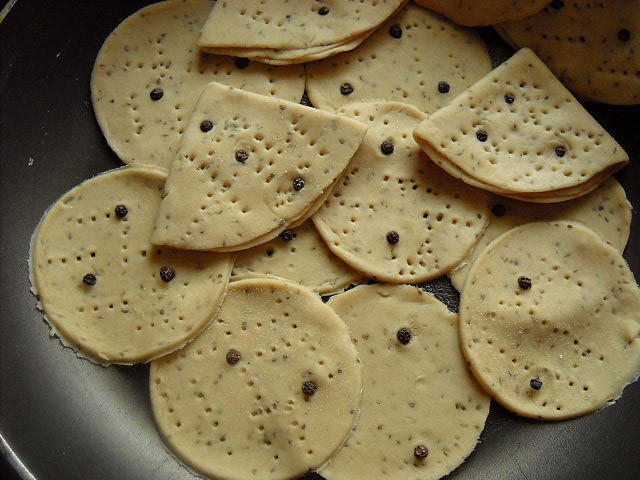 frying mathri:
16. heat oil in a pan and start to fry the mathris till they are crisp and golden brown. (please see notes below for the hotness of the oil)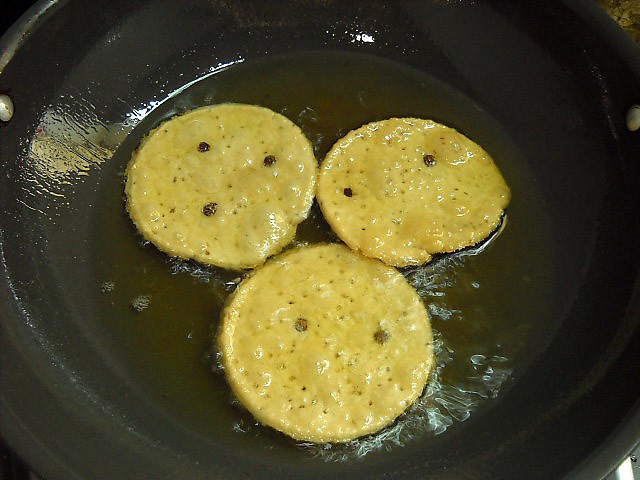 17. also fry the triangular ones. the triangular mathris have to be fried really evenly to ensure that the inner folds inside the triangles are cooked as well.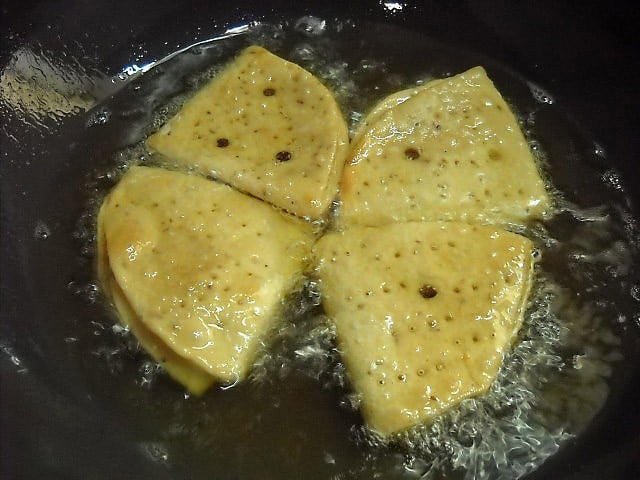 18. drain mathri on tissues to remove excess oil. when the mathris are cooled, store them in an airtight jar.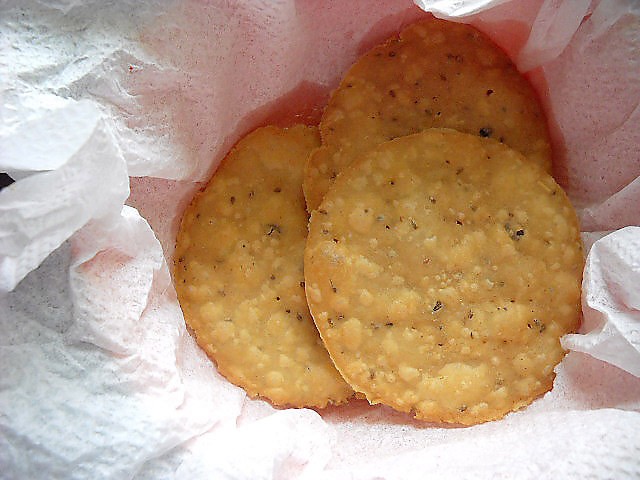 19. enjoy the mathris with pickles or just with evening chai or tea.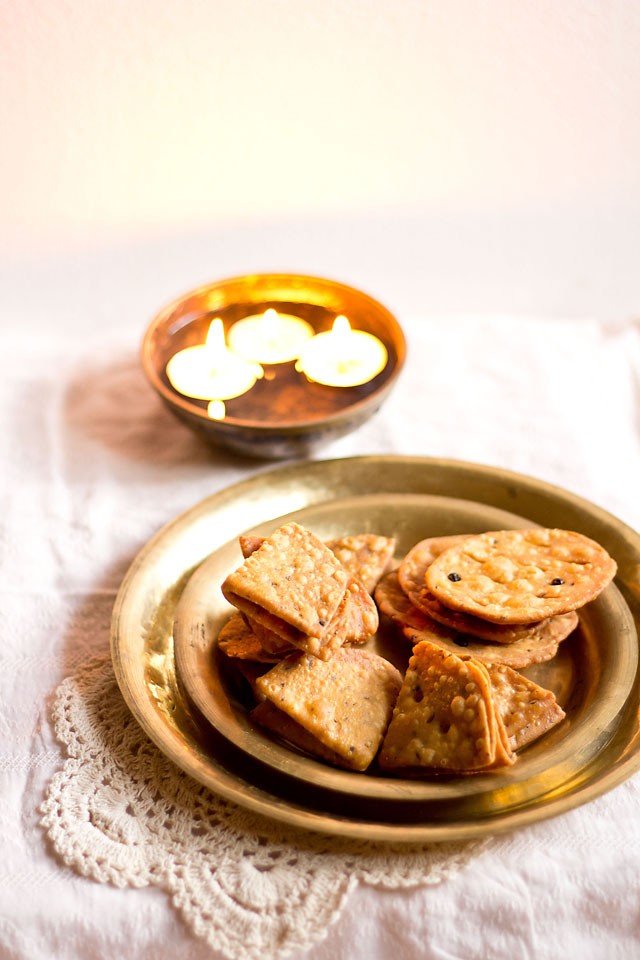 About
i started vegrecipesofindia.com in feb 2009. it is a pure vegetarian blog and shares recipes with step by step photos.

i am passionate about cooking from childhood and learnt cooking from my elders. a home science degree course further enhanced my cooking and baking skills professionally along with an internship in a five star hotel. i am trained both in mainstream indian as well as international cuisines.

all the 1800 recipes posted on blog are tried and tested and made healthy wherever possible. the recipes are detailed and with step by step pictures that will easily help you to make delicious and tasty vegetarian food.