Koraishutir Kochuri is simply a Bengali style green peas (korai shuti or motor shuti) kachori. This preparation usually is in its most supreme form during the winters that bring in fresh green peas in abundance. But to relish the flavors of one of the most sought-after Bengali breakfast or snack options, you needn't really wait for the winters to arrive. You can even make this Motor Shutir Kochuri with your frozen peas. Best had with luchi, Alur Dom and Cholar Dal as a comforting and hearty breakie.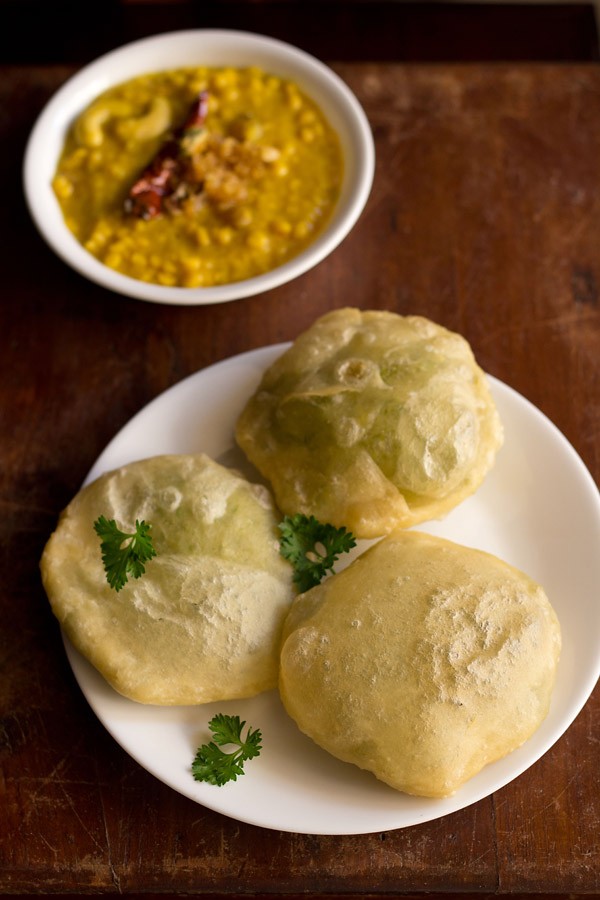 Not only I enjoyed making quite a number of Bengali recipes this year, but also feasting on them. So these recipes have become a regular in my kitchen.
The koraishutir kochuri as it is called in the Bengali language, is made with green peas stuffing. The stuffing is very mildly spiced so that the flavors of the green peas come through.
The outer covering of the kachori is not flaky or Khasta like the Khasta kachori. The dough that is used is similar to the Luchi dough and is made with all purpose flour or Maida.
This results in a soft textured peas kachori. They are more like stuffed pooris. However stuffed pooris made from whole wheat flour do not have a soft texture that these kachoris have. To get the authentic taste, I would suggest you to use all purpose flour in the recipe and not substitute with whole wheat flour.
To make this special Bengali delicacy, it is best if you get fresh green peas and use them in the recipe. However, if you are craving for this Koraishutir Kochuri in other seasons, go ahead and use your regular frozen peas to make them.
I made these koraishutir kochuri twice. First time I did not add ginger, green chili and garam masala. And for my taste buds, the taste was a little bland.
Later I added green chili, ginger and garam masala just to add a zing of flavor and taste in the peas stuffing. And the overall taste of the koraishutir kochuris remarkably improved.
The pics are not that good, but the kachoris are. So do give a try to make these special Bengali delicacy at home.
How to make Koraishutir Kochuri
1: First we begin with making the dough. Mix the flour, ghee/oil and salt first. Add water and knead to a smooth and soft dough. Keep covered with a wet kitchen napkin for 30 to 45 minutes.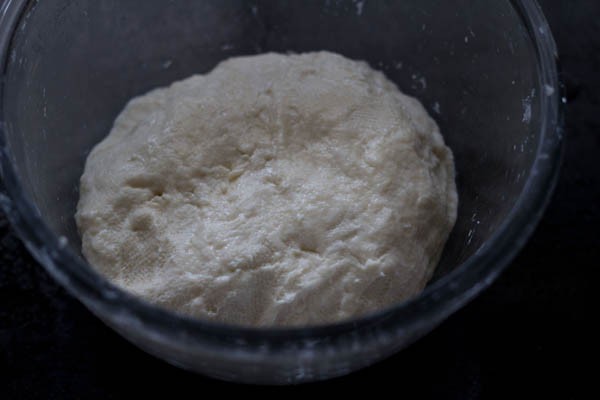 2: Take the peas along with ginger and green chilies in a grinder jar. Ginger and green chilies right at the bottom of the grinder jar and hence not visible 🙂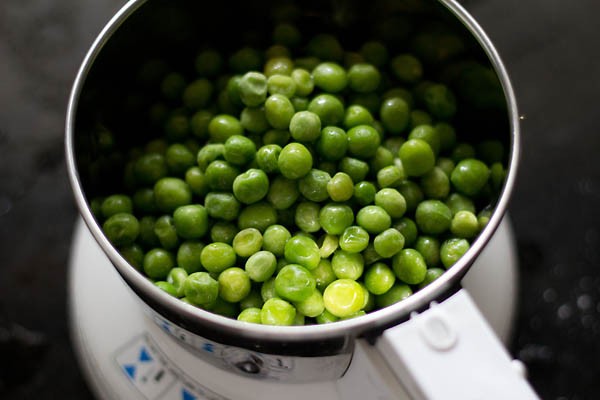 3: Grind to a semi coarse paste without adding any water.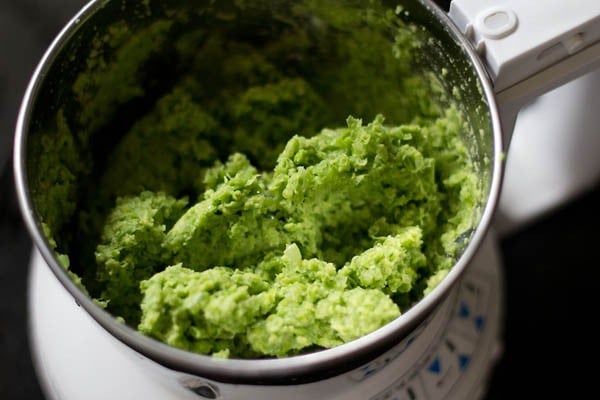 4: heat oil in a small pan. Add all the spice powders and fry for a few seconds.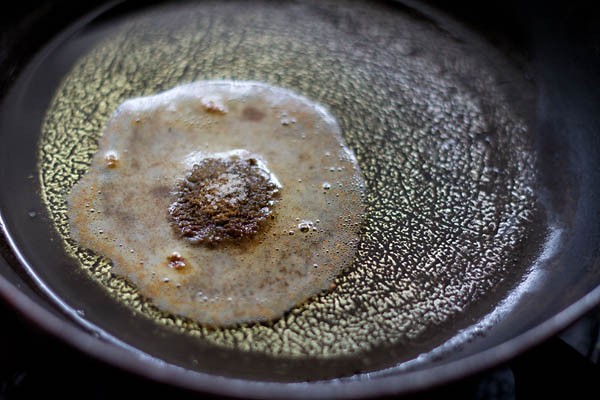 5: Add the ground peas along with sugar + salt. Stir and saute for 3 minutes.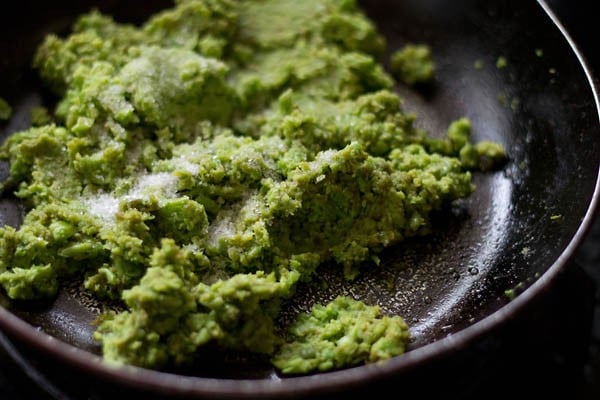 6: Add gram flour (besan) and continue to saute for 2 to 3 minutes more. Addition of besan absorbs the moisture in the filling. Whenever I make kachoris, I always add some besan in the stuffing.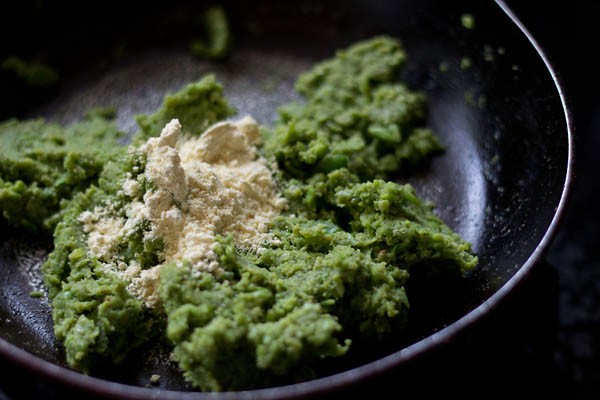 7: When cooled, make small sized balls from the peas stuffing and keep them aside.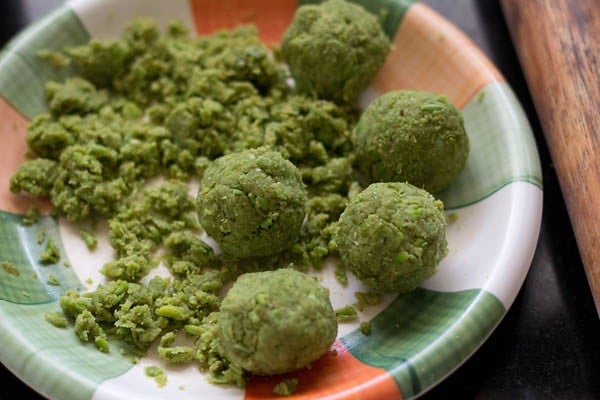 Making Koraishutir Kochuri
8: Make lemon sized balls from the dough. Apply oil on both sides of a ball and roll into a small circle. Place the peas stuffing ball on the dough.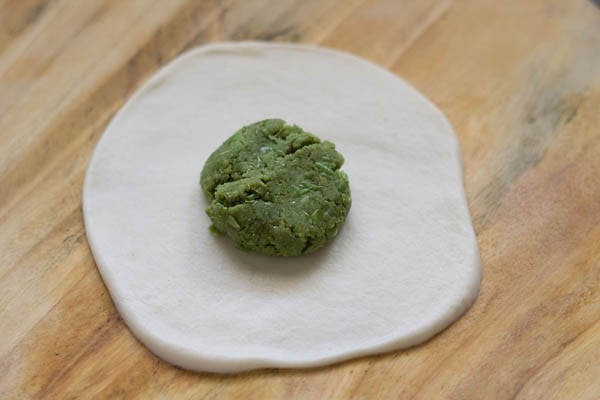 9: Gather the edges and bring them all together in the center. Join the edges and flatten them on the dough.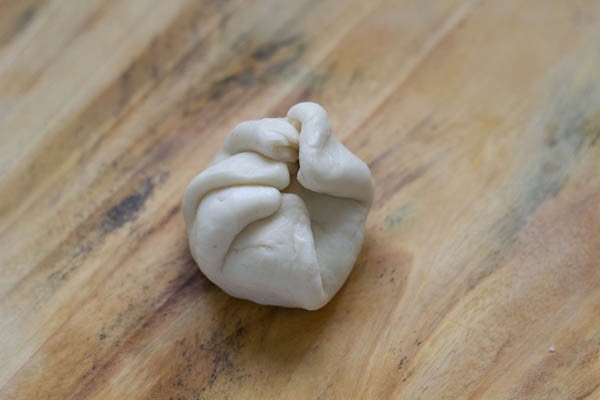 10: Gently roll the stuffed kachori. If a part tears then just seal with a piece of dough and roll to smoothen it. Apply some more oil if need be when rolling.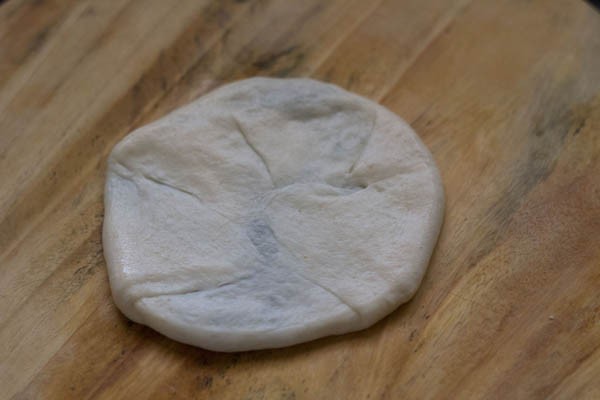 11: Heat oil in a kadai or pan. Gently drop the kachori in medium hot oil. The oil should not be too hot or at a low temperature.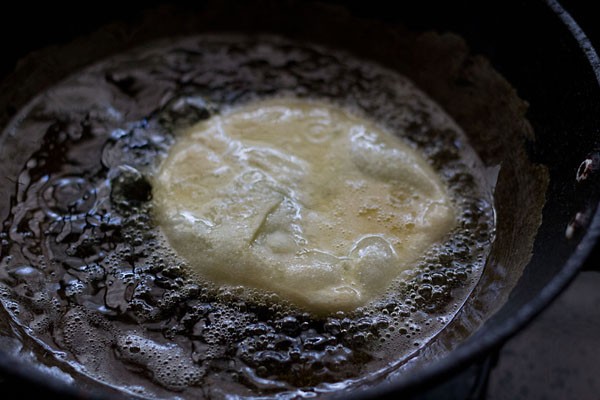 12: The kachori will begin to puff in some seconds. Nudge and press lightly with a spoon so that the kachori puffs up. Like the way we do while frying pooris.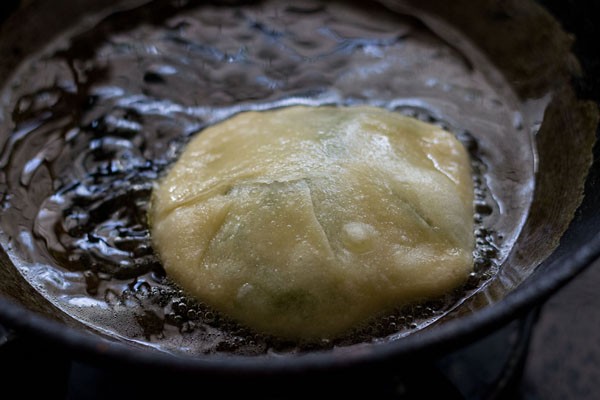 13: With a slotted spoon, turn over and fry the other side.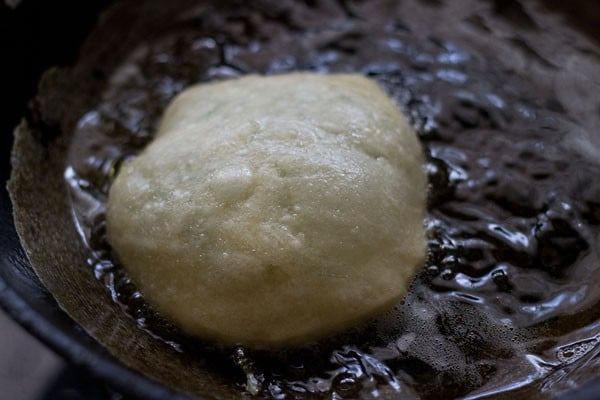 14: These kachoris are creamish white when fried due to the all purpose flour. So they don't become browned like kachoris made from whole wheat flour. 
Remove from a slotted spoon when both sides are crisp and done. Drain koraishutir kochuri on paper towels to absorb extra oil.
Prepare the remaining koraishutir kochuri in the same way and regulate the heat as needed while frying.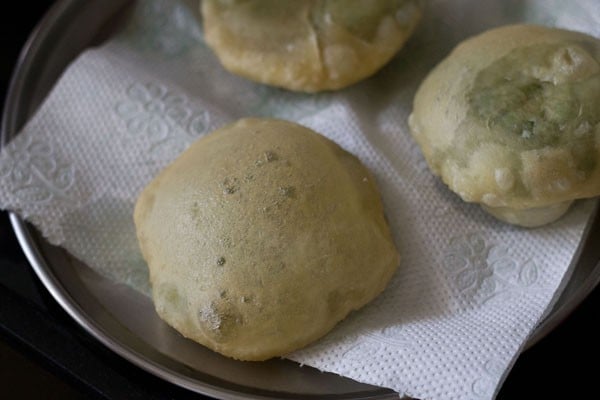 15: Serve koraishutir kochuri just plain or with aloor dum or cholar dal.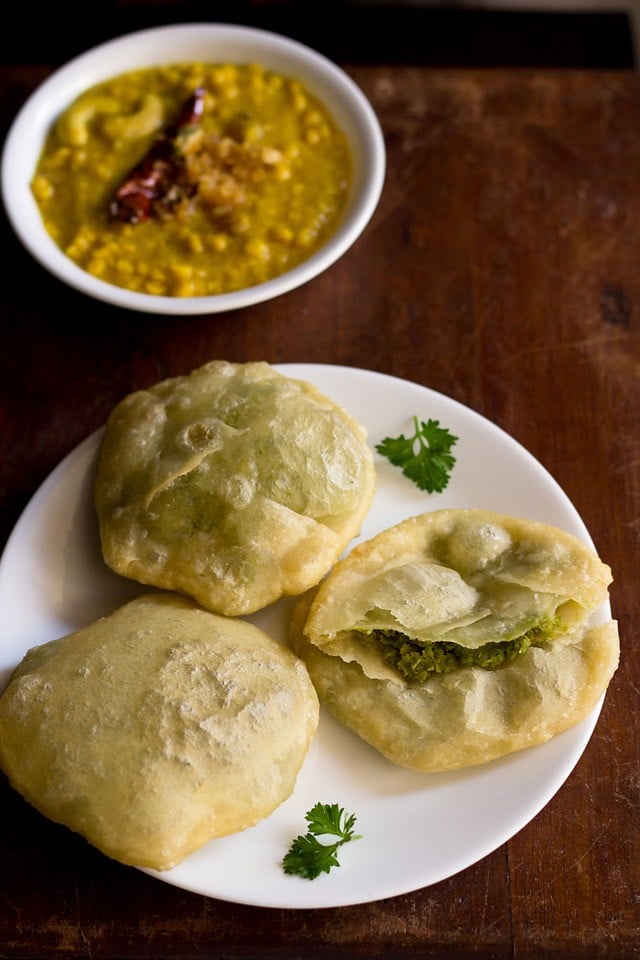 If you are looking for more snacks recipes then you may like:
Please be sure to rate the recipe in the recipe card or leave a comment below if you have made it. For more vegetarian inspirations, Sign Up for my emails or follow me on Instagram, Youtube, Facebook, Pinterest or Twitter.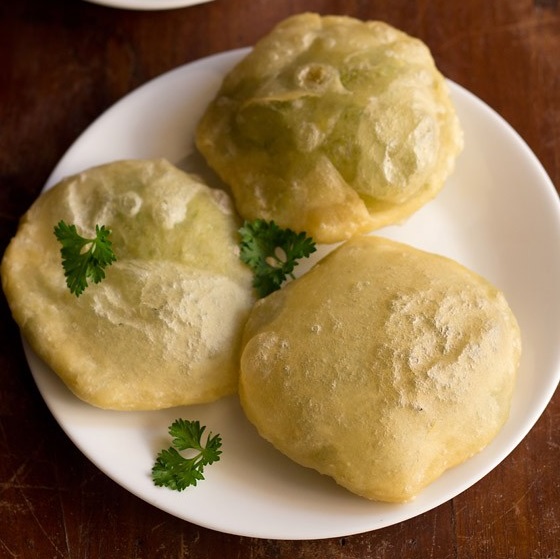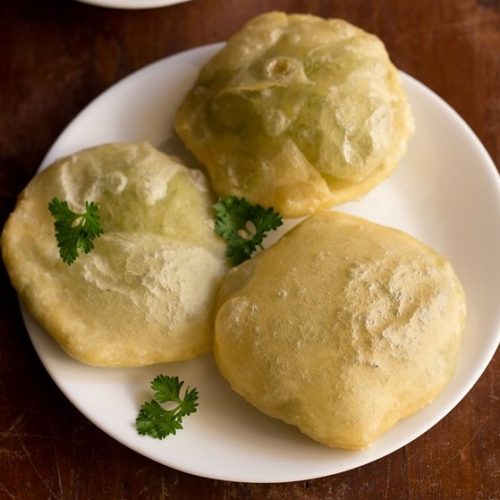 Koraishutir Kochuri | Motor Shutir Kochuri
Koraishutir kochuri is a fried bread with a mild and sweet green peas stuffing. A popular Bengali breakfast as well as snack.
Total Time
1

hour
15

minutes
for kachori dough
2.5

cups

maida

(all purpose flour)

2 to 2.5

tablespoon

Ghee

or oil

water as required

salt as required
for matar stuffing
1

cup

fresh or frozen peas

or matar

1

tablespoon

besan

(gram flour)

1 to 2

green chillies

– chopped (hari mirch)

½

inch

ginger

– chopped (adrak)

1

teaspoon

cumin powder

(jeera powder)

¼

teaspoon

red chili powder

(lal mirch powder)

1

green cardamom

(choti elaichi or hari elaichi)

1 to 2

pinches

Garam Masala

a pinch of asafoetida

(hing)

1 to 1.5

teaspoon

oil

sugar as required

salt as required

oil for deep frying
Instructions
making koraishutir kochuri dough
In a bowl add the flour, salt and ghee or oil.

Mix everything so as to incorporate the ghee or oil through the whole flour.

Add water in intervals and knead to a smooth and soft dough.

Cover the dough with a wet napkin and keep aside for 30-45 minutes at room temperature.
making matar stuffing
Rinse the shelled or frozen matar (green peas).

Take them in a grinder or blender. grind to a semi coarse consistency without adding any water.

If not able to grind in your mixer or grinder, then add 1 or 2 tsp of water.

Peel the cardamom and powder the seeds in a mortar-pestle till finely ground.

Heat oil in a small pan.

On a low flame, add all the spice powders one by one – cumin powder, cardamom powder, red chili powder, garam masala powder and asafoetida. fry for 2-3 seconds.

Then add the ground peas (matar), sugar and salt. saute for 3 minutes. Stir continuously.

Add the besan or gram flour and saute for a further 2-3 minutes with continuous stirring.

Take the matar stuffing in a bowl or plate and let it cool.

Prepare small balls from the stuffing and keep aside.
rolling and stuffing koraishutir kochuri
Before making the kachoris, heat oil for deep frying in a kadai or pan.

Make lemon sized balls from the dough and cover with a wet kitchen napkin.

Take one ball and flatten it with your palm. apply some oil to it on both sides.

Place the ball on the rolling board and roll to a 3 inches diameter circle.

Keep the matar stuffing in the center. bring all the edges of the dough and press them together.

Apply some more oil if required and roll the stuffed kachori to a circle of 4 to 5 inches circle.

If the dough tears, then patch that spot with a small piece of dough and roll on that part gently to even it.
frying koraishutir kochuri
Drop a small piece of dough in the oil and if it comes steadily from the bottom to the top, then the oil is hot enough for the kachoris to be fried.

Gently drop the kachori in the hot oil.

With a slotted spoon, apply gentle pressure on the kachori to help it to puff up, like we do while frying pooris.

When one side is done and all puffed up – you will see that the oil has stopped sizzling.

Turn over and fry the other side of matar kachori.

You can turn over twice and fry for a few seconds too.

When the koraishutir kochuri appears crisp and pale creamish golden, remove from the slotted spoon and drain on kitchen paper towels.

Serve koraishutir kochuri plain or with yogurt or any chutney or with aloor dum or cholar dal.
Notes
For added flavor and taste, fennel powder or saunf powder can also be added.
This Koraishutir Kochuri post from the blog archives first published in October 2013 has been updated and republished on December 2022.