Ganesh Chaturthi or Vinayaka Chaturthi is one festival with which many of my childhood memories are associated with. Having grown up in Mumbai, I have witnessed and been a part of this awesome festival all through my growing up years.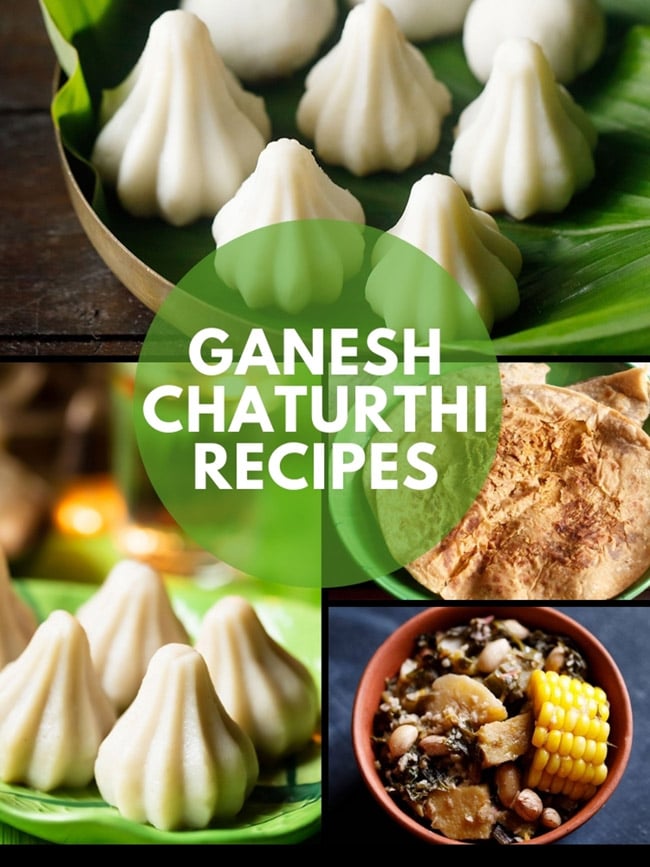 This year Ganesh Chaturthi is starting on 10 September 2021 and as usual will last for 10 days. In this post I have shared a total of 88 recipes which includes 9 Modak varieties and 79 recipes for sweets, snacks and lunch or dinner that can be made for the Vinayaka Chaturthi festival.
So while making any recipe for Vinayaka Chaturthi please do check with your elders about the use of common ingredients like onion, garlic, spices or herbs etc as every community has different rules for fasting or festival recipes.
Many people don't use onions and garlic while making recipes for the festival. So if any recipe has onions or garlic and you don't use them then just skip the onions, garlic or any other excluded ingredient.
Most of the recipes mentioned below have vegan options also. If you are vegan then use oil instead of ghee and substitute dairy milk with coconut milk or almond milk.
Ganesh Chaturthi Festival
Ganesh Chaturthi is one of our favorite Indian festivals. Until last year we would visit the various Ganesha pandals in our area. But I don't think this year it is possible.
Growing up my parents would take us at the various Ganesh pandals in South Mumbai during the 10 day festival.
Every year we would visit my mom's friends place in Girgaum, Mumbai. From her home, we would see the awesome processions on the last Visarjan day.
We would also have a huge pandal in our locality. We would also take part in the Ganesh aarti both in the morning and in the evening.
I have grown up experiencing the positive vibe and celebration which happens during the Ganesh Chaturthi festival.
Ganesh Chaturthi is celebrated with equal festivity and devotion in many Indian states like Maharashtra, Karnataka, Andhra Pradesh, Goa, Gujarat and so on.
The recipes which are prepared during Ganesh Chaturthi festival varies from state to state. E.g. Modak or Kozhukattai which is one of the favorite food of Bhagwan Ganesha is prepared differently and sundals which are prepared in South India are not made in Maharashtra.
In South India, the Ganesha festival is called as Pillayar Chaturthi or Vinayagar Chaturthi or Vinayaka Chavithi.
Apart from modak, ladoo is also the most favorite food of Bhagwan Ganesha. I have listed below many recipes from the blog that can be made during the Ganesh festival.
Modak Recipes
Modak is the most favorite sweet of Bhagwan Ganesha. There are many types of modak prepared during Ganesh Chaturthi. But the most famous Maharashtrian modak is steamed modak or ukadiche modak made from rice flour.
Many sweet shops serve readymade mava modak or peda modak in Maharashtra. In some shops advance orders are also taken for modak.
If you plan to prepare sweets for Bhagwan Ganesha then Modak and Ladoo are two sweets which are must. You can make either Boondi ladoo, Rava ladoo, Besan ladoo or Coconut ladoo.
Modak Recipes – 9 Varieties
Modak – This is the Maharashtrian modak recipe called as Ukadiche Modak and made with a coconut and jaggery stuffing. I have given the entire recipe in the recipe card below.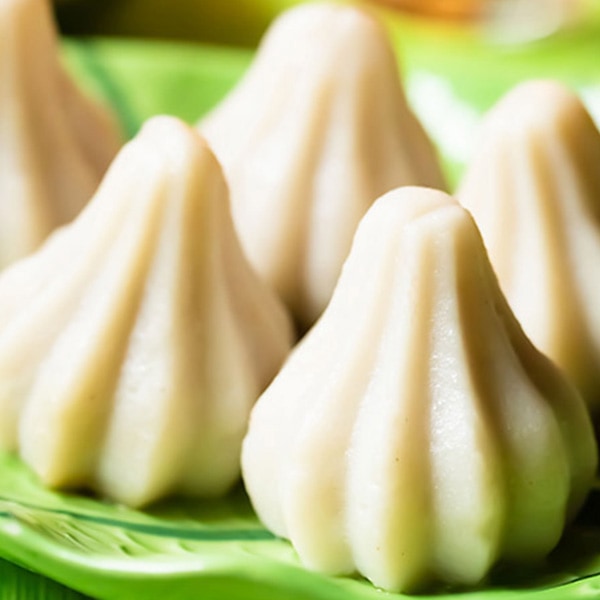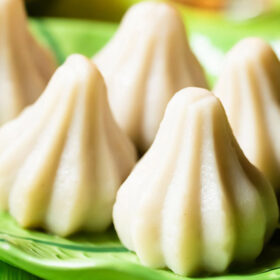 Modak or Ukadiche Modak is a traditional Maharashtrian steamed sweet dish offered to Bhagwan Ganesha on the occasion of Ganesh Chaturthi festival.
2. Fried modak – These fried modaks are made with whole wheat flour with sweet coconut and jaggery filling. They can also be made with all-purpose flour (maida).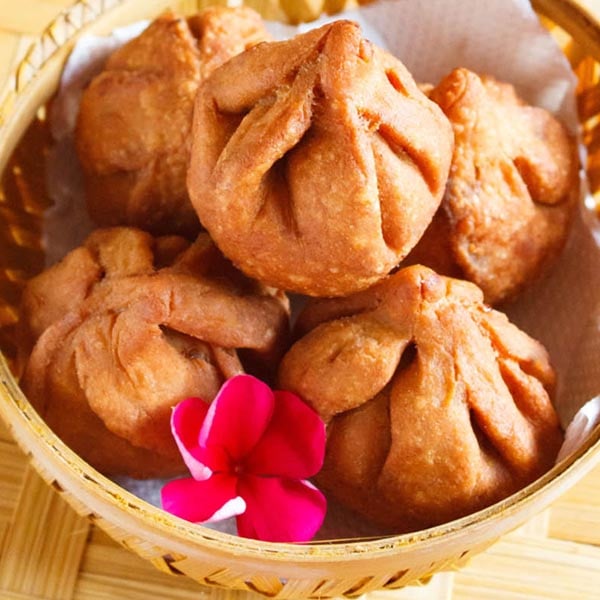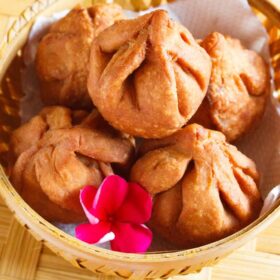 Fried modak is a delicious and popular modak variety made during the Ganesh Chaturthi festival and offered to Bhagwan Ganesha. This recipe has the crust made of whole wheat flour with a sweet stuffing.
3. Kozhukattai recipe – Kozhukattai or kolukattai is a festive South Indian sweet of steamed dumplings and is the South Indian variation of modak that is made in Maharashtra.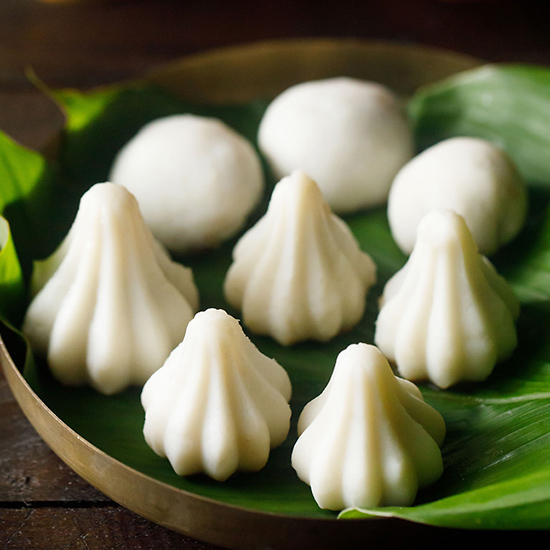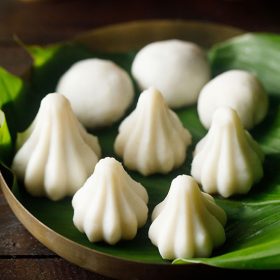 Kozhukattai is a festive South Indian sweet of steamed dumplings made with rice flour dough and stuffed with a filling of coconut and jaggery.
4. Rava modak or semolina modak – This is an easy modak recipe as no frying or steaming of the modak is required.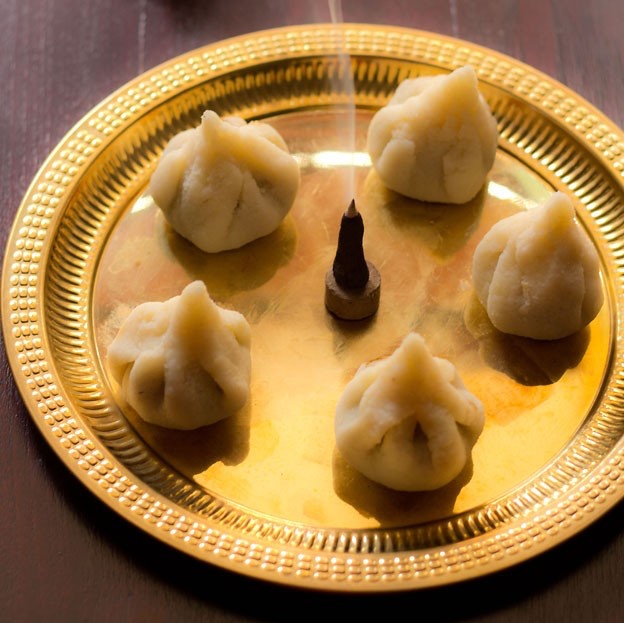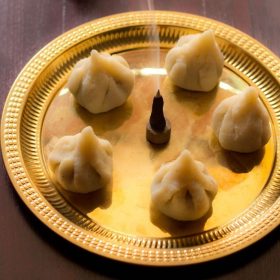 Rava Modak are sweet dumplings made with semolina and stuffed with coconut jaggery filling and flavored with cardamom powder.
5. Chocolate modak – Prepared mainly from 3 ingredients chocolate, mawa or khoya and sugar.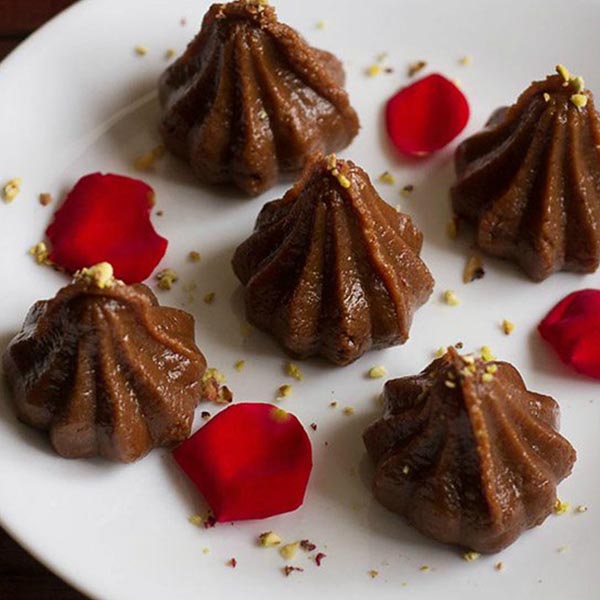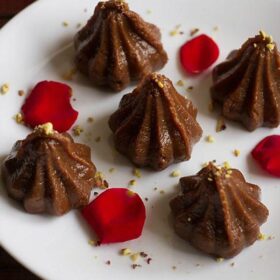 6. Dry fruits modak – Sweet dumplings made from rice flour and stuffed with a mixture of mawa, poppy seeds, coconut and dry fruits.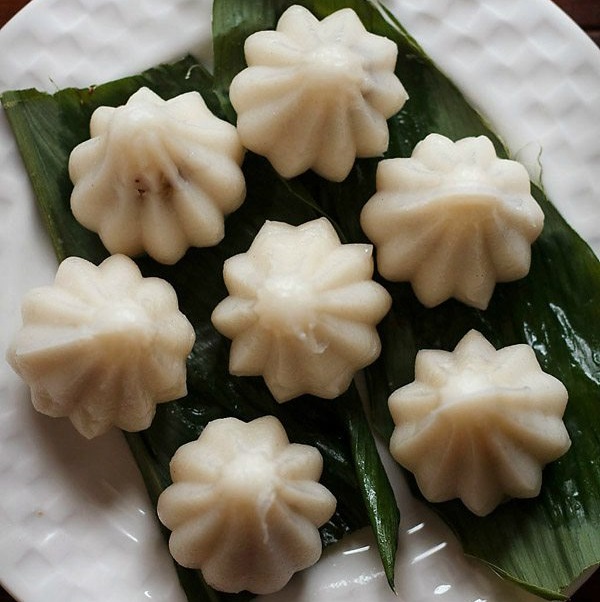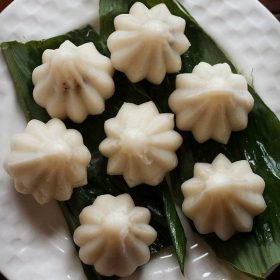 Dry fruits modaks are sweet dumplings made from rice flour and stuffed with mixture of mawa, poppy seeds, coconut and dry fruits.
7. Sweet Kozhukattai – South Indian recipe variation of modak that is made chana dal (bengal gram), fresh coconut and jaggery.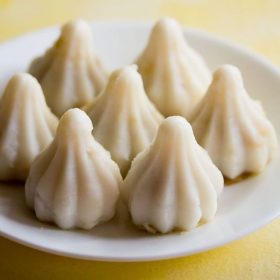 Sweet kozhukattai is a South Indian recipe variation of modak made with a stuffing of chana dal, coconut and jaggery.
8. Mawa modak – Quick modak recipe made with khoya (evaporated milk solids), sugar and cardamom powder.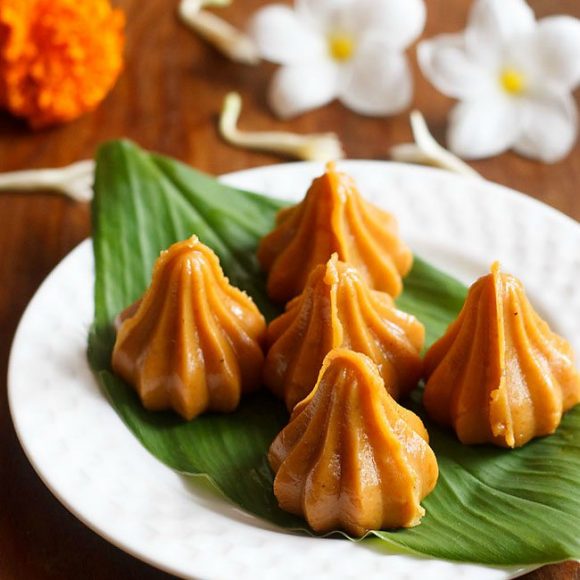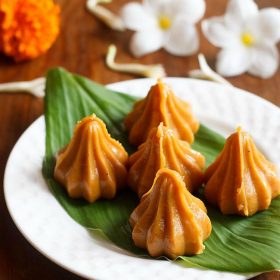 Mawa modak are quick and tasty modak variety made from mawa/khoya, sugar and cardamom powder.
9. Mango modak – This delicious modak has a lovely taste of mangoes and is prepared with fresh mango pulp, khoya (evaporated milk solids), sugar and flavored with cardamom powder.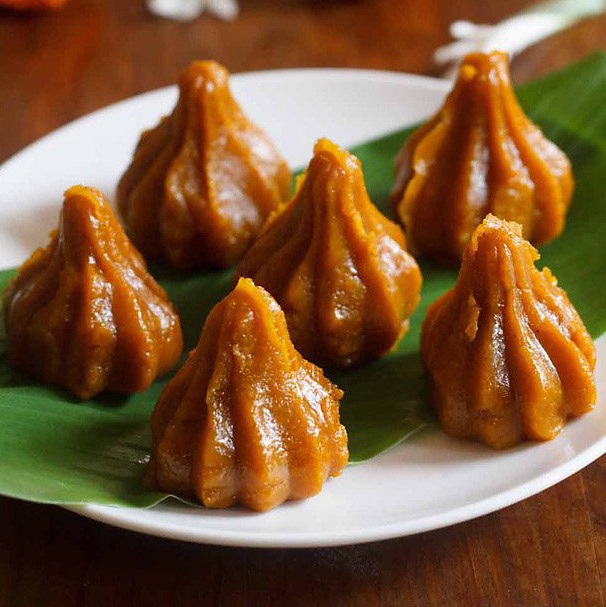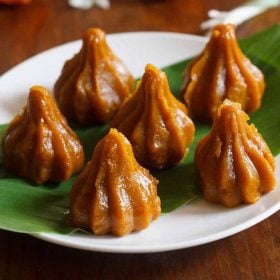 Mango Modak is a delicious variant of modak prepared with fresh sweet mango pulp and khoya/mawa (evaporated milk solids).
Maharashtrian Ganesh Chaturthi Recipes
Each family has its own traditional and favorite dish that they prepare. I am sharing Maharashtrian recipes from the blog, that can be made during the ganesha chaturthi festival. On the first day of Ganesh Chaturthi festival, modak is usually made.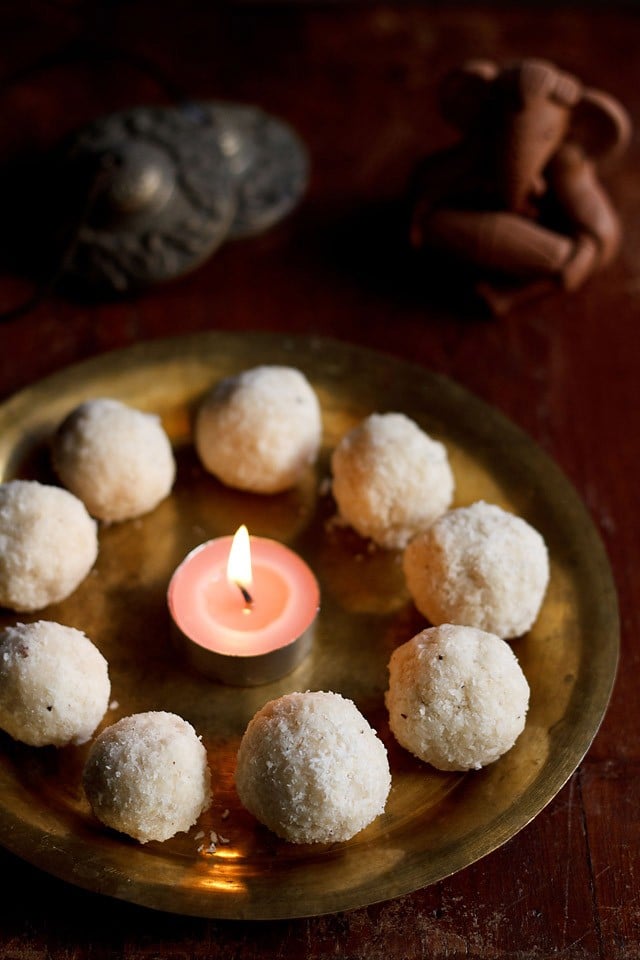 Ganesh Chaturthi Sweets Recipes
No festive occasion is complete without sweets and so is the Ganesh Chaturthi festival. Some sweets from the blog that can be made during the ganesha festival.
More sweets recipes
Note: for more Halwa varieties you can check this Collection of 31 halwa recipes.
South Indian Vinayaka Chaturthi Recipes
Sundal recipes for Ganesh Chaturthi festival
Sundals are usually prepared in south India during Ganesh Chaturthi as well as for Navratri festival. Apart from above mentioned sundal recipes you can prepare sundal from sweet corn, moong beans, black eyed peas, peanut, chana dal also.
The method to prepare sundal is more or less same with some variations here and there. Sundals are good snack option, you can consider to quickly make for Ganesh Chaturthi.
Wishing you all Happy Ganesh Chaturthi. I pray that Bhagwan Ganesha bestows prosperity, luck, wisdom and blessings to everyone.
This post from the archives (Sep 2013) has been republished and updated on 13 August 2020.
Please be sure to rate this recipe in the recipe card below if you have made it. For more vegetarian inspirations, Sign Up for my emails or follow me on Instagram, Youtube, Facebook, Pinterest or Twitter.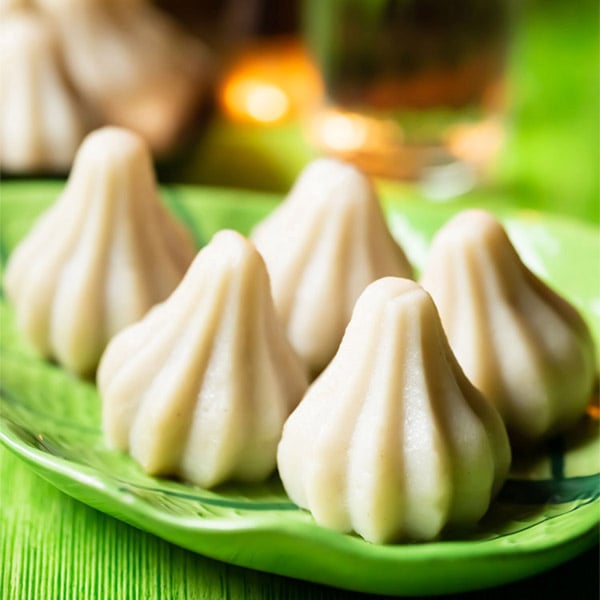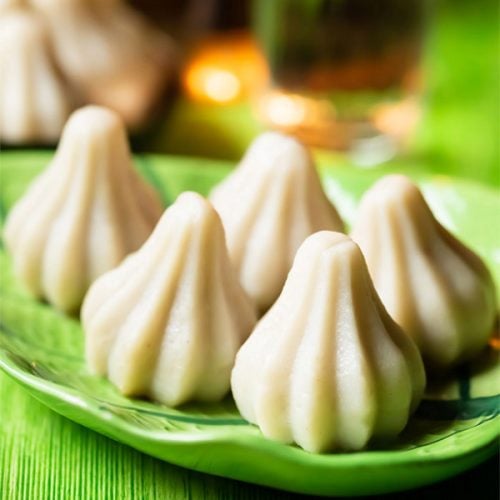 Ganesh Chaturthi Festival Special Modak Recipe
Modak or modakam are tasty steamed sweet dumplings and Bhagwan Ganesha's favorite sweet.
for outer covering
1

cup

Rice Flour

or 200 grams

¼

teaspoon

salt

¼

teaspoon

oil

or ghee

1.5

cups

water
for sweet stuffing
½

teaspoon

oil

or ghee

½

teaspoon

poppy seeds

– optional

1

teaspoon

cardamom powder

¼

teaspoon

nutmeg powder

1

cup

fresh grated coconut

or 100 grams

1

cup

chopped jaggery

or jaggery powder, 200 grams

1

tablespoon

Rice Flour

– optional
Instructions
making stuffing
Heat a pan and reduce flame to a low. Add ghee or oil and then tip in the poppy seeds, cardamom powder and nutmeg powder. Fry for a few seconds until the poppy seeds start crackling.

Add the grated coconut and jaggery.

Mix very well. On a low flame cook the coconut and jaggery mixture till there is less moisture in the mixture or for about 7 to 9 minutes. Do not overcook.

Then add rice flour to this mixture which will help in absorbing any extra moisture.

Let this mixture completely cool.
making the dough
Combine water, salt and oil in a pan or saucepan.

Heat till the water comes to a boil.

Lower the flame and add rice flour. As soon as you add rice flour then stir and mix well.

Remove the pan from the stove-top and cover it with a lid.

Take the entire mixture in a large plate or board.

Begin to knead it. Spread some water on your palms before kneading as the dough will be hot.

Knead the dough really well. If the dough appears crumbly, dense or dry, then sprinkling a few teaspoons of warm water continue to knead.

Pinch small portions from the dough and roll into small balls in the palms of your hand.

Cover the balls with a clean kitchen towel.
shaping modak with hands
Spread some ghee or oil in your palms before shaping modak.

Flatten the dough ball with your fingers to a round-shaped circle or a shallow bowl. Place a portion of the sweet stuffing in the center with a spoon.

Pleat and press the edges. Bring all the edges on the top and gently press to seal the top. Get rid of any extra portion of the dough from the top. Make modak this way with the entire dough and stuffing
shaping modak with mould
Firstly spread some oil or ghee inside the mould. Then close the mould.

Place the dough ball inside the mould. Then create a space inside by pressing the dough inside the mould.

Add the sweet stuffing inside the created space.

Close and seal the bottom with a small piece of the dough by flattening it.

Open the mould and gently remove the modak.

Make all modak this way by using any of the method – by shaping with hands or by using the mould. Cover with muslin or a clean kitchen napkin.
steaming modak
Take 2 to 2.5 cups water in a large pan and let it begin to heat on a stove-top

Grease the steamer pan with some oil or ghee.

Arrange all the modak neatly in the greased steamer pan keeping some space between them.

Use a rack or steel stand and keep the steamer pan carefully on top of the rack. The water should have begun boiling in the pan.

Cover with a lid and steam for 10 to 15 minutes on a low flame.

When the modak are done, drizzle a bit of ghee on top. Serve modak to bhagwan ganesha.
Notes
Kindly check the links above in the post for the remaining modak recipes and the more Ganesh Chaturthi snacks, sweets and lunch recipes.
Nutrition Info
(Approximate values)
Nutrition Facts
Ganesh Chaturthi Festival Special Modak Recipe
Amount Per Serving
Calories 136
Calories from Fat 27
% Daily Value*
Fat 3g5%
Sodium 31mg1%
Potassium 39mg1%
Carbohydrates 25g8%
Protein 1g2%
Vitamin B1 (Thiamine) 1mg67%
Vitamin B2 (Riboflavin) 1mg59%
Vitamin B3 (Niacin) 1mg5%
Vitamin B6 1mg50%
Vitamin C 1mg1%
Vitamin E 1mg7%
Calcium 10mg1%
Vitamin B9 (Folate) 3µg1%
Iron 1mg6%
Magnesium 7mg2%
Phosphorus 22mg2%
Zinc 1mg7%
* Percent Daily Values are based on a 2000 calorie diet.
This Ganesh Chaturthi Recipes post from the blog archives first published in September 2013 has been updated on 13 August 2020.