Yes, a halwa made with papaya. And why not? This rich and easy Papaya Halwa sweet is prepared by slow-cooking semi ripe papaya, sugar and almond powder in oil or ghee. With hints of lovely cardamom, it makes for tasty dessert to end your meals with. Not to forget, this Indian dessert with Papaya is also a great choice when you want to have something different and delicious during vrats (Hindu fasts) and festive occasions.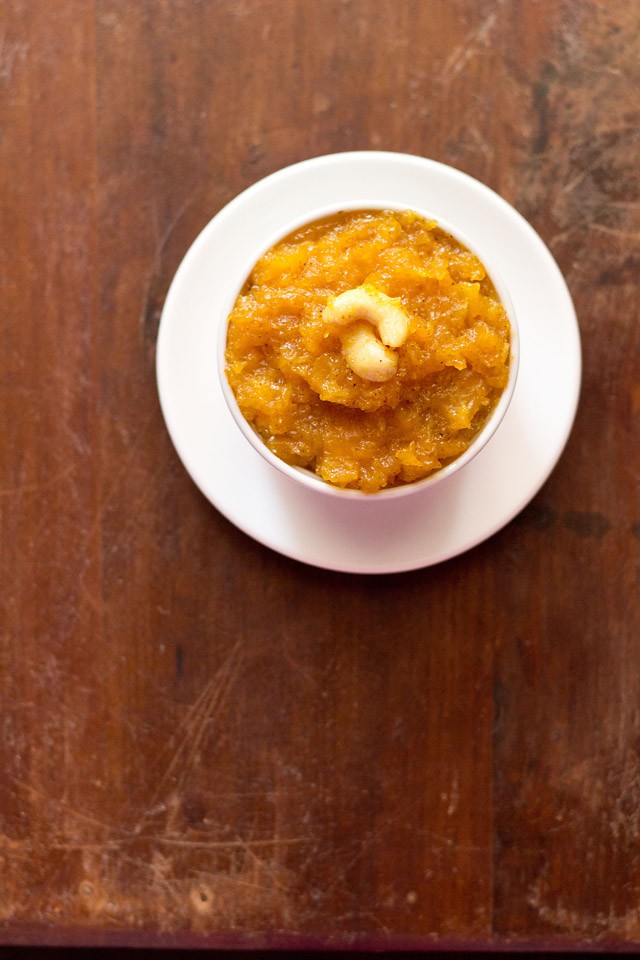 About Papaya Halwa
Papaya Halwa may not be as popular and favored as its siblings Gajar Halwa, Moong Dal Halwa or Suji ka Halwa, but I assure you once you try it, you will surely like it. The natural color and texture that the semi ripe papayas impart in this recipe is not just beautiful for the eyes, but for the taste buds too.
So, the story of this recipe goes like once I had a few unripe papayas which I had left on my kitchen counter to ripe. One of them looked ripe, but when I sliced, it was half ripe. I spoke to my mother and enquired what more can be done with this semi ripe papaya.
Along with other sabzis and stir-fried preparations, she mentioned about this Papaya Halwa. In the beginning, even I was a little hesitant as I was not sure of how the taste would be. To my surprise, I had a really tasty pan of halwa in the end. I couldn't afford to not document the recipe and share it here.
When fully cooked, this Papaya Halwa has an appearance similar to that of any other fruit halwa. The consistency and texture are quite comparable. It is the taste, that does the magic! As already mentioned earlier, I used semi ripe papaya in this recipe, but it is good with ripe papayas too. You know, try that too!
More On This Papaya Sweet
My mother makes this halwa with milk powder. I replaced it with almond powder. You can even try making it with coconut powder or even the usual option for halwa – khoya or evaporated milk solids. To make a complete vegan version, use either the almond or coconut powder and cook the halwa in oil.
Since I was trying this Papaya Halwa without much time in hand, I used chopped papaya and had to mash them while cooking, for a smoother texture. You can grate the papayas too and use. Grated ones will also take lesser time to cook and you will not have to mash them while cooking.
The quantity of sugar that needs to go in this recipe obviously depends on how sweet your papaya is. If you are using a very ripe papaya, chances are that it will be naturally very sweet. In that case, you can even skip using extra sugar at all.
Since the day I've tried this dessert with Papaya, it has become one of the most-liked halwa for me. In fact, my family too. In addition to this, here are some of the other fruit based halwas that I simply can't get enough of: Apple Halwa, Mango Halwa, Banana Halwa and Pineapple Halwa.
This recipe is apt for making a filling dessert for your vrats or fasts during any Hindu religious/festival occasions. Otherwise, you can relish a bowl of the Papaya Halwa by itself or with some perfectly puffed Poori.
How to make Papaya Halwa
1. Heat 2 to 3 tablespoons oil or ghee in a kadai or pan. Add 1 medium chopped or grated semi ripe papaya. Stir and cook on low heat for about 14 to 15 minutes. Keep stirring occasionally.
It is better to use grated papaya. Otherwise if you want to use chopped papaya as I have, then you have to mash the papaya while cooking.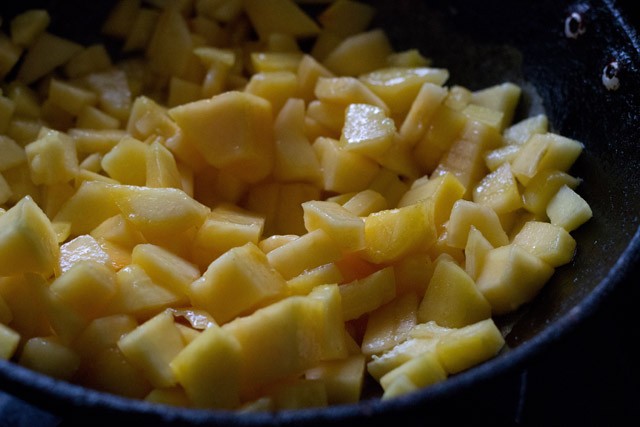 2. The papaya will release its juices, change color and loose its opacity. Add 4 to 5 tablespoons sugar. Then, stir and continue to cook further for 18 to 20 minutes on low heat.
3. Mash the papaya with a potato masher directly while cooking.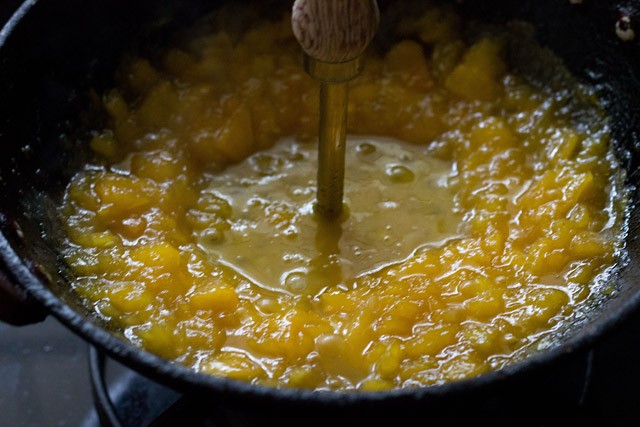 4. After cooking for 18 to 20 minutes, the texture and consistency of the halwa will considerably change. It will begin to thicken slowly on low heat. Add 2 tablespoons almond powder, ½ teaspoon cardamom powder and stir to mix.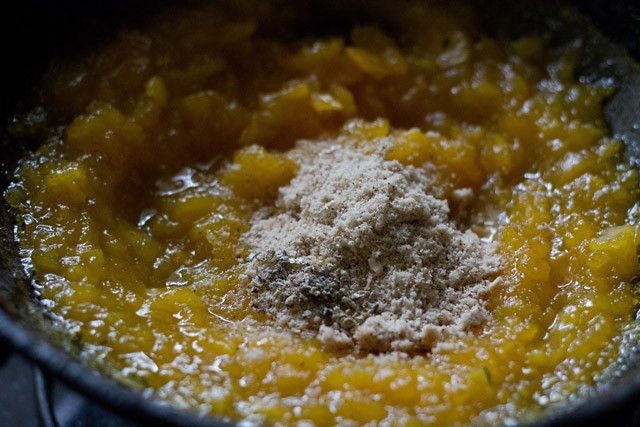 5. Cook for 5 to 6 minutes more or till the halwa comes together. You will also see that the oil has separated from the halwa.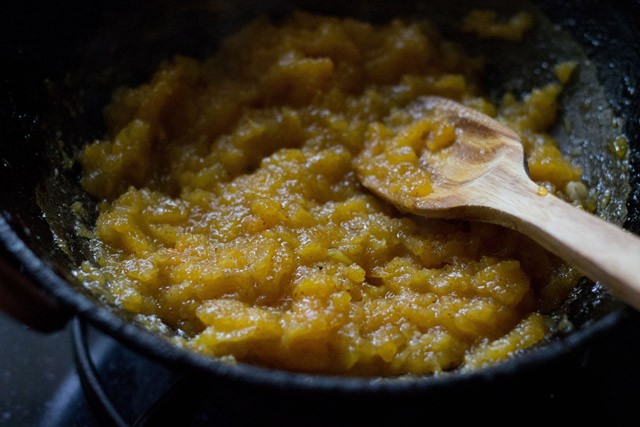 6. Add 12 to 15 halved cashews and cook for 1 to 2 minutes more.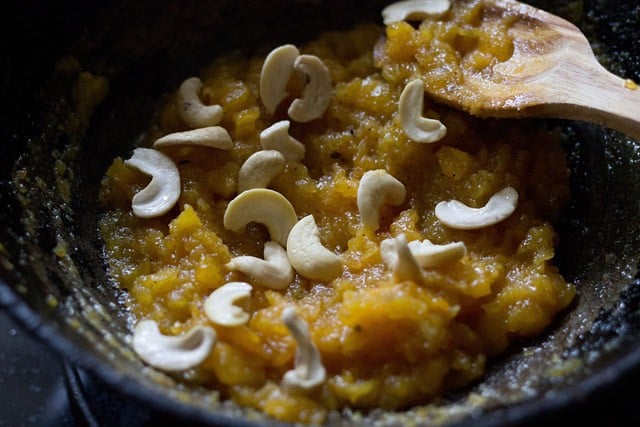 7. Serve Papaya Halwa hot or warm.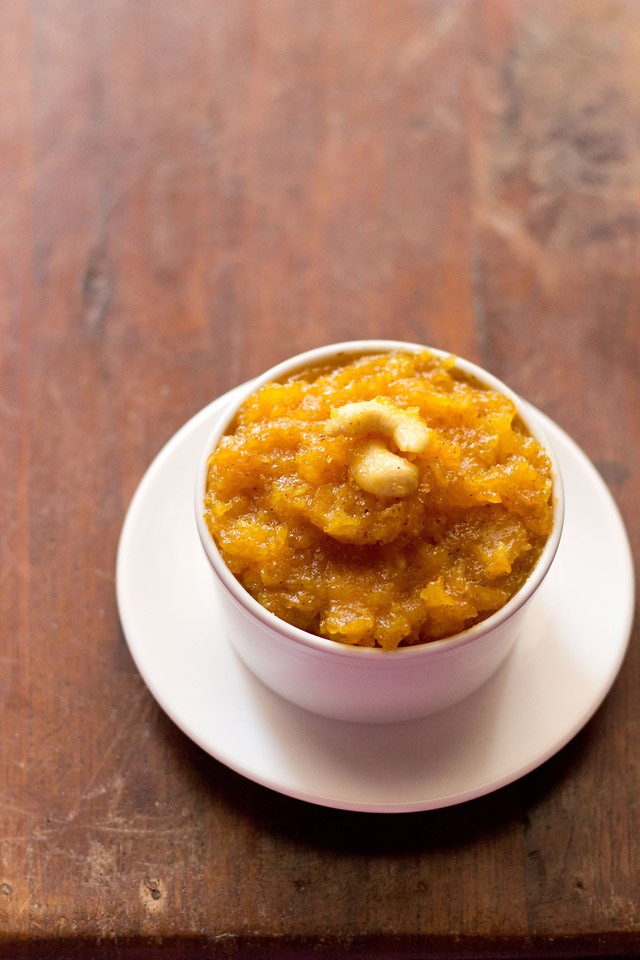 Expert Tips
Approximately 2 servings of halwa is what I got from one medium papaya. So, you can double the quantity when making for 3 to 4 servings.
Treat this recipe post as a basic guideline for making the halwa. You can always adjust the quantities by increasing or reducing them.
Semi ripe papaya is what I have used. The recipe is doable with a ripe papaya too. Accordingly, change the amount of sugar you put in.
The halwa can be made in ghee or oil. I made it with oil and it came out just as lovely.
More Fasting Sweets To Try!
Navratri & Fasting Recipes
Navratri & Fasting Recipes
Please be sure to rate the recipe in the recipe card or leave a comment below if you have made it. For more vegetarian inspirations, Sign Up for my emails or follow me on Instagram, Youtube, Facebook, Pinterest or Twitter.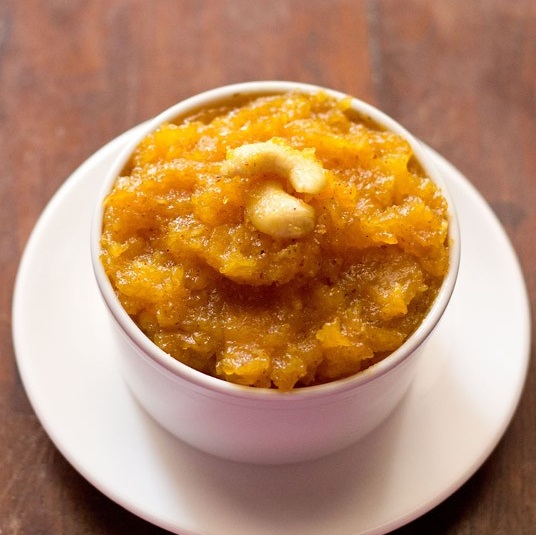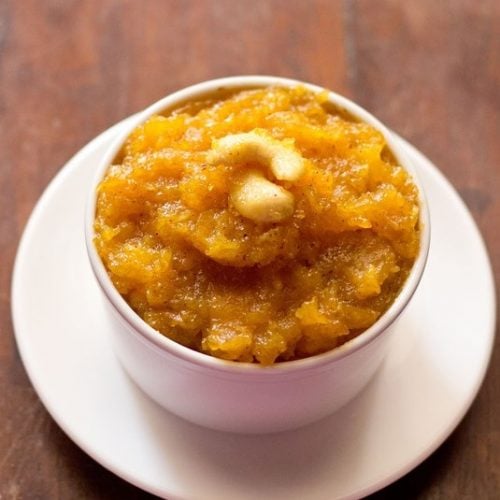 Papaya Halwa (Papaya Sweet)
Papaya Halwa is a Indian sweet or dessert made with papaya. This Papaya Sweet is prepared by slow-cooking semi-ripe papaya, sugar and almond powder in oil. With hints of lovely cardamom, it makes for tasty dessert to end your meals with.
1

papaya

medium-sized and semi-ripe, approx. 4.5 cups of chopped papaya or 3.5 to 4 cups of grated papaya

2 to 3

tablespoons

sunflower oil

or any neutral oil, can add ghee instead

4 to 5

tablespoons

sugar

– or as required as per the sweetness of the papaya

2 to 3

green cardamoms

powdered or ½ teaspoon green cardamom powder

2

tablespoons

almond powder

or milk powder or coconut powder or evaporated milk solids (khoya or mawa) – I used 15 almonds and ground them to get about 2 tablespoons of almond powder

12 to 15

halved

cashews

or as required
Instructions
Chopping papaya
Rinse the papaya and slice them.

Remove the seeds and the pith from the top. Peel the slices.

Then chop the papaya slices, finely. You could also grate the papaya if its semi-ripe.
Making papaya halwa
Heat oil or ghee in a kadai or pan. Add the finely chopped papaya.

Stir and cook on a low flame for about 14 to 15 minutes.

Keep on stirring on occasions while cooking the papaya.

The fruit will release it juices, change color and loose its opacity.

At this point, add sugar and then stir to combine. Continue to cook for further 18 to 20 minutes on a low heat.

By now the oil will begin to separate.

Add ground almonds and stir.

Cook for 5 to 6 minutes more till the whole papaya halwa has gotten together and become one whole.

Add cashews and cook for 1 to 2 minutes more.

Serve papaya halwa hot or warm. You can also refrigerate and serve the halwa as a cold dessert.
Notes
One medium papaya yielded approx. 2 servings of the halwa. So double the quantity for 3 to 4 servings.
This recipe is not a recipe, but just the method of making halwa. The quantity of ingredients can always be increased or decreased. So the recipe post is just a guideline.
If possible use semi-ripe papaya. You can also make with ripe papaya. No need to add sugar if making with a really ripe and sweet papaya.
I have made the papaya halwa with sunflower oil, but you can make with ghee if you prefer.
Nutrition Info (Approximate Values)
Nutrition Facts
Papaya Halwa (Papaya Sweet)
Amount Per Serving
Calories 292
Calories from Fat 153
% Daily Value*
Fat 17g26%
Sodium 8mg0%
Potassium 207mg6%
Carbohydrates 35g12%
Protein 2g4%
Vitamin A 722IU14%
Vitamin B1 (Thiamine) 0.04mg3%
Vitamin B2 (Riboflavin) 0.03mg2%
Vitamin B3 (Niacin) 0.4mg2%
Vitamin B6 0.1mg5%
Vitamin C 47mg57%
Vitamin E 6mg40%
Vitamin K 5µg5%
Calcium 28mg3%
Vitamin B9 (Folate) 30µg8%
Iron 1mg6%
Magnesium 39mg10%
Phosphorus 47mg5%
Zinc 1mg7%
* Percent Daily Values are based on a 2000 calorie diet.
This Papaya Halwa recipe post from the blog archives first published in August 2013 has been republished and updated on 31 July 2022.