Sabudana Vada, one of my favorite fasting snacks is a fried patty made with tapioca pearls (sago), potatoes, peanuts and herbs. This recipe gives you a super delicious Sabudana Vada that is crispy from outside with a soft and light texture from inside. Gluten-free and vegan.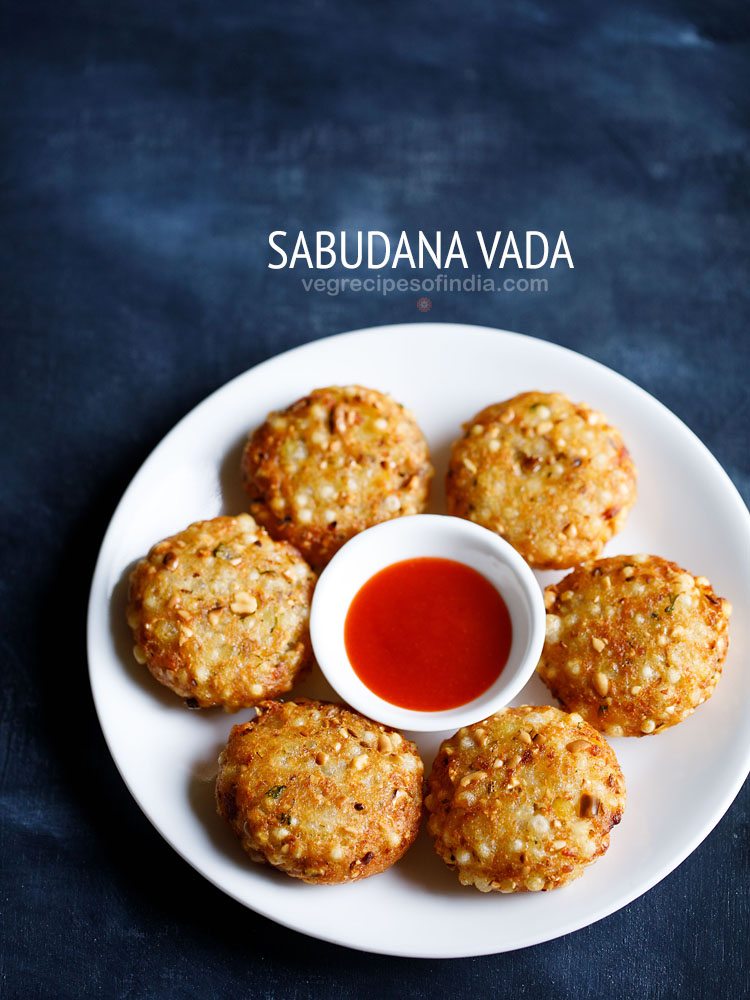 These crisp patties are slightly sweet and spiced to taste. They are also vegan and gluten-free.
On Hindu Fasting
In the Indian tradition, the Shravan month, Ekadashi and the Navaratri period are times when many devout Hindus fast. The food that is taken during the fast does not contain onions, garlic, wheat products, lentils or pulses. To know more you can check this compiled list of Ingredients for Navratri fasting.
Sago or Sabudana is a common ingredient that is used in some recipes made during the fasting period. Thus Sabudana Vada is one of those dishes that is made during Hindu religious fasting (vrat or upvas). Both Sabudana Vada and Sabudana Khichdi are two recipes that I make during fasting days.
Few more Sabudana recipes
About this Sabudana vada
Authentic: This is a proper authentic Maharashtrian recipe of making sabudana vada which tastes too good and is exactly the way they are served in Maharashtra.
Easy: The recipe is easy and can also be made by beginners.
Proportions: The proportion of ingredients mainly of potatoes and sabudana is perfect and you do not end up with a soggy or broken batch of the patties. You are able to easily shape the patties without the need to add any binding flour.
Scaling: You can easily halve or double the recipe.
Serving Sabudana Vada
Sabudana Vada can be made for Hindu fasting days or an evening snack too. It is crispy and delicious and thus tastes great with simple coconut chutney and even sweetened curd (yogurt). To make the sweetened curd, you will just need to add some sugar to the curd and mix it. If short of time, you can even serve with sweet tamarind chutney or homemade tomato ketchup.
In Mumbai, one will find many mithai shops selling this tasty snack. In fact, it is street food in Mumbai as well as Maharashtra and many vendors sell these.
How to make Sabudana Vada
Soaking sabudana
1. Soak 1 cup sabudana or tapioca pearls in water for 5 hours at least or overnight. I soaked the sago overnight and in the morning they had become soft. Sabudana can also be soaked for 2 hours. I get a hard quality of sabudana and soaking for 2 hours does not help. So I soak sabudana overnight. So depending on the quality of sabudana you can even soak for 2 to 3 hours or more.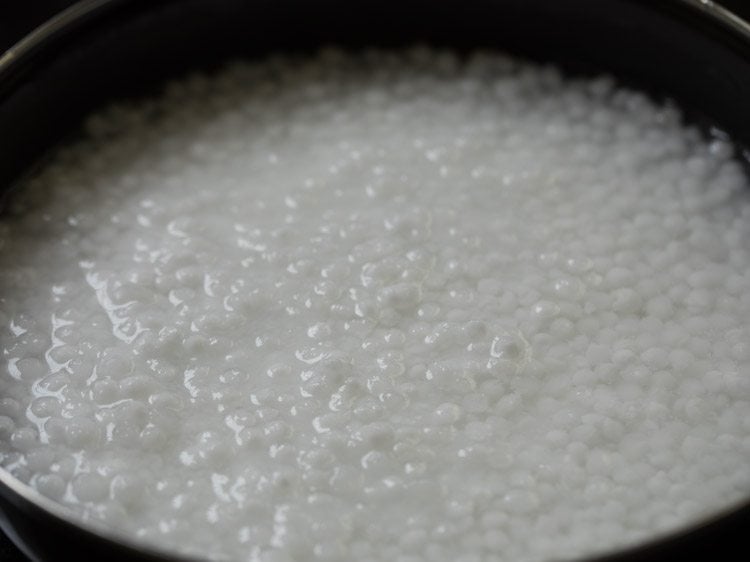 2. Then drain off all the water from the soaked sabudana. Drain the water very well. When properly soaked, the sabudana pearl should get mashed when pressed. If you feel some hardness in the center, then soak for some more time.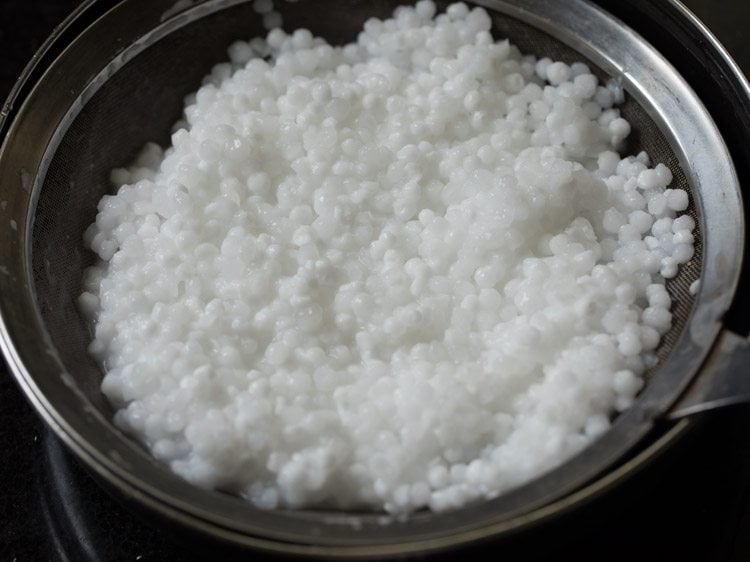 3. Take the sabudana pearls in a mixing bowl and keep aside.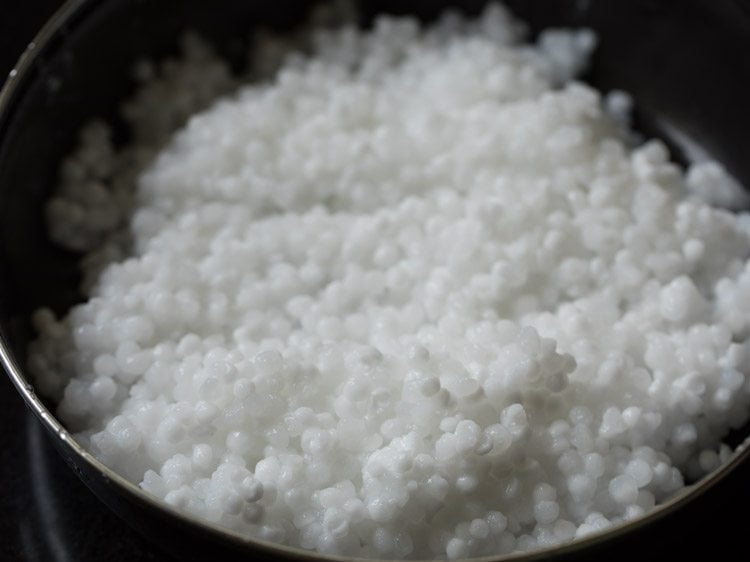 Cooking Potatoes
4. Rinse 4 medium-sized potatoes well in water first. Then place the potatoes in the cooker. Add water which just about covers the potatoes.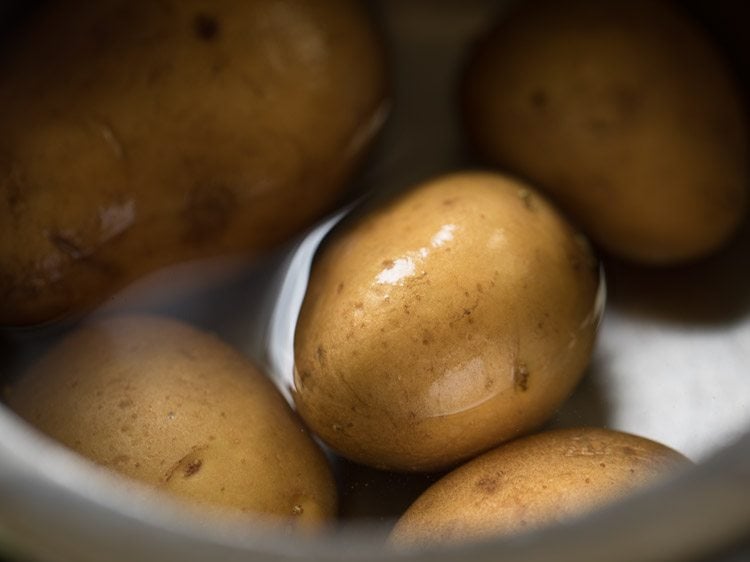 5. Pressure cook potatoes for 4 to 5 whistles on medium flame.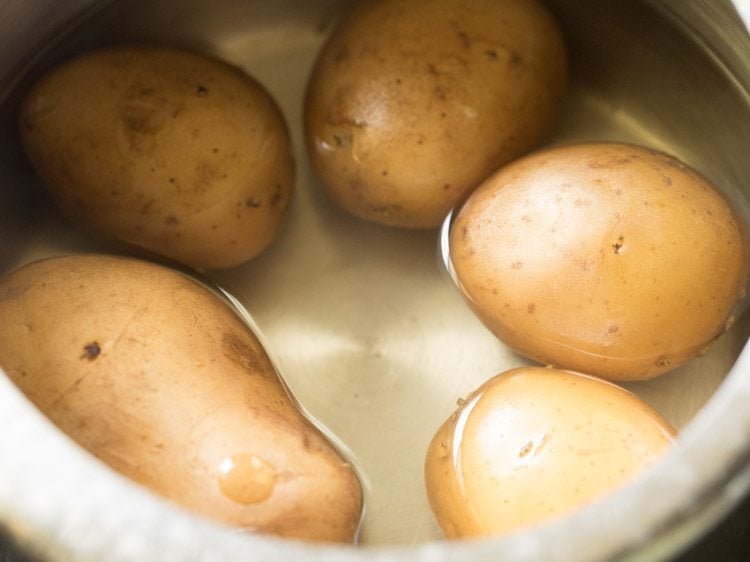 6. When the pressure settles down on its own, open the lid and check the potatoes. Pass a knife through the center of the potatoes and it should slide easily without any resistance. Let the potatoes become warm. Then chop them or crumble them. You can even mash them.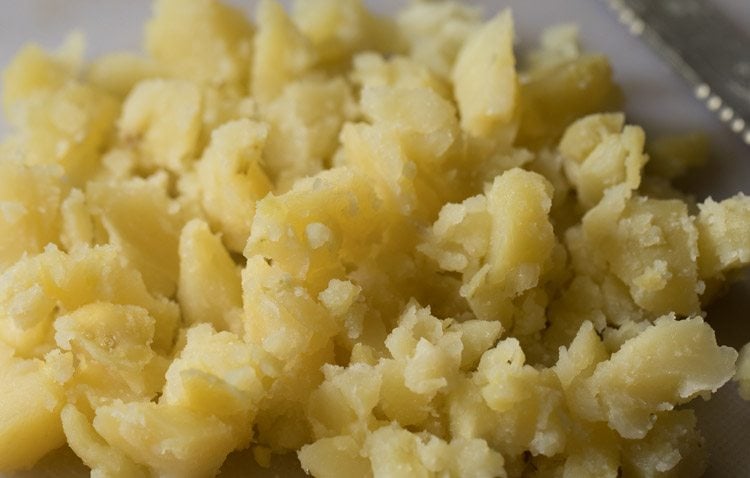 Roasting Peanuts
7. When the potatoes are pressure cooking, you can roast the peanuts. Heat a pan or kadai and add ½ cup peanuts in it.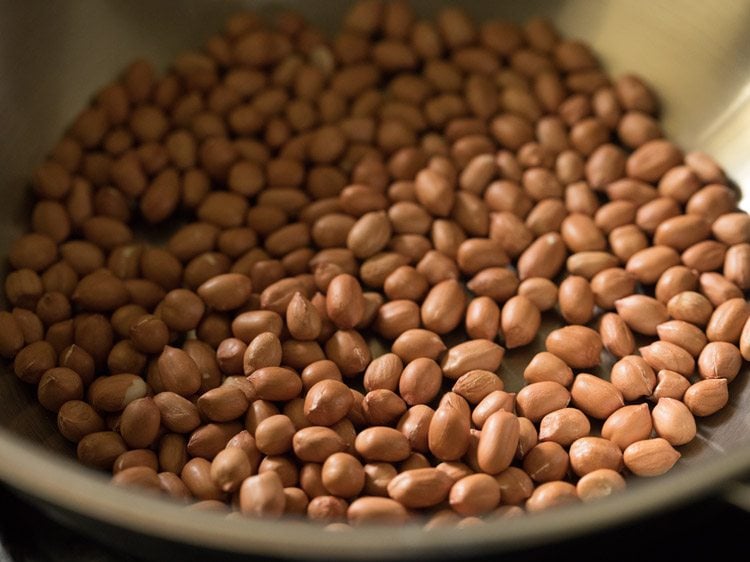 8. On a low to medium flame, stirring often roast the peanuts. Use a heavy pan, so that the peanuts do not get burnt.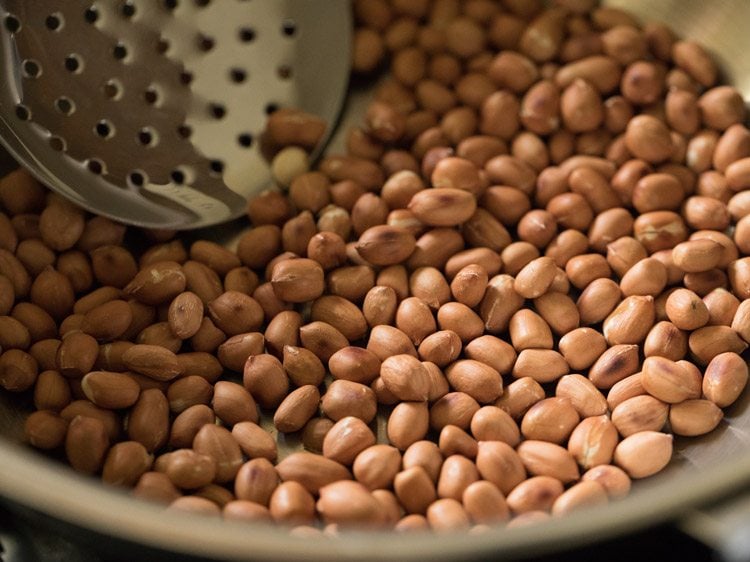 9. Roast the peanuts till you see some black spots on their husks. They should be crunchy and well roasted with no rawness from the center.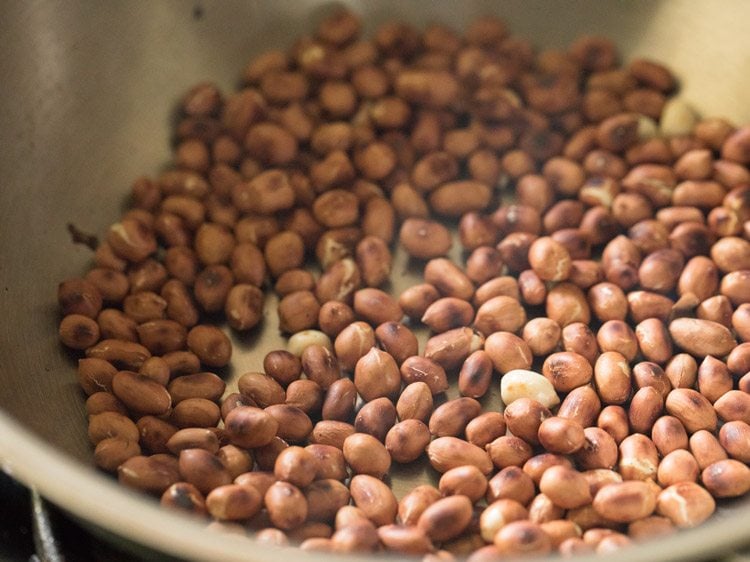 10. Let the roasted peanuts cool down. Once they are cooled, add them in a dry grinder or spice grinder. I have removed the husks. If you want you can keep them.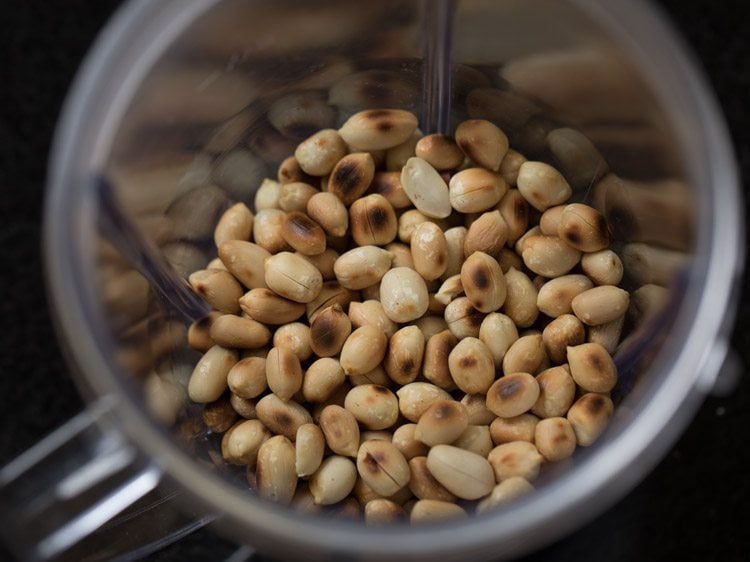 11. Grind to a coarse powder. Keep the peanut powder aside. You can even make a fine powder.
Making Sabudana Vada Mixture
12. Add the mashed potatoes and coarsely roasted groundnuts to the sabudana in the mixing bowl.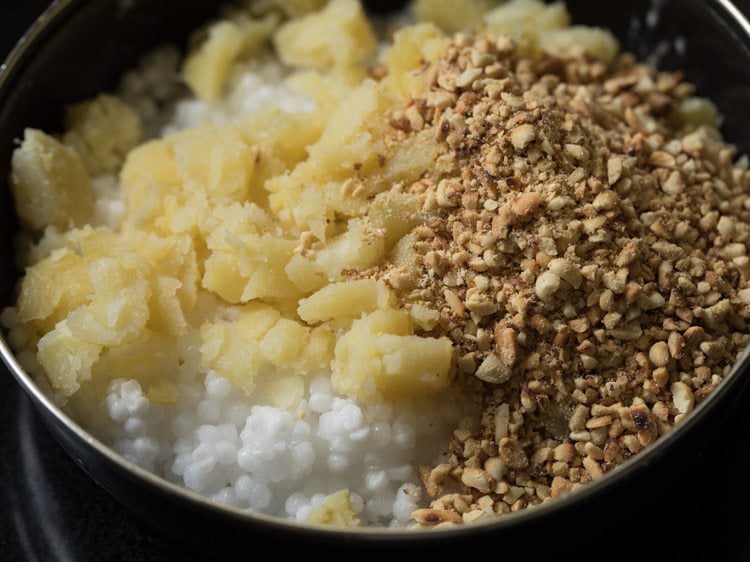 13. Next add 1 to 2 chopped green chilies, 1 teaspoon finely chopped ginger and 2 tablespoons chopped coriander leaves. You can also skip coriander leaves.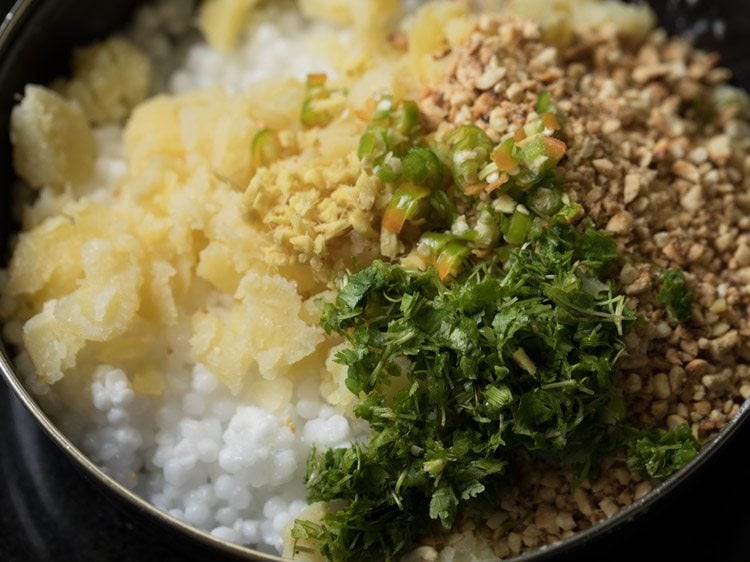 14. Squeeze 2 teaspoons lemon juice or as per taste.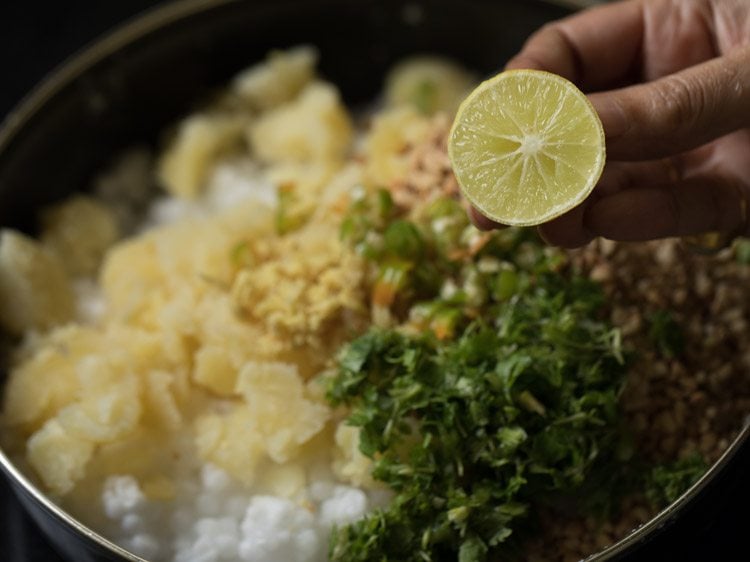 15. Now add 1 teaspoon cumin seeds, 1.5 teaspoons sugar and salt as per taste. You can add less or more sugar as per your taste preferences.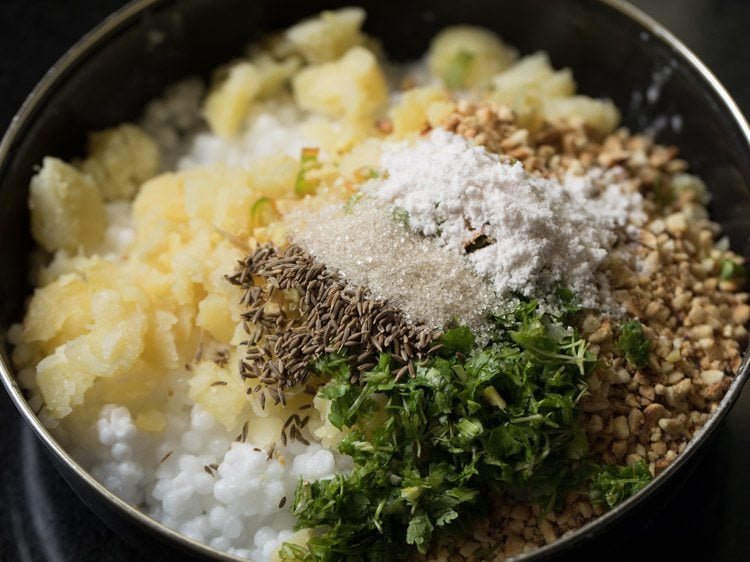 16. Mix the entire mixture very well.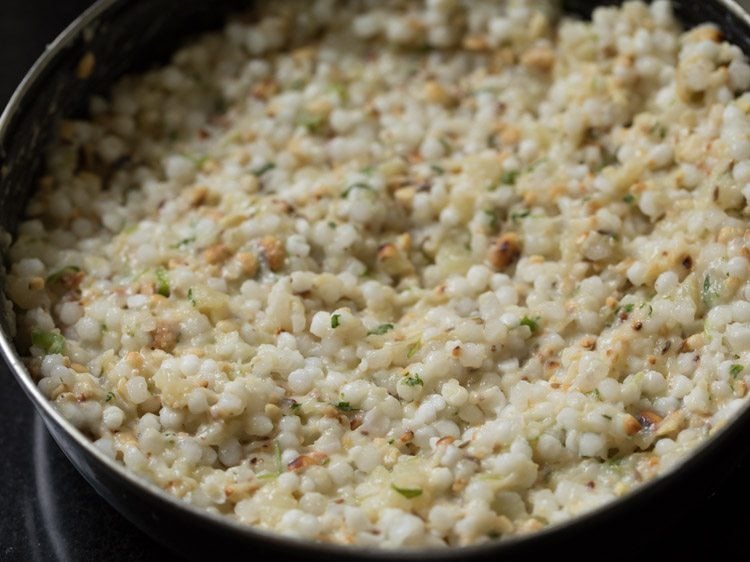 17. Now take some portion of the mixture in your hands and shape them into a flat round vada or patty. Do this till all the mixture is utilized.
Frying Sabudana Vada
18. Heat oil for deep frying in a kadai. Check a small portion of the mixture. It should come up steadily and gradually in the oil. In case it breaks, then there is more moisture in it. So you can add some kuttu ka atta (buckwheat flour), singhare ka atta (water chestnut flour), ragjira atta (amaranth flour) or some more boiled potatoes. If not fasting, then you can add some rice flour in the vada mixture. Mix again and shape in patties. Ideally, do this step before you fry these patties.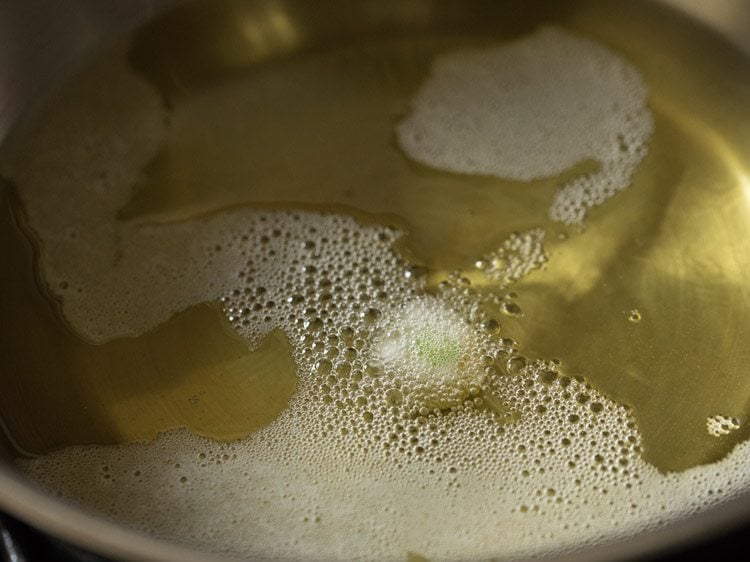 19. Gently place the patties in hot oil. Fry them at medium flame. Do not overcrowd while frying.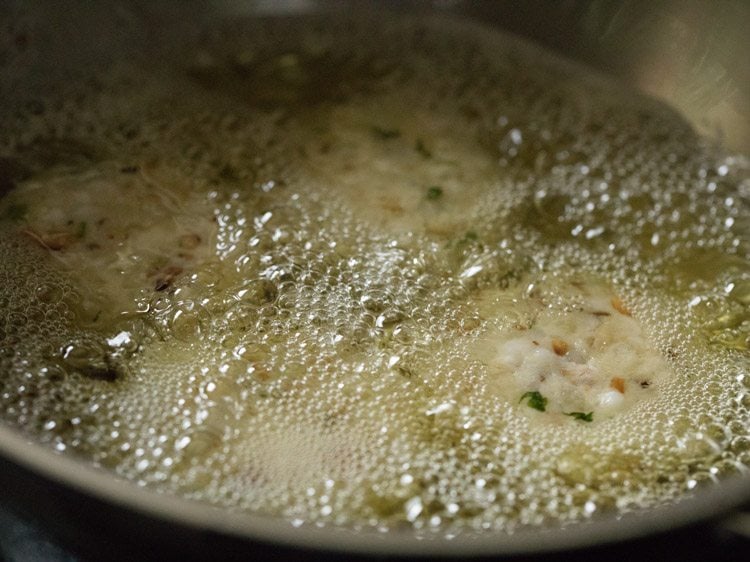 20. When one side is light golden, turn them over with a slotted spoon.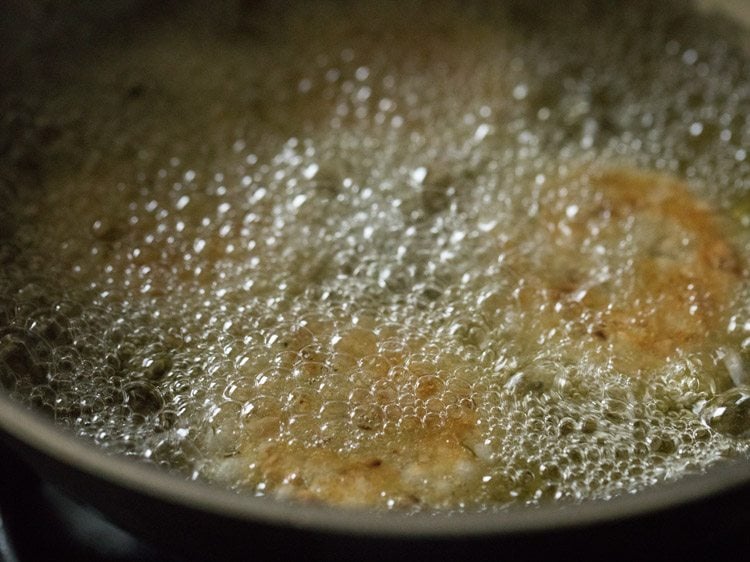 21. Turn over again when the second side is golden.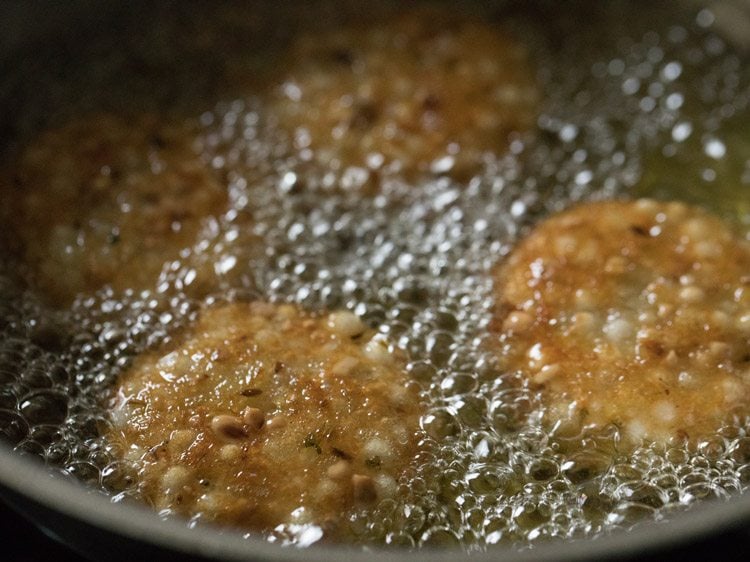 22. Continue to fry turning over a couple of times till the vada are uniformly golden and crisp.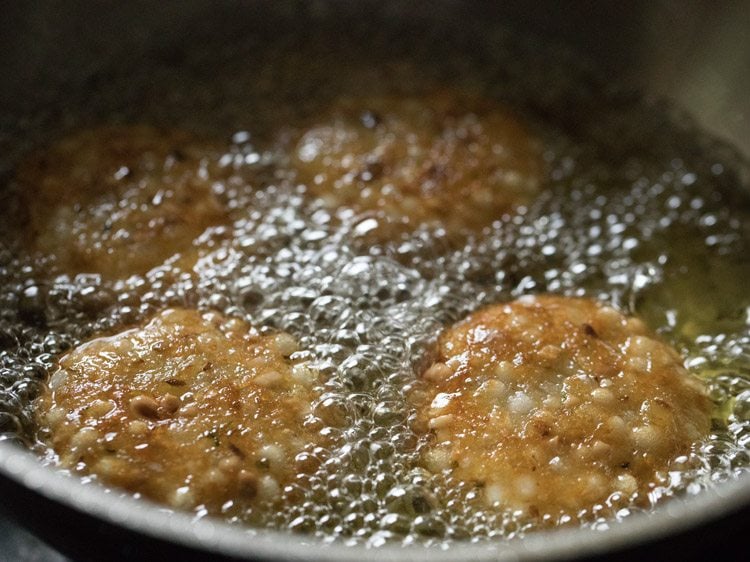 23. Remove fried sabudana vada with a slotted spoon draining the extra oil.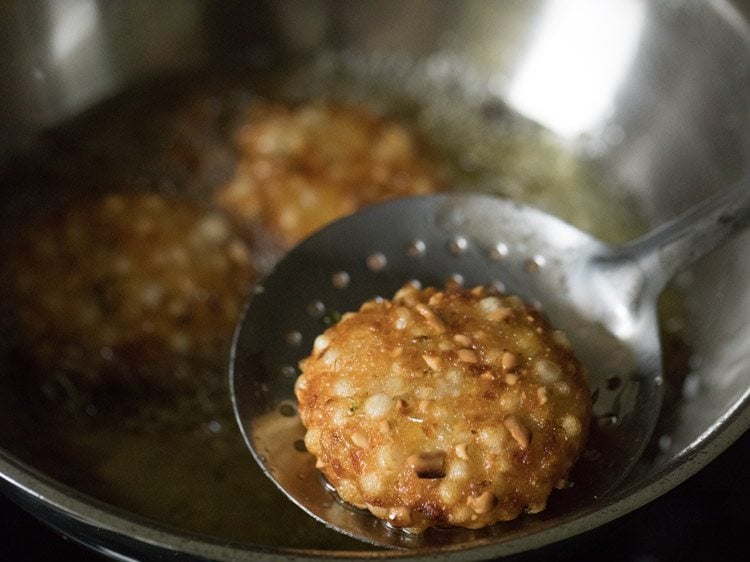 24. Place them on kitchen towels to remove excess oil. Fry all the patties this way.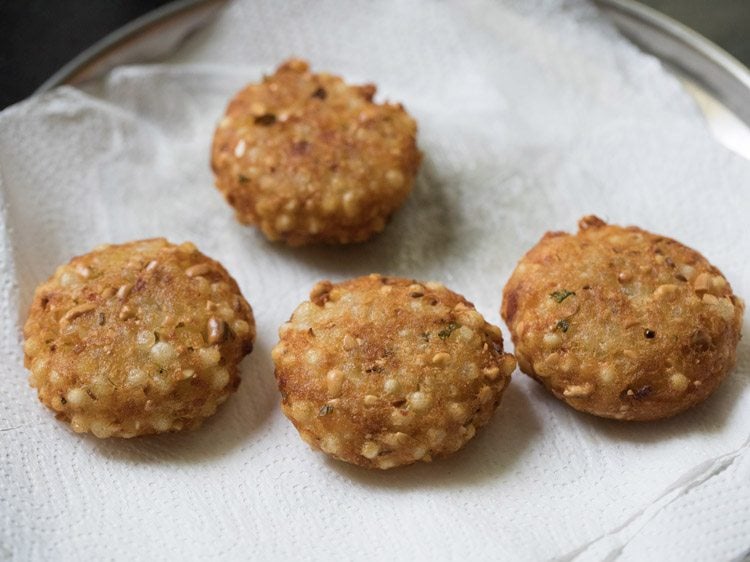 25. Serve Sabudana Vada hot with sweetened curd or phalahari chutney or coconut vrat chutney. You could also serve them with homemade tomato sauce.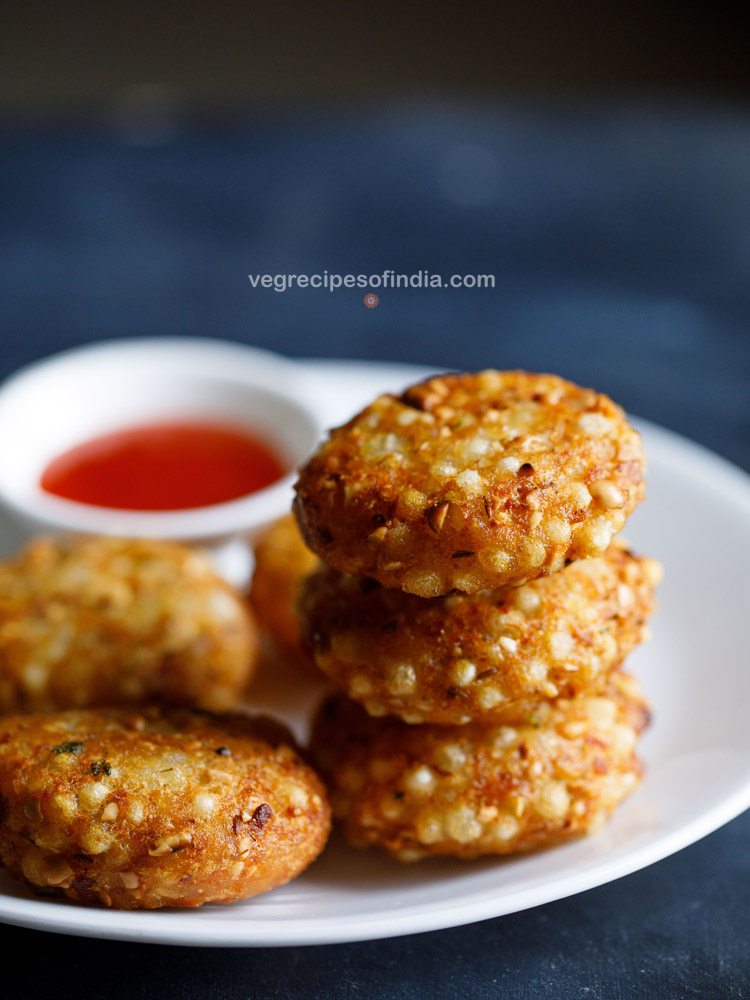 If you made this recipe, please be sure to rate it in the recipe card below. Sign Up for my email newsletter or you can follow me on Instagram, Facebook, Youtube, Pinterest or Twitter for more vegetarian inspirations.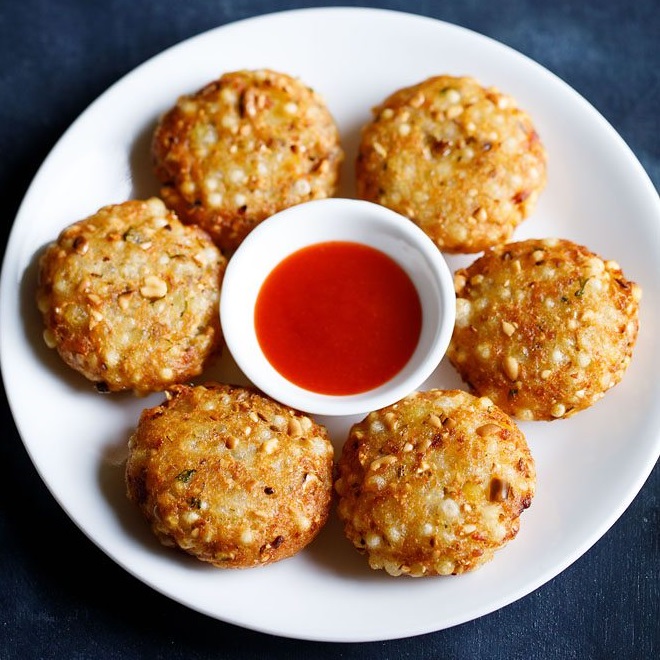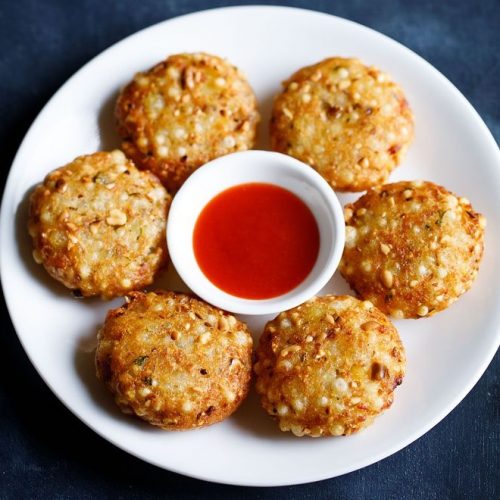 Sabudana Vada
Sabudana Vada are crisp fried patties made with tapioca pearls, peanuts and mashed potatoes. They are slightly sweet and spiced to taste.
---
---
Ingredients
1

cup

sabudana

(tapioca pearls)

4

medium-sized potatoes

½

cup

peanuts

1

teaspoon

cumin seeds

- optional

1 to 2

green chillies

- finely chopped

1

teaspoon

ginger

- finely chopped

2

teaspoons

lime juice

(optional)

2

tablespoons

chopped coriander leaves,

- optional

1.5

teaspoon

sugar

or as required

1 to 2

tablespoons

kuttu ka atta

(buckwheat flour) or amaranth flour - optional

rock salt (edible and food grade)

or sendha namak - a kind of salt used food made during fasts. you could use regular salt if the recipe is not being made during the fasting period.

oil for frying
Instructions
Soaking Sabudana
Soak the sabudana or sago in water for 5 hours at least or overnight. I soaked the sago overnight and in the morning they had become soft.

Drain of all the water completely very well from the soaked sabudana.
Preparing Sabudana Vada Mixture
Add the sabudana in a mixing bowl.

Boil the potatoes. Peel and then mash them. Mix the mashed potatoes and sabudana together.

On a skillet or in a shallow pan, roast the groundnuts/peanuts till they become crisp and crunchy. Cool and then coarsely powder in a mortar-pestle or in a dry grinder. You can even make a fine powder.

Add the powdered peanuts, rock salt, cumin seeds, sugar, ginger, green chillies, coriander leaves and lemon juice to the sabudana . Mix the entire mixture very well.

Now take some portion of the mixture in your hands and shape them into flat round vada or patty. 

Do this till all the mixture is utilized.
Making Sabudana Vada
Heat oil for deep frying in a kadai. Add a tiny ball made from the mixture.

Fry it on medium flame. If this ball does not break while frying, then you are good to go.

If it breaks, then add 1 to 2 tablespoons of rajgira atta (or amaranth flour) again to the mixture and mix well.

Now gently place the vada in the oil. Keep the flame to medium while frying. If the oil is cold, sabudana vada will absorb a lot of oil and become soggy.

Add the vada for frying depending on the size of the kadai. Do not crowd the kadai or pan.

When one side gets golden, then only flip the vada. Otherwise, don't even touch as they might break if not cooked.

Turn over a couple of times so as to fry the sabudana vada evenly.

Fry till they are crisp and golden

Remove them with a slotted spoon. Place on kitchen paper towels to absorb excess oil. Prepare vada with the remaining mixture this way.

Serve sabudana vada with sweet curd/yoghurt or green chutney. You could also serve them with tomato sauce.
Notes
Tips & Suggestions
Sabudana: The sabudana (sago) has to be really soaked well. Not even a little hardness should be left in the sago.
Moisture: The water needs to be drained well. Use a seive or a colander to drain the water. If there is moisture in the mixture, then you won't get a proper shape of the vada and they will become soggy from inside.
Frying & Oil Temperature: The oil has to be neither too hot nor warm. If it's hot, the patties will burn from outside leaving the inside portion uncooked. If warm, then patties will absorb oil, making them loaded with oil and soggy. 
Browning: If you want the sabudana vada to be crisp from outside, you need to brown them a little more.
Ready roasted peanuts: You could use roasted peanuts which are unsalted. Only if the peanuts are not roasted, then you need to roast them. You can also roast the peanuts a couple of days before and then use them in the recipe. 
Removing the peanut skins: If they are roasted, then on roasting the skin becomes flaky and you can remove the skin easily from the peanuts with your fingers.
Helpful tip: If the patties breaks or bursts while frying, then add some flour (buckwheat, amaranth, water chestnut flour) in the vada mixture. If not fasting, then you can add rice flour. 
Nutrition Info
Approximate values
Nutrition Facts
Sabudana Vada
Amount Per Serving
Calories 120
Calories from Fat 54
% Daily Value*
Fat 6g9%
Sodium 143mg6%
Potassium 227mg6%
Carbohydrates 14g5%
Protein 2g4%
Vitamin A 5IU0%
Vitamin C 5.9mg7%
Calcium 21mg2%
Iron 1.9mg11%
* Percent Daily Values are based on a 2000 calorie diet.
Like our videos? Then do follow and subscribe to us on youtube to get the latest Recipe Video updates.
Tried this recipe?
If you have made the recipe and liked it then do share the recipe link on facebook, twitter & pinterest. For instagram mention @dassanasvegrecipes and tag #dassanasvegrecipes!
All our content & photos are copyright protected. Please do not copy. As a blogger, if you you want to adapt this recipe or make a youtube video, then please write the recipe in your own words and give a clickable link back to the recipe on this url.
Like this Recipe?
Pin it Now to Remember it Later