Find below a complete list of cereals names (a.k.a names of grains) in English, Hindi, Marathi, Tamil, Telugu, Kannada. This is basically a cereal list that also contains the names of millets in some Indian languages.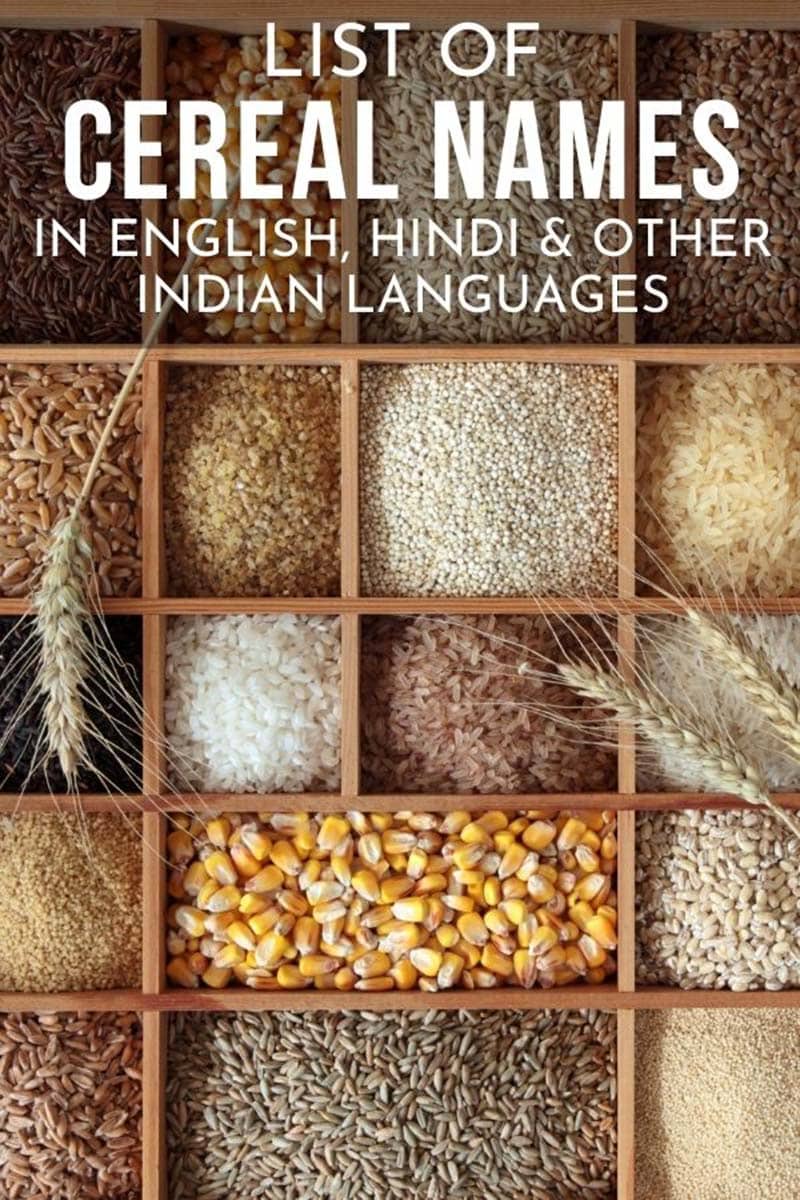 This exhaustive cereals list contains names of various grains or cereals in English and some more Indian languages. I have also listed the names of the cereals flour as well as the other products derived from these cereals. Smaller images of these cereals are also displayed in this glossary list.
Cereals are an integral part in Indian cuisine. Cereals are called as anaj in Hindi. Both various type of grains and millets fall in the broad category of cereals. Millets, amaranth, quinoa are generally seeds and are called as pseudo grains.
In India, we make so many dishes with a variety of cereals. While rice and wheat form the bulk of the grains that are consumed, millets are also eaten for their health benefits.
Many of the cereals and millets like wheat, rice, finger millet, pearl millet, sorghum etc are ground to flour. Many varieties of flatbreads are made from these flours. Roti or chapati is a staple made from whole wheat flour in many Indian kitchens. Other than we also make flatbreads with sorghum flour, finger millet flour, rice flour, pearl millet flour, buckwheat flour etc.
In fact, many dishes are made like puddings, fried breads, halwa, ladoo, idli, dosa, uttapam etc. Cereals are high in carbs wheres millets are a good source of proteins, carbs and fiber. Do include them in your meal for their health benefits and also to support the local farmers.
While buying grains or cereals, ensure that they are in their shelf-period and are free of any insects or fungi like moulds etc. When possible buy organic if you can.
You can also make your own homemade flours by grinding these grains in a domestic flour mill. Homemade flours are so good and much better than packaged flours.
Store the grains and their flours in dry containers. Ensure that the grains and the flours are moisture-free and dry. Placing a few leaves of tej patta (Indian bay leaf), some cinnamon sticks and a few cloves to reduce the risk of infestation by insects. This helps the grains and flour to be preserved for a longer period of time.
In the table below, the first column consists of the picture of the cereal. The remaining columns are for the names of cereals in the various languages.
I have also mentioned if the grain or seed is gluten free. The cross (X) indicates that the grain is not gluten-free. Tick mark (√) indicates that the grain is gluten-free.
The English, Hindi, Marathi, Tamil translations have been done by me. For more names in other languages, I have referred the book – Modern Cookery by Thangam Philip.
Please do read the comments section for more information. This cereal list is best viewed in a laptop browser. When browsing in a mobile, scroll the table from left to right.
Cereals Names
Cereal
English
Hindi
Marathi
Tamil
Telugu
Kannada
Gluten free
Wheat
Gehun
Gahu
Godumai
Godhumai
Godi
X
Broken wheat,
Cracked wheat
Dalia
Lapsi
Godumai ravai
Godhuma rava
Kuttida godi, godi rave
X
Whole wheat flour
Atta
Kaneek
Godumai maavu
Godhuma pindi
Godi hittu
X
All purpose flour,
Refined flour
Maida
Maida
Maida maavu
Maida pindi
Maida hittu
X
Cream of wheat, semolina
Sooji, suji
Rava
Ravai
Rava
Rava
X
Vermicelli
Seviyan, sevai, sev
Shevaya
Semiya
Semiya
Semige
X
Noodles
Noodles
–
–
–
–
X
Pasta
Pasta
–
–
–
–
X
Corn, maize
Makai, bhutta
Makka
Makka cholam
Mokkajona
Mekke jola
X
Dried corn
Makai ka dana
–
–
–
–
X
Corn meal, polenta
Makai ka dalia
Makka rava
Cholam rava
Mokkajona rava
Mekke jola rava
X
Maize flour
Makai ka atta
Makyache
Peeth
Makka cholam maavu
Mokkajona pindi
Mekke jola hittu
X
Cornstarch
Cornflour
–
–
–

–
X
Barley
Jav
Jau
Barli arisi
Yavam
Barli
X
Rice
Chawal
Tandool
Pacha arisi
Biyyam
Akki
√
Parboiled rice
Ukda chawal, sela chawal, arwa chawal
Ukda tandool
Puzhungal arisi
Uppudu biyyam
Kusubalakki
√
Beaten rice, parched rice, rice flakes
Poha, chiwra, chidwa
Pohe
Aval
Atukulu
Avalakki
√
Puffed rice
Murmura,
Kurmura
Murmure
Arisi pori
Borugulu, murmuralu
Mandakki, kurlari
√
Rice flour
Chawal ka atta
Tandlache peeth
Arisi maavu
Biyyappu pindi
Akki hittu
√
Tapioca, sago
Sabudana
Sabudana
–
–
–
√
Cassava or tapioca flour
Cassava
–
Maravalli kizhangu mav
Karapendalam
Marageanasu
√
Amaranth seeds
Rajgira, ramdana
–
–
–
–
√
Amaranth flour
Rajgira atta
–
–
–
–
√
Buckwheat
Kuttu, kootu
Kuttu
Kotu
–
–
√
Buckwheat groats
Sabut kuttu
–
–
–
–
√
Buckwheat flour
Kuttu ka atta
–
–
–
–
√
Quinoa
–
–
–
–
–
√
Oats
Jai, javie
–
–
–
–
√
Pearl millet
Bajra
Bajri
Kambu
Sajjalu
Sajje
√
Sorghum, milo
Jowar, juar,
Jwari
cholam
Jonnalu
Jola
√
Finger millet
Mundal, makra, mandua
Nachni
Kizhvaragu
Ragulu
Ragi
√
Foxtail millet
Kangni
Rala
thinai
Korra
Navane
√
Little millet
Kutki
Sava, halvi
Samai
Saama
Saame
√
Barnyard millet

Sama, samvat, swang, vrat ke chawal
Varai, vari,
Kuthiravaali
Odalu
Oodhalu
√
Kodo millet
Kodon
Kodra
Varagu
Arikelu
Harka
√
Arrow root flour
Arra root, araruta, paniphal
–
–
–
–
√
Water chestnut flour
Singhare ka atta
–
–
–
–
√
Foxnuts
Makhana, phool makhana
–
–
–
–
√
Related culinary posts
This cereals names post from the blog archives (first published in September 2009) has been updated and republished on 23 June 2021.