Masale bhat recipe with step by step photos – masala bhat or masala bhaat is spiced rice and veggie one-pot meal, that I would always have at Maharashtrian weddings. This was one of my favorite dish at weddings and I have really some good memories of this particular spicy rice dish.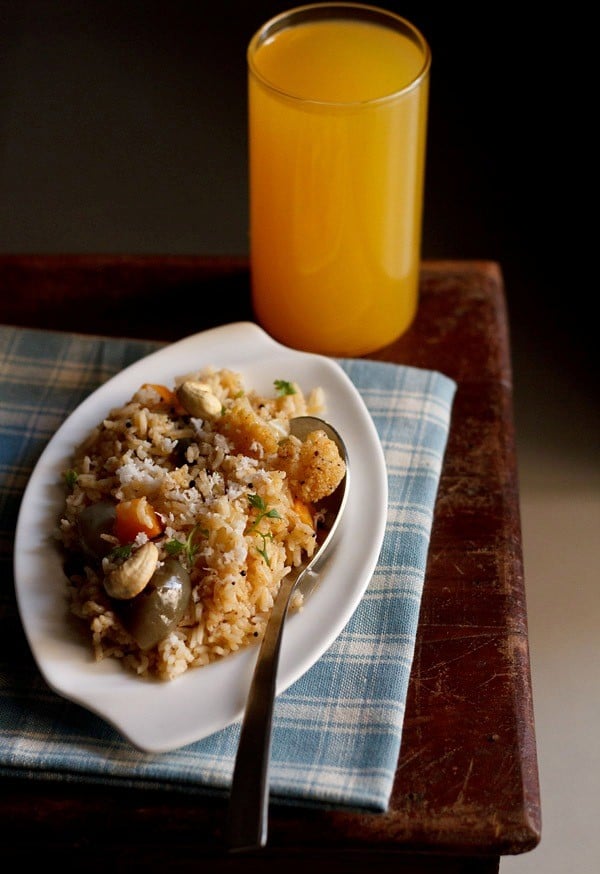 I still remember we would all be sitting in a row for the food to be served to us. It would usually begin with salt, pickle, chutney, salad first ( I would skip the poori bhaji) and then with varan, rice, ghee followed by masala bhat and mattha (spiced buttermilk or chaas). We would wait till everything was served to us. Now here I would get confused what to have the masale bhat with…. Have it plain or with varan or mattha? silly I know, but after finishing the varan with rice, there would always be some varan left.
To be honest, I loved masale bhat both with varan and mattha. the varan as well as the buttermilk would tone down the heat & spice of the masala bhat and was good enough for a tween like me.
I still cannot forget when during a college social work visit to an NGO, we were served masale bhat by the women, who were part of the NGO, during a function. Now that masala bhaat was one of its kind. I wish I had asked the recipe then. The taste of that masale bhaat still lingers and I have not been able to make it like that one.
How is masala bhat made
This one-pot rice recipe is more like a Pulao in texture but not in taste and aroma. The spices used in a masale bhat is a special blend called goda masala. now this masala gives a unique flavor and aroma to any dish that it is added in…. And so is the case with this masale bhaat.


I will not ask you to substitute garam masala in this recipe. That would completely destroy the authenticity of this traditional recipe. I always make a batch of goda masala at home and I will be adding the recipe soon.

For now, in the notes section of the recipe details below, I have mentioned a recipe to make a small batch of goda masala.

just add about 3 to 4 tsp of this goda masala to the rice. The rest you can keep in the fridge and use whenever required.

While making masala bhat

,

I

stick to veggies like cauliflower, brinjals, capsicum, carrots, ivy gourds and potatoes. However, you add your own choice of veggies. The recipe is easy to prepare. The same recipe can be used to make

Maharashtrian vangi bhath

 (with brinjals) and

Tondli bhat

(with ivy gourds).

For the rice, you can use any long grained rice like basmati rice or regular rice. I usually make this masala bhat recipe with

Ambemohar rice

 (local and indigenous variety of short grained rice having an aroma of mango blossoms) or

Sona masuri

. you can also use

Kolam

rice. this recipe is also a no onion and no garlic recipe. This masale bhat recipe is a toned down version and not very spi

Cy.
Apart from mattha (spiced buttermilk), it can also be served with raita or yogurt . I just love it plain and usually accompany it with some roasted papads and khamang kakdi (a tempered and mild cucumber salad with fresh grated coconut).
How to make masale bhat
1. Heat oil in a pot. Add the bay leaf and mustard seeds. Crackle the mustard seeds.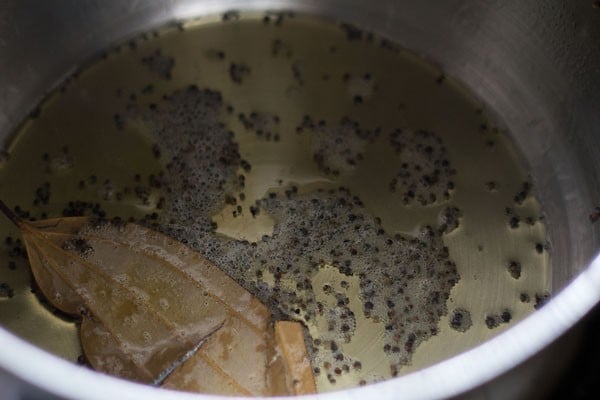 2. Add the chopped or diced veggies and saute for 3 to 4 mins.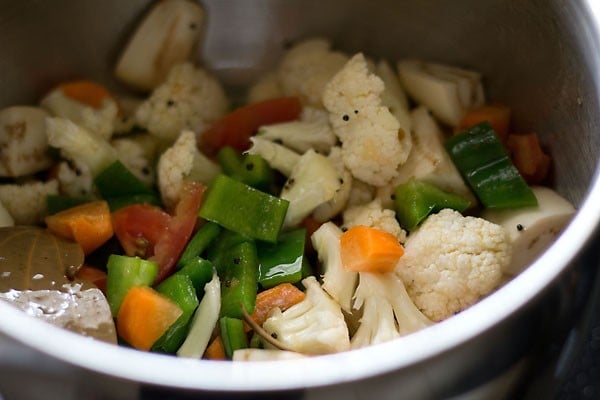 3. Add the goda masala, red chili powder and asafoetida. Stir and saute for a minute.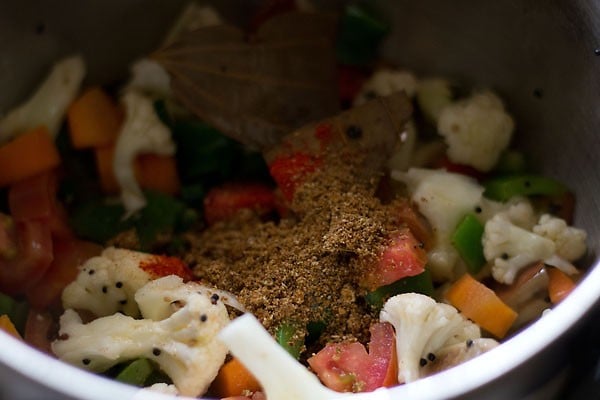 4. Add rice which has been previously soaked for 30 mins and then drained. Saute for a minute.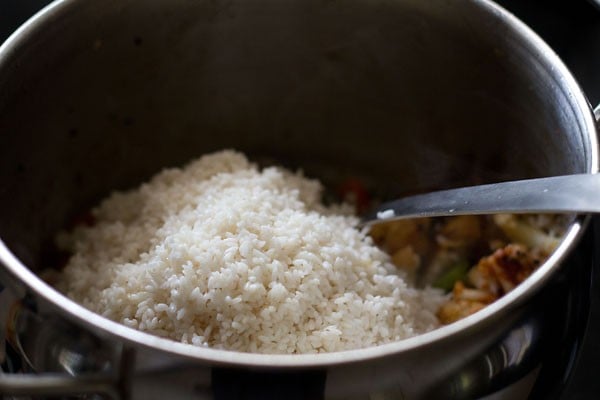 5. Pour hot water and stir well. Season with salt.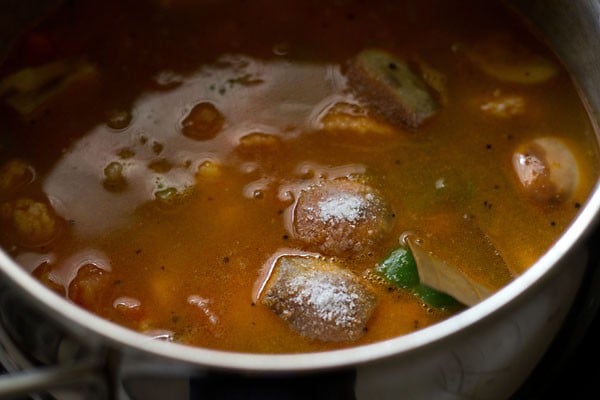 6. Cover the pot and simmer on a low flame till the rice grains are cooked well.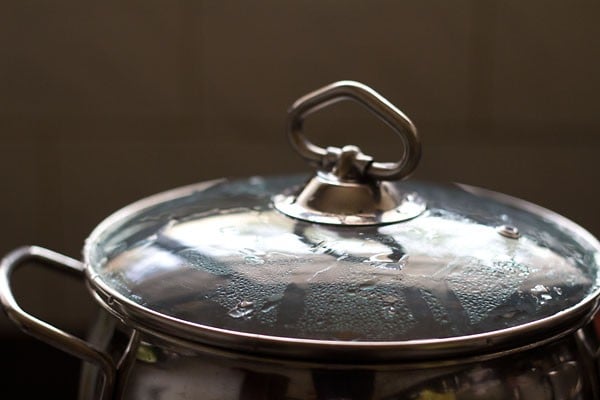 7. Meanwhile dry roast cashews in a pan till they get golden. We will be adding these roasted cashews for the garnish.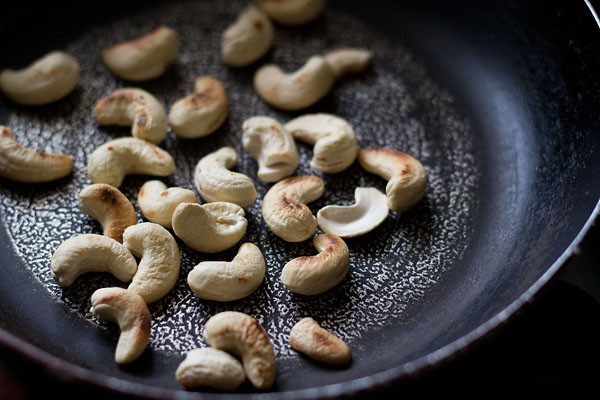 8. Add about a tsp of ghee on top once the rice is done.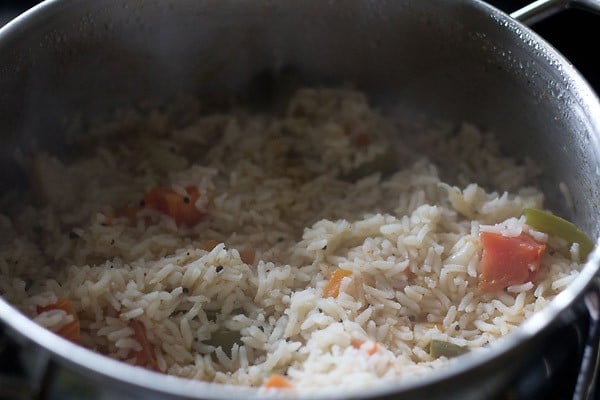 9. While serving, masale bhat garnish with freshly grated coconut, roasted cashews and chopped coriander leaves.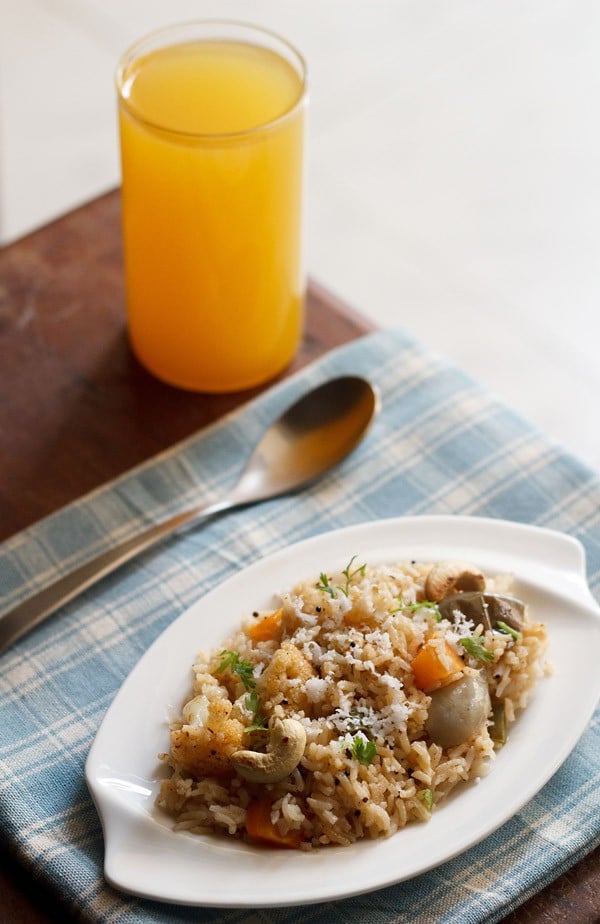 Few more rice recipes for you!
Please be sure to rate this recipe in the recipe card below if you have made it. For more vegetarian inspirations, Sign Up for my emails or follow me on Instagram, Youtube, Facebook, Pinterest or Twitter.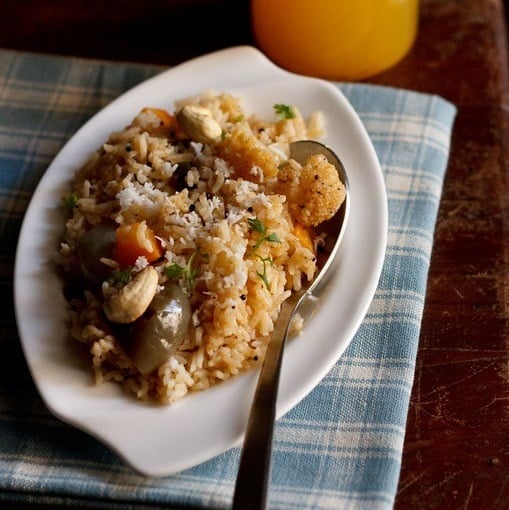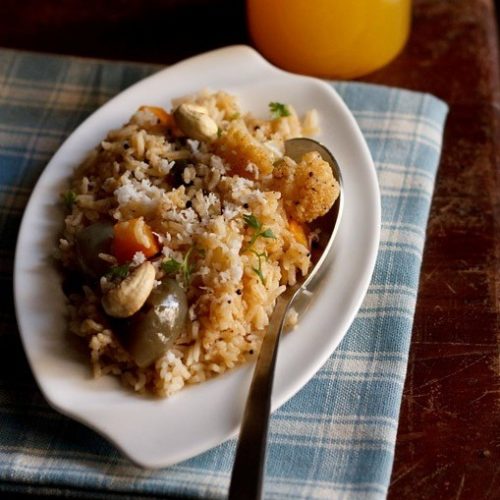 Masale Bhat
Masala bhat is a spicy and aromatic one-pot traditional rice recipe with veggies from the Maharashtrian cuisine.
main ingredients
1

cup

regular rice

or long grained rice

1

cup

chopped cauliflower

1

small carrot

2

small brinjals

(aubergines or baingan)

1

small to medium capsicum

(green bell pepper

1

small potato

(optional)

1

small to medium tomato

or 2 tablespoon yogurt (curd)

1

tej patta

(indian bay leaf) or 7 to 8 curry leaves

3 to 4

teaspoon

goda masala

(kala masala) - (recipe for a small batch given in the notes section)

½

teaspoon

kashmiri red chili powder

1

teaspoon

mustard seeds

1

pinch

asafoetida

(hing)

2.5

cups

water or as required

2

tablespoon

oil

salt as required
for garnishing
1

tablespoon

grated coconut

1

tablespoon

chopped coriander leaves

15-20

cashews

1

teaspoon

Ghee
Instructions
Rinse and soak the rice for 30 minutes in enough water.

Rinse and chop all the veggies.
making masale bhat
Heat oil in pan. add the mustard seeds and bay leaf or curry leaves.

Let the mustard seeds crackle.

Then add the all the chopped veggies - carrots, cauliflower, capsicum, aubergines and tomatoes or yogurt.

Saute the veggies for 3 to 4 minutes stirring often.

Meanwhile heat 2.5 cups water and bring it to a boil.

Add the red chili powder, goda masala, asafoetida to the sauteed veggies. Stir and saute for a minute.

Then add the rice and saute for a minute.

Add the hot water and stir well.

Season with salt. check the taste of the water. If required add more salt.

Cover the pan and simmer the rice on a low flame till the grains are softened and cooked well.

Do check once or twice when the rice is cooking, by opening the lid.

If the water looks less and the rice uncooked, add some more hot water and continue cooking the rice. Stir gently with a fork.

While the rice is cooking, roast the cashews till golden in a pan.

Once the rice is cooked, let the rice stand for 5 minutes in the pan.

Then sprinkle ghee on top of the masale bhat.
serving masala bhat
When serving garnish with coconut, cashews and chopped coriander leaves.

You can also sprinkle a few dots of ghee on the served rice instead of adding it in the pan.

Serve the masala bhat hot accompanied with yogurt, buttermilk, raita or a side maharashtrian vegetable dish or khamang kakdi.
Notes
For the goda masala
- 1.5 tbsp unsweetened desiccated coconut
- 1.5 tbsp white sesame seeds
- 1 or 2 dry red chilies or byadagi red chilies
- 1 small piece of stone flower/dagad phool (skip if you don't have)
- 1 tsp cumin seeds
- 2 tsp coriander seeds
- 2 to 3 cloves
- 1 inch cinnamon
- 1 small indian bay leaf/tej patta
- 1/2 tsp caraway seeds/shah jeera
- 3 to 4 black peppercorns
- a pinch of asafoetida Method:
1. First dry roast all the spices except sesame seeds and desiccated coconut in a pan till they become aromatic.
2. Push them towards the sides of the pan. Then add the sesame seeds and coconut. Mix everything together and roast till the coconut becomes golden.
Let this mixture cool and then grind everything in a dry grinder or coffee grinder to a fine powder.
3. Store in a small jar and keep in the refrigerator.