how to make paneer at home – i have been making paneer since ages now. i hardly buy paneer from outside. at home everybody likes homemade paneer and so i prefer to make paneer at home.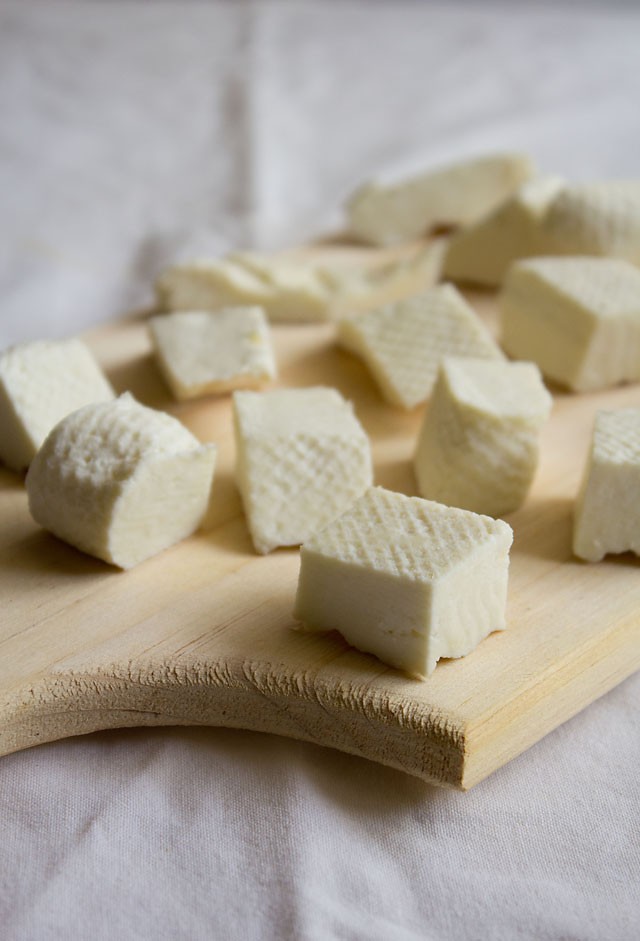 this post is on making paneer on the stove top. i already have posted the method for making paneer in the microwave. this one can be helpful if you use microwave oven for your cooking and you want paneer to be made quickly. this is the quickest method to make it. it won't take more than 15-20 minutes. personally i avoid use of microwave for making paneer or any other dish. i use the method shared in this post to make paneer at home.
you can easily get soft and porous paneer from mithai shops. some of them even sell some types of special paneer like masala paneer, herbed paneer. however its best to make paneer at home. as homemade paneer is more hygienic, fresh and suit the pocket as well !!!
only on very rare occasion i buy paneer from outside. otherwise i make it a point to make paneer or cottage cheese at home. its not at all difficult and anybody can learn the method to make paneer at home.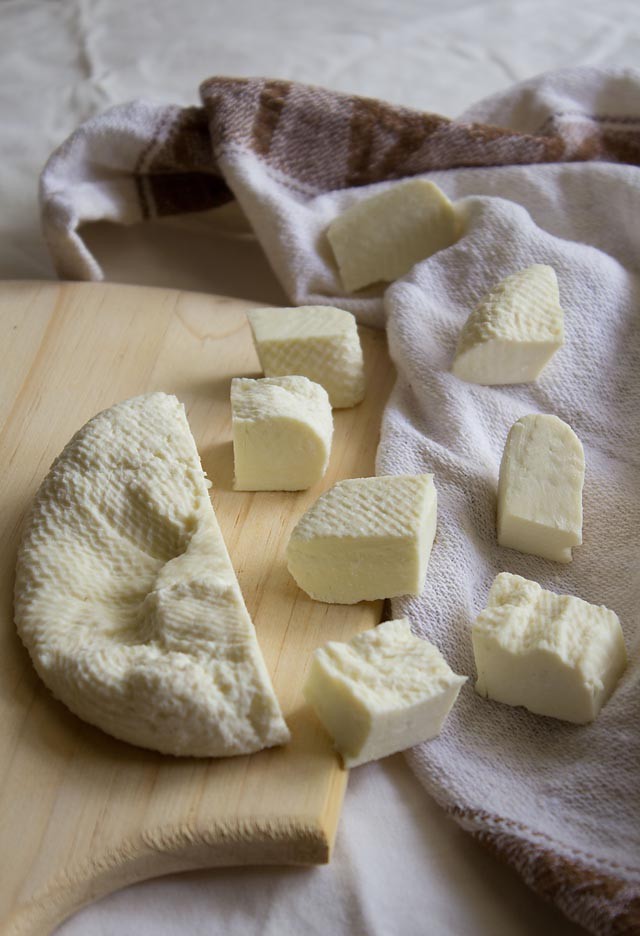 what is paneer
for all those who do not know…. paneer is called as cottage cheese. it is an indian cheese where the milk is coagulated by adding a food acid. it is not a fermented or cured product like other cheeses. the coagulated milk shreds are collected in a muslin and allowed to be hung or pressed with a heavy weight. after cooling you get a block of cottage cheese which can be used for making a variety of paneer recipes like:
according to wikipedia:
paneer is a fresh cheese common in south asian cuisine. it is of Indian origin often referred in the vedas dating back to 6000 BCE. in eastern parts of india, it is generally called chhena. It is an unaged, acid-set, non-melting farmer cheese or curd cheese made by curdling heated milk with lemon juice, vinegar, or any other food acids.
unlike many cheeses in the world, the making of paneer does not involve rennet as the coagulation agent thus making it completely lacto vegetarian and providing one of the sources of proteins for vegetarians in india. it is generally unsalted.
this method of making paneer that i am going to write about is how i learnt it in my home science cooking classes. this one is quick and within 30 minutes you have a good block of paneer ready. i have been making paneer ever since like this.
i don't hang the paneer at all. after draining the whey just keep a weight on the paneer and it all sets after some 30-40 minutes. there you go, your homemade paneer is ready.
how to make paneer
method to make soft homemade paneer from milk with some tips.
servings
1
small block of paneer - approx 200 to 250 gms
rough calories per serving
612
kcal
ingredients (1 cup = 250 ml)
ingredients
1

litre

full fat milk

2

teaspoons

lemon juice

or vinegar or 3 to 4 tablespoons curd or yogurt
materials required
cheese cloth or muslin or a thin cotton napkin

some bowls and a heavy weight
how to make how to make paneer
boil milk. when the milk starts boiling, add the lemon juice or vinegar.

as soon the milk completely curdles, remove from fire.

strain the milk in the cheesecloth.

drain the whey.

collect the cheesecloth together with the coagulated milk shreds tightly.

place it on a plate and keep a heavy weight on top of the cheesecloth.

check after 30-40 minutes.

the paneer would be set.

once warm or cooled cut paneer into cubes or any shape.

you can also refrigerate the paneer. keep it in an air tight container or immerse the paneer block in a bowl of water and keep in the fridge.

paneer stays fresh for 3-4 days.
recipe notes
tips on making soft paneer at home
first and foremost use good quality milk. again full cream milk yields excellent results just like it does for making homemade curd.
three ingredients that coagulate the milk. you can use any one of them: lemon juice, curd or vinegar
each of these will contribute their taste a little to the paneer you make. remember this. if you don't like lemony or vinegar taste than add curd instead.
if there is lots of cream floating over the milk, then there is no need to remove it. the natural cream present in the milk, makes the paneer soft.
once you add the lemon juice or vinegar than the milk will start to curdle. the milk has to completely curdle. you should be able to see the whitish or greenish whey.
once the milk coagulates/curdles completely than don't boil it more. remove immediately and strain the milk.
the overcooking  will yield a hard paneer once set.
a way to keep the paneer soft in the fridge is to soak the paneer block  in water in a bowl and keep in the fridge. this way the paneer does not become hard.
alternately you can also soak the paneer in warm water after you have removed it from the fridge.
note: as a blogger, if you you want to use this recipe or make a youtube video, then please write the recipe in your own words and give a clickable link back to this recipe url - how to make paneer on Veg Recipes of India. its a fair and ethical practice. for using our image please write to us. all our images and content are copyright protected.
how to make paneer at home
1: heat the milk and bring to a boil. stir occasionally so that the skin does not form on the surface. i tried hard to get the steam in the pics but just could not manage it. guess it poor lighting in my kitchen….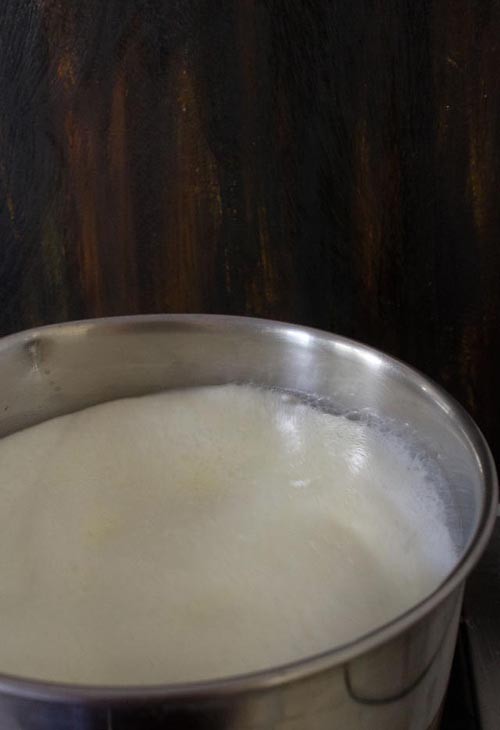 2: when the milk becomes to rise…  see the above pic. the milk was rising when i took the pic… once the milk rises, add the lemon juice or vinegar or curd.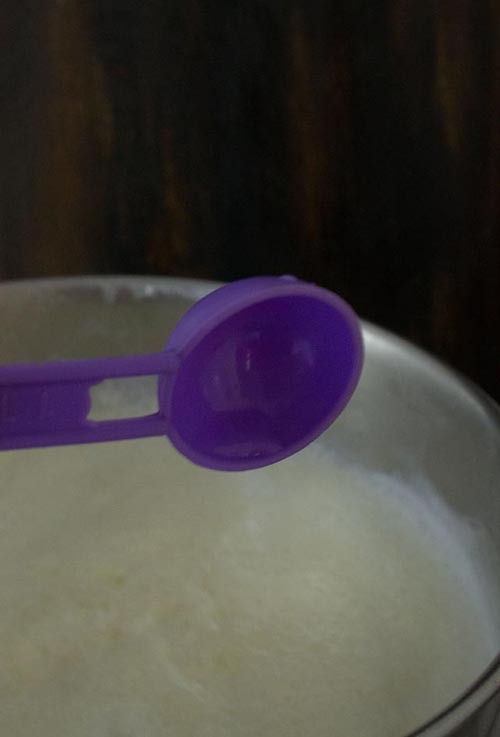 3: the milk should begin to curdle. if the milk has not yet begun to curdle than add one more teaspoon. the milk should completely curdle. stir the milk when its curdling so that the curdled milk does not stick to the base of the pan.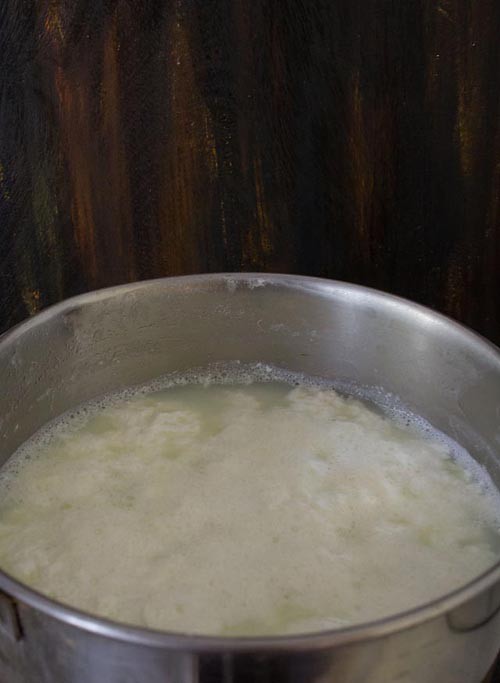 4: immediately in a muslin, cheesecloth or cotton kitchen napkin drain the curdled milk. keep a bowl or pan beneath the cheese cloth. the collected whey can be added to chapatis or rice or veggies. you can also cool it and water your home or garden plants.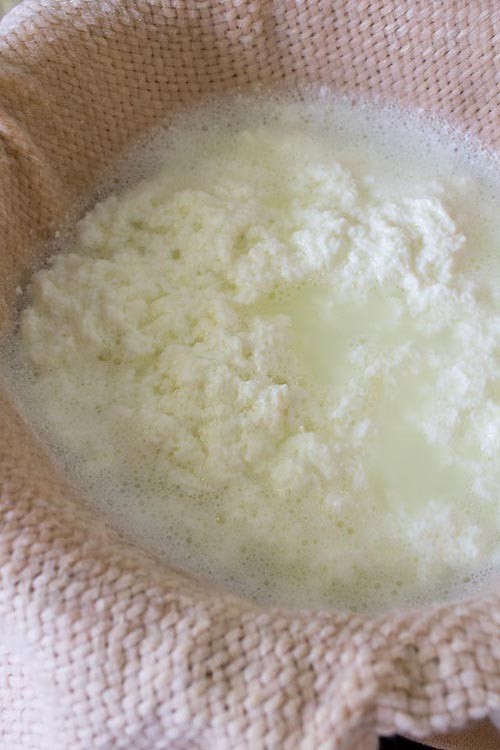 5: bring the muslin or napkin together. whilst doing so you will also squeeze the curdled milk. take a plate and keep the muslin with the curdled milk on it. place a heavy weight on top of it. i have used my stone mortar.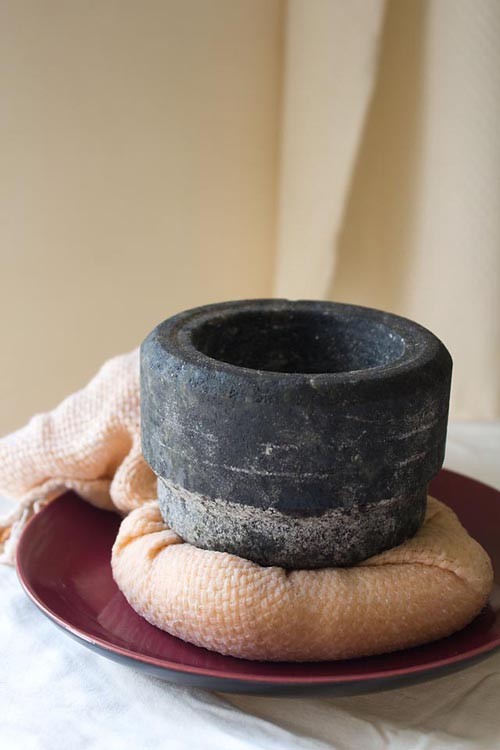 6: after 30-40 minutes the paneer will be ready. open the cheesecloth or muslin. you will see a beautiful block of cottage cheese all set. i used 1 litre of milk and hence i don't have a huge big block of paneer.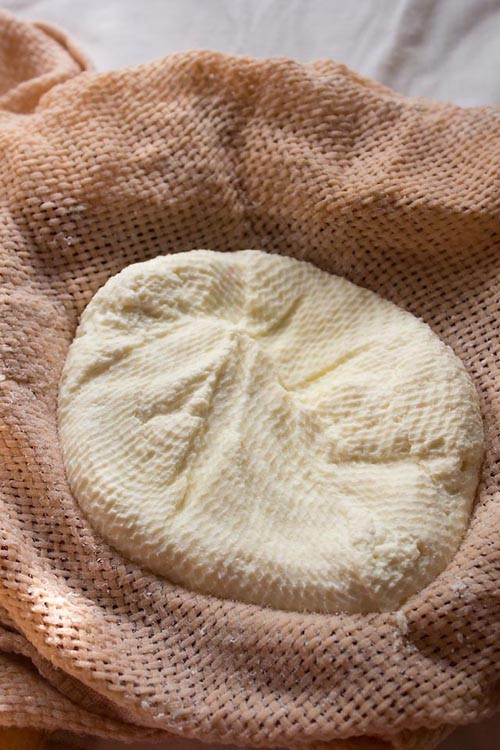 7: chop paneer into any shapes or sizes you want.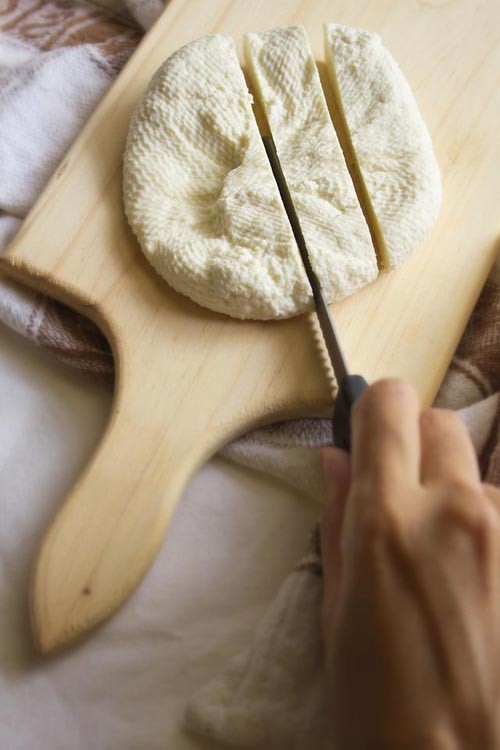 8: you have gorgeous homemade paneer ready cubes in different shapes and sizes to go with any of the indian curries or dishes like: