My Carrot Halwa recipe with a detailed step-by-step guide and video shares the traditional way of making a delicious gajar ka halwa without any shortcuts or tweaks. But I also share making this rich carrot halwa with milkmaid, khoya and in the Instant Pot in this helpful post.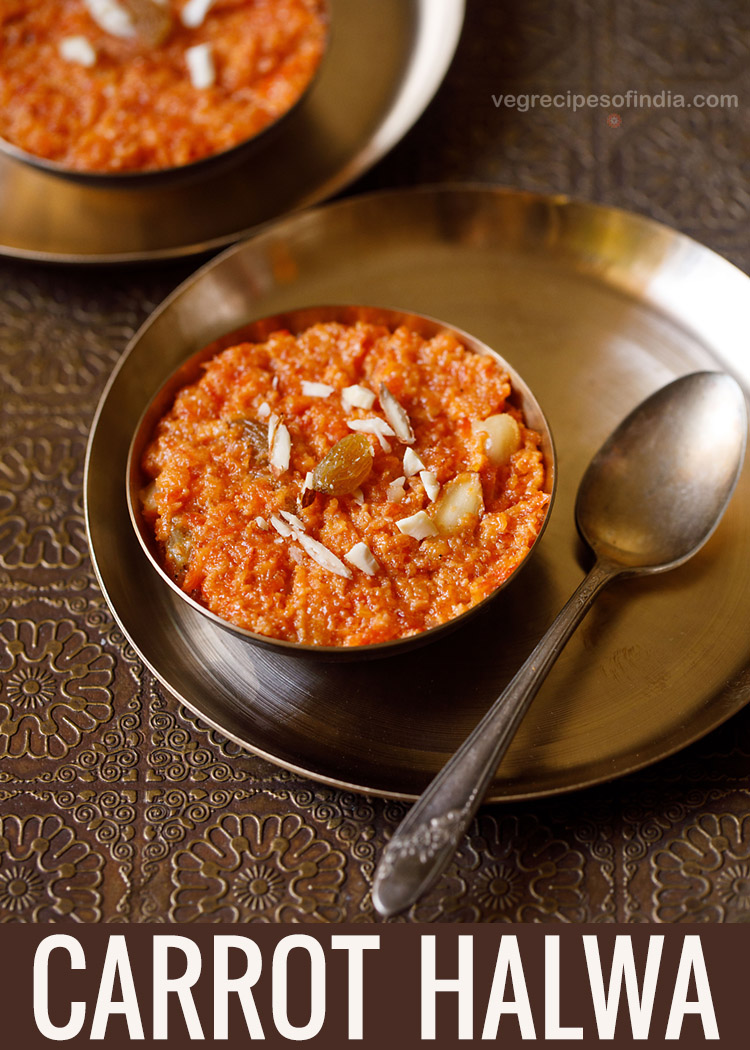 About this recipe
During winters, I make gajar ka halwa often. It is a popular sweet made in north India during winters. By the way, in Punjabi language we call carrot halwa as gajrela.
This traditional carrot halwa recipe is made with only whole or full-fat milk, ghee and sugar. You don't need khoya (evaporated milk solids) or condensed milk.
We generally use red Delhi carrots to make the halwa as they are tender and juicy. On occasions, I also make carrot halwa with orange carrots.
You can use any carrots – red, orange or black. But just make sure they are not fibrous, stringy and hard.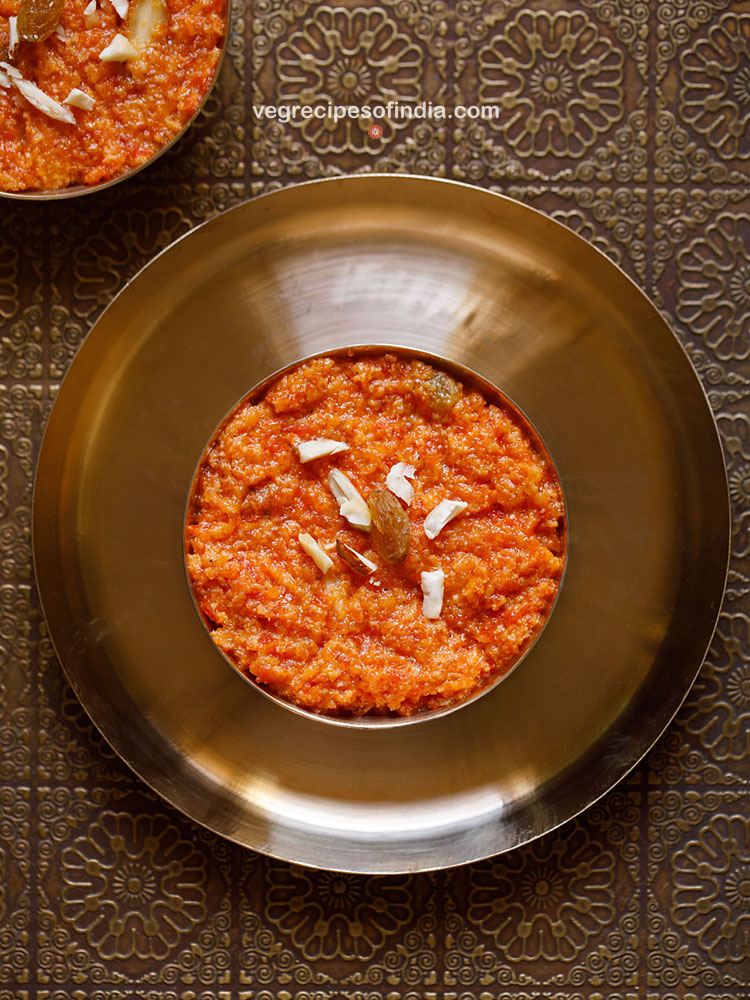 How to make Carrot Halwa
Preparation
1. First rinse, peel 650 grams carrots (8 to 9 medium-sized tender juicy carrots or 6 to 7 long carrots).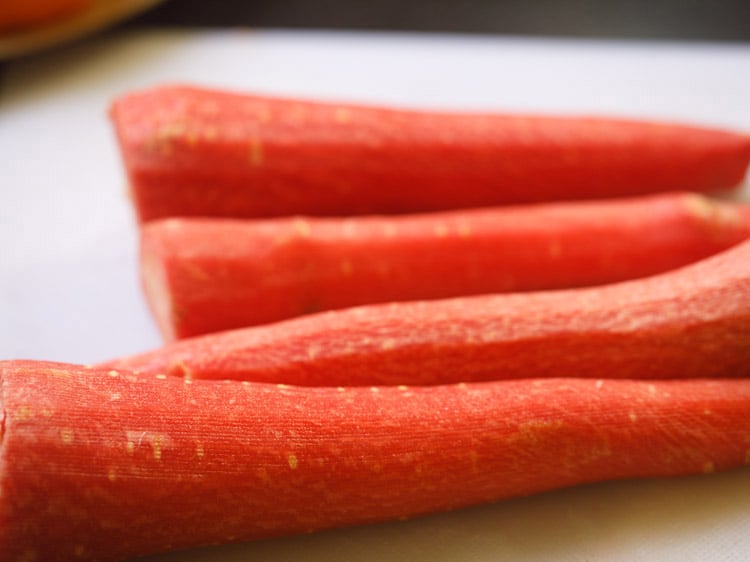 2. Then grate the carrots either with a hand-held grater or in a food processor. You will need about 4 to 4.5 cups grated carrots.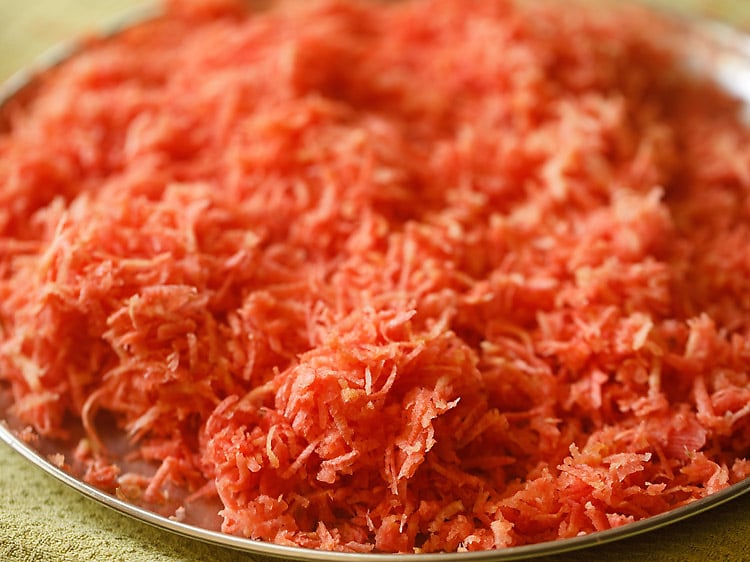 Cooking carrots
3. In a heavy kadai, add all of the grated carrots.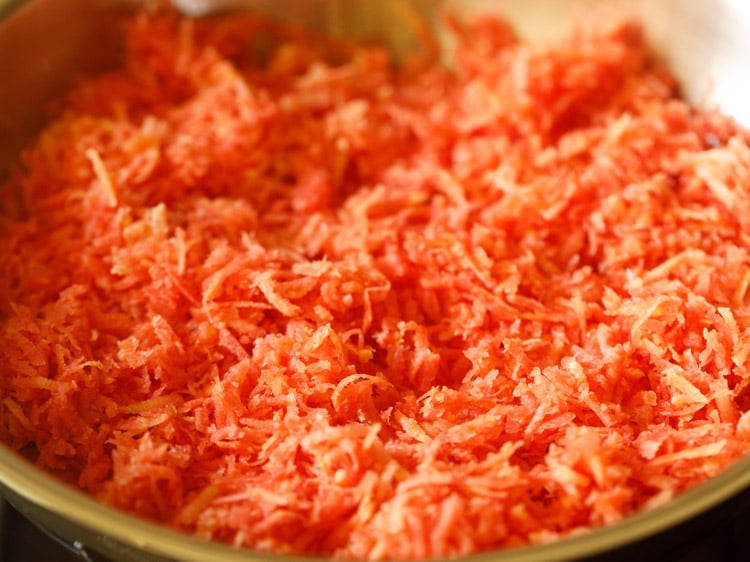 4. Pour 4 cups full-fat milk. Switch on the burner.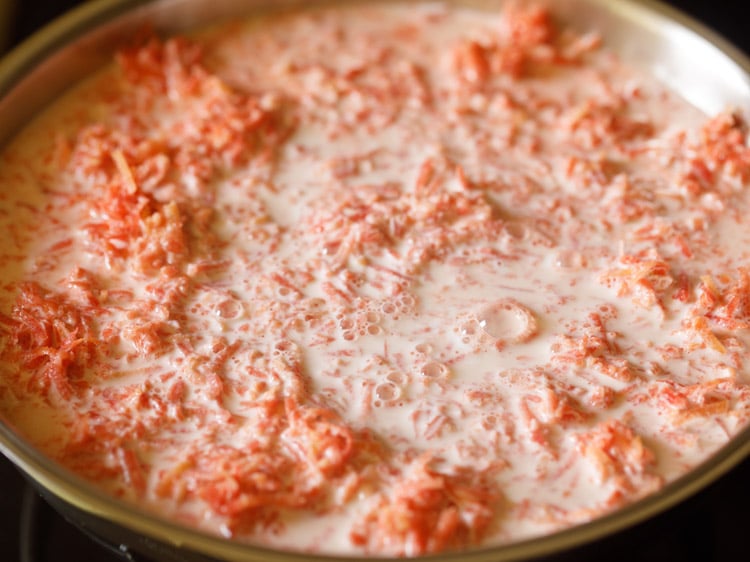 5. Mix the grated carrots and milk together.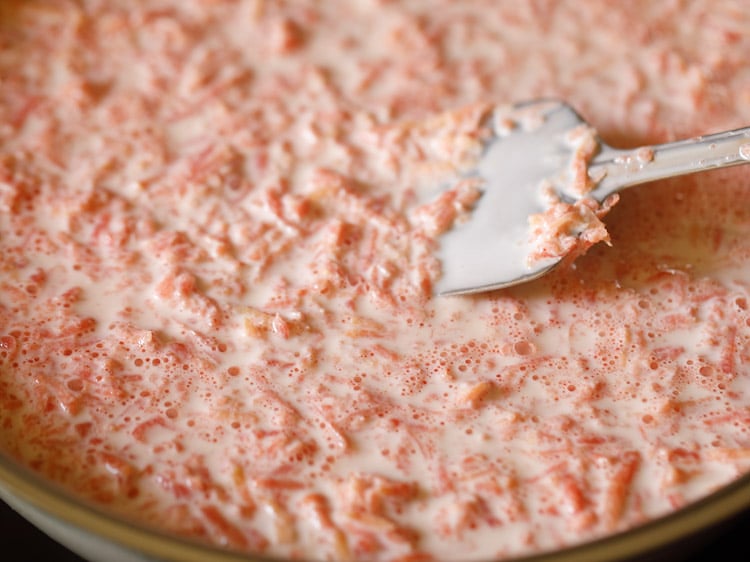 6. Cook this mixture on a low to medium flame. After some minutes, the milk will begin to froth first and then start reducing slowly and slowly.
7. Keep on stirring this halwa mixture often. Keep scraping the sides of the kadai to remove the evaporated milk solids.
Add the milk solids to the cooking mixture. simmer carrots in milk and stir also at intervals, so that the milk does not stick to the bottom of the pan.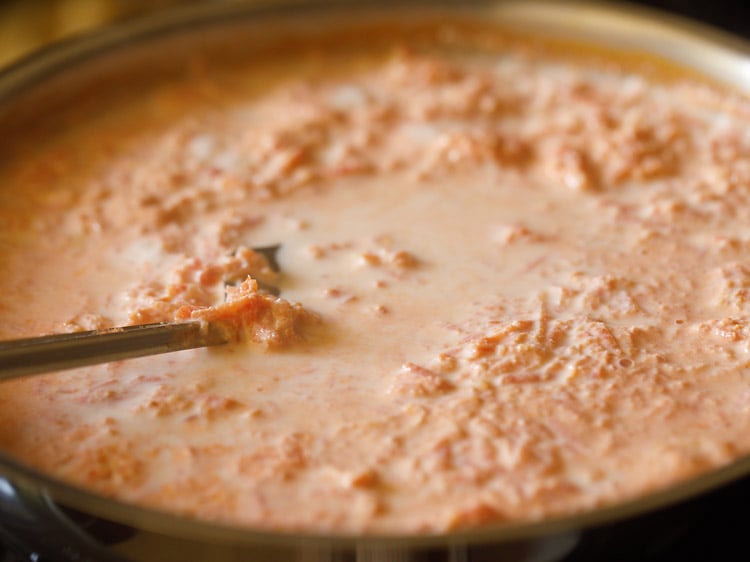 8. Cook the carrot and milk mixture until the milk is reduced by 75%.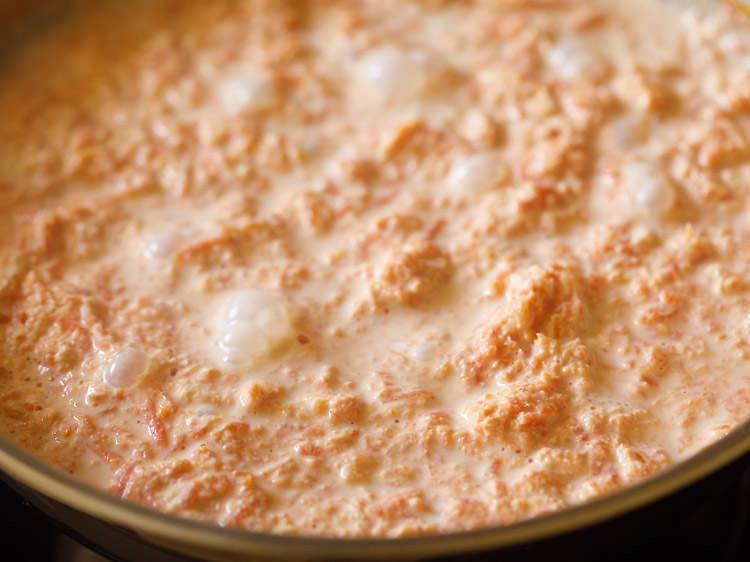 Making carrot halwa
9. Then add 4 tablespoons ghee (clarified butter). Do note that some milk will be there when you add the ghee.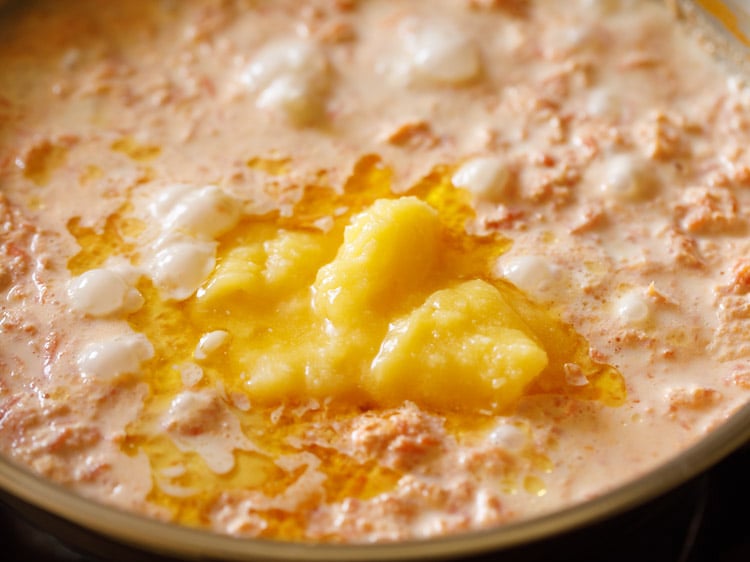 10. Mix very well.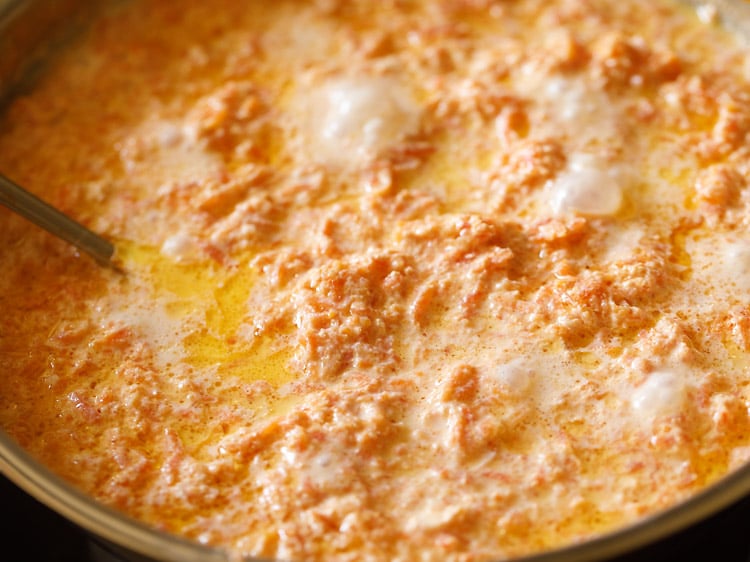 11. Next add 10 to 12 tablespoons sugar or as required.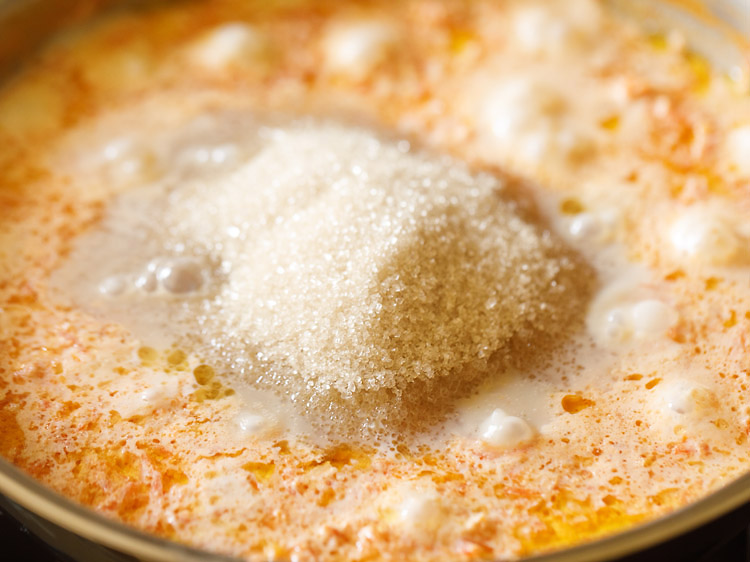 12. Add cardamom powder – 5 to 6 green cardamom, powdered finely in a mortar-pestle or about ½ to 1 teaspoon cardamom powder.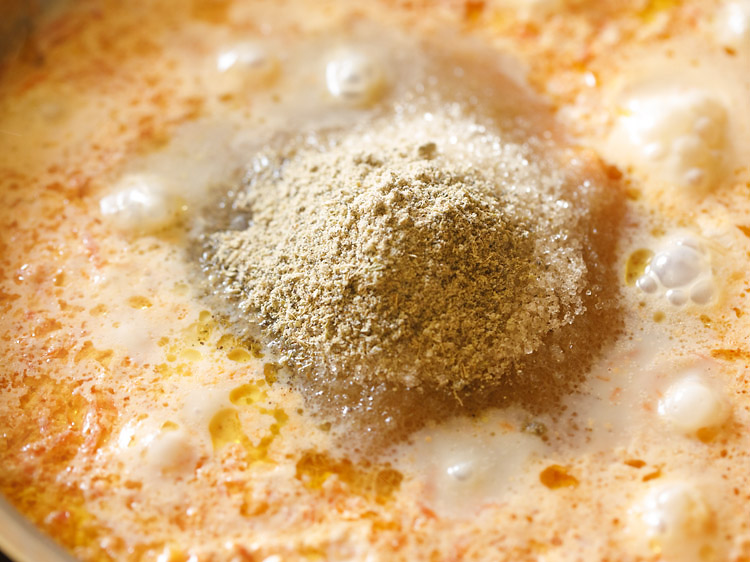 13. Mix very well.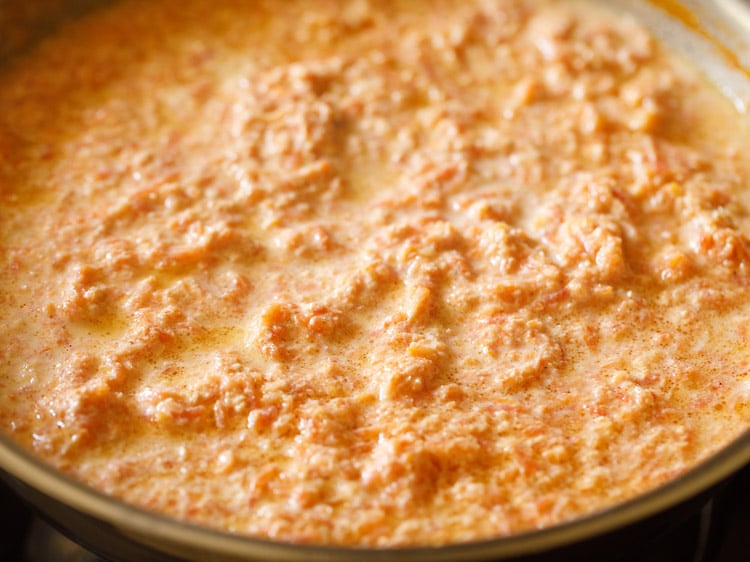 14. Continue to simmer on a low flame. Do stir often.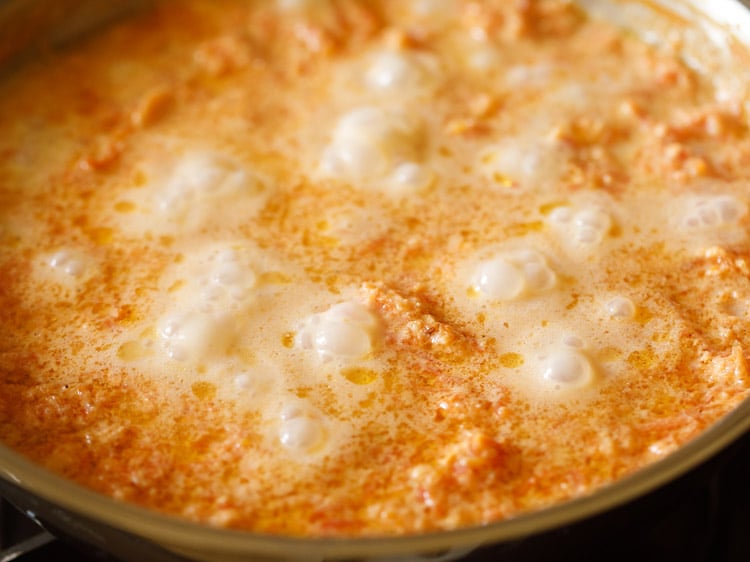 15. Simmer till the halwa mixture starts to thicken and reduces more. Stir at intervals.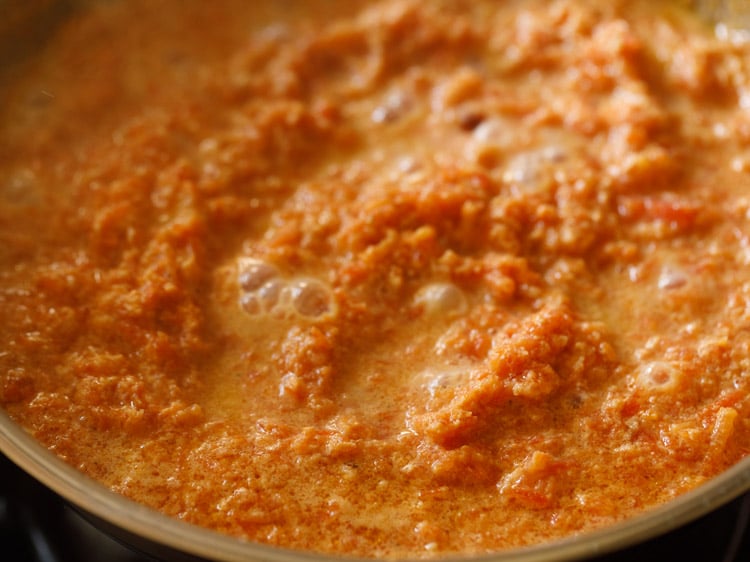 16. When the halwa has reduced much and you see a little milk – like that of a pudding consistency. Then add nuts and dry fruits.

You can add your choice of nuts and dry fruits. I have added 12 cashews, 12 almonds and 2 tablespoons golden raisins.

Chop the nuts before you add. Raisins can be kept whole. If using saffron, then you can add at this step.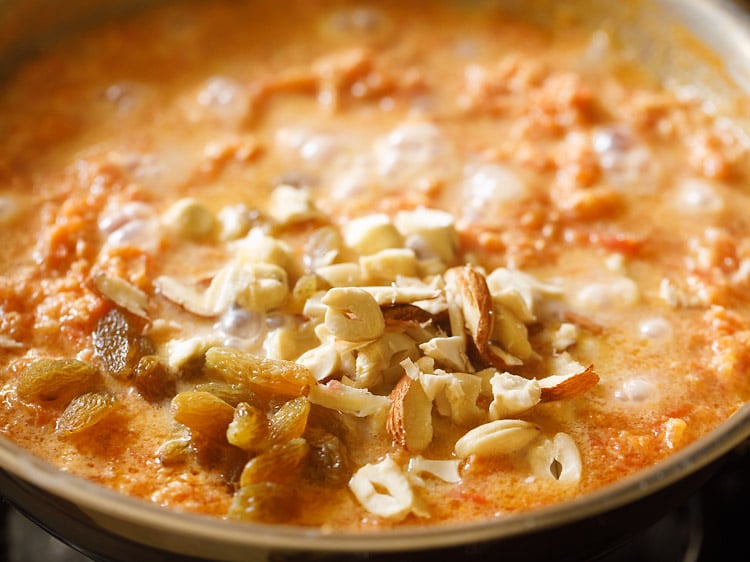 17. Mix again and continue to stir and simmer.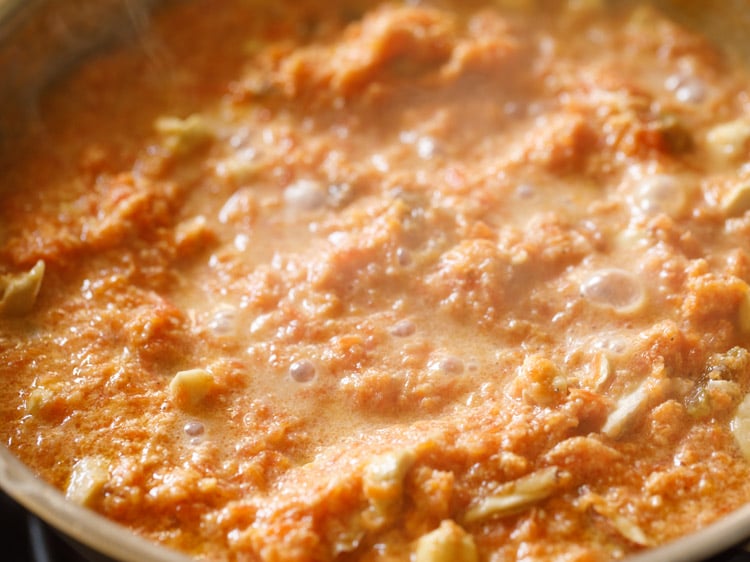 18. Simmer till the whole halwa mixture becomes dry. The milk should evaporate completely and you will see fine milk solids in the carrot halwa.

You will also see some ghee being released from the sides. Remember to scrape the milk solids stuck at the sides of the kadai or pan and add them to the gajar halwa. Some moisture is also fine in the halwa.
Serve gajar ka halwa hot or warm. Refrigerate the leftovers and while serving you can warm the halwa. Garnish with some chopped dry fruits while serving.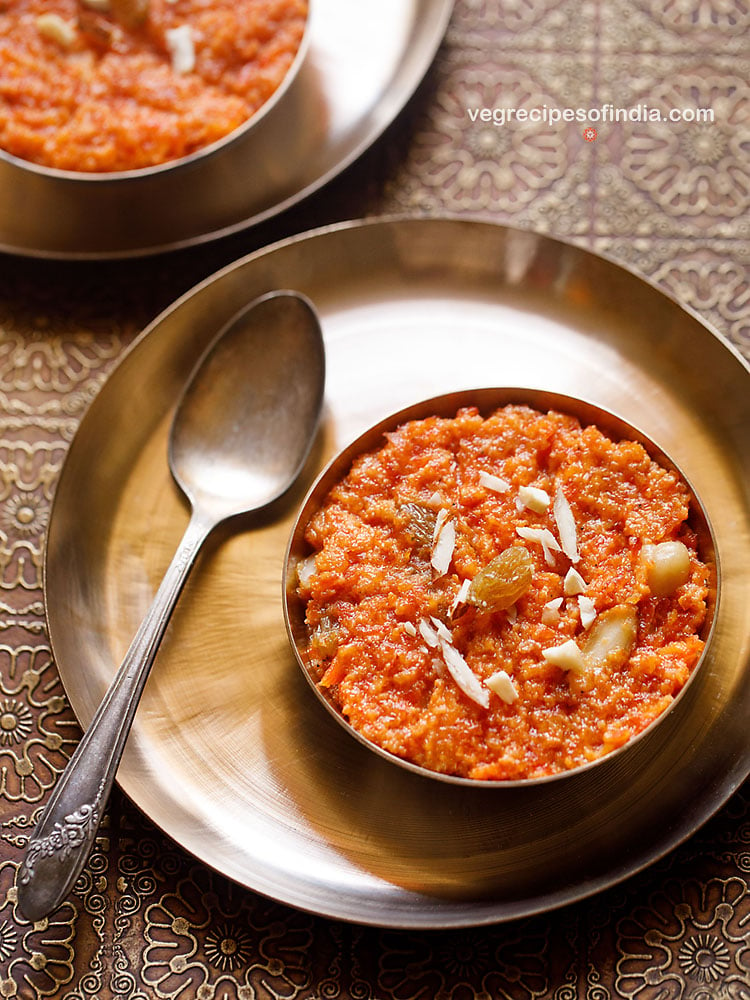 Serving Suggestions
In the cold winters of North India, carrot halwa is served hot or warm.
You can even have gajar halwa chilled if you prefer. Some people like to have it cold or at room temperature and some people like to have carrot halwa hot or warm. It is just a personal preference.
In some restaurants, they serve a combination of carrot halwa with vanilla ice cream and believe me this combination tastes good.
Storing
Refrigerator: You can store the halwa in the fridge. It stays well for about 10 to 12 days but will get over quickly. When serving, you can just warm the halwa and then serve.
Freezer: Large quantities of carrot halwa can be made and frozen. Gajar halwa keep well in the freezer for about a month.
Expert Tips
Carrots:

It is important to buy tender and juicy carrots so that they are easy to grate. Some arm work is needed to make this halwa as you have to first grate the carrots and then slow cook them in stovetop and keep on stirring them on regular intervals.

Add any fresh, juicy, tender and sweet tasting carrots.
Grating or shredding: You can either grate or shred the carrots. The carrots can be grated using a hand-held grater or box grater and a food processor. Obviously, a food processor makes grating of the carrots easier.
Best pan to make carrot halwa: I suggest using a heavy iron kadai to make the halwa. The carrot halwa is simmered and simmered and stirred often. So that it should not get burnt, a really good and heavy kadai makes the job easier. You can also use a non-stick kadai or a thick bottomed pan or skillet.
Scaling: You can easily halve or double or triple this carrot halwa recipe.
How to make Carrot Halwa with Milkmaid
To make carrot halwa with milkmaid or condensed milk, follow these steps:
Melt 6 tablespoons ghee in a heavy kadai or thick bottomed skillet or pan. Add in 9 cups of tightly packed grated carrots. Sauté the carrots until they turn tender and are cooked for about 15 to 20 minutes on low heat.
Pour an entire can or tin of milkmaid or sweetened condensed milk (400 grams).
Mix thoroughly and add 1.5 to 2 teaspoons cardamom powder, ⅓ cup raisins and ⅓ cup cashews.
Mix well and simmer gajar ka halwa on a low heat. Stir often at intervals until the mixture thickens, reduces and dries up. Serve carrot halwa hot or warm or chilled.
How to make Gajar Halwa with Khoya
Making carrot halwa with khoya or mawa is very easy. Follow these steps to make the gajar ka halwa in 45 minutes.
Heat 6 tablespoons ghee in a deep bottomed heavy pan or kadai.
Add 9 cups tightly packed grated carrots.
On a low heat, sauté carrots in ghee stirring often until they turn tender and are cooked for about 15 to 20 minutes.
Add 2 cups of crumbled or grated khoya (mawa or evaporated milk solids).
Mix thoroughly and then add 1 to 1.25 cups sugar. Combine and mix well. Adjust the amount of sugar depending upon the sweetness of your khoya. If your khoya is sweet, add 1 cup of sugar.
You will see that both the khoya and sugar will melt. Now add ⅓ cup of cashews, ⅓ cup golden raisins, 1 tablespoon pistachios (chopped) and 1.5 to 2 teaspoons cardamom powder.
Mix again and stirring often simmer gajar halwa on low heat. The halwa will start thickening, reducing and leave the edges of the pan. When you see these signs, switch off the heat. Sere gajar ka halwa made with khoya warm or chilled.
Instant Pot Gajar Halwa
Making gajar halwa in the Instant Pot is so easy as you do not have to spend time frequently stirring the halwa. It saves a lot of time. Follow my easy steps to make instant pot gajar halwa.
Take 4 to 4.5 cups grated carrots, 1.5 cups whole milk, ½ cup sugar, 4 tablespoons ghee in the steel insert of a 6 quart IP.
Seal with the IP lid. Position the valve to the sealing position. Pressure cook on high for 3 minutes.
After 3 minutes of pressure cooking, once the beep sound is heard, do a quick pressure release (QPR) by lifting the pressure valve. When all the pressure is released, open the lid. Stir and mix very well.
Press cancel and then press the sauté button setting the time to 5 or 10 or 12 minutes on normal mode.
The carrot halwa will begin to simmer and bubble. Continue to stir often until the halwa thickens.
When the halwa has almost thickened, add 1 tablespoons each of sliced or chopped almonds, cashews, pistachios and raisins. Add ½ teaspoon cardamom powder.
Keep on stirring and simmering until the liquids have evaporated and the carrot halwa thickens. The halwa will look glossy and you will some ghee releasing from the sides. Press the cancel button and serve instant pot gajar halwa hot or warm.
How many days carrot halwa last?
Store carrot halwa in the refrigerator for 10 to 12 days. Do not keep it at room temperature as it will get spoiled. You can even freeze carrot halwa for about a month.
If you made this recipe, please be sure to rate it in the recipe card below. Sign Up for my email newsletter or you can follow me on Instagram, Facebook, Youtube, Pinterest or Twitter for more vegetarian inspirations.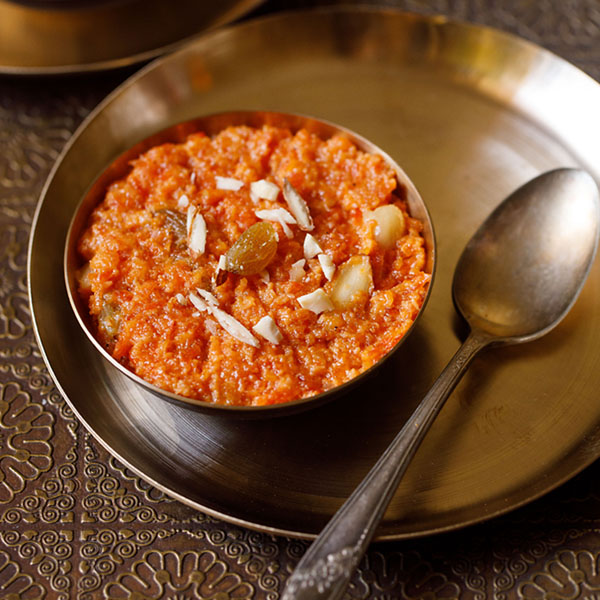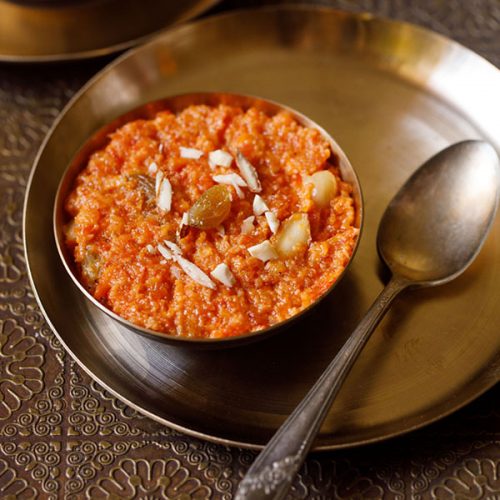 Carrot Halwa | Gajar ka Halwa
A carrot halwa recipe made in the traditional way and slow-cooked – with just carrots, whole milk, ghee, sugar and some nuts. You will love this evergreen and popular gajar ka halwa recipe.
---
---
Ingredients
8 to 9

carrots

medium, juicy, tender – 650 grams or about 4 to 4.5 cups grated carrots

4

cups

whole milk

or full fat organic milk

4

tablespoons

Ghee

(clarified butter)

10 to 12

tablespoons

regular sugar

or raw sugar or 180 to 190 grams – add as required

5 to 6

green cardamoms

– powdered finely in a mortar-pestle or about ⅓ to 1 teaspoon cardamom powder

10 to 12

cashews

– chopped

10 to 12

almonds

– sliced or chopped

2

tablespoons

golden raisins

1

pinch

saffron strands

– optional
Instructions
Preparation
First rinse, peel and then grate the carrots (8-9 medium sized tender juicy carrots), either with a hand held grater or in a food processor.

You need approx 4 to 4.5 cups grated carrots.
Making carrot halwa
In a kadai or deep thick bottomed pan combine milk and grated carrots.

On a low to medium flame, bring the whole mixture to a boil and then simmer.

While the mixture is simmering on a low flame, keep on stirring in between.

The grated carrots will cook in the milk and the milk will start to reduce and evaporate.

When the milk has 75% reduced, add the ghee, sugar and powdered cardamom to the mixture.

Stir well and continue to simmer and cook on a low flame.

Do keep on stirring the halwa in between.

Towards the end, add the cashews, almonds, saffron and raisins. Simmer the halwa till all the milk is evaporated. Switch off the burner.

Serve gajar halwa hot, warm or you can also serve it cold. garnish with some chopped dry fruits while serving.
Notes
Use fresh, juicy and tender carrots.
The recipe can be halved or doubled or tripled.
The halwa stays good in the fridge for almost about 10 to 12 days.
Use full-fat milk or whole milk.
Add nuts and dry fruits of your choice.
Nutrition Info
Approximate values
Nutrition Facts
Carrot Halwa | Gajar ka Halwa
Amount Per Serving
Calories 328
Calories from Fat 144
% Daily Value*
Fat 16g25%
Cholesterol 38mg13%
Sodium 128mg6%
Potassium 560mg16%
Carbohydrates 42g14%
Protein 7g14%
Vitamin A 13856IU277%
Vitamin B1 (Thiamine) 1mg67%
Vitamin B2 (Riboflavin) 1mg59%
Vitamin B3 (Niacin) 1mg5%
Vitamin B6 1mg50%
Vitamin B12 1µg17%
Vitamin C 5mg6%
Vitamin D 2µg13%
Vitamin E 1mg7%
Vitamin K 12µg11%
Calcium 224mg22%
Vitamin B9 (Folate) 24µg6%
Iron 1mg6%
Magnesium 43mg11%
Phosphorus 197mg20%
Zinc 1mg7%
* Percent Daily Values are based on a 2000 calorie diet.
Like our videos? Then do follow and subscribe to us on youtube to get the latest Recipe Video updates.
Tried this recipe?
If you have made the recipe and liked it then do share the recipe link on facebook, twitter & pinterest. For instagram mention @dassanasvegrecipes and tag #dassanasvegrecipes!
All our content & photos are copyright protected. Please do not copy. As a blogger, if you you want to adapt this recipe or make a youtube video, then please write the recipe in your own words and give a clickable link back to the recipe on this url.
This gajar halwa recipe post from the archives (Feb 2014) has been republished and updated on 14 December 2020.