Maladu or Maa Laddu a.k.a Maa Ladoo is one of the popular sweets in Tamil Nadu, South India. This ladoo variety is made with just 3 ingredients viz roasted Bengal gram flour, ghee and sugar. Locally, the sweet is referred to as Pottukadalai Urundai as the Tamil word 'Pottukadalai' means roasted Bengal gram which is ground and used in this recipe. This is an easy to make and delightful ladoo, which is usually prepared during festivals like Diwali.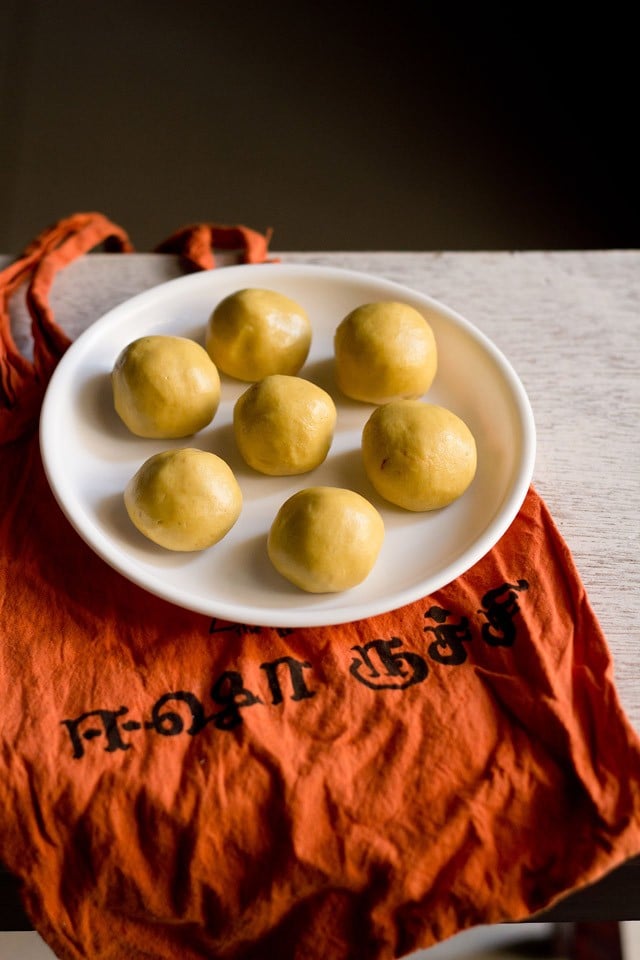 About Maladu
Since there are a handful of ingredients used to make this Maa Laddu, it is the ideal choice of a sweet or snack during Diwali or any other festive occasions. You can quickly prepare these ladoos, serve and relish with friends, family or guests.
With only 3 main ingredients, roasted Bengal gram or chana dal, ghee, sugar and some flavorings like cardamom, ground nutmeg and lovely golden raisins, the Maladu is quite a treat in itself. Not just festivals, you can enjoy these at home on regular days as well.
Since roasted chana dal is ground is used in this Maa Laddu recipe, don't confuse it with the basic Besan Ladoo. As both these have a unique taste of their own. Ghee used in the Maladu recipe basically helps in binding.
Vegans can make Maa Laddu with coconut oil instead of ghee. But doing so, will leave a coconuty aftertaste in the ladoos. If you are good with it, then go ahead and turn the original recipe into a vegan friendly one.
Maladu gets ready within 15 minutes. Along with being tasty, these are nutritious too. So, festival or not, make this fabulous sweet snack at home and enjoy!
How to make Maladu
Grind Ingredients
1. Take 1 cup roasted chana dal (roasted Bengal gram) in a dry grinder or coffee grinder.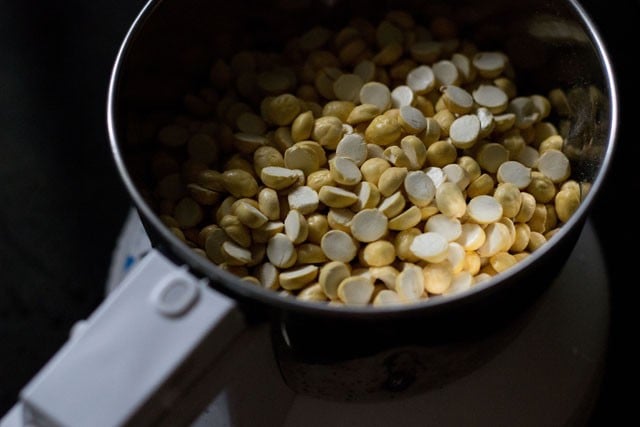 2. Grind to a fine powder and sift it in a wide bowl or pan.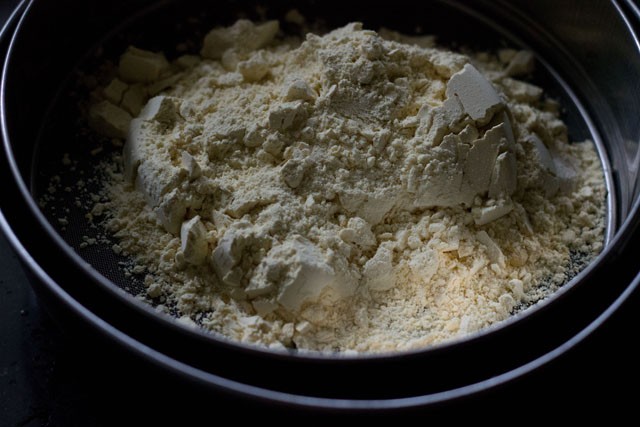 3. Powder ½ cup sugar with seeds from 3 green cardamoms in a dry grinder. Sift it too in the same pan. Also, add 1 pinch of nutmeg powder to this mixture.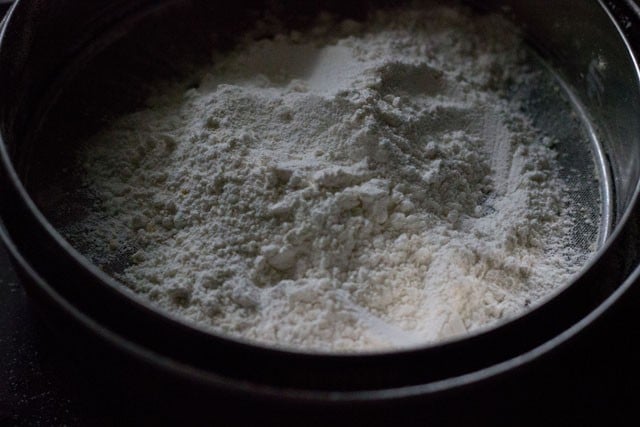 Make Maladu
4. Heat 1 tablespoon ghee in a small pan. Add 10 to 12 chopped cashews and fry till golden. Remove and keep aside.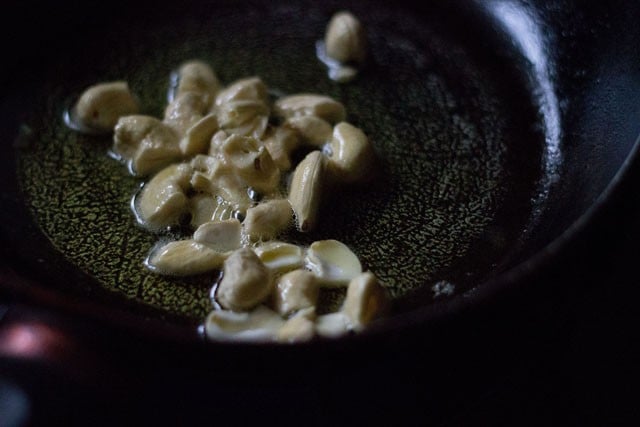 5. In the same ghee, add 1 tablespoon golden raisins and fry till they swell.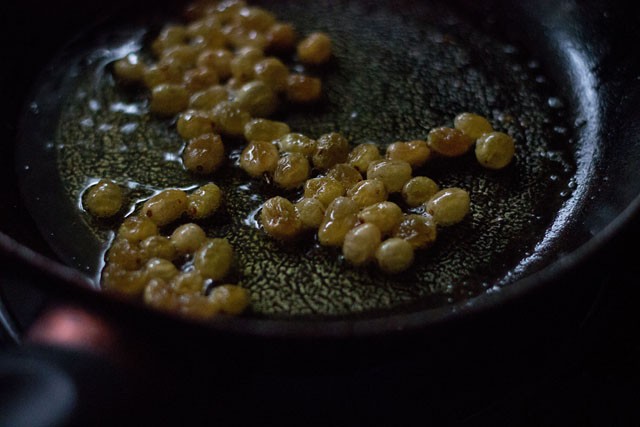 6. Add the fried cashews and raisins along with the ghee to the ground chana dal-sugar mixture.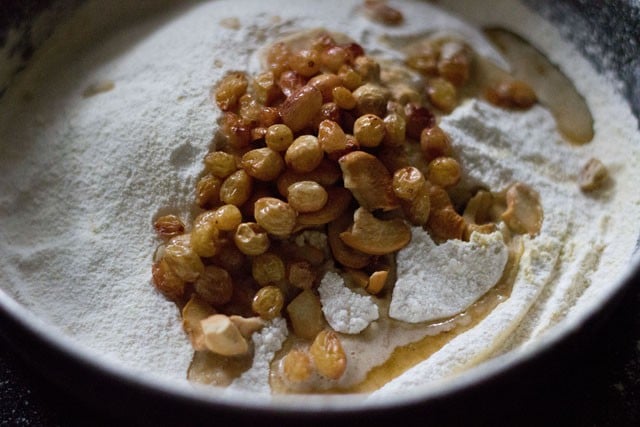 7. Melt the remaining 3 tablespoons ghee in the same pan on a low heat.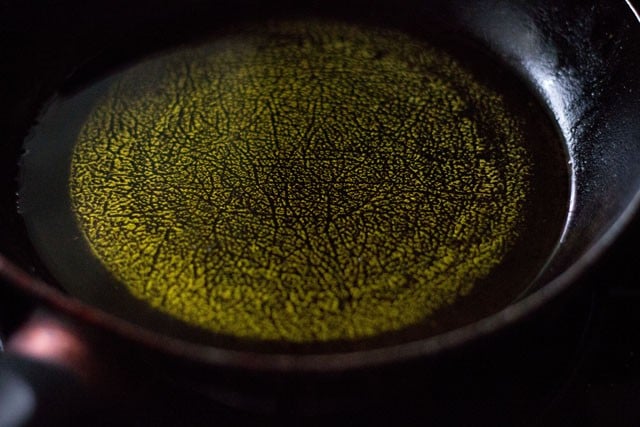 8. Pour this melted ghee into the ground chana dal and sugar mixture.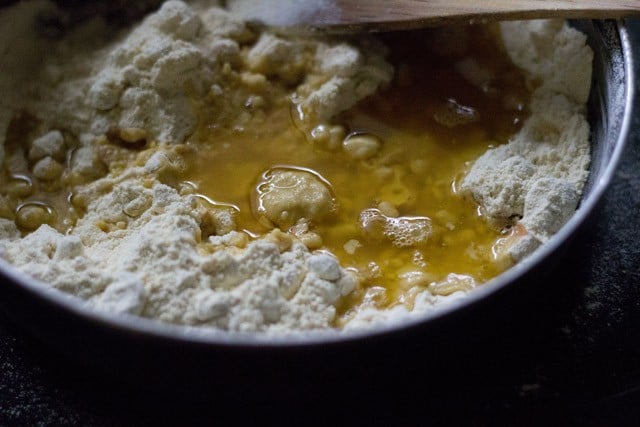 9. Mix with a spatula.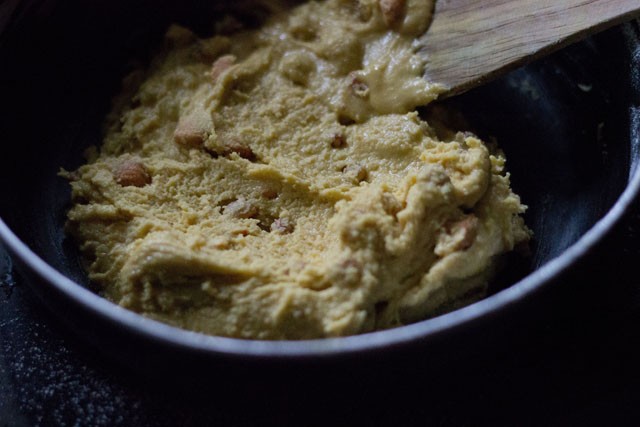 10. Keep this pan on low heat and roast the mixture for 2 to 3 minutes, stirring continuously. Turn off heat and set aside to cool.
11. When the mixture is warm or cooled enough for you to handle, then make small or medium size ladoos from the mixture.
Serve Maladu or store in an airtight box.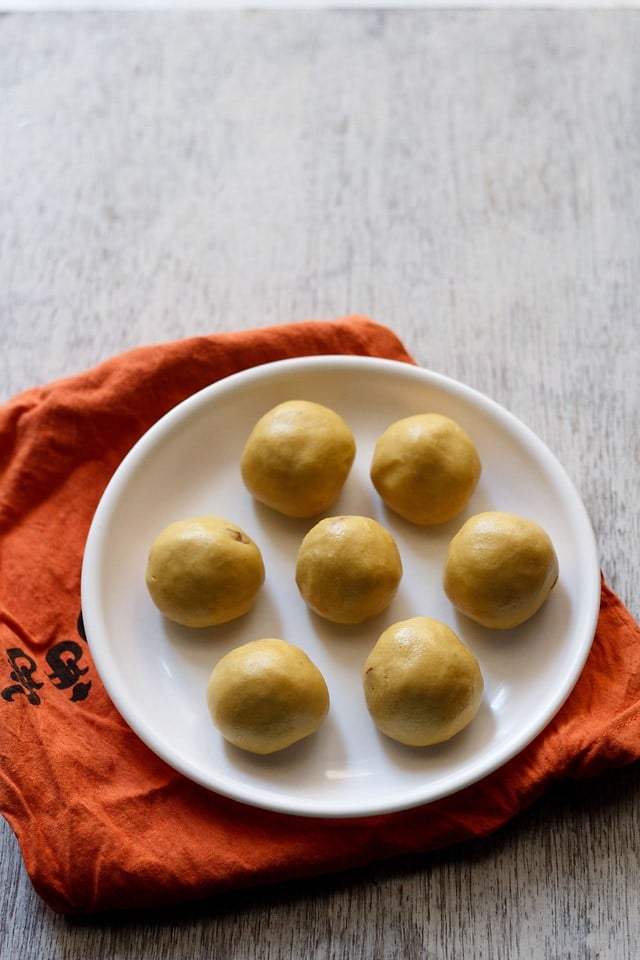 Expert Tips
Chana dal: Roasted chana dal softens and gets rancid quickly. So, when using for this recipe, make sure it is fresh and not smelling/tasting rancid. It should have a lovely nutty taste. If the dal is soft, roast for some minutes in a pan/skillet and then use it for grinding.
Ghee: To make Maa Laddu, use premium quality ghee. Bets to use homemade ghee.
Binding: Whether the ladoo binds easily or not depends on the quality of ghee. If Maladu doesn't bind easily and appear floury/dry, add a few tablespoons of warm ghee. Mix and then shape into ladoos.

If ladoos are falling apart and not holding the shape, refrigerate the mixture for about 20 minutes. Then, take out from the refrigerator and shape the mixture into proper ladoos.
Dry fruits: No cashews or raisins at home? Use almonds or pistachios in your recipe, instead. You can even make plain Maladu without any of the nuts or raisins.
Vegan options: To veganize the recipe, use coconut oil or a vegan butter in place of ghee. When using coconut oil, there'll be a taste of it in the ladoos. Be prepared for that.
Scaling: Double or triple the quantities easily to make a larger batch.
More Ladoo Recipes To Try!
Please be sure to rate the recipe in the recipe card or leave a comment below if you have made it. For more vegetarian inspirations, Sign Up for my emails or follow me on Instagram, Youtube, Facebook, Pinterest or Twitter.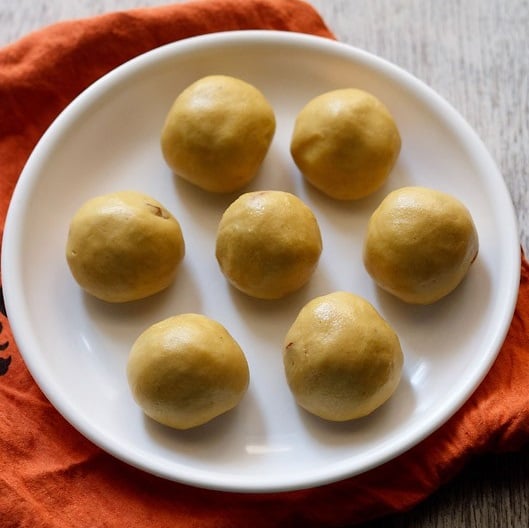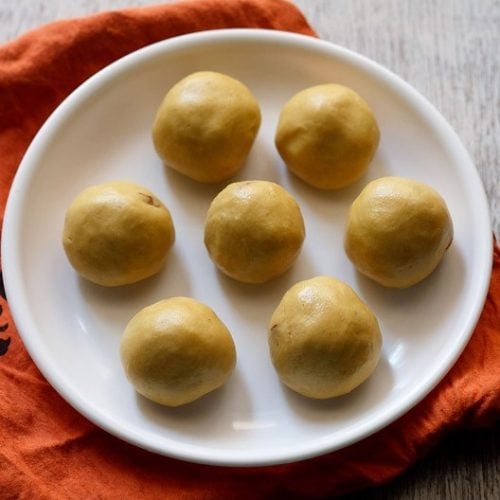 Maladu Recipe | Maa Laddu | Roasted Gram Ladoo
Maladu or Maa Laddu (Pottukadalai Ladoo) is quick South Indian recipe of ladoo made from roasted gram or roasted chana dal flour. Maladu is made with just 3 main ingredients – roasted gram flour, ghee and sugar.
1

cup

roasted chana dal

(roasted bengal gram or pottukadalai)

½

cup

sugar

or add as required

3

green cardamoms

or ½ teaspoon cardamom powder

1

pinch

nutmeg powder

(ground nutmeg)

10 to 12

cashews

– chopped

1

tablespoon

golden raisins

¼

cup

Ghee

or 4 tablespoons – remove 1 tablespoon from ¼ cup ghee to fry the cashews and raisins
Instructions
First powder the chana dal in a dry grinder or coffee grinder to a fine powder consistency.

Sieve the ground chana dal.

Powder the sugar with the cardamom seeds.

Sieve the powdered sugar also in the same bowl.

Add the grated nutmeg too.

Mix the sifted chana dal flour and powdered sugar thoroughly to an even mixtute.

Fry cashews in 1 tablespoon of ghee.

Remove and add them to the chana dal flour and powdered sugar mixture in the bowl.

Now in the same ghee fry the raisins till plump.

Add the raisins along with ghee to the flour and sugar mixture.

In the same pan heat up the remaining 3 tablespoons of ghee and add it to the ladoo mixture.

Keep the ladoo mixture pan on low heat and sauté for 2 to 3 minutes stirring non-stop. Switch off heat and let the mixture cool.

When the mixture has become warm or cooled enough for you to handle the ladoo mixture, then make small or medium sized ladoos.

Serve maladu or keep them stored in an air tight container. They will stay good for 7 to 10 days.
Notes
Ghee: Use good quality or preferably homemade ghee to make maladu.
Chana dal: Roasted chana dal gets rancid or softens quickly. Check that the roasted chana dal is fresh and not smelling or tasting rancid. It should have a lovely nutty taste. If the dal has softened, then roast for a couple of minutes in a pan or skillet, before you grind them.
Binding: Depending on the quality of ghee, the ladoo can bind easily or not. If the maladu do not bind and look dry or floury, then add a few tablespoons of warm ghee. Mix and form ladoo. If the ladoo fall apart or do not hold its shape, then keep the ladoo mixture in the fridge for 20 minutes. Remove from the fridge later and then you will be able to shape them.
Nuts: If you do not have cashews or raisins, make maladu with almonds or pistachios. You can also omit adding the nuts and raisins entirely.
Scaling: The recipe can be doubled or tripled easily to make a large batch.
Vegan option: Use vegan butter or coconut oil. With coconut oil, the taste and flavor of the oil will be felt in the ladoo.
Nutrition Info (Approximate Values)
Nutrition Facts
Maladu Recipe | Maa Laddu | Roasted Gram Ladoo
Amount Per Serving (1 maladu)
Calories 160
Calories from Fat 54
% Daily Value*
Fat 6g9%
Cholesterol 13mg4%
Sodium 1mg0%
Potassium 31mg1%
Carbohydrates 23g8%
Protein 3g6%
Vitamin A 3IU0%
Vitamin B1 (Thiamine) 1mg67%
Vitamin B2 (Riboflavin) 1mg59%
Vitamin B3 (Niacin) 1mg5%
Vitamin B6 1mg50%
Vitamin C 1mg1%
Vitamin E 1mg7%
Vitamin K 1µg1%
Calcium 37mg4%
Vitamin B9 (Folate) 1µg0%
Iron 1mg6%
Magnesium 7mg2%
Phosphorus 12mg1%
Zinc 1mg7%
* Percent Daily Values are based on a 2000 calorie diet.
This Maladu recipe from the archives first published in October 2013 has been updated and republished on December 2022.