Simple and delightfully tasty, this Maharashtrian-style recipe for Puri Bhaji (also known as Poori Bhaji) is a favorite Indian breakfast and street snack. A deeply flavored semi-dry potato preparation which we call Batata Bhaji is served with crisp, fried rounds of dough known as Poori or Puri for a lovely and filling meal.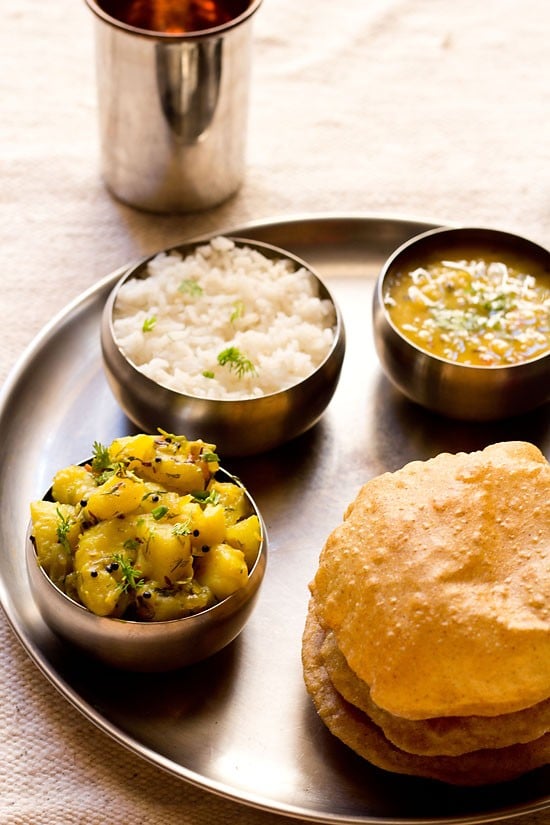 About Puri Bhaji
Batata Bhaji is a dry, flavorful potato curry that is spiced with green chilis, onion, ginger, and a host of Indian spices. This delicious Aloo Sabji is then served with a plateful of light and crisp fried bread known as puri (or poori).
The result of this combination is simply blissful. Creamy potatoes are flavored with bright, mild ingredients and are given a textural point of interest with the poori. This recipe for Puri Bhaji is my mom's recipe, and it is good.
While we love to eat this carb-heavy meal for breakfast, it is also a great candidate for packing into tiffins and eating for lunch or an afternoon snack.
Puri Bhaji is often served alongside some kind of Dal, Rice, Raita, and a Kachumber or Koshimbir salad on a thali, and is also sometimes accompanied with onion slices, lemon wedges, and coconut chutney.
On the day I shot the photos for Poori Bhaji, I also made a simple Moong Dal, rice and had some pickled carrots-beet (leftover from making Carrot Kanji – a North Indian fermented preparation) to go along. This simple, easy, and comforting meal is a microcosm of the way we like to eat!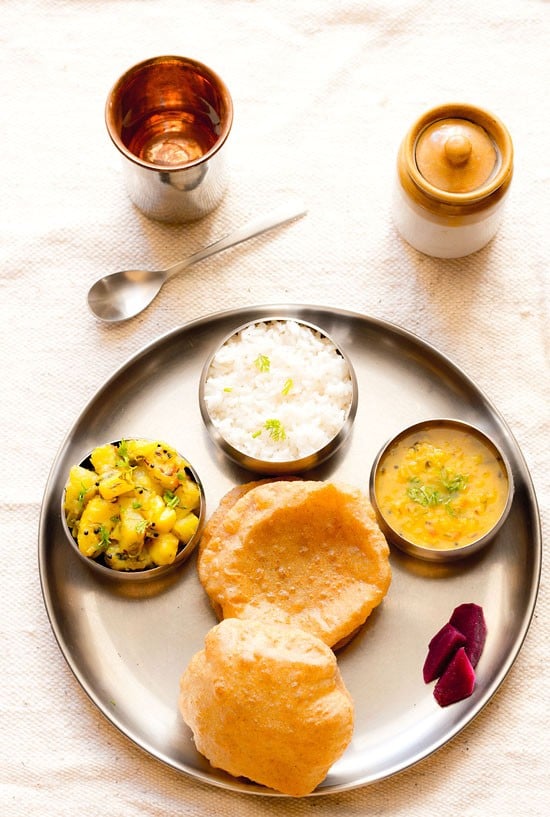 While some of the ingredients are quite similar, this poori bhaji is very different from the Punjabi Aloo Poori that I make. Aloo poori is more of a wet, soupy curry of potatoes in a tomato gravy, whereas the Maharashtrian dish presented today is a dry curry known as a sabzi.
This is a classic example of the variety and diversity of Indian cuisine – using the humble potato and similar Indian spices & herbs, two entirely different meals arise. This is just one among many reasons why I love my country's cuisine.
The Batata Bhaji in Marathi, which is what we call the Aloo Sabji, in Hindi, can also be served with chapati or dosa if you don't have pooris on hand.
Usually, I make enough bhaji for leftovers and serve them on the second day with Dosa and Coconut Chutney for breakfast. It also happens to make a tasty side dish.
Note: In the post below, I only mention how to make the bhaji and link to the Poori Recipe. Many of us already know how to make poori and I did not want the post to become too lengthy. Please visit the poori post for step-by-step instructions and photos on how to make these fried breads.
How to Make Batata Bhaji
1. First, boil 4 medium-sized whole potatoes with water till they are completely cooked (i.e. fork tender) and let them cool.
You can also cook the potatoes in a steamer or pressure cooker or the Instant Pot if you prefer adding water as needed.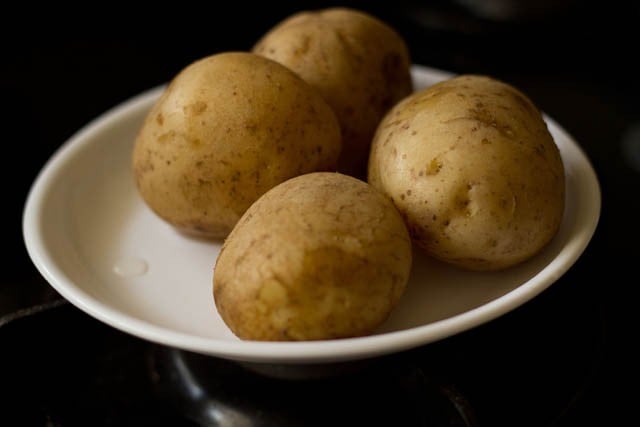 2. Once cooled, peel and chop them. Set aside.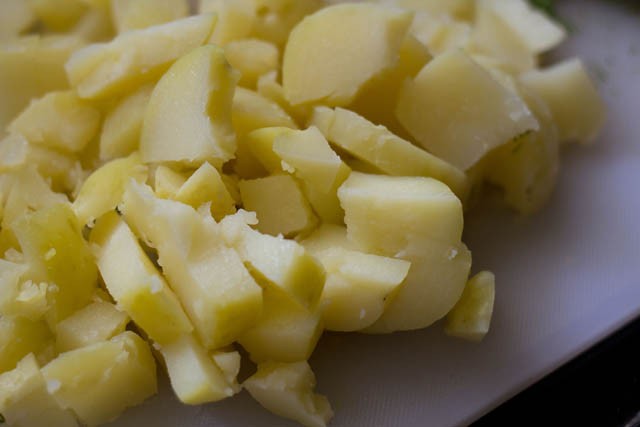 3. Heat 2 to 3 tablespoons oil in a pan on a low flame. Add the 1 teaspoon mustard seeds, 1 teaspoon cumin seeds and 1.5 teaspoon of urad dal.
If you do not have urad dal, omit adding these lentils.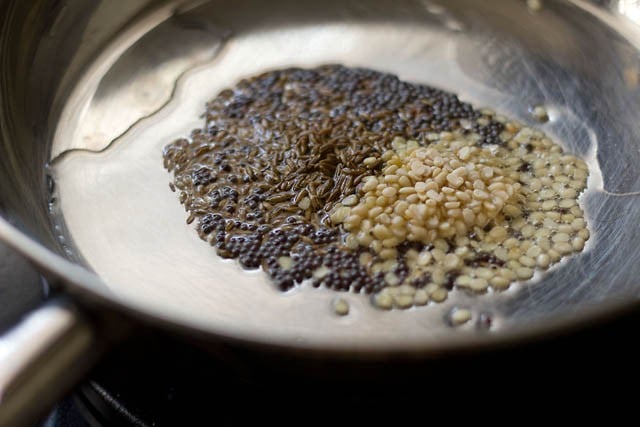 4. They will all begin to cook together. The mustard will crackle, the cumin will sizzle and the urad dal will brown. Fry on a low heat, being careful to not let the spices burn.
Don't allow the above spices to get burned or the bhaji will have bitter notes.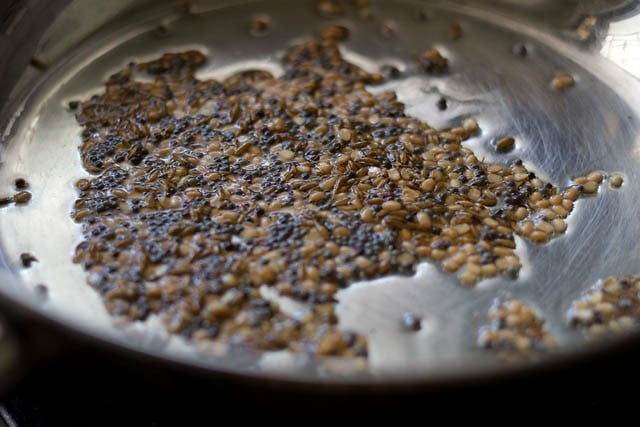 5. Immediately add 1 cup chopped onions and stir to mix. Sauté onion on low to medium heat stirring often until they soften. Do not brown them.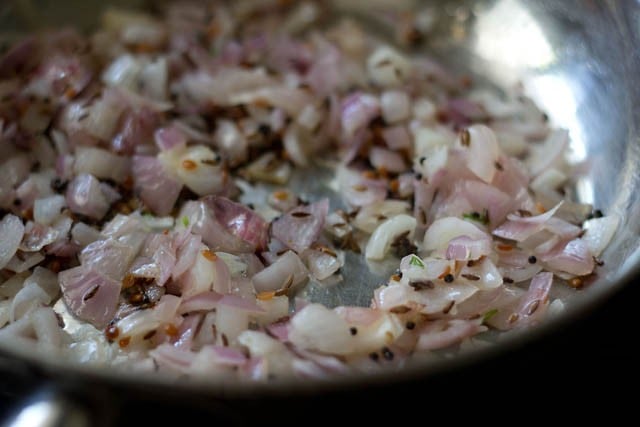 6. When the onions soften, add the 1 teaspoon chopped green chilies and 1 teaspoon finely chopped ginger. Stir and fry for some seconds on a low heat.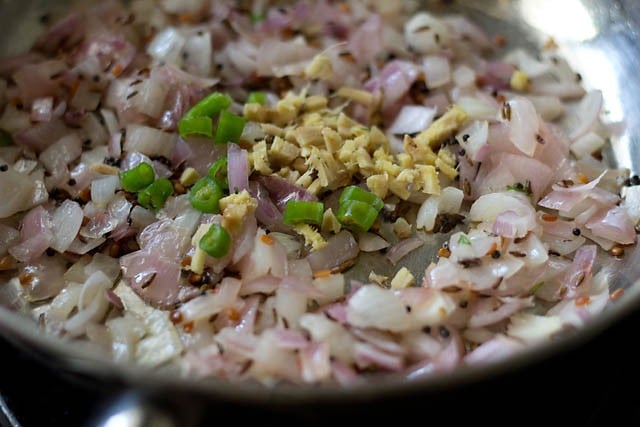 7. Add 12 to 15 curry leaves. Stir and fry for a few seconds.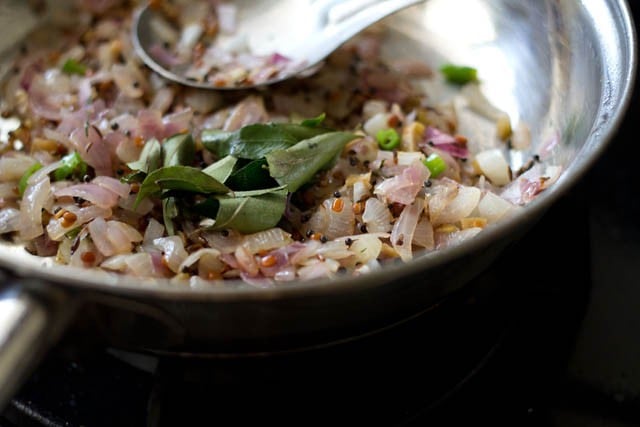 8. Add ½ teaspoon turmeric powder and 1 pinch of asafoetida (hing), then stir to mix.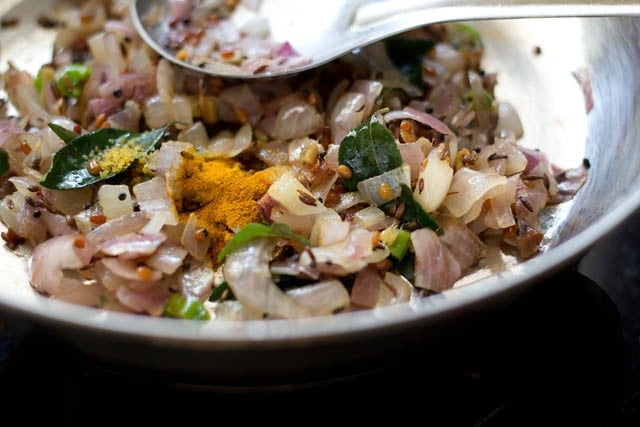 9. Now add the cooked diced potatoes and ¼ cup chopped coriander leaves. Stir and mix again.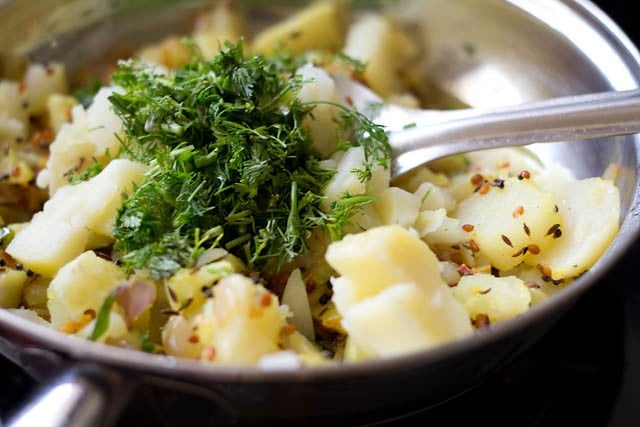 10. Add ⅓ cup water and salt to taste, then stir.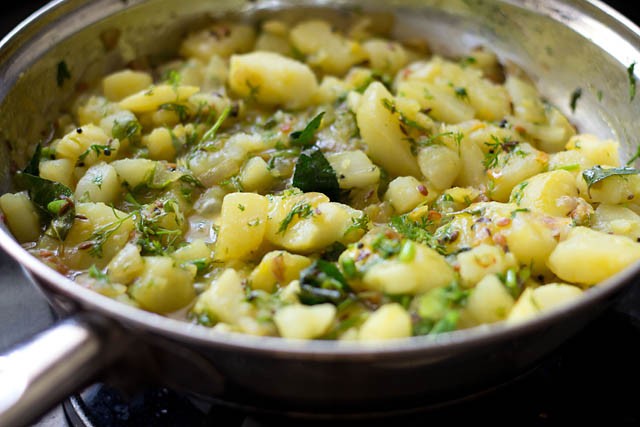 11. Cover the pan and let the potatoes simmer for 5 to 6 minutes on a low heat.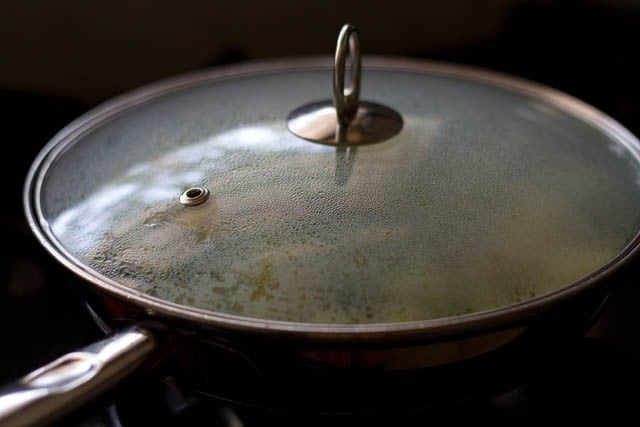 12. Turn off the heat when you get the desired consistency in the bhaji, which is not very dry or runny but has some moisture or is semi-dry. But do feel free to keep the consistency you prefer.
If you prefer, you can add the remaining ¼ cup of chopped coriander leaves and mix or choose to garnish later with the coriander while you serve.
The Batata Bhaji is now ready to be served with poori!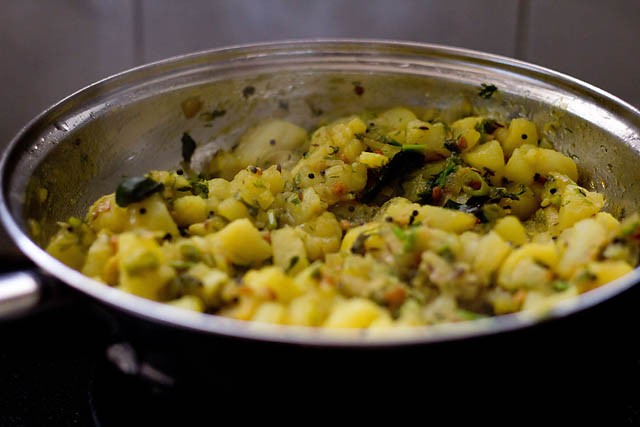 Serve Batata Bhaji hot or warm with Puri or Chapati, garnished with the remaining ¼ cup of chopped coriander leaves.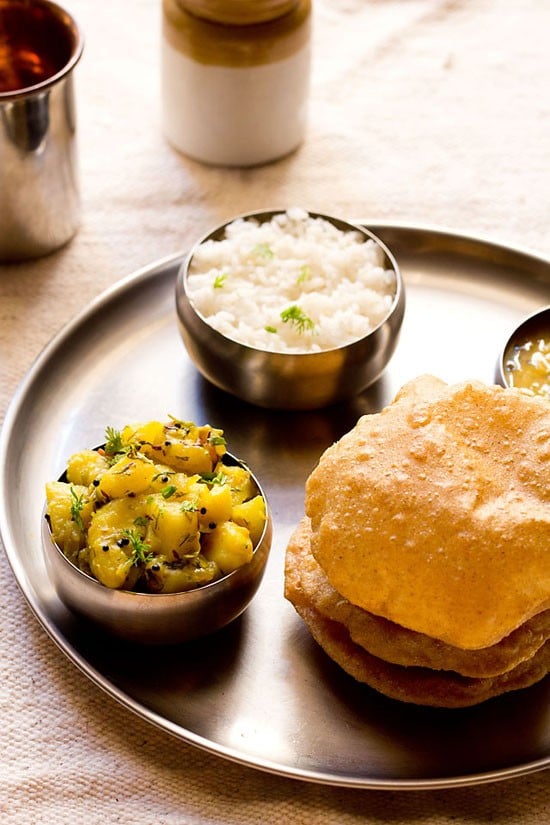 Expert Tips
This simple recipe is a favorite of mine because you don't have to go through a lot of fuss to get it on the table. All the same, I've assembled my best tricks and tips to get your Puri Bhaji perfect every single time:
Boil the potatoes whole to make peeling easier. The skins will slip off with almost no effort if you do!
Salt your water when boiling to add more flavor to the potatoes. Salting your water prior to boiling starchy items like pasta or potatoes helps to infuse them with more flavor.
Feel free to boil the potatoes ahead of time! If you are someone who likes to meal prep, simply boil the potatoes the night (or weekend) before you plan on making the bhaji. Boiled potatoes will keep in the fridge for up to 2 to 3 days.
FAQs
Can puri bhaji be made ahead of time?
Absolutely! Feel free to prep your ingredients the night before so you can serve the meal straight from the sauté pan, or make the bhaji and keep it covered in the refrigerator for up to 1 day. The poori are best within a day of frying, but you can make the dough up to a day or two in advance.
Can I replace some of the potatoes with other veggies?
Of course! You can swap in cauliflower, or feel free to add in other veggies like green peas or carrots.
How long does it take to pressure cook whole potatoes?
Wait for 2 whistles and your potatoes should be perfect.
More Potato Recipes To Try!
Please be sure to rate the recipe in the recipe card or leave a comment below if you have made it. For more vegetarian inspirations, Sign Up for my emails or follow me on Instagram, Youtube, Facebook, Pinterest or Twitter.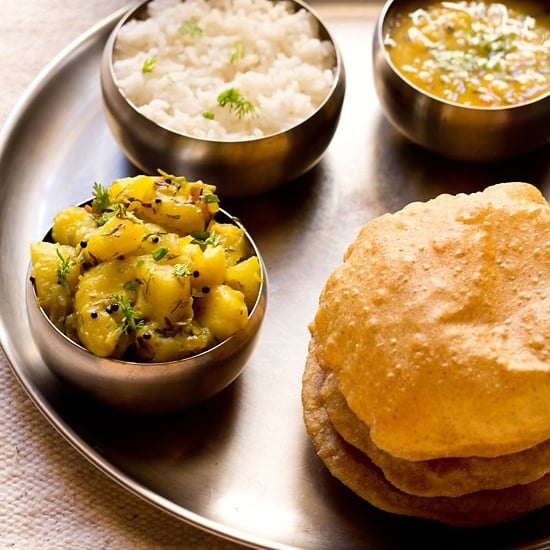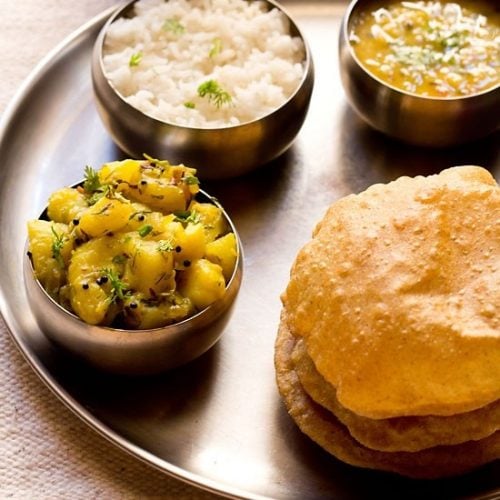 Puri Bhaji | Batata Bhaji
This is a warm, lightly spiced potato dish called Batata Bhaji with hints of coriander, ginger and other Indian spices. This semi-dry potato preparation is served with the fried Indian bread called poori (or puri) and thus called Puri Bhaji.
4

potatoes

– medium-sized

1

cup

onion

chopped or 1 large onion

1

teaspoon

chopped green chillies

or 1 green chilli

1

teaspoon

mustard seeds

1

teaspoon

cumin seeds

1.5

teaspoon

urad dal

(husked and split black gram)

⅓

cup

water

or as needed

½

teaspoon

turmeric powder

(ground turmeric)

1

pinch

asafoetida

(hing)

½

cup

coriander leaves

– chopped, divided

1

teaspoon

finely chopped ginger

or 1 inch peeled ginger

12 to 15

curry leaves

2 or 3

tablespoons

peanut oil

or sunflower oil

salt

as required
Instructions
Boiling Potatoes
First rinse the potatoes thoroughly in water.

Boil the potatoes in water till they are cooked completely and are fork tender.

You could opt to cook potatoes in a stovetop pressure cooker, steamer pan or the Instant Pot.

Once they are warm or cool down, peel them and chop.
Making Batata Bhaji
In a pan, heat the peanut oil. Add cumin seeds, mustard seeds and urad dal.

Fry till the mustard crackles and starts making sound and the urad dal begins to turn brown.

Add the chopped onions. Fry on low to medium-heat until they become soft and translucent.

Next add the chopped ginger and green chilies. Fry for some seconds on low heat.

Add the curry leaves. Stir and fry for a few seconds.

Add the turmeric powder and asafoetida. Stir to mix on low heat. Don't burn the turmeric.

Next, add the chopped potatoes, and half of the coriander leaves.

Stir to mix and add water. Season with salt. Stir to combine evenly. Cover the pan with lid.

Let the batata bhaji simmer for 5-6 minutes on a low heat.

There should be some moisture in the bhaji and it should not be very dry.

Turn off heat and add the remaining chopped coriander leaves.

Stir to mix. Serve the Batata Bhaji hot with Poori, chapati or dosa.
Notes
To make soft, crispy puris, check the detailed recipe here – Poori Recipe
Add more green chillies, if you want to make a spicy batata bhaji. 
If you like coconut, you can add 1 to 2 tablespoons of fresh grated coconut in the bhaji. 
Make the bhaji with any neutral tasting oil, if you do not have peanut or sunflower oil. 
Nutrition Info (Approximate Values)
Nutrition Facts
Puri Bhaji | Batata Bhaji
Amount Per Serving
Calories 341
Calories from Fat 162
% Daily Value*
Fat 18g28%
Sodium 324mg14%
Potassium 963mg28%
Carbohydrates 41g14%
Protein 5g10%
Vitamin A 261IU5%
Vitamin B1 (Thiamine) 1mg67%
Vitamin B2 (Riboflavin) 1mg59%
Vitamin B3 (Niacin) 37mg185%
Vitamin B6 1mg50%
Vitamin C 105mg127%
Vitamin E 3mg20%
Vitamin K 11µg10%
Calcium 54mg5%
Vitamin B9 (Folate) 393µg98%
Iron 2mg11%
Magnesium 56mg14%
Phosphorus 135mg14%
Zinc 1mg7%
* Percent Daily Values are based on a 2000 calorie diet.
This Poori Bhaji post from the archives, first published in March 2013 has been republished and updated on December 2022.