lauki ka halwa or dudhi halwa – sweet indian dessert made from bottle gourd. bottle gourd is known as lauki in hindi and dudhi in marathi. so this indian dessert is known by the name lauki halwa or dudhi halwa.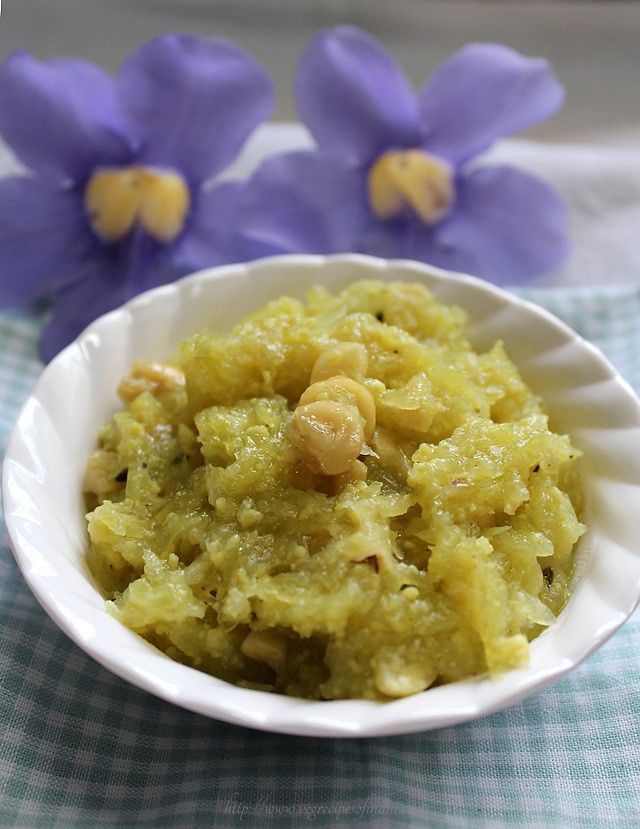 i know of three veggies which we at home often make halwa of – carrots, beetroot and lauki. but to tell you a fact, i have also learnt how to make potato halwa during my home science days.
whenever i see lauki in the fridge, i get lost as to what i should make from it. few recipes which i make often from lauki are lauki chana dal, lauki paratha or lauki kofta or just add it with other veggies in a sambar or avial.
i had a big long lauki in the fridge. after pondering over what to make from it, i decided to make the famous parsi recipe of dhansak. i used ¼th of the lauki to make dhansak and kept the remaining ¾th in the fridge.
the next day, when i saw the lauki, i was again lost. but this time i had decided that i do not want to make a main course or a side dish with lauki, so i opted to make this delicious lauki halwa.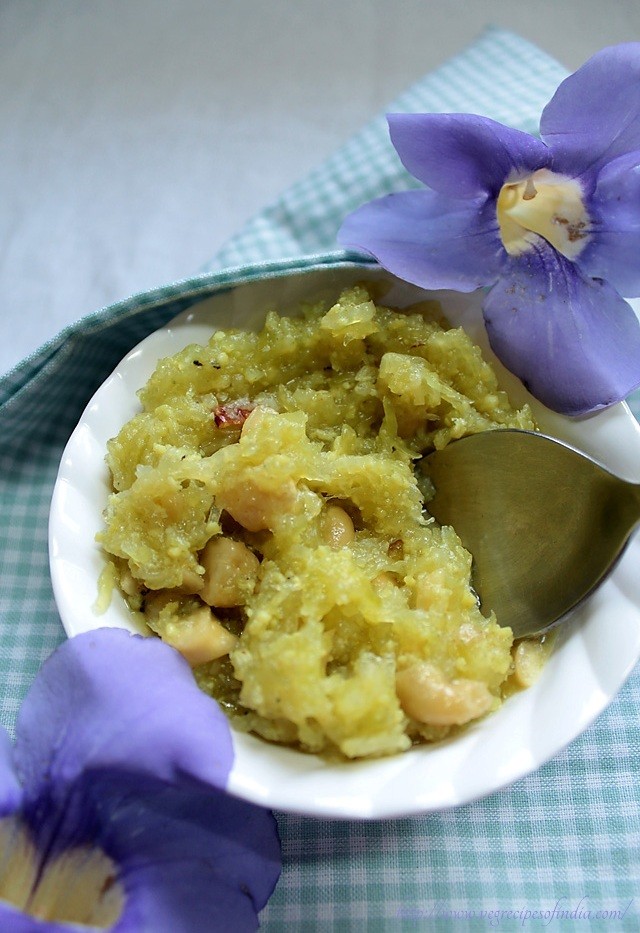 initially, i have just cooked the grated lauki (bottle gourd) in milk and not added any khoya (evaporated milk) to it. in the process of cooking the lauki with milk, the milk begins to evaporate and reduce, so you don't need to add evaporated milk.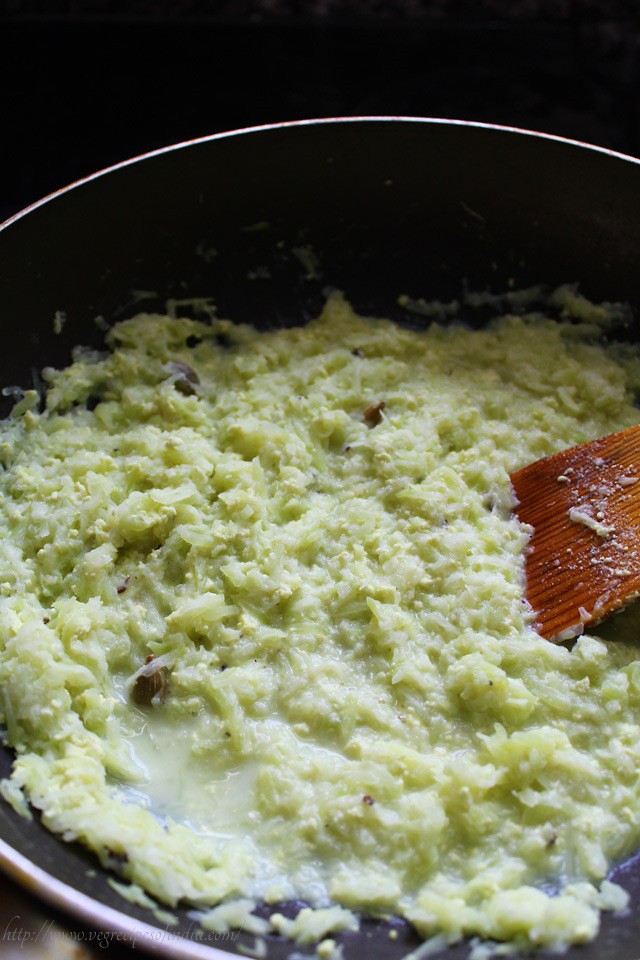 this method of making halwa with the milk takes a little longer, but is handy when you do not have ready khoya at home. i make both carrot halwa and beetroot halwa at home with this method.
since winters have arrived, what better way to warm yourself up by having a nice bowl of hot and healthy lauki halwa.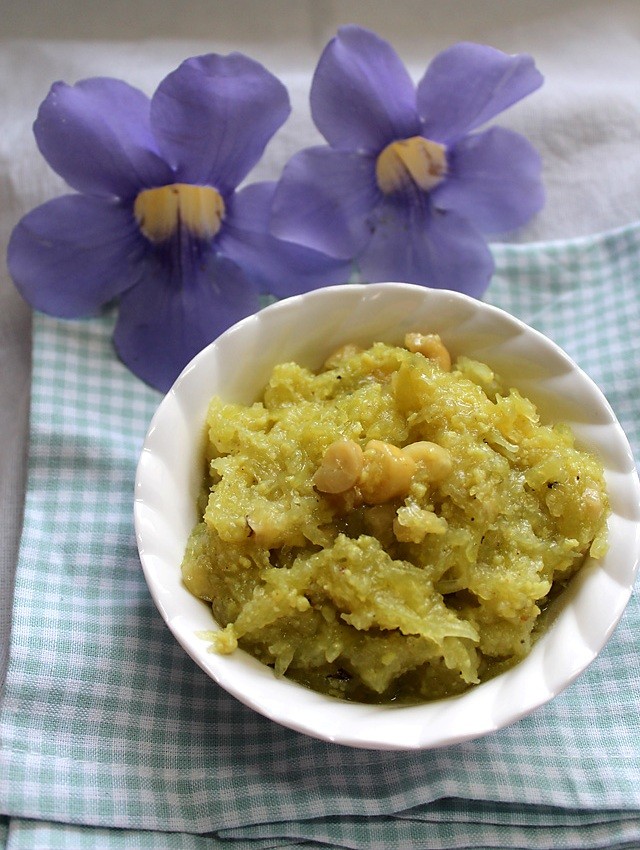 if you are looking for more halwa recipes then do check badam halwa, apple halwa, banana sheera, suji halwa and rava kesari recipe.
dudhi halwa or lauki halwa recipe below: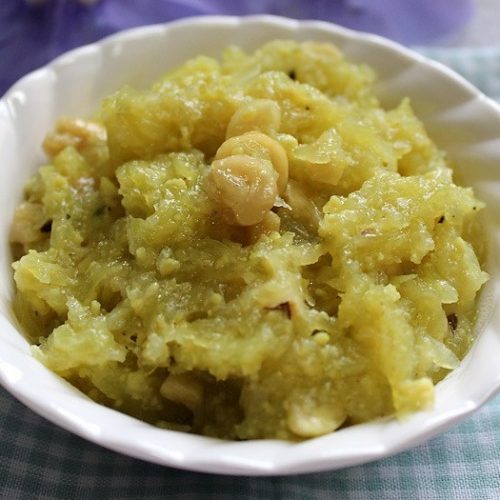 lauki halwa recipe | dudhi halwa recipe
lauki halwa or dudhi halwa recipe - sweet indian dessert made from bottle gourd.
rough calories per serving
343
kcal
ingredients (1 cup = 250 ml)
2

cups

tightly packed grated lauki

or 450 grams lauki (bottle gourd or dudhi)

2

cups

full fat milk,

or 500 ml - milk should be boiled before and can be used at room temperature or chilled

7

tablespoons

sugar

- for a more taste, increase to 8 tablespoons sugar

4

tablespoons

ghee

(clarified butter)

5 to 6

green cardamoms

- powdered or crushed (chotti elaichi or hari elaichi) or ½ to 1 teaspoon cardamom powder

10 to 12

almonds

(badam), chopped

10 to 12

cashews

(kaju), chopped

1

tablespoons

raisins

- optional
how to make recipe
in a kadai or deep pan combine milk and grated lauki or bottle gourd.

bring the whole mixture to a boil and then lower the flame.

simmer the mixture on a low flame and keep on stirring in between.

the bottle gourd will cook in the milk and the milk will start to reduce and evaporate.

when the milk has 75% reduced, add crushed cardamom, chopped almonds and cashew nuts to the mixture.

add ghee when the all the milk has evaporated.

mix the ghee with the rest of the mixture and cook for a minute

lastly add the sugar and mix it with the halwa.

the sugar will melt and the halwa becomes a little liquidy.

cook the lauki halwa for a few minutes. do keep on stirring the lauki halwa.

when you know by looking at the lauki halwa that the consistency is just right, switch off the burner. at this step you can add raisins (optional).

serve lauki halwa hot or you can also serve the lauki halwa cold.
recipe notes
tips:
avoid using skimmed milk or toned milk as they may curdle.
use only full fat milk or whole milk. 
in case the milk splits, then continue to cook on a medium to medium-high flame stirring often, till most of the whey evaporates. then add ghee, sugar and continue to cook on medium-low flame till all the halwa thickens and some ghee is released from the sides of the halwa. 
sugar can be added less or more as per taste. 
a few saffron strands can also be added. 
you can add your choice of dry fruits and nuts.
note: as a blogger, if you you want to use this recipe or make a youtube video, then please write the recipe in your own words and give a clickable link back to this recipe url on Veg Recipes of India. its a fair and ethical practice. for using our image please write to us. all our images and content are copyright protected.