collection of 20 holi recipes – wishing everyone a happy and safe holi this time. as much as i love colors, i also like the festival of holi with everyone celebrating and sharing the warmth, joy, love and happiness.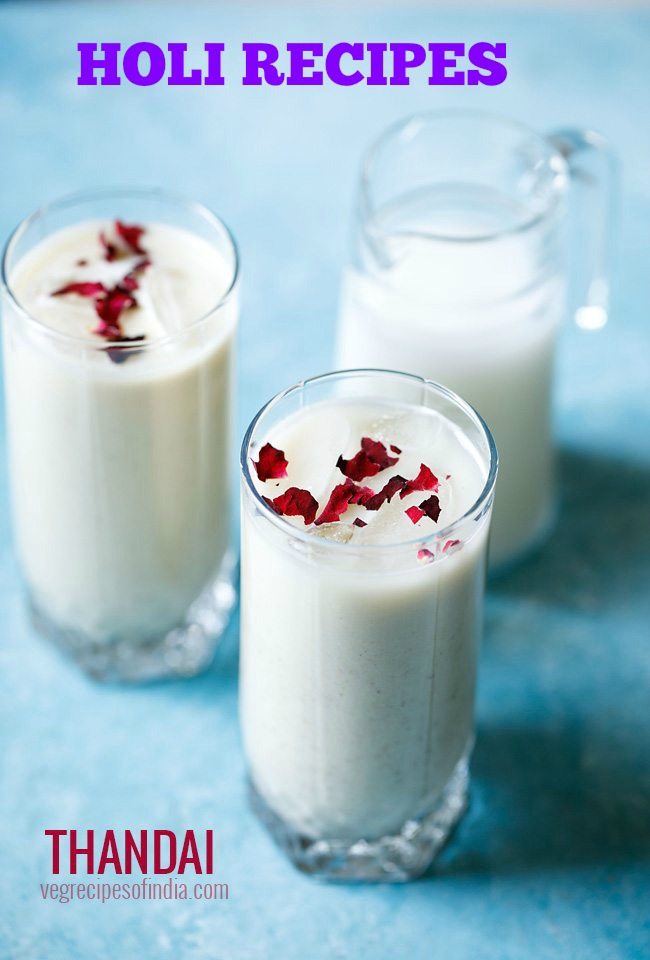 holi is one festival in which people celebrate together without bringing the caste, color or status in mind.
holi is a festival of colors celebrated all around india in different forms but with the same intensity of joy, togetherness and love. this year holi festival is falling on 2nd march, 2018.
here in this post, i am sharing 20 recipes which are made during holi festival in different regions of india. wishing happy holi to all readers.
note: while playing holi, its better to avoid hard colors and play with soft colors like gulal. but some people deliberately use strong hard color which is difficult to clean later on and spoil the skin. one common trick which people use to minimize the effect of hard color is to rub mustard oil in their skin before going out to play holi. the thin layer of oil on the skin make sure that the hard color goes off from the skin easily without much rubbing. if possible then use eco friendly colors which are easily available in the market.
collection of 20 holi recipes
1. thandai recipe – easy recipe of refreshing thandai drink for the holi festival. thandai is a traditional drink, popular in the northern parts of india. its made with a mix of dry fruits, seeds and a few spices. thandai is not only made for holi but also for mahashivratri. the drink is known for its cooling properties.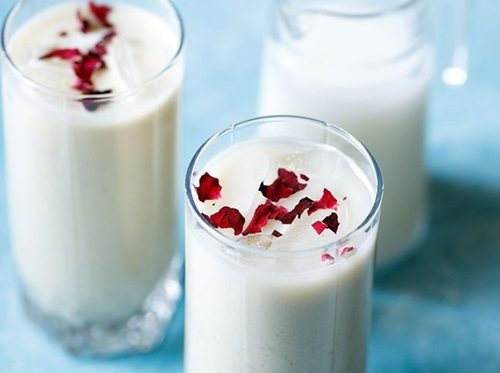 2. gujiya recipe – gujiya is a deep fried pastry stuffed with a sweet filling of khoya. gujiya is very much popular in north india, especially during holi festival. its not they are made only during holi. they are also made during diwali. there are many variations of gujiya. one such variation posted on blog is this apple gujiya recipe. other similar recipes you can make are karanji (popular in maharashtra), dry fruits karanji and nevris (popular in goa).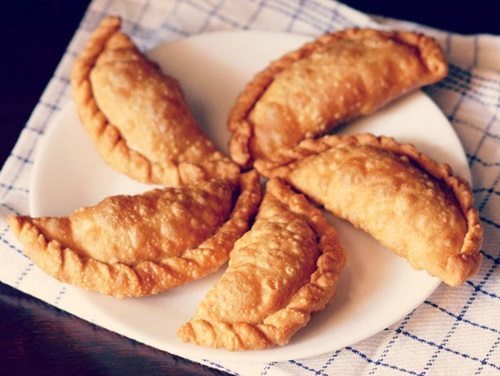 3. dahi bhalla recipe  – popular north indian snack of dahi bhalla papdi chaat. the method to make dahi bhalla is same as preparing dahi vada. in dahi bhalle, papdis (fried flour crispies), boiled potato cubes and cooked chickpeas are added, which are not added in dahi vada. serve dahi bhalla chilled as a snack or a starter.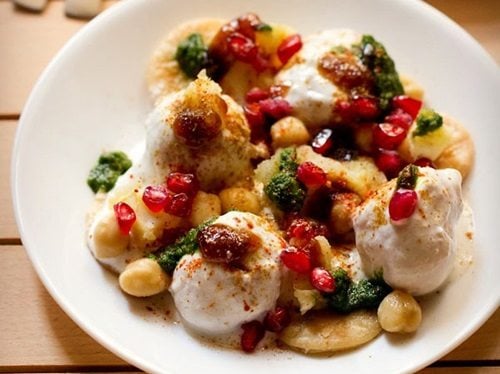 4. jal jeera recipe – jaljeera is a very popular drink from north india. it is very cooling and is ideal drink for hot indian summers. apart from its cooling properties, jal jeera is also used as an appetizer because of its digestive properties.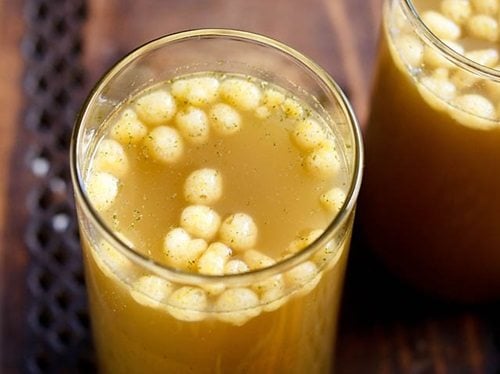 5. mathri recipe – mathri or mathiya is a popular snack in north india and there are many versions of making mathri. i have already shared a crisp mathri recipe. this recipe is for punjabi style mathri which is flaky and is spiced with ajwain (carom seeds), kali mirch (black pepper) kasuri methi (dry fenugreek leaves) and jeera (cumin seeds). its a popular tea time snack and i have shared both fried and baked version to make it.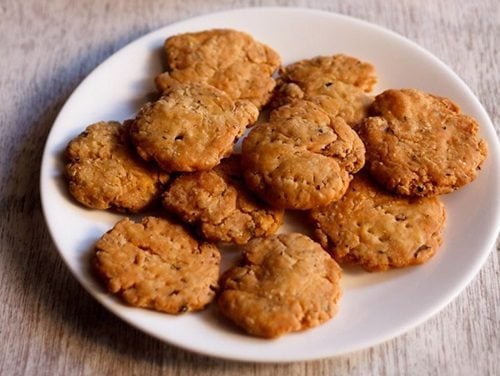 6. malpua recipe – a traditional north indian sweet of soft, fluffy and yet crisp pancakes coated with sugar syrup and served with rabri or thickened sweetened milk. malpuas have to be served hot or warm. other sweet recipes you can make for holi celebration are jalebi, rasmalai, kalakand, kala jamun and gulab jamun.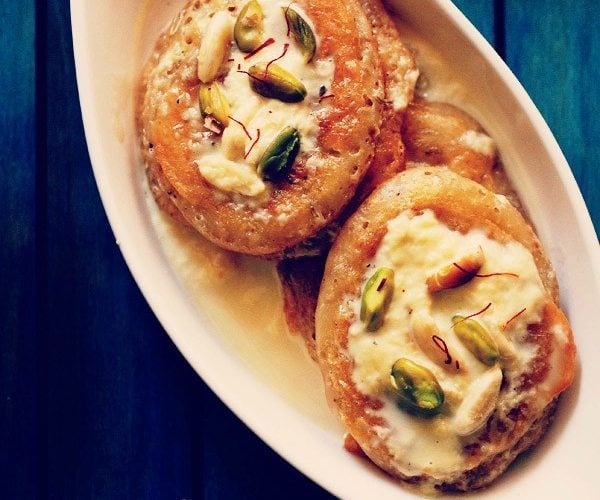 7. namak pare recipe – these savory and fried flour crispies are popular tea time snack in north india. you can make namak para in bulk and store them in air tight container and enjoy them with tea for next few weeks. there is also a sweet version and these are called as shakkar pare. few more similar recipes which are popular among foodies are namkeen shankarpali, sweet shankarpali (from maharashtrian cuisine), kalkal (from goan cuisine), instant chakli, butter murruku and nankhatai.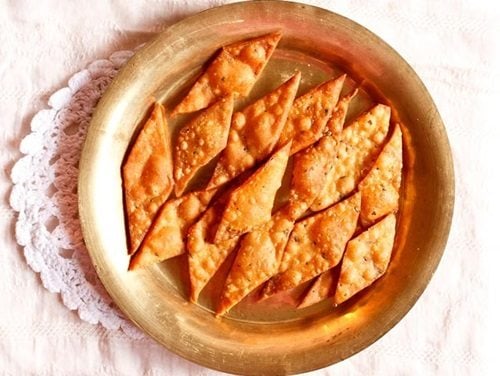 8. matar kulcha recipe – one of the popular street food of north india, specially in delhi and amritsar. you might see many street vendors selling matar kulcha in roads or even outside schools and colleges. other similar recipes which are popular are aloo kulcha, paneer kulcha, bhatura, dal pakwan (from sindhi cuisine), luchi (bengali cuisine) and chole bhature recipe.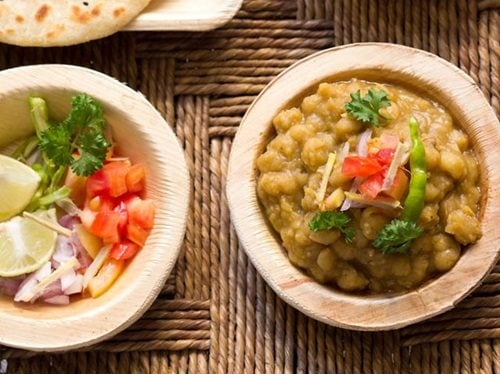 9. khasta matar kachori recipe – a flaky, crisp deep fried pastry filled with spiced peas filling. the matar kachori filling can be varied from savory to sweet, from potato & peas to lentils and even onions. few more kachori recipes on blog are dal kachori, urad dal kachori and bengali matar kachori recipe.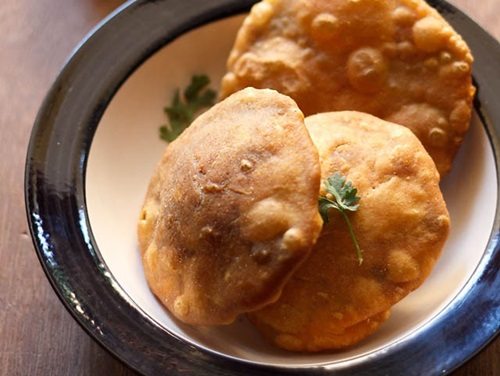 10. puran poli recipe – its one of the most popular maharashtrian recipe which is made during ganesh chaturthi or diwali or any other festive occasion in mahrashtra. puran poli is a flat bread stuffed with a sweet lentil filling made from chana dal (skinned spilt bengal gram) and jaggery. you can also check this bobbatlu or holige recipe.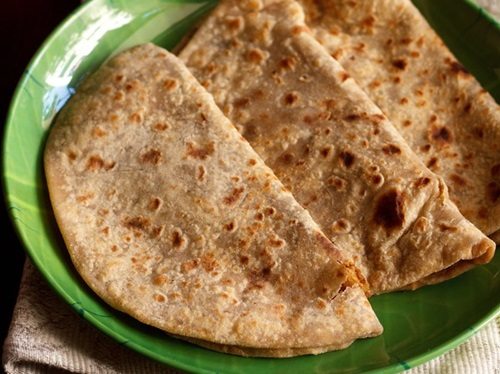 11. paneer tikka recipe – popular tandoori snack which can be easily made at home. paneer tikka is marinated paneer (cottage chese cubes), arranged on skewers and grilled or baked in the oven. few more paneer tikka variations you can check are paneer tikka recipe on stove top, quick paneer tikka, achari paneer tikka and amritsari paneer tikka. you can even make other tikka varieties like mushroom tikka, gobi tikka, aloo tikka for the holi festival celebration.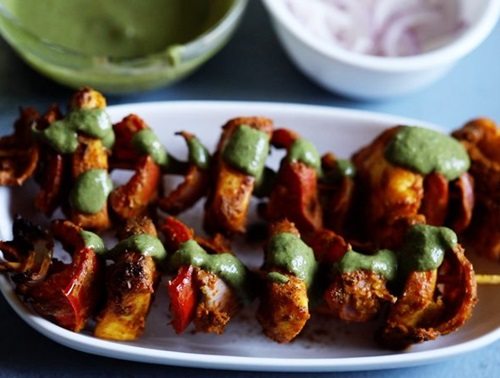 12. sweet lassi recipe – lassi is another cooling and refreshing drink to have in the summers. sweet lassi is quite popular in punjab and north india. there are many variations of lassi which are made like strawberry lassi, masala lassi, salty lassi, rose lassi and fruit lassi recipe.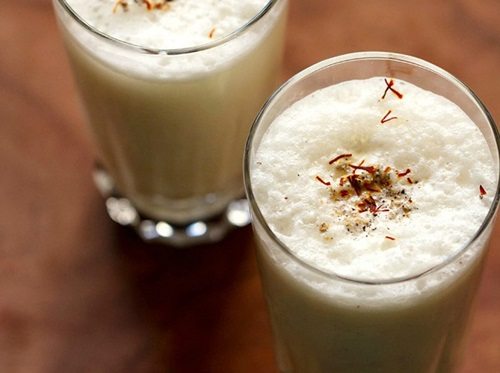 13. phirni recipe – a classic creamy sweet pudding made with ground rice, milk, almonds, saffron, sugar and cardamom. it is a must in north india on festive occasions or special celebrations. you can also check these delicious recipes of – mango phirni, seviyan kheer, rice payasam and sheer khurma.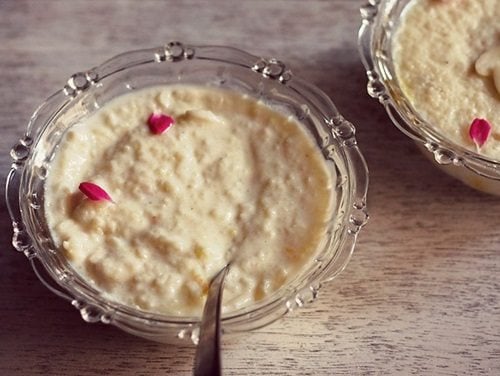 14. hara bhara kabab recipe – these tasty kababs are made from spinach, peas and potatoes. they are nutritious as well as delicious. an easy finger food that can be served as a brunch or also as a starter. one which is light and not heavy. other popular variations of kabab are veg shammi kabab, rajma kabab and veg kabab recipe.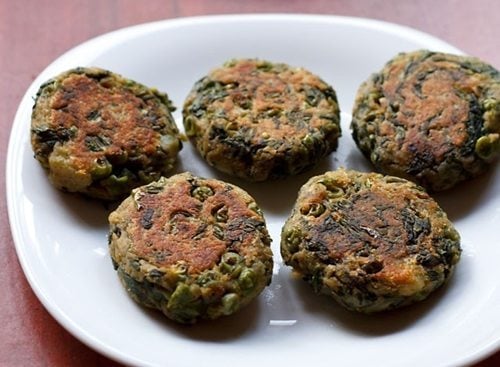 15. dahi papdi chaat recipe – a popular chaat snack which is sweet, spicy and tangy. in this dahi papdi chaat, you will get to taste the sweetness of the curd, crispiness of papdi, soft melt in the mouth boiled potatoes and not to forget the indian spices which adds their own zing, tang and spiciness in the dish. for more tasty chaat recipes, you can check this collection of 30 chaat recipes.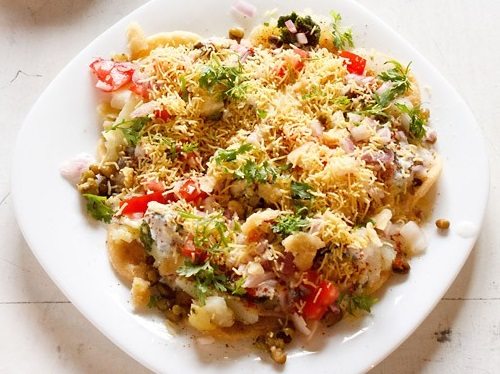 16. paneer pakora recipe – gram flour coated cottage cheese fritters. these pakoras are crisp from outside and soft from inside. few more popular pakora recipes on blog are bread pakora, onion pakora, aloo pakora, mix veg pakora and corn pakora. serve the pakoras with mint chutney or tamarind chutney or coriander chutney.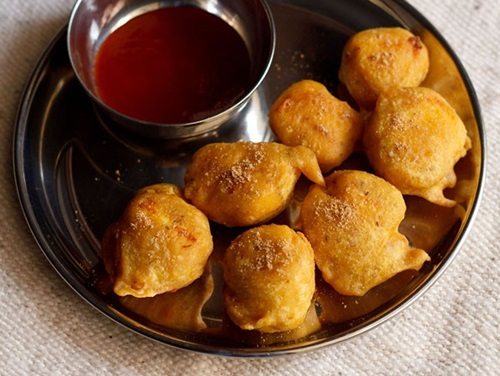 17. aloo poori recipe – traditional punjabi spiced potato curry served with pooris. the combo of aloo poori with sooji halwa is very popular in north india. you can also check this maharashtrian style poori bhaji and this south indian style poori masala recipe which goes well with dosa and pooris.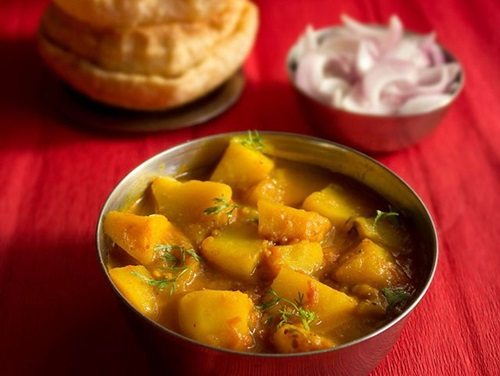 18. rice kheer recipe – a favorite indian dessert made with basmati rice, milk, nuts and saffron. again there are many variation of this kheer. e.g. you can make it with cooked rice also. for more delicious kheer recipes, you can check this collection of 24 kheer recipes.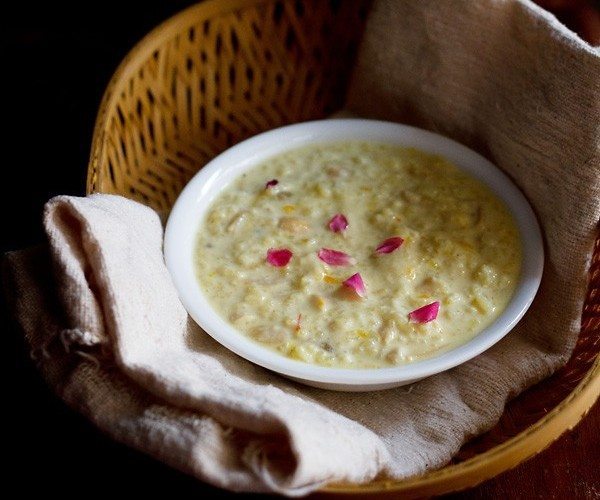 19. pani puri recipe – a popular street food of india, where crisp fried dough balls are stuffed with potatoes, sprouts, spicy tangy water and sweet chutney. with so many burst of tastes and flavors in your mouth when you have pani puri, you just cannot have one :-). here the recipe is of mumbai style pani puri and not the delhi style gol gappas. other similar chaat snacks which are popular in mumbai are ragda patties, bhel puri, sev puri, chana dal bhel puri and pav bhaji recipe.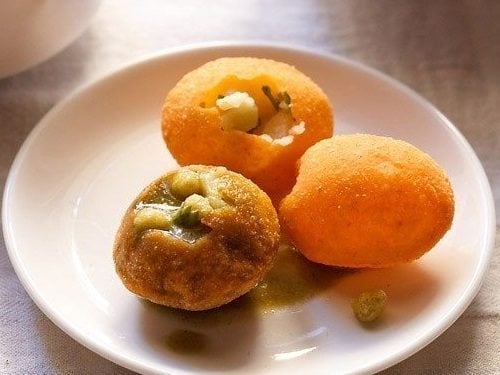 20. samosa chana chaat recipe – lip smacking chaat recipe with samosas, chana masala, various chutneys and spices. few more similar chaat snacks you can check are aloo tikki chole, ram ladoo, aloo chana chaat and dahi aloo tikki.