This classic Vanilla Milkshake Recipe makes it easy to prepare a rich, creamy, sweet and refreshing cafe style shake right at home. Follow my step-by-step instructions with photos to blend up a rich Vanilla Shake that's perfect to enjoy plain or with your favorite extra goodies!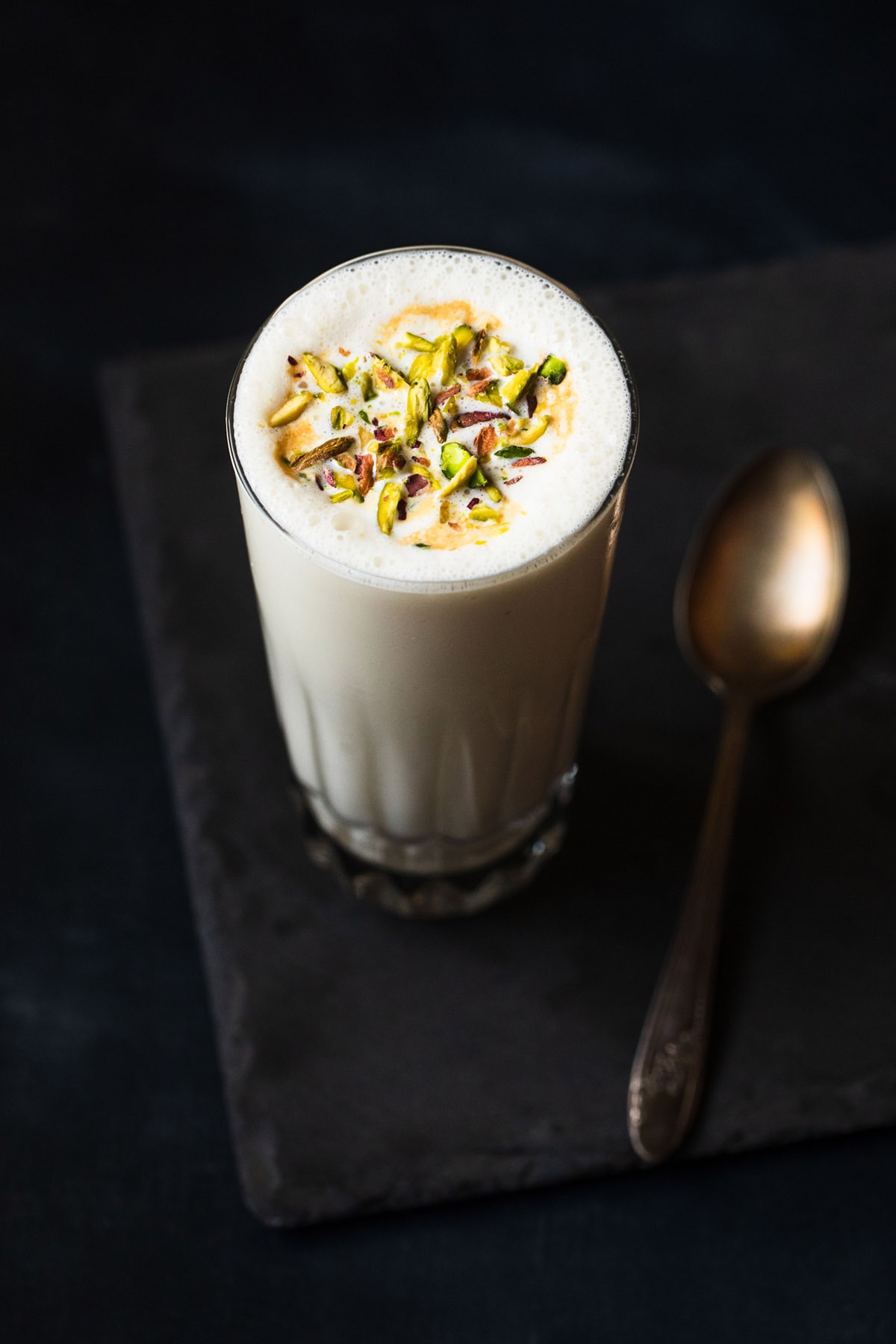 About This Vanilla Milkshake
I have shared several Milkshake Recipes on the site, and they've become quite popular! Particularly during the warmer months, there is just nothing like a deliciously cold and sweet shake.
Most of my posts are for fruity drinks, like this juicy Mango Milkshake and Banana Milkshake, which everyone loves. However, I've also gotten many requests for a classic vanilla shake for when you want a simple but truly satisfying treat.
This vanilla milkshake recipe is wonderfully easy and made with just a few wholesome ingredients. Although basic, these key ingredients used in just the right ratio are what really make a homemade shake shine.
Below you'll find handy tips and foolproof instructions for how to make the best milkshake with vanilla. But first, let's talk about those ingredients needed to get that perfectly thick, creamy and rich shake you crave.
Ingredients You Need
1. Milk: I always recommend using whole or full-fat milk for the creamiest milkshakes with just the right thickness. That being said, you certainly can use low fat or skimmed milk; just note that your shakes likely won't be quite as rich and creamy.
2. Vanilla Ice Cream: The better quality of ice cream used, the better tasting your vanilla shake will be. If possible I recommend using Homemade Vanilla Ice Cream for simply the tastiest drink.
If you do use store bought vanilla ice cream, be sure it is real ice cream made with milk or cream. Other frozen desserts that are made with vegetable oil will not taste that good. Be sure to check the ingredients list before you buy!
3. Vanilla: The best flavor comes from using vanilla beans or real vanilla extract. I prefer to use Homemade Vanilla Extract for a great vanilla taste. If you don't have vanilla beans or extract on hand, that's ok – just be sure to purchase a quality vanilla ice cream.
4. Toppings & Garnishes: Whipped cream is a classic topping for milkshakes, and can be homemade or purchased at the store. Instead or in addition to whipped cream, you can add all kinds of extra treats to your shake. Here are just a few ideas:
Chopped nuts like walnuts, pistachios or almonds
Dry fruits like cherries or currants
Fresh strawberries, blueberries, or blackberries
Chocolate sprinkles
Crushed wafers or cookies
Sweet syrups like caramel or chocolate syrup
Or nearly any other goodies you like!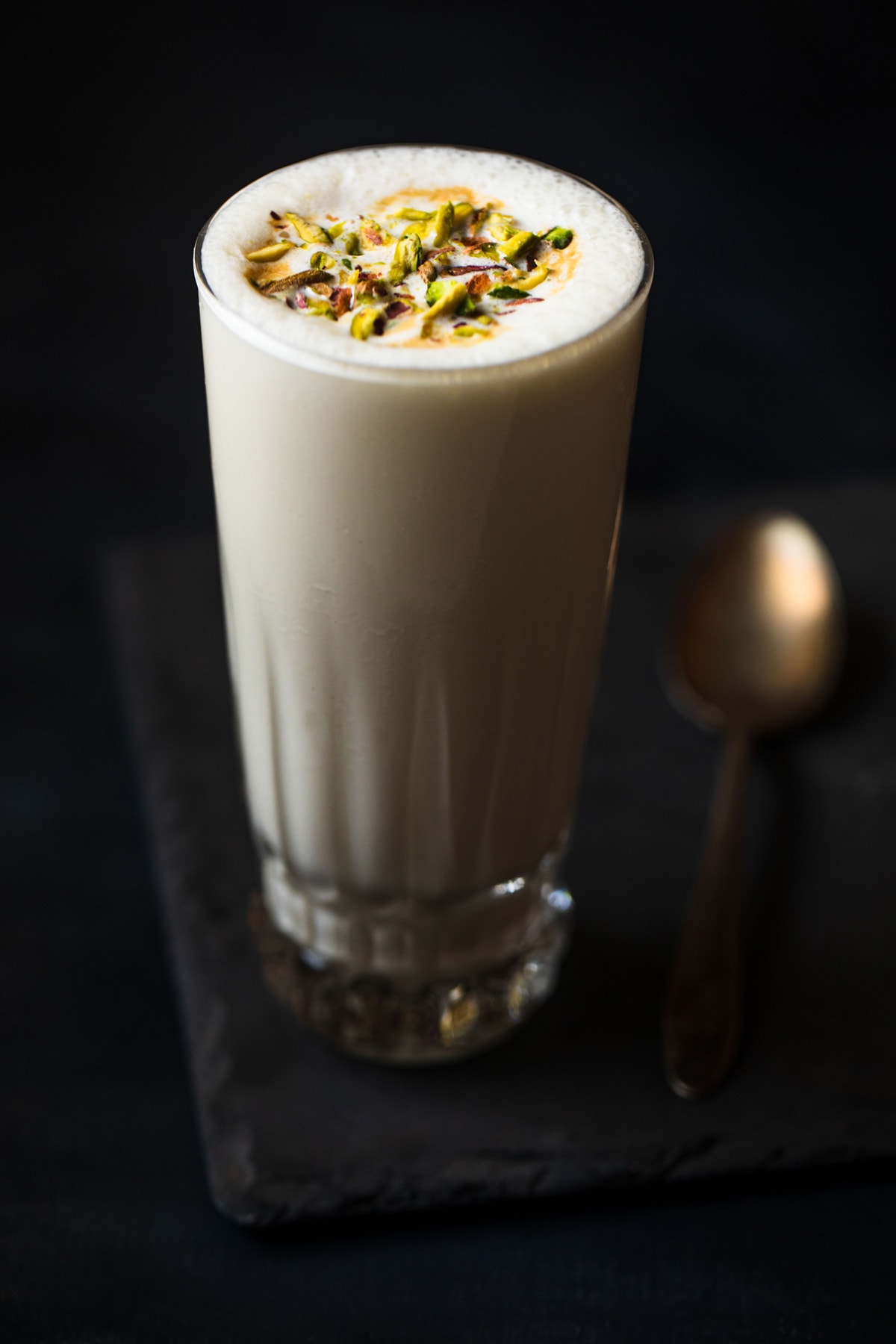 How to make a Vanilla Milkshake
1. First add 4 cups of vanilla ice cream to a blender jar. This is approximately about 12 small to medium-sized ice cream scoops.
Tip: It helps to let the ice cream soften on the counter for a bit so that it's easier to scoop.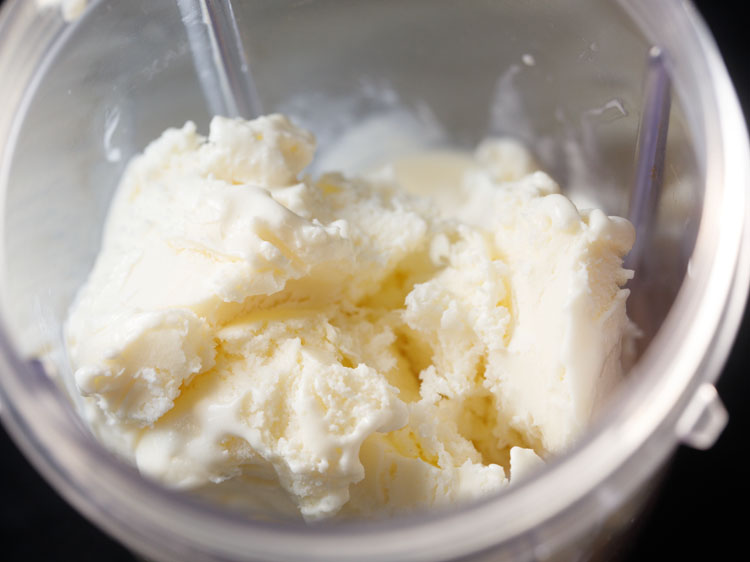 2. Then add 1 cup of chilled or cold whole milk.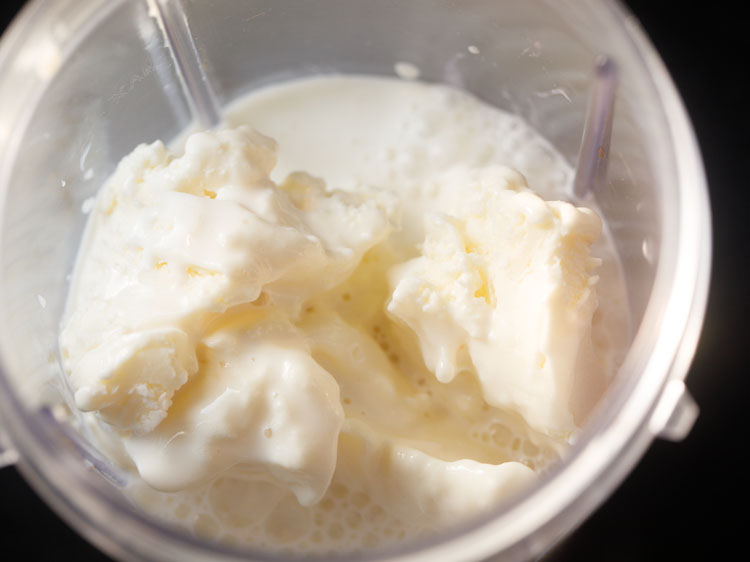 3. Add sugar to taste. Usually about 2 to 3 teaspoons is just right, depending on how sweet the ice cream is.
Feel free to use granulated sugar, castor sugar or powdered sugar.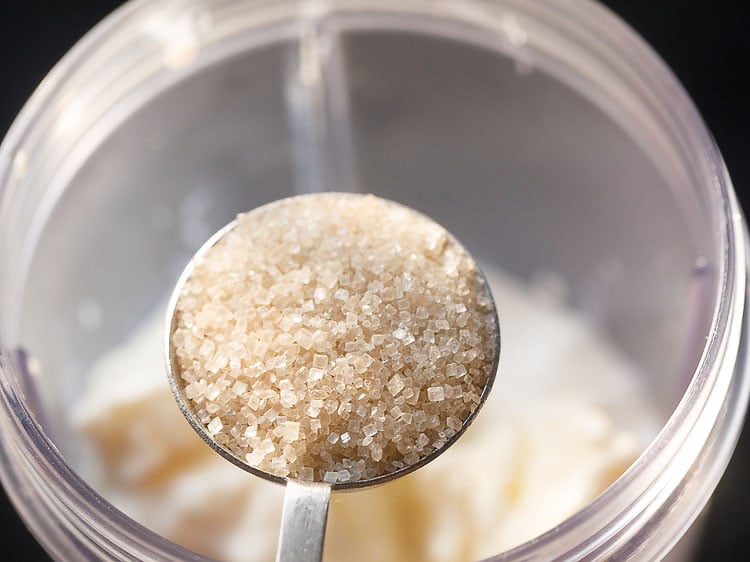 4. Add 1 teaspoon of real vanilla extract or 1 vanilla bean pod.
If using fresh vanilla bean, first slit it down the center and scrape the seeds. Add the scraped beans to the blender.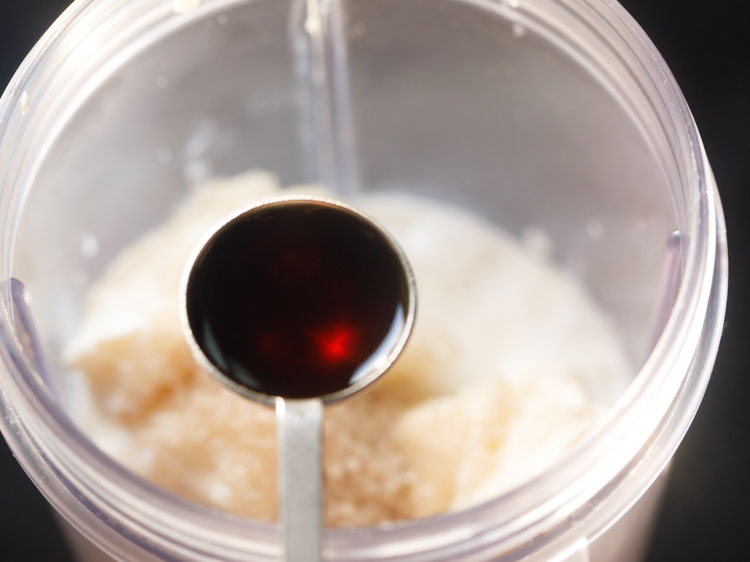 5. Blend until smooth.
Tip: Do not add any ice cubes as they will dilute both the taste and consistency of the milkshake. If the shake seems a bit too thick you can add a splash of milk and blend again.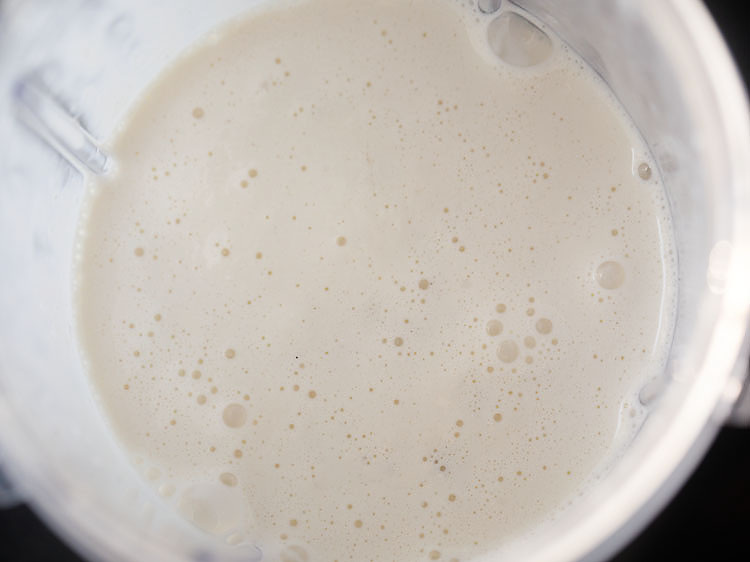 6. Pour into 2 large or 3 small glasses. Garnish the vanilla shake with your favorite toppings and serve right away.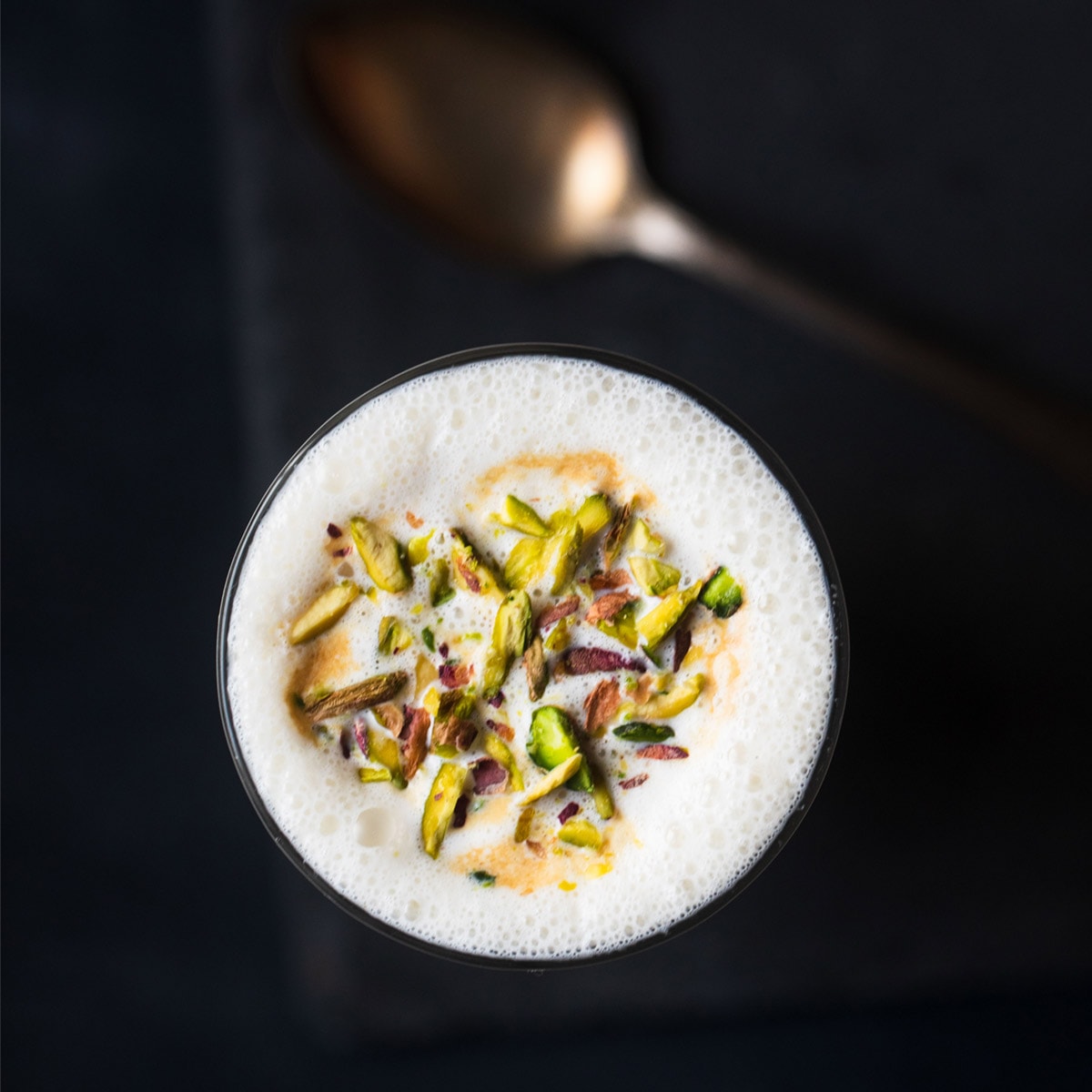 Tips & Variations
How to prepare the richest, creamiest vanilla milkshake
Want an even creamier and thicker shake? Add a generous splash of heavy cream when blending the milk with vanilla extract and sugar.
How to make thicker or thinner milkshakes
I use the proportion of ¼ cup milk per every 3 medium sized ice cream scoops for a thick, creamy and rich vanilla milkshake. You can easily change this ratio to suit your tastes.
For a thinner milkshake add ½ cup milk to 3 medium sized ice cream scoops.
For a thicker milkshake add ¼ cup of milk per every 4 medium sized scoops of ice cream. If too thick, add a splash or two of milk at a time and blend until you get the right consistency.
How to make a vanilla milkshake without ice cream
You can easily make a vanilla milkshake without vanilla ice cream. It won't be quite as thick and rich, but is still delicious! Blend chilled whole milk, sugar and vanilla extract in a blender. Pour in glasses and serve. You can also add some cream while blending for a richer taste.
Vegan shake options
For a vegan version, use a vegan vanilla ice cream and almond milk. Almond milk is a good substitute for milk and I do prefer it over soy milk or cashew milk while making vegan shakes. Another favorite of mine is coconut milk, and I usually use it when making shakes with fruits or berries.
Please be sure to rate the recipe in the recipe card or leave a comment below if you have made it. For more vegetarian inspirations, Sign Up for my emails or follow me on Instagram, Youtube, Facebook, Pinterest or Twitter.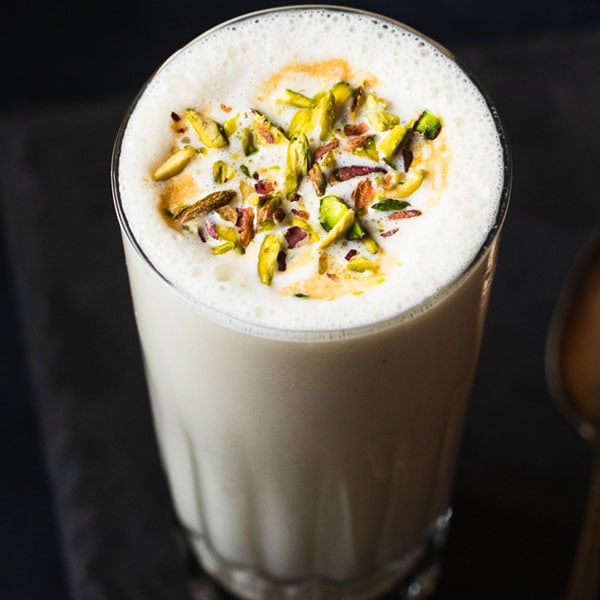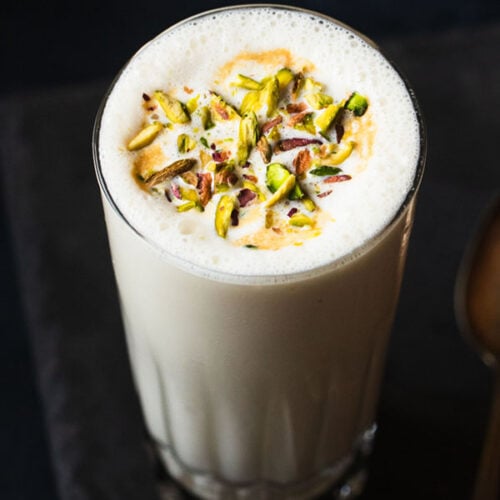 Vanilla Milkshake Recipe (Cafe Style)
Vanilla milkshake is a classic milkshake recipe that can be made in many ways. This vanilla milkshake recipe gives a thick, rich, creamy, cafe style milkshake. The recipe can be easily adjusted to make a less thick shake or a thin shake.
4

cups

Vanilla Ice Cream

1

cup


whole milk

– chilled

2 to 3

teaspoons

sugar

or add as required

1

teaspoon

vanilla extract

or 1 vanilla bean pod or ½ teaspoon vanilla essence
Instructions
In a blender take the vanilla ice cream. The ice cream need not be hard as a rock. So allow it to soften a bit before adding in the blender jar.

You can add less or more sugar as per your taste.

Add vanilla extract. If using vanilla bean pod, slit it and scrape of the tiny seeds and add them in the blender.

Blend the ingredients until smooth and creamy.

Pour in glasses or jars. Top with your favorite nuts and serve straight away. You can even garnish with some chocolate sauce, caramel sauce or berries.
Notes
You can add less or more of the sugar as per your taste preferences.
You can add some light cream or whipping cream if you like.
Toppings and garnishes can be of your choice.
You can add more milk and make slightly less thick or a thin milkshake.
Do not add ice cubes as these will dilute the taste and make the consistency thin.
Scale the recipe to halve the servings or double the servings.
Nutrition Info (Approximate Values)
Nutrition Facts
Vanilla Milkshake Recipe (Cafe Style)
Amount Per Serving
Calories 428
Calories from Fat 198
% Daily Value*
Fat 22g34%
Cholesterol 87mg29%
Sodium 172mg7%
Potassium 475mg14%
Carbohydrates 48g16%
Protein 9g18%
Vitamin A 873IU17%
Vitamin B1 (Thiamine) 1mg67%
Vitamin B2 (Riboflavin) 1mg59%
Vitamin B3 (Niacin) 1mg5%
Vitamin B6 1mg50%
Vitamin B12 1µg17%
Vitamin C 1mg1%
Vitamin D 1µg7%
Vitamin E 1mg7%
Vitamin K 1µg1%
Calcium 326mg33%
Vitamin B9 (Folate) 9µg2%
Iron 1mg6%
Magnesium 35mg9%
Phosphorus 267mg27%
Zinc 2mg13%
* Percent Daily Values are based on a 2000 calorie diet.
This Vanilla Milkshake recipe post from the archives first published in May 2019 has been republished and updated on 29 May 2022.