Indian cuisine's fascination with rose is real. This edible flower has been a part of our food since the ancient times. Rose also has cooling properties, which makes it the perfect ingredient for summer beverages. One such conventional product that has rose is the Rooh Afza syrup which is believed to have been around for 116 years now! This Rooh Afza Sharbat recipe or Rooh Afza drink (or Ruabja Sharbat) made with sabja seeds (sweet basil seeds) is one of my favorites from childhood till now.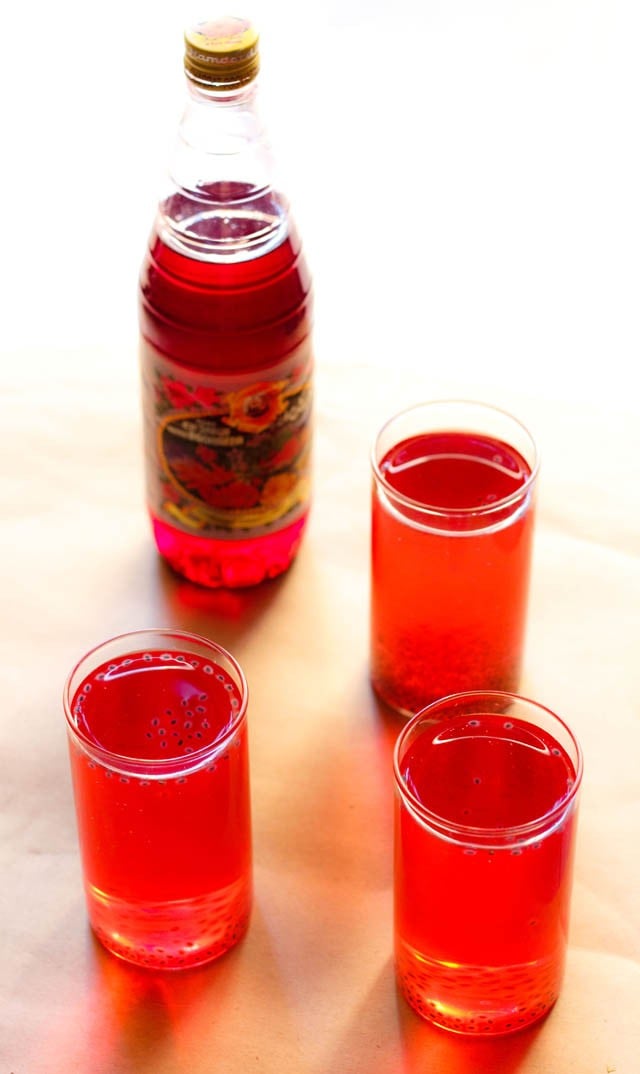 What is Rooh Afza
Rooh Afza is a concentrated rose colored syrup made with herbs, fruits, vegetables, flowers and roots. It was developed by Hakeem Hafiz Abdul Majeed in 1906 in Ghaziabad, British India and was later launched from Old Delhi, India.
Today, the companies formed by him and his sons manufacture the Rooh Afza. These companies are the Hamdard Laboratories (Waqf) in India, Pakistan and Bangladesh.
This post is not sponsored. I genuinely recommend this product and my Ruabja Sharbat recipe to one and all. If you stay abroad, you can purchase Rooh Afza from Amazon.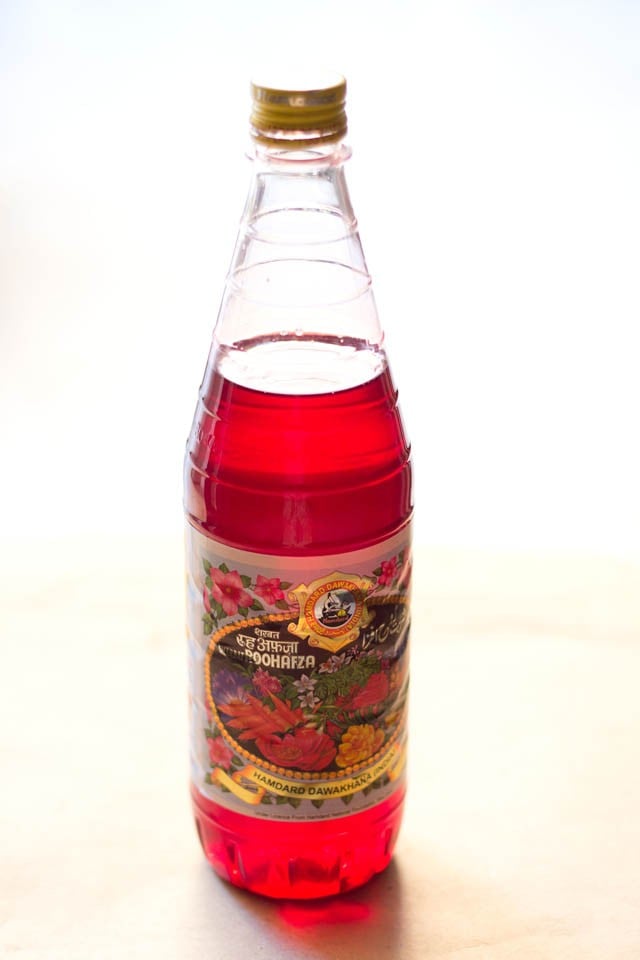 About Rooh Afza
In Persian language, 'rooh' means 'soul' and 'afza' means that 'which nourishes the soul' or 'uplifts/enhances your spirit.' So, the term Rooh Afza literally translates to the one that nourishes the soul and enhances the spirit, and it really does justice to its name.
The formulation of Rooh Afza is considered to be based on the ingredients from traditional Yunani or Unani medicine. It is thick, very sweet and was developed to reduce body heat. Hence, best enjoyed when dissolved in water or milk. This Rooh Afza Sharbat is just that.
Rooh Afza as a product has not been actively endorsed by many celebrities or eminent personalities. Yet, it has been able to withstand the tough competition from other brands and survive in the market over the years. This is because it is really awesome and does not need any marketing gimmick to prove its mettle.
Rooh Afza Sharbat and More
The Rooh Afza Sharbat is not just a drink, but an entire emotion for us Indians. I have grown up drinking this beverage during summers and I can tell you that no other drink refreshes the soul like this one does. It is a regular in most Indian homes.
In addition to this Ruabja sharbat recipe, other ways to enjoy this soul soothing squash is to use it in Kulfi, Falooda, Phirni or any other mocktail, Milkshake, Lassi, ice cream, kheer, puddings, custards and more.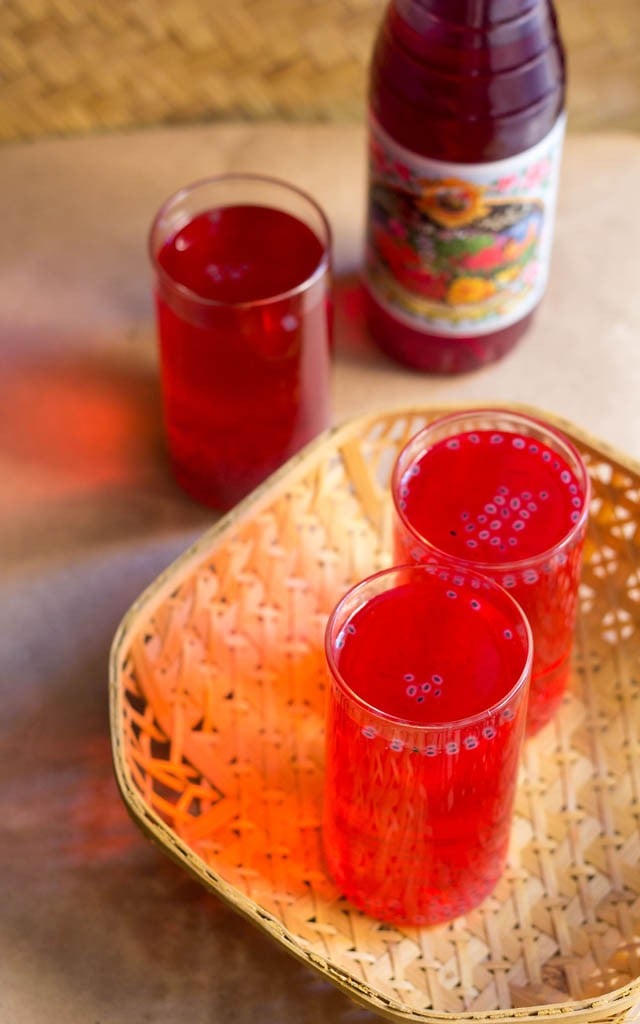 Apart from being super refreshing and cooling for the body, the sweet herbal flavor of Rooh Afza adds a richness to any drink or dessert it is used in. You can also relish it by simply mixing it in cold water and adding sugar if needed.
Sabja Seeds or sweet basil seeds also have a cooling effect on the body and are great for digestion too. To use it, you have to soak the seeds for half an hour and then add it in your drinks.
I usually soak sabja seeds for adding in the Nimbu Pani or Shikanji (Indian lemonade) as well. So, I end up using it in the Rooh Afza recipe too. Makes for an easy, quick and soothing summer drink.
Please be sure to rate the recipe in the recipe card or leave a comment below if you have made it. For more vegetarian inspirations, Sign Up for my emails or follow me on Instagram, Youtube, Facebook, Pinterest or Twitter.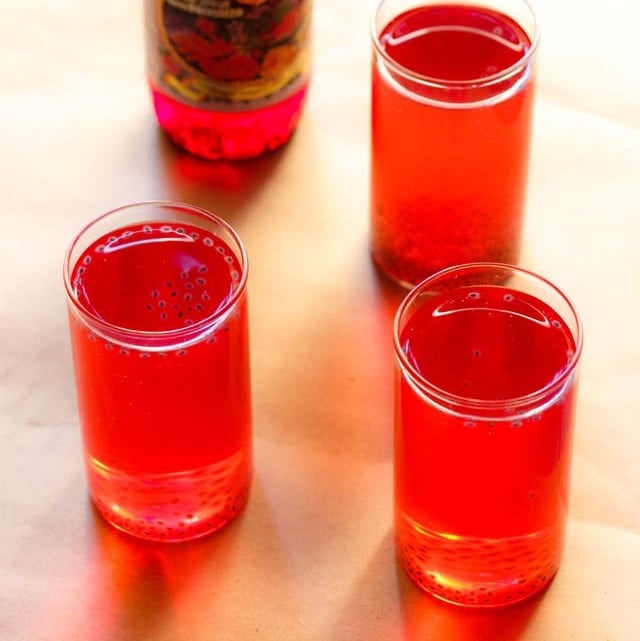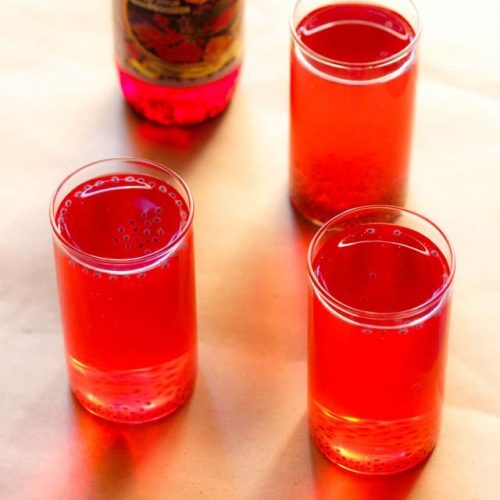 Rooh Afza Sharbat | Rooh Afza Drink (Ruabja Sharbat)
Rooh Afza Sharbat is a thirst-quenching, energizing, cooling drink for the hot summers and is made with Rooh Afza syrup, water/milk/almond milk, sabja seeds (sweet basil seeds) and ice cubes (optional).
3.5

cups

water

– cold or at room temperature

4 to 5

tablespoon

Rooh Afza syrup

or add as required

½

tablespoon

sweet basil seeds

(sabja seeds), optional

4 to 5

ice cubes

– optional
Instructions
Soak the sweet basil seeds (sabja seeds) in ¾ cup of water for half an hour.

When the seeds swell and become plump, using a fine strainer, drain the water and set the soaked sabja seeds aside.

In a glass jar or bowl, add 3.5 cups water.

Add Rooh Afza syrup in the water. Add less or more as needed depending on the sweetness you prefer.

Also add the soaked sabja seeds.

Add ice cubes, if you want to serve it cold.

Stir and mix everything well.

Serve cold. You can have the drink immediately or refrigerate it and have it after few hours.
Notes
Instead of water, you can mix the rooh afza and soaked sabja seeds in regular milk or almond milk. Almond milk made from overnight soaked blanched almonds is also cooling for summers.
You can also add rooh afza syrup in smoothies, milkshakes or top ice creams, custard preparations or kulfi with it.
Choose to skip the sweet basil seeds if you cannot get them.
This Rooh Afza Sharbat post from the archives first published in May 2013 has been updated and republished on April 2022.