A common sight in Delhi or Amritsar in Punjab is the street vendors serving Matar Kulcha or Matar Chaat. You will find them on roads, outside schools, colleges and workplaces too. They have huge large brass pots that is typically used to keep the rustic matar curry warm. This Matar Kulcha recipe is my tribute to the fun, flavorful and huge North Indian street food culture.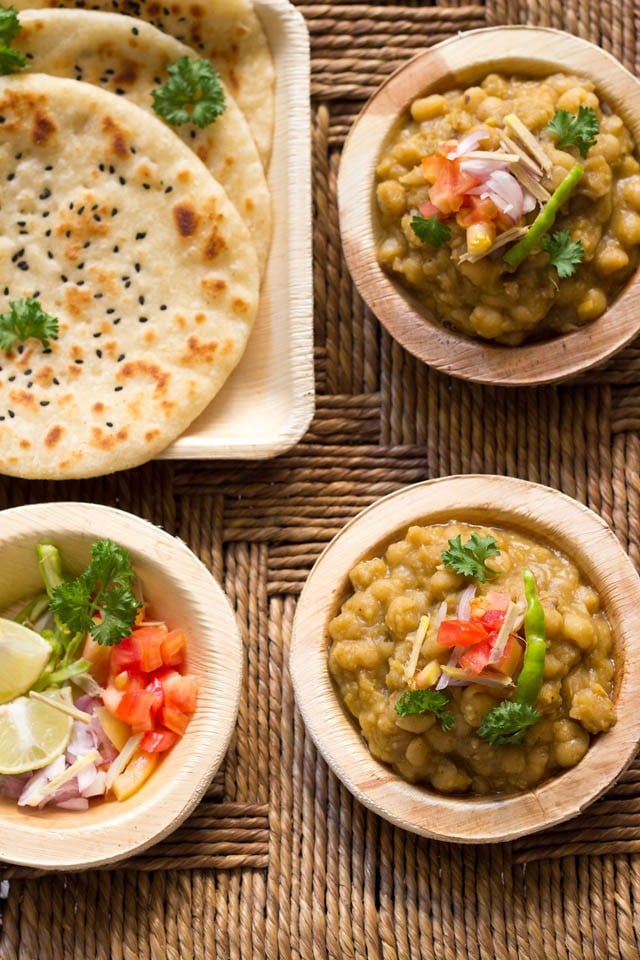 About Matar Kulcha
'Matar' is a Hindi word which means peas and Kulcha is the classic Indian leavened flatbread made with or without yeast.
Here in the recipe 'Matar' refers to the spiced and tangy curry made with dried peas and since it is served with the soft and fluffy Kulcha, hence the term 'Matar Kulcha'.
In this Matar Kulcha recipe, the peas that are used are dried white peas, also used to make the Mumbai special curried preparation called Ragda.
Another prevalent street food that comes very close to the Matar Kulcha is Chole Bhature, a Punjabi recipe of a robust Chana Masala served with fried leavened bread known as Bhatura.
Kulcha can be made plain or flavored with spices, herbs and also can be stuffed. More tasty variations of the stuffed kulcha are these Aloo Kulcha and Paneer Kulcha.
In this recipe, you will find a delicious and tasty matar curry that you can easily make. This Kulcha recipe will help you make the fluffiest ones at home.
Incase you don't want to put so much efforts, you can also get the readymade kulcha that are available in super markets these days.
About Matar Chaat
The Matar Curry or Matar Chaat is roughly adapted from Nita Mehta's cookbook 'Taste Of Delhi.' I have adjusted the quantities according to my palate.
I have also cut down on the amount of mint leaves used in the jaljeera masala. You can even use readymade jaljeera powder.
This Matar Chaat is a very easy recipe, provided all your ingredients are in place and you have the preparation done.
For instance, soaking the white peas overnight before cooking, making the jaljeera masala, tempering and then mixing everything up.
Unlike Bhatura or Naan, kulchas remain soft even when not hot or warm. They don't become chewy or hard.
So, if you are preparing them at home, do it in advance, stack up and store in the refrigerator. While serving, just reheat on a skillet or in the microwave until slightly warm.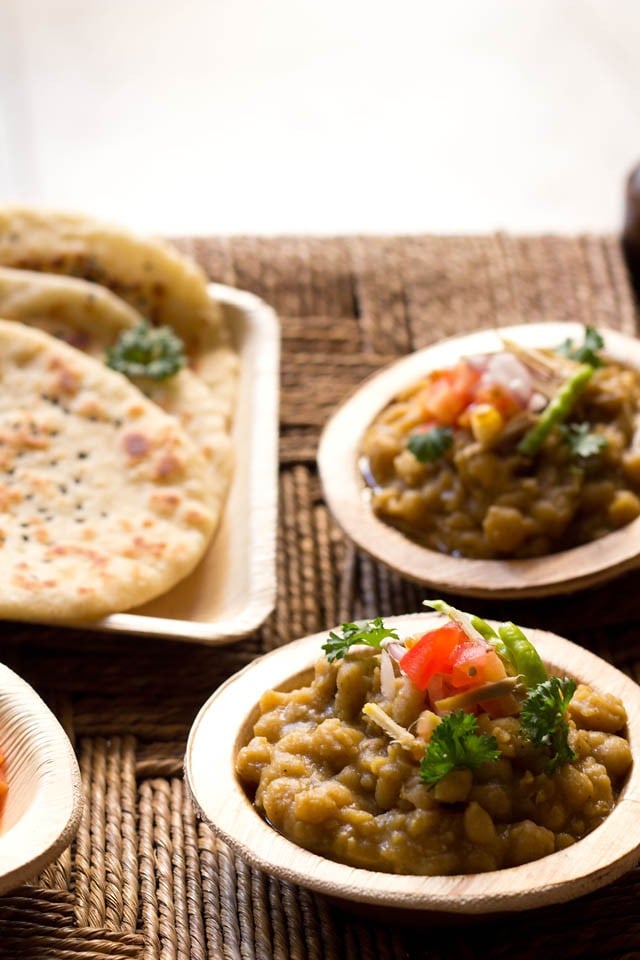 This Matar Chaat has a semi thick consistency with a tangy flavor. Generally, it is a little spicy too. But I have kept the spice level moderate. You can make it spicier by increasing the red chili powder and green chillies.
Another good thing about this dish is that you really don't need the kulcha to complete it. You can enjoy the matar curry by pairing it with a naan or pav too. The Matar Kulcha combination makes for a supremely satisfying breakfast or brunch meal.
If you prefer, you could even have the Matar Chaat as is without pairing it with a kulcha or naan. Simply top with some chopped onions, tomatoes, green chillies, ginger julienne, chaat masala, coriander leaves and lemon juice.
Matar Curry vs Ragda Curry
Though the main ingredient in both these curries are same, that is, dried white peas; still, there's a significant difference between the Matar Curry and the Ragda Curry.
The most obvious difference between the two is that the Matar Curry is a North Indian style curry preparation which also has dried mango powder and a jaljeera mix that gives it an extra tangy twist.
On the other hand, the Ragda Curry is a popular Maharashtrian style curry, minus the extra tang and is a famous street food in Mumbai.
Ragda is used to make a lot of other yummy street foods like Ragda Puri, Ragda Patties, Pani Puri, Ragda Chaat. Another unique chaat preparation that you will find on the streets of Bangalore is this Masala Puri that is made with either dried green peas or white peas.
Expert Tips
Dried Peas: You can prepare the Matar Chaat with fresh or dried green peas as well. Fresh green peas will impart a different taste to the curry. Use dried peas which are within their shelf-period. Older or aged dried peas take a lot of time to cook.
Cooking Peas: Make sure the matar curry is cooked till a medium consistency. It can also be cooked in a pan, but will take a lot of time. You could also use the Instant pot to cook the soaked dried white peas.
Swap with Chickpeas: You can use chana/chole or white chickpeas instead of white peas in the curry. You can also serve matar curry with pav (dinner rolls) or naan.
Soaking Dried Peas: In case you have forgotten to soak the white peas for overnight, don't worry. You can soak the peas in some hot water for about 2 to 3 hours and use.
Using Jaljeera Powder: You can also use readymade jaljeera powder in this recipe. Mix 1 to 2 tablespoons jaljeera in ¼ to ⅓ cup water and add to the cooked matar. If you feel the taste not coming through, then you can add 1 tablespoon more.
FAQs
Can I use readymade jaljeera powder in the matar recipe? How much should I use?
Yes, you can use jaljeera powder in the matar recipe. Mix 1 to 2 tablespoons jaljeera in ¼ to ⅓ cup water and add to the cooked matar.

If you feel the taste not coming through, then you can add 1 tablespoon more. Begin with 1 tablespoon first and then increase as per your taste.
Can I use chickpeas or chole instead of white peas in this curry?
Yes, you can. Use approximately 1 cup of dried chickpeas in place of dried white peas.
Can I replace the white peas in this recipe with green peas?
Yes, you can use green peas in place of white peas. You can use both fresh or dried green peas. However, the taste will be different with fresh green peas.
Can I prepare the kulcha dough and store overnight?
Yes, the kulcha dough can be prepared and refrigerated to store overnight. Spread some oil on the dough and store in an airtight steel box.
Can I make kulchas in the oven? At what temperature?
Yes, you can bake kulchas in oven at 220 to 250 degrees Celsius. Remember to preheat oven before baking the kulchas.
More Delhi Street Food Recipes To Try!
Please be sure to rate the recipe in the recipe card or leave a comment below if you have made it. For more vegetarian inspirations, Sign Up for my emails or follow me on Instagram, Youtube, Facebook, Pinterest or Twitter.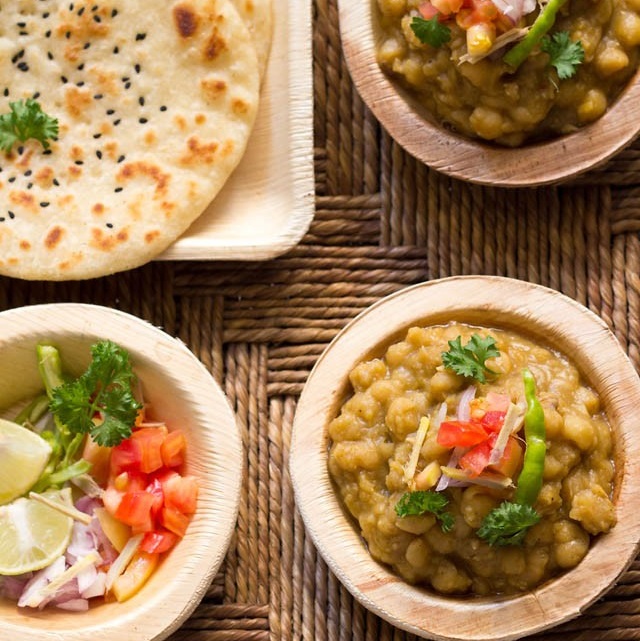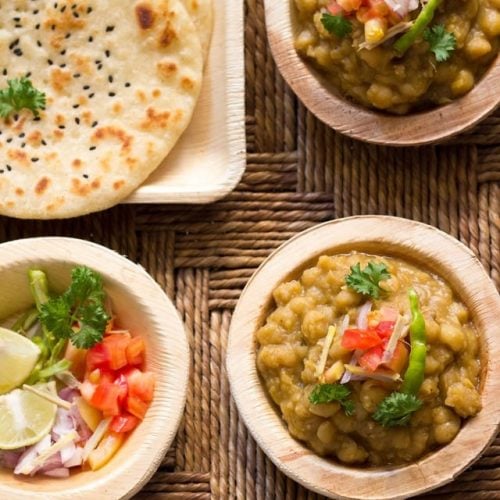 Matar Kulcha | Matar Chaat – Delhi Style Recipe
Matar Kulcha is a popular North Indian street food, especially in Delhi and Punjab. This filling dish is a meal in itself and comprises of the matar curry which is a tangy, spiced dried white peas curry and the kulcha which are soft tender leavened flatbreads.
Total Time
8

hours
30

minutes
For the matar curry (white peas curry)
1.25

cup

dried white peas

(safed matar)

3 to 4

cups

water

– for pressure cooking the soaked white peas

1

tablespoon

oil

½

teaspoon

cumin seeds

1

teaspoon

chaat masala

½

teaspoon

roasted cumin powder

½

teaspoon

dried mango powder

(amchur powder)

¼

teaspoon

red chili powder

or cayenne pepper

¼

teaspoon

Garam Masala
For jaljeera masala
¾

cup

mint leaves

– loosely packed

1

teaspoon

cumin seeds

1

teaspoon

fennel seeds

1

black cardamom

– seeds removed and husks discarded

1

dried red chilli

– deseeded, optional

1

pinch

asafoetida

(hing)

1

teaspoon

black salt

or regular salt, add as needed

5 to 6

black peppercorns

½

teaspoon

dried mango powder

(amchur powder)

1

tablespoon

tamarind

– seedless

¼ or ⅓

cup

water

for grinding or add as required
Toppings for matar chaat
1

onion

– small-sized, finely chopped

1

tomato

– medium-sized, finely chopped

1

green chili

– slit or chopped

½

inch

ginger

– julienned or finely chopped

1

lemon

– quartered

2 to 3

tablespoons

coriander leaves

– optional
Instructions
Cooking matar
Soak the matar or dried white peas overnight or for 7 to 8 hours.

Drain all the water. Pressure cook the soaked peas in 3 to 4 cups water, for 15 to 18 minutes on medium heat, until the peas are completely cooked and softened.

When the pressure drops on its own in the cooker, then only open the lid.

The peas should be fully softened. If they look undercooked, then add water if needed and pressure cook for some more minutes.

If there is extra water and the mixture is thin or runny, then simmer for some more minutes until the peas preparation gets to a medium consistency.

Mash some cooked white peas slightly with a wooden spoon. This helps in thickening the preparation.

The soaked matar can also be cooked in a pan, but it will take a lot of time.
Preparing jaljeera masala
Grind all the ingredients listed under jaljeera masala with ¼ or ⅓ cup water to a smooth and fine paste. Set aside.
Making matar curry
In a pan, heat oil. On low heat, first brown the cumin seeds.

Remove the pan from heat and place it on your kitchen countertop.

Then, add the dry spice powders one by one – chaat masala, roasted cumin powder, amchur powder, red chili powder and garam masala powder.

Stir to mix and immediately pour this mixture into the cooked matar or add the cooked matar to this mixture.

Switch on the heat and let the matar get heated through for 3 to 4 minutes.

Now, add the prepared and finely ground jaljeera masala and stir to combine.

If the matar mixture looks dry, add some water.

Cook the matar or peas curry till all the flavors get mingled, for about 2 to 3 minutes.

Check the seasonings and add more black salt if required.

You can make this and keep it aside till you prepare the Kulcha. While serving, reheat the matar curry.

Top the matar curry with onions, tomato, ginger, chilies and coriander leaves. Squeeze some lemon juice on top and mix lightly. Serve with hot or warm Kulcha.

You can even enjoy the Matar Chaat without the kulcha.

Serve Matar Kulcha in bowls or plates.
Notes
Remember to use dried white peas which are in their shelf-period. Aged or older dried peas take plenty of time to cook. 
Always try to soak the peas overnight or for about 8 hours prior to cooking. 
These peas are cooked best in a stovetop pressure cooker or in the Instant pot.
You can increase the spiciness in the dish by adding more green chillies or red chilli powder. 
Adjust the seasonings and spices according to your taste preferences. 
Instead of black salt, you can use edible rock salt, pink salt or regular salt.
Nutrition Info (Approximate Values)
Nutrition Facts
Matar Kulcha | Matar Chaat – Delhi Style Recipe
Amount Per Serving
Calories 360
Calories from Fat 18
% Daily Value*
Fat 2g3%
Sodium 867mg38%
Potassium 1158mg33%
Carbohydrates 67g22%
Protein 23g46%
Vitamin A 1049IU21%
Vitamin B1 (Thiamine) 1mg67%
Vitamin B2 (Riboflavin) 0.2mg12%
Vitamin B3 (Niacin) 3mg15%
Vitamin B6 0.3mg15%
Vitamin C 35mg42%
Vitamin E 1mg7%
Vitamin K 17µg16%
Calcium 133mg13%
Vitamin B9 (Folate) 256µg64%
Iron 6mg33%
Magnesium 132mg33%
Phosphorus 353mg35%
Zinc 3mg20%
* Percent Daily Values are based on a 2000 calorie diet.
This Matar Kulcha recipe from the archives first published in June 2013 has been republished and updated on December 2022.