Indian cuisine largely comprises of the regular Indian Pantry staples. But yes, there are some ingredients that will be a pantry staple in some regions and not in another region. So apart from the usual pantry staples like flour, rice, etc, I have also included region-specific pantry staples in this post.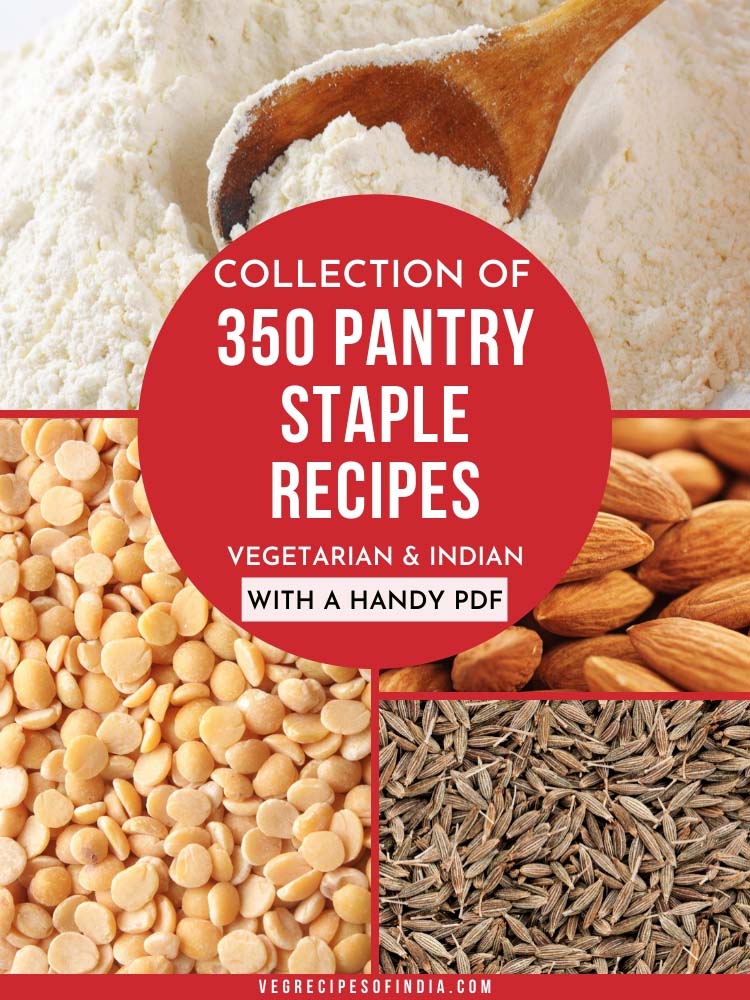 I have made a list of the pantry staples and their recipes with a PDF considering the fact that finding veggies and some other items may not be easy for everyone. You can easily alter these recipes and make them with the ingredients you have in your kitchen.
Indian Pantry Staple Items
✓  Rice: Any variety like basmati rice, sona masuri, parmal, indrayani, kolam etc.
✓  Idli Rice: Idli Rice or parboiled rice (ukda chawal or sela chawal) and Idli Rava.
✓  Flours:
Whole Wheat Flour (Chapati Atta)
All-Purpose Flour (Maida)
Rice Flour
Gram Flour (Besan or Chickpea flour)
Ragi Flour (Finger Millet Flour)
Dalia (Broken wheat or cracked wheat).
✓  Lentils:
Chana Dal (husked & split Bengal gram)
Moong Dal (Mung Lentils)
Arhar Dal (Pigeon Pea Lentils or Tuvar Dal)
Masoor Dal (Red Lentils)
Urad Dal (Husked whole or split black gram).
✓  Legumes & Beans: White Chickpeas, Black Chickpeas, Kidney Beans (Rajma) and Black Eyed Beans (Lobia or Chawli).
✓  Dairy Products: Curd, Milk, Butter, Ghee, Cheese, Condensed Milk and Cream.
✓  Essential Cooking Items: Oil, Salt, Sugar.
✓  Essential herbs and veggies: Green chilies, ginger, garlic, onion, tomato, potato, lemon.
✓  Spices: Asafoetida (hing), mustard, fennel, cumin, fenugreek seeds, turmeric powder, red chili powder, whole red chilies, tamarind, dry fenugreek leaves, cloves, cinnamon, green cardamom, black cardamom, cumin powder, whole black peppercorns, etc.
✓  Spice blends: Coriander powder, dry mango powder, garam masala powder, sambar powder, pav bhaji masala powder, rasam powder, goda masala and idli podi.
✓  Items usually stored in the refrigerator and freezer: Frozen peas, corn, shredded coconut, tomato ketchup, rose water and mixed herbs.
✓  Useful Pantry Staples: Oats, Pasta, Noodles, Poha (Flattened Rice), Rava (Sooji or Cream of Wheat), Jaggery, Saffron, Vermicelli, Sabudana, Eno, Baking Soda & Baking Powder, Instant Yeast, Sabja Seeds, Chocolate, Puffed rice and Cocoa Powder.
✓  Dry Fruits & Nuts: Peanuts, Cashews, Almonds, Raisins, Pistachios.
✓  Other common ingredients: Tea, Coffee, Green Tea, Coconut Milk, Chyawanprash, Bournvita, Horlicks, etc.
Notes
If you don't have Herbs like Curry Leaves, Coriander Leaves, Mint leaves, Basil, etc then you can skip adding them and the recipe will still taste good. You can even used dried herbs like dried mint, dried curry leaves or dried basil.
In some recipes veggies like carrots, capsicum, beans are added. Skip them if you don't have them.
I have tried my best to avoid adding recipes made with pasta, noodles, all-purpose flour. In this time we should avoid processed foods and eat healthy. However keeping the fussy kids in mind, a few of these recipes will be there.
How to save this information: You can bookmark this page or download the list of recipes in a pdf format.
In case you have some fresh veggies, then you can also check this post – 50 Immune Boosting Vegetarian Recipes.
Kindly do share this info with your family and friends. Stay safe, Stay Healthy and Stay at home.
Indian Pantry Staple Recipes
Whole Wheat Flour
Parathas
Other Recipes with wheat flour
Besan (Gram Flour or Chickpea Flour)
Bajra (Pearl Millet) and Jowar (Sorghum)
Sattu (Roasted gram flour)
Moong Dal (Mung Lentils)
Chana Dal (husked & split Bengal gram)
Urad Dal (Husked whole or split black gram)
Arhar Dal (Tuvar Dal or Pigeon Pea Lentils)
Masoor Dal (Pink or Red Lentils)
Akkha Masoor – spiced whole red lentils or sabut masoor dal dish from the Kolhapuri cuisine.
Mixed Lentils (made with a combination of more than 2 to 3 lentils)
White Chickpeas
Black Chickpeas
Rajma – Kidney Beans
Lobia (Chawli or Black Eyed Beans)
Idli Dosa Rice and Idli Rava
Rice
Puffed Rice
Poha (Flattened Rice or Aval)
Rava (Sooji or Cream or Wheat or Semolina)
Potato
Green Peas
Tomato
Rasam Varieties – Good for cough and cold
Onions and Pearl Onions
Oats
Ragi (Finger Millet)
Jaggery
Almonds
Peanuts
Cashews
Dry Fruits
Lemon
Rice Flour
Vermicelli (Seviyan or Semiya)
Curd
Sabudana
Fasting Flours – Rajgira (Amaranth or Ramdana) and Kuttu (Buckwheat)
Cheese
Ginger
Chocolate and Cocoa Powder
Beverages
Coconut and Coconut Milk
Chutney Recipes
Make at home + DIY (with step by step photos)
Kindly do share this info with your friends and loved ones. Stay safe, Stay Healthy and Stay at home.
Let us know if you want any particular recipe to be published during the lockdown time.