eggless chocolate cake recipe with step by step photos – a simple, easy and delicious recipe of a one bowl eggless whole wheat chocolate cake. yes the cake is made from whole wheat flour. so one can have the cake and eat it too 🙂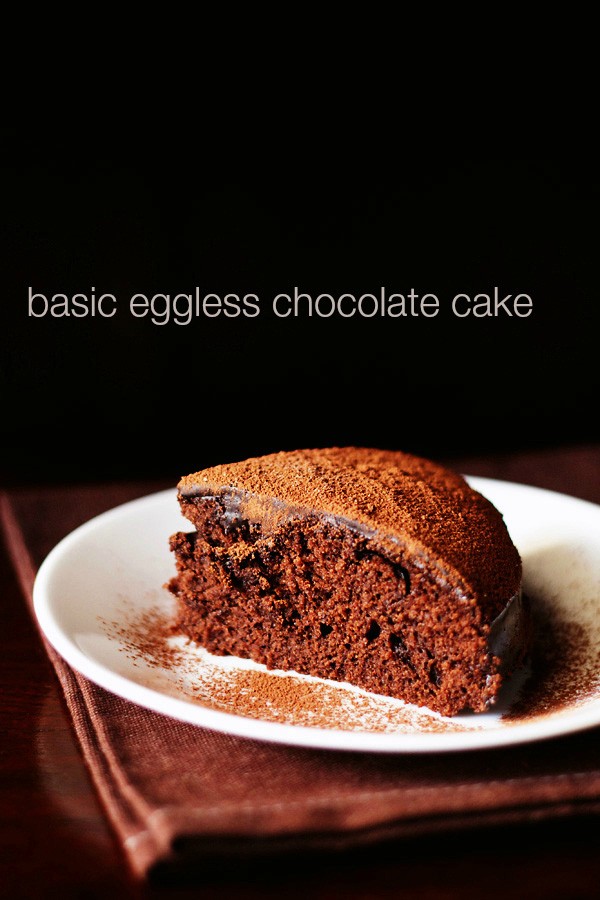 i have already made this chocolate cake a couple of times to use it a basic cake for various chocolate frostings. i have even made eggless black forest cake from this chocolate cake.
the texture of this eggless chocolate cake is soft and moist. this chocolate cake recipe is vegan as i have used oil. but you can add melted butter too.
i have also shared the method of cocoa frosting which is very easy. in the frosting recipe, i have used butter, but a neutral flavored oil can also be added.
you can serve the cake as it is plain or with the chocolate frosting. but with the chocolate frosting its better 🙂

i have compiled a list of frequently asked questions and some tips from the comments section of this eggless chocolate cake recipe.
faq and tips to make eggless chocolate cake
if you are looking for more eggless recipes then do check:
how to make eggless chocolate cake
for ease of understanding, i have divided this cake recipe post in 3 main parts:
step 1 – making batter for eggless chocolate cake
step 2 – baking eggless chocolate cake
step 3 – making chocolate frosting for cake
lets start with step 1 – making batter for eggless chocolate cake
1. first grease a round baking pan of 7.5 inches diameter x 2 inches height with oil. preheat your oven to 200 degrees celsius/392 degrees fahrenheit.
2. seive 1 cup whole wheat flour (you can use all purpose flour/maida also), 3 tbsp cocoa powder, a pinch of salt, ½ tsp baking soda in a plate. use good quality cocoa powder.
3. here are the sieved dry ingredients.
4. in another pan or bowl, take ¾ cup sugar. i have used unrefined cane sugar, regular white sugar can also be used.
5. add 1 cup cold water and stir so that the sugar dissolves.
6. now add ¼ cup oil or melted butter. i added oil. if using butter, the let the butter come at room temperature after you melt it. or you can also use butter which has softened at room temperature. then you just have to mix and whip them till the mixture looks homogeneous – meaning the water and butter should not look separate. you can also use an electric beater if required. the butter will solidify due to the cold temperature of water, so the only way to mix it evenly with the water is by briskly beating with a wired whisk or with an electric beater. use a wide deep bowl, so that the mixture does not spill out while mixing with the electric beater.
7. stir briskly so that everything is mixed well.
8. next add 1 tbsp lime juice. stir again.
9. now add ½ tsp vanilla extract or powder. here i added vanilla powder.
tip from reader manasi – you can also add chocolate extract or chocolate essence instead of vanilla.
10. add the sieved dry ingredients to the wet mixture.
11. using a wired whisk, mix everything well.
12. there should be no lumps in the chocolate cake batter. the batter is not thick but thin.
baking eggless chocolate cake
13. pour the chocolate cake batter in the prepared cake pan.
14. tap the sides so that the extra air bubbles are let out.
15. bake the eggless chocolate cake in a preheated oven for 200 degrees celsius/392 fahrenhiet for 35 to 40 mins. since temperatures vary from oven to oven, do keep a check. for baking in a convection mode of microwave oven, preheat the oven at 180 degrees for 15 minutes. then bake the cake at 180 degrees celsius for the 30 to 35 minutes.
16. for doneness check the cake with a tooth pick. the tooth pick should come out clean. once the eggless chocolate cake becomes warm or cools down, unmold and place it on a wired rack. if the tooth pick is sticky, then place the chocolate cake back in the oven and continue to bake for some more minutes. before frosting, let the chocolate cake cool completely.
making cocoa frosting for chocolate cake
17. take 2 tablespoons butter and 4 tablespoons sugar in a saucepan. for the frosting its best to use superfine sugar or fine sugar. the regular large refined sugar crystals may not melt. powdered sugar can be also used. i have used organic refined cane sugar which has fine crystals so they melt easily. if you do not have fine sugar, then grind 4 tablespoons sugar in a small mixer-grinder jar to a fine powder and then use it for making the frosting.
18. heat and melt the butter. also the sugar should dissolve. once the sugar has dissolved switch off the stove top. the sugar should be just dissolved. we don't need to cook the sugar in its various stages.
19. next add 4 tbsp cocoa powder.
20. with a spatula stir so that the cocoa powder gets mixed evenly with the butter-sugar mixture.
21. add 3 tbsp milk. to make a slightly thick frosting, you can also add 2 tbsp milk.
22. stir very well. the cocoa frosting is ready.
23. while still hot, spread the frosting on the chocolate cake as well as the sides with a spatula. you can also slice the chocolate cake in halve and spread frosting in the center and then on the top. usually i wrap a medium sized plate with aluminium foil and then keep the cake on it. this make the frosting work easier. this time i just kept the chocolate cake directly on the plate. keep the chocolate cake covered in the fridge for the frosting to set. you can use a dome shaped bowl to cover the cake. make sure the there is enough space between the cake and the bowl which you are using for covering the cake.
24. the frosting will set after some hours. i kept overnight.
25. next day, i sieved some icing sugar and cocoa powder on the cake. this is optional.
26. the eggless chocolate cake is ready to be served. for more delicious chocolate recipes, you can check this collection of 21 eggless chocolate recipes.