noodles recipe with video and step by step photos. this is an easy and tasty recipe of veg noodles from indo chinese cuisine. this veg noodles recipe post shows detailed method with step by step pics & video to cook perfect non sticky noodles and then make veg noodles.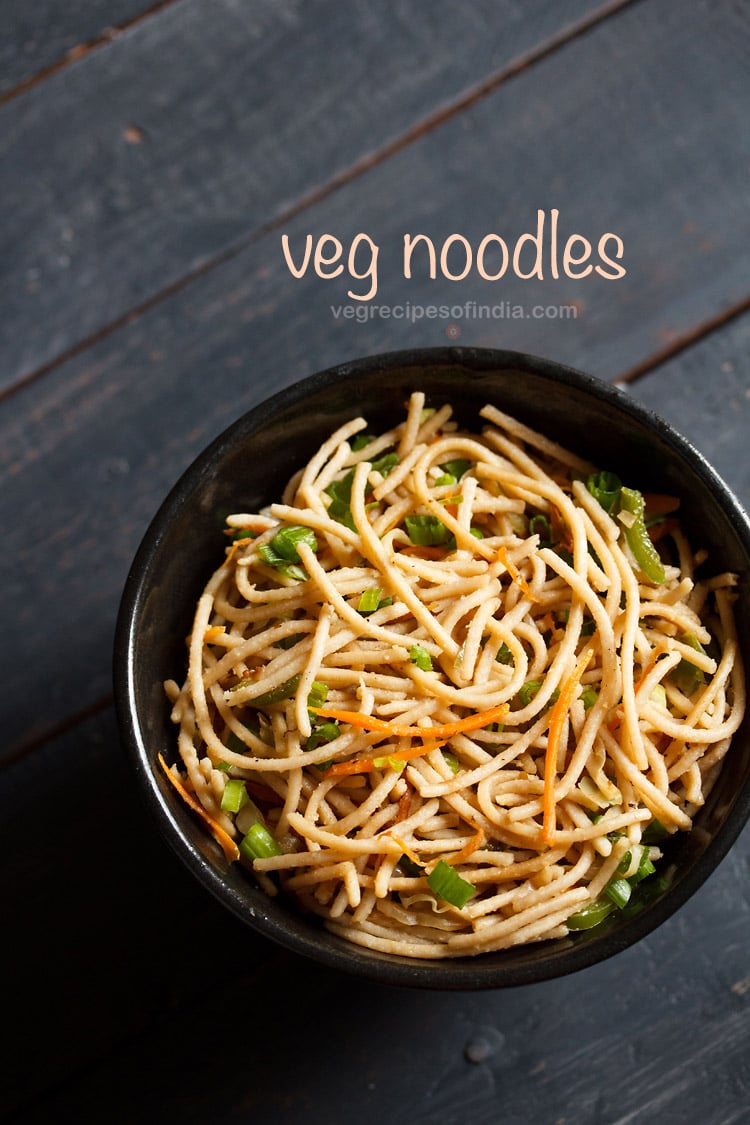 some noodle recipes are made with the stir-frying method. this vegetable noodles is also a stir-fried noodle recipe.
this version of veg noodles recipe is neither spicy nor hot but tastes very good. i have not added any chilli sauce but you can add if you want some spiciness in the noodles. the veggies can be of your choice. this noodle recipe also does not contain msg (mono sodium glutamate) or ajinomoto.
tips for making noodles recipe
typically, while making any stir-fried dish, the heat has to be high and the ingredients have to be tossed and stirred continuously. while making such recipes at home, its better to use a wok or a pan with handles. so that its easy to lift & hold the pan with the handles, while tossing as well as when stirring.
if possible use toasted sesame oil. it gives a good smoky flavor to the veg noodles recipe.
use any good quality noodles. you can use whole wheat noodles or plain flour noodles. noodle recipe can also be made with hakka noodles. for a gluten free noodle recipe, you can use rice noodles or buckwheat flour noodles (soba noodles).
another very important point when making any noodles recipe is that the noodles have to be cooked perfectly and should be non sticky.
method to cook non sticky noodles
first boil enough water with a bit of salt and ½ to 1 teaspoon oil.
add the noodles and cook them.
when the noodles are al dente or just about cooked, strain them in a colander. then rinse the noodles with fresh water. drain off the extra water.
later, you can even add  1 to 2 teaspoons of oil on the cooked noodles. mix the oil gently with the noodles and keep aside. later use the boiled noodles in any stir fried noodle recipe.
serve the veg noodles steaming hot as it is or with some black bean sauce or tomato sauce. you can also serve the noodles with chilli paneer or mushroom manchurian or sweet and sour vegetables.
how to make noodles recipe
a) preparation and cooking noodles
1. rinse and shred or chop all the veggies. keep aside. the vegetables to be added are cabbage, carrots, beans, capsicum and spring onions.
2. then heat 5 to 6 cups water in a pan.
3. when the water comes to a boil, add salt.
4. next add oil. mix well.
5. then add the noodles.
6. boil till the noodles are cooked well.
7. check the doneness of noodles by pressing a few noodles or tasting them. they should be softened.
8. once the noodles are cooked well, drain them in a colander or sieve.
9. then rinse the noodles in fresh water.
10. drain & keep aside.
making veg noodles
11. heat toasted sesame oil in a wok or pan. first add the garlic and ginger. you can even use sunflower oil or any neutral flavoured oil instead of toasted sesame oil.
12. stir fry on medium flame for some seconds.
13. then increase the flame to high & add the chopped spring onions.
14. keep on stirring continuously and stir fry the onions till they become translucent.
15. then add thinly sliced french beans.
16. stir fry for 2 to 3 minutes on a medium to high flame.
17. then add the veggies – carrots, capsicum and cabbage.
18. continue to toss and stir fry on a medium to high flame till the veggies are almost cooked. its best to use a pan with handles as its better to lift it while tossing. you can also decrease the flame if the heat becomes too much too handle and then stir fry the veggies on a medium flame.
19. some crunch should be there in the vegetables, so don't cook the vegetables till they become completely soft.
20. then add celery. you can skip celery if you do not have it.
21. next add soy sauce. mix well.
22. then next add salt and pepper.
23. stir and mix very well.
24. now add the cooked noodles.
25. keep on tossing and stirring till the veggies are mixed well with the noodles for minute or two. switch off the flame. check the taste and add more salt, black pepper or soy sauce if required.
26. then add rice vinegar or regular white vinegar. you can even skip vinegar if you want.
27. lastly add some chopped spring onion greens. mix well.
28. serve the veg noodles steaming hot as it is or with some black bean sauce or tomato sauce. you can also serve the noodles with veg manchurian or gobi manchurian or chilli paneer or paneer manchurian or veg balls in hot garlic sauce.