Top 10 North Indian breakfast recipes – breakfast is the most important meal of our day. So its best to have a filling and healthy breakfast as it keeps you running for the whole day, especially if you are a busy person.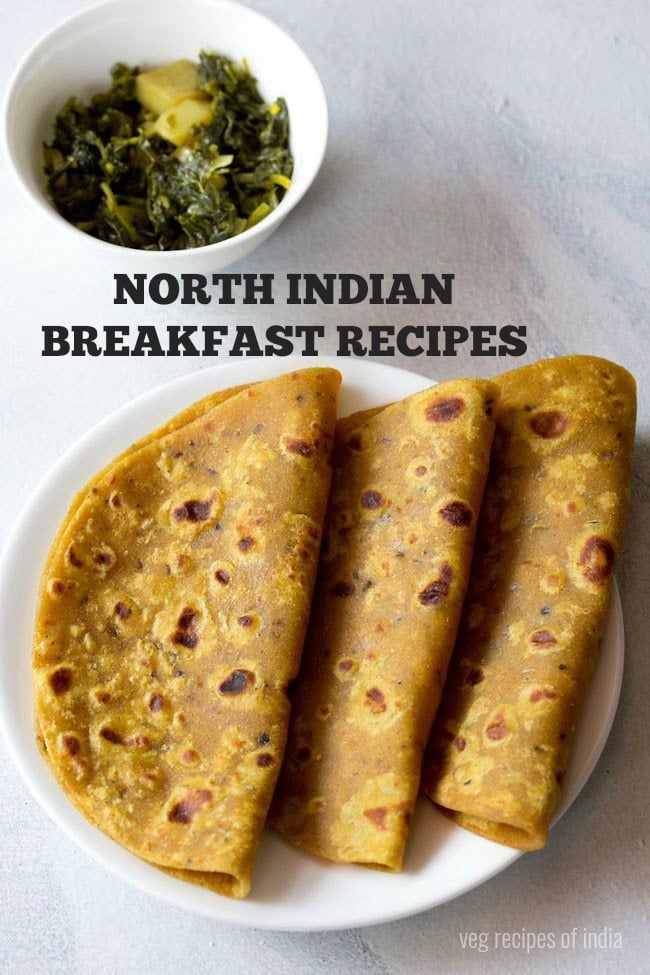 Usually I prepare healthy breakfast like roti-sabzi, chilla, bhurji, Upma, Poha, Idli & Dosa varieties and various parathas. Generally on weekends I prepare idli or dosa or aloo poori or bread pakora. Whereas the rest of the days its Parathas, upma, poha or roti-sabzi. The best part is you can even pack these dishes in the kids tiffin box. For parathas, to make more healthy, use less oil/ghee or you can even bake or grill them in an oven.
In this post, I have included the popular breakfast recipe prevalent in north India. Some of them are heavy breakfast dishes and so better to have them on weekends.
I have tried to include maximum breakfast recipes in this post, so that its easier for you to decide the menu.
Top 10 North Indian breakfast recipes
1. Aloo poori – this yummy meal of poori with spiced potato curry is popular all over India. Each region has its own variation.
In Maharashtra its called as Poori bhaji and the potato curry is dry as compared to potato gravy served in North India.
Masala poori is also very popular in South India. For South version you can check this Poori masala post. In North India, we love to dunk pooris not only in spiced potato curry but also in chole. So you can enjoy poori with various chole varieties like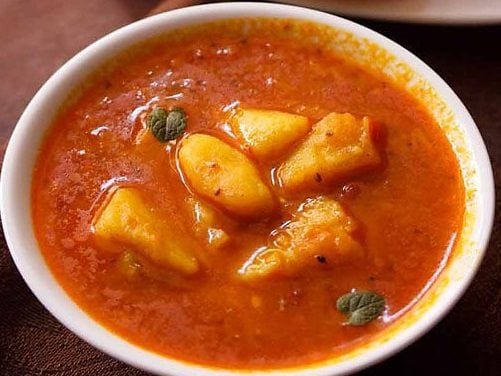 2. Aloo paratha recipe – parathas are kind of stable breakfast in north India specially in Punjabi homes. Just as we have many Dosa varieties in South India, we have varieties of stuffed parathas in north India. Aloo paratha is most popular Paratha varieties made in home or served in road side dhabas.
You can serve aloo paratha with dal makhani, mango pickle, curd or butter. A cup of tea or sweet lassi also goes well with it. A few more popular paratha varieties are: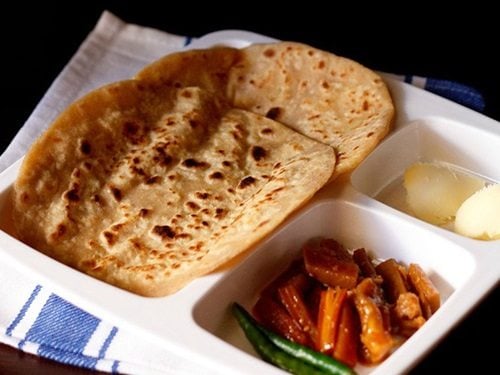 3. Bread pakora – popular snack of bread pakoda stuffed with spiced mashed potatoes. bread pakora is a favorite breakfast and tea time snack in north India and is often made during weekends. Its also a popular street food.
You can serve bread pakora hot or warm with tomato ketchup Or with any Chutney of your choice like saunth chutneyor mint chutney or coriander chutney.
There are many similar recipes you can make for breakfast or snack like: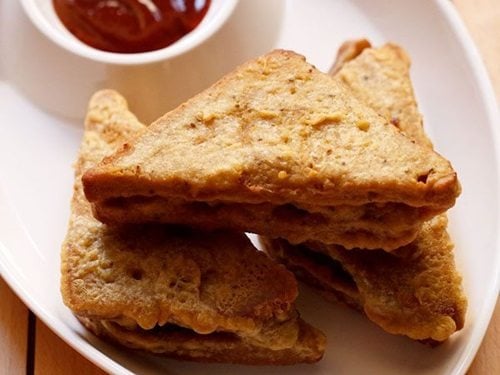 4. Besan cheela recipe – This is a delicious and healthy savory Indian pancake made with nutty gram flour (besan), sweet onions, tangy tomatoes, fragrant spices and herbs. Fill the batter with your favorite grated vegetables to make your meal more nutritious, and serve as a quick breakfast, brunch, or even as a late-night snack. 
You can serve the besan cheelas Plain or accompany with coriander chutney, sweet tamarind chutney or tomato ketchup.
A few more similar quick recipes you can make for breakfast are: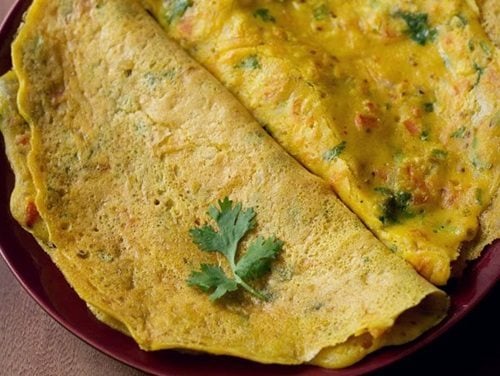 5. Aloo kulcha – crisp and soft leavened flat breads stuffed with a spiced potato stuffing. Kulcha are very popular in Punjabi homes specially in Punjab and Delhi and also a popular street food. 
There are few more popular variations like Paneer kulcha or Plain kulcha which is served with Matar gravy made dried white peas (safed matar).
You can serve aloo kulcha with fresh homemade curd (yogurt) or with mango pickle. They are so good, you might just have them plain. Kulcha also goes well with: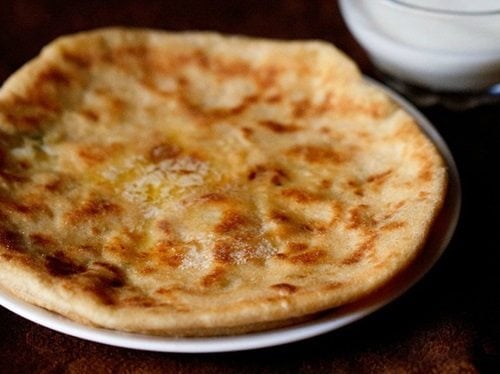 6. Chole bhature – probably this is one of the most popular street food recipes which is also had as breakfast. Chole stands for a spicy curry made with white chickpeas and Bhatura is fried leavened flat bread. You can serve bhatura with any spicy or curry chickpea recipe.
In this recipe post, I have included the step by step method of making the chickpea curry as well as a quick no yeast bhatura.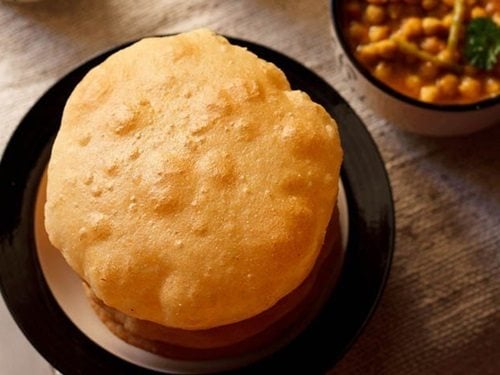 7. Paneer bhurji recipe – a popular North Indian breakfast recipe made from crumbled paneer. Bhurji means scrambled. so in this dish, the paneer aka cottage cheese is scrambled.
There are other types of bhurji recipes that we make in north India like egg bhurji, Matar paneer bhurji, Palak paneer bhurji, Tofu bhurji, Mooli ki bhurji and Paneer bhurji gravy recipe.
Most bhurji recipes are quick to make and ideal for breakfast. A few more quick paneer recipes you can make are:
8. Gobi paratha – This delicious Gobi Paratha is a recipe that you will make again and again. Also known as Cauliflower paratha, these unleavened whole wheat flatbreads are stuffed with a savory, spiced grated cauliflower filling. Its also served in dhabas. Apart from this, there are many stuffed parathas that are made for breakfast like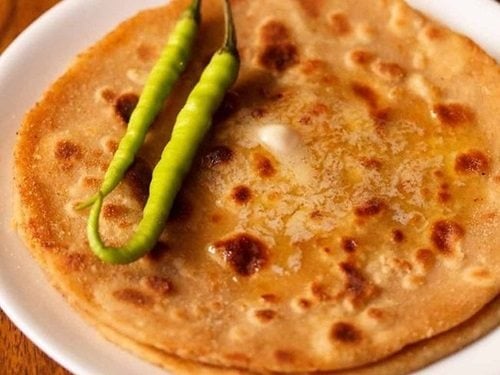 9. Dal kachori recipe – these flaky kachoris are made with spiced moong lentils stuffing. kachoris can be made and stored for a couple of days in the fridge. Kachori goes well with tamarind dates chutney, green chutney or red chili garlic chutney. You can also have these kachoris with Dubki wale aloo or Aloo rasedar. some curd also goes well with kachoris. Few more delicious kachori recipes posted on blog are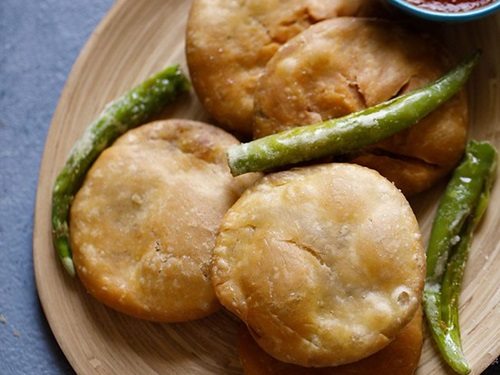 10. Roti-sabzi combo – rotis made with whole wheat flour or atta are a staple in north India. Usually dry sabzis are made for breakfast to accompany roti or Plain parathas or Lachedar paratha or Jeera paratha. at times plain parathas is just served with an pickle like mango pickle or lemon pickle or green chilli pickle.
These dry sabzis are quick to make and can also be packed in tiffin boxes. A few of the popular sabzis made for breakfast are: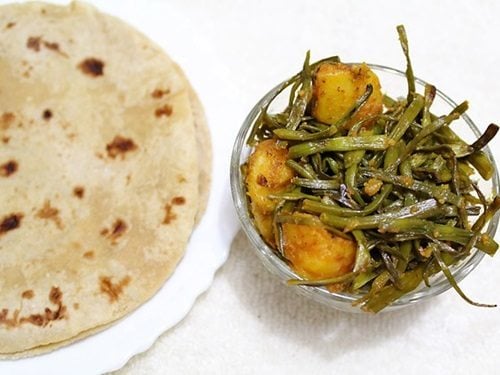 This North Indian Breakfast Recipes post from the archives first published in April 2017 has been republished and updated on 12 July 2022.