I tried this radish pods recipe, the first time while on a short trip to my in-law's home in New Delhi. After that, I remember purchasing fresh, green bunches from one of the farmer's markets in the capital city, taking it home, cleaning it and then making this Mogri ki Sabji the way my mother-in-law did. There's also some aloo (potatoes) added to the preparation, which makes it a really tasty and comforting dish.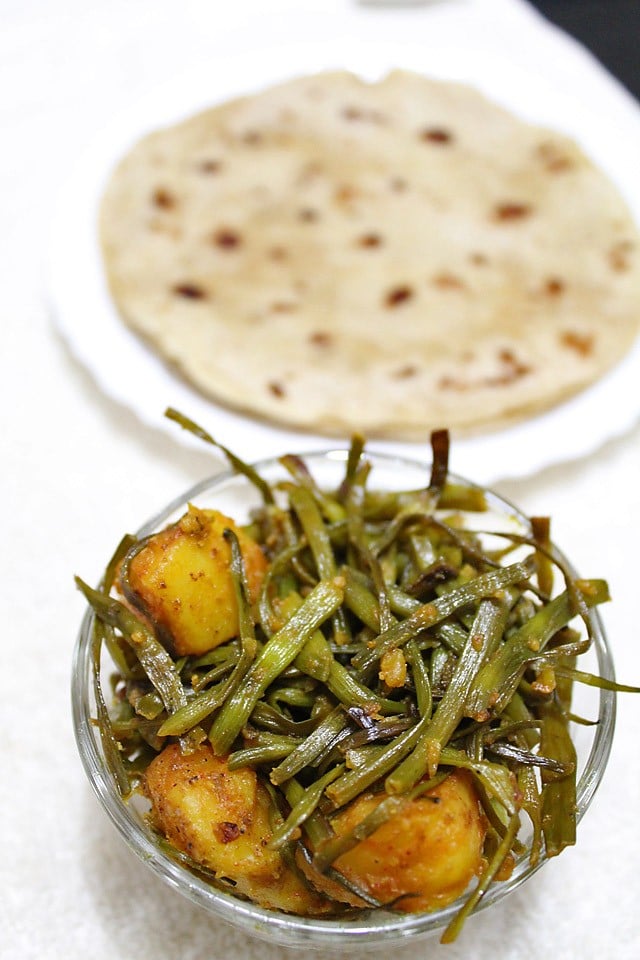 My love for Radish Pods
Since the time I had tried this recipe, I'd developed a love for radish pods as I liked the radish pungency that it imparts to any dish it becomes a part of. The aroma is also unique. Though, it might take you some time to grow on this veggie because of that reason.
I wanted even my mother and father to try this delicacy. So, without a second thought, bought it back at my home too. When I prepared this Aloo Mogri Ki Sabji for them, they liked the flavors and texture in spite of not having tasted it ever before.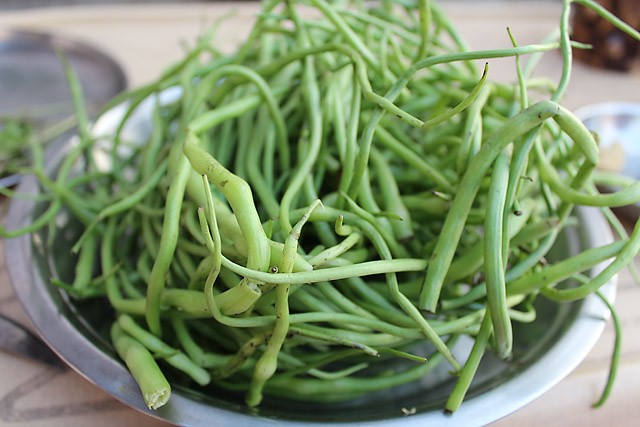 Of course, it was at my in-law's place when I had this dish for the first time. This radish pods recipe is by my dearest mother-in-law which was passed to me. Also, this is the only way I know to cook this lovely fresh produce, besides making chutneys from it.
More On This Mogri ki Sabji
Fresh radish pods are called 'moongre', 'mogri' , 'singri' in Punjabi and Hindi languages, and it is quite popular all over North India. These look like French Beans, but definitely no way near to them.
These are like radish, quite sharp and pungent. This radish pods recipe is a dry preparation which also has potatoes in it. Hence, called Aloo Mogri ki Sabji too.
Aloo or Potatoes are quite common and almost staple for most of us Indians. You can find the use of potatoes in a plethora of Punjabi preparations.
Some of my favorites are Aloo Methi, Aloo Capsicum, Aloo Baingan and Aloo Gobi. All these recipes have minimal ingredients, can be made both in dry and curry versions, and are packed with flavors.
This particular moongre recipe is a tangy one as dried mango powder or amchur is added in it. Besides this, the radish pods and potatoes, all you need to make this recipe is turmeric powder, red chili powder, garam masala powder and salt.
As it's a Punjabi special, the dish is essentially cooked in mustard oil. Another flavorful aspect of this dish!
You can prepare this mogri recipe and serve it with roti, paratha or as a side dish with dal-rice combo. A bowl of curd will also go very well with this sabji.
How to make Mogri ki Sabji
1. Chop 250 grams radish pods in 2 inch pieces and rinse them in running water 3 to 4 times. Drain all the water and set aside.
I usually get green pods, but this recipe can be adapted to make with purple radish pods as well.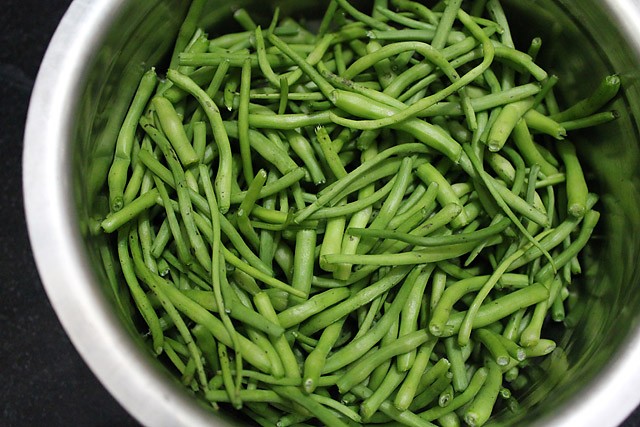 2. Heat 2 to 3 tablespoons mustard oil in a pan and add 1 large diced potato.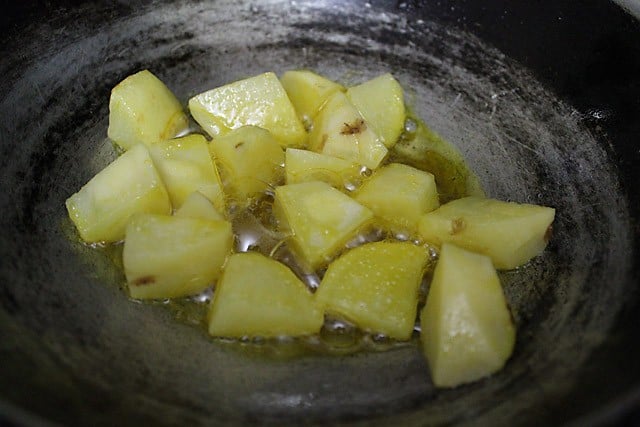 3. Sauté the potatoes till they change color and get at least ¼ᵗʰ cooked. Now, add the chopped radish pods and sauté for a couple of minutes more.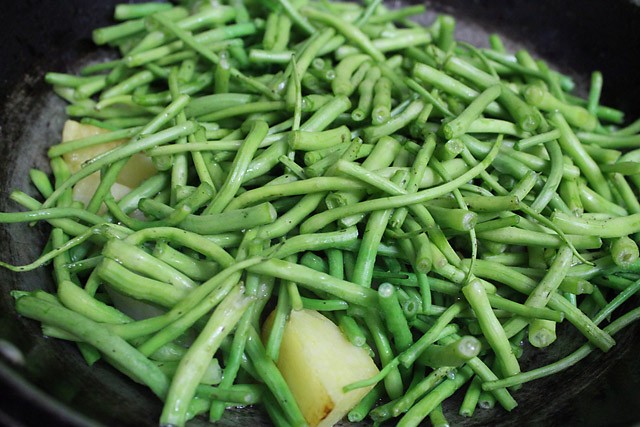 4. Add 1 teaspoon turmeric powder, ½ teaspoon red chili powder and salt as required to the vegetables.
5. Mix the spice powders with the vegetables.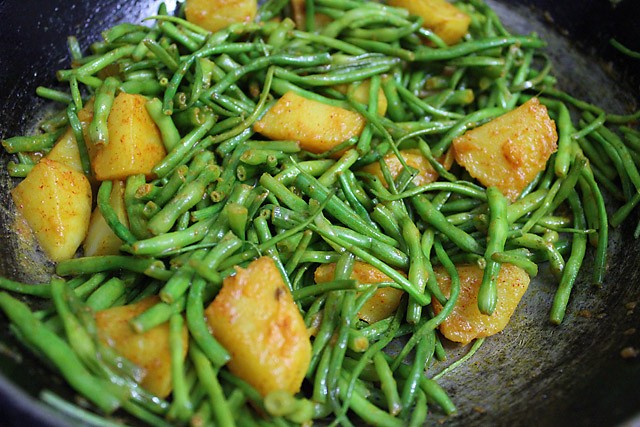 6. Cover and cook the vegetables for 10 to 15 minutes. Keep on checking the vegetables in between so that they do not stuck to the pan.
Finally, add ¼ teaspoon teaspoon garam masala powder and 1 teaspoon dried mango powder.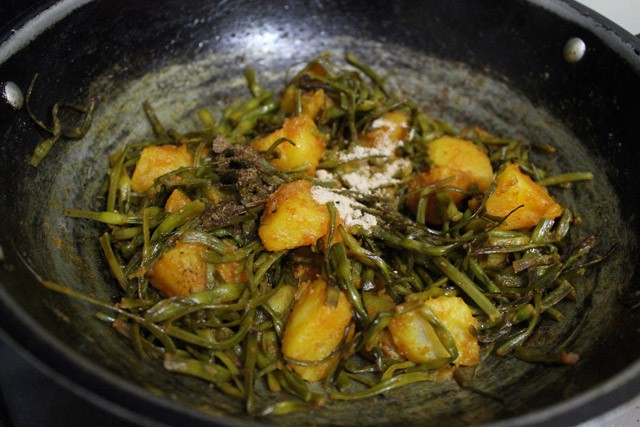 7. Mix these with the rest of the vegetables. Serve this Radish Pods recipe roti or paratha and a bowl of curd or yogurt.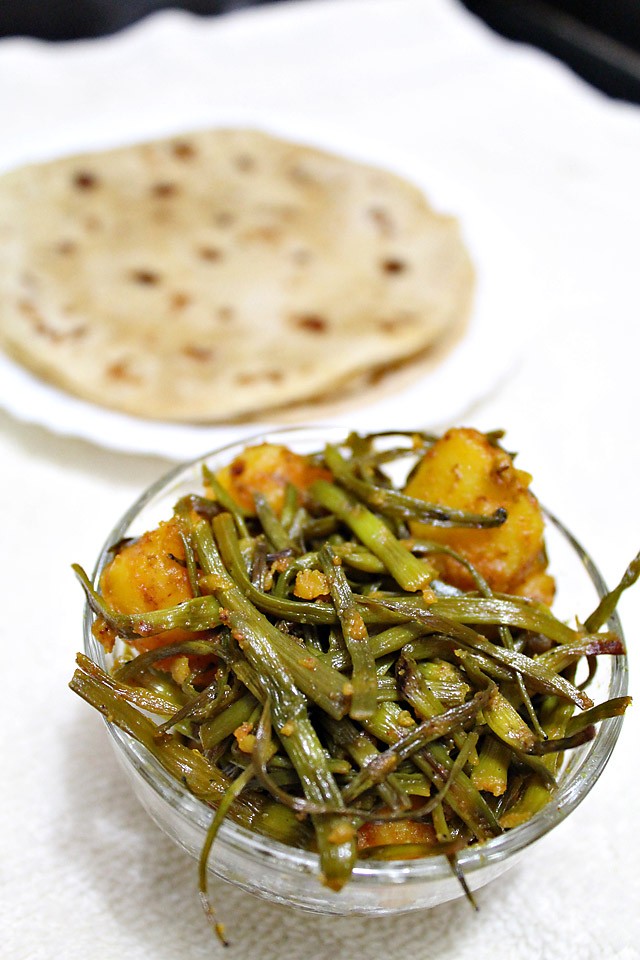 Health Benefits of Radish Pods
In addition to the usual bounty of fresh produce that the winter season in India brings along, these radish pods also make rounds in almost every North Indian vegetable market.
However, not so common in South Indian vegetable markets, and I'm not even sure whether it comes to the west or goes to the east, as well.
Just in case you come across some fresh mogri of the season, I suggest that you pick it up and not avoid it as it is brimming with health benefits too.
Radish pods are great sources of vitamins, antioxidants, fiber, proteins, riboflavin and many minerals like calcium, magnesium, potassium, copper, folic acid or folate and ascorbic acid. So, radish pods recipe should be in your diet as:
Your digestive processes will be on point with the consumption of radish pods.
Beneficial for liver, bone and skin health.
It is known to lessen the risk of high blood pressure, many heart diseases and cancers.
Radish pods are considered as a traditional remedy for detoxification of the body and curbing kidney stones.
More Potato Recipes To Try!
Please be sure to rate the recipe in the recipe card or leave a comment below if you have made it. For more vegetarian inspirations, Sign Up for my emails or follow me on Instagram, Youtube, Facebook, Pinterest or Twitter.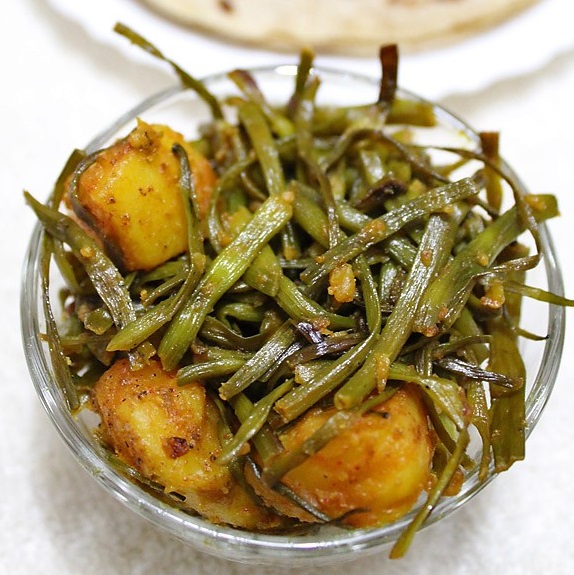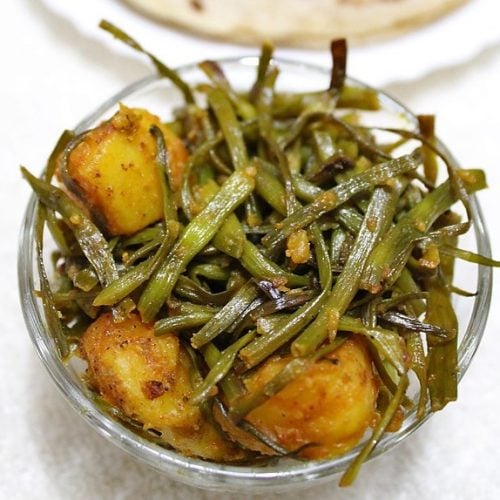 Mogri Ki Sabji | Radish Pods Recipe
Mogri ki Sabji also known as Moongre ki Sabzi is a healthy sautéed and spiced dry dish made with fresh green radish pods, potatoes and spices.
250

grams

radish pods

(mogri or moongre) – can use either green or purple pods

1

potato

– large or 2 medium size potatoes, diced

1

teaspoon

turmeric powder

(ground turmeric)

½

teaspoon

red chili powder

or cayenne pepper

¼

teaspoon

Garam Masala

1

teaspoon

dry mango powder

(amchur powder)

2 to 3

tablespoons

mustard oil

or sunflower oil

salt

as required
Instructions
Chop the pods in 2 inch pieces.

Rinse them in running water 3 to 4 times.

Heat mustard oil in a pan. Add the potatoes.

Sauté the potatoes for 3 to 4 minutes on a medium heat or until they cook about ¼ᵗʰ.

Add the chopped radish pods.

Stir the veggies and sauté again for 3 to 4 minutes.

Add the turmeric powder, red chili powder and salt.

Mix the spice powders evenly with both the veggies.

Cover and cook the veggies for 10 to 15 minutes on a low to medium-low heat. Remember to check the veggies and stir them in between.

Once both the veggies are cooked and tender, add the garam masala powder and dry mango powder. Stir these two spice powders with the veggies.

Serve the Aloo Mogri ki Sabji with roti, phulka and a bowl of yogurt.
Notes
This radish pods recipe can be scaled to make for more servings.
Use a thick bottomed heavy well seasoned pan so that the vegetables do not stick while cooking.
Adjust the spices and seasonings according to your taste preferences.
Nutrition Info (Approximate Values)
Nutrition Facts
Mogri Ki Sabji | Radish Pods Recipe
Amount Per Serving
Calories 107
Calories from Fat 90
% Daily Value*
Fat 10g15%
Sodium 411mg18%
Potassium 213mg6%
Carbohydrates 5g2%
Protein 1g2%
Vitamin A 99IU2%
Vitamin B1 (Thiamine) 1mg67%
Vitamin B2 (Riboflavin) 1mg59%
Vitamin B3 (Niacin) 1mg5%
Vitamin B6 1mg50%
Vitamin C 19mg23%
Vitamin E 1mg7%
Vitamin K 1µg1%
Calcium 25mg3%
Vitamin B9 (Folate) 24µg6%
Iron 1mg6%
Magnesium 15mg4%
Phosphorus 22mg2%
Zinc 1mg7%
* Percent Daily Values are based on a 2000 calorie diet.
This Mogri Ki Sabji recipe post from the archives first published in November 2011 has been republished and updated on 24 June 2022.