Bharwa karela is a popular stuffed bitter gourd recipe from the North Indian Cuisine. This classic Indian recipe of bitter gourd stuffed with spice powders and sauteed with caramelized onions is made in Punjabi Households. A Vegan Dish.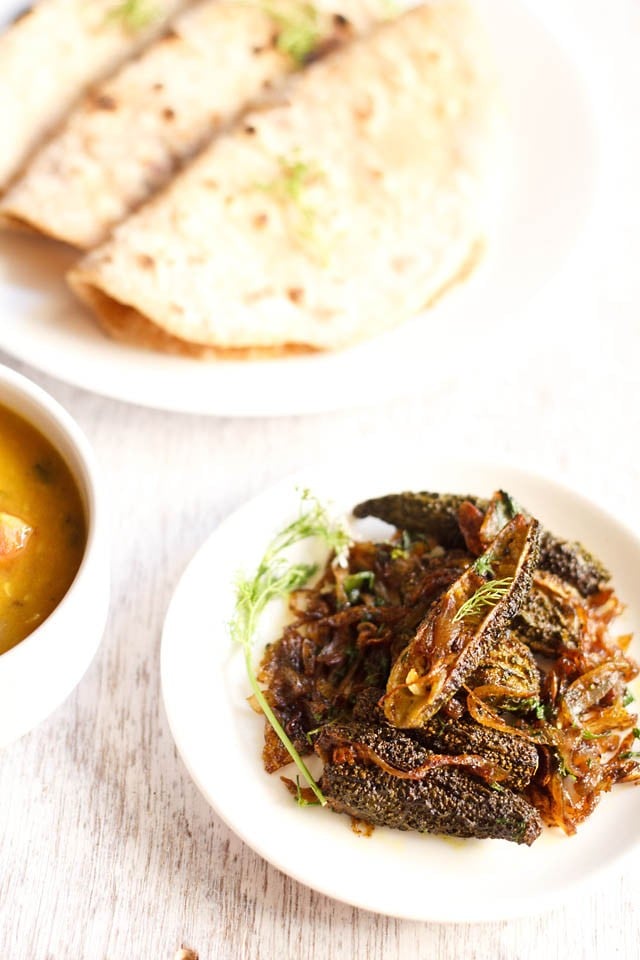 Karela or bitter gourd is one veggie which is not liked by many. Personally, I know so many people who just hate this veggie. The reason is obvious… It has a strong bitter taste that many people don't like.
Bitter gourd was often made in our house and even while growing up I would just love the bitter taste. We would make Bitter gourd fry, stuff them or make chips. I have even had the bitter gourd juice many times. I can have cooked bitter gourd, but the juice would be too much for me 🙂
This recipe of bharwan karela is again from my mil's fab Punjabi recipes collection. Very easy to prepare and just some onions and our regular Indian masalas/spice powders are required.
Mil does not add fennel powder. But I strongly recommend adding fennel powder as its sweet flavors just enhance this dish. It is also good for digestion.
The onions are browned and as a result, impart their sweetness in this dish. This takes away from the slight bitterness that is there in the dish if any.
If you don't have time to stuff the karela then try another variation of this recipe – karela sabzi (Punjabi style). Both these recipes taste good with roti or plain paratha.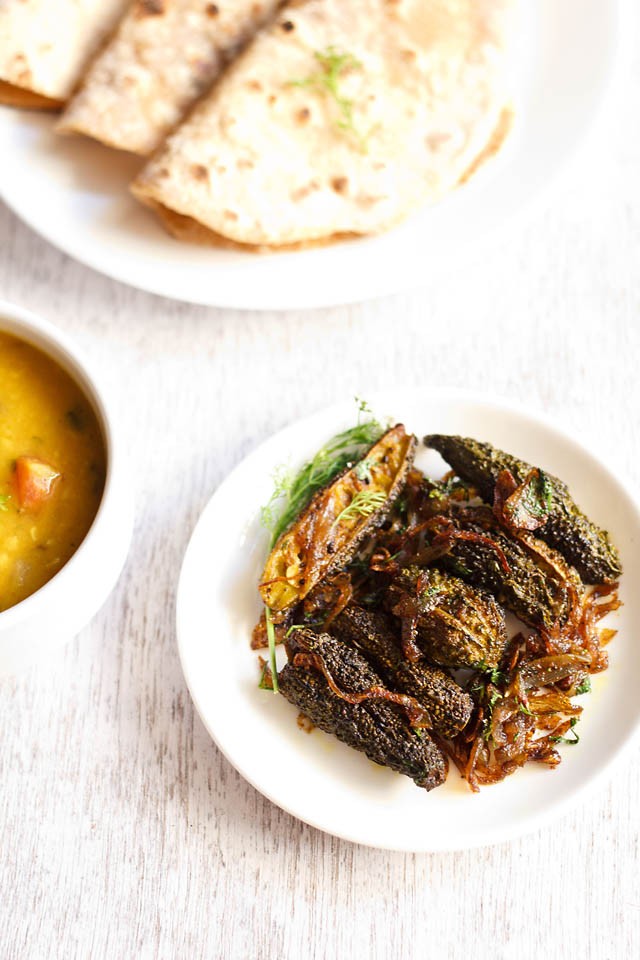 I have created a collage for the step by step bharwa karela recipe where two steps are shown. When I had made the dish a few months back, I had clicked vertical pics. By the time the dish was over, it already became night and the final pics were not good. Recently I made these again and clicked the final pics in a good amount of day light.
You can keep the peel on if you want. In the step by step, I have removed the peels. However, in the final pics, I did not remove the peels.
Stepwise stuffed bitter gourd or bharwa karela
1: Rinse the bitter gourds. Wipe them dry. You can peel them if you want. I generally do not rub salt in the bitter gourds.
If making for kids, then apply or rub salt over the karela and keep aside for some minutes. Later throw away the juices and rinse the gourds well.
Wipe them dry. Make a cut on each karela vertically keeping the base intact. Remove the pith and seeds with your hands.
Small sized bitter gourd are the best to make bharwan karela. Take all the dry spice powders in a plate or bowl and mix them well with salt.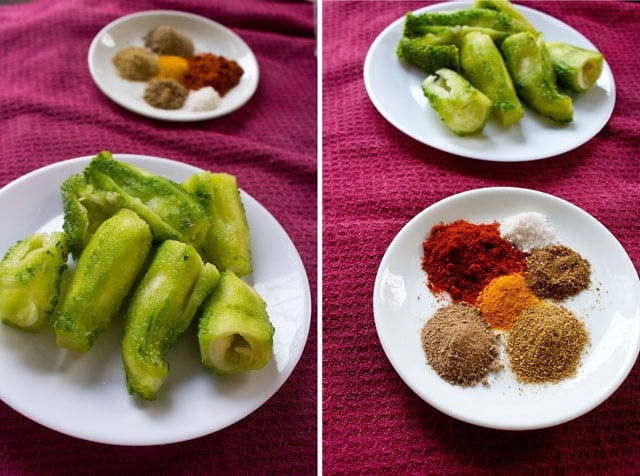 2: Stuff the karela with the dry spice powder mix with a spoon or with your hands. Stuff well and tighten the stuffed karela with a clean thread. Wrung the thread all around and tie a knot so that the thread does become loose while frying the karela.
Heat oil in a kadai or a frying pan or a skillet. When the oil becomes medium hot then add the stuffed bittergourd.
Stir and then reduce the heat to low. Pan fry them on a low heat till they get browned and cooked well and become tender.
Keep them aside. I always fry on a low flame so that if in any case, the masala falls into the oil, they don't burn.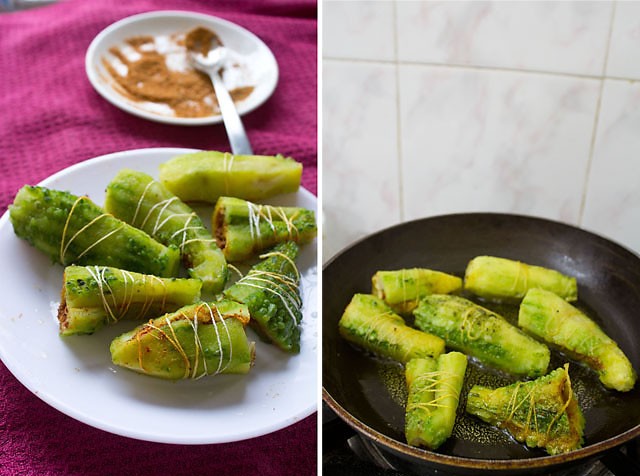 3: In the same pan, add extra oil if required or if there is too much oil, then remove it. You can even take a fresh batch of oil.
Add the sliced onions and begin to saute them on a low heat. When the onions start to get browned, add the pan-fried bitter gourd and saute for a few minutes till the onions are caramelized and crisp.
If there is extra spice powder remaining, then add it in the pan and stir. The leftover spice powder is added towards the end, so that they don't burn.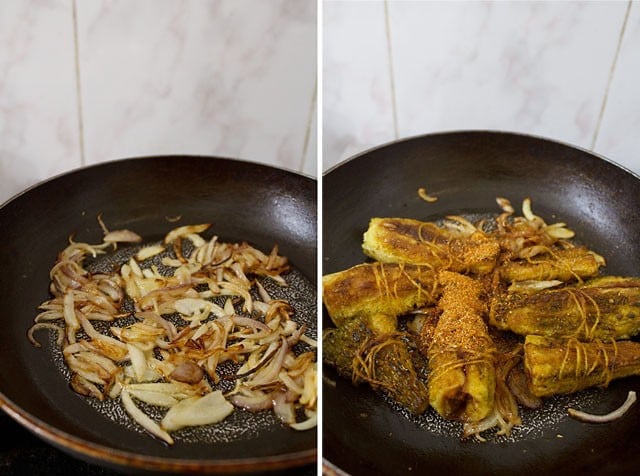 4: Before serving remember to remove the threads. Serve the bharwa karela with soft phulkas or plain paratha. They also make a good side dish with dal and rice.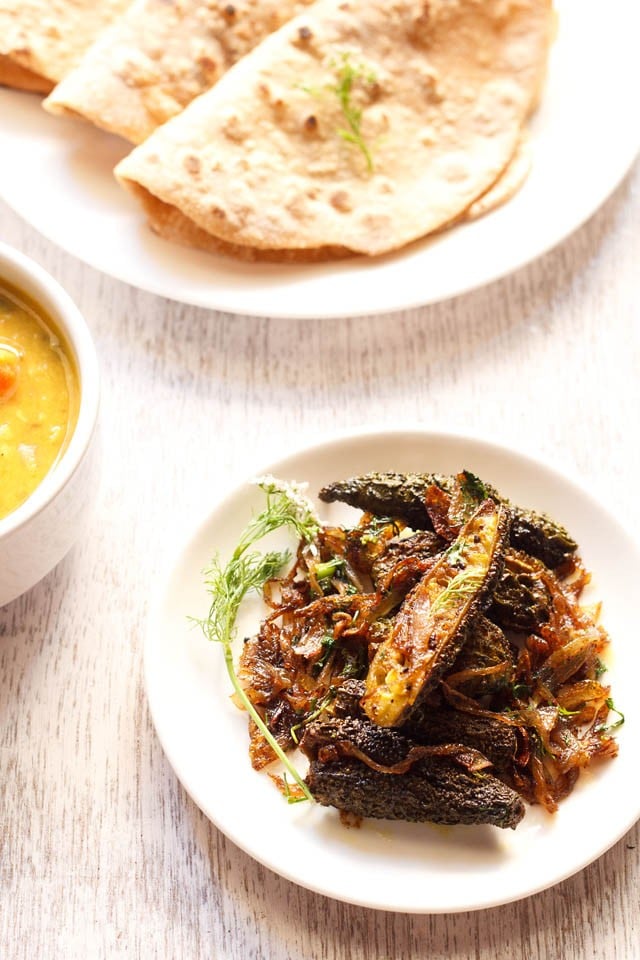 Helpful Tips
Bitter gourd – In recipes like these it is best to use fresh and tender bitter gourd. Do not use bitter gourd that are mature.
Onions – You can make this recipe with red onions or white onions or yellow onions. I have never made it with shallots but I think it will taste good.
Spicing – You can increase or decrease the amount of spices according to your liking.
Dry Mango Powder – The souring agent in this recipe is dry mango powder which is also called as amchur powder. If you don't have it then in its place you can add lemon juice or a bit of tamarind pulp.
If you are looking for more veggie recipes then do check:
If you made this recipe, please be sure to rate it in the recipe card below. Sign Up for my email newsletter or you can follow me on Instagram, Facebook, Youtube, Pinterest or Twitter for more vegetarian inspirations.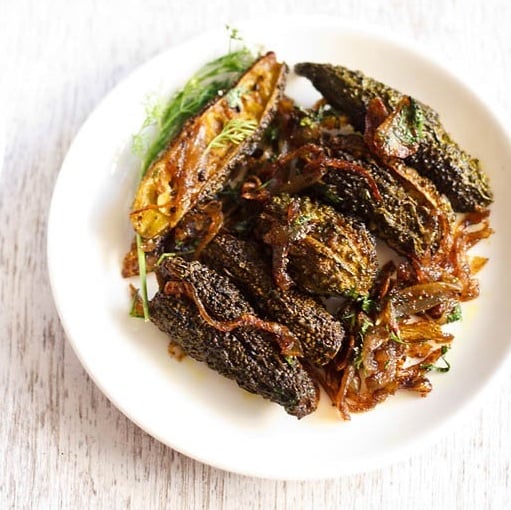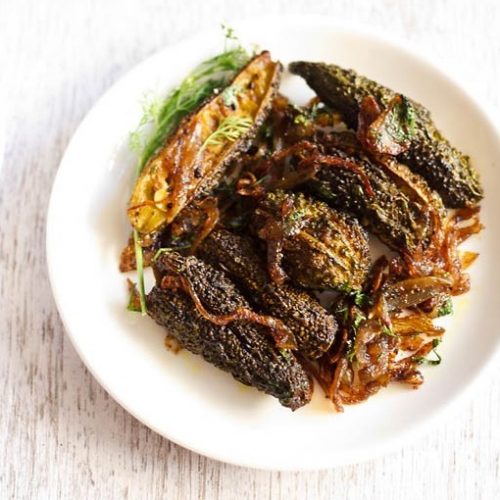 Bharwa Karela
Punjabi bharwan karela is bitter gourd stuffed with spice powders and sauteed with caramelized onions.
---
---
Ingredients
10 to 12

small karela

(bitter gourd)

¾

teaspoon

turmeric powder

(ground turmeric)

¾

teaspoon

red chili powder

¼

teaspoon

Punjabi Garam Masala Powder

or garam masala powder

1

teaspoon

amchur powder

(dry mango powder)

1

teaspoon

fennel powder

2

medium sized onions

– finely sliced

3

tablespoon

oil

few chopped coriander leaves for garnish

(optional)

salt as required
Instructions
preparation
Rinse and peel the karela (bitter gourd).

Make a vertical cut on each karela keeping the base intact.

Remove the seeds and pith with your hands or scrape with a small spoon.

Mix all the dry spice powders with salt.

Stuff the spice powder mix in the karela.

Tie a thread tightly around each karela.
making bharwa karela
Heat the oil and fry the karela in the oil till they are browned and cooked.

In the same oil, add the sliced onions and fry them till they begin to brown.

Add the karela and saute till they the onions become crisp and golden.

Add the rest of the spice mix, if there is a left over.

In case if you have added less salt in the spice mix, you can add them now.

While serving remove the thread and serve bharwa karela garnished with chopped coriander leaves.

Bharwan karela is best had with some rotis, phulkas or as a side vegetable dish with dal-rice.
Notes
The recipe can be doubled or tripled.
The amount of spices can be altered as per your taste.
Use fresh and tender bitter gourd. Avoid the bitter gourd that has become mature.
Like our videos? Then do follow and subscribe to us on youtube to get the latest Recipe Video updates.
Tried this recipe?
If you have made the recipe and liked it then do share the recipe link on facebook, twitter & pinterest. For instagram mention @dassanasvegrecipes and tag #dassanasvegrecipes!
All our content & photos are copyright protected. Please do not copy. As a blogger, if you you want to adapt this recipe or make a youtube video, then please write the recipe in your own words and give a clickable link back to the recipe on this url.
Like this Recipe?
Pin it Now to Remember it Later