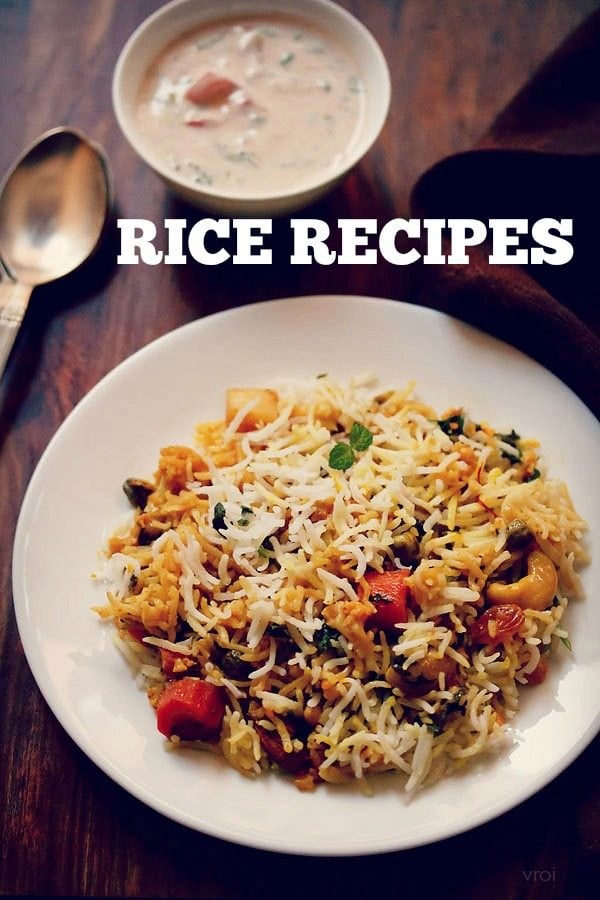 rice is one of the staple cereal in india and is had almost all over in india. there are hundreds of rice recipes made regionally. the most popular variety of rice dishes are biryani, pulao, tempered rice dishes like lemon rice, curd rice, ghee rice etc. in south india, we have flavorful rice recipes made with different ingredients like coconut, tamarind, peanuts, sesame seeds, spice mixtures, ghee, curd, tomatoes etc. the best part of making any dish with rice is that you can always use your choice of veggies, herbs and spices.
there are different varieties of rice available in india. though basmati rice is used very often in the north, the south india region has their own varieties of rice. apart from using rice to make rice based dishes, two popular south indian breakfast are also made with rice and lentils – idli and dosa. though in this post, i have shared only the varieties of rice recipes and not any breakfast items like idli, masala dosa or desserts like rice kheer or phirni.
till now, i have managed to share over 100 rice recipes on the blog. out of them, i am sharing the top rice recipes from the blog which are a favorite.
you can also check these popular recipes collections:
top 10 rice recipes:
1. hyderabadi veg biryani recipe – one of the most popular veg biryani recipe. an authentic vegetable biryani, slow cooked on dum. this cooking on dum gives the biriyani its uniqueness and deliciousness. this is how the biryani has the beautiful medley of the aromas, flavors and tastes caused by the blending of the ingredients used in making it.
if you are fond of biryanis then you can also check these biryani recipes – kolkata biryani, chole biryani, chettinad biryani, mushroom biryani and restaurant style veg biryani recipe.
if short of time then you can consider making these quick biryanis like: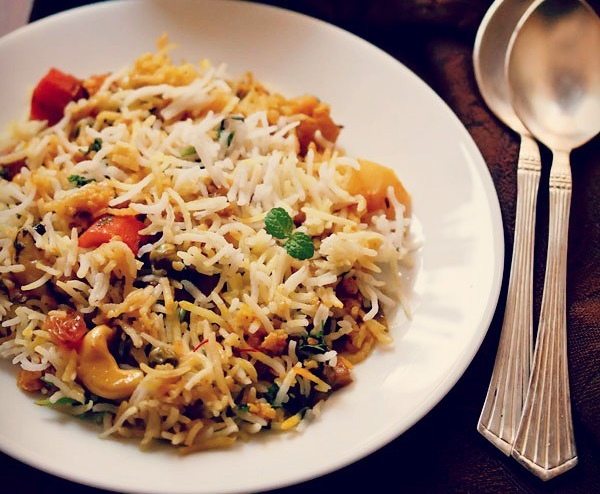 2. veg pulao recipe
vegetable pulao is a comfort one pot meal when we don't have time to do elaborate cooking. pair this mildly flavored aromatic veg pulao with a raita, pickle and roasted papad and you don't need anything else. pulao lovers can also check these popular variations like spicy veg pulao, veg pulao recipe in pressure cooker, kashmiri pulao, chana pulao and matar pulao recipe.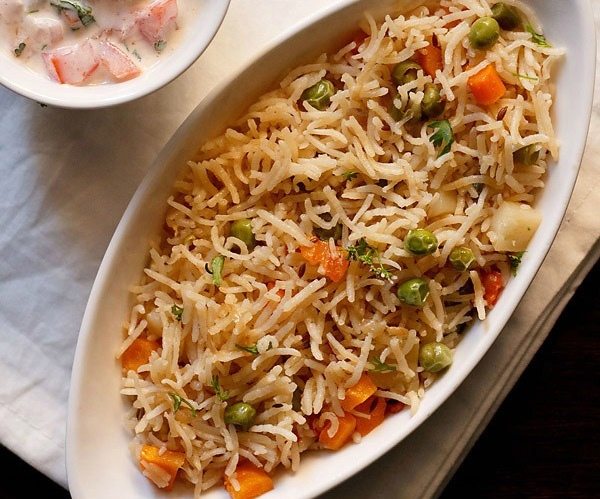 3. veg fried rice recipe
this is one of our favorite indo chinese recipe. whenever we order an indo chinese menu then veg fried rice is always there. i have kept this vegetable fried rice plain and simple, so that the flavors of the vegetables are enhanced.
few more popular rice varieties from indo chinese cuisine are schezwan fried rice, paneer fried rice, 5 spice rice and burnt garlic fried rice recipe. the key to a good stir fried dish be it rice or noodles, is the smoky flavor that you get in the dish. now this is achieved by stir frying at a very high heat.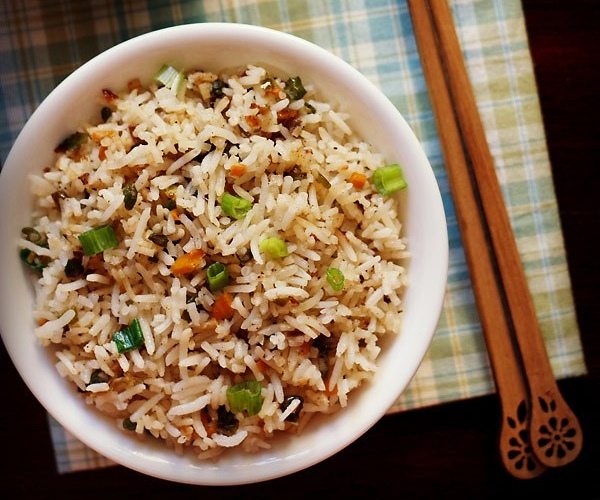 4. moong dal khichdi recipe
one pot comfort meal of rice and moong lentils. nutritious and light on the tummy. in india, when someone is ill or recovering from illness, then dalia and moong dal khichdi are often served to him/her. even doctors recommend khichdi to patients. other delicious variations of khichdi you can try are rava kichadi, sabudana khichdi, bhaja muger khichuri and veg masala khichdi recipe.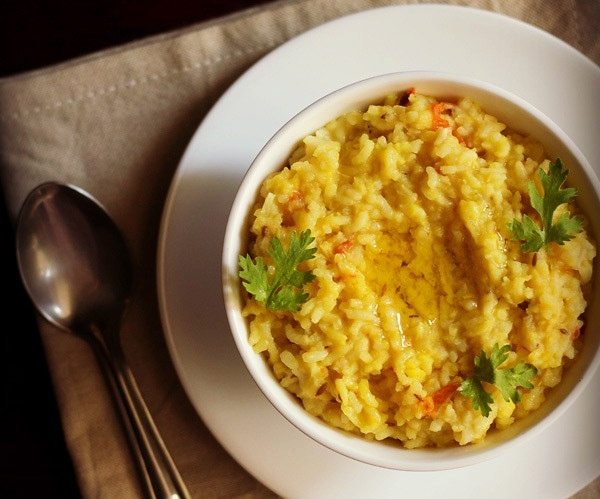 5. bisi bele bath recipe
a delicious complete meal of rice, lentils and vegetables. it is one of the most popular traditional rice and lentils based dish from the karnataka cuisine. two more popular rice recipes from karnataka cuisine are vangi bhath recipe (brinjal rice) and mangalorean style veg biryani recipe.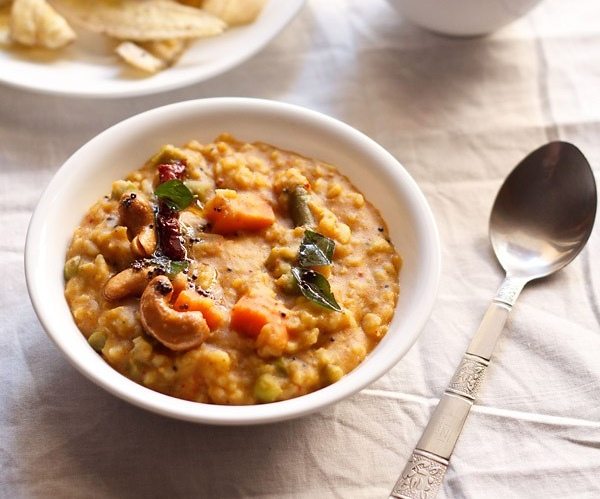 6. jeera rice recipe
a mildly spiced and flavorful indian rice dish flavored with cumin. this is one of the most popular rice dish in restaurants. many people prefer to have jeera rice instead of plain basmati rice to go along with dals or curry dishes. other flavorful rice dishes on the blog are saffron rice, garam masala rice, biryani rice, ghee rice, masala rice and kuska biryani recipe.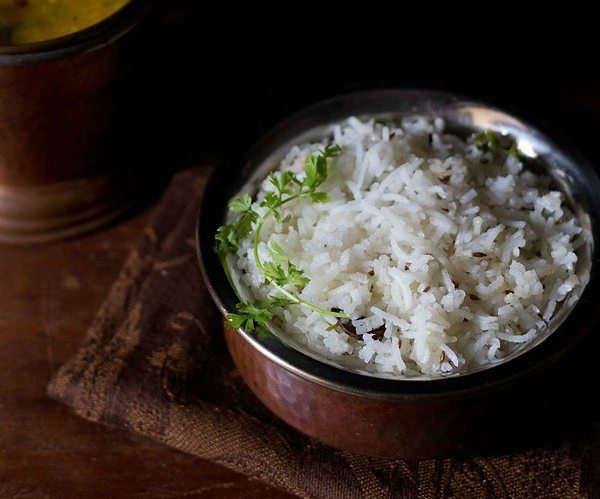 7. vegetable tahiri recipe
aromatic, spiced one pot rice dish made with veggies and spices. a specialty from the uttar pradesh cuisine. other popular rice recipes from uttar pradesh region are awadhi biryani, mughlai biryani, paneer biryani, mushroom dum biryani and qabooli biryani (chana dal biryani)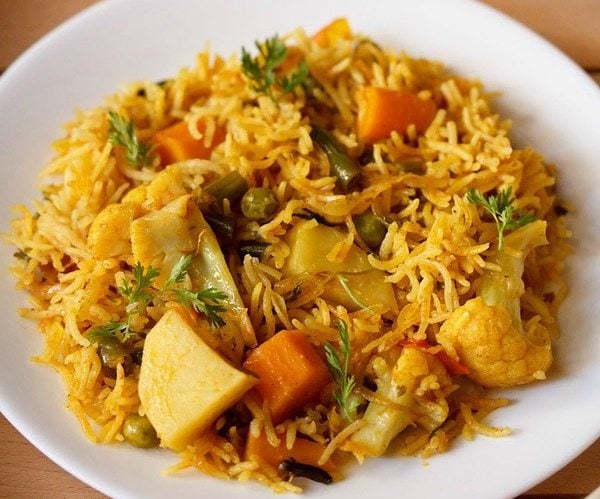 8. tomato rice recipe
spicy south indian tomato rice. i have a few more tomato rice recipes on the blog. but this one is my favorite. the taste of this tomato rice is inspired by the tomato rice we would often have at the cafe at isha yoga center, coimbatore, india. few more similar rice varieties you can try are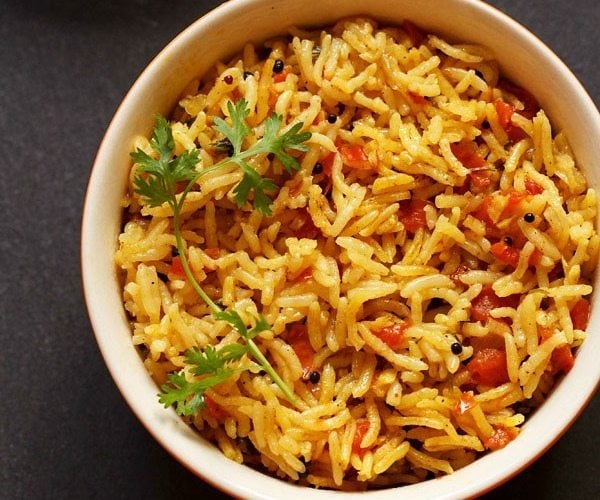 9. ven pongal recipe
popular south indian breakfast made with rice and yellow moong lentils. this porridge like savory dish is laced with cumin, asafoetida and black pepper. not to forget the lovely aroma of ghee, which is used for tempering these spices. few more pongal variations on blog are sweet pongal, rava pongal and sweet pongal with sugar.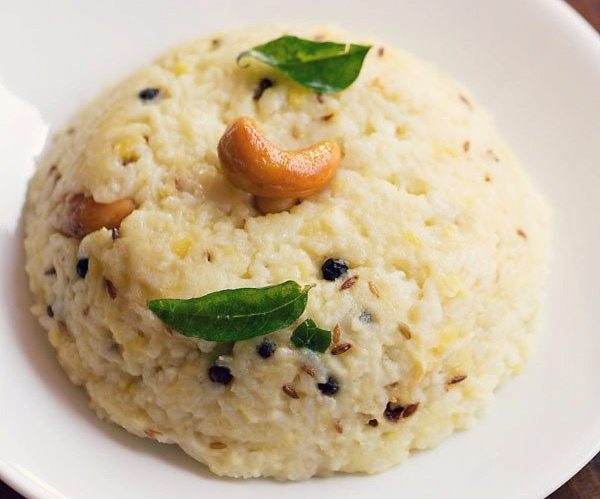 10. ghee rice recipe
aromatic one pot rice made with ghee and spices from the south indian cuisine. any light based gravies, dals or even a complexly flavored korma or gravy goes well with ghee rice.