Collection of 33 delicious recipes you can make with jaggery. Jaggery is a sweetener widely used in Indian cuisine. jaggery is made from concentrating sugar cane juice, where the sugar cane juice is cooked slowly in large iron pans till it thickens. Then its allowed to cool and solidify. Thus jaggery is also unrefined.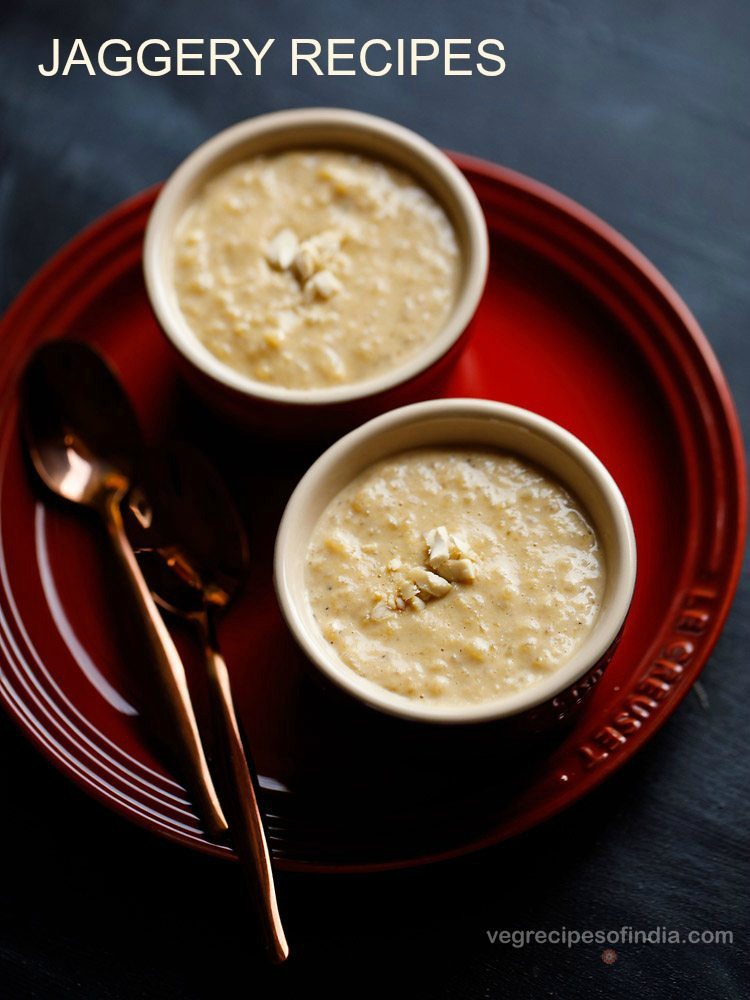 Jaggery is a always a better alternative than refined sugar. its always best to use better alternatives to white sugar like jaggery, coconut sugar, palm jaggery, maple syrup, jaggery syrup, palm sugar, unrefined cane sugar, golden sugar, evaporated sugar cane juice or molasses or honey as a sweetener in the recipes.
I do not use refined sugar (white sugar) at home. I use unrefined cane sugar. Even in baking goods, I powder unrefined cane sugar and then add. Occasionally I also use demerara sugar and brown sugar in baking. In some recipes where I can substitute jaggery easily, I add it in place of unrefined cane sugar. In drinks and Beverages, I add both unrefined cane sugar and evaporated sugar cane juice at times.
For healthy eating practices we should always try to opt for better alternatives if available or possible. E.g. Wherever possible I try to replace all purpose flour (maida) with whole wheat flour (atta). Some recipes like these are shared in this Collection of whole wheat recipes.
This collection of jaggery recipes has snacks and sweets made from regular jaggery as well as palm jaggery.
Collection of 33 delicious jaggery recipes:
1. Jaggery roti recipe – an easy to prepare tasty sweet roti variety made with jaggery and whole wheat flour. you can make these sweet (meethi) rotis for breakfast or even as an evening snack or after school snack for kids.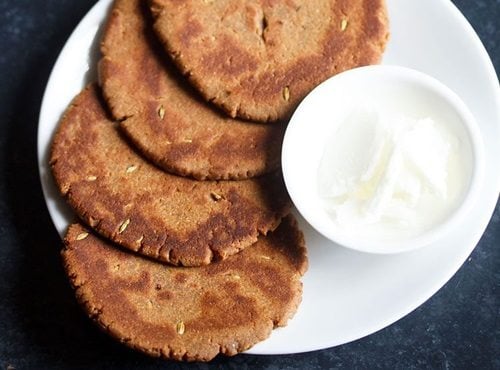 2. Til gud ke ladoo recipe – healthy and delicious ladoos made with sesame seeds, jaggery, peanuts and desiccated coconut. These sesame seeds ladoo make for a good warming sweet snack for the winters.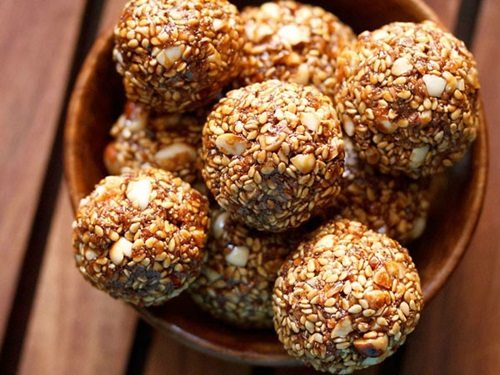 3. Unniyappam recipe – sweet fritters made with rice, banana, a few spices and coconut. Unniyappam is one of those special sweets snacks from Kerala and are also served in the Onam sadya. they are also offered as prasad in some temples in Kerala.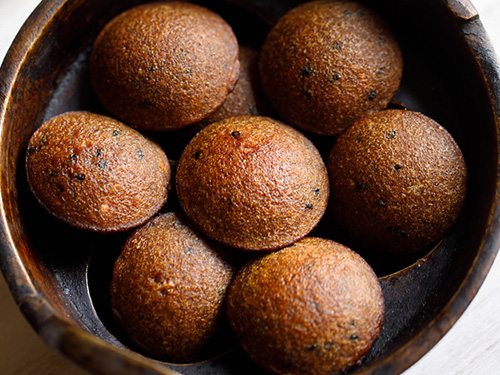 4. Peanut ladoo recipe – easy and tasty 2 ingredient recipe of ladoos made with jaggery and roasted peanuts. these peanut ladoos stay good for about a week at room temperature and for 15 to 20 days in the fridge. You can serve these ladoos plain or even serve it as a sweet snack in the tiffin box.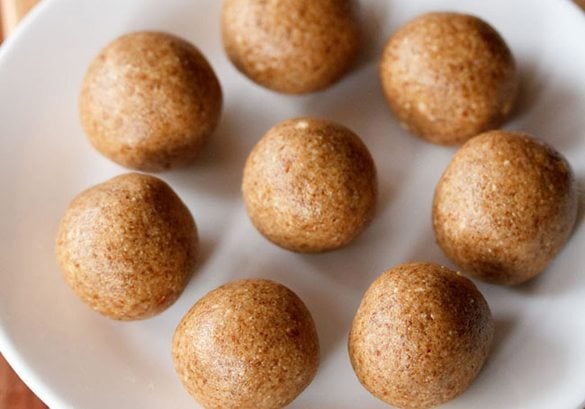 5.  Jaggery rice recipe – a delicious sweet rice dish made with jaggery. The recipe is easy to make and taste too good. this recipe is specially loved by kids or people who have a sweet tooth.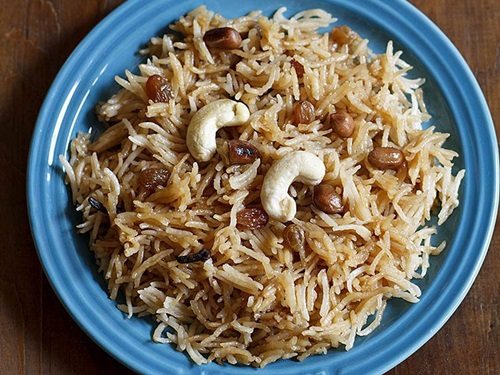 6. Narkel naru recipe – narkel naru are delicious coconut ladoos from the Bengali cuisine. these coconut ladoos are the easiest and simplest ladoos one can make. Plus they taste delicious too.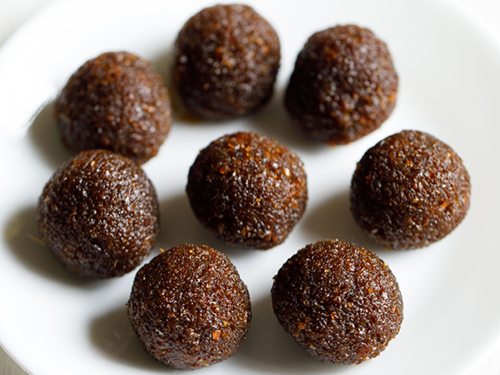 7. Ragi ladoo recipe – quick, easy and tasty ragi ladoo made with 3 ingredients – ragi, jaggery and ghee. Ragi is a very good source of calcium. Ragi is easily digestible and very nutritious. Few more healthy recipes you can make with ragi are: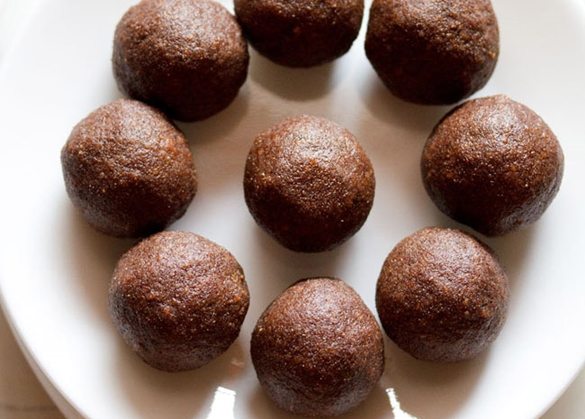 8. Whole wheat sweet appam recipe – quick sweet appams made with whole wheat flour, bananas and jaggery. these appams make for a nice evening snack. They stay for a week in the fridge.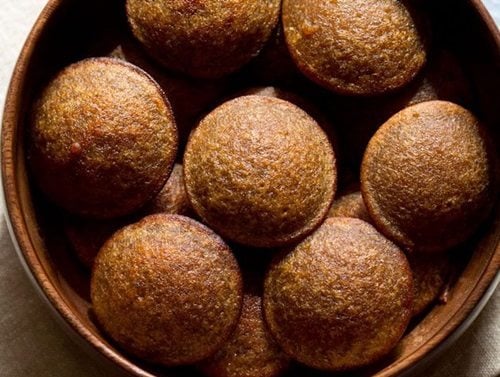 9. Nolen gurer payesh recipe – a delicious rice kheer made with date palm jaggery and rice. Nolen gurer payesh recipe is a winter delicacy as fresh date palm jaggery arrives in the markets in winters in west bengal.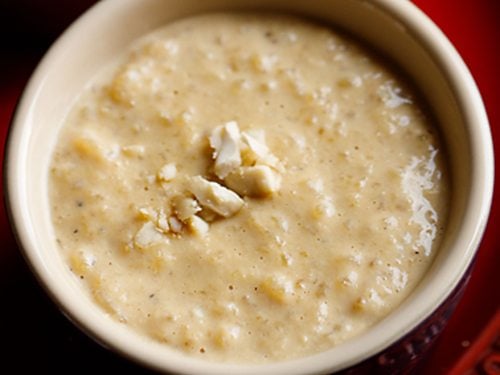 10. Badam ladoo – quick, easy and tasty ladoos made with almonds, jaggery and raisins. Badam ladoos make for a healthy sweet snack. Another very popular South Indian sweet made with badam is this Badam halwa recipe.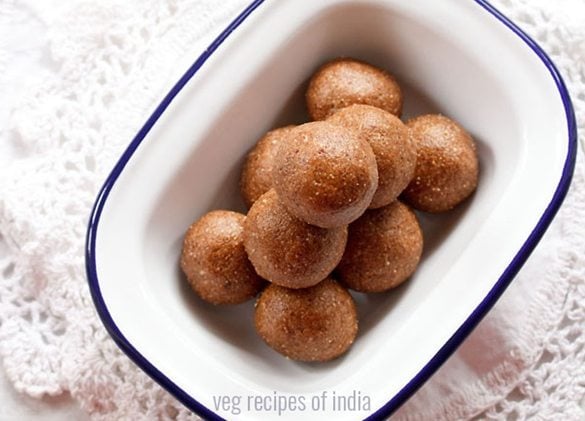 11. Banana pancake recipe – healthy and tasty pancakes made with over ripe bananas, whole wheat flour and jaggery. Its an easy as well as quick recipe for making eggless banana pancakes.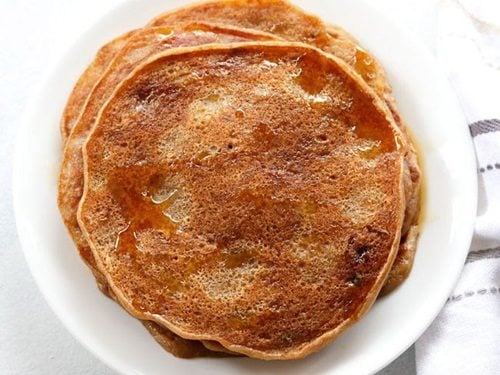 12. Yereappa recipe – yereappa are appams or sweet dumplings made with rice, jaggery and coconut. yereyappa is crunchy, juicy, sweet and flavorsome all at once. once you taste it, you cannot stop at one! you will keep coming back to it to finish off the whole lot. With addition of some banana, it will taste simply amazing.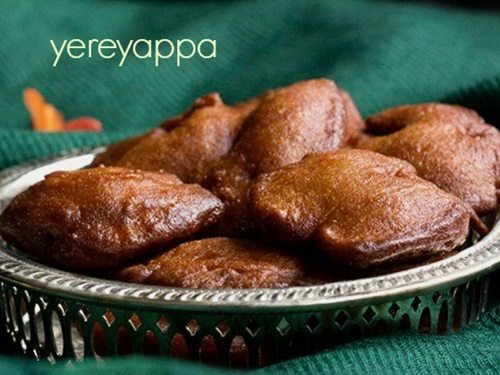 13. Pasi paruppu payasam – delicious creamy moong dal payasam made with yellow moong lentils, jaggery and coconut milk. For more moong dal recipes, you can check this Collection of 33 moong dal recipes.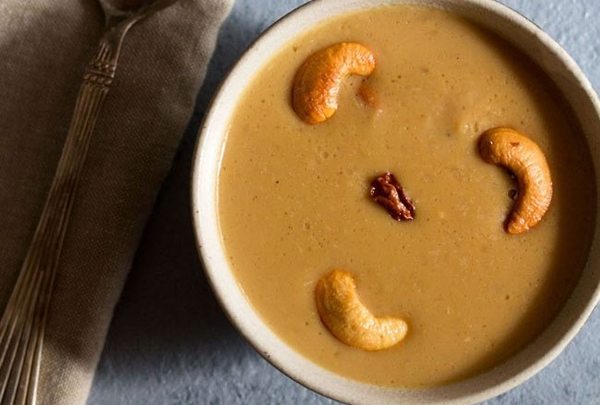 14. Til gud ke ladoo recipe – easy and healthy recipe of delicious ladoos made with sesame seeds, desiccated coconut, peanuts and jaggery. a very easy recipe and within half an hour the ladoos will be ready. these ladoos do help in keeping the body warm during cold seasons.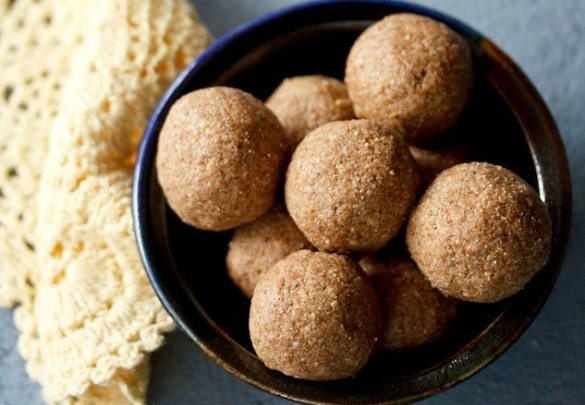 15. Kadalai paruppu payasam recipe – this chana dal payasam is a delicious payasam variety made with coconut milk, chana dal, jaggery and cardamom powder.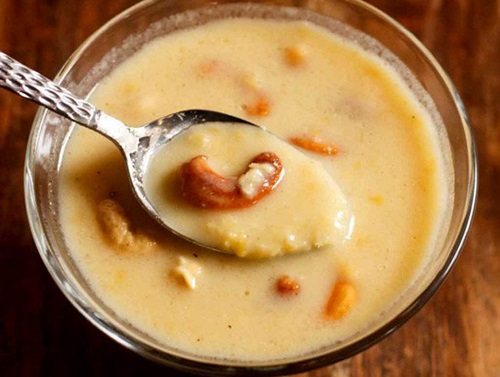 16. Masala lassi recipe – the main ingredient which brings out an earthy and an intense flavor in the masala lassi is palm jaggery. It compliments the spices very well and you have a strong lassi which you are going to love.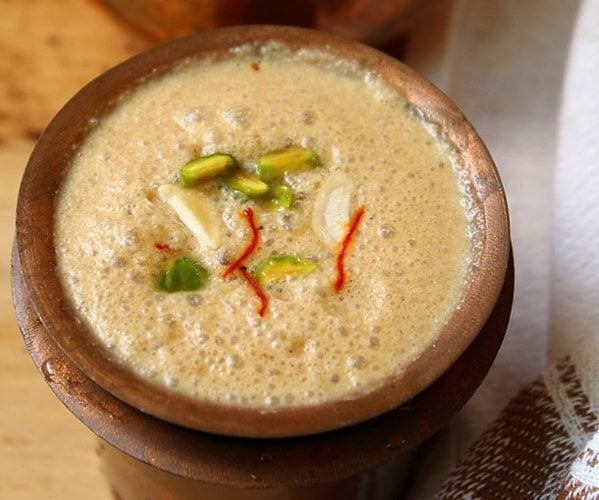 17. Banana appam recipe – sweet appams or paniyarams made with ripe bananas, rice flour and jaggery. these banana appams make for a healthy sweet snack. i used over ripe bananas to make these. Though you can even use ripe bananas. Few more delicious recipes you can make with Bananas are: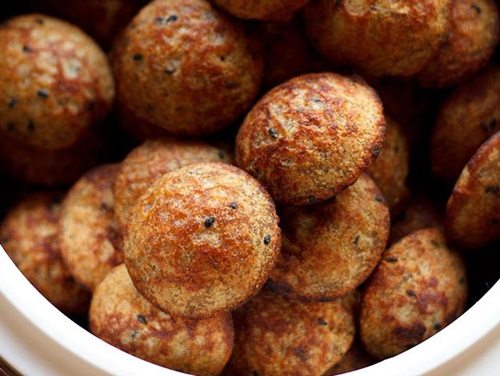 18. Pori urundai – a crunchy, crisp, light, delicious, easy ladoo recipe which gets ready in minutes made with puffed rice. For this recipe, you can also use puffed flattened rice (puffed poha) instead of puffed rice. They are also known as murmura ladoo or puri unde.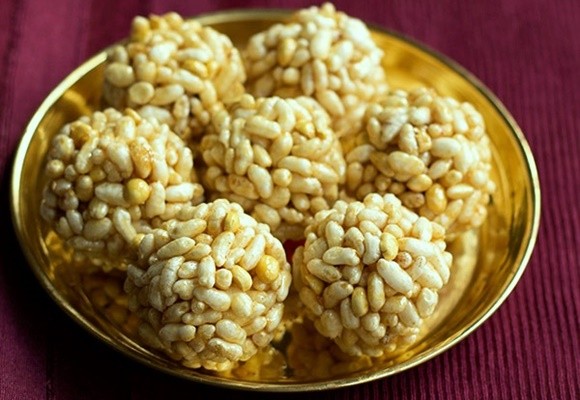 19. Rice payasam recipe – delicious payasam recipe made with coconut milk and jaggery. This vegan recipe is a fusion between the Konkani rice payasam and the Kerala rice payasam.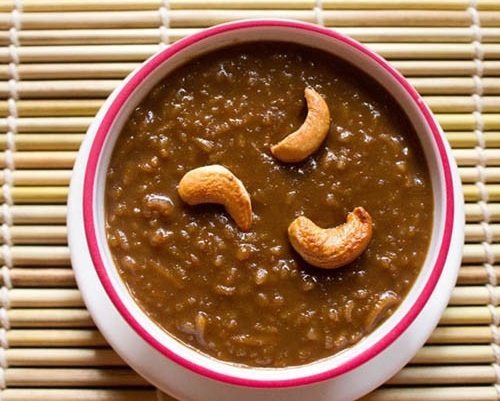 20. Strawberry jam recipe – this is an easy and delicious strawberry jam recipe made without preservatives. The jam is sweetened with jaggery instead of sugar. the jam stays good for about 2 months in the refrigerator.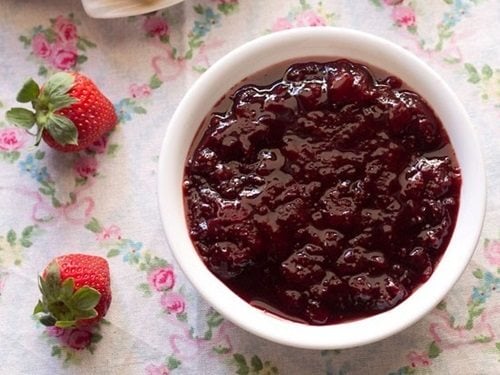 21. Peanut chikki recipe – chikkis are very popular with kids and they are specially made and enjoyed during winter season. This peanut chikki is an easy recipe with just two main ingredients.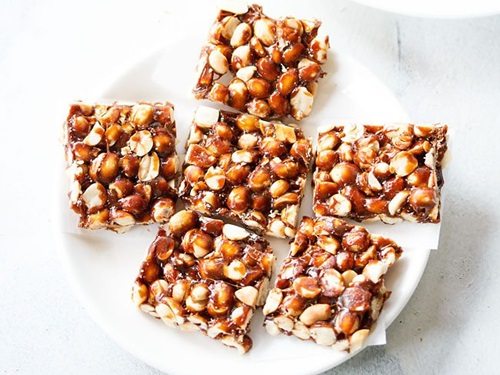 22. Carrot payasam – creamy and smooth kheer made with carrots, jaggery and Coconut milk. an easy sweet dessert recipe you can make for any occasion or whenever you want to pamper yourself.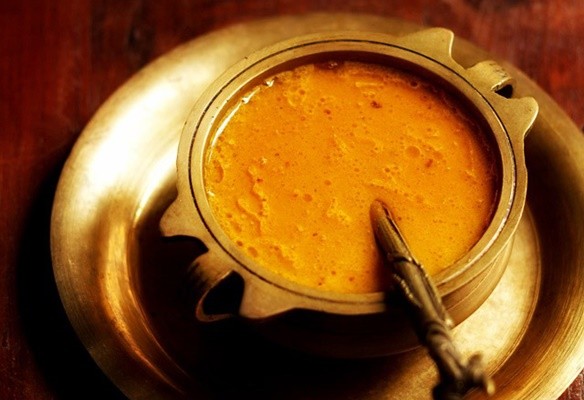 23. Banana rasayana recipe – a simple sweet dish made with ripe bananas, coconut milk and jaggery. The dish is from Karnataka cuisine.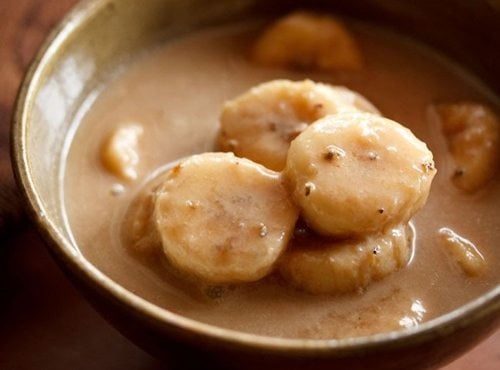 24. PatHoli recipe – patHoli are steamed rice rolls which are stuffed with fresh coconut and jaggery mixture. these rolls are steamed in fresh turmeric leaves. The patHoli tastes similar to Modak except for the turmeric leaves aroma. thin & soft steamed rice cover stuffed with the heavenly coconut and melted jaggery infused with the aroma of cardamom and not to forget the turmeric leaves.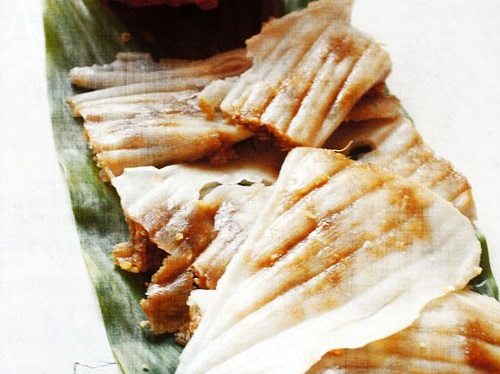 25. Fig jam recipe – this delicious jam is made with fresh figs and powdered jaggery. The jam is made without any artificial preservatives or additives. I have not even added pectin to the jam.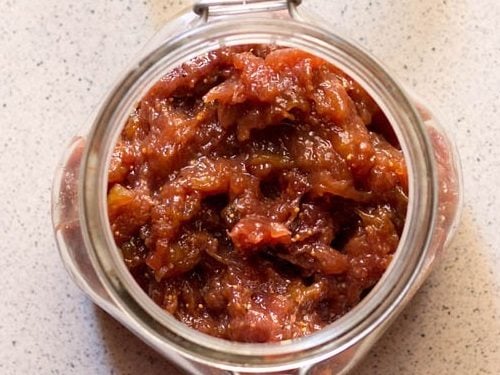 26. Pineapple payasam – South Indian payasam made with pineapple, coconut milk and jaggery. use pineapple which is sweet and not sour. I always use fresh pineapple for desserts that I make. You can also use canned, but the fresh taste and flavors go very well in a dessert.
27. Sweet poha recipe – a sweet snack made with poha (flattened rice), jaggery, milk, coconut and banana. This is one of those quick fix recipes to feed hungry kids.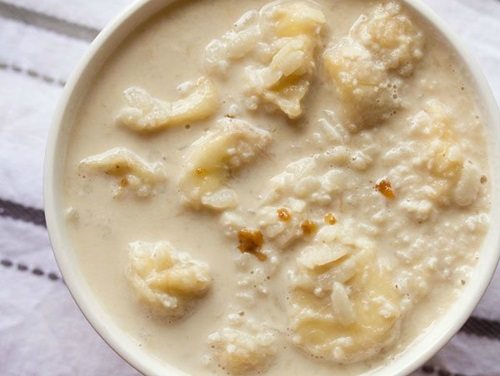 28. Goan nevris recipe – nevris are deep fried pastries made with whole wheat flour and stuffed with grated coconut, jaggery and dry fruits. nevri is the Goan version of the Maharashtrian karanji and the North Indian gujiya.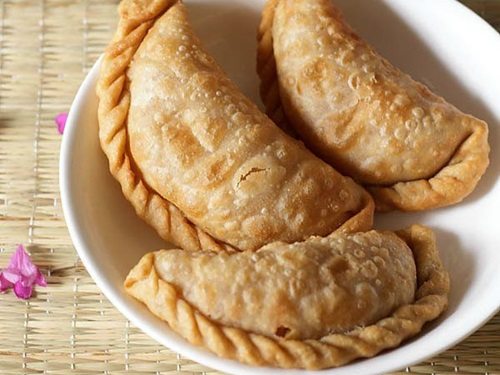 29. Sattu ladoo recipe – quick and easy ladoos made from roasted chana flour, jaggery and ghee. these sattu ladoos are a healthy option for everyone in the family. Other delicious recipes you can make with sattu are: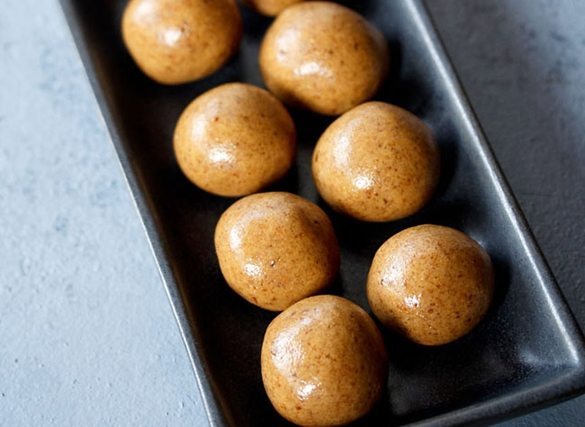 30. Eggless orange cake recipe – an easy, simple and no fuss recipe to make orange cake. The cake has the orangish flavor. Its soft, light and a delicious cake made with whole wheat flour.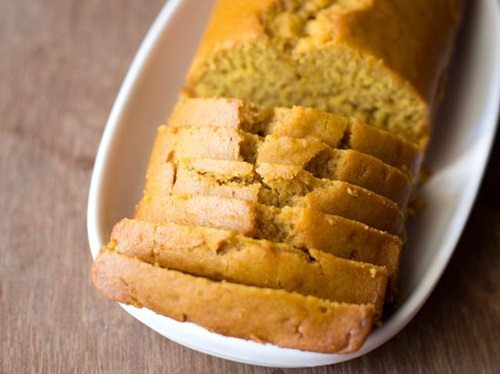 31. Strawberry almond milkshake recipe – delicious milkshake made with fresh strawberries and almond milk.

32. Mango shikarni recipe – mango rasayana or mango shikran as this dish is known in Karnataka and maharashtra respectively, is basically mango pulp and its juice mixed with some cardamom powder, jaggery and milk. to make mango shikarni, use ripe, sweet, juicy and pulpy mangoes.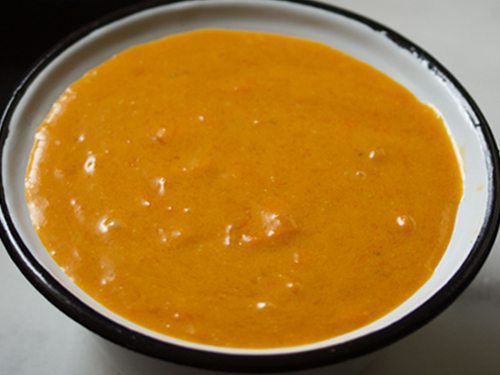 33. Sweet Pongal recipe – sweet festive dish made with rice and mung lentils, flavored with cardamoms, dry fruits & ghee. sweet Pongal is also known as sakkarai Pongal in tamil language and is a sweet dish made during festive occasions in south India. Few more Pongal varieties on blog are: