Strawberry jam recipe – this is an easy and tasty recipe of Homemade strawberry jam without any preservatives. whenever I have some extra batch of strawberries at home, I usually end up making strawberry jam.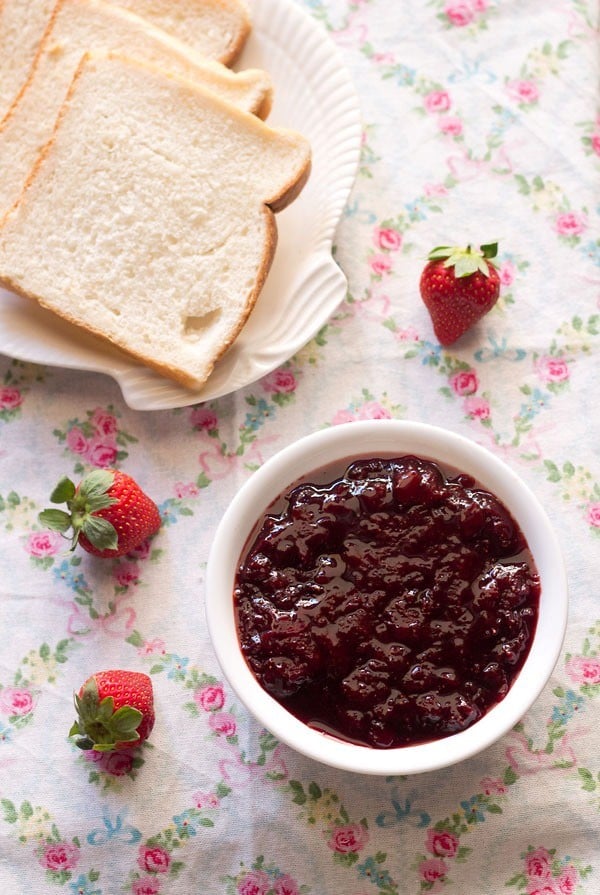 The strawberry jam comes in handy whenever we want to have a quick breakfast or brunch. All you need to do is chop the strawberries and then just cook them in a pan with sugar with frequent stirrings. So you can make the jam when you are prepping or cooking something else. I have added lemon juice to give a slight tang to the jam, but skip if you do not prefer it.
I did not take any step by step pics as this was a busy day when this jam was made. I made this jam in powdered jaggery instead of sugar. You can make the jam in sugar or jaggery. Since strawberries are still in season in India, you can try making this jam.
This is not actually a recipe but a method of cooking the strawberry jam. the proportions can be doubled or tripled. The amount of jaggery and sugar can be adjusted as per the sweetness of the strawberries and your taste. The jam stays good for about 2 months in the refrigerator.
Apart from having the strawberry jam with breads, I also added it to an eggless swiss roll that I had made. Taste wise, the swiss roll was damn good… Just that it broke when I was rolling. Still working on the recipe so that next time it does not break while rolling.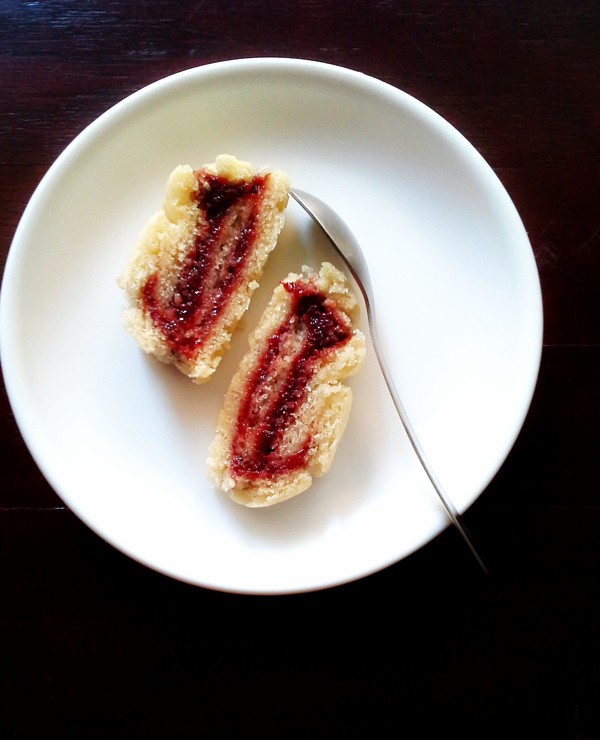 A fruit jam has many uses. you can top it up on muffins and cakes. You can also make desserts like trifles or parfaits. You can also stuff the jam in bread rolls. Or you can apply the jam on white bread or brown bread and have a quick sweet snack. Just some creativity and you can make excellent sweets and desserts with jam.
Few more tasty recipes for you!
If you made this recipe, please be sure to rate it in the recipe card below. Sign Up for my email newsletter or you can follow me on Instagram, Facebook, Youtube, Pinterest or Twitter for more vegetarian inspirations.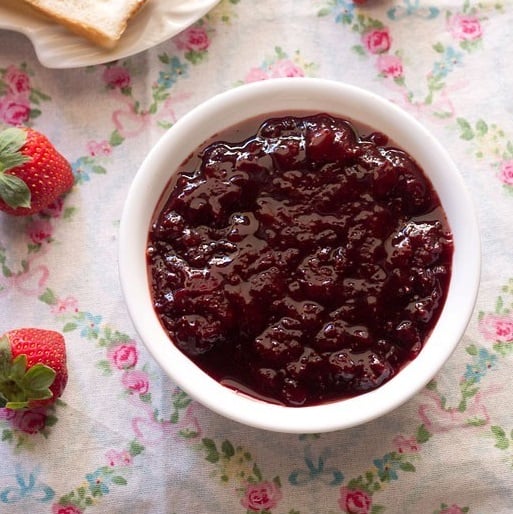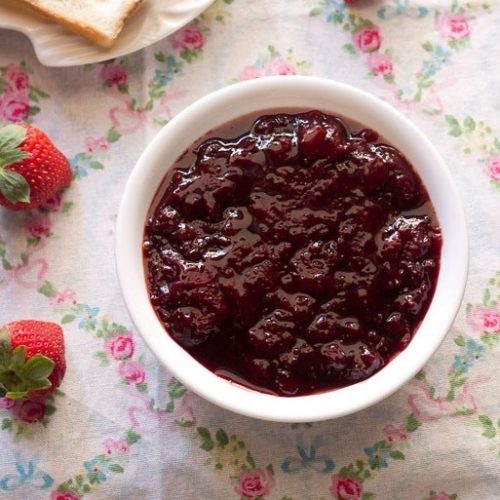 Strawberry Jam
An easy recipe to make strawberry jam without preservatives. Sweetened with jaggery instead of sugar.
250

grams

strawberry

1.25

cups

organic powdered jaggery

or sugar - or add as required depending upon the sweetness of the strawberries

1

tablespoon

lemon juice

(optional)
Instructions
Rinse and hull the strawberries. Chop them finely.

In a pan take the strawberries. Jaggery (or sugar) and lemon juice.

Mix well and keep the pan on stove top on low to medium flame.

The strawberries will leave their juices and begin to cook.

Stir at intervals till the strawberries soften and are cooked.

Reduce the flame to low and continue to simmer till the jam mixture starts reducing.

Keep on stirring often when the jam mixture is reducing.

It took me an overall 25 mins right from the start till end to cook the jam.

When the mixture starts to leave the sides of the pan, it means its done. Other ways to check the consistency and doneness is by doing two tests.

- plate test: take a spoonful of the strawberry jam on a plate and let it cool. If it sets on cooling and there is no water separation, this means the jam is done.

- sheeting : another test is to take the jam in a spoon and allow it to fall. If the jam falls in a form of sheet, it is done and ready to be bottled.

Cover the pan with a clean kitchen towel and let the jam cool.

Then add it in a small sterilized jar or bottle or a clean bowl.

This proportion gives about 1 bowl of jam which is enough for a week,

Keep the jam bottle in the fridge.

Serve the strawberry jam whenever required.
Notes
- the recipe can be doubled or tripled.
- the amount of jaggery or sugar can be adjusted as per your taste.
- if you chop the strawberries in bite sized pieces or large pieces, then you can make a chunky strawberry jam instead of a smooth jam.
Nutrition Info
(Approximate values)
Nutrition Facts
Strawberry Jam
Amount Per Serving
Calories 570
Calories from Fat 9
% Daily Value*
Fat 1g2%
Sodium 1mg0%
Potassium 199mg6%
Carbohydrates 137g46%
Protein 1g2%
Vitamin A 15IU0%
Vitamin B1 (Thiamine) 1mg67%
Vitamin B2 (Riboflavin) 1mg59%
Vitamin B3 (Niacin) 1mg5%
Vitamin B6 1mg50%
Vitamin C 76mg92%
Vitamin E 1mg7%
Vitamin K 3µg3%
Calcium 63mg6%
Vitamin B9 (Folate) 32µg8%
Iron 2mg11%
Magnesium 17mg4%
Phosphorus 31mg3%
Zinc 1mg7%
* Percent Daily Values are based on a 2000 calorie diet.